We Tried HelloFresh's New Store-Bought Meal Kit (and You Should Too)
Get a delicious dinner on the table with these new, subscription-free meal kits.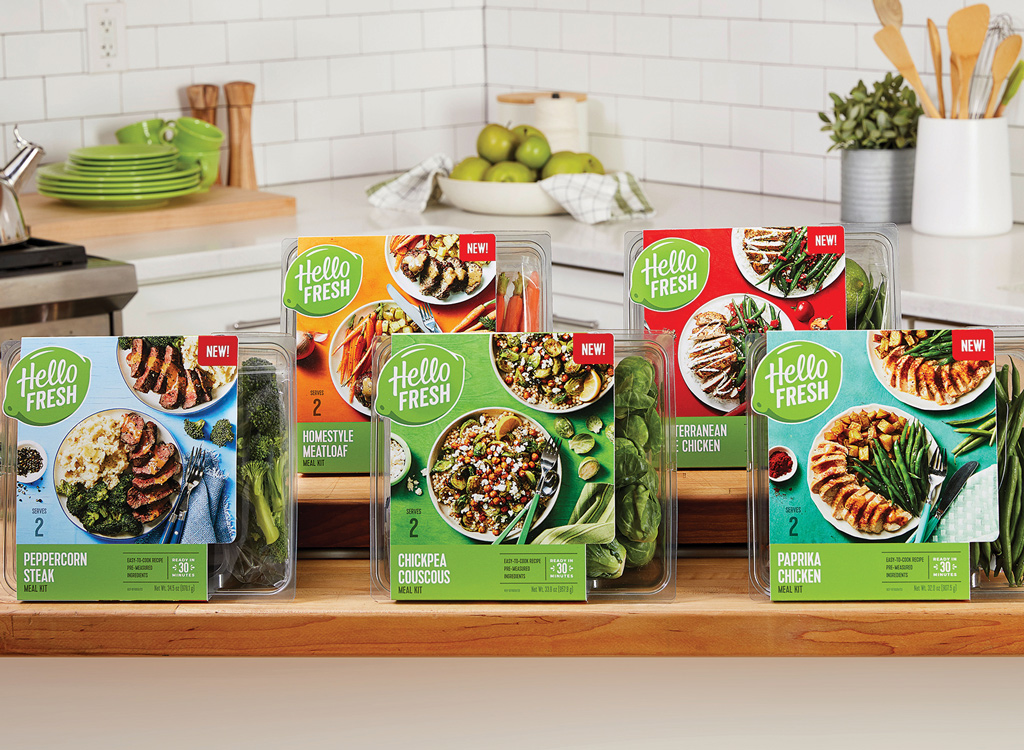 On June 4, HelloFresh announced that it will debut its new store-bought meal kits in 581 Stop & Shop and Giant locations nationwide—and we just had to get our hands on them!
HelloFresh is known for delivering easy and pre-portioned meals to folks who are short on time, too busy to grocery shop, or just not in the mood to imagine a recipe and cook all in the same night. Now, the meal delivery service double downed on convenience and launched five, 30-minute meals including Peppercorn Steak, Mediterranean Style Chicken, Homestyle Meatloaf, Chickpea Couscous, and Paprika Chicken. (But, sorry—you still have to do the dishes.)
"While we're still focused on our online business, launching in grocery stores allows HelloFresh to reach new customers that prefer the in-store shopping experience versus buying groceries online, providing them with access to a fresh, everyday dinner solution," Max Dresse, Head of Retail, HelloFresh US, tells us via email. "We're providing a grab-and-go dinner that's fresh, and still gives customers a cooking experience. Instead of first deciding what to make for dinner when you get to the store, then shopping for all of the ingredients, the kits have everything ready for customers to cook."
Excited to get dinner on the table in a jiffy, we got a first look at the brand new meal kits and tested both the Peppercorn Steak and the Paprika Chicken dishes at home. Right off the bat, I was lured in by the bright and piquing photographs on the packaging, but the box's aesthetics didn't distract me enough from turning it over to reveal the shocking nutrition panels. See below.
As prepared, per meal
: 720 calories, 45 g fat (19 g saturated fat, 0 g trans fat), 560 mg sodium, 41 g carbs (8 g fiber, 7 g sugar), 38 g protein
I decided to try my hand at the steak dinner first. The new meal kits come with two servings per container, which meant I got to share my creation; however, this also meant that I had another critic over my shoulder. Fortunately, my dinner guest and I both rated the finished masterpiece a 4 out of 5 stars. The meal kit came clad with two portions of sirloin steak, potatoes, black peppercorns, broccoli, a shallot, sour cream, and beef stock concentrate. After drizzling the broccoli florets with olive oil and popping them into the oven, and then cooking and mashing the potatoes, I moved onto prepping the steak and the glaze (which was my favorite part!). The entire process took about 50 minutes—20 more than advertised—but that might've just been due to my amateur kitchen skills.
Overall, the steak was a bit dry but the shallot-and-stock sauce definitely helped amp up the flavor. Due to dietary restrictions, I omitted the sour cream from the recipe, which also helped cut down on the recipe's rather high fat content. Fortunately, having pre-portioned ingredients allowed me to customize my meal to my liking.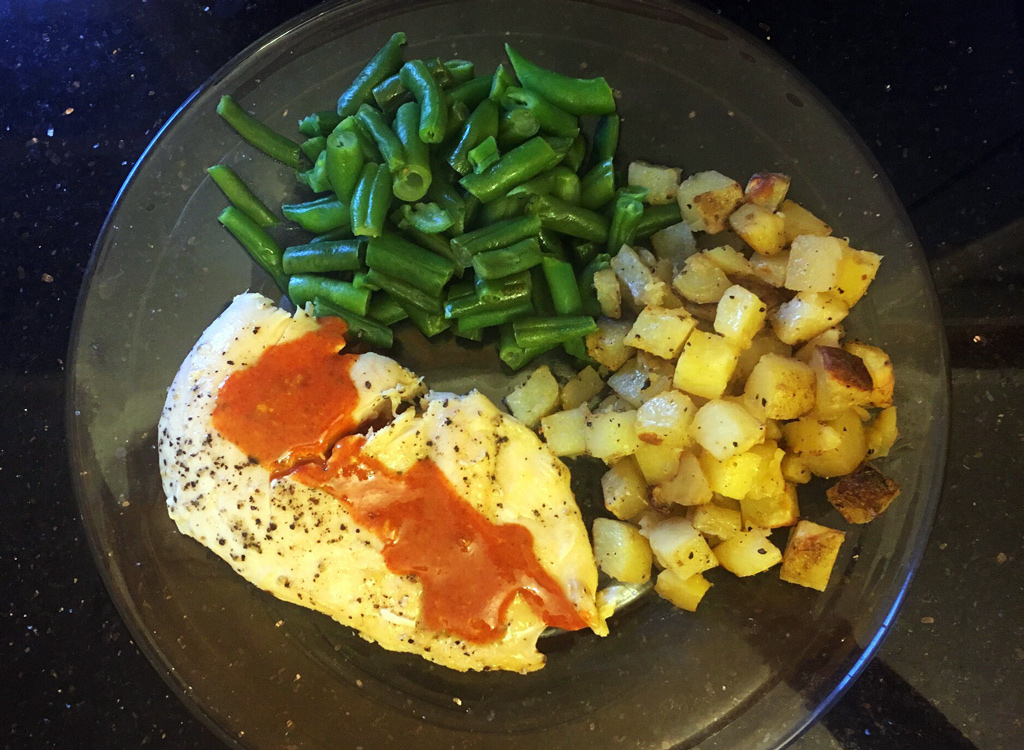 As prepared, per meal
: 470 calories, 14 g fat (3.5 g saturated fat, 0 g trans fat), 1,220 mg sodium, 44 g carbs (7 g fiber, 13 g sugar), 40 g protein
Two days later, I decided to bust out the Paprika Chicken meal kit. This box contained two chicken breasts, potatoes, string beans, smoked paprika, honey, Dijon mustard, sour cream, and chicken stock concentrate.
I especially appreciated that these potatoes, unlike the whole taters offered in the Peppercorn Steak kit, were pre-cubed—which definitely cut back on chopping time. On the flip side, although I cracked open the box before the Best By date, the string beans weren't fresh enough for use and I had to toss them out. Thankfully, I had a bag of string beans in my freezer (one of our 35 Grocery Staples Every Busy Person Needs In Their Pantry for good reason), and so I was able to keep the dinner balanced with a veggie.
Similar to the steak, one of my favorite parts of the meal was the sauce—which was a decadent combo of honey and piquant Dijon mustard. I also added the remaining smoked paprika (my new go-to spice) to the dressing. Again, I omitted the sour cream in addition to the chicken stock, since the meal seemed perfectly salted without it.
The poultry recipe took about 40 minutes to make, but both the potatoes and chicken required more cooking time than the instructions recommended. Since the chicken breasts were so thick, butterflying them before tossing them on the hot pan could've helped them cook faster and more thoroughly. The portions were rather large, so I was easily able to save some for lunch the next day. Cooking once and eating twice? I'm in. (In fact, HelloFresh's recently-debuted Dinner 2 Lunch option lets you do just that.) My refreshed set of taste buds confirmed that this meal deserved a high 4.5 out of 5 stars.
Our Store-Bought Meal Kit Takeaways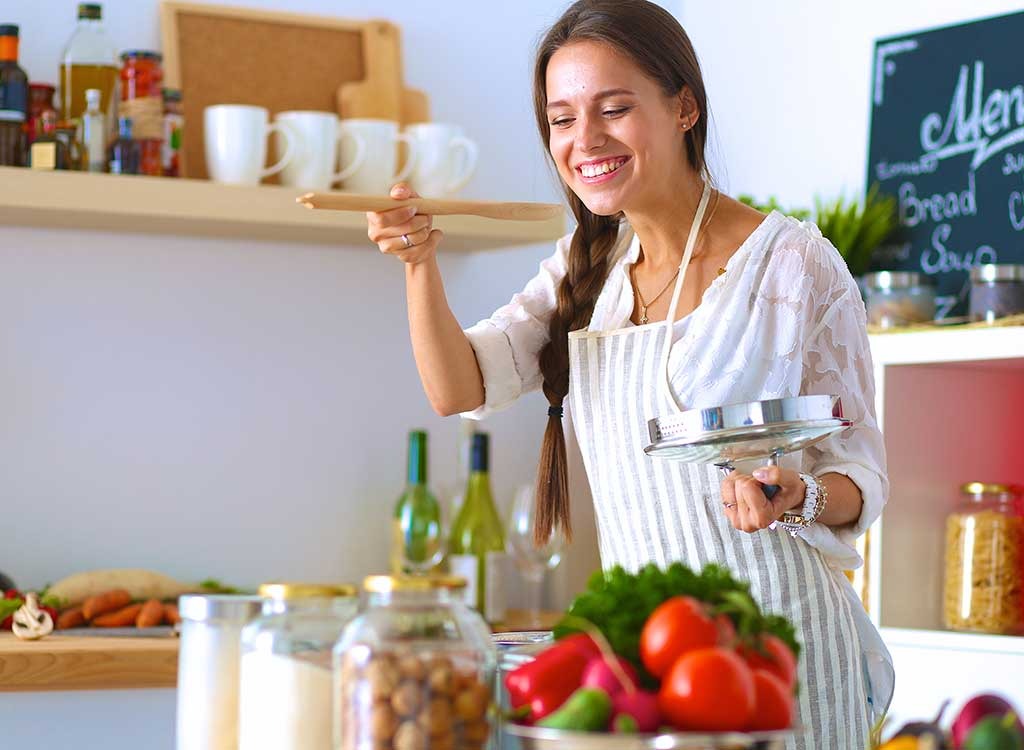 Whether it was due to dietary restrictions or taste preferences, I was easily able to modify HelloFresh's meal kits to my liking—and you can too!
Recently acquired pro tip #1: Always taste each of meal component separately before plating to ensure your flavors are balanced.
Recently acquired pro tip #2: When cooking a semi-homemade meal, like those in meal kits, always check to see if the meat is pre-marinated. In the chicken meal, the chicken breasts were soaked in a marinade of water, lemon juice concentrate, vinegar, and salt, which contributed to the extra sodium. As a result, I decided to leave out the chicken stock, which would have added even more sodium. Remember, you can always customize your meal according to your dietary needs and preferences—whether you're looking to cut down on certain macros or ingredients.
6254a4d1642c605c54bf1cab17d50f1e
Overall, both meals were delicious and easy to make with the exception of the longer-than-anticipating cooking times. One notable perk was that the kits came with single-serve spice packs, which ensures you're spiking your supper with fresh flavor rather than relying on those who-knows-how-old bottles in your spice rack.
Next time I'm short on time—or patience—I definitely plan to grab HelloFresh's new meal kits for a quick dinner. The recipes were super simple (coming from someone who doesn't cook too often and relies on others for that) and contained just the right amount of ingredients to render a flavorful dish without requiring extra effort. In need of other ways to streamline supper? While you're scoping out these new kits at your local Stop & Shop, stock up on these 15 Grocery Finds to Get Dinner on the Table Faster.
April Benshosan
April is a born-and-raised Brooklynite who has a passion for all things health, wellness, and tastebud-related.
Read more about April