7 Easy High-Protein Crock-Pot Recipes
Short on time? These healthy Crock-Pot recipes will practically cook themselves.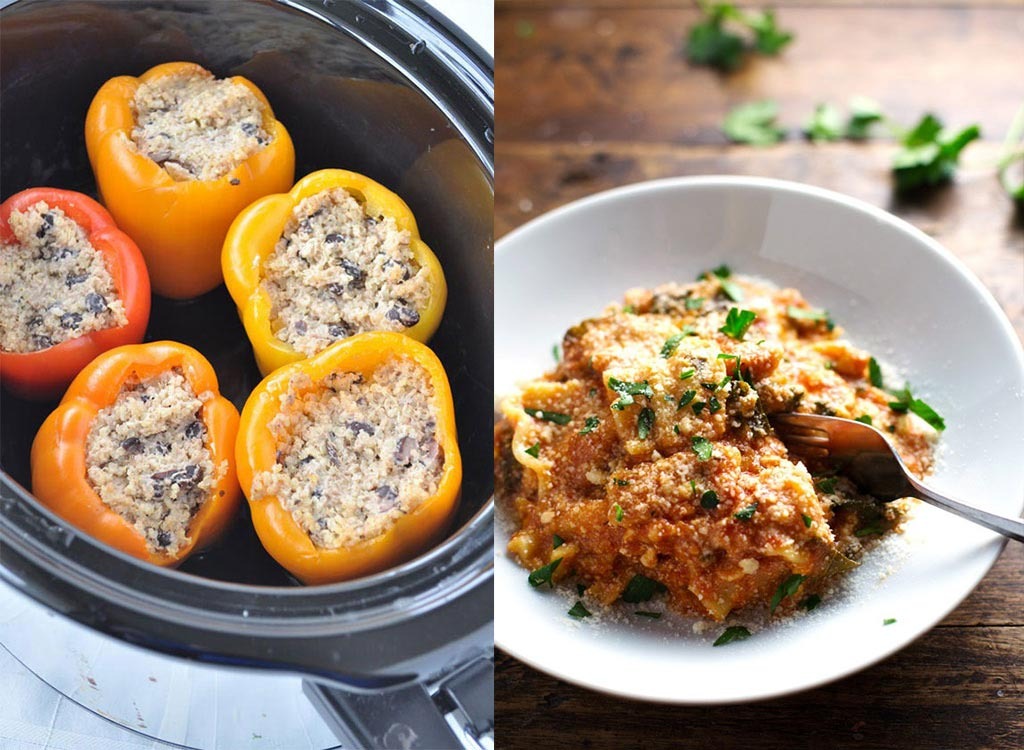 Whether you're looking to build some muscle or shed a few pounds, protein is an essential component of your diet. One of the most delicious ways to get your protein is with a Crock-Pot. The busy chef's dream tool is also a healthy eater's BFF: The slow cooker preserves healthy ingredients' nutrients while imbuing them with maximum flavor. Read on for 14 of our favorite savory high-protein recipes. (For other good sources of protein post workout or on the go, check out these 23 Best Protein Shake Recipes.)
Super Easy Skinny Veggie Lasagna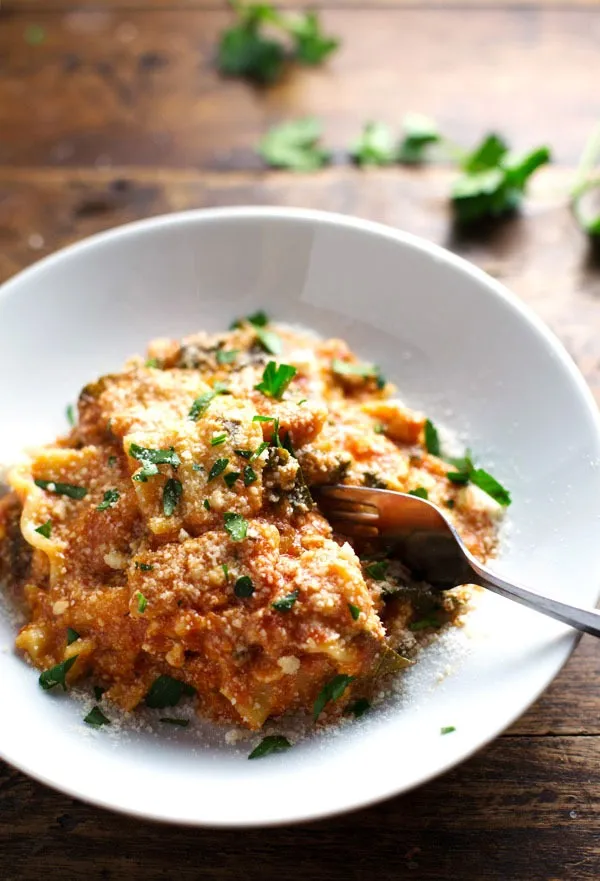 Serves: 6
Nutrition: 384 calories, 5.4 g fat, 517 mg sodium, 53.9 g carbs, 2.6 g fiber, 10 g sugar 28.8 g protein (Calculated with cottage cheese and cooked kale)
Here's a way to enjoy the Neapolitan favorite with a lot less work and a lot fewer calories. This recipe tweaks tradition by using kale instead of beef and cottage cheese instead of ricotta. Your Italian grandmother might balk at first, but even she can't argue with the nutritional upside. Kale provides a range of nutrients, and protein-packed cottage cheese has a surprising benefit: It's the only cheese that helps improve your sleep. For more ways to whittle your waistline before calling it a night, read our exclusive report on the 30 Things to Do 30 Minutes Before Bed to Lose Weight.
Get the recipe from Pinch of Yum.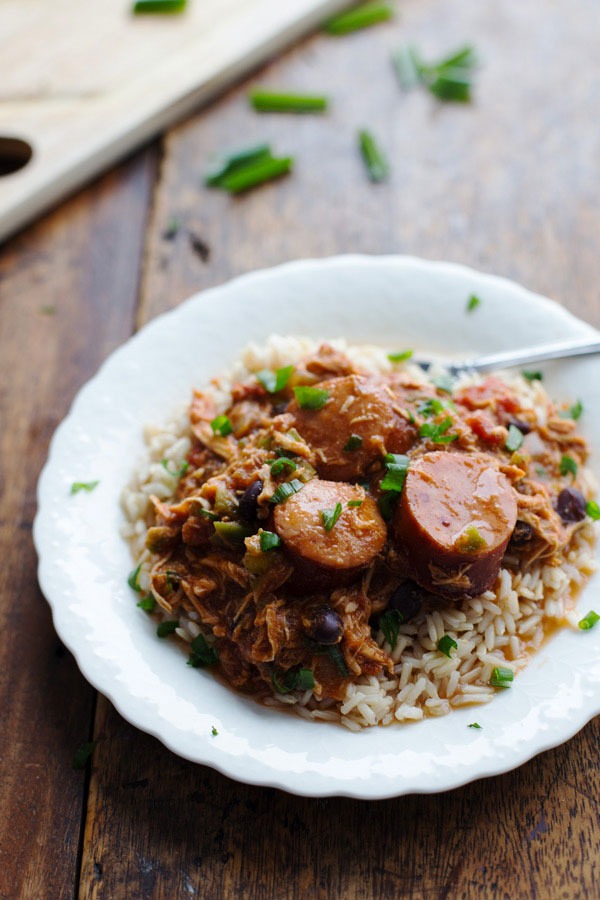 Serves: 6
Nutrition: (Calculated with black beans and almond butter) 470 calories, 10.8 g fat, 596 mg sodium, 55 g carbs, 13.3 g fiber, 9.8 g sugar, 40.5 g protein
Here's a recipe to help you celebrate Fat Tuesday while staying slim. This Creole-inspired dish combines chicken, sausage and black beans to make for one protein-fueled lunch (or dinner). It's also an excellent source of Vitamin C.6254a4d1642c605c54bf1cab17d50f1e
Get the recipe from Pinch of Yum .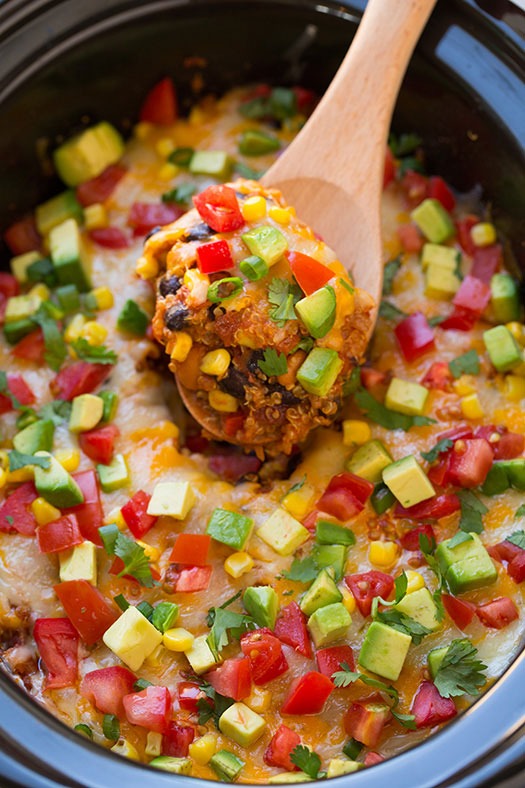 Serves: 8
Nutrition: 582 calories, 7.7 g fat, 588 mg sodium, 95.7 g carbs, 20.3 fiber, 6.2 g sugar, 35 g protein.
A combination of your favorite Mexican ingredients and quinoa makes for a slow-cooked but quickly prepared dish. The enchilada's traditional ingredients get a protein-packed punch from quinoa.
Get the recipe from Cooking Classy.
Asian Chicken Lettuce Wraps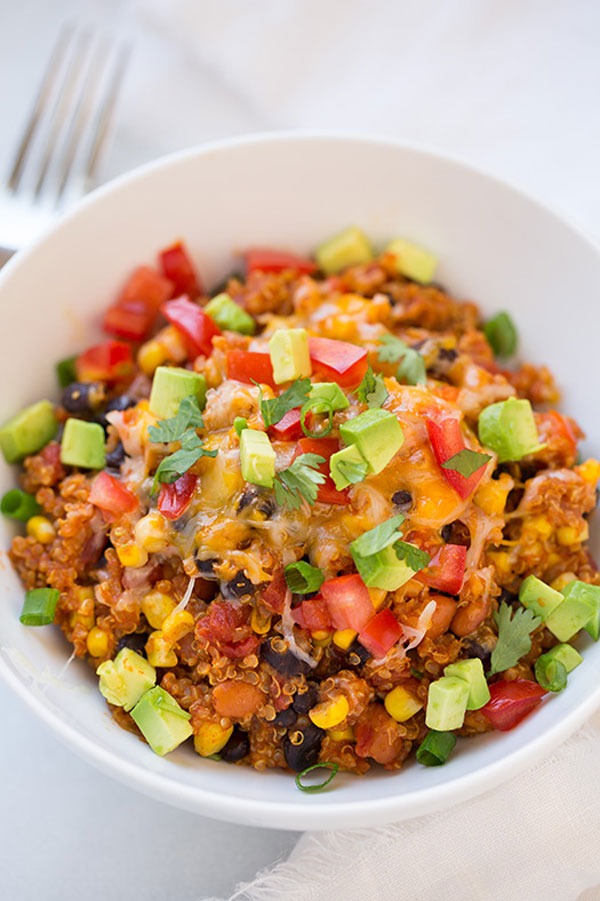 Serves: 6
Nutrition: 608 calories, 14.8 g fat, 790 mg sodium, 65.9 g carbs, 3.7 g fiber, 8.6 g sugar, 50.2 g protein
Skip Chinese take-out in favor of these healthy Asian lettuce wraps. They'll save you money along with all the carbs that come with a traditional wrap. Use low-sodium soy sauce, or skip it, to reduce the amount of sodium. Although you want to avoid the carb bombs that are traditional sandwich wraps, some carbs can actually whittle your waist. Check out the 25 Best Carbs for Weight Loss.
Get the recipe from Cooking Classy.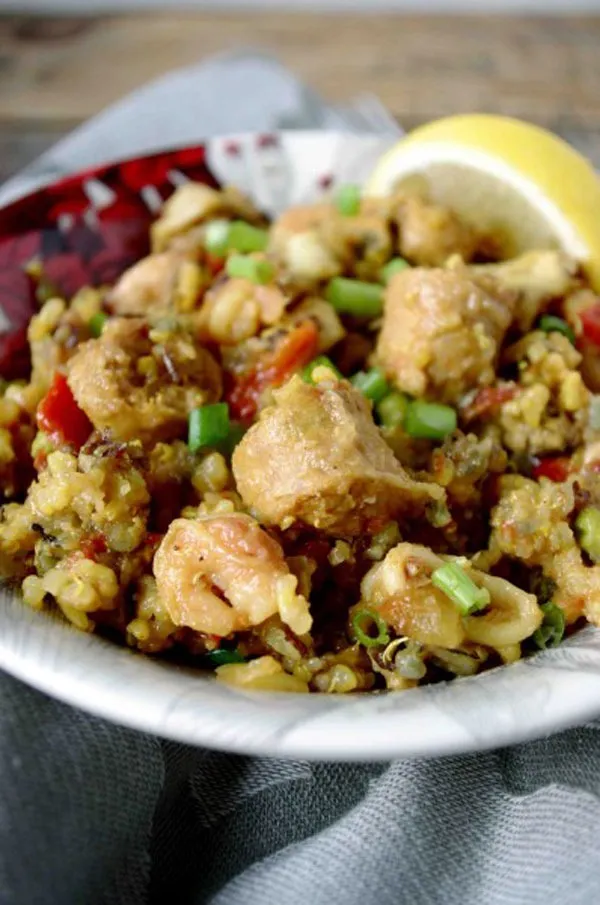 Serves: 6
Nutrition: 382 calories, 8.7 g fat, 676 mg sodium, 48.4 g carbs, 4.8 g fiber, 4.7 g sugar, 27.6 g protein
This seafood favorite combines a variety of protein-rich fish with ease of preparation, thanks to a Crock-Pot. Rich in Vitamin C, it'll please your immune system as well as your palate. To decrease the amount of sodium, go easier on the chicken broth. Half the suggested amount should do.
Get the recipe from Nutritionist In The Kitchen.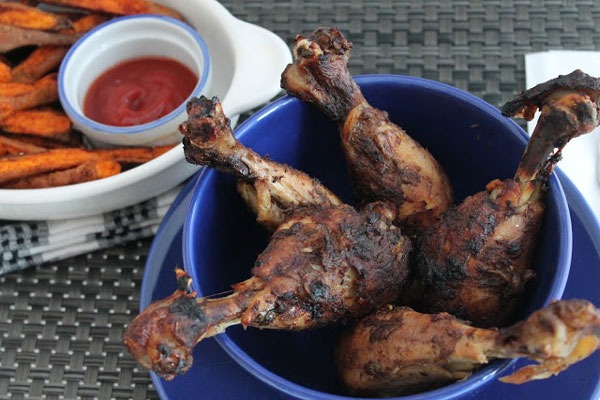 Serves:5
Nutrition: 369 calories, 13.6 g fat, 348 mg sodium, 5.7 g carbs, 0.8 g fiber, 4.0 g sugar, 53 g protein
The best way to enjoy Jamaican chicken involves a slow cooker, a whole lot of healthy seasonings and veggies — and 53 grams of lean-muscle-building protein to boot.
Get the recipe from The Healthy Maven.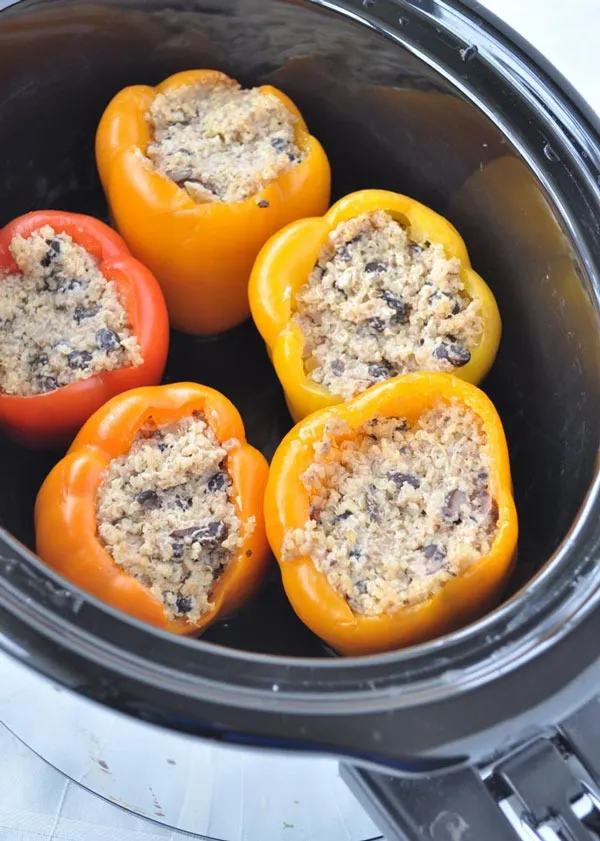 Serves: 6
Nutrition: 620 calories, 15.7 g fat, 529 mg sodium, 96.3 g carbs, 4.1 g sugar, 28.7 g protein
Make these quinoa-stuffed snacks as a side dish or appetizer at your next gathering. The substitution of rice for quinoa boosts protein, as well as fiber — nearly ten times the amount of roughage as regular old rice. For morning-friendly sources of healthy grains, check out these 50 Best Overnight Oats Recipes
Get the recipe from Slow Cooker Stuffed Peppers.
Eat This, Not That!
Inspired by The New York Times best-selling book series, Eat This, Not That! is a brand that's comprised of an award-winning team of journalists and board-certified experts, doctors, nutritionists, chefs, personal trainers, and dietitians who work together to bring you accurate, timely, informative, and actionable content on food, nutrition, dieting, weight loss, health, wellness, and more.
Read more about Eat This