8 Mayo Brands That Use the Highest Quality Ingredients
Less is more when it comes to ingredients in the mayonnaise jar. Here's what to look for on the label.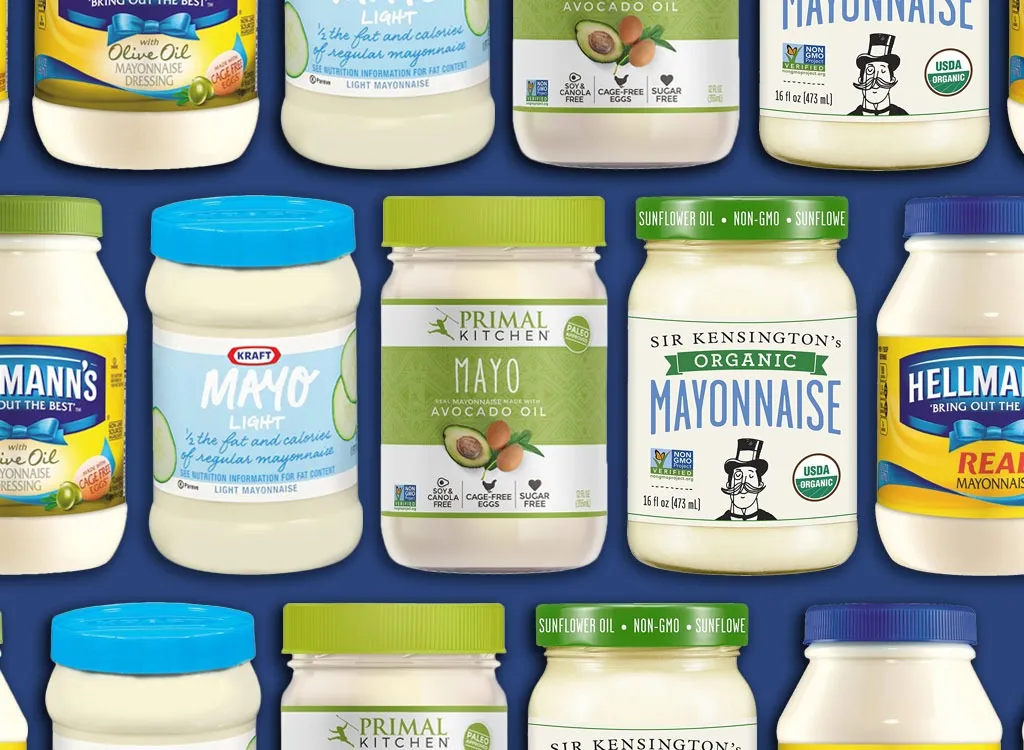 The product recommendations in this post are recommendations by the writer and/or expert(s) interviewed and do not contain affiliate links. Meaning: If you use these links to buy something, we will not earn a commission.
In the world of condiments, few are as versatile and widely loved as mayonnaise. It serves a multitude of uses, from standing alone as a smear on sandwiches to mixing with other ingredients to make creamy dips and spreads.
Due to its popularity, it is widely available at grocery stores and mass-produced at epic proportions. According to Science Direct, the average American consumes four pounds of mayonnaise annually, adding up to a nationwide industry worth $2 billion.
Of course, not all brands of mayonnaise are created equal, and some varieties can sneak in some less-than-ideal ingredients into our daily diet.
"Mayonnaise can be a surprising source of added sugar, an ingredient that many Americans are consuming far too much of," says Lauren Manaker, MS, RDN. "Additionally, it can be a source of saturated fat, thanks to some of the ingredients included."
Determining which brands of mayonnaise you should and shouldn't buy from a health perspective shouldn't add any unnecessary stress to your grocery run. The following list of brands all brings something to the table regarding quality ingredients, such as cage-free eggs, and minimal added sugars or flavors, if any.
Manaker notes, "Added flavors may be an unnecessary ingredient added to some mayos, so if possible, opt for one that is free from this ingredient as well." Remember the following brands the next time you head to the supermarket to stock up on mayonnaise for your pantry.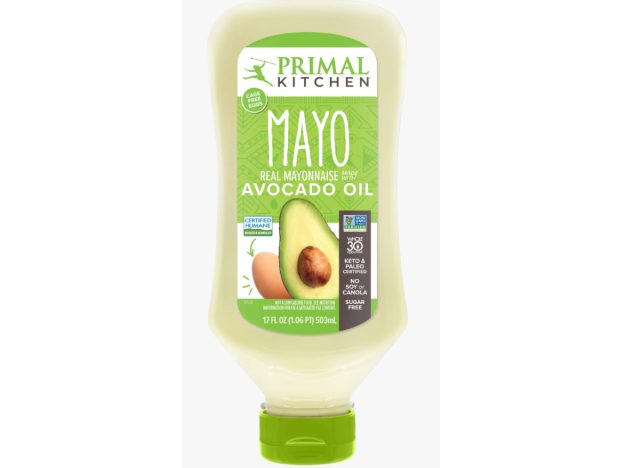 Per Serving (1 tbsp)
: 100 cal, 12 g fat (1.5 g saturated fat), 15 mg cholesterol, 125 mg sodium, 0 g sugar
If you are familiar with the health food industry, you have likely come across Primal Kitchen products on more than one occasion. The company focuses on condiments ranging from mayonnaise to pizza sauce, all featuring whole ingredients.
Manaker makes special mention of Primal Kitchen's mayonnaise as a product to be on the lookout for if you want to upgrade to a higher quality product. "Primal Kitchen Mayo with Avocado Oil, now available in family-friendly squeeze, is made with quality ingredients like avocado oil and Certified-Humane, organic cage-free eggs," she says. "It is free from added sugars, canola oil, and is Non-GMO Project Verified."
Quality ingredients aside, Primal Kitchen has also evolved in its packaging with an emphasis on convenience. Manaker adds, "Since it comes in a squeezable bottle, you don't have to dirty a knife to spread it onto your sandwich bread when you are making an ultimate sandwich." And who doesn't love when you have less dirty utensils to clean?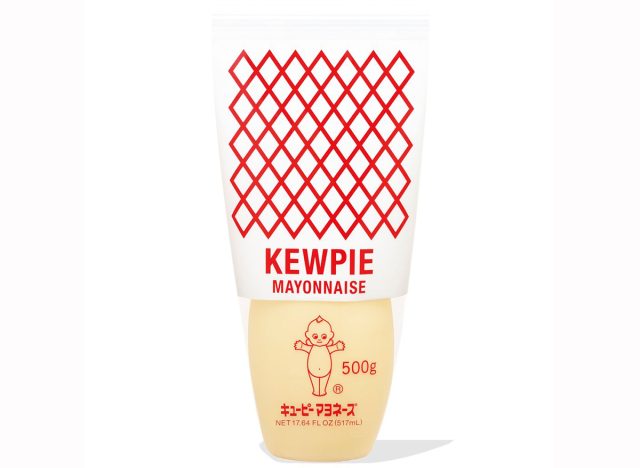 Per Serving (1 tbsp)
: 100 cal, 11 g fat (1.5 g saturated fat), 25 mg cholesterol, 105 mg sodium, 0 g sugar
If you were to ask professional chefs about their mayonnaise of choice, many would likely tell you that it is Kewpie. The Japanese brand, widely known for its mayonnaise in a bag, is not a household name for many typical Americans, but it is well established in the culinary world thanks to its rich flavor.
Kewpie's secret to that rich flavor is that it sticks to using the egg yolk as opposed to the whole egg, according to the brand's website. In addition to egg yolk, Kewpie's mayonnaise sticks to the basics, with its other two main ingredients being oil and vinegar. Any additional ingredients are at a bare minimum, and the brand prides itself on being very low-sodium compared to other mayonnaise on the market. Food and Wine recommends shoppers stick to the O.G. and shop for Kewpie mayonnaise specifically from Japan (which comes in a bag) and not the United States (which comes in a bottle).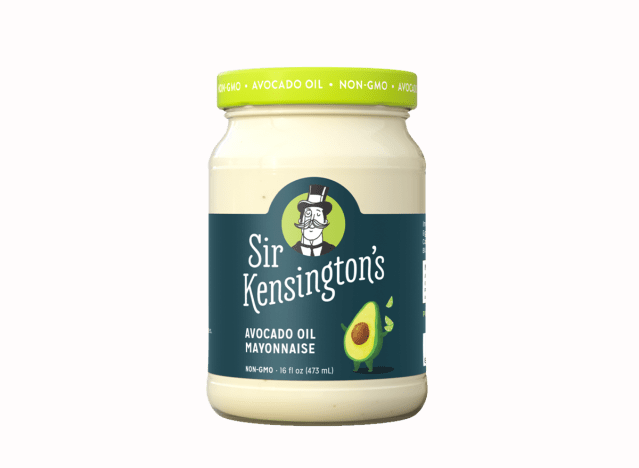 Per Serving (1 tbsp)
: 100 cal
, 10 g fat 10g (1 g saturated fat), 10 mg cholesterol, 95 mg sodium, 0 g sugar
Sir Kensington's manufactures different kinds of sauces and condiments, all of which are non-GMO. Its mayonnaise comes in six different varieties, ranging from classic to Sriracha. It all starts with sunflower oil, with the noted exception of its avocado oil variety.
It also uses Certified Humane Cage-Free Eggs and other ingredients you can actually read and understand. Sir Kensington's also sells a vegan mayonnaise that swaps out its eggs for chickpeas, which comes in a variety of flavors.
Per Serving (1 tbsp)
: 100 cal
, 11 g fat 10g (1.5 g saturated fat), 10 mg cholesterol, 90 mg sodium, <1 g carbs
At the heart of Spectrum Organics is a lineup of cooking oils that are organic and all-natural. Those oils are then used as the foundation for Spectrum's other products, including its mayonnaise.
The original formula uses Spectrum's organic flaxseed oil along with cage-free eggs and unique ingredients like organic honey and organic mustard. Spectrum also offers an array of mayonnaise that uses olive oil and canola oil, noting that its canola mayonnaise is a lower-cholesterol option. Spectrum also sells vegan mayonnaise.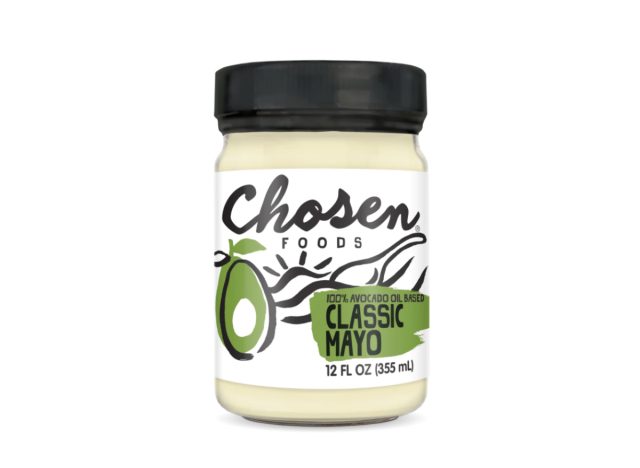 Per Serving (1 tbsp)
: 100 cal
, 11 g fat 10g (1.5 g saturated fat), 15 mg cholesterol, 50 mg sodium, 0 g sugar
If you prefer shopping for mayonnaise that uses avocado oil as its base, then you may want to look into Chosen Foods. It prides itself on being the nation's leading avocado oil-based brand, using the oil in all of its products, including mayonnaise.6254a4d1642c605c54bf1cab17d50f1e
Its non-GMO lineup is made with avocado oil, cage-free eggs, organic vinegar, and a pinch of salt for flavor. There is even a unique assortment of flavors available, including Roasted Garlic, Wasabi, and formulas that accommodate vegan and keto diets.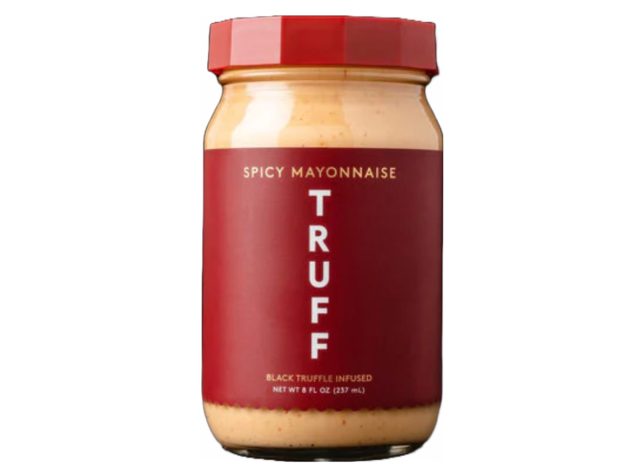 Per Serving (1 tbsp)
: 110 cal
, 12 g fat 10g, 70 mg sodium, 0 g sugar
Truff brands itself as selling "Luxury Condiments," aided by the fact that its products are infused with various truffles, like the ​​black winter truffles used in its mayonnaise. But do not think that the addition of truffles masks an otherwise lackluster product.
On the contrary, Truff commits to all of the hallmarks of a quality mayonnaise. Truffles aside, its mayo is made with sunflower oil and organic cage-free eggs. For added flavor, customers can also order Truff's Spicy Mayonnaise, which adds red jalapeños to the mix.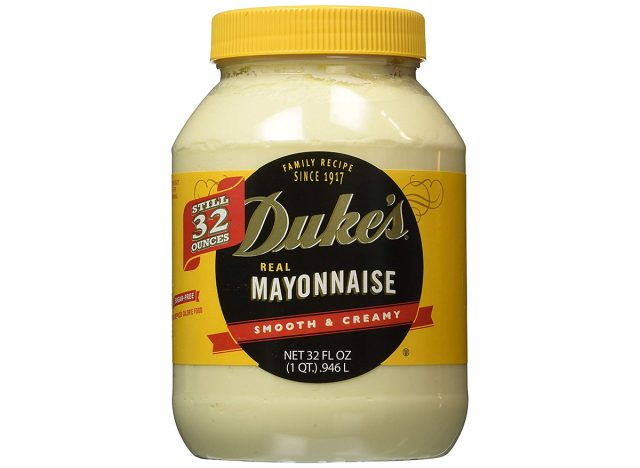 Per Serving (1 tbsp)
: 100 cal
, 12 g fat 10g (2 g saturated fat), 10 mg cholesterol, 70 mg sodium, 0 g sugar
Duke's is a brand that has been around for a century, standing the test of time with quality products that still use the original recipe developed by founder Eugenia Duke. That back-to-basic mayonnaise is made with just a few ingredients, including soybean oil, eggs, vinegar, and paprika.
Duke's also offers sugar-free light mayonnaise products and unique flavors like Hint of Lime, Bacon and Tomato, and Habanero Garlic, all of which stem back to Eugenia's original recipe from 1917. The company also points out on its website that "Duke's Real, Light, and Flavored Mayonnaises are the only major mayonnaises on the market that contain no sugar."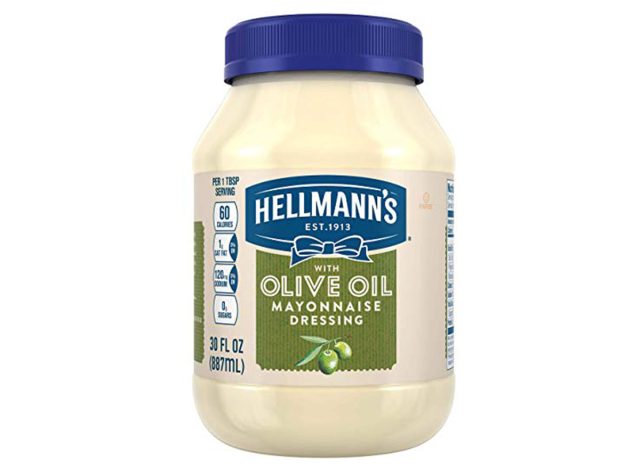 Per Serving (1 tbsp)
: 90 cal
, 10 g fat 10g (1.5 g saturated fat), 5 mg cholesterol, 90 mg sodium, 0 g sugar
Considered by many to be the gold standard in mayonnaise, Hellmann's has stayed true to its simple list of ingredients over the years by avoiding adding any artificial flavors. Its original Real Mayonnaise is just that—its three main ingredients are just eggs, oil, and vinegar. And those eggs are 100% cage-free, a practice that Hellman's has committed to since 2017.
The brand has also expanded its mayo lineup to include varieties like Spicy Chipotle and Mayonnaise Dressing with Avocado Oil. A vegan mayo variety from Hellmann's is also available.
Carly Neil
Carly Neil is a freelance writer specializing in all things food, travel, Disney, and theme parks.
Read more about Carly
Sources referenced in this article