4 Sandwich Chains Attempting To Make a Comeback
You may start to see a lot more of these sub-shops nationwide in the coming years.
Many people lean on sandwiches as a healthier option in the world of fast food, and others enjoy the convenience of a good meal on the go when they're tight on time and money. But while some of the big sandwich chains have been able to weather inflation and lingering COVID-related setbacks, like Jersey Mike's, others, like Subway and Potbelly, have faced store closures and loss of revenue. A few other famous brands are still attempting to make recover and resurge from massive drops in foot traffic, economic pressures, and customers' food quality preferences.
Beyond the economic issues and COVID-related shutdown, sandwich chains often suffer from the "sandwich curse." This is a phenomenon where many fast-growing chains hit a plateau in success and run into a multitude of problems as a result, Restaurant Business Online explains. One, in particular, is relying only on lunchtime business and not taking advantage of breakfast or dinner. This causes somewhat of a cap on sales and said sandwich chains end up with low unit volumes. 
Another rising obstacle for fast-casual companies is the customer's need for freshness and high-quality ingredients. Subway is a prime example of one brand trying to close this gap, by introducing meat slicers to hand-slice meats to order versus its' long-time pre-cut proteins to compete with the likes of Jersey Mike's and Jimmy John's.
Subway is not alone in these endeavors, a few other sandwich chains are battling back and making legitimate changes in order to thrive in the market. Here are four sandwich chains that are on the horizon of making a comeback.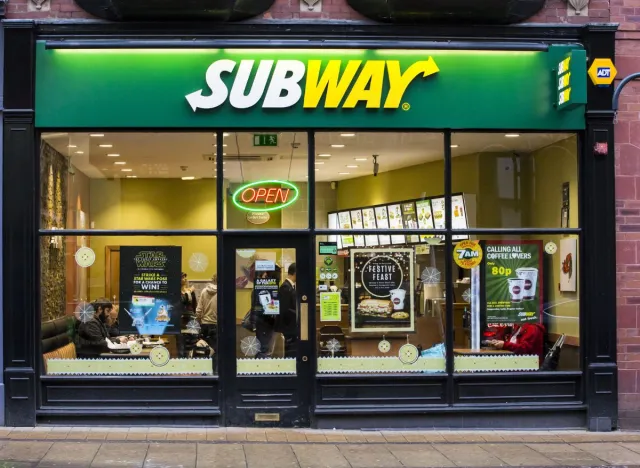 Even though Subway is probably the most well-known sandwich chain in the world, it's never been immune to failures and losses. In 2021, the chain tried a marketing plea with customers, rolling out a major sub-giveaway, but most stores only managed to hand out 10 to 20 of the 50 sandwiches that were allotted—meaning thousands went unclaimed that day.
In addition to a shrinking fanbase showing up at Subway locations, the chain abruptly closed nearly 1,000 restaurants in 2021. Between all the ups and downs Subway has seen in the last decade, the brand is putting multiple initiatives in place to revamp and foster some major growth, remaining hopeful to make a successful and long-term rebound for valued customers.
The "Eat Fresh" sandwich chain is making moves to improve the longevity of the company and win over the stomachs of customers again. From a new Subway Series special menu introduced in mid-2022, which included  12 culinary chef-created sandwiches, to prioritizing quality over quantity across stores. These new menu items unveiled more than 20 new and refreshed ingredients, such as a revised bread recipe and a quality balance of proteins and vegetables, Subways' press release states. In addition to the new offerings, the chain publicized its plan to drop meat slicers in every single location within 2023—making the famous brand more reputable in comparison to others like Jersey Mike's and Jimmy John's.
The world's largest fast-food sandwich chain recently announced that many of these big changes have made all the difference in overall revenue. Same-store sales increased by 11.7% in the first quarter of 2023, and at the start of the month (of April), Subway claimed that overall business was the best it's been in 10 years, QSR Magazine reported.  Subway is also in the middle of a potential huge sale abid multiple large corporate buyers and private-equity firms, with a potential value of $10 billion.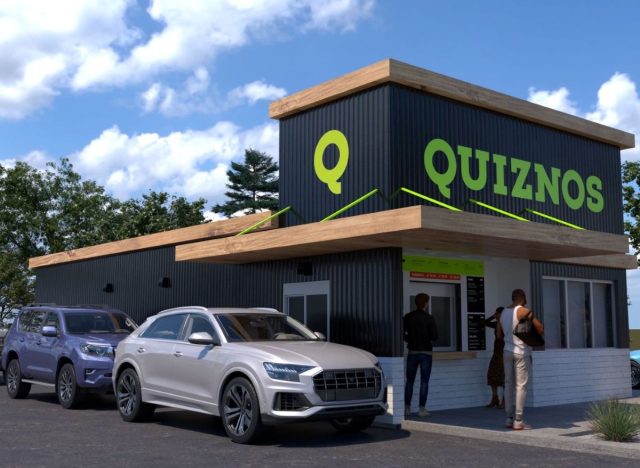 Quizno's was at one point a top competitor for Subway sandwiches, but over the years ended up with minimal locations and the loss of a massive fanbase. Quizno's rose to fame quickly and once hit a peak of 5,000+ stores in the U.S. but 94% have since shuttered. But company leaders are committed to a complete overhaul of the brand's strategy and have faith in inspiring boundless growth moving forward.
For starters, Quiznos is trying to combat the claim that its sandwiches are unhealthy to eat regularly by steering clear of a "no-no" ingredient list. Tim Casey, the company's president and CEO told us, "We're in the business of satisfying cravings, whether that's with the Spicy Monterey which contains only 300 calories and 3 grams of saturated fat in a 4-inch size, or the classic Italian sub, which has the most calories and sodium of the classic subs at Quiznos."  
Next on the chain's agenda is reopening and expanding to new locations, as a way to make Quizno sandwiches fully accessible as it was back in the day. The parent company REGO Restaurant Group has sparked a partnership with Quiznos and BCubed Manufacturing LLC to create a quick restaurant concept called "The Qube". This futuristic re-design of the chain's coming soon locations features a brand new logo, both drive-thru and walk-up windows, and a forward-thinking identity for Quiznos where the "globally inspired menu" has various categories for different times of the day.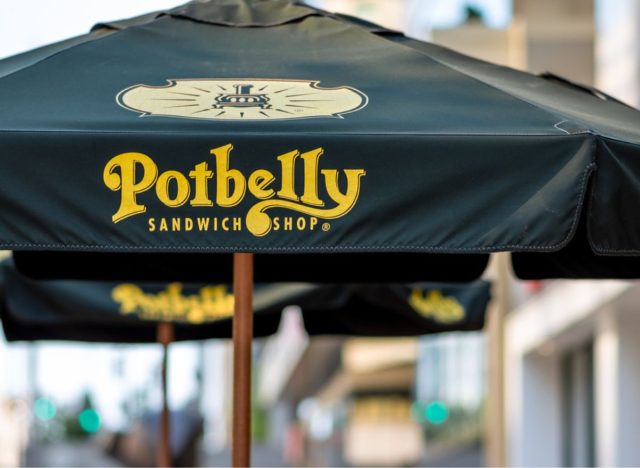 For a sandwich chain that considered itself the perfect "neighborhood sandwich concept," Potbelly was beginning to get overlooked by once-loyal fans. In 2020, the brand took a loss of nearly 50 of its 400 store locations and had to make a massive amount of COVID-related corporate layoffs to keep the company afloat during what Restaurant Business called "a pandemic slump." Many of the offices and employees were slow to return once business began to pick up again, but by 2022 year-to-year sales and average unit volumes saw millions of dollars in improvements. 
Now, Potbelly has had a few years to settle and reevaluate, the company was able to establish a solid marketing strategy and new growth initiative, focusing on franchising, QSR states. Current shop owners are making the switch to United One Group with a team that has over 75 years of restaurant experience, to better develop quick service and hospitality-focused locations in the Manhattan area. Also, Potbelly announced its proposal to expand exponentially in the next eight to 10 years, setting a goal of reaching 2,000 total units nationwide from its current estimated 430 locations. 
While end-of-quarter revenues dropped by over 30% in mid-2020, Potbelly reported that in the height of 2022 same-store sales increased by 25.8% to $98.2 million. Customers are starting to make their way back to the once-beloved sandwich chain, with inviting improvements such as digital ordering systems, a worthwhile loyalty rewards program,  new expert-designed menu items, and a line-crushing workflow tactic to decrease the chances of lunchtime rushes. 
Au Bon Pain had a booming run for a semi-small bakery chain back in the early 1980s and then again in the 2010s, offering French-style sandwiches, alongside soups, salads, and hand-crafted beverages. But what started out as the perfect place to grab a fast and simply delicious duel sandwich beverage combo, has had some rough patches.6254a4d1642c605c54bf1cab17d50f1e
Even though cousin company, Panera Bread, acquired Au Bon Pain in 2017, the chain continued to find difficulty resonating with customers. This resulted in very low volumes of foot traffic for many major city locations and eventually left a soft spot for the pandemic to cause financial strain on its 304 worldwide units.
The bakery chain was thought to have been given a second life when Ampex and YUM! Brands—the owner of KFC, Pizza Hut, and Taco Bell—took over and made substantial promises of growing Au Bon Pain by capitalizing on its "superior quality food that is also good for you." With the additional help of new ownership and exiting extreme COVID times, sales grew by 17% in 2021. Au Bon Pain saw a peak revenue of $41 million in 2022.
As part of the brand's current expansion plan, the sandwich spot is transforming its restaurants into what they call the "Café of the Future," a place where customers can get in and out quickly. There will still be sandwich makers at each location, but they will be better supported with easy grab-and-go options, refrigerated goods, and mobile kiosks for guests to customize and order what they want. Au Bon Pain currently operates 186 units globally, but it's still undisclosed how many of these stores are going to be in the first round of its future makeover.
Jordan Summers-Marcouillier
Jordan Summers-Marcouillier was born and raised in San Jose, California and now works as a writer in New York, NY.
Read more about Jordan