Bacon Pizza With Caramelized Onions and Goat Cheese Recipe
Skip ordering in and try your hand at a homemade artisanal pie.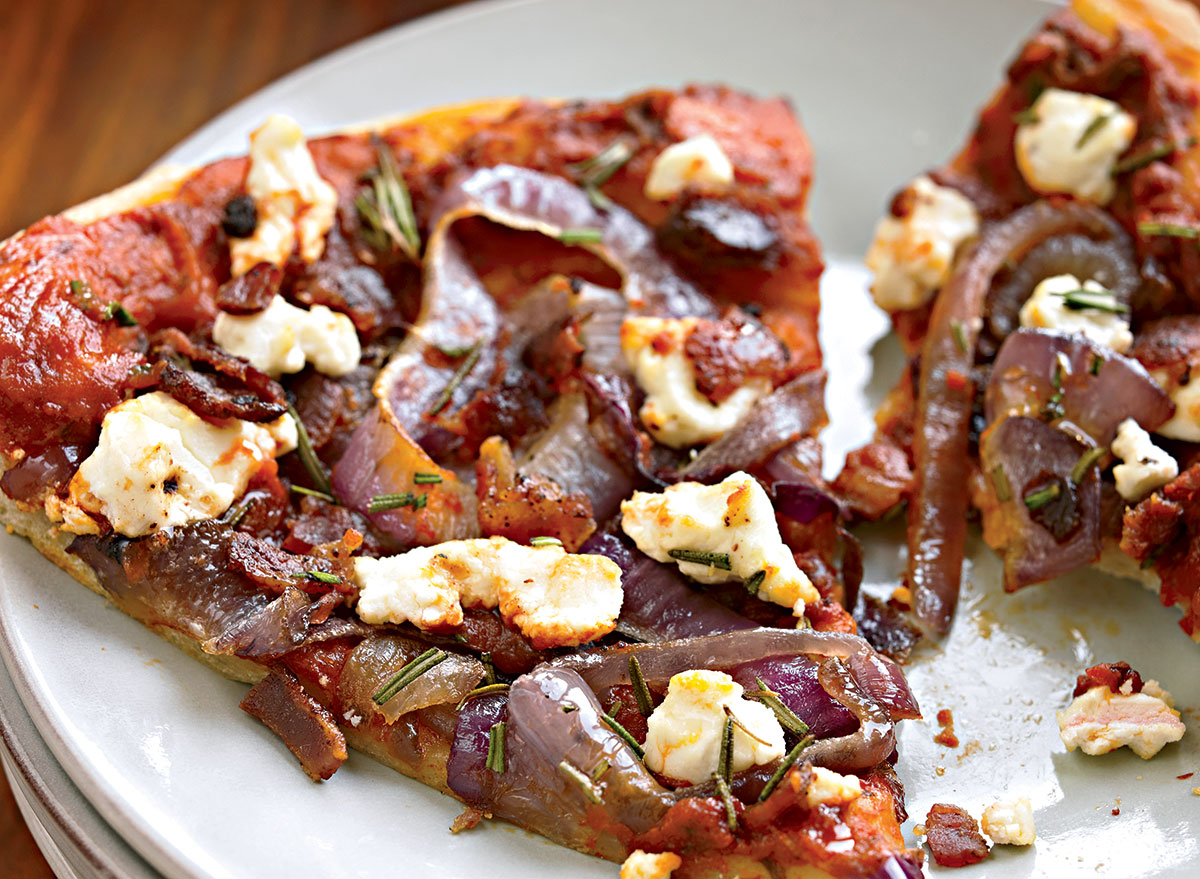 True artisanal pizza eschews floppy, sloppy slices in favor of a thin, delicate crust and a careful balance of sauce and toppings. The result is a pizza with a fraction of the calories and a surplus of flavor, which is exactly what this recipe recreates.
Nutrition: 370 calories, 13 g fat (6 g saturated), 880 mg sodium
Serves 4 (makes two 12" pizzas)
You'll Need
Pizza Sauce:
1 can (28 oz) whole peeled tomatoes, drained
1⁄2 tsp salt
1 Tbsp olive oil
1 clove garlic, finely minced
Pizza:
12 oz store-bought pizza dough, or 1 pre-baked pizza crust, such as Boboli
1 cup pizza sauce
1 cup fresh goat cheese
1 cup caramelized onions
4 strips bacon, cooked and crumbled
1⁄2 tsp chopped fresh rosemary (optional)
Red pepper flakes
How to Make It
Make the Pizza Sauce:
Place the ingredients in a blender and puree for a few seconds, until the tomatoes have broken down but still retain some of their chunky texture. This recipe makes about 3 cups of sauce.
Make the Pizza:
Preheat the oven to 500°F. If you have a pizza stone, place on the bottom rack.
Divide the dough into two equal pieces (unless you're using a pre-baked crust).
On a well-floured surface, use a rolling pin to work the dough into two thin circles, about 12" in diameter.
If you have a pizza stone, place one circle of dough on a pizza peel, cover with a light layer of sauce, then top with half the goat cheese, onions, bacon, and rosemary (if using), plus pepper flakes. Slide directly onto the stone and bake for about 8 minutes, until the edges are lightly browned. (If you don't have a stone, cook on a baking sheet placed directly on the oven floor instead.)
Cut the pizza into six or eight slices.
Eat This Tip
The key to working dough and perfecting your pizza is to keep everything well-floured: your hands, the rolling pin, the counter. Roll the dough as thin as you can without tearing it.6254a4d1642c605c54bf1cab17d50f1e
To work the dough:
Step 1: Apply weight to the rolling pin to stretch the dough
Step 2: Lightly sauce the pizza dough, leaving a 3⁄4-inch border for the crust
Step 3: Slide off a floured peel onto a pizza stone