17 Underrated Pizza Toppings
The verdict's out whether these pizza toppers are totally craveable or crazy...
Step aside, standard sausage. Ciao, cheese. Creative cooks are perking up pizza, aka America's favorite comfort food, with next-level toppings that toe the line between "oh wow!" and "are you kidding me?" For some, the idea is that if you can eat it, you can put it on a pizza, so we took it upon ourselves to round up some of the wackiest, weirdest pizza toppings in the world that you'll definitely want to try. And hey, maybe just maybe you'll be brave enough to try one of these for yourself, right in the comfort of your own kitchen. There's no better place to eat something new than right at home, right?
Grab a premade pizza crust, and get going trying these out-of-the-box pizza toppings at home!
And for more throwbacks, check out these 15 Classic American Desserts That Deserve a Comeback.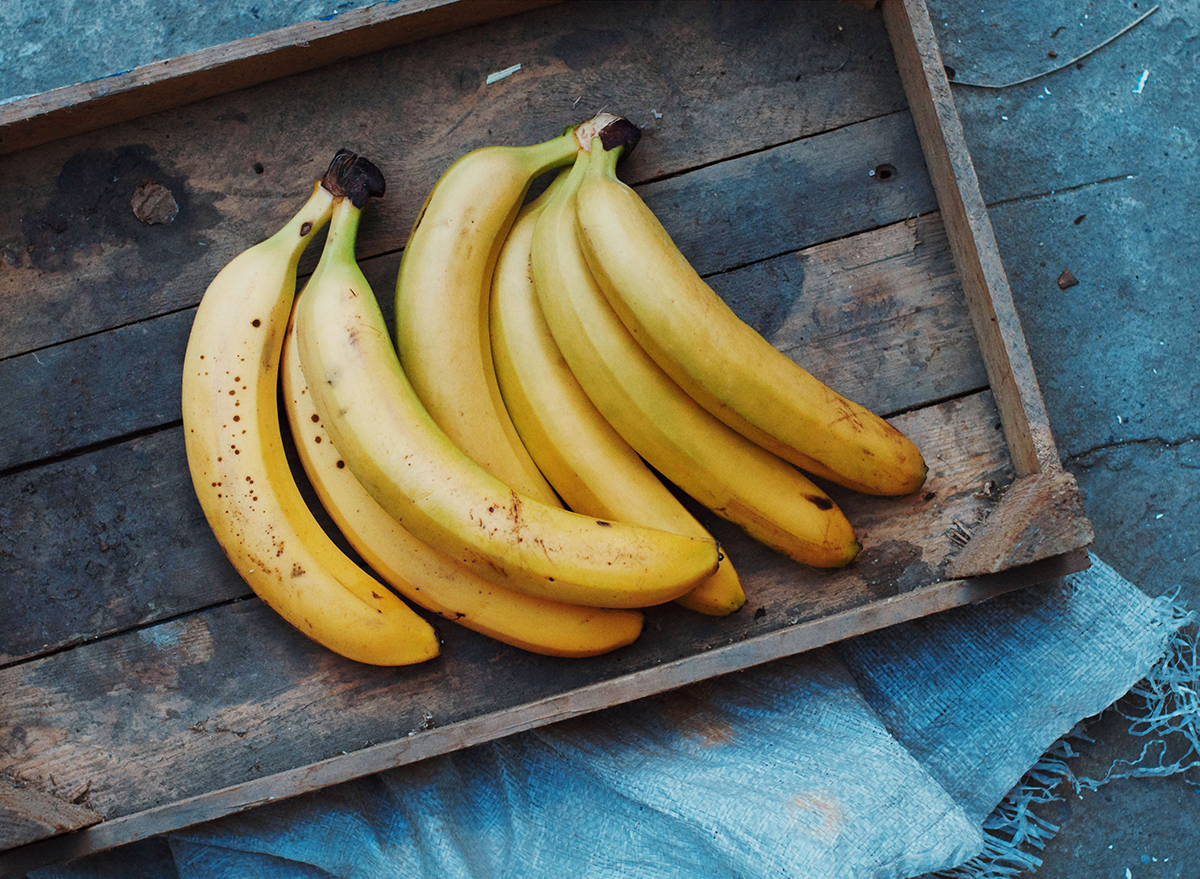 Inspiration: Farm Fresh Feasts' Ham and Banana Pizza
You read that right: You can add bananas to your pizza. Swedish snackers adore banana curry pizza. Yes, really!  You can take the concept to a more American—by way of Hawaii—flavor palate. Think of it as a Hawaiian pizza but with the star ingredient switched to a different kind of yellow fruit. So instead of pineapple pieces, the marinara, ham, and mozzarella cheese recipe gets a pop of sweetness from banana coins. Plus, the banana will caramelize when it's cooked, so you know you're in for a golden treat when it comes out of the oven!
Inspiration: Bellissima Pizzeria in Philadelphia, Pennsylvania
Order a Philly cheesesteak sandwich at certain shops in Philly, and you'll be asked if you want your hoagie "Whiz wit or Whiz without" (translation: with Cheese Whiz or sans-cheese). But have you ever thought about spreading some of that Cheez Whiz on your pizza? At Bellissima Pizzeria, you can score a crust topped with Cheese Whiz, chicken fingers, and mozzarella cheese. You can easily buy Cheez Whiz at the grocery store and spread some on top of a classic pizza for the ultimate cheesy bite. This gives new meaning to double cheese, right?6254a4d1642c605c54bf1cab17d50f1e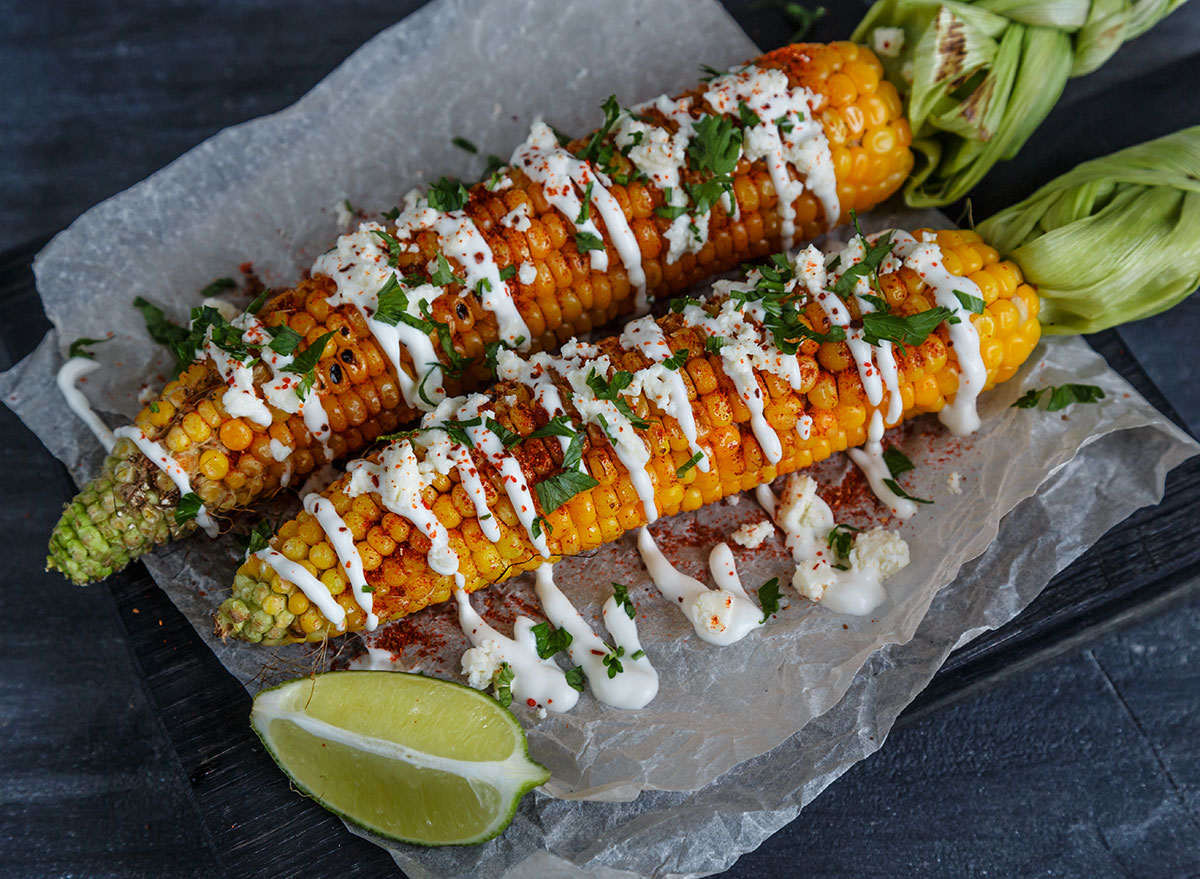 Inspiration: Rose City Pizza in Rosemead, California
The popular grilled Mexican street food can easily be added to a pizza if you want to spice up your topping game. Chili powder, cilantro, and spicy mayo mixing together on your slice? Now that's a force to be reckoned with.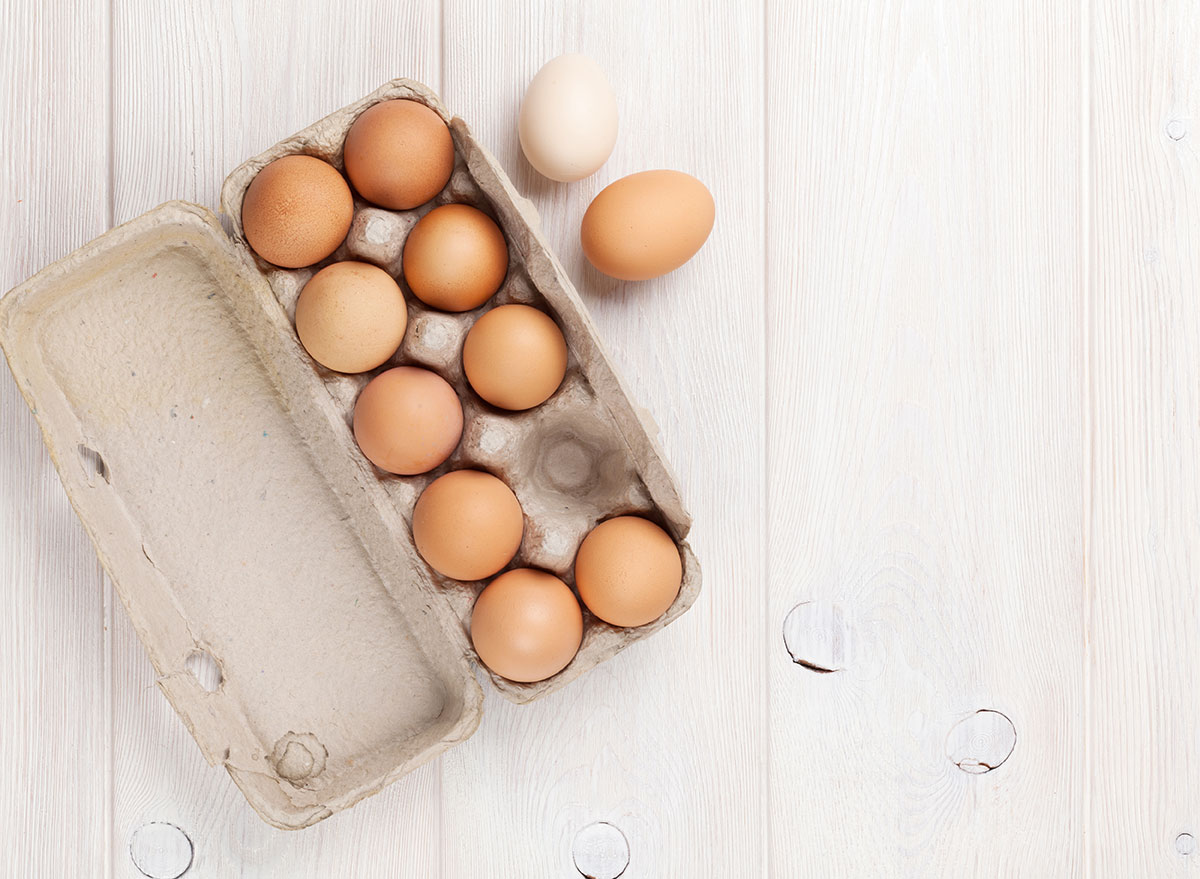 Inspiration: Jean-George's Mixed Wild Mushroom Pizza With Fried Eggs
Yep, we're breaking into the breakfast theme now, as we're topping your pizza with eggs however you like them: fried, sunny-side up, all versions are welcome. Think about it—how good would the gooey egg yolk taste on top of the cheese? People put fried eggs on their burgers for the creamy texture that reminds them of cheese, so there's no reason not to add eggs to pizza, too. You can also add in veggies like mushrooms or peppers to bring a full omelet/veggie pizza combination to your breakfast or dinner table. It's the best of both worlds.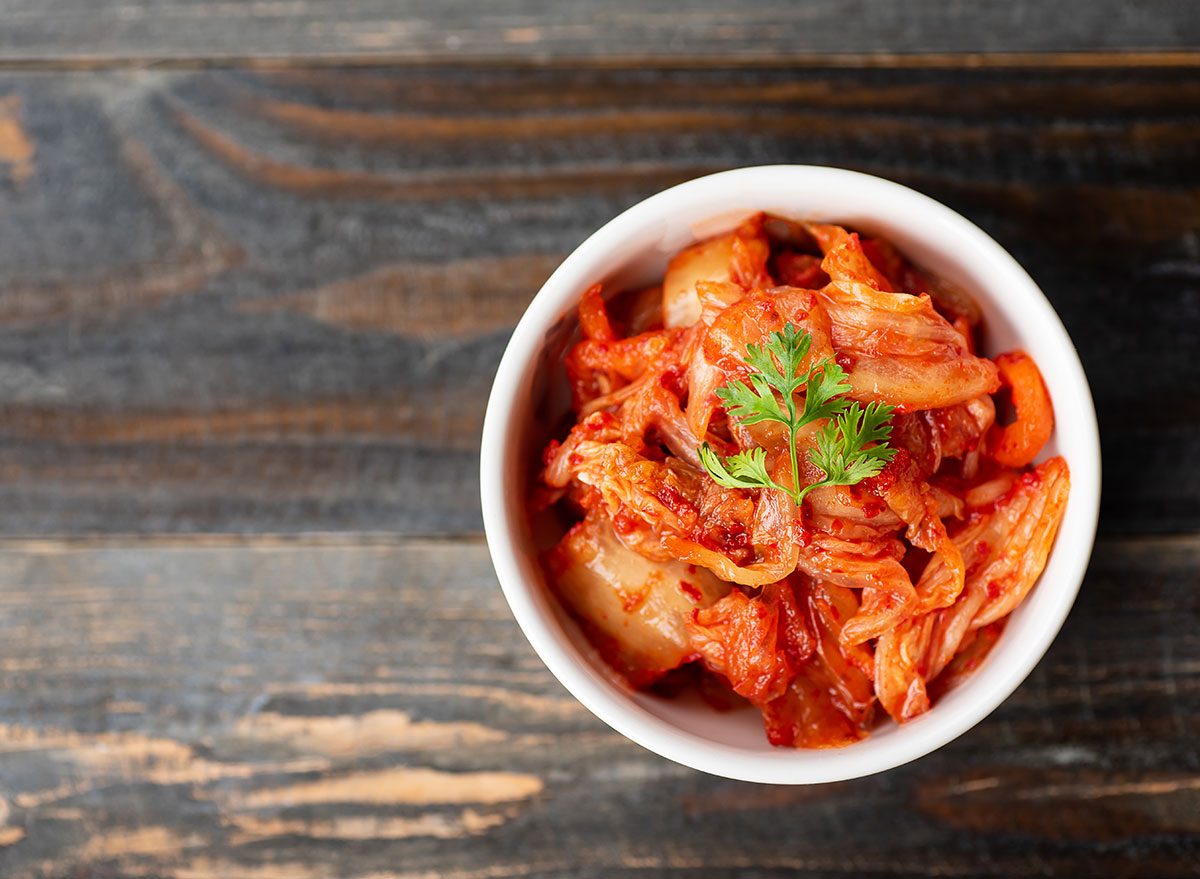 Inspiration: Pig Ate My Pizza in Robbinsdale, Minnesota
Fermented foods are trending in everything from fizzy drinks like kombucha to fresh dairy finds like kefir, so it was only a matter of time before someone thought to add it to pizza. Pig Ate My Pizza features fermentation in two ways on their Seoul-Ful pork pizza: kimchi (Korean-seasoned veggies) and miso (soybean paste). This is one umami-based pizza topping you can easily try out at home with a quick stop at the grocery store for those two ingredients.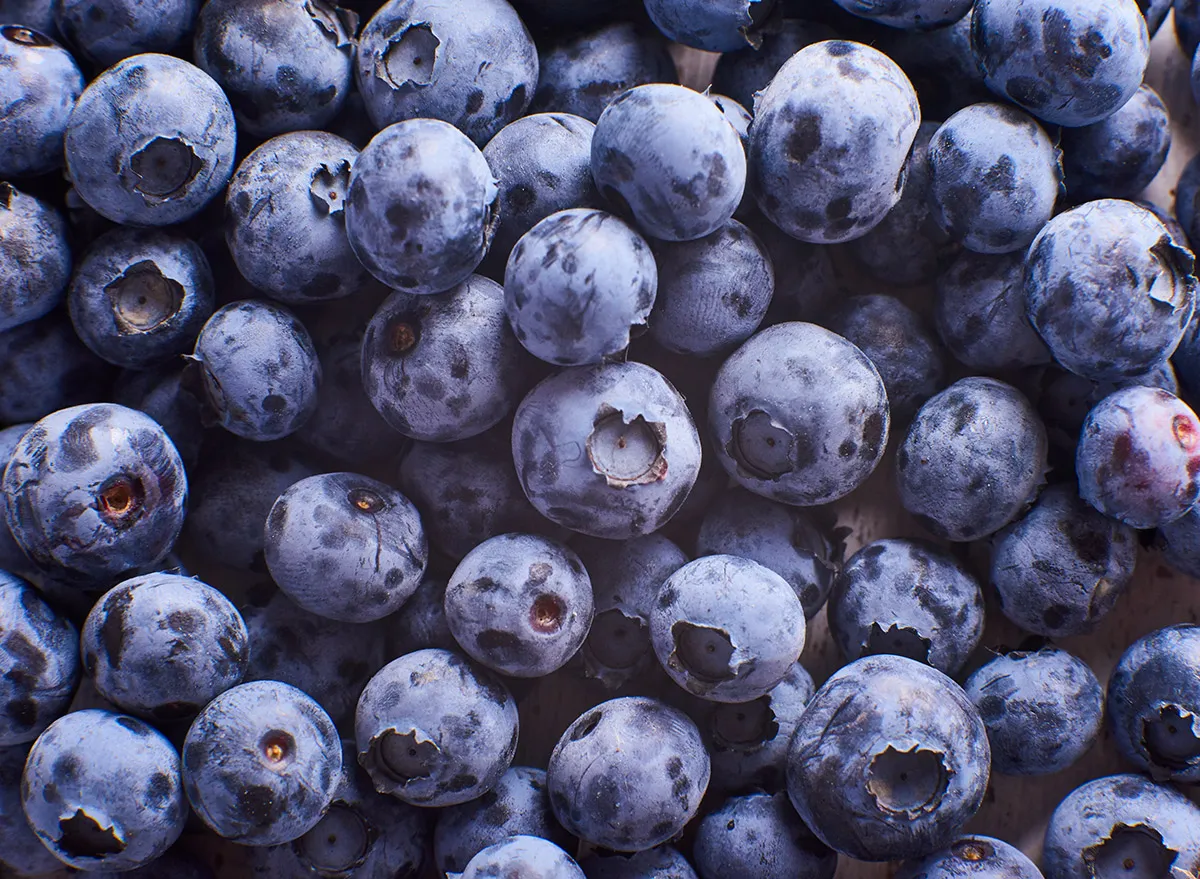 Inspiration: How Sweet Eats' Blueberry Pizza
Dessert pizzas rarely veer from apple-cinnamon or s'mores, but other fruit can be tossed up on pizza for a sweet treat that can totally work for dinner, too. How Sweet Eats freshens up sweet-and-savory slices with fresh blueberries, thyme, caramelized shallots, and lemon-scented ricotta. So when your sweet tooth comes calling, this is a way to satisfy it in a more savory way that's appropriate for dinner.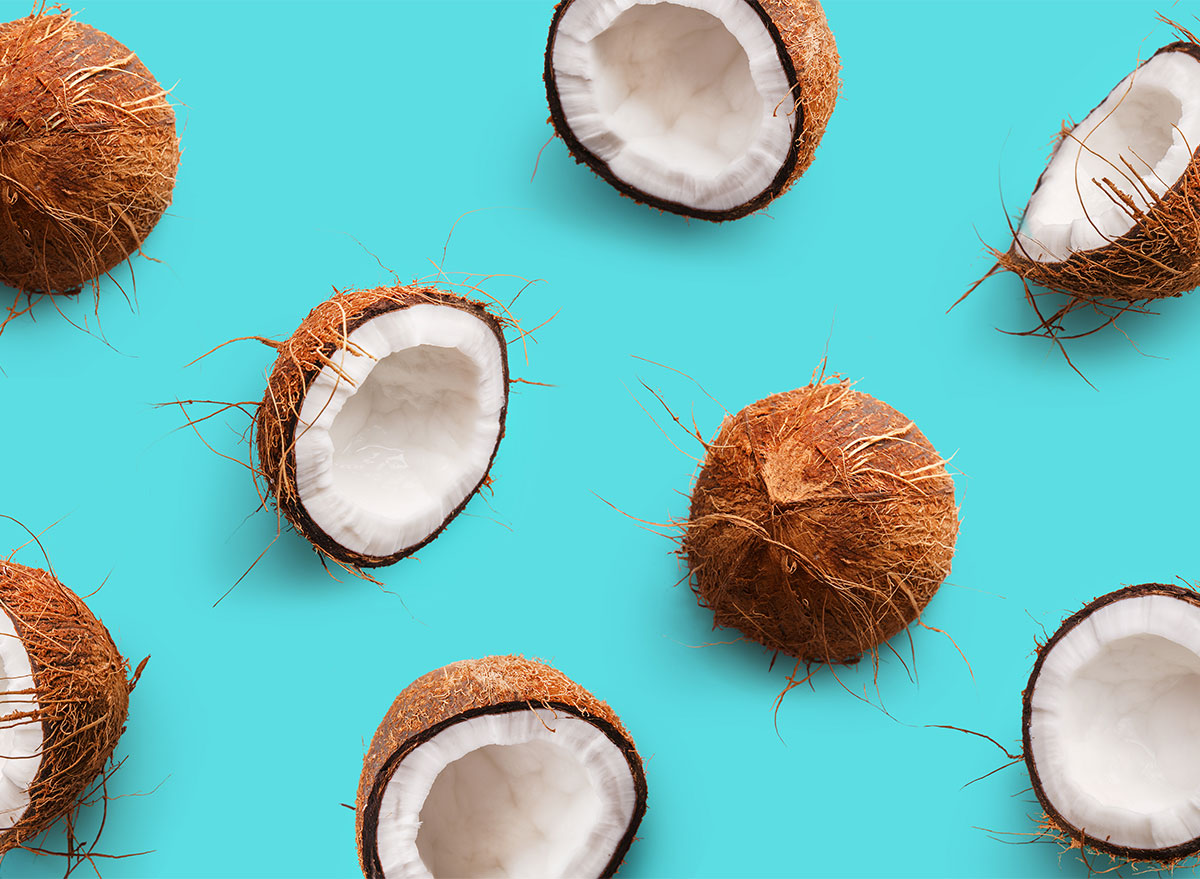 Inspiration: Coconut and shrimp pizza from Costa Rica
Coconut is a topping you'll see at a fro-yo shop, but it's something you can put on your pizza, too! In Costa Rica, pizzas are topped with coconut and shrimp, creating that beloved sweet and savory combo. Grab those coconut flakes, and get to shaking them all over your next slice.
Inspiration: Boss Lady Pizza in Boulder, Colorado
"Are you going to eat those tots?" How about adding them to your pizza? The answer is a resounding "yes!" to all of the above. The white pizza at Boss Lady Pizza tastes like buffalo chicken meets tater tots meets jalapeño poppers, so it's a truly flavor-packed pie you'll want to recreate at home. The official topping lineup: Ranch dressing, buffalo tots, jalapeños, mozzarella and cheddar cheeses, and sour cream. You can make this dish when you want to take your game day snacks to the next level. Think of it as adding some of those classic sports foods all in one place: on top of a pizza!
Inspiration: The Slice Above's Homemade Shepherd's Pie Pizza
If you're part of the population that categorizes deep dish pizza as a casserole, this concept might not seem quite as wacky at first glance. But think about it: Instead of mozzarella and red sauce, you'll uncover a hearty ground lamb, carrot, pea, and onion filling—all spread with buttery mashed potatoes, a la shepherd's pie. Why not combine two classic comfort foods the next time you're wanting to whip up something totally new for dinner—spread out on a homemade pizza, you'll definitely feel full from this hearty meal.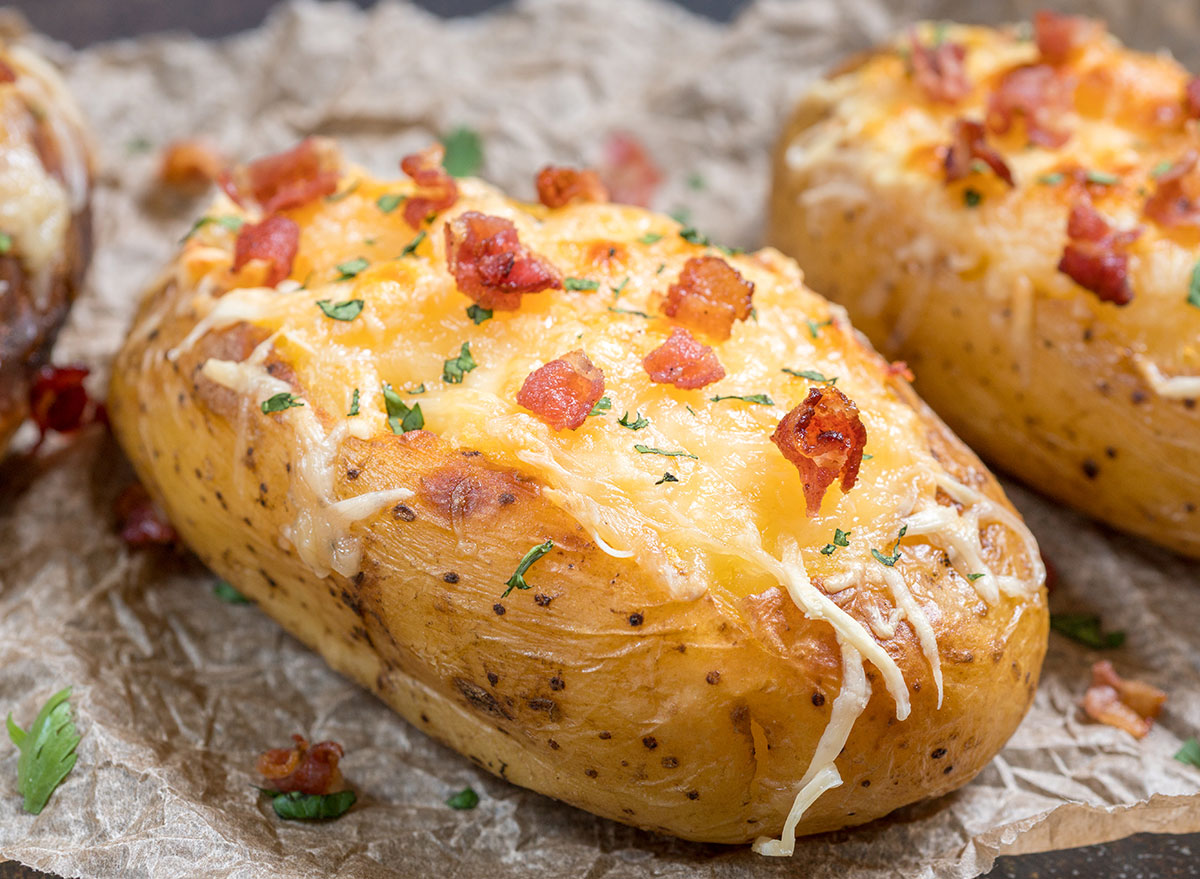 Inspiration: Foxes Love Lemons baked potato pizza recipe
This is one option you can easily make if you're cooking at home, and a spud-topped pizza is sure to cure any and all of your carb cravings. With some refrigerated dough as the base, add baby gold potatoes, bacon, cheddar cheese, jalapeños, and plenty of ranch dressing to make this pizza just like the scrumptious side dish.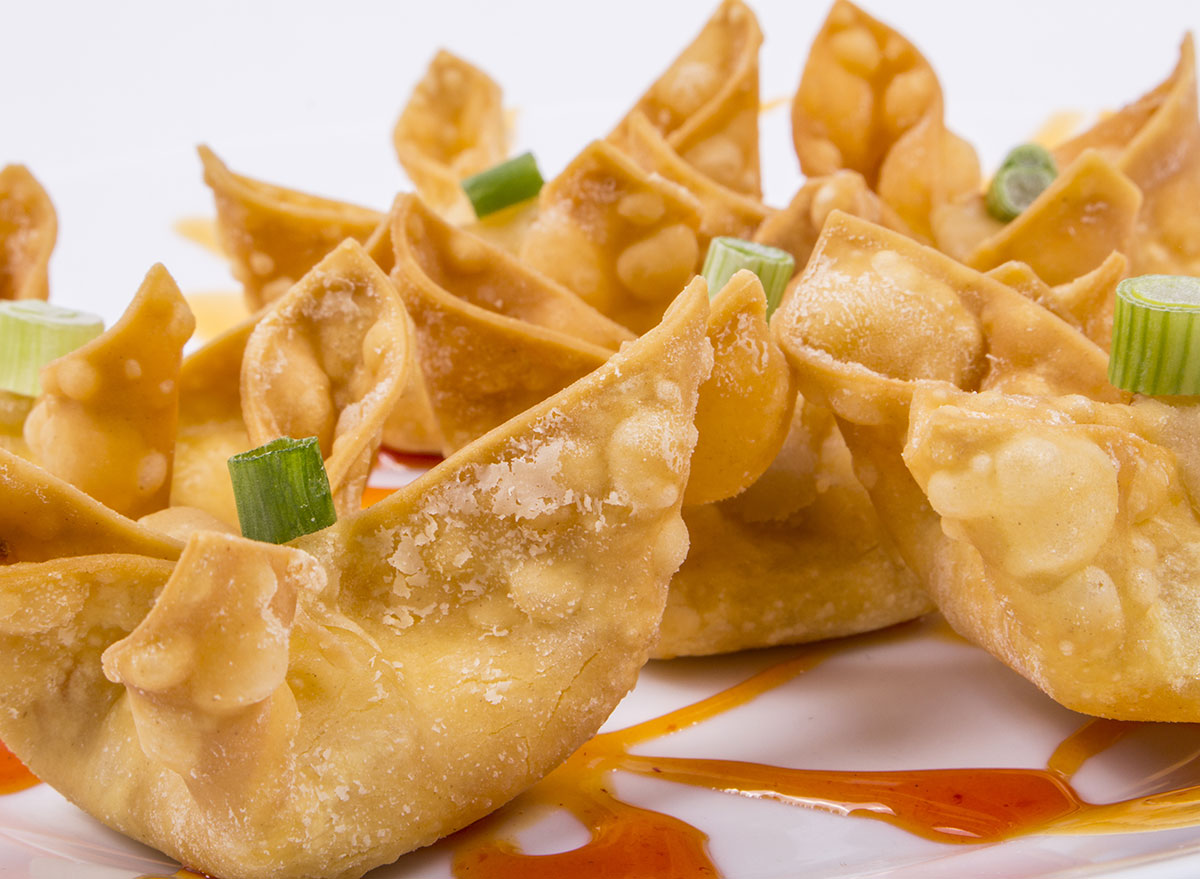 Inspiration: The Crab Rangoon Pie at Fong's Pizza in Des Moines, Iowa
Why choose between Chinese and Italian food when you can enjoy both cuisines in one bite? At Fong's Pizza, pizza dough gets adorned with all of the classic crab rangoon ingredients, including cream cheese, surimi (aka fish paste), green onions, crispy wonton strips, asiago and mozzarella cheeses, and a drizzle of sweet chili sauce. Talk about a unique twist on a basic piece of a pizza! You can get creative in the kitchen when it comes to making a variation of this pie at home—this is a fun seafood slice you'll love to recreate.
Inspiration: Tony Boloney's Tuesday-only special pie in Atlantic City, New Jersey
Can't decide whether you're in the mood for tacos or pizza? Well, it's totally OK if you want to have both and put some tacos on your pizza. Prepare to take the concept of the taco pizza to new avocado-upgraded heights. You can order a plain pizza and make your own taco ingredients to layer on top of your slices. Think of taco meat as just an upgraded form of your usual sausage or pepperoni topping. Allow for some room in the center of the pie for a mountain of guacamole that can be used for dipping, of course, like it's done at Tony Boloney's. Bite with caution: These slices could get heavy!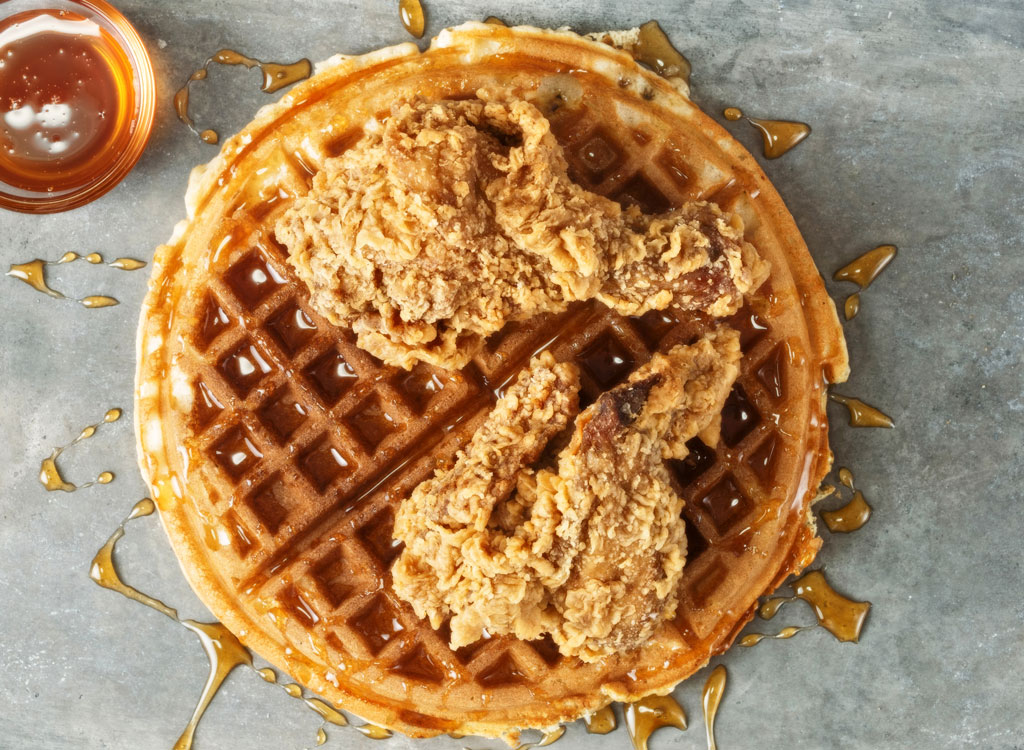 Inspiration: Dimo's in Chicago, Illinois
The sweet and savory dish is already the perfect match, so you might've not thought to ever add it to your pizza. But why not? It's the perfect breakfast treat, and it's a slice above reheating cold pizza for a morning meal. Dimo's version comes on a New York-style crust and offers a taste of the South in the Windy City, with each slice crowned with crème fraîche, fried chicken, melted butter, mozzarella cheese, homemade mini waffles, and honey.
Chicken and waffles are something you could easily whip up in the morning, so why not toss them on top of last night's leftover slices for a homemade version? We love the idea of bite-sized mini waffles on top!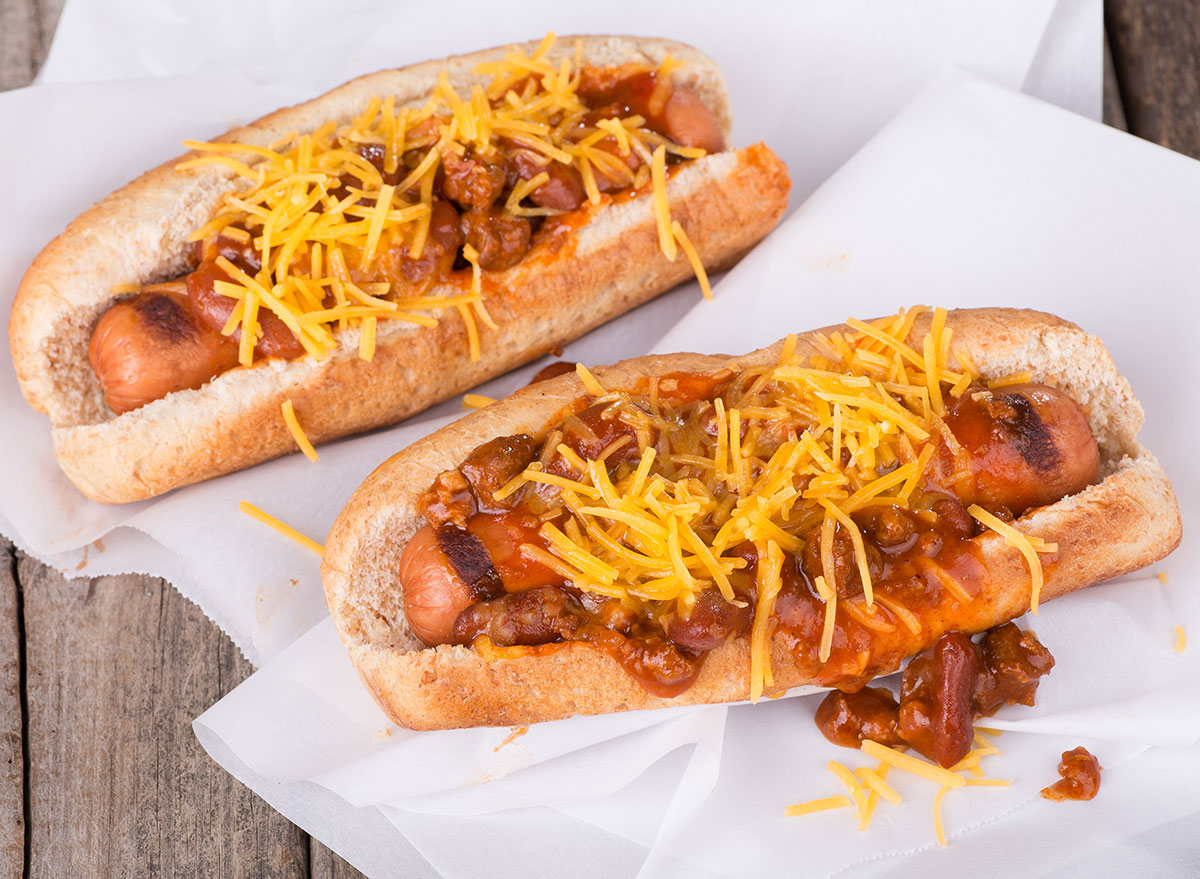 Inspiration: Melanie Makes
Kids—and kids at heart—have most likely wondered what pairing hot dogs and pizza would taste like. So go ahead and put a chili cheese dog on your pizza. You can use ground beef chili in place of traditional tomato sauce and hot dog coins as the stand-ins for the sausage and pepperoni. Crown it all in a layer of cheese, and it's a super simple swap!
Inspiration: Paleo OMG's Biscuits and Gravy Pizza
We've already established that pizza isn't just a lunch or dinner option—you can have it in the morning, too. And you can really make it a true breakfast meal by adding some sausage gravy. You can make a pan-style "biscuit" crust and top it with sausage gravy that's seasoned with rosemary, sage, and fennel. Talk about taking these up to a gourmet level!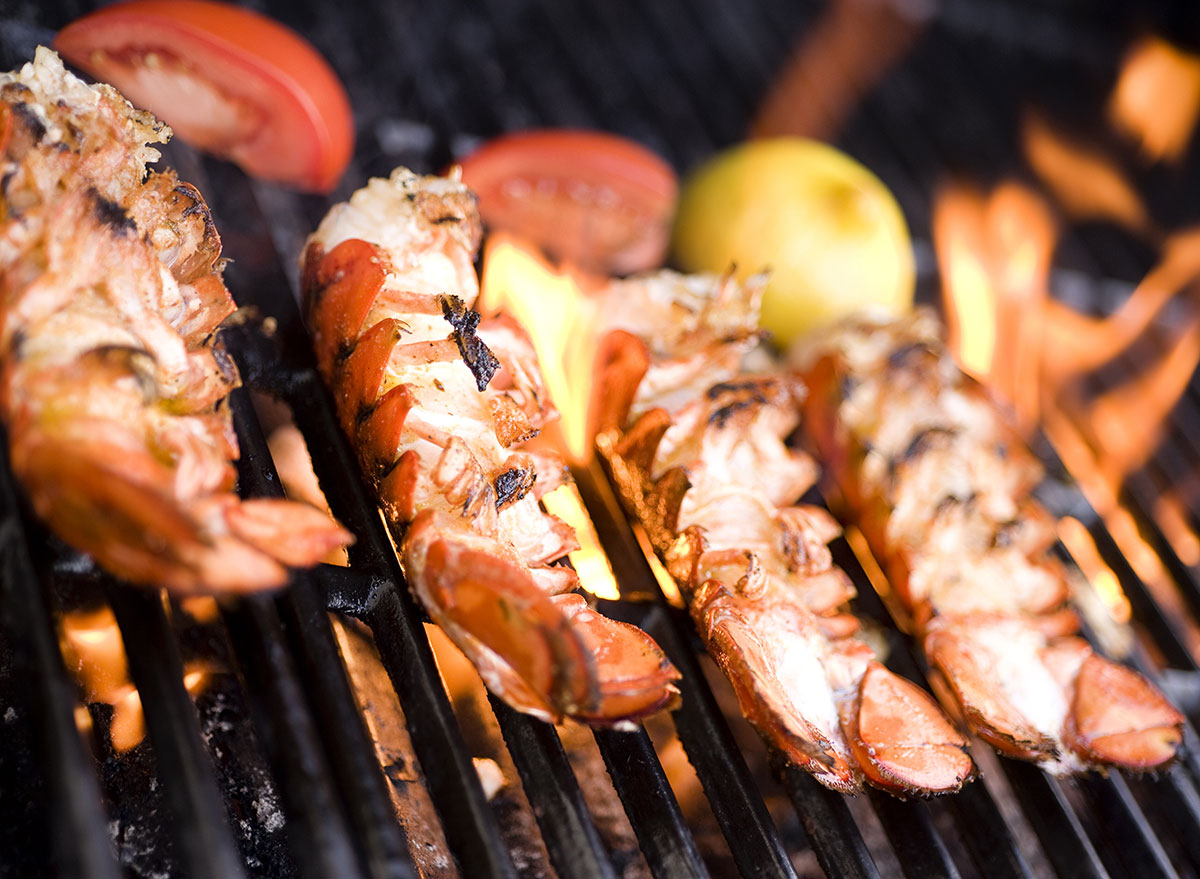 Inspiration: Steveston Pizza in British Columbia, Canada
Anchovies are a common pizza topping, but you might be missing out if you're not also trying out adding lobster to your pizza. Hey, it'll look really impressive, don't you think? The $70 Serpent pizza at Steveston Pizza is a towering sea feast of Canadian lobster tails, shrimp, prawns, and smoked salmon. Steal the restaurant's idea and make a seafood-themed pizza at home with some or all of the same fish.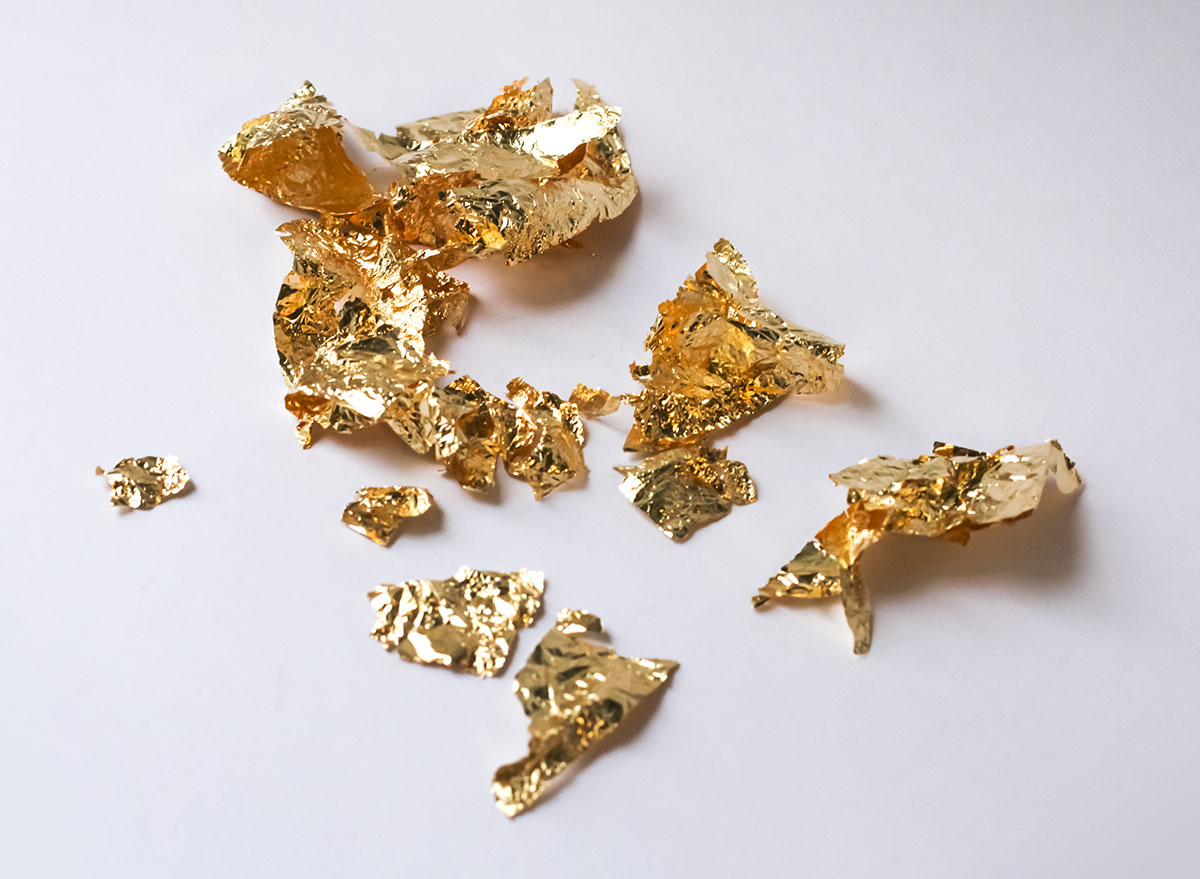 Inspiration: Industry Kitchen in New York City
Yes, you really can eat gold, so why not add it to your slice? As outrageous as this sounds, it's very real, and if you call 48 hours ahead, you can indulge in a $2,000 pie at Industry Kitchen. A more practical version you can make at home is to add edible gold glitter to your pizza if you want to add some shimmer and shine just for fun. Now, who's ready for pizza?
And when you're cooking, don't miss these 52 Life-Changing Kitchen Hacks That'll Make You Enjoy Cooking Again.
Karla Walsh
Karla Walsh is a freelance writer, editor and restaurant brand manager based in Des Moines, Iowa, where she reports on fitness trends, wellness research, psychology, and healthy recipes.
Read more about Karla