The Best Homemade Potato Chips Recipe
Put down the bag of Lays and get to baking up some spuds yourself!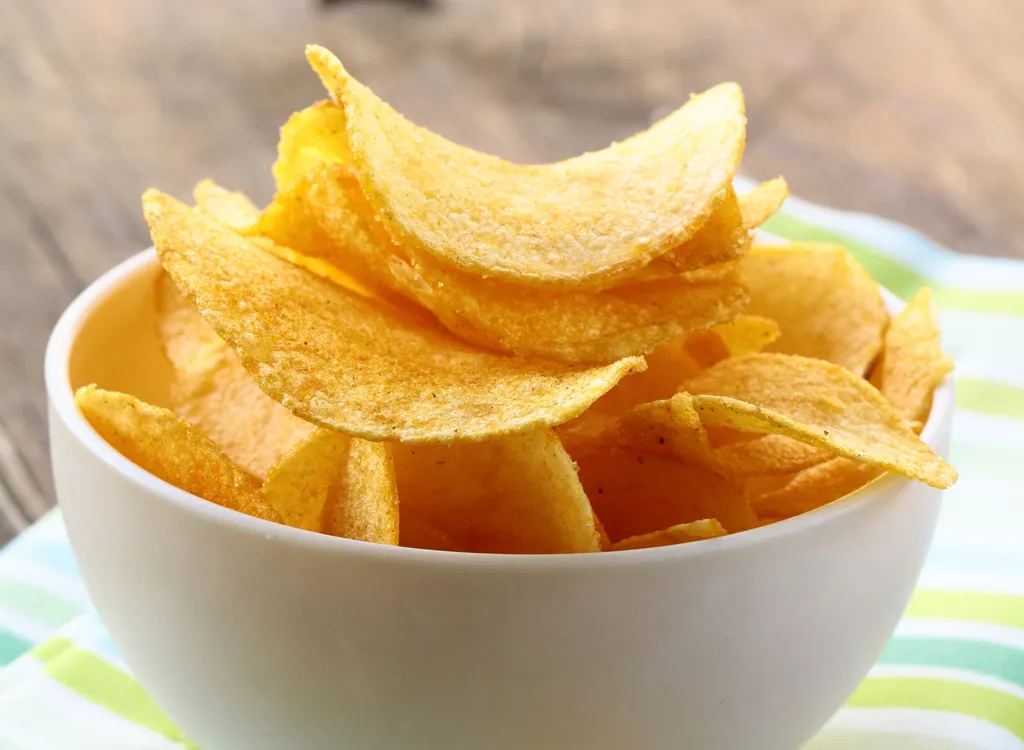 When it comes to eating healthy, the thing that can push us off track more often than not is our cravings for high caloric snacks overpowering us in-between meals. Snacks are more often than not loaded with fatty oils, phony flavoring and greasy, empty calories. We bet you can you guess what the biggest culprit is… Yep, if you guessed potato chips, you are correct. Nearly impossible to resist and more often than not potato chips come in near-bottomless bags that are equally impossible to put down, and before you know it you've consumed an entire meal's worth of calories. A minuscule 1-ounce portion of potato chips will run you 160 calories and 10 grams of fat. But why should we have to avoid snacks entirely? But why can't there be room in our healthy diets for snacks? You haven't failed at eating healthy if you get hungry between meals, and when you're hungry it is generally considered healthy to, well…eat. But, why settle when you can bake healthier and immensely tastier chips in 20 minutes at home? Customize their flavor depending on your mood.
Nutrition: 190 calories, 10 g fat (2 g saturated), 320 mg sodium
Serves 6
You'll Need
2 large russet potatoes
1 Tbsp olive oil
Salt and black pepper to taste
OPTIONAL TOPPINGS
2 Tbsp finely grated Parmesan
1⁄2 Tbsp smoked paprika
1 Tbsp chopped fresh rosemary
1 clove garlic, minced
1⁄4 cup chopped parsley and the grated zest of 1 lemon
How to Make It
Preheat the oven to 400°F.
Scrub the potatoes with cold water and cut crosswise into 1⁄8" thick slices.
Toss with the olive oil and season with salt and pepper.
Spread in a single layer on a baking sheet. (To use the optional toppings: Sprinkle with Parmesan, paprika, or rosemary before baking; add the parsley mixture after baking.)
Bake until lightly browned and crispy, about 20 minutes.
Eat This Tip
Customize Your Chips:
You know we're all about adapting recipes to suit your dietary restrictions, preference, moods, and tastebuds. So here are a few ideas of how to modify this recipe to suit your cravings and desires:
Switch from russet potatoes to sweet potatoes
Add in a few scallions for an oniony taste
Add in some hot pepper for an added bite
This recipe (and hundreds more!) came from one of our Cook This, Not That! books. For more easy cooking ideas, you can also buy the book!6254a4d1642c605c54bf1cab17d50f1e