This Is the Best Way To Cook Brisket, According to Chefs
Honor your favorite holiday traditions with these tips on preparing brisket.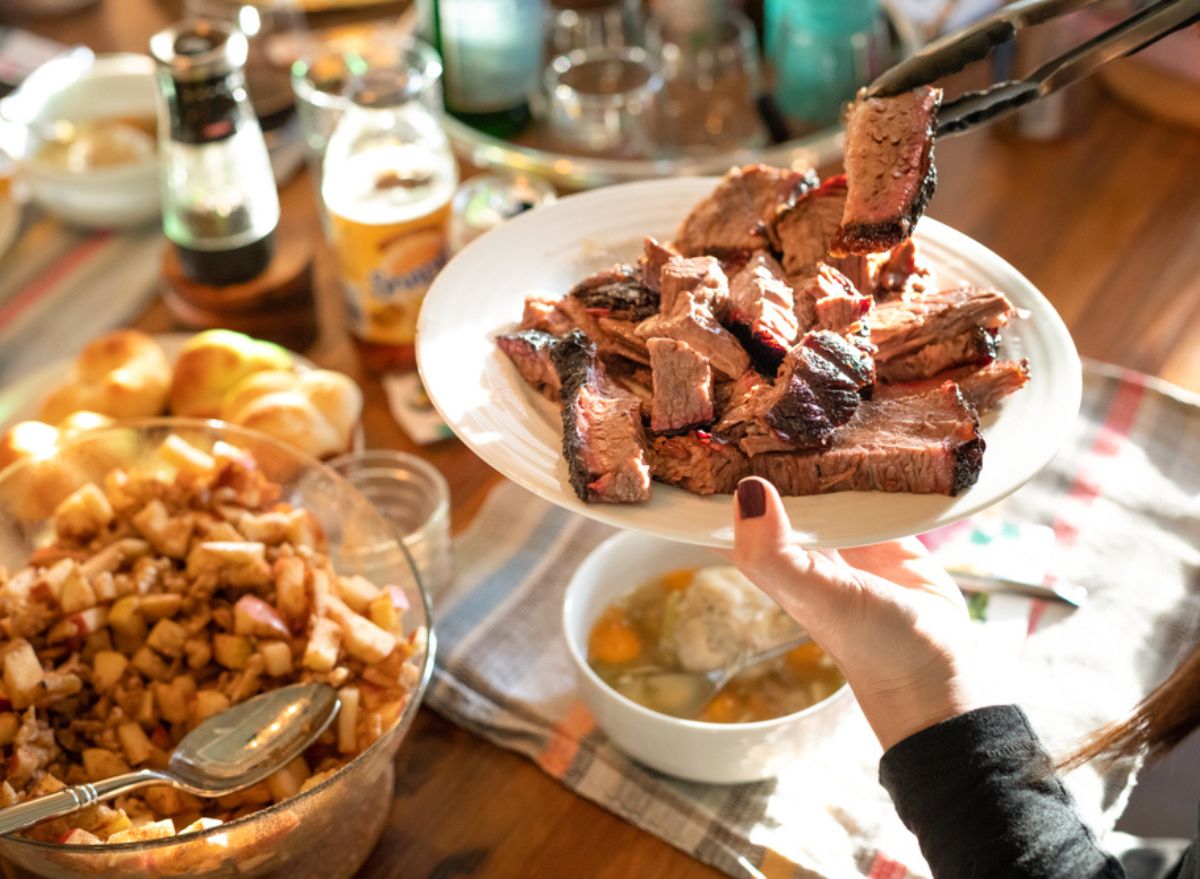 Growing up, some of my favorite holiday memories were going to my grandma's house for a beautiful brisket dinner. Grandma would slowly braise the brisket with potatoes and onions and carrots all day, and the smell would waft out the front door as we entered. My mom adapted her mom's recipe, throwing in a few touches of her own along the way, and now I have my own spin on holiday brisket I make in my own home.
But for many Jewish families, the core of the holiday brisket looks very much the same, and it's a time-honored tradition we look forward to each Hanukkah. "Brisket, especially a braised or wet-roasted holiday brisket, is arguably the hardest cut of beef to prepare – right up there with all the other working cuts that demand real cooking to coax out all the flavor and texture of the meat," says Andrew Zimmern, James Beard Award-winning TV personality, chef, and host of the Outdoor Channel's "Andrew Zimmern's Wild Game Kitchen."
Zimmern believes the biggest myth about braising is how easy it is to overcook and dry out the beef, but he says with some thoughtful preparation, we all can have a delicious brisket this holiday. Here are the tips to consider when it comes to cooking the best brisket.
Buy the Right Cut of Meat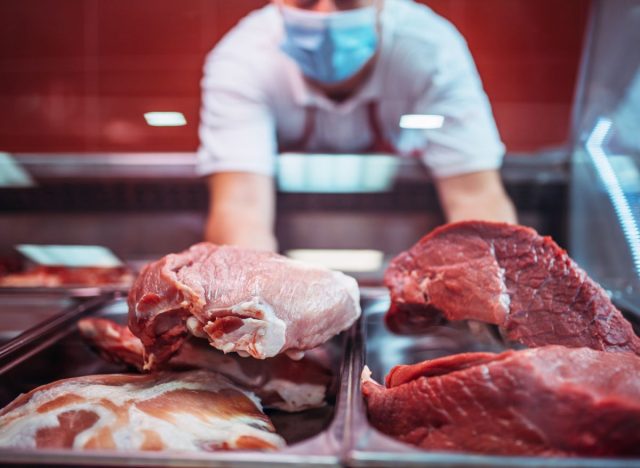 Big, beautiful pieces of beef can get pretty pricey, especially when shopping for kosher meat, but it's still a good idea to buy a whole brisket. "Get a good one and trim a bit of the high end of the 'nose' or 'point' of what some call the 'second cut' yourself, just an inch," says Zimmern.  No more. That is the fatty end.
"The reward for the braising is that superb pair of muscles that you can trim (interior line of fat and the top layer) when it is on your carving board," says Zimmern.
Cook it the Day Before
Classically, brisket is braised, sliced, and served with a sauce made from the braising liquid. "During the braising process, the meat is essentially overcooked until the connective tissue breaks down and the meat becomes soft and tender," says Joshua Resnick, chef-instructor of Culinary Arts at the Institute of Culinary Education.
Resnick believes that in order to make the best brisket, it's best to cook it the day before you serve it, and then cool it down in its juices overnight. "The meat will stay extra juicy instead of drying out. It will also firm up as it sits, thus allowing you to slice the brisket easier. Additionally, by allowing it to sit overnight, all of the fat that cooks off will rise and solidify as it chills, thus allowing you to easily remove it from the sauce and preventing you from serving a greasy mess," says Resnick.
There's a whole lot of family tradition that goes into a brisket recipe, but many chefs will throw in their own personal touches. "While most traditionally-Ashkenazi brisket dishes call for ingredients like tomato and carrot, I base my recipe off a more traditional Roman-Jewish style of brisket preparation that calls for ingredients like red wine, red wine vinegar, onions, garlic, rosemary, sage, thyme and honey," says Resnick.  It gives it a wonderful richness while the herbs keep the flavor fresh." It feels right at home alongside a traditional potato latke too, as the onions in the sauce, which I sweat in the same pan I sear the meat in, bring out the onions in the latkes while the crispy potatoes help provide texture to pair with the soft meat," says Resnick.
Brown the Brisket
Before braising or roasting your brisket, you are going to want to brown it evenly. "Lightly brown both sides of your brisket before placing it in a roasting pan," says Zimmern, who actually has one big pan that he uses almost exclusively for this purpose. "I brown my onions in the same pan that I browned the brisket in so I don't lose all the fond from that process," says Zimmern.
Don't Forget To Add Some Acid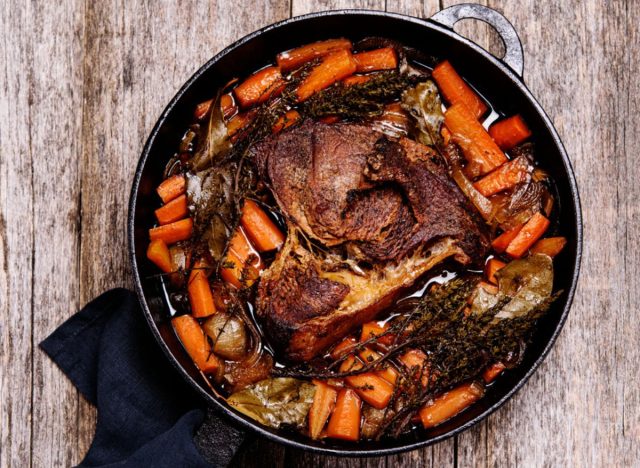 Let your acid work for you! "I put my vinegar, wine, or sometimes both in the braising pan for the whole cooking process so they tease out all the contrast with the fattiness," says Zimmern.6254a4d1642c605c54bf1cab17d50f1e
Speaking of that fattiness, great piece of tender meat is going to have some fat in it – that's where a good amount of the taste comes from. But you don't want to go overboard, either. "Skim, skim, skim your brisket juices," says Zimmern. The meat is fatty enough!
Remember To Let it Rest
Zimmern cooks his brisket for 6 or so hours and lets it rest with half the onions on top to keep it warm, before tenting with foil.  "Don't let it rest in the hot braising liquid, it will keep cooking and you risk drying it out," says Zimmern.
Slice the Brisket
A beautiful meat presentation is going to start with how you slice the brisket. "The first 4 inches of the 'flat' will always be a little dryer and more crumbly than the rest of the brisket. I cut that off, set it aside, and start carving after that piece is off," says Zimmern. Use that the next day for sandwiches, hash, soups, tacos, burnt ends – whatever you please.
When you get to the 'nose' or 'point', you will see a line of intramuscular fat. "Cut the top off horizontally along that line. Take away the fat seam and slice it separately since it has a different grain than the rest of the brisket," says Zimmern.
Switch Things Up
Don't be afraid to have some fun with your brisket if the occasion arises. "I make brisket 2 ways: Texas BBQ style on my offset smoker, which is a 16 hour process that I do once a year, and my grandmother's brisket that I do 4 times a year. I don't make any crossover style briskets with special techniques or flavors from elsewhere, only because I only like her brisket the most. It's the holiday centerpiece roast of my childhood. I am emotionally attached to it like a child is with their first pet," says Zimmern.
Honor the History of the Dish
Part of the beauty of a traditional holiday meal is honoring everyone who came before us, and how this dish became such an important part of the experience. "I am constantly amazed at how the food of poverty – the food born of struggle – is now the expensive food that is so highly-prized and tricky to cook for the modern kitchen denizen. Everyone's grandmother when I was young could cook briskets, shanks, tails, stews, and soups with their eyes closed – no recipes or timers. It was in their hearts. Today we are too distant from everyday cooking – over-scheduled, out of time, and not cooking 15 meals a week anymore," says Zimmern.
Know When it's Done
There's a science to preparing any meat, but in this case, it's more about heart. "Since all briskets are shaped differently and have different sizes and weights, some people will use a meat thermometer. They will say to take it out when the thicker end reaches about 170 degrees, because it has to get that hot to break down the connective tissue and be tender," says Zimmern.
Keep things simple
Like many good things, the best brisket is the most simple. "Brisket has become an essential part of the American Jewish experience," says Chef Daniel Rose of Le Coucou (NY), Café Basque (LA), Le Sélect (Chicago), and La Bourse et La Vie (Paris). "As a young chef, I rejected my mother's very delicious, simple cooking style for more complicated and fanciful things. I suppose that with age comes wisdom (and more sophisticated taste), which translates to simplicity and clarity in the kitchen. Cooking brisket is the concentration of so many things I learned on my cooking adventure," says Rose.
Rose's brisket is all about cooking it covered, long, and slow, "until it's done." Isn't that everyone's mom's timer?