6 Tips to Lose Weight at Chipotle
Welcome to the Chipotle matrix, can I take your order? Or so we think the nice folks at the popular chain should say. Because when it comes to ordering healthily at Chipotle, things can go from slim to stretchy-pants faster than you can say Olé!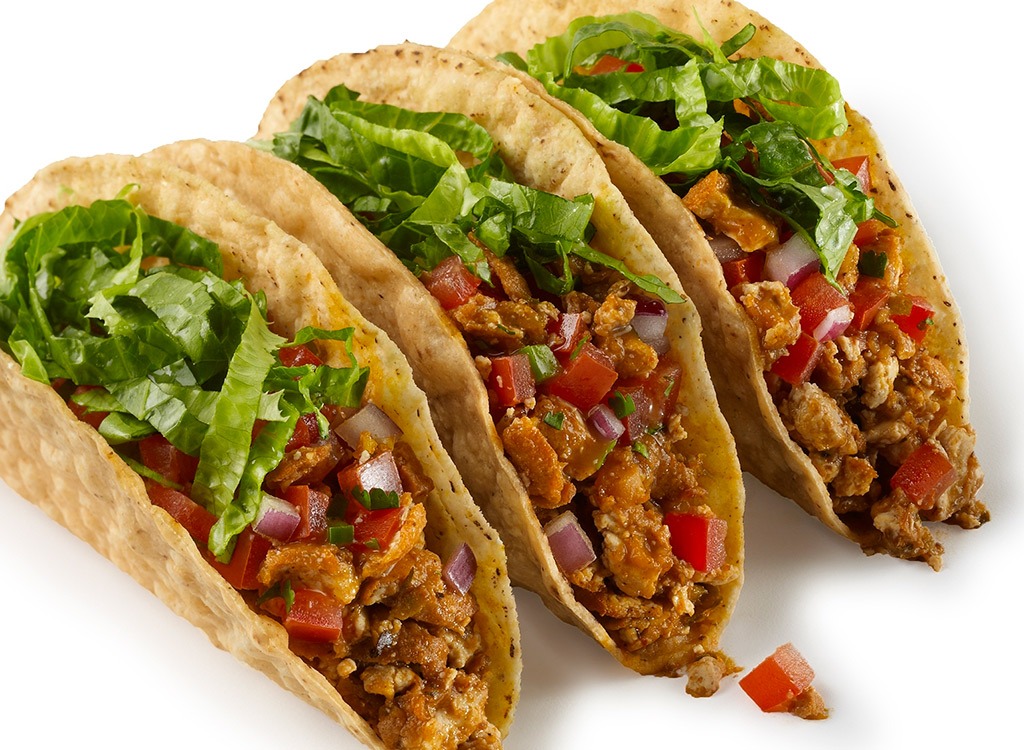 You see, according to spokesman Chris Arnold, the four main items and 18 optional ingredients on the menu can be combined in more than 60,000 ways! Don't let the room for error scare you. With these 6 healthy menu hacks you can order your Chipotle with confidence, and lose weight!
It's a little known menu hack that you can request fresh chopped cilantro on your meal, free of charge! Cilantro contains a unique blend of oils (specifically, linalool and geranyl acetate) that work like over-the-counter meds to relax digestive muscles and alleviate an "overactive" gut. It's kind of like tasty Pepto Bismol—the perfect antidote for any post-Mex fest tummy troubles! A study published in the journal Digestive Diseases and Science found that patients with irritable bowel syndrome (IBS) benefited from taking a coriander (cilantro) supplement for eight weeks as opposed to placebo. Herbalicious!
We're not carbo-phobes here at Eat This, Not That!, but this Atkins-esque tip is too good not to share: Order sides of meat and guac, for just $2.25 per side! A side of chicken and guacamole, for example, would cost you just $5 and 360 calories (a serving of rice would add about 185 calories to your bowl).
In addition to 35 grams of muscle-building protein, you'll get a healthy 19 grams of monounsaturated fats from the avocado, proven to keep you feeling fuller for longer. A study published in Nutrition Journal found that participants who ate half a fresh avocado with lunch reported a 40 percent decreased desire to eat for hours afterwards. Avoca-don't mind if I do!
Every calorie-counter from here to Timbuktu is going to tell you to skip the chips. And you should. They're oily, salty and too delicious not to gobble down in a hurry. But that's boring! And we want a fiesta! Order a side of three crispy taco shells instead of the chips (yours free if you also order a burrito bowl or salad), and you can satisfy your chips & guac craving, and slash 360 calories and nearly 20 grams of saturated fat from your order! Party on. Olé! (Get the guac at home, too! It's one of our 50 Best Snacks for Weight Loss.)
Adding protein to your meals is one of the best moves you can make if you're watching your weight. Not only does the macronutrient require your body to expend a lot of calories in digestion—about 25 calories for every 100 calories you eat (compared with only 10 to 15 calories for fats and carbs)—a study printed in the American Journal of Clinical Nutrition found that a high-protein meal increases satiety by suppressing the hunger-stimulating hormone ghrelin. Responsibly-raised and antibiotic-free, it's hard to go wrong with your protein choice at Chipotle. Just avoid the carnitas (shredded pork). At 13 grams of fat per 4 ounce serving, it's the fattiest on the menu. Surprisingly, your lowest-calorie option isn't chicken!
Eat This!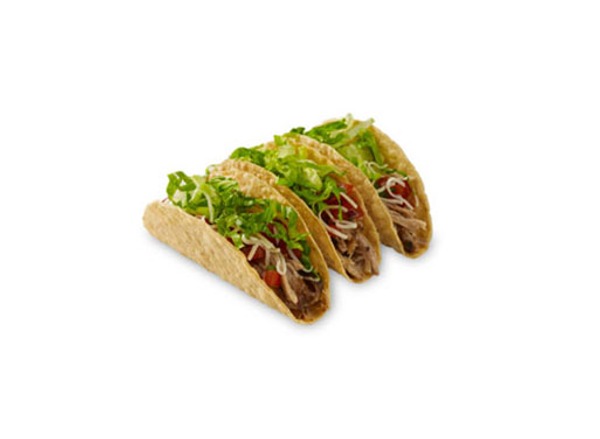 Barbacoa (Shredded Beef), 4 oz
| | |
| --- | --- |
| Calories | 165 |
| Fat | 7 g |
| Carbohydrates | 2 g |
| Fiber | 1 g |
| Protein | 24 g |
Eat This!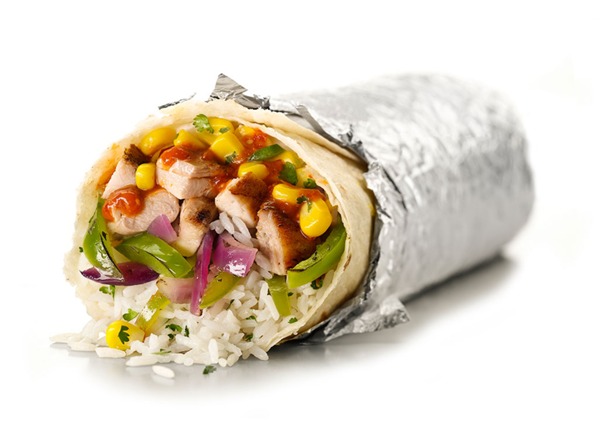 Chicken, 4 oz
| | |
| --- | --- |
| Calories | 180 |
| Fat | 7 g |
| Carbohydrates | 0 g |
| Fiber | 0.5 g |
| Protein | 32 g |
Eat This!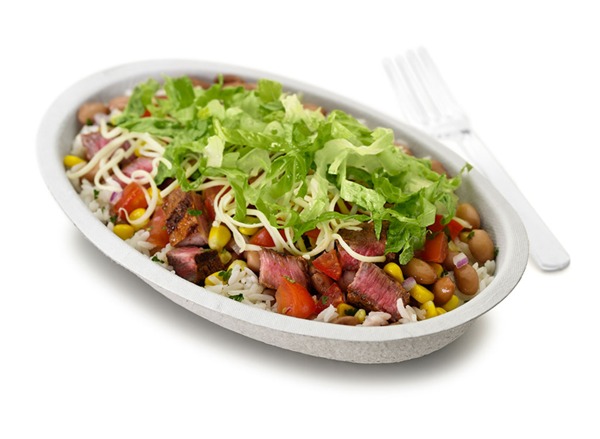 Steak, 4 oz
| | |
| --- | --- |
| Calories | 190 |
| Fat | 6.5 g |
| Carbohydrates | 2 g |
| Fiber | 0 g |
| Protein | 30 g |
Eat This!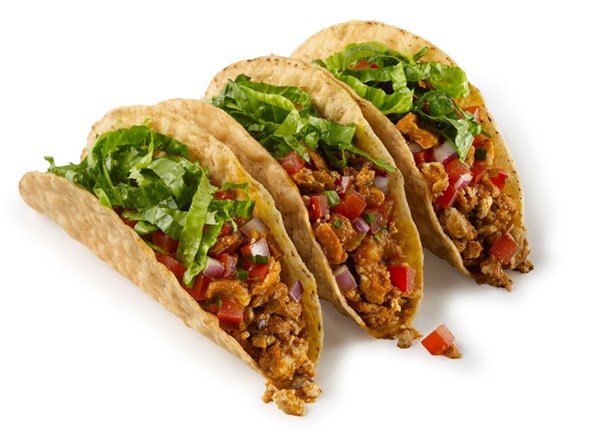 Sofritas (Tofu), 4 oz
| | |
| --- | --- |
| Calories | 145 |
| Fat | 10 g |
| Carbohydrates | 9 g |
| Fiber | 3.5 g |
| Protein | 8 g |
Not That!
Carnitas (Shredded Pork), 4 oz
| | |
| --- | --- |
| Calories | 220 |
| Fat | 13 g |
| Carbohydrates | 0.5 g |
| Fiber | 0 g |
| Protein | 26 g |
Avoid the bloaty dairy toppings and give your metabolism a boost with a generous hit of red tomatillo salsa (the spiciest on the menu). At just 25 calories, the salsa is rich in vitamin A (just one serving provides 20 percent of your recommended daily value!) and (capsaicin, a compound proven to reduce belly fat), suppress appetite and boost thermogenesis—the body's ability to burn food as energy. A study by Canadian researchers found that men who ate spicy appetizers consumed 200 fewer calories at later meals than those that did not. If you can handle the heat, consider adding fresh jalapenos to your order—for free! (Don't like to feel the burn? Don't worry, mild peppers like poblanos also boost your metabolism. The spicy pepper thing is just one of 7 Biggest Metabolism Myths we busted.)6254a4d1642c605c54bf1cab17d50f1e
A serving of veggies has only 20 calories and half a gram of fat. Moreover, there's no extra cost for fajita veggies when you order a protein! Heck, be greedy and get two servings of the delicious peppers and onions. Not only will you fill up faster, you'll also meet 60 percent of your daily Vitamin C value. Find out the 6 best veggies you should eat.
Now that you know the 6 best weight loss tips for your next Chipotle order, discover the 9 nutritionist approved meals to consider on your next visit.
Eat This, Not That!
Inspired by The New York Times best-selling book series, Eat This, Not That! is a brand that's comprised of an award-winning team of journalists and board-certified experts, doctors, nutritionists, chefs, personal trainers, and dietitians who work together to bring you accurate, timely, informative, and actionable content on food, nutrition, dieting, weight loss, health, wellness, and more.
Read more about Eat This