8 Healthiest Chipotle Orders, According to Dietitians
If you're looking for a nutritious Mexican meal while on the move, Chipotle is where it's at.
While you may associate fast food with greasy fries, hamburgers, and fried chicken, fast-casual restaurants are thought to be a step above and offer a wider variety of healthy menu items. You're likely familiar with some restaurants in the category, like Panera, Sweetgreen, and Chipotle. Although each of these restaurants has their fair share of calorie-dense menu items we may not traditionally think of as healthy, they also offer meals that will suit those practicing healthier eating habits. When it comes to Chipotle in particular, the ability to customize your meal down to the ingredient makes it much easier to build a healthy meal. But what are some of the healthiest Chipotle orders one can place at the fast-casual Mexican grill, and which combination of ingredients can amount to a a filling, well-balanced meal?
Tips for Customizing a Healthy Chipotle Order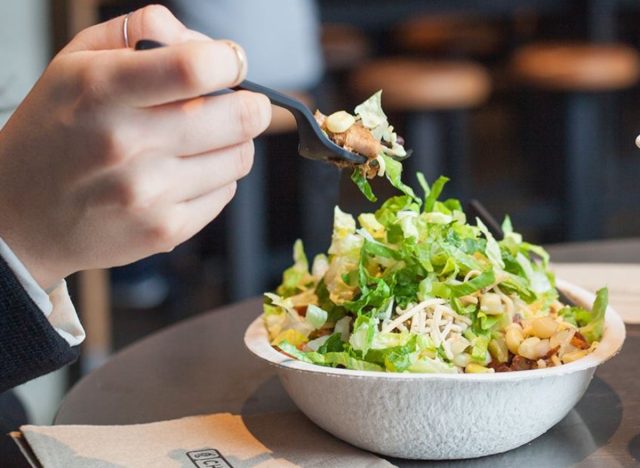 For your next Chipotle visit, there are a few key tips to keep in mind if you're trying to choose a healthy meal. To start, load up on as many veggies as possible. A base of shredded lettuce topped with fajita veggies is a great start to building a meal that packs volume for fewer calories.
Next, skip the tortilla. While delicious, the burrito-size tortilla is over 300 calories on its own. For many people, this takes up the majority of their meal calorie budget.
Lastly, avoid the chips. A single order of chips is over 500 calories and provides little nutritional value. Focus on the ingredients in your entrée order and less on the side items for a balanced, healthy meal.
The Healthiest Chipotle Orders We Recommend
All foods can be part of an overall healthy diet. (Yes, even queso!) However, we have narrowed down our healthiest Chipotle orders based on a few factors: Calories, saturated fat, fiber, and carbohydrate content, among other elements explained below. If you are trying to maximize nutrient density while staying mindful of calories, we've done the work to make your next order foolproof.
Read on to learn the eight healthiest Chipotle orders you can make. Also, for more healthy eating tips to help you make a well-informed decision while dining out, be sure to check out The 9 Healthiest Dishes to Order at Red Lobster.
1. The Wholesome Bowl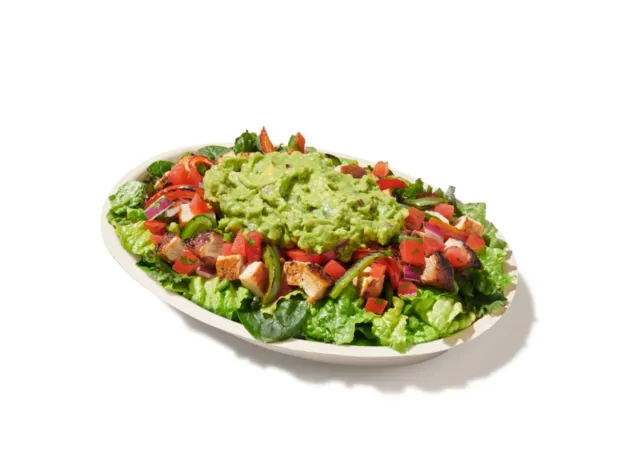 NUTRITION INFO
: 460 calories, 29 g fat (7 g saturated fat, 0 g trans fat), 1380 mg sodium, 18 g carbs (9 g fiber, 4 g sugar), 35 g protein
At 460 calories, the Wholesome Bowl is a great option that fits the calorie needs of a wide range of adults. Loaded with protein and fiber, two satiating ingredients, this meal will keep you feeling full while packing in tons of micronutrients. Vegetables are known for the vitamin and mineral content, and the supergreen lettuce mix, fajita veggies, tomato salsa, and guacamole in this meal all contribute many of the nutrients.
The fat content of this bowl is relatively high, although the majority of fat grams come from healthy unsaturated fat that can benefit blood cholesterol levels and reduce body inflammation. If you are looking to lessen the fat grams in the meal, ask for the guacamole on the side and use half with this meal while saving the other half for a later meal or snack.
2. Kids Quesadilla With Steak
NUTRITION INFO
: 395 calories, 15 g fat (7 g saturated fat, 0 g trans fat), 670 mg sodium, 40 g carbs (7 g fiber, 8 g sugar), 25 g protein
Portion control is the name of the game with this menu item. Start with a basic kid's quesadilla, which is made with a soft flour tortilla and cheese, and add steak. Add a portion of black beans and enjoy the side of fruit that comes with the meal as a healthier dessert to round out your meal.
While this option provides good amounts of important nutrients, like protein and fiber, it is also relatively low in sodium compared to other menu items. Sodium is hard to limit in fast-casual meals. So at 670 milligrams for the entire meal, that is one of the lowest on this list. High sodium intake can contribute to high blood pressure, heart attack, and stroke, so it is best to counter a high sodium meal with lower sodium foods throughout the rest of your day to stay under the Dietary Guidelines for Americans recommendation of 2,300 mg per day.
3. The Grain Freedom Bowl
NUTRITION INFO
: 460 calories, 24 g fat (15 g saturated fat, 0 g trans fat), 1580 mg sodium, 12 g carbs (3 g fiber, 3 g sugar), 40 g protein
Another meal that will work in many calorie budgets, the Grain Freedom Bowl is a low-carb option that can work for those following a keto meal plan. With the exact same calorie content as the Wholesome Bowl, this option packs more protein, and less carb and fat. Although, it does contain more saturated fat and less fiber.6254a4d1642c605c54bf1cab17d50f1e
At 15 grams of saturated fat, this one is higher than most on this list. Eating too much saturated fat is thought to raise blood levels of LDL cholesterol, which can increase your risk of heart attack and stroke. Luckily, there is an easy modification to lower this number. By cutting the sour cream from this meal you'll reduce the total saturated fat content of this meal by 7 grams. If you are eating this meal at home, try adding a scoop of plain non-fat Greek yogurt as a healthier sour cream alternative.
4. Three Steak Tacos
NUTRITION INFO
: 435 calories, 16 g fat (4 g saturated fat, 0 g trans fat), 695 mg sodium, 46 g carbs (9 g fiber, 3 g sugar), 28 g protein
While you may be better off skipping the side of chips, the crispy corn tortilla tacos are a great option if you want some crunch in your meal. To make this a complete meal, pack your three taco shells with steak, light black beans, tomatillo green salsa, and romaine lettuce. With a good balance of macronutrients in this meal, and an impressive amount of fiber, you'll find these tacos to be filling.
If three tacos are more than you'd like in a meal, eat two and save one for a snack later in the day. Alternatively, if you'd like to add more volume to this meal, go with extra romaine lettuce and include the fajita veggies for an additional 25 calories.
5. Barbacoa Salad With Guacamole
NUTRITION INFO
: 500 calories, 30 g fat (6 g saturated fat, 0 g trans fat), 1505 mg sodium, 26 g carbs (13 g fiber, 2 g sugar), 30 g protein
Not all salads are created equally, and they can be surprisingly high in calories and fat if you aren't mindful of the ingredients included. For a healthy salad from Chipotle, start with the supergreen lettuce blend made of romaine, baby kale and baby spinach, and top with barbacoa and a light portion of pinto beans. Skip the dressing that comes on the side, and instead use guacamole and tomatillo-red salsa to dress your salad.
At 13 grams of fiber, this is one of the higher fiber meals on this list. Fiber can feed the good bacteria in your gut and may aid in weight loss, among other functions.
6. Chicken Salad With Queso
NUTRITION INFO
: 510 calories, 21 g fat (10 g saturated fat, 0 g trans fat), 1135 mg sodium, 44 g carbs (6 g fiber, 7 g sugar), 43 g protein
Another salad option for those looking to load up on veggies at Chipotle, this recipe includes the supergreen mix, chicken, a light portion of brown rice, roasted chili-corn salsa, fajita veggies, and uses queso blanco in place of the chipotle-honey vinaigrette dressing. (See, I told you queso can be part of a healthy meal!)
While this salad does contain more saturated fat than the other salad option, it is also loaded with other valuable nutrients, like fiber and protein, in addition to packing in several servings of veggies. To scale back saturated fat, total fat, and calories in the meal, you can ask for a lighter serving of queso.
7. Vegetarian Burrito Bowl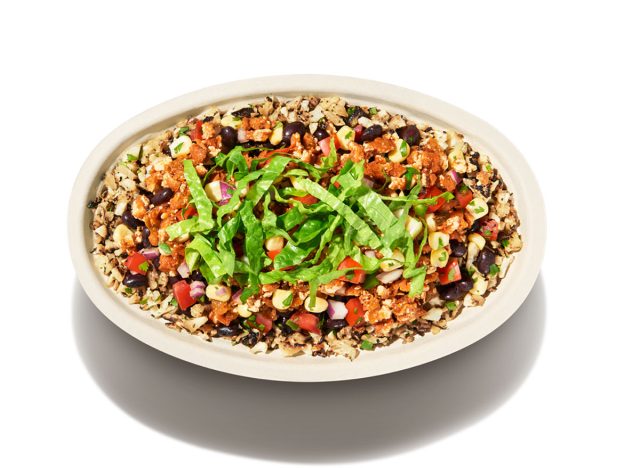 NUTRITION INFO
: 430 calories, 20 g fat (7 g saturated fat, 0 g trans fat), 1335 mg sodium, 43 g carbs (12 g fiber, 12 g sugar), 22 g protein
For those who prefer to limit their intake of animal foods, this sofritas vegetarian bowl still provides a good balance of nutrients while skipping the meat. Build your bowl with sofritas as your main protein and include a light portion of black beans, roasted corn-chili salsa, fajita veggies, cheese, and romaine lettuce to round out the meal.
Although a higher sodium and sugar option, this meals also provides nearly half the daily recommendation of fiber, according to the American Heart Association. The several portions of vegetables in this meal, including beans, provide a wide variety of vitamins and minerals too, which could otherwise be limited in a plant-based meal.
8. Steak Burrito Bowl With Cheese & Sour Cream
NUTRITION INFO
: 395 calories, 18 g fat (9 g saturated fat, 0 g trans fat), 1085 mg sodium, 26 g carbs (3 g fiber, 2 g sugar), 27 g protein
For those who love their dairy, this bowl is a great option that keeps calories, total fat, and saturated fat reasonable. The trick is portion control. Start with a serving of steak and light brown rice, and top with fresh tomato salsa, romaine lettuce, and light portions of cheese and sour cream.
Although lower in fiber than other items on this list, you can swap the brown rice for beans to boost fiber for about 25 extra calories. You can also so with the "extra" portion of romaine lettuce for more veggie. At under 400 calories, this meal packs in nutrient density while still including favorite ingredients who may have thought were off limits in your healthy meal.
Melissa Rifkin, MS, RDN, CDN
Melissa is a Connecticut-based registered dietitian with over 15 years of experience, including clinical and outpatient settings, and runs the popular nutrition education Instagram account, Confessionofadietitian.
Read more about Melissa
Sources referenced in this article