How to Lose Weight at a Tapas Restaurant
To bridge the long gap between lunch and dinner, the Spanish invented tapas, small bites to nosh on, often while standing at a bar and yelling obscenities at enemy futbol teams.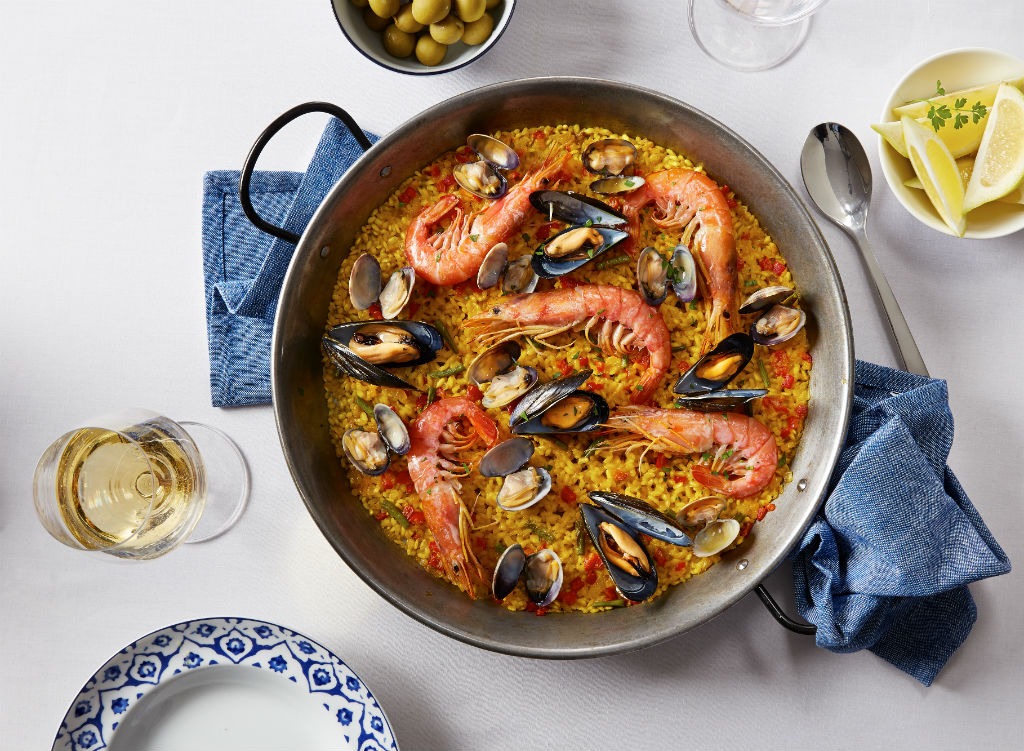 If you've ever had half a dozen chicken wings with a beer before heading home to dinner, you've had the American version of tapas. Served on small plates, tapas come with their own portion control. It takes about 20 minutes between the time your belly is full and your brain gets "full tank" signal. Tapas allows for that signal to get through before you find yourself stuffed—essential if you're trying to lose weight. Order a few and then, if you're still hungry, order more—just so long as they don't fall on the "Not That" side of the equation.
ORDER THIS!
Almonds & Olives
Along with a glass of vino, this is a traditional start to a Spanish meal. And it's a good one: All three of the beloved Spanish staples help fight off cardiovascular disease. No wonder Spaniards live longer than nearly everyone else on the planet.
Tortilla Española
A ubiquitous staple of the tapas menu, this Spanish-style omelet gives paella a run for its money as the national dish. Made simply of egg, onion and potato, it's a safe haven for confused and calorie-conscious diners alike.
Paella
Speaking of paella, order the "mariscos" version whenever possible. It's traditional along the coast of Spain and includes a variety of clams, mussels, squid and shrimp, much better than the chorizo and chicken thigh version that's also common.6254a4d1642c605c54bf1cab17d50f1e
Mussels & Clams
A good rule of thumb at any tapas restaurant is to gravitate toward the shellfish. Whether steamed with white wine and herbs or served with a chunky tomato sauce, the protein fills you up while the shell negotiating slows you down. A portion won't cost you more than 400 calories.
Meat & Cheese Plate
You're sure to find this option in just about every Spanish restaurant. The meats are sliced super thin, so if you order wisely this can be a solid beginning to a meal. Pick lean lomo and jamón serrano over fat-speckled chorizo.
NOT THAT!
Gambas Al Ajillo
Sure, shrimp seasoned with garlic sounds healthy enough, but a single order of these crustaceans is apt to be sautéed in a quarter cup of olive oil, which is good for your heart, but ultimately packs nearly 500 calories on its own.
Croquetas
To whip up this dish, breadcrumbs are wrapped around a filling made from a mix of flour, milk, butter and cheese or ham, and then the whole package is deep-fried. The bottom line: It's a giant fat bomb.
Patatas Bravas
Cubed, fried potatoes covered with garlic mayo and hot sauce. Muy mal! Want heat? Go with roasted piquillo peppers instead.
Eat This, Not That!
Inspired by The New York Times best-selling book series, Eat This, Not That! is a brand that's comprised of an award-winning team of journalists and board-certified experts, doctors, nutritionists, chefs, personal trainers, and dietitians who work together to bring you accurate, timely, informative, and actionable content on food, nutrition, dieting, weight loss, health, wellness, and more.
Read more about Eat This