How to Make a Smoothie Bowl
Smoothie bowl. Sounds a bit of out place in a world that's starting to dish up everything from lobster to Korean barbecue to go.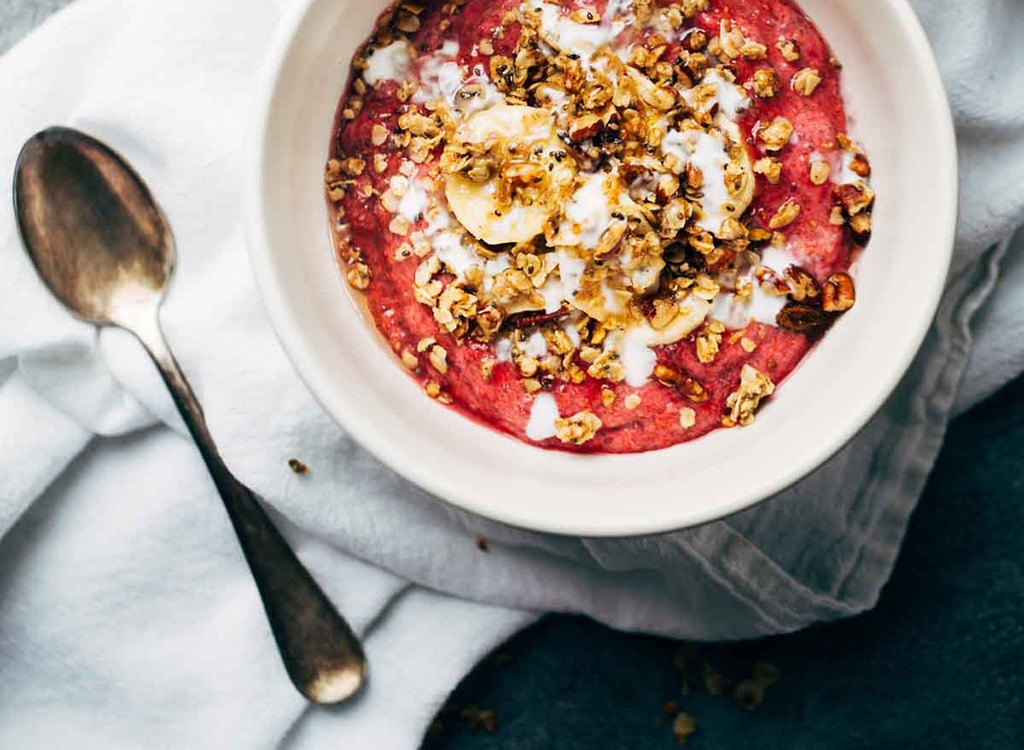 But this on-the-go drink is seeing a new — more delicious — life as a relaxing sit-down breakfast. Blended together with a base of frozen bananas, their ice cream-like texture is sure to win you over in the heat of the summer — and help you maintain your beach body. The fruit foundation also makes added sugars unnecessary, so you'll get naturally sweet fuel for the rest of your day. Though base combination and topping options are endless, we love these delicious, wholesome ideas from bloggers. Almost all of these bowls are free of added sugars (which can easily be omitted when you make it at home) and weigh in under 450 calories. Whip one up this weekend for a decadent treat that only tastes sinful.
Super Green Smoothie Bowl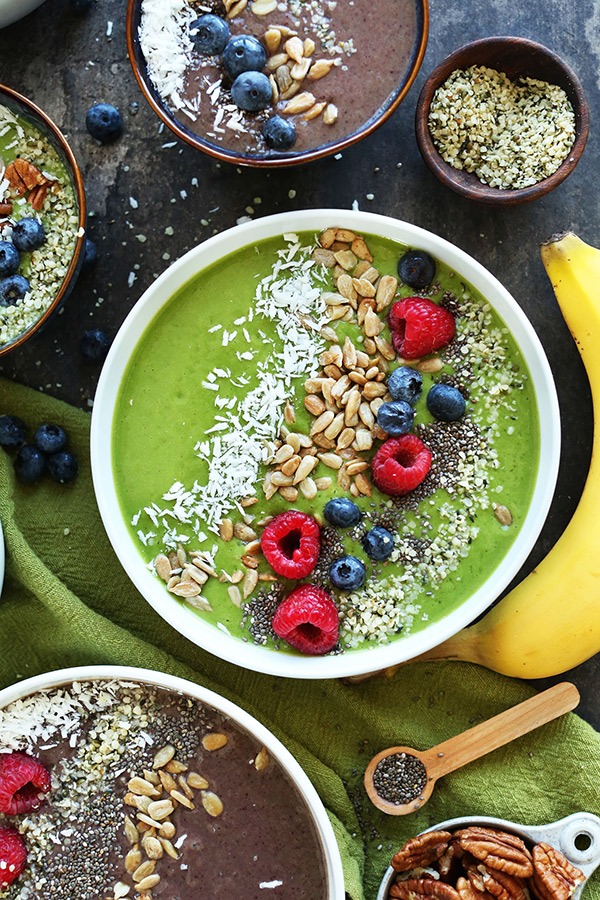 Serves: 2
Nutrition: 310 calories, 15.6 g fat, 1.9 g sat fat, 41.5 g carbs, 9.5 g fiber, 19 g sugar, 7.9 g protein
Though the nutrition information for this smoothie is calculated before toppings, you should make this beautiful green smoothie bowl a canvas for your fruit- and seed-based creations. The whole bowl is made from fruits and vegetables and no added sweeteners to fill you up with lean energy for the day ahead.
Get the recipe from Minimalist Baker.
Raspberry Breakfast Bowls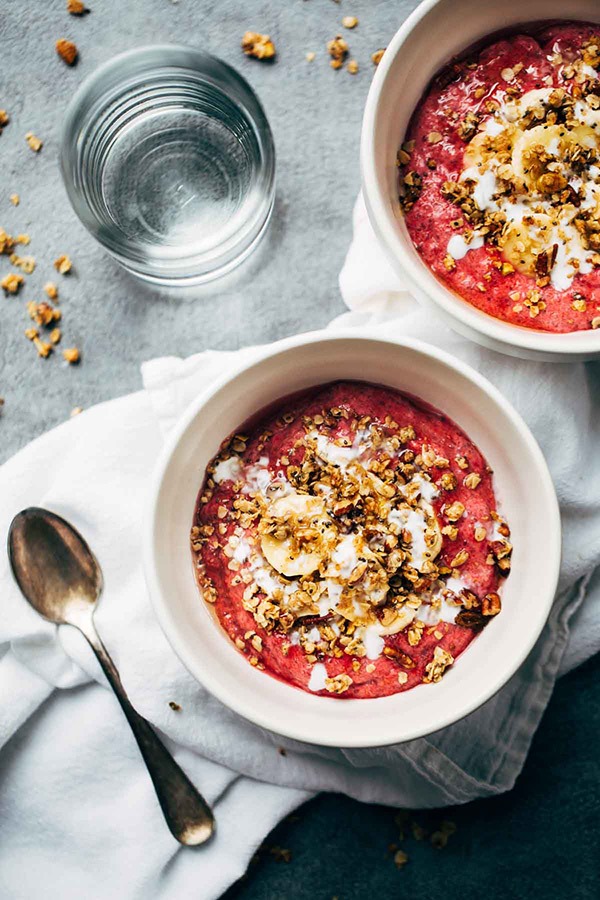 Serves: 3-4
Nutrition: 276 calories, 10.6 g fat, 0.5 g sat fat, 44.6 g carbs, 11.9 g fiber, 31.2 g sugar, 4.9 g protein
These gem-toned bowls pack some serious produce and vital nutrients. Since they rely on frozen fruits to get the creamy, ice cream-like texture, you can make these sunny smoothies even in the depth of winter. Chia seeds add concentrated fiber and heft, while a touch of honey balances the tart notes frozen fruit can hold. If you're worried about the sugar count, simply use half the suggested amount of honey or omit it altogether.
Get the recipe from Pinch of Yum.
Carrot Cake Protein Bowl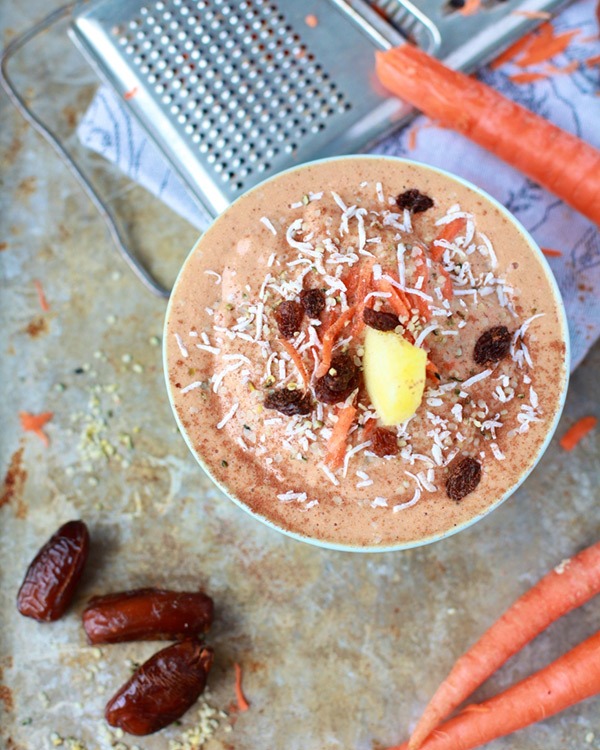 Serves: 1
Nutrition: 407 calories, 11.3 g fat, 2.3 g sat fat, 46 g carbs, 7.7 g fiber, 35 g sugar, 34.4. g protein
Start your day with cake—minus the refined flour, processed sugar and almost immediate energy crash. This bowl will feed your sweet tooth and your body. Better yet, a scoop of protein powder means you'll stay full and focused until lunchtime rolls around without any mid-morning munching. Don't be shy about adding more cinnamon if you're a fan of the sweet spice. Studies have shown the spice may improve cholesterol, prevent against food-borne illness, ward off the effects of Alzheimer's and balance blood sugar levels.
Get the recipe from Nutritionist in the Kitch.
Chocolate Hazelnut Bowl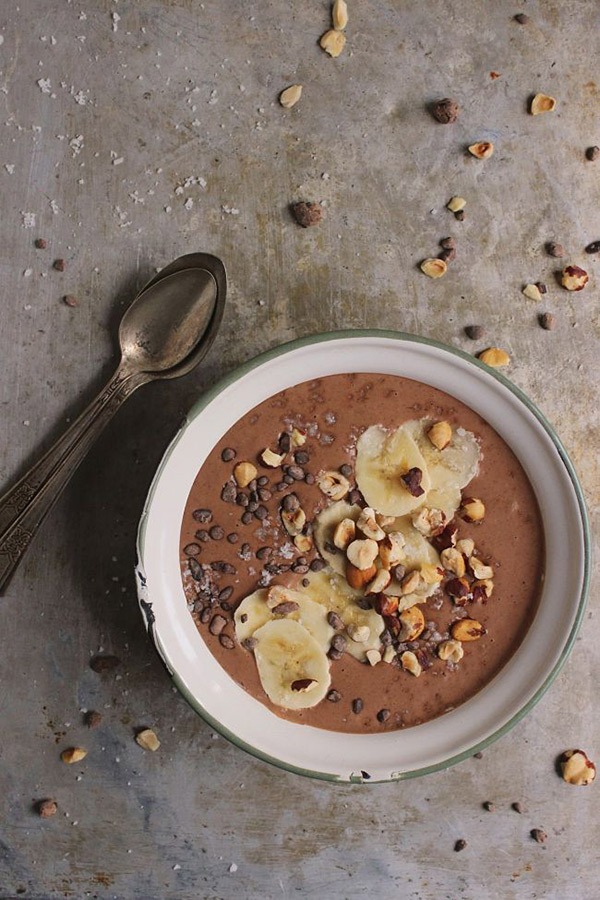 Serves: 2
Nutrition: 313 calories, 15.7 g fat, 2.1 g sat fat, 31.4 g carbs, 8 g fiber, 12.6 g sugar, 15.9 g protein
Looks like Nutella, tastes like Nutella, but is far healthier for you than the thick, sugar-laden spread. Whole hazelnuts give this bowl enough heft to get you through until lunch and enough protein to balance out the natural sugars from the frozen bananas. Top your bowl with a sprinkling of cacao nibs for extra chocolate flavor; unlike chocolate chips, they boast health-boosting antioxidants and won't overload your morning with sugar.
Get the recipe from With Food + Love.
Vegan Berry Crunch Smoothie Bowl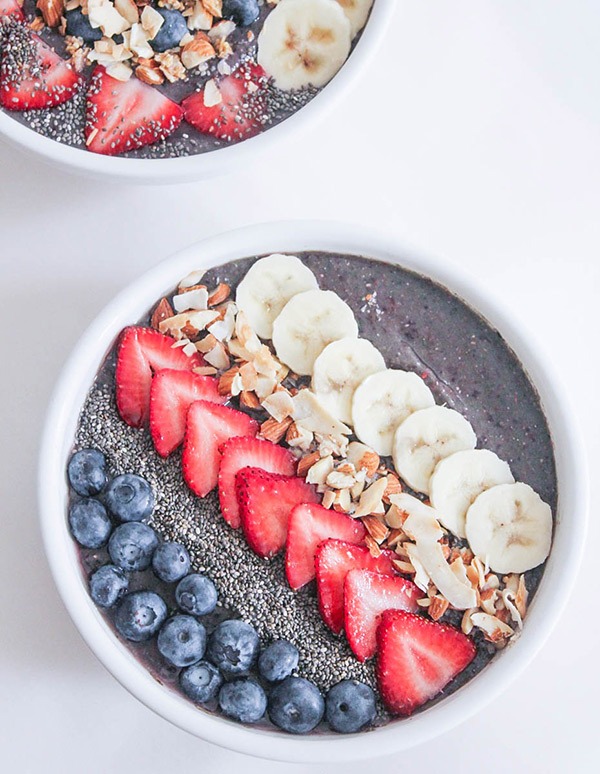 Serves: 1
Nutrition: 248 calories, 7.1 g fat, 0.6 g sat fat, 45.1 g carbs, 13.2 g fiber, 22.4 g sugar, 5.5 g protein (calculated with baby spinach, without agave and before toppings)
Frozen bananas and mixed berries pack almost a whole day's worth of vitamin C into your morning meal when you whip up this smoothie bowl. You'll also get a hefty dose of manganese, a powerful inhibitor of free radicals, which damage the body and can play a role in the development of cancer.
Get the recipe from Domesticate Me.
Coconut Oats Smoothie Bowl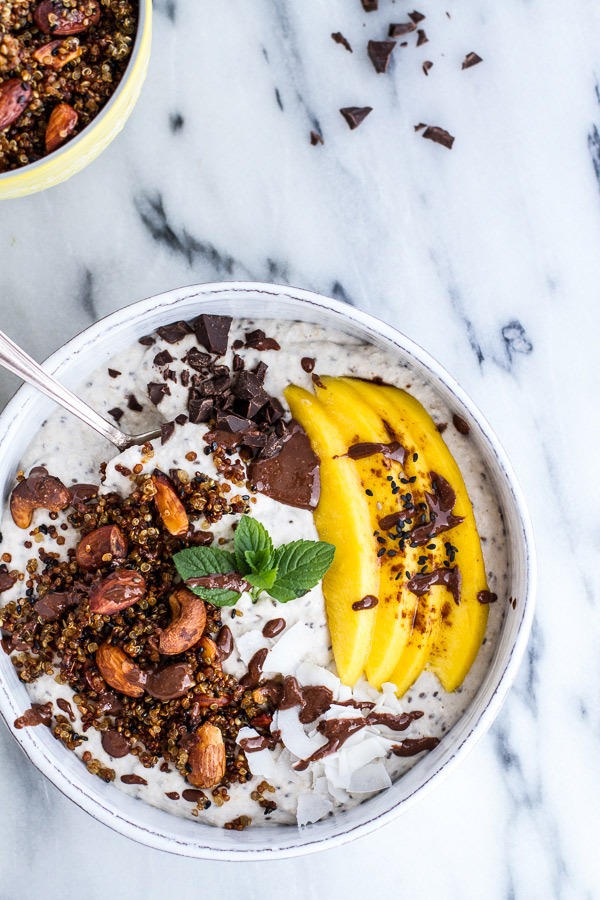 Serves: 1 (plus plenty of leftover granola)
Nutrition: 357 calories, 14.5 g fat, 6.4 g sat fat, 52.6 g carbs, 9.5 g fiber, 13.1 g sugar, 9 g protein (calculated with unsweetened coconut milk and a 1-ounce sprinkle of granola)
A hybrid of our favorite breakfast staple, overnight oats, and a smoothie bowl, this recipe boasts plenty of insoluble fiber, which one Canadian study showed can boost levels of ghrelin — a hormone that controls hunger. Oats also promote the production of butyrate, a fatty acid that reduces fat-causing inflammation throughout your body by feeding your healthy gut bacteria. What are you waiting for? Get blending!
Get the recipe from Half Baked Harvest.
Arugula, Romaine and Pear Smoothie Bowl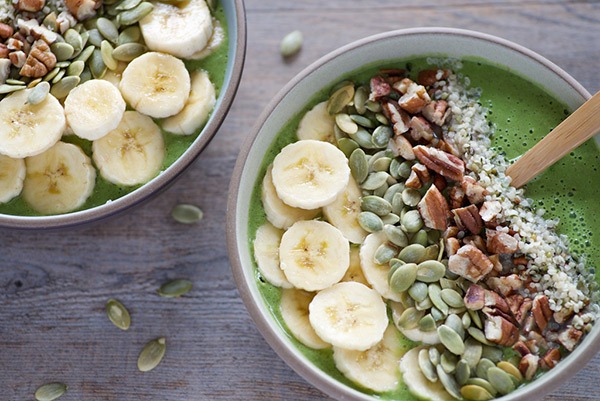 Serves:
Nutrition: 223 calories, 10.9 g fat, 1.2 g sat fat, 29.2 g carbs, 7 g fiber, 13.2 g sugar, 6.6 g protein (calculated without toppings)
In a survey conducted by Subway only a measly 1% of participants said they eat vegetables as part of their morning meal, and this is the perfect smoothie bowl to change that. Pear is sweet enough to offset the bitterness of spicy arugula, and a creamy spoonful of almond butter adds vital protein in this recipe. If it weren't for the brilliant verdant green color, you'd have a hard time knowing the bowl packs three different leafy greens. And don't doubt the romaine, lettuce makes our list of the superfoods you should eat every day.
Get the recipe from Vanille Verte.
Berry, Beet and Acai Bowl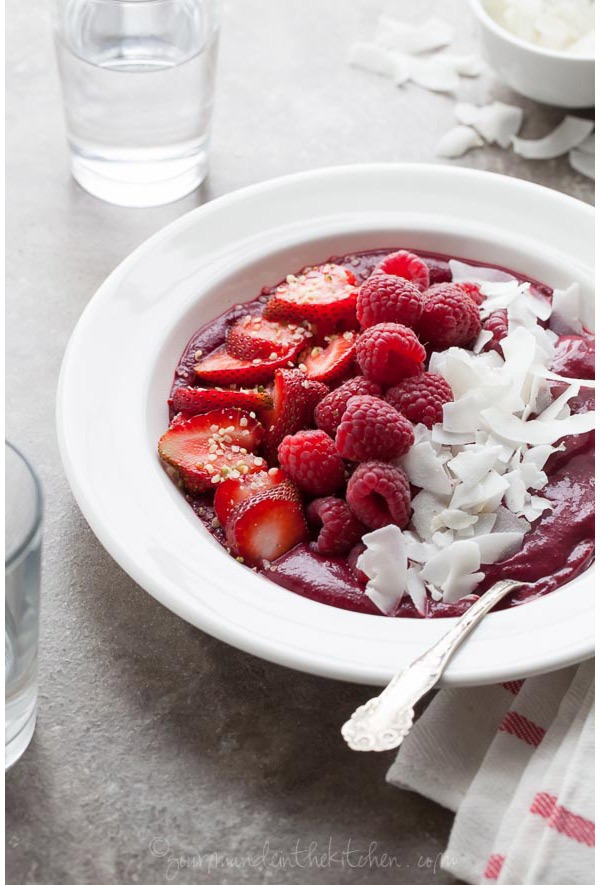 Serves: 1
Nutrition: 288 calories, 15.6 g fat, 3.1 g sat fat, 36.5 g carbs, 14 g fiber, 17.5 g sugar, 6.7 g protein (calculated with unsweetened coconut milk, one Brazil nut and without toppings)
It's well worth the trip to the store to make sure your homemade version of this recipe has the Brazil nut added. It's the richest food source of selenium out there, a nutrient that plays a vital role in metabolism, with two of the nuts providing more than a day's worth. Brazil nuts are also packed with an alphabet of health-boosters like potassium, copper, zinc, riboflavin, and magnesium, a mineral many women don't get enough of. Even with its laundry list of nutrients, the best part of this bowl is simply the amazing taste. You'll want to lick the bowl clean.
Get the recipe from Gourmande in the Kitchen.
Chocolate, Hazelnut& Hemp Bowl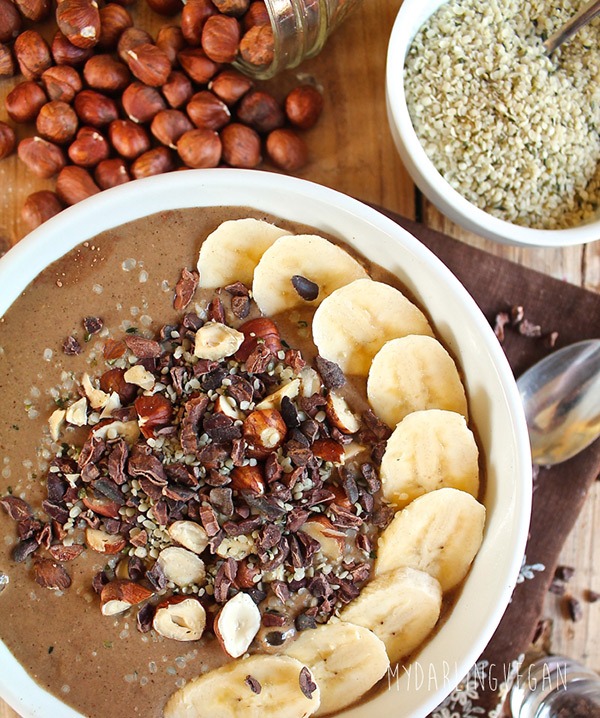 Serves: 2
Nutrition: 326 calories, 10.6 g fat, 1.7 g sat fat, 49.6 g carbs, 13.5 g fiber, 22.1 g sugar, 13.1 g protein (calculated without toppings)
The key to making this indulgent bowl sing is buying the right cocoa. Pick up a powder that isn't alkalized, a process that makes the powder less bitter but also strips out many of the health benefits, to make a breakfast with the most nutritious punch. Researchers attribute cocoa's health benefits to polyphenols and flavanols, anti-inflammatory compounds that help protect the heart in a number of ways. In fact, new research shows that, gram for gram, cocoa has an even higher antioxidant capacity than fruit juice!
Get the recipe from My Darling Vegan.
Green Smoothie Bowl
6254a4d1642c605c54bf1cab17d50f1e
Serves: 1
Nutrition: 254 calories, 5.3 g fat, 4.0 g sat fat, 49.6 g carbs, 7.7 g fiber, 32.5 g sugar, 6.2 g protein (calculated with 1/4 banana, 1 Tbsp shredded coconut, 1 kiwi on top, plain low-fat kefir)
The hefty handful of spinach in this bowl will go completely unnoticed even by the little ones. Sweet pineapple and kiwi add to the color, but mask the mild flavor of the baby spinach leaves. Plus, the noted muscle builder is a rich source of plant-based omega-3s and folate, which help reduce the risk of heart disease, stroke and osteoporosis. It's also one of the 10 salad greens healthier than kale. So don't be shy about throwing it in your smoothie.
Get the recipe from Kitchen Confidante.
Summer Fruit Smoothie Bowl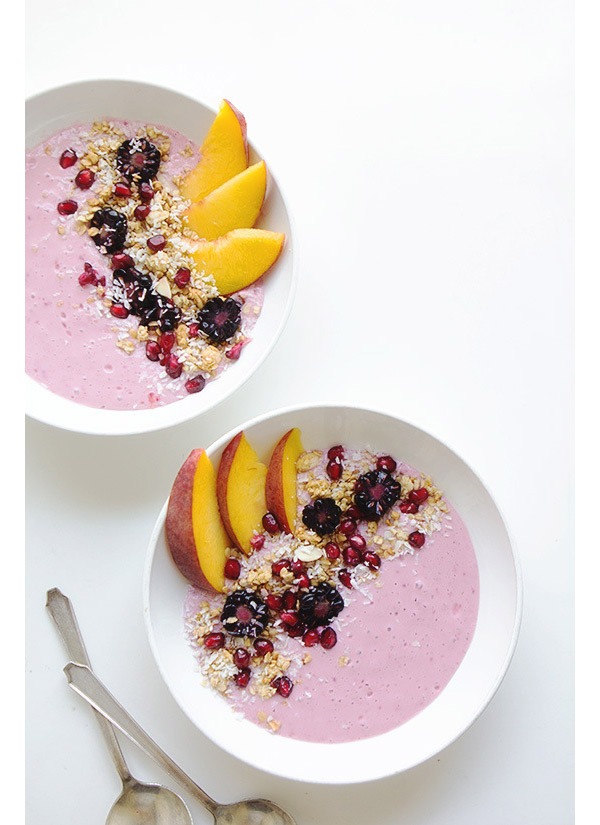 Serves: 2
Nutrition: 285 calories, 1.9 g fat, 0 g sat fat, 50.7 g carbs, 9.1 g fiber, 32.7 g sugar, 21.5 g protein (calculated with unsweetened almond milk, nonfat plain Fage yogurt)
Yogurt boosts the creaminess of this morning meal, and gives it an energizing punch of protein, too. Sweetened entirely by berries and bananas, you can feel confident knowing this smoothie bowl won't lead to a mid-morning energy crash. Plus, you'll love the combination of tart blackberries and ripe peaches.
Get the recipe from Real Food by Dad.