The Best & Worst Menu Items at Hungry Howie's
A registered dietitian dishes up the best and worst pizzas, wings and everything you should and shouldn't order.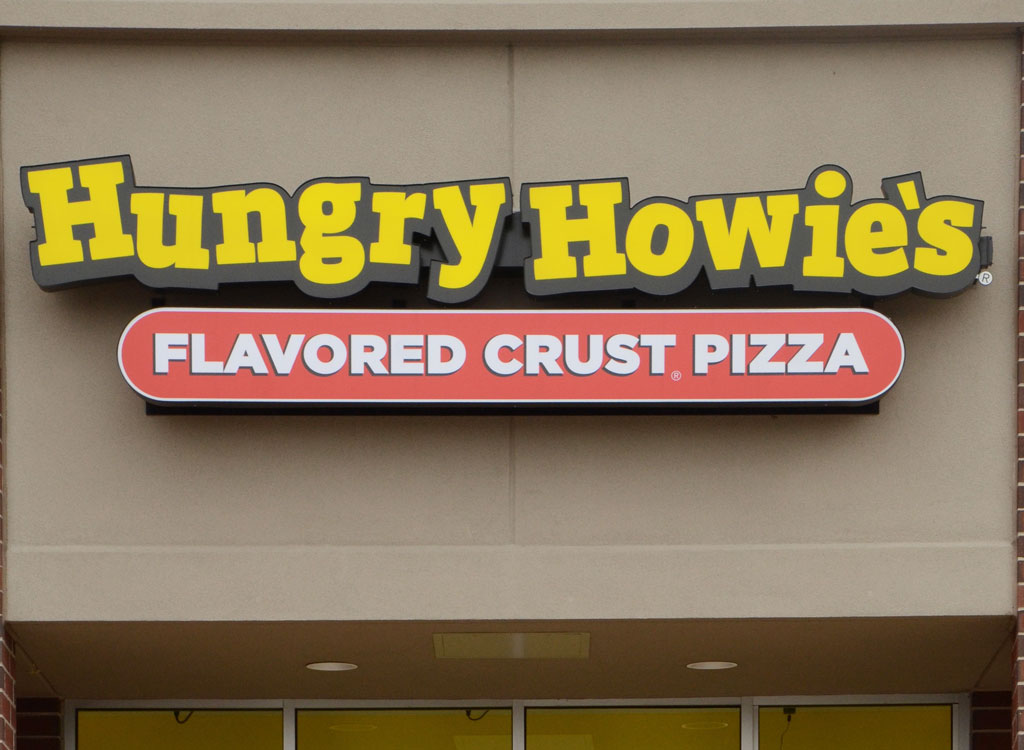 For nearly 50 years, Hungry Howie's has been known for its affordable pizzas and deliciously flavored crusts. While a menu full of cheesy pizzas, saucy wings, and meaty subs is unsurprisingly full of calories, unhealthy fats, and sodium, you can still make wise choices to find better-for-you menu items.
Lindsey Pine, MS, RDN, CLT, helped us review the extensive Hungry Howie's menu to find the least-healthy options and the more nutritious items for your next pizza night.
Here are the best and worst meals you can order from the Hungry Howie's menu.
Pizzas
Best: Medium Veggie Thin Crust Pizza
1 Slice
: 160 calories, 8 g fat (3.5 g saturated fat, 0 g trans fat), 230 mg sodium, 15 g carbs (2 g fiber, 2 g sugar), 7 g protein
Aside from creating a custom pizza with the "build your own" option, the veggie with thin crust is the best for health on the Hungry Howie's pizza section.
"Anytime you can get your veggies in, even on a pizza, it's a good thing," Pine says. Even without meat, this pizza has seven grams of protein per slice to help fill you up. It is also lighter on the sodium, carbs, and calories, so go ahead and grab two or three slices!
Worst: Spicy Chicken Bacon Ranch Deep Dish Pizza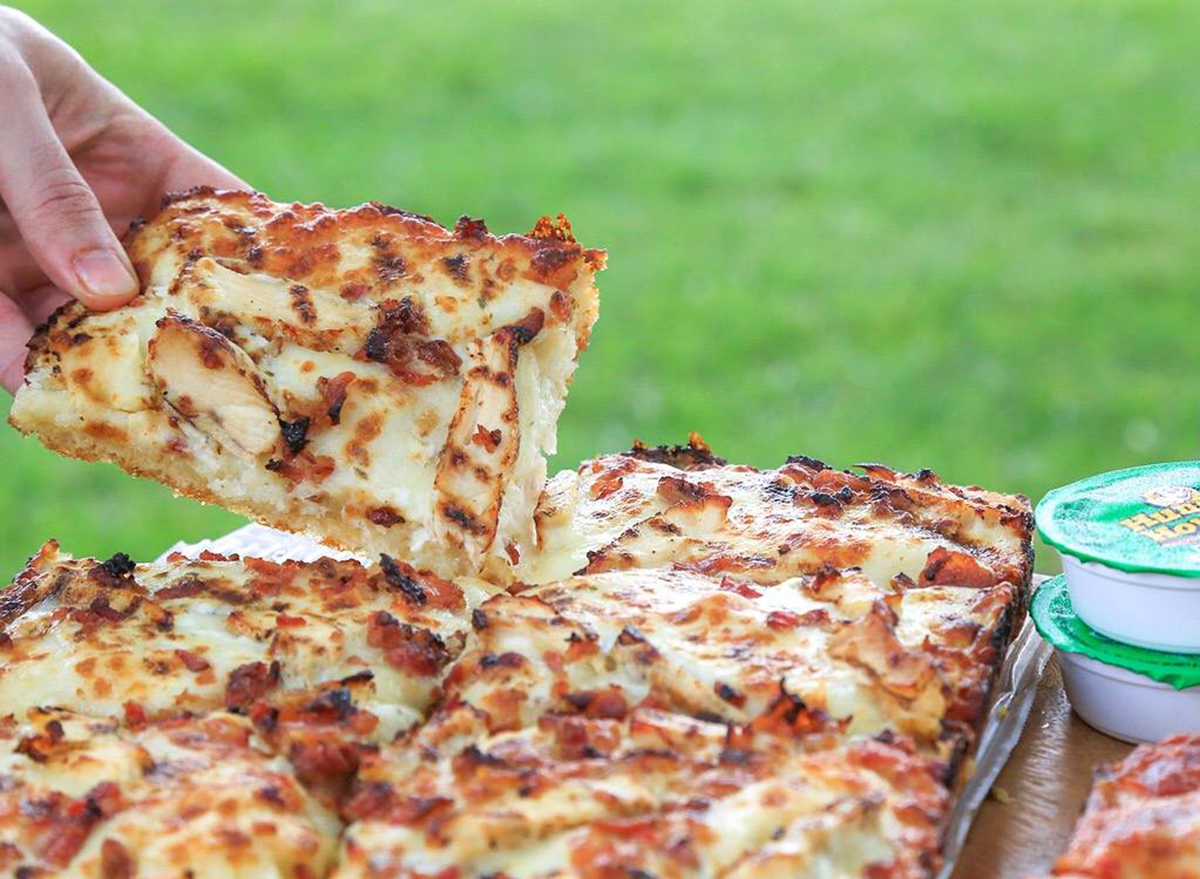 1 Slice
: 470 calories, 28 g fat (8 g saturated fat, 0 g trans fat), 630 mg sodium, 38 g carbs (1 g fiber, 2 g sugar), 16 g protein
Deep dish pizza means more layers of sodium-rich marinara sauce and fatty cheese, so it makes sense that this type of pizza earns its spot as the worst in terms of nutritional value on the specialty pizzas category.
"This pizza boasts 440 calories for a single slice, and who only eats one slice of pizza? I sure don't!" Pine says. "Multiply that number by two, three, or four, and you're looking at some pretty big numbers for fat, sodium, and carbs."
Oven-Baked Subs
1 Regular Sub
: 380 calories, 15 g fat (5 g saturated fat, 0 g trans fat), 700 mg sodium, 46 g carbs (3 g fiber, 5 g sugar), 15 g protein
In the subs category, similar to the pizza category, the veggie option is the winner, but it still has its problems here.
"Let's face it, none of the sub options are exactly health foods," Pine says. "If you looked based on calories, the deluxe combo sub would win; however, that sub is full of ultra processed meats like pepperoni, sausage, and ham. I'd rather you have an extra 40 calories and get some veggies." Although it has more calories, those layers of veggies will at least offer a broader range of vitamins and minerals than layers of sodium-laden deli meats.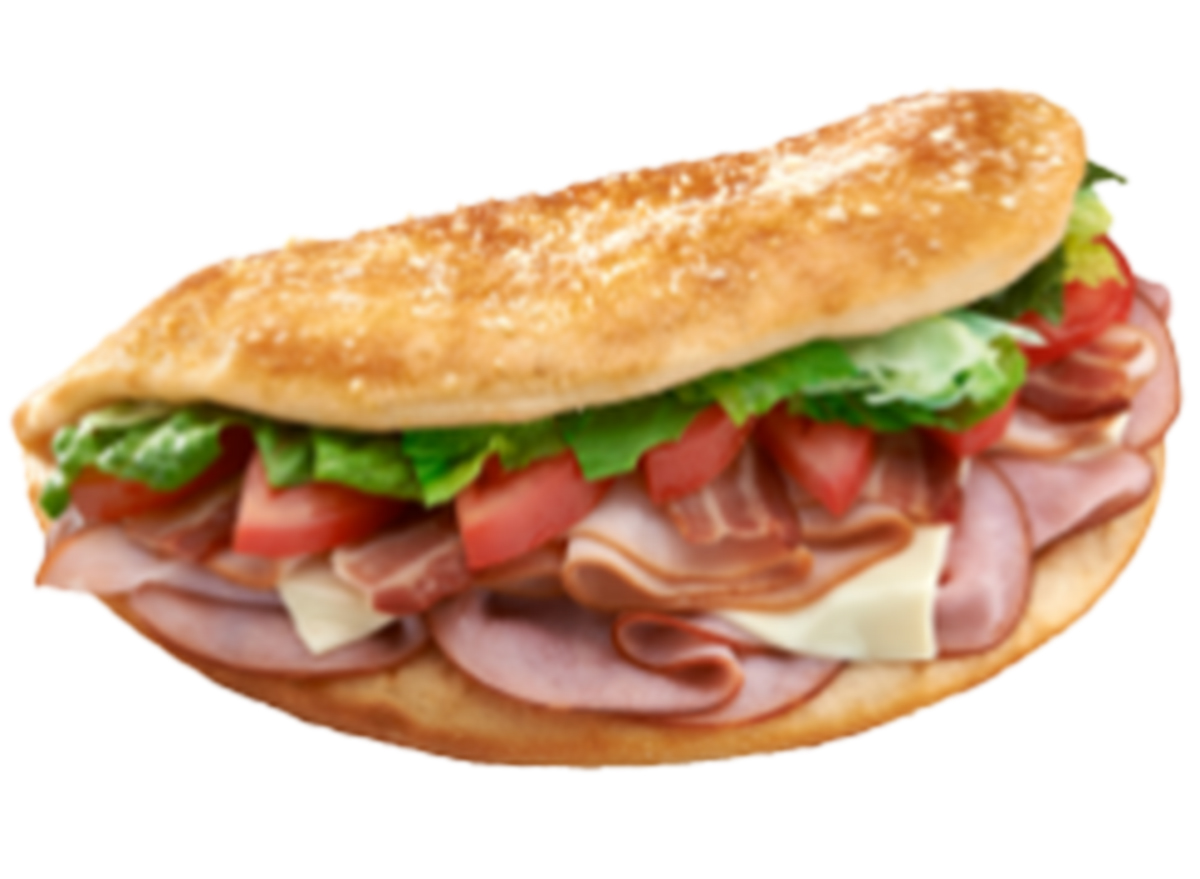 1 Large Sub
: 840 calories, 46 g fat (13 g saturated fat, 0 g trans fat), 1890 mg sodium, 60 g carbs (4 g fiber, 4 g sugar), 45 g protein
Subs can be a healthier option—sometimes. Pine noted that turkey subs often sound more nutritious than some of the other filling options, but that is not the case with Hungry Howie's turkey club.
"You've got the amount of sodium equivalent to 166 potato chips and the same amount of saturated fat as two big butter pats," she says.
Howie Bread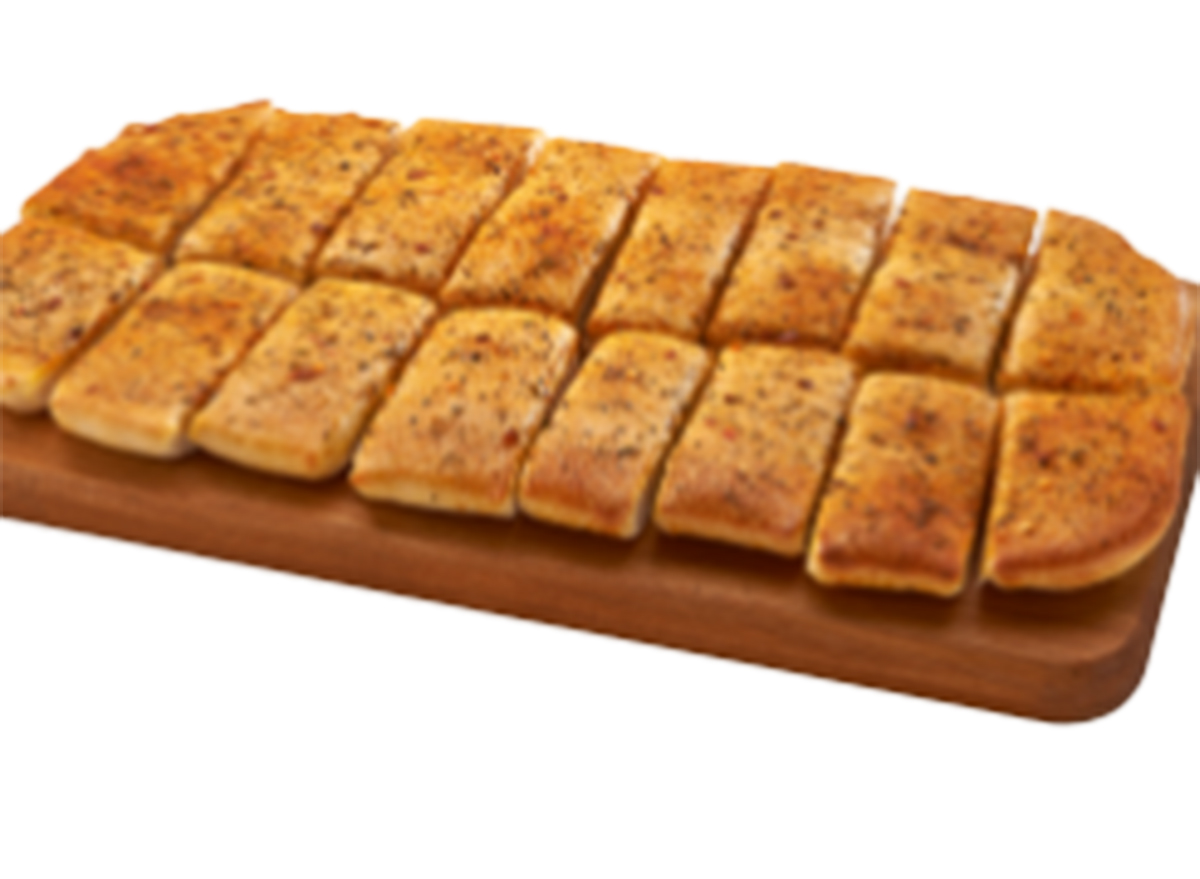 1 Piece
: 60 calories, 1 g fat (0 g saturated fat, 0 g trans fat), 75 mg sodium, 11 g carbs (1 g fiber, 1 g sugar), 2 g protein
You don't have to sacrifice a side of bread if you are trying to eat with health in mind. Pine explained that bread is typically packed with sodium, especially at restaurants. But this option is lower in sodium, and it is fairly low in calories and fat per piece, too. "Just remember to stick to one or two pieces," Pine says. This spicy bread would be a great companion to a salad for a healthier lunch or dinner.
Worst: Deep Dish 3-Cheeser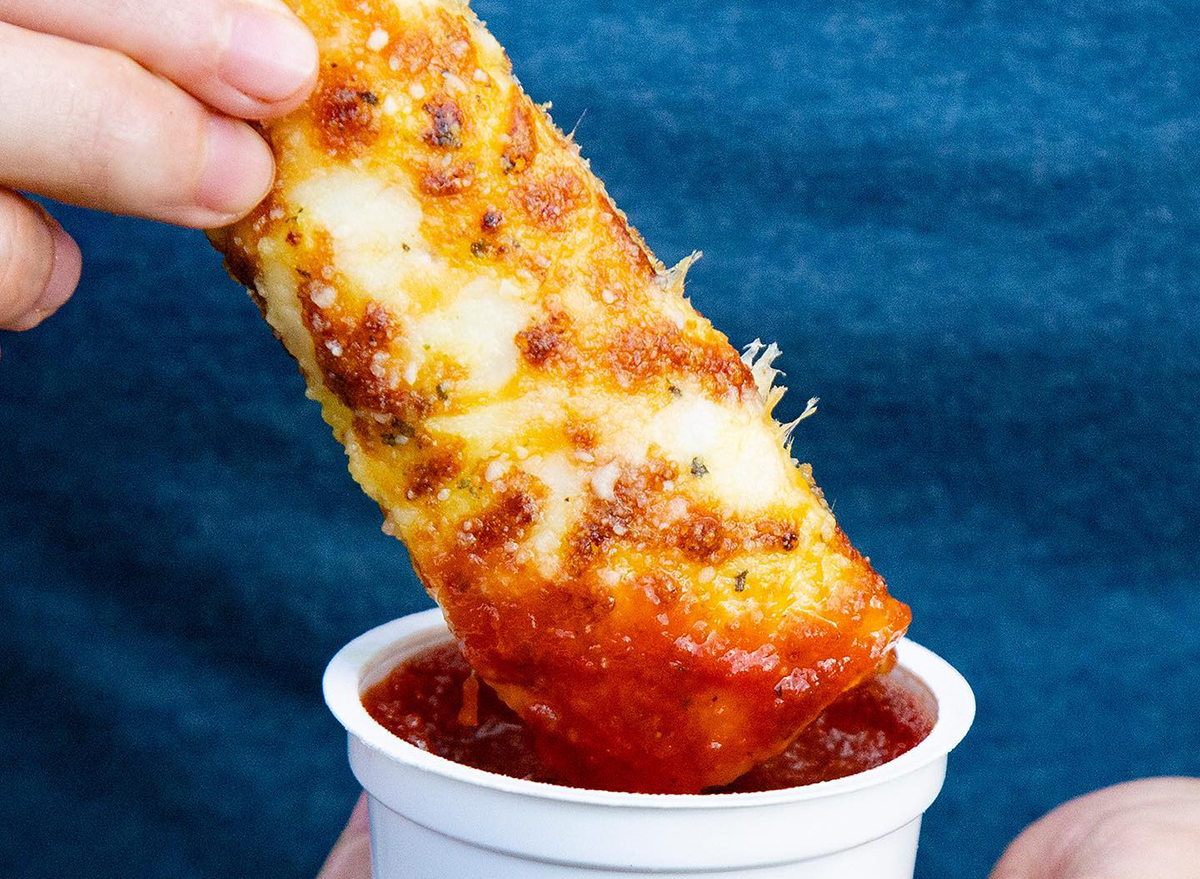 1 Piece
: 140 calories, 6 g fat (2.5 g saturated fat, 0 g trans fat), 220 mg sodium, 17 g carbs (1 g fiber, 1 g sugar), 6 g protein
Add three types of cheeses to a deep-dish style bread and you will be consuming a lot of sodium and fat. It's delicious on occasion, but if you are watching what you eat to stay healthy, you're better off ordering the veggie pizza instead.
"For only one piece, you're consuming 140 calories, and what are the chances you're going to have more than one serving in addition to the pizza you also ordered? Pretty high!" Pine said. "If you add the 4-ounce side of marinara sauce, you'll add an extra 490 mg sodium."
Salad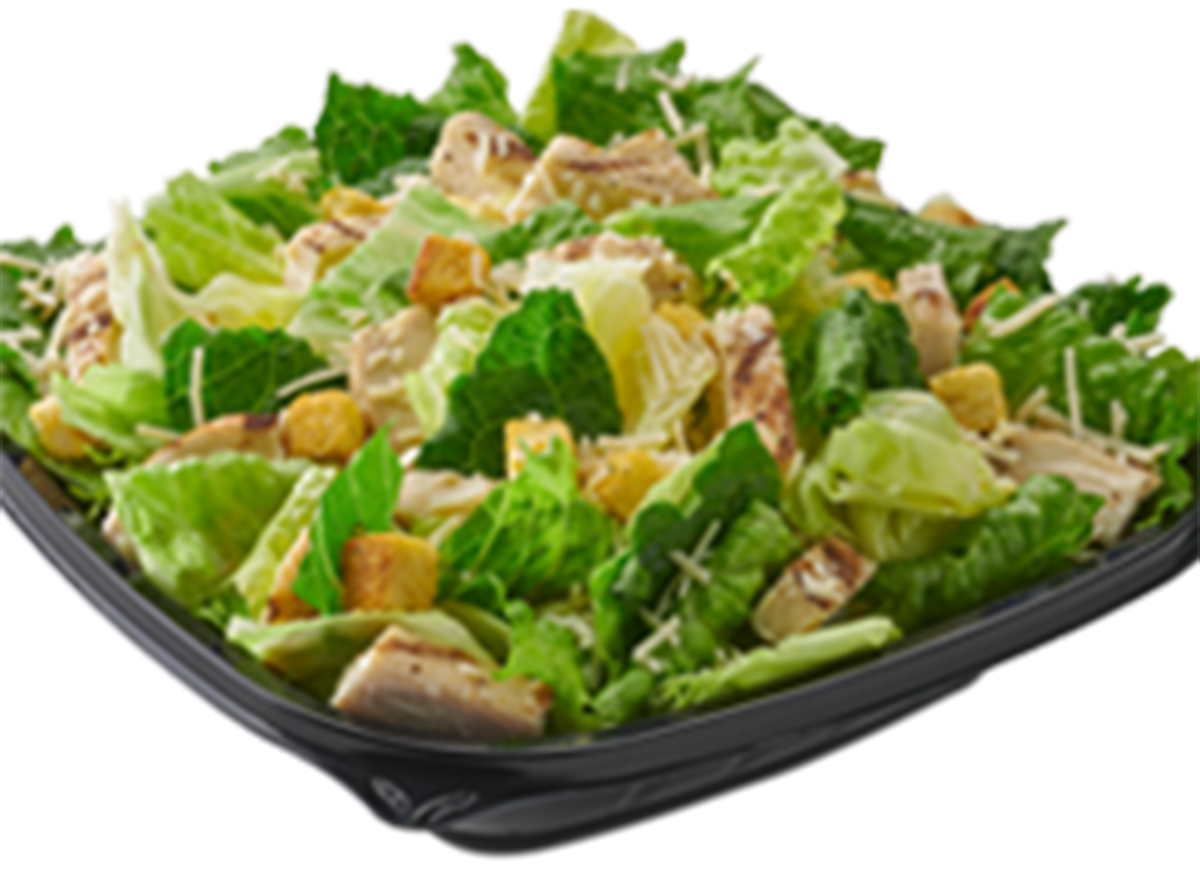 Large Salad
: 310 calories, 10 g fat (5 g saturated fat, 0 g trans fat), 1,100 mg sodium, 22 g carbs (7 g fiber, 7 g sugar), 35 g protein
If you do want a healthier option, the chicken Caesar salad is a decent choice. Just be mindful when adding the creamy Caesar dressing, as this can quickly pack on calories and fat. Also, keep in mind that this salad is fairly high in sodium.
"I really like that you're getting in some veggies, seven grams of fiber, and 35 grams of protein to keep you full," Pine says.6254a4d1642c605c54bf1cab17d50f1e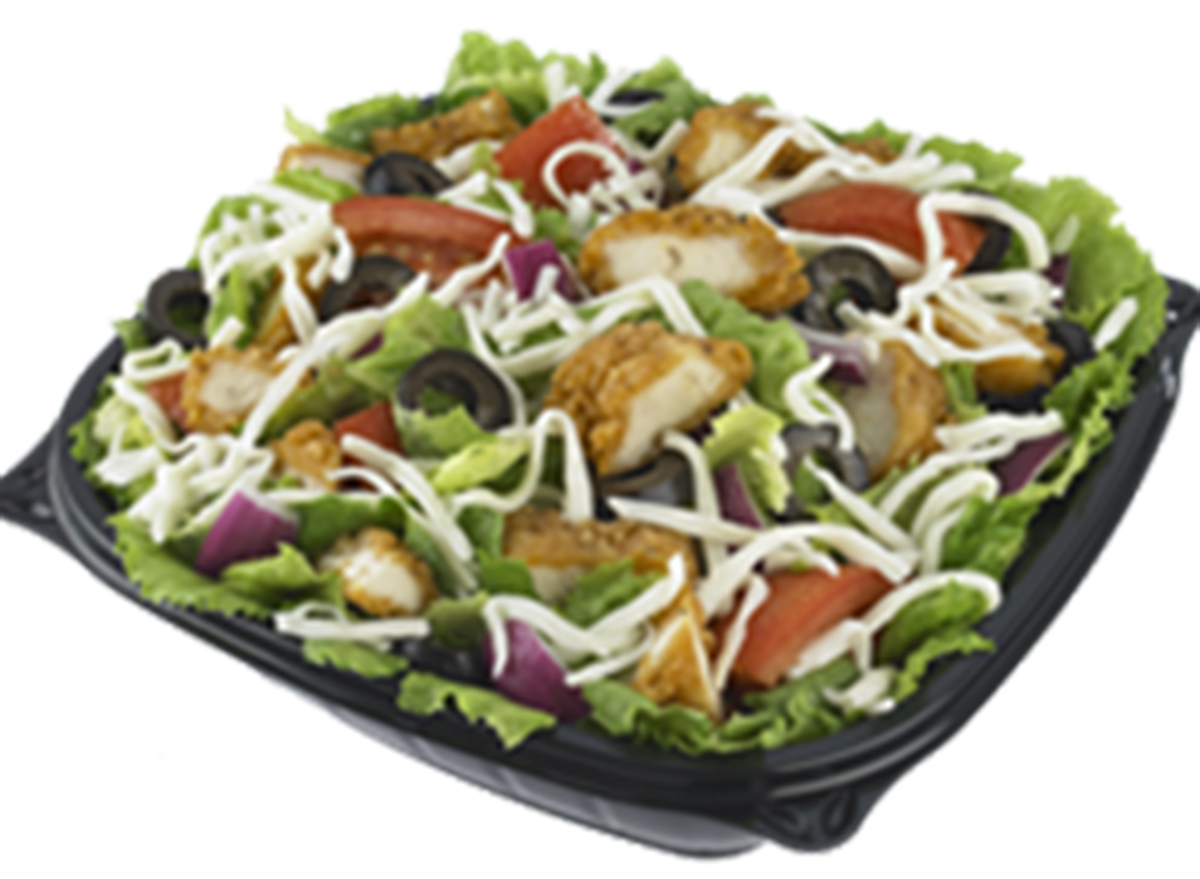 Large Salad
: 930 calories, 52 g fat (18 g saturated fat, 0 g trans fat), 2,220 mg sodium, 59 g carbs (12 g fiber, 11 g sugar), 56 g protein
Sorry, but salads aren't always healthy! Once toppings and dressings are added and accounted for, the calories, sodium, and fats can skyrocket past recommended daily values.
Pine says that despite being a salad, this option is high in carbs and sugars, and that's just the beginning.
"There's enough sodium to cover you for an entire day," Pine says. "There's also the same amount of fat as 17 Oreo cookies. The 18 grams of saturated fat are like eating almost 3 tablespoons of butter. I wish nutritional count lists also included ingredient lists because I'd love to know what ingredients contain these high numbers. I'm not even sure these numbers include the dressing." Yikes!
Howie Wings
Best: Original Boneless Howie Wings With Sriracha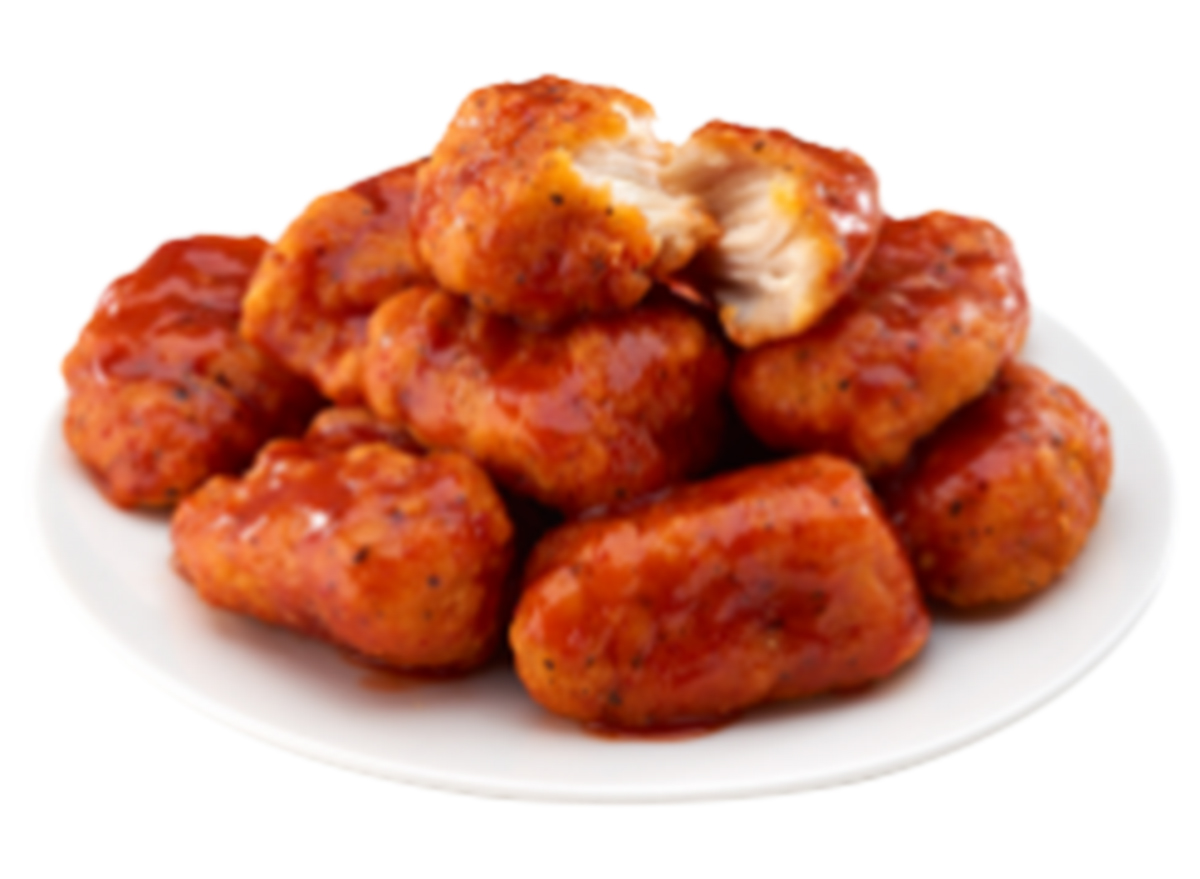 1 Wing
: 60 calories, 2 g fat (0 g saturated fat, 0 g trans fat), 450 mg sodium, 6 g carbs (0 g fiber, 1 g sugar), 5 g protein
While these are the best option of the wings, they are by no means a healthy choice. Still, the original boneless wings with sriracha are a decent choice if you are craving chicken wings.
"The boneless Howie wings with sriracha really aren't that much better of an option than any other wings on the menu," Pine says. "Rather than trying to choose the best option here, I say go with the flavor you like and stick to a reasonable portion size." Everything in moderation, as they say!
Worst: Original Howie Wings With Asian Sauce
1 Wing
: 80 calories, 5 g fat (1.5 g saturated fat, 0 g trans fat), 375 mg sodium, 2 g carbs (0 g fiber, 2 g sugar), 5 g protein
Chicken wings are not widely regarded as a health food. So smother them in a sodium-rich sauce, and you've got a meal best reserved for only the occasional game day.
"This is another one of those foods where you won't eat just one," Pine says, as the menu guide only notes the nutritional values for a serving size of one wing. "Each wing with sauce contains 80 calories, so if you eat six, your appetizer alone will contain almost 500 calories. Keep that in mind when ordering other items on the menu."
Better yet, if you do want these wings, make them your meal with a lightly dressed side salad rather than eating them as an appetizer before pizza.
Howie Rolls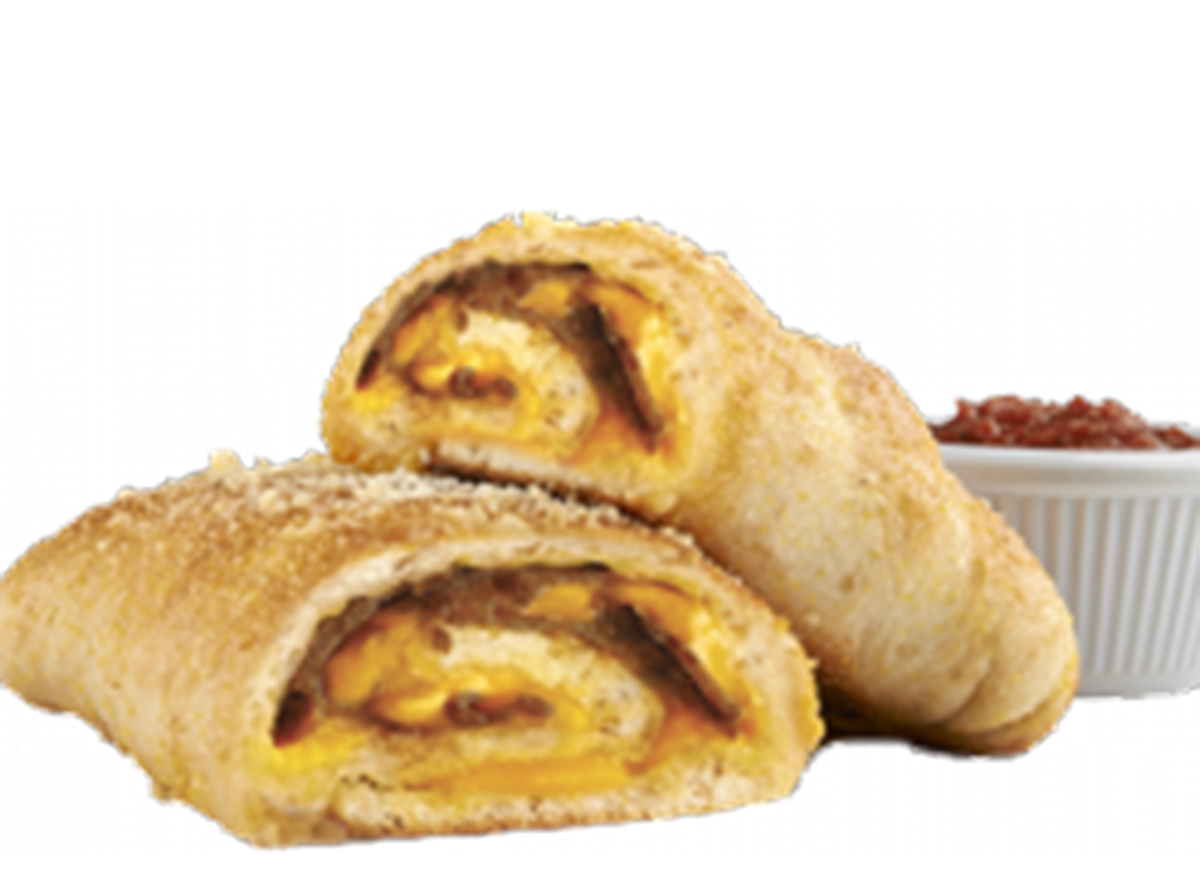 1 Roll
: 640 calories, 24 g fat (9 g saturated fat, 1 g trans fat), 560 mg sodium, 78 g carbs (6 g fiber, 6 g sugar), 29 g protein
There is no best in this category. All the rolls in this section of the menu have similar nutritional profiles, and Pine doesn't recommend any of them—and she calls out the steak and cheese one as the worst.
The restaurant's Howie Rolls are similar to stromboli, meaning these are sticks of dough stuffed with pizza toppings. There are three flavor combinations from which to choose: steak and cheese, pepperoni and cheese, or chicken and cheese.
Unfortunately, all three rolls contain trans fat, which is not found in most of the other menu items.
"This is the type of fat that you want to completely avoid because it lowers your good HDL cholesterol and raises the bad LDL," Pine says.
If you like to dip these rolls in sauce, such as garlic, you are also adding more even more saturated fat to the meal, which is already rich in both saturated and trans fats. Again, the Howie Rolls are some of the only menu items that contain those risky trans fats that can raise the LDL cholesterol.
Dessert
Best: Howie Chocolate Chip Cookie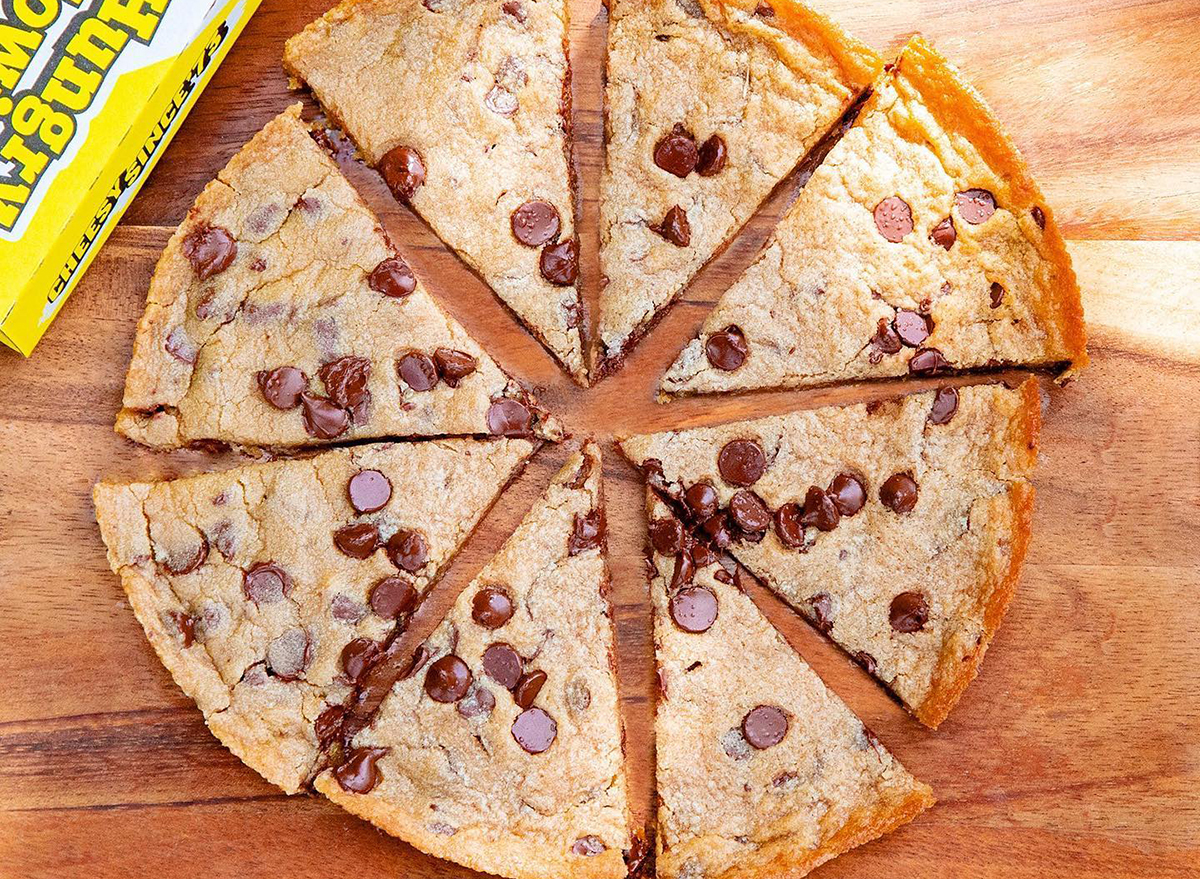 1 Piece
: 180 calories, 8 g fat (4 g saturated fat, 0 g trans fat), 660 mg sodium, 28 g carbs (1 g fiber, 17 g sugar), 2 g protein
No matter how you slice it, the Hungry Howie's pizza-shaped pie of cookies is still not a healthy option, although it is slightly better than the brownies if you are looking for a dessert to enjoy after dinner.
"Not that the Howie chocolate chip cookie is much better than the brownie, but it has the slight edge with half the amount of sugar at 17 grams per serving," Pine says. Even if you enjoy an entire cookie "slice," it at least won't set you over the daily recommended limit.
Worst: Howie Brownie Original With Salted Caramel Sauce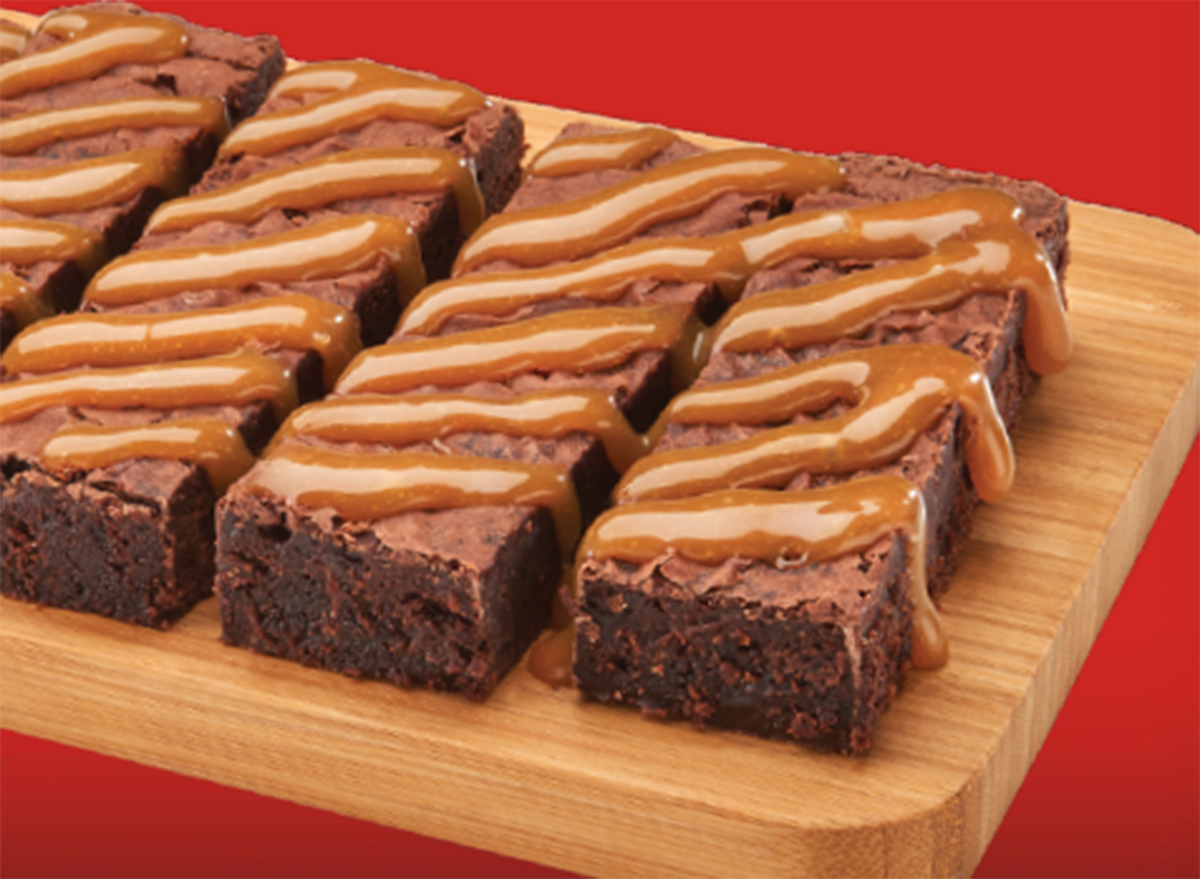 1 Piece
: 290 calories, 9.5 g fat (3.5 g saturated fat, 0 g trans fat), 235 mg sodium, 49 g carbs (2 g fiber, 33 g sugar), 3 g protein
Sometimes, you just need a little bit of something sweet to finish off your meal. In moderation, desserts are a delicious way to enjoy the end of dinner. But if you are watching your sugar intake, the salted caramel brownies are not the way to go, no matter how scrumptious they sound.
"In terms of sugar cubes, 33 grams is equivalent to 8 1/4 cubes," Pine says. "According to the American Heart Association, the maximum amount of added sugar per day for women is 24 grams and men is 36 grams." Just one Hungry Howie brownie will exceed or nearly exceed the recommended daily limit of added sugar for most people, so it's best to skip.
Paige Bennett
Paige is a Los Angeles-based editor and freelance writer. In addition to writing for Eat This, Not That!, she works as the content editor for Inhabitat.
Read more about Paige