Hearty Italian Sausage Soup Recipe
It's the ultimate comfort dish that tastes like something your mom would make you.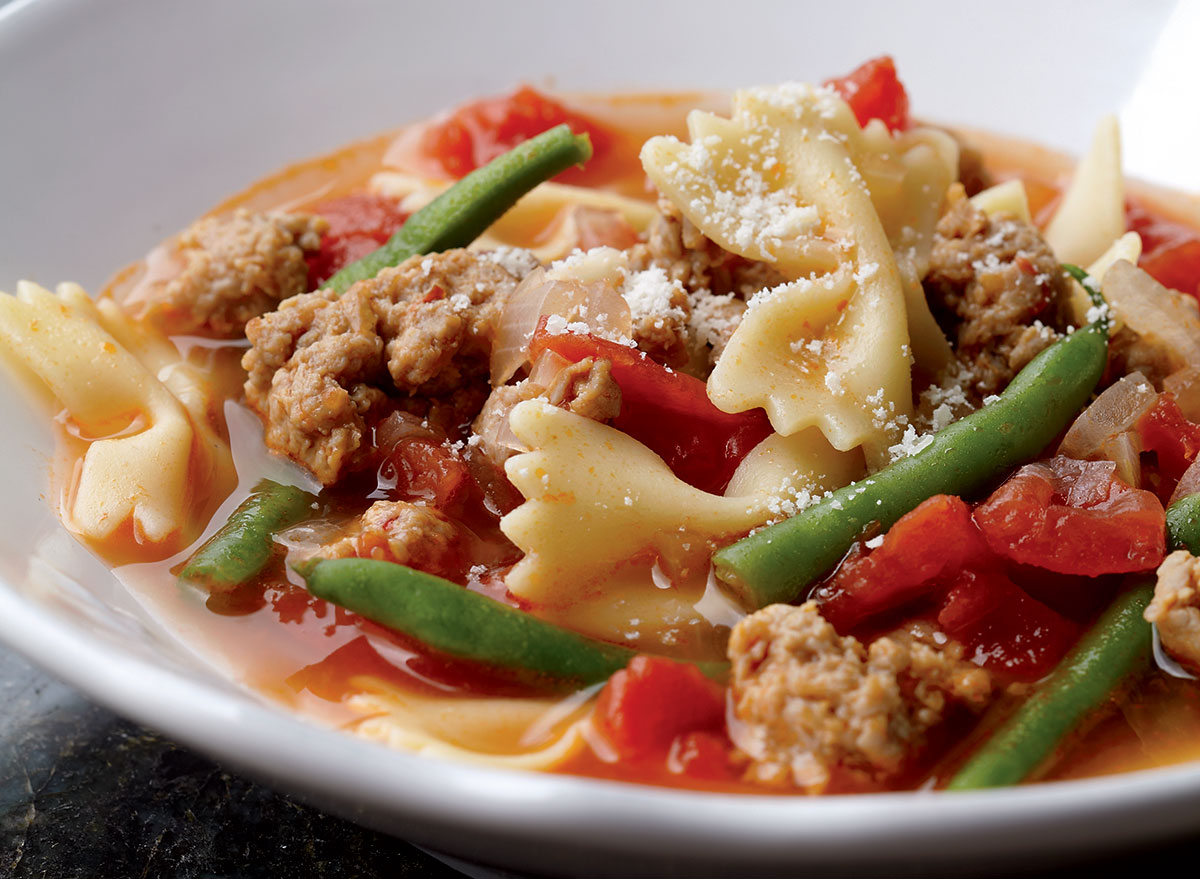 For many people, the best definition of comfort food is the food their mom made for them when they were growing up. Depending on your mom, those meals were not necessarily healthy, but they were comforting because of who made them for you. Regardless of who your parents are, with this recipe for Italian sausage soup, you're bound to soak up some residual comfort from someone else's mom's recipe. This soup was made by Matt's mom, and while it sounds complicated in title, we assure you it is a deceptively simple recipe that will create a wonderfully soothing bowl of meat, vegetables, and pasta—like chicken soup for the Italian soul (or any other sort of soul, for that matter). You can load this one full of vegetables, doubling the amount used below, and end up with a chunky, sausage-strewn minestrone. And if you want to cut out the pasta all together, replace farfalle with your favorite brown rice or quinoa. Either way, this Italian sausage soup is hearty enough to work as dinner on its own.6254a4d1642c605c54bf1cab17d50f1e
Nutrition: 360 calories, 12 g fat (2.5 g saturated), 890 mg sodium
Serves 4
You'll Need
1⁄2 Tbsp olive oil
2 links Italian-style turkey sausage, casings removed
1 small yellow onion, diced
2 cloves garlic, minced
Pinch of red pepper flakes
1 can (14oz) diced tomatoes
8 cups low-sodium chicken broth
3⁄4 cup farfalle, preferably whole wheat, or other pasta
2 cups green beans, tips removed, halved (A few cups of baby spinach or chopped broccoli would work as a substitute for the green beans.)
Parmesan for serving
How to Make It
Heat the olive oil in a large saucepan or pot over medium heat.
Add the sausage meat and cook for 3 to 5 minutes, until no longer pink. Transfer to a plate and reserve.
Add the onion, garlic, and red pepper flakes to the same pot and cook for about 5 minutes, until the onion is soft.
Add the tomatoes and chicken broth and bring to a low boil.
Stir in the pasta, cook for 6 minutes, then add the green beans and the reserved sausage.
Simmer for about 5 minutes longer, just until the pasta is cooked through and the beans are soft.
Serve with grated Parmesan.
This recipe (and hundreds more!) came from one of our Cook This, Not That! books. For more easy cooking ideas, you can also buy the book!