The Only Jelly Thumbprint Cookie Recipe You'll Ever Need
Filled with any jam or jelly you fancy, these cookies are bound to be your new favorite holiday treat!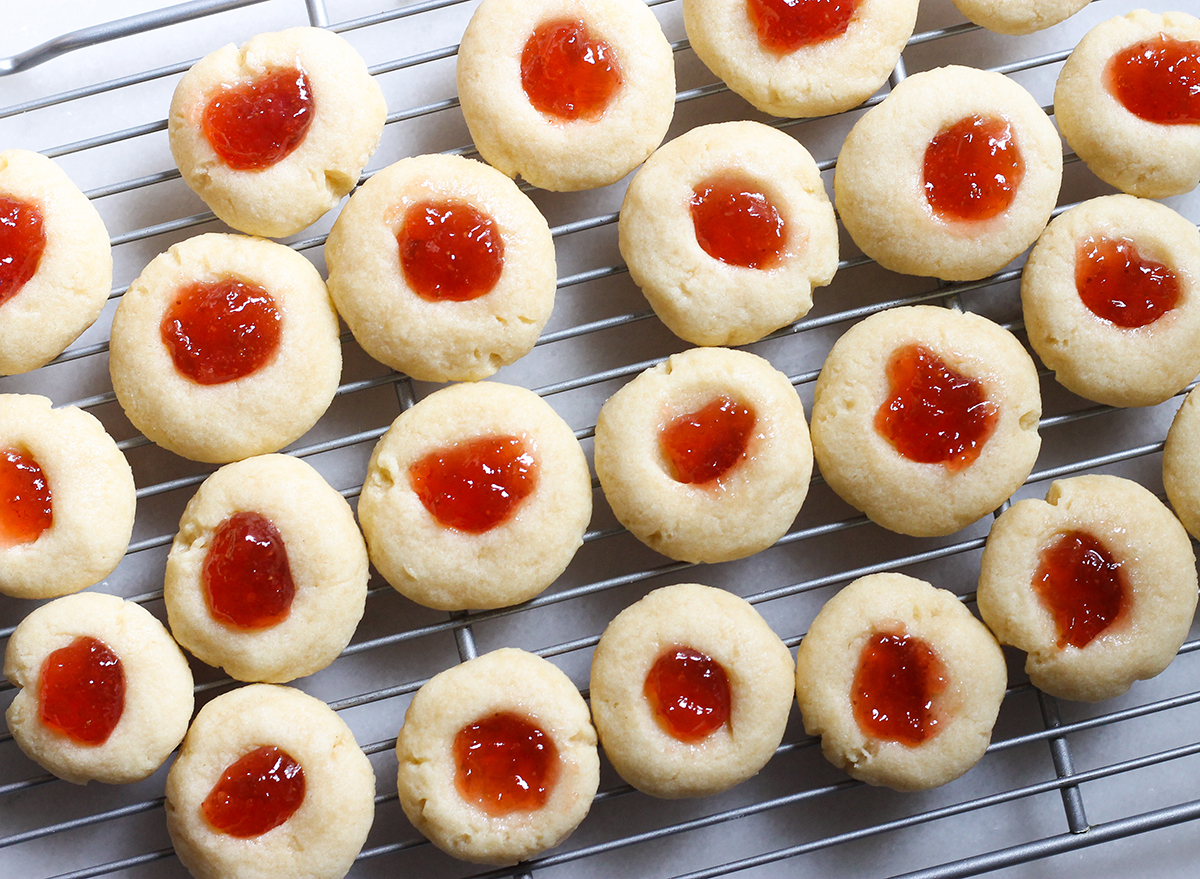 The holidays wouldn't be the same without a plate of homemade cookies, right? While there are some classics to make—like gingerbread cookies and sugar cookies—there are other holiday hits to make that have graced cookie plates for decades now.
Use any jelly you like
When it comes to adding jelly into your thumbprint cookie, the possibilities are endless. I am spoiled by having delicious homemade jam made by my grandmother-in-law sent to me every year, so I filled each cookie with some of her raspberry jam. However, you can use any jam or jelly your heart desires. Use grape, strawberry, apricot, raspberry, peach, or whatever else you have on hand. You don't even have to stick to one type of jam for this entire batch of cookies! Mix it up with different types of jams for some variety.
Add nuts for some crunch
I'm not a huge fan of having crunchy nuts in my desserts. However, if you are one of those people, thumbprint cookies are traditionally known to be rolled in nuts before baking. If you would like to add some extra crunch to your cookie, roll each ball into a bowl of finely chopped walnuts before pressing your thumb into each cookie dough ball.
Thumbprint Cookie Recipe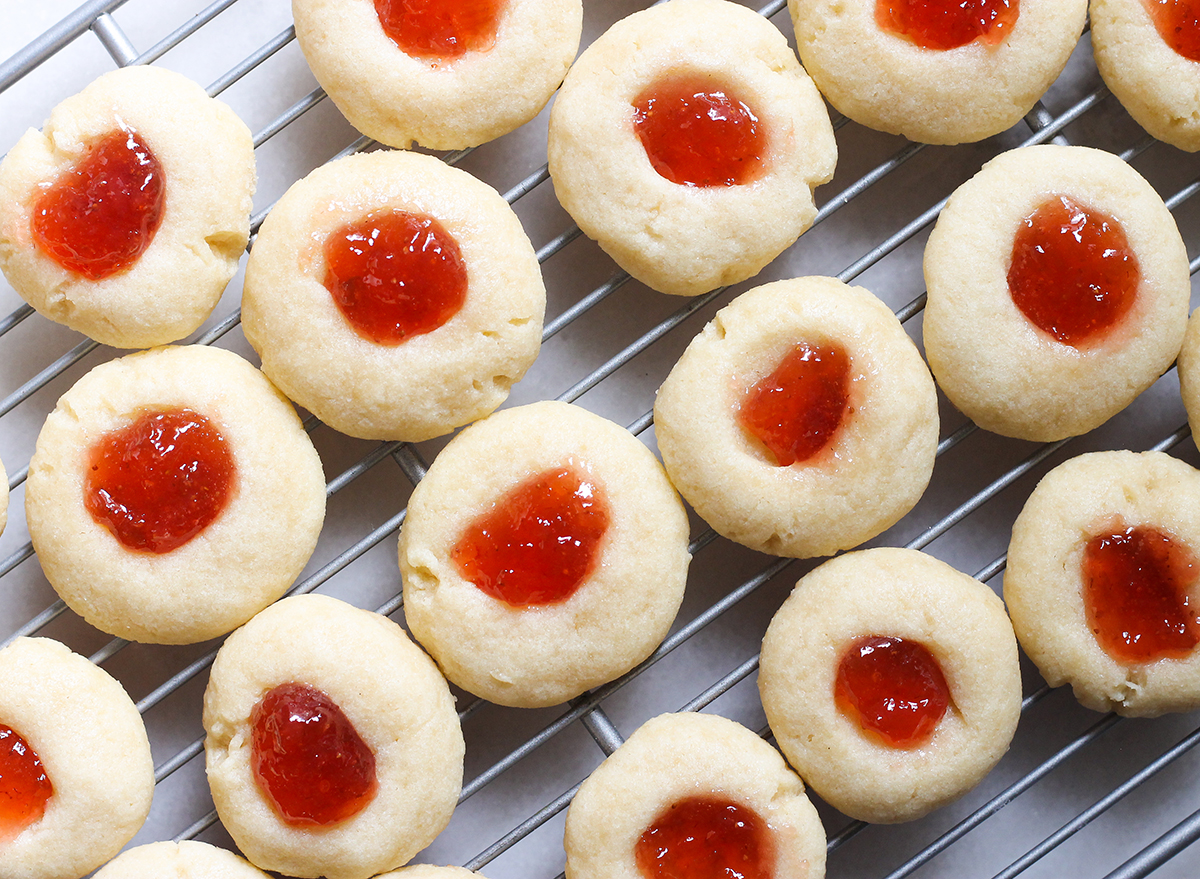 Makes 24 cookies
Ingredients
1/2 cup butter, softened
1 cup sugar
1 egg
1/2 tsp vanilla extract
1 1/2 cups flour
1/2 tsp salt
Jam of choice
How to Make It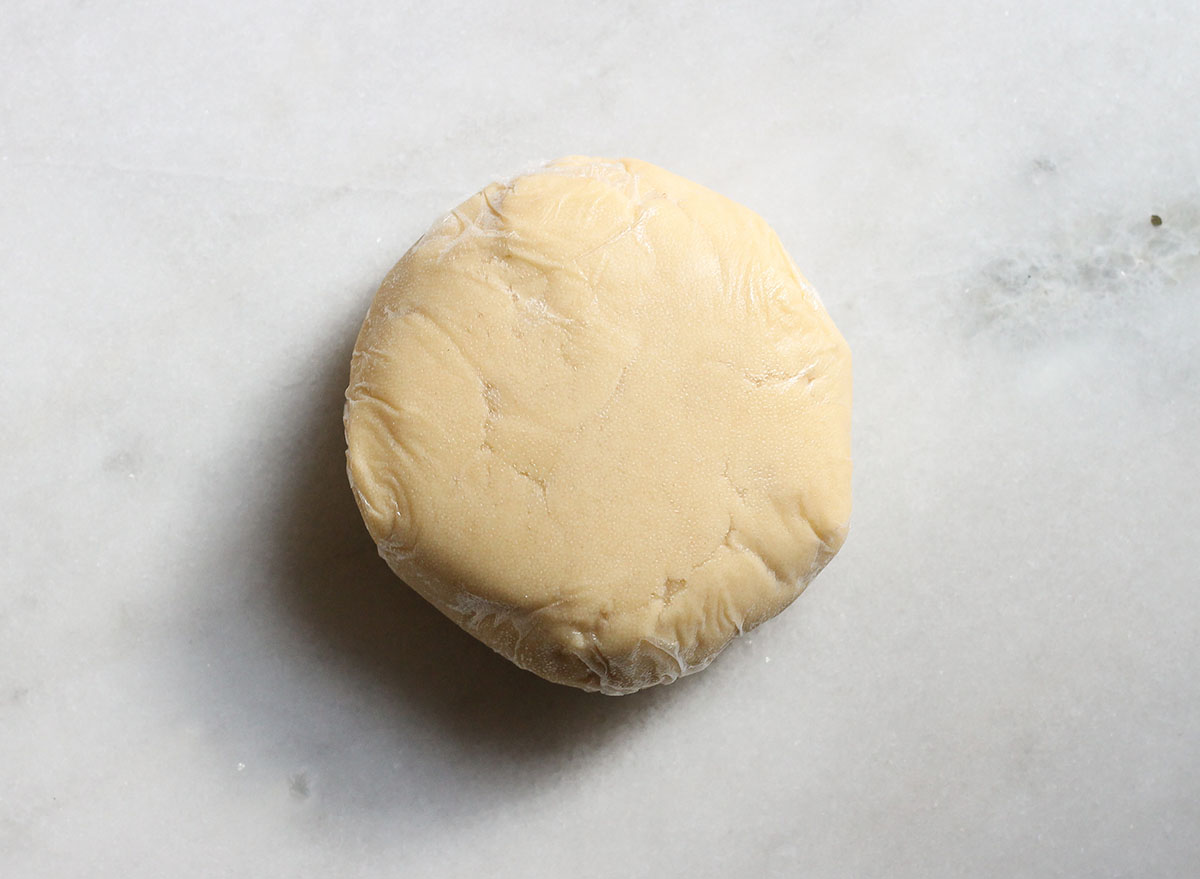 Make the dough by whisking together the wet ingredients, then adding in the flour and salt. Wrap up the ball of cookie dough and place it in your fridge for at least 3 to 4 hours, or overnight. Chilling the cookie dough actually helps the cookies keep that perfect thumbprint form when they are in the oven later.6254a4d1642c605c54bf1cab17d50f1e
Press down thumb in cookie dough balls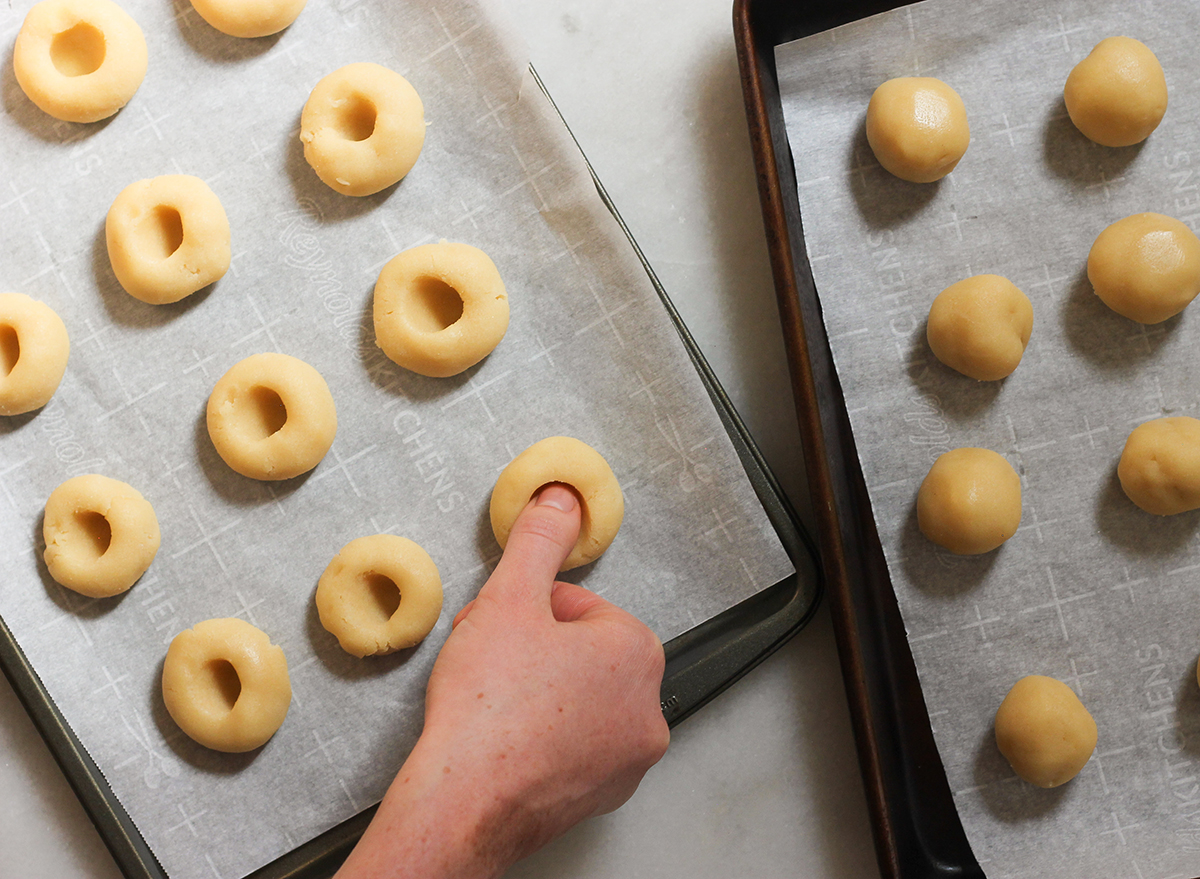 Yes, you actually do need to use your thumb to make these cookies! To shape the hole in each cookie, roll up 1-inch cookie dough balls and place them on a baking sheet lined with parchment paper. Press your thumb into each cookie, but make sure to not press too far where the cookie dough will break at the bottom. If you have a hole, the jelly will seep through later.
Bake, then fill with jelly once cool
Bake the cookies at 375 degrees for 10 to 12 minutes. If you notice the holes starting to lose their shape (because the cookie dough is starting to rise), take the cookies out quickly and use the back of a spoon to press down on each cookie again before finishing up the bake.
Once done, cool the cookies completely. Using a small spoon, add in the jelly of your choice to each thumbprint hole.
Full Thumbprint Cookie Recipe
Whisk together the butter, sugar, egg, and vanilla extract in a bowl.
Add in the flour and salt and mix until all ingredients are fully worked into the dough.
Wrap up the ball of dough and place in the fridge for 3 to 4 hours, or overnight.
When ready to bake, roll up into 1-inch balls. Place balls onto a baking sheet lined with parchment paper.
Press thumb into each ball, but do not break through the cookie dough on the bottom.
Bake at 375 degrees for 10 to 12 minutes.
Once the cookies are completely cool, fill each hole with your jelly of choice using a small spoon.