Jennifer Aniston's Secrets On Looking So Fit And Fab At 53
Her workout regimen is pure magic.
What's not to love about one of America's sweethearts, Jennifer Aniston? She's incredibly successful, funny, talented, and, well, she looks absolutely amazing. It's hard to believe that the country's very own best Friend—aka Rachel Green—is 53 years old. This star of Apple TV+'s The Morning Show (where she stars alongside Reese Witherspoon) doesn't seem to be slowing down anytime soon—she's still crushing it as a true role model and icon.
In fact, Aniston has almost 40 million followers on her Instagram account, and her most recent post—where she rocks a cool set of gold, shimmery party pants and thanks everyone for her birthday wishes—received almost 14 million views. The star recently celebrated her 53rd birthday on February 11, 2022. She captioned her birthday post, "Thank you all so much. I'm filled with so much gratitude for all the love that poured over me on my birthday…! Blessed girl over here."
Ringing in her 53rd trip around the sun, Aniston is so fit and has a completely timeless look. The star takes her overall health, wellness, and fitness seriously, and we did a little digging to find out some of her best secrets on looking fit at 53. Read on to see what they are, and next, check out The 6 Best Exercises for Strong and Toned Arms in 2022, Trainer Says.
She starts the day with a healthy, collagen-packed smoothie
It should come as no surprise to hear that Aniston's smoothie game is really strong. She previously opened up to Well+Good about her take on wellness and the delicious collagen-packed smoothie she loves to sip.
"I've always been health aware and mindful about what I put into my body and how I take care of myself, not only so I can look great and trim and fit into my jeans but also for longevity and for my bones, my muscles, and my brain," Aniston explains to Well+Good. She also emphasizes that she has a sweet tooth, "but only for really health things," which is why she enjoys this delicious smoothie so darn much.
Are you ready to hear the goodness? Aniston kicks off her day with a refreshing smoothie, consisting of chocolate almond milk, maca berry, spinach, cacao, Vital Proteins Chocolate Collagen Powder (which supports your hair, skin, and nails, in addition to healthy bones and joints), matcha powder, and cinnamon.
The star even shared her delicious, collagen-filled concoctions on Instagram, giving us all a major dose of healthy inspiration. Aniston posted a video back in November about her morning cup of joe, which she makes with Vital Proteins Collagen Creamer and steamed milk. She's even filmed herself making her "favorite smoothie" in an Instagram post, which is a variation of the above smoothie the star loves so much. In the caption, Aniston reveals it's made with 1 cup of chocolate almond milk, 2 scoops of Vital Proteins Chocolate Collagen Powder, banana, cherries, spinach, matcha powder, almond butter, a pinch of cinnamon, just a few drops of Stevia, antioxidants, and 1 cup of ice. (Yum!)
Related: The "Simple" Exercise Rebel Wilson Did To Drop 75 Pounds
Aniston has a solid workout regimen
According to a 2020 Women's Health interview, Aniston works out—a lot. The outlet spoke with Aniston's personal trainer, Leyon Azubuike, to get a closer look into the star's fitness routine, which includes cardio, strength training, and boxing. But it's also important to note that Azubuike is all about "switching things up" so Aniston is "consistently being challenged." From jumping rope to resistance bands, Aniston does it all. She previously explained to People that she really enjoys shaking things up. In addition to a consistent, vigorous exercise routine, Aniston is a major yoga fan, which she has attributed her super-lean arms to.6254a4d1642c605c54bf1cab17d50f1e
One look at a workout video Aniston posted on the 'gram shows that her home gym is complete with a yoga mat, kettlebells, dumbbells, and even her fur babies, who show all the love!
Related: Cher's Workout Routine Shows How She's So Fit At 75
The experts agree with Aniston—switching things up in your workout routine is essential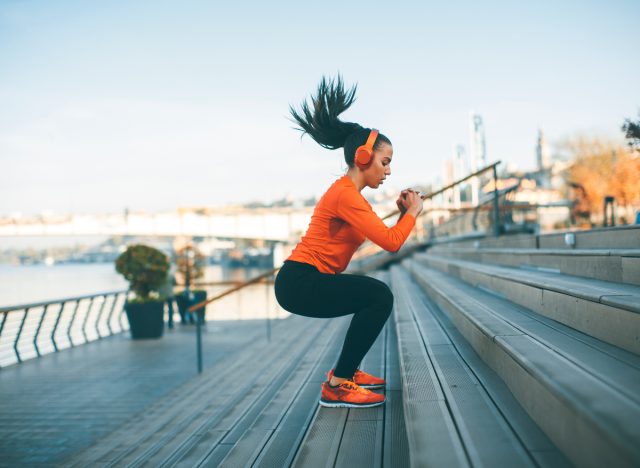 According to ACE Fitness, variety is the perfect spice of life when it comes to your workout routine, and there are two major reasons why. The obvious one is, you will avoid getting bored performing the same exercises over and over again. But additionally, you can put off plateauing in your exercise performance and overall results. Their example is a study performed by exercise researchers from the University of Florida. They found that when people switch up their routines over a two-month period each two weeks, they have more fun with their workouts. The individuals observed were also more motivated to keep up with their routines, unlike those individuals in the study who did not switch things up and performed the same ol' routine.
Your body's muscles will adjust to a routine that you do in about six to eight weeks, ACE Fitness notes. If you don't change things, your body acclimates itself to the repeated exercise inducement and will plateau.
So take some great advice from observing one of our favorite, amazingly young and fit looking gals—variety in exercise, and consistency is worth it!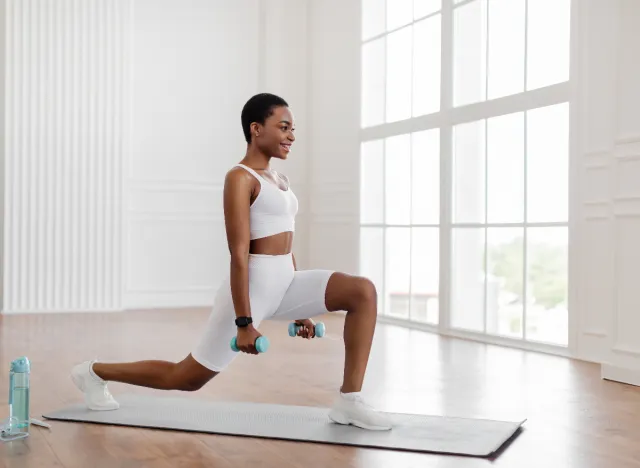 For more Mind+Body news, check out Get Killer Abs Fast With These 3 Effective Exercises, Trainer Says and The "Silly Little Walk" Trend Will Be Your New Favorite Outdoor Exercise.
Alexa Mellardo
Alexa is the Mind + Body Deputy Editor of Eat This, Not That!, overseeing the M+B channel and delivering compelling fitness, wellness, and self-care topics to readers.
Read more about Alexa