The Best & Worst Menu Items at Johnny Rockets
From shakes to burger to salads, these are the most and least nutritious meals at the 1950s-style diner, according to a registered dietitian.
Johnny Rockets is a spirited, 1950s-style American diner that serves up classic burgers and shakes alongside more modern offerings, such as turkey burgers and chili cheese tots. While the occasional treat is good for the soul, it can be a bit daunting to eat at a traditional diner when you are looking for healthier, more nutritional options. And with everything from sandwiches and burgers to shakes and salads, the Johnny Rockets menu has plenty of options for you.
So what should and shouldn't you order? We spoke with LeeAnn Smith Weintraub, MPH, RD of Half a Cup, and Mascha Davis, MPH, RDN, Private Practice Registered Dietitian Nutritionist and author of Eat Your Vitamins, for advice on which meals at Johnny Rockets are the most nutritious, as well as which ones to reserve as special treats.
Starters
1,230 calories, 90 g fat (30 g saturated fat, 0 g trans fat), 3,910 mg sodium, 90 g carbs (10 g fiber, 10 g sugar), 20 g protein
Although starters are meant for sharing, they can still be unhealthy even after they are divided into smaller portions. This is especially true for the chili cheese tots, which have 1,230 calories for just one serving. Add in the 90 grams of fat and nearly 4,000 milligrams of sodium (far more than the American Heart Association's ideal recommended intake of 1,500 milligrams of sodium per day), and each person that has had their share might just feel a little queasy before their entrees are even served.
"One serving has 790 of the calories coming from fat, of which 30 grams are saturated fat," Davis explains. "They are also loaded with cholesterol, with 70 grams per serving. To make things worse, they are packed with sodium, [putting] this meal way above the entire daily amount that anyone should be eating."
190 calories, 10 g fat (0 g saturated fat, 0 g trans fat), 460 mg sodium, 30 g carbs (0 g fiber, 0 g sugar), 0 g protein
If the table is looking to split a classic starter but doesn't want to feel bloated afterward, Weintraub recommends just grabbing a side of fries for 190 calories. While this is still heavy on the sodium, the amount is a fraction of what is in the other starters and is fine in moderation when paired with a healthy, well-balanced meal.
Burgers
Worst: Smokehouse Double Patty Turkey Burger
1,430 calories, 100 g fat (30 g saturated fat, 0 g trans fat), 3,530 mg sodium, 70 g carbs (0 g fiber, 20 g sugar), 80 g protein
Many people enjoy ordering turkey burgers when they want the savory, comforting flavors of a burger with fewer calories and fat. However, this menu option shocked even our dietitian experts.
"Surprisingly, the turkey burger is higher in calories," Weintraub says, comparing this option with some of the other beef burgers, such as the Rocket Single. You could eat nearly six of the Rocket Single beef burgers for the same amount of calories as one Smokehouse Double Patty Turkey Burger. While we don't recommend eating six of anything on this menu, if you are watching your diet, this pick proves you shouldn't just always assume the turkey burger is the best option!
Best: Rocket Single Burger
240 calories, 20 g fat (10 g saturated fat, 0 g trans fat), 350 mg sodium, 10 g carbs (0 g fiber, 0 g sugar), 10 g protein
Arguably the hero product of Johnny Rockets, this burger comes in many varieties at this restaurant chain. Johnny Rockets offers several patty options, so stick to the classic beef, the Boca veggie, or the Gardein veggie on a wheat bun. Not sure which patty to choose? Davis recommends going with the veggie if you can.
"This burger is a great alternative with only 360 calories per serving," Davis says. "The sodium is lower compared to many other menu items with 860 milligrams per serving — this is still high, but vegetables can help balance out high sodium levels. The veggie burger still has 20 grams of protein."
For those who don't beef, that is solid advice, but if you're a meat-eater, the classic beef patty is the way to go.
Salads
Worst: Crispy Chicken Club Salad with Thousand Island Dressing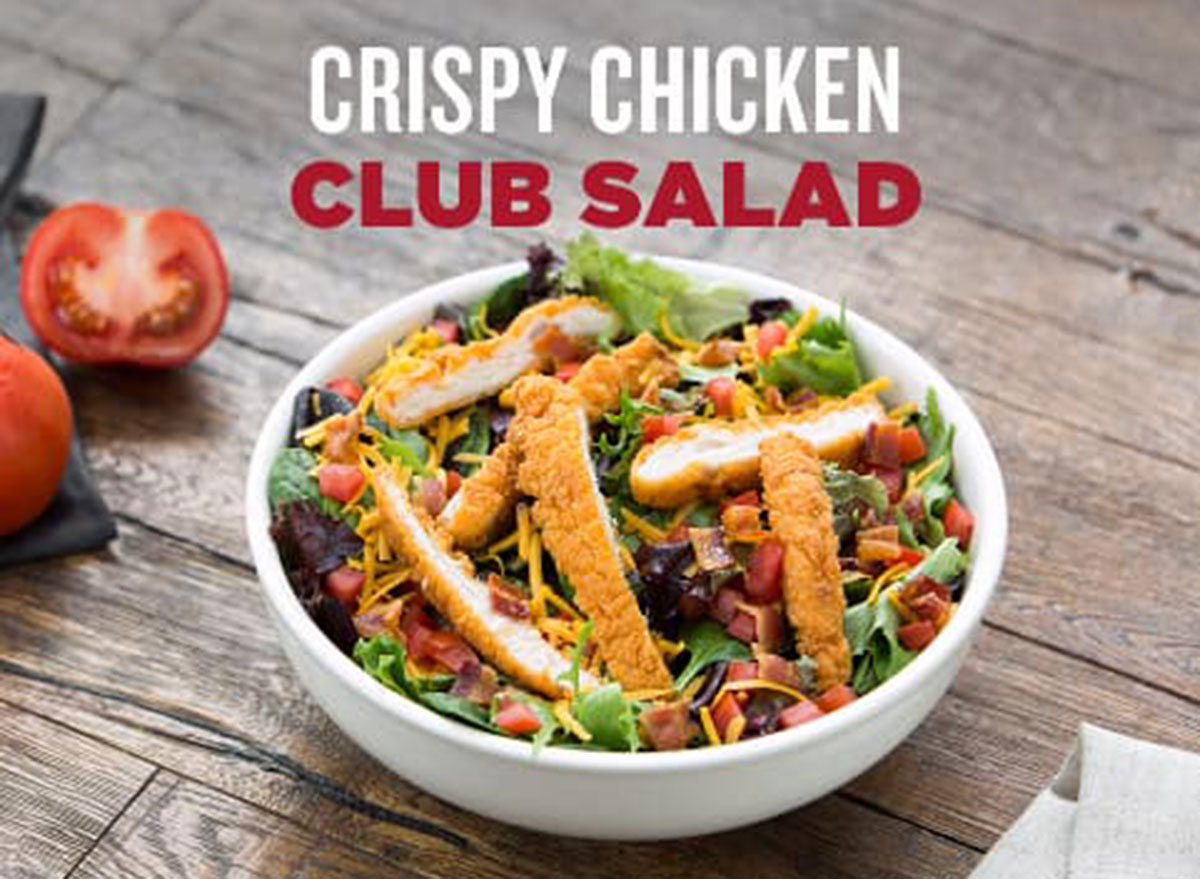 6254a4d1642c605c54bf1cab17d50f1e
670 calories, 50 g fat (10 g saturated fat, 0 g trans fat), 1,580 mg sodium, 30 g carbs (0 g fiber, 10 g sugar), 30 g protein
Many times, you'll find salads at restaurants to be some of the least-nutritious options on the menu, as they are loaded with salty, cheesy, preservative-heavy toppings and dressings. This is clearly the case with the Crispy Chicken Club Salad, especially when paired with thousand island dressing.
"This salad has 670 calories per serving—more than a McDonald's Big Mac," Davis says. "Most calories come from the dressing, as the same salad with no dressing has only 420 calories. Remember to choose your dressings wisely!"
Best: Grilled Chicken Club Salad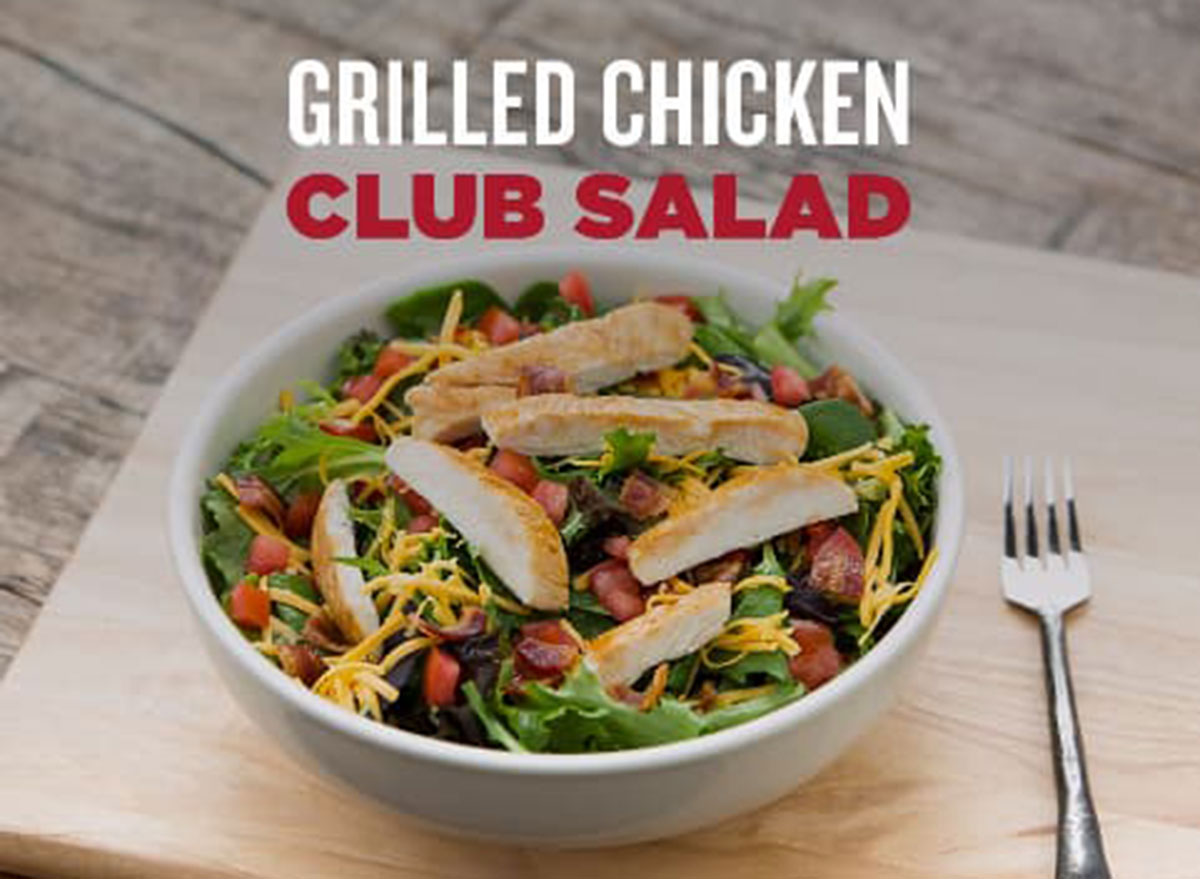 400 calories, 20 g fat (10 g saturated fat, 0 g trans fat), 790 mg sodium, 10 g carbs (0 g fiber, 0 g sugar), 50 g protein
While there are certainly heavier, less-nutritious salads available, it's still possible to find better-for-you options, and at Johnny Rockets, Davis recommends the Grilled Chicken Club Salad.
"With 400 calories per serving, this salad is a lighter option," Davis says. "It is low in carbs and has 50 grams of protein. It is rich in vitamins A and C, and it's also a good source of calcium and iron." Both Davis and Weintraub encourage diners to choose a light dressing, though, or you could venture into unhealthy territory. Stick to options like balsamic vinaigrette or fat-free Italian.
Sandwiches & More
Worst: Fried Chicken Club Sandwich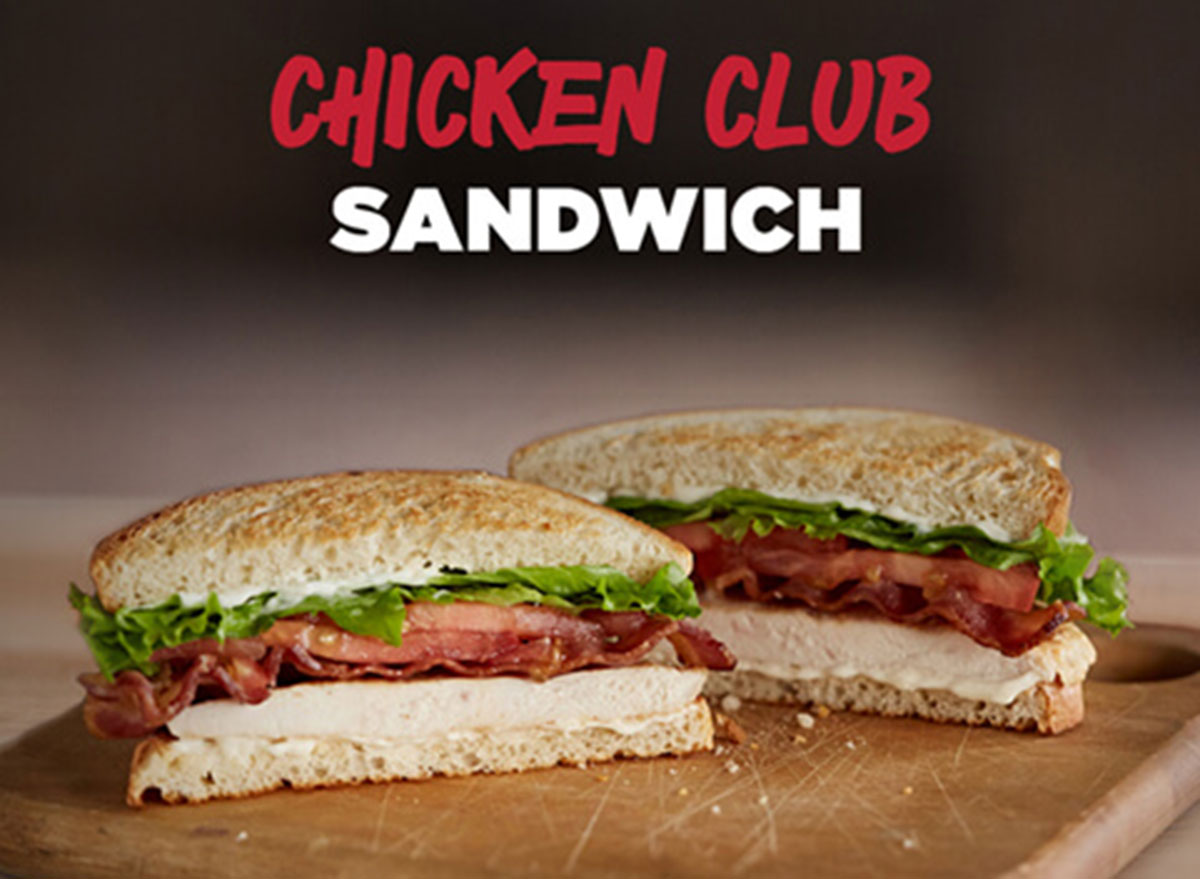 910 calories, 50 g fat (10 g saturated fat, 0 g trans fat), 1,920 mg sodium, 70 g carbs (0 g fiber, 0 g sugar), 40 g protein
This sandwich features chicken tenders with thick-cut Applewood smoked bacon, lettuce, tomato, and mayonnaise on sourdough bread, which together clocks in at nearly 1,000 calories and nearly 2,000 milligrams of sodium. Anytime you know there is fried chicken involved, your meal automatically enters "unehalthy" territory, and this isn't even factoring in the fact that typically, there are French fries on the side, too, adding more sodium and calories.
Best: Grilled Chicken Sandwich
550 calories, 30 g fat (0 g saturated fat, 0 g trans fat), 640 mg sodium, 40 g carbs (0 g fiber, 0 g sugar), 40 g protein
If you are heading to Johnny Rockets for lunch or dinner, the grilled chicken breast sandwich is the best among the sandwich offerings. "It has 550 calories and 40 grams of protein, so it is really filling," Davis says. "The sodium is 640 milligrams, which is much lower than most of their other items."
Shakes
Worst: Peanut Butter Shake with Malt Powder
1,220 calories, 80 g fat (30 g saturated fat, 0 g trans fat), 640 mg sodium, 100 g carbs (0 g fiber, 90 g sugar), 30 g protein
Milkshakes are always going to be an indulgent dessert, and this is especially true at Johnny Rockets. The restaurant's iconic shakes range anywhere from 550 calories for a child-size to 1,200 for a regular-size shake. "These shakes provide a half-day of calories in just one cup," Weintraub says, and the peanut butter shake with malt powder is proof of that, coming in at more than 1,200 calories. Yikes. And, as you can imagine, the amount of sugar in this drink is extremely high.
"The recommended amount [of sugar] for women is 25 grams per day, while for men it is 37," Davis says. This drink clocks in at 90 grams.
830 calories, 40 g fat (30 g saturated fat, 0 g trans fat), 290 mg sodium, 90 g carbs (0 g fiber, 80 g sugar), 20 g protein
Unfortunately for your sweet tooth, Weintraub and Davis agree that none of the shakes can be considered the best in terms of nutritional value. "There is no good shake," Davis says. "Even the kid's ones I would not recommend."
While it's best to steer clear of the shakes altogether, if you are looking for more nutrient-dense options, offer to split a smaller milkshake with some of the friends and family at the table with you. The best of the unhealthy options? The banana milkshake. It is just as high in sugar, coming in at 80 grams. Davis points out that "a Krispy Kreme donut has 10 grams of sugar," so even this small milkshake is equivalent to eight donuts if we're looking at the sugar content.
Paige Bennett
Paige is a Los Angeles-based editor and freelance writer. In addition to writing for Eat This, Not That!, she works as the content editor for Inhabitat.
Read more about Paige