The 9 Worst Fast-Food Milkshakes of All Time, Says Dietitian
Most of these unhealthy fast-food milkshakes are full of more fat and sugar than you need in a day.
The weather is getting warmer outside, and nothing says "warm weather treat" like a deliciously creamy milkshake. Some people make their own milkshakes at home with their favorite type of ice cream and milk, while others prefer to go to a fast-food restaurant to grab one on the go. While these beverages are tasty, it's safe to say they aren't a nutritious choice, and that's okay! But if you're wanting to be mindful of what you're consuming when it comes to your next treat, it may be helpful to be aware of some of the unhealthiest fast-food milkshakes out there.
Because of the way they're made—ice cream blended with milk and sugar—these drinks are naturally going to be higher in total fat, saturated fat, and added sugars. Not only are they high in sugar, but they're also incredibly low in fiber, meaning there's nothing to really slow down the digestion of these carb-heavy drinks, which can lead to blood sugar spikes.
"We want to keep the added sugar intake to a minimum," says Lauren Manaker, MS, RDN, registered dietitian and author of The First Time Mom's Pregnancy Cookbook and Fueling Male Fertility. "The American Heart Association recommends limiting added sugars to no more than 6 percent of calories each day," she notes, which equates to 24 grams and 36 grams of added sugar for women and men, respectively.
Manaker adds that "Ideally, a milkshake provides less than the 24-gram maximum, and should also be as low in saturated fat as possible and free from artificial colors as well."
We know that it's almost impossible to find a healthy shake at a restaurant, and it's definitely important to treat yourself to the things you love, but knowing which shakes are worse than the rest can help you make the best decision when it comes to your food and beverage choices. Read on for our list of the 9 unhealthiest fast-food milkshakes, and for more fast-food tips, make sure to check out these 500-Calorie Fast-Food Meals.
Burger King Chocolate Oreo Shake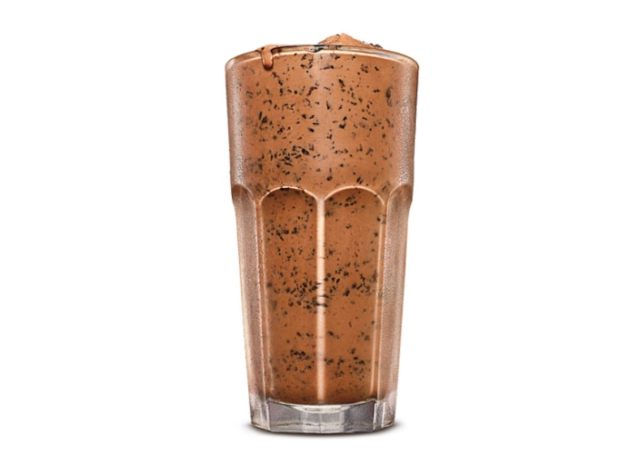 Per shake
: 674.6 calories, 17.4 g fat (10.1 g saturated fat), 474.5 mg sodium, 115.6 g carbs (1.7 g fiber, 91 g sugar), 13.6 g protein
If you're heading to Burger King and craving a milkshake, you may want to avoid their Chocolate Oreo Shake. This menu item has almost as much saturated fat as you're supposed to eat in an entire day, and its 91 grams of sugar is about triple what men should aim to consume in a day, and almost four times the recommended daily limit for women.
Hardee's Chocolate Shake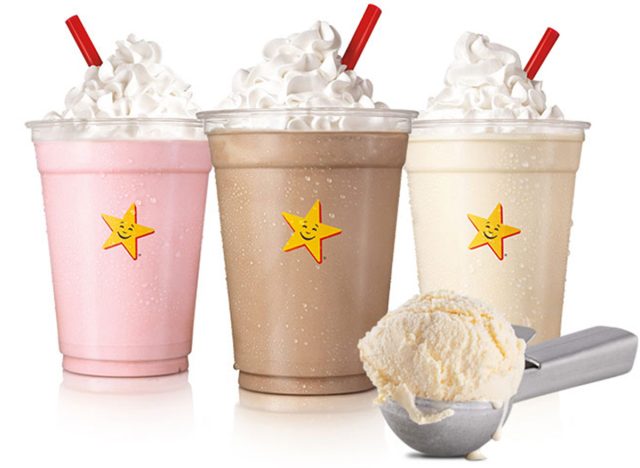 Per shake
: 690 calories, 36 g fat (24 g saturated fat, 1.5 g trans fat), 300 mg sodium, 84 g carbs (1 g fiber, 59 g sugar), 12 g protein
Not only is the Hardee's Chocolate Shake almost double your recommended daily maximum of saturated fat, but it contains 1.5 grams of trans fat. According to the WHO, trans fats should be avoided whenever possible, but if you are going to consume them, they recommend no more than 2.2 grams a day. One of these milkshakes almost provides your daily limit.
BurgerFi Peanut Butter Shake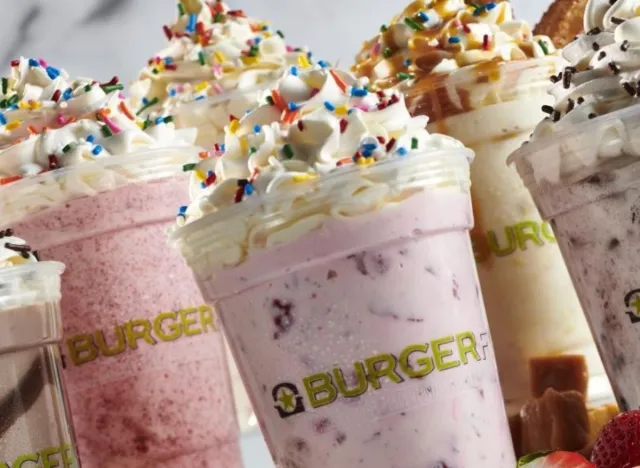 Per shake
: 1,060 calories, 73 g fat (30 g saturated fat), 500 mg sodium, 87 g carbs (4 g fiber, 65 g sugar), 24 g protein
It may be delicious, but there's nothing nutritious about the BurgerFi Peanut Butter Shake. With about half of your daily calories, over two times your recommended sugar limit, and over twice your recommended max of saturated fat, this shake just may not be worth it.
McDonald's Chocolate Shake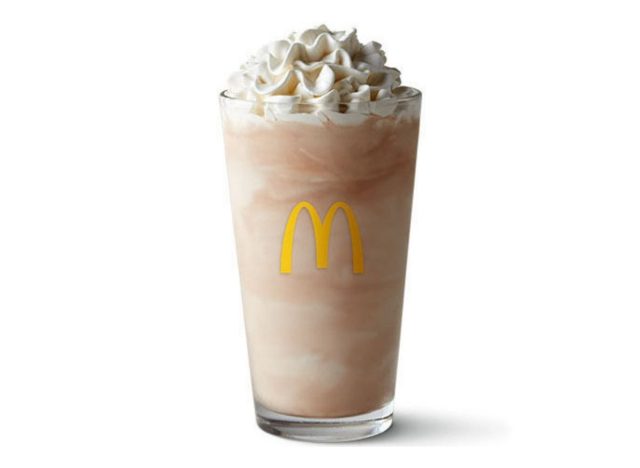 Per large shake
: 800 calories, 20 g fat (13 g saturated fat), 390 mg sodium, 134 g carbs (1 g fiber, 106 g sugar), 18 g protein
A large Chocolate Shake from McDonald's may be a bit more tame in the area of total and saturated fat, but with a whopping 106 grams of sugar, this one can be completely skipped.
Jack in the Box Oreo Shake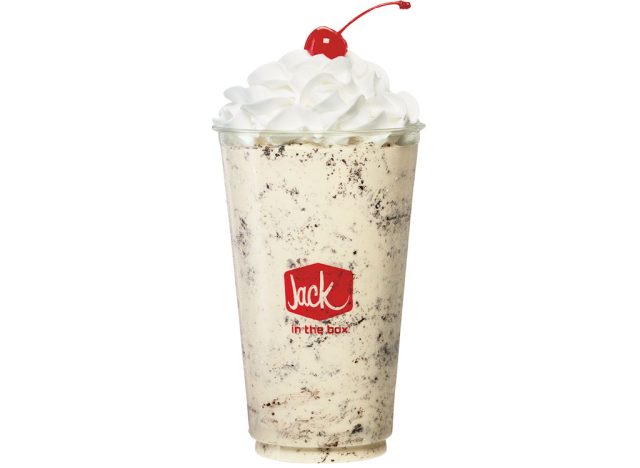 Per 24-ounce shake
: 990 calories, 39 g fat (25 g saturated fat, 1 g trans), 680 mg sodium, 145 g carbs (1 g fiber, 113 g sugar), 19 g protein
There's unfortunately nothing great about the nutrition in the Jack in the Box Oreo Shake. The excess amounts of saturated fat, sugar, and the one gram of trans fat isn't ideal, especially considering how easy it would be to pair this shake with some fries or a burger.
Arby's Chocolate Shake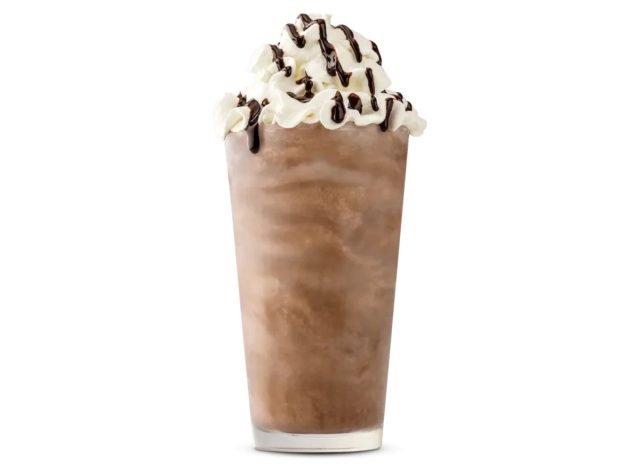 Per large shake
: 970 calories, 31 g fat (20 g saturated fat, 0.5 g trans fat), 700 mg sodium, 158 g carbs (2 g fiber, 140 g sugar), 24 g protein
The Arby's Chocolate Shake has a scary amount of sugar in just one drink. At 140 grams of sugar, you could finish off an entire pint of Ben & Jerry's Phish Food Ice Cream and still not consume as much sugar as in this drink.
Dairy Queen Peanut Butter Shake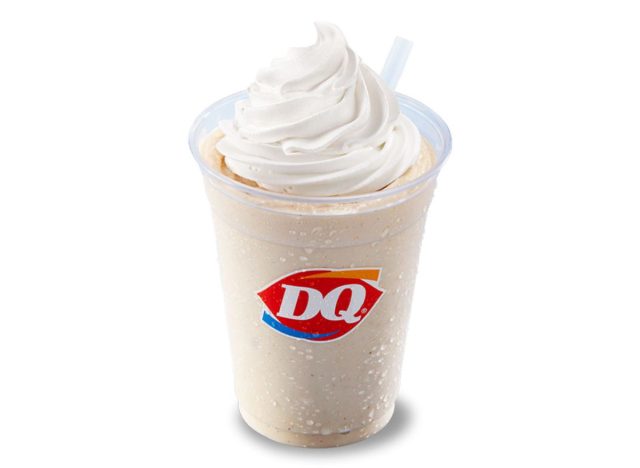 Per large shake
: 1,250 calories, 72 g fat (26 g saturated fat, 1 g trans), 830 mg sodium, 119 g carbs (4 g fiber, 89 g sugar), 30 g protein
It's safe to say that no one pulls up to a Dairy Queen with the intention of eating "healthy," but even if you're looking for a treat, you may want to skip over the Peanut Butter Shake. With a whopping 1,250 calories and 26 grams of fat, you're better off just eating a few scoops of ice cream.6254a4d1642c605c54bf1cab17d50f1e
Culver's Peanut Butter Shake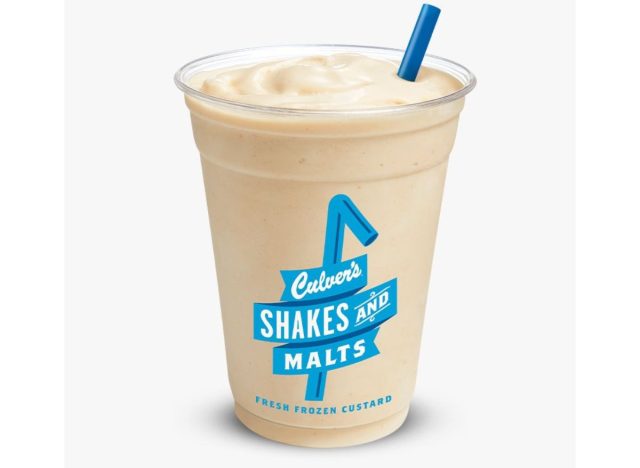 Per large shake
: 1,410 calories, 103 g fat (35.9 g saturated fat, 1.6 trans fat), 753 mg sodium, 102 g carbs (6 g fiber, 85 g sugar), 37 g protein
While your total amount of calories per day depends on your individual needs, meaning there's no real set "limit," it's safe to say that just one of these shakes from Culver's comes pretty close to how many calories we should aim for in a day. Not only that, but the saturated fat is triple the recommended daily limit. According to the American Heart Association, consistently consuming too much saturated fat can lead to things like high cholesterol and heart complications.
White Castle Chocolate Shake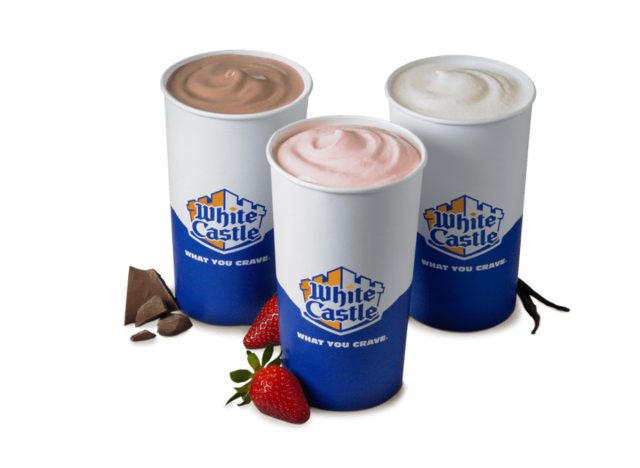 Per large shake
: 1,220 calories, 32 g fat (19 g saturated fat), 760 mg sodium, 213 g carbs (0 g fiber, 179 g sugar), 30 g protein
The Chocolate Shake from White Castle has the most sugar of any of the fast-food milkshakes on this list at almost 200 grams per large size. With the amount of sugar in this milkshake, you could eat two whole pints of Vanilla Haagen Dazs ice cream and still not consume as much as this shake.
Sources referenced in this article