This Kaiseki Experience Will Captivate Your Senses in the Best Way
Kaiseki Room by Yamada is not simply about dining; it's mind and body wellness through food.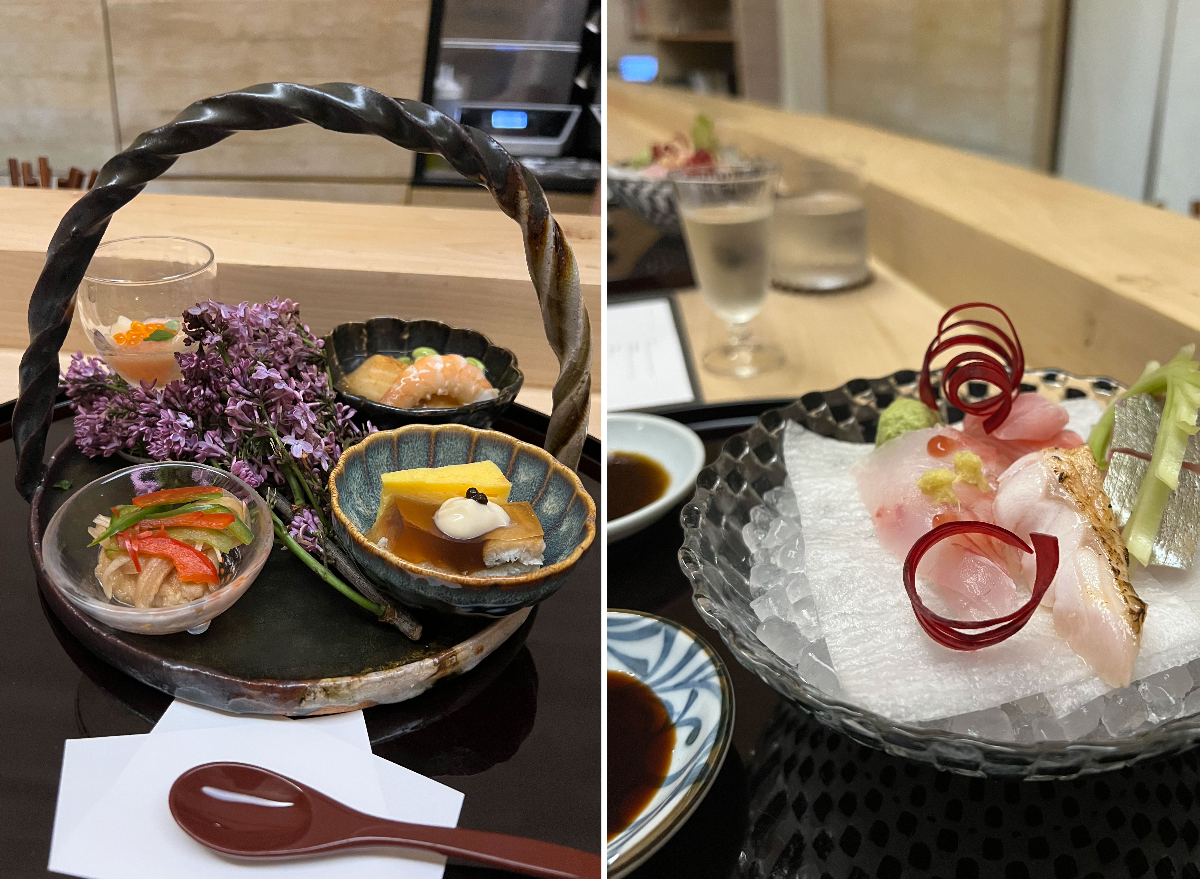 Planning new adventures and experiencing an extensive variety of new things is so refreshing. Exposing your mind and body to innovative ideas daily is associated with a wealth of happiness—research says so! I'm here to bring you a delightful, sensory culinary experience that will not only please your palate, but will also quench your desire for an outside-of-the-box, luxurious dining treat. If you're ready to broaden your horizons and taste buds, I have just the unique experience to try. Visit Chef Isao Yamada at Kaiseki Room, a top-notch restaurant in Midtown Manhattan, to soak up extraordinary dining at its finest. While you're at it, keep reading to learn the healthy habits of a professional chef and more about Kaiseki Room.
It's not just about dining; it's a total sensory experience.
Kaiseki Room by Yamada is not simply about eating dinner. You'll enjoy 11 courses of seasonal kaiseki omakase, prepared right in front of you by Chef Yamada. I had the pleasure of dining there, and it was truly a once-in-a-lifetime stimulating dining extravagance. Oh—and the comforting, minimalistic aesthetic of the venue itself is strong. I can attest to the fact that the sensory experience truly lifted my mood, made my taste buds do a happy dance, and raised my feeling of wellness through food.
Related: How I Learned To Slow Aging and Live Better on a Wellness Retreat
Chef Yamada wanted a "change of pace in life," and made his dream happen.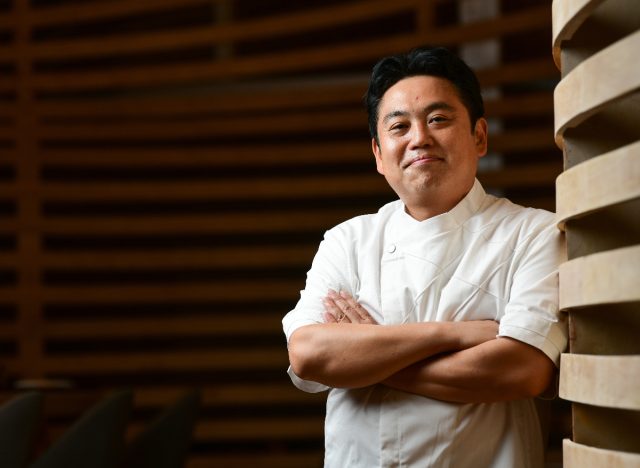 Chef Yamada has loved the culinary scene since the age of 19, when a talented friend bedazzled him with remarkable cooking skills. Feeling incredibly inspired, Chef Yamada left college life behind for a "change of pace in life." That monumental step led him to his future. He started his journey at a French restaurant in his hometown of Fukuoka, Japan. Chef Yamada followed his passion right back to his Japanese roots and is serving up ancient fare at Kaiseki Room by Yamada in NYC.6254a4d1642c605c54bf1cab17d50f1e
Related: I Did a 5-Day Lifestyle Reset and Feel So Much Healthier
He loves fishing, hiking, and checking out seasonal ingredients at the market for his aesthetically pleasing dishes.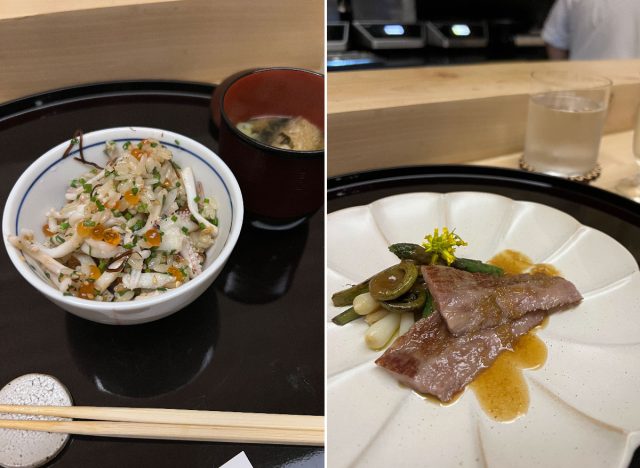 Japanese nature and art is the motivation behind every dish, and the décor is representative of everything that's specially prepared for guests. Chef Yamada's courses of choice? Utilizing the donabe (a clay pot) and preparing hassun (a "seasonal platter") are his "pride and joy."
When Eat This, Not That! asked the chef about his favorite interests, he reveals that he's an avid nature, hiking, and fishing lover. What he loves best about preparing his aesthetically pleasing dishes? He explains, "Going to the market, seeing the seasonal ingredients, [and drawing] inspiration from nature."
Kaiseki Room by Yamada focuses on "the belief in seasonality and locality."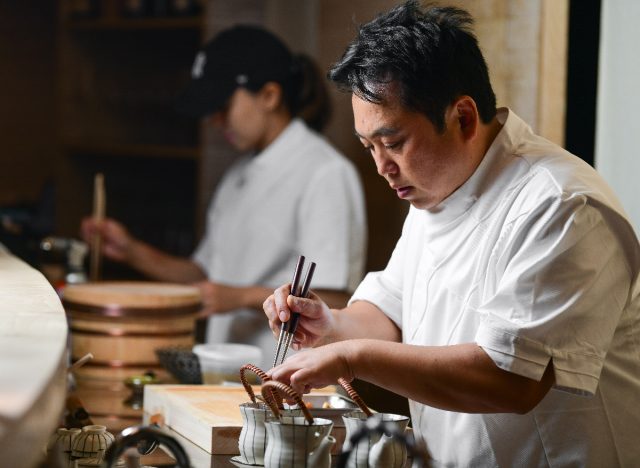 The Manhattan hot spot focuses on the tradition of "kaiseki," the philosophy of which Chef Yamada explains is "the belief in seasonality and locality." He adds, "You will be hard pushed to find a kaiseki menu which stays the same for a week or a month. As the seasons change, so [do] the ingredients, as kaiseki is focused on eating what is in season at that moment and from what is grown where you are at that time." His hope is that every single customer enjoys a fun-filled, happy experience they'll look forward to coming back to.
Change in routine can bring on positive vibes and greater happiness in life.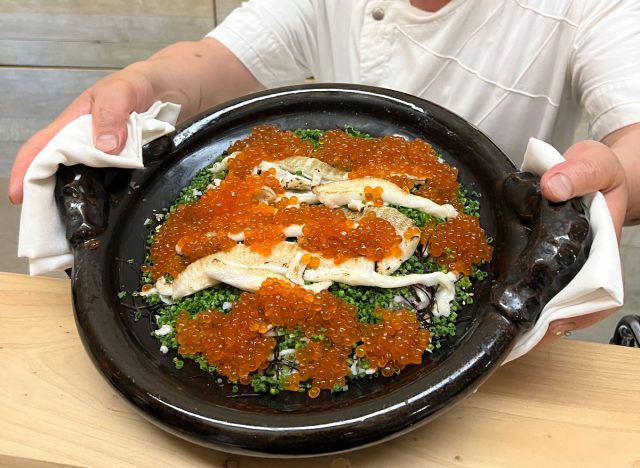 It's important to note that a study performed by New York University and the University of Miami reveals that planning a little change in environment, getting involved in new plans, or breaking out of the same old routine can give you a major mood boost, bring on positivity, and provide overall greater happiness in life. The author of the study and assistant professor of psychology and neural science at NYU, Catherine Hartley, explains to CNBC Make It that a bit of spice in life can actually raise one's feeling of well-being. How so? Well, the section of your brain known as the hippocampus works on developing your memories. Hartley says "[it's] also sensitive to the novelty of spatial environments." The striatum, a different section of your brain, assists in assessing your surroundings and considers the benefits they will provide.
So gear up to experience Kaiseki Room by Yamada for yourself! You will not be disappointed.
Alexa Mellardo
Alexa is the Mind + Body Deputy Editor of Eat This, Not That!, overseeing the M+B channel and delivering compelling fitness, wellness, and self-care topics to readers.
Read more about Alexa