The Best Expensive Restaurant in Every State
These top-notch restaurants across the U.S. are guaranteed to give you a phenomenal dining experience.
Fine dining is a great way to celebrate a special occasion, break out of a culinary rut, or simply try something new. But when you're shelling out a few hundred dollars for dinner, you want to make sure that dinner is nothing short of incredible. And even though we're going through tough times, people are still taking the time to celebrate milestones and go out to dinner from time to time.
Whether you're planning a fancy dinner close to home or on a vacation, there are excellent top-notch restaurants across the U.S. to try. Here are the best expensive restaurants in all 50 states.
Plus, if you're looking for the perfect steak, check out The Best Steakhouse in Every State.
ALABAMA: Perry's Steakhouse & Grille in Birmingham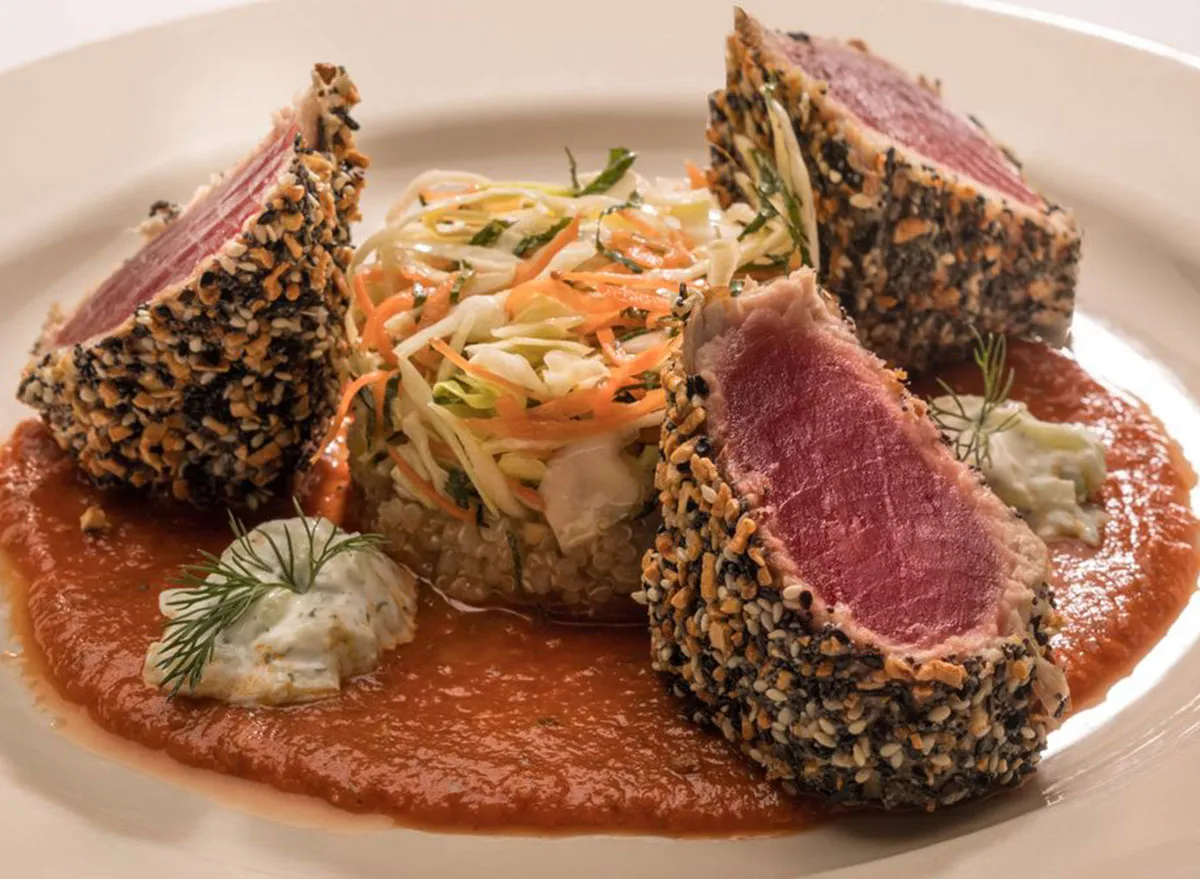 For fine dining and live jazz music, you'll want to visit Perry's Steakhouse & Grille in Birmingham. This is technically a chain, but there's just one location in Alabama, and it's a popular choice for locals craving a special night out. Appetizers include barbecue octopus, steak tartare, and fried asparagus topped with crab. There's also a cold seafood cocktail bar or a $99 Prime Tomahawk Ribeye. Diners rave about their signature pork chop, many calling it the best they have ever had.
ALASKA: Crow's Nest in Anchorage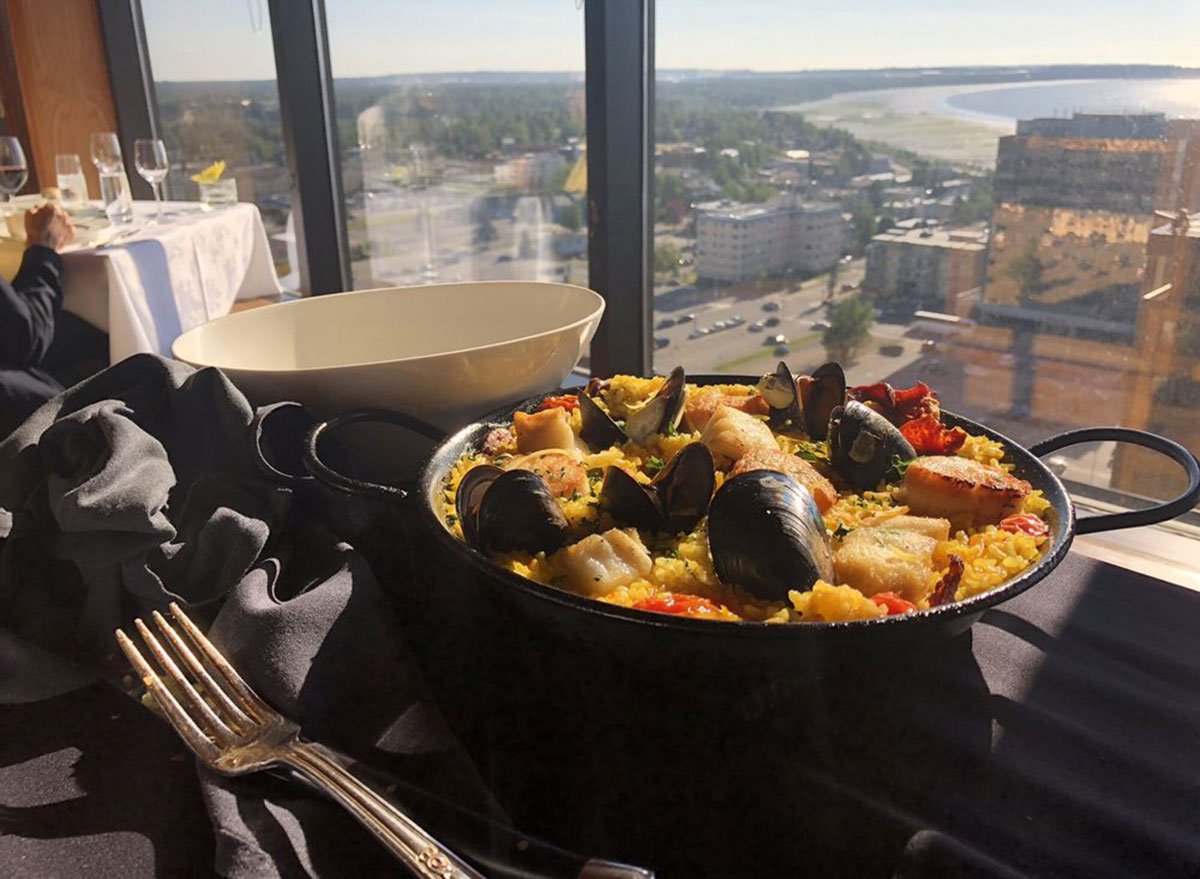 The Crow's Nest is a classy restaurant with stunning city and snow-capped mountain views nestled in Hotel Captain Cook in Anchorage. Enjoy crab cakes with two types of crab, oysters on the half shell, or the risotto of the day to start, then choose from several fresh seafood entrees. There's also a decadent vegan bowl and a few steak and pork options. Finish with one of the outstanding rotating daily dessert options.
ARIZONA: Cafe Monarch in Scottsdale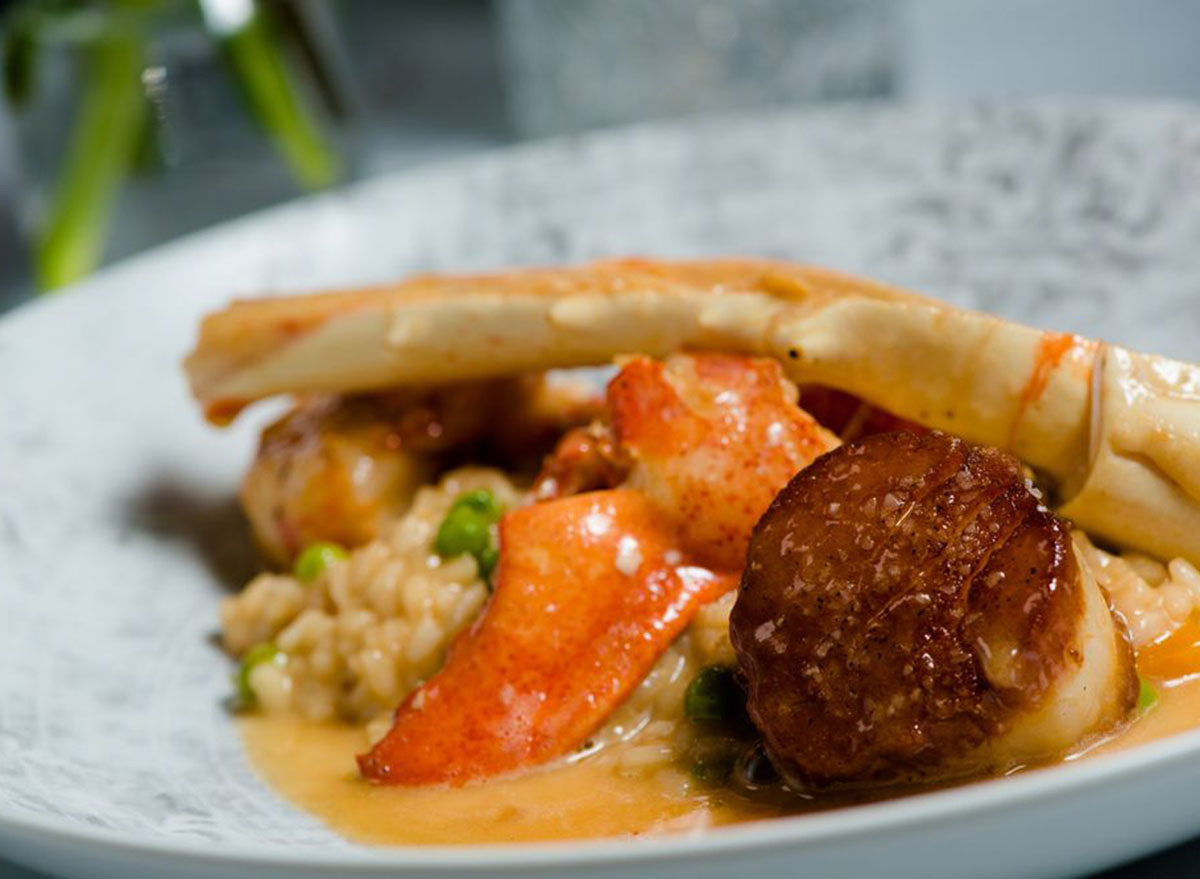 At Cafe Monarch, you can customize your own four-course dinner starting at $115 or choose the chef's eight-course tasting menu for a cool $265. Add an ounce of caviar for up to $500, if you're feeling like a high roller. End the meal with cheesecake, gelato, sorbet, chocolate-hazelnut cake, white chocolate-passion fruit mousse, or crème brûlée.
ARKANSAS: Brave New Restaurant in Little Rock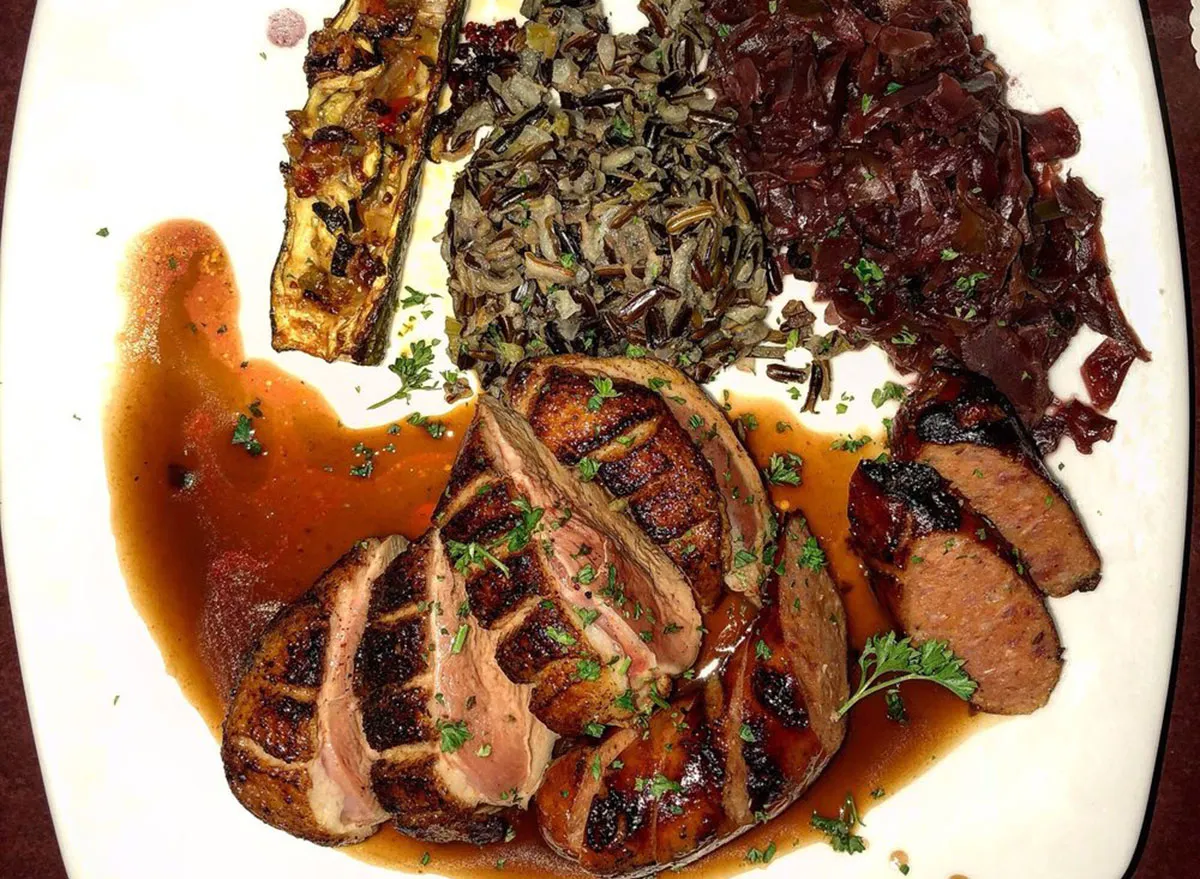 Take in relaxing river views while you enjoy the Duck with Duck entree at Little Rock's Brave New Restaurant. If duck isn't your thing, try the vegetarian-friendly Mushroom Wellington or the Mixed Grill which includes stuffed quail, pork tenderloin, beef medallion, and wild game sausage. Whichever entree you choose, don't skip the highly-rated chocolate crème brûlée.
CALIFORNIA: The French Laundry in Yountville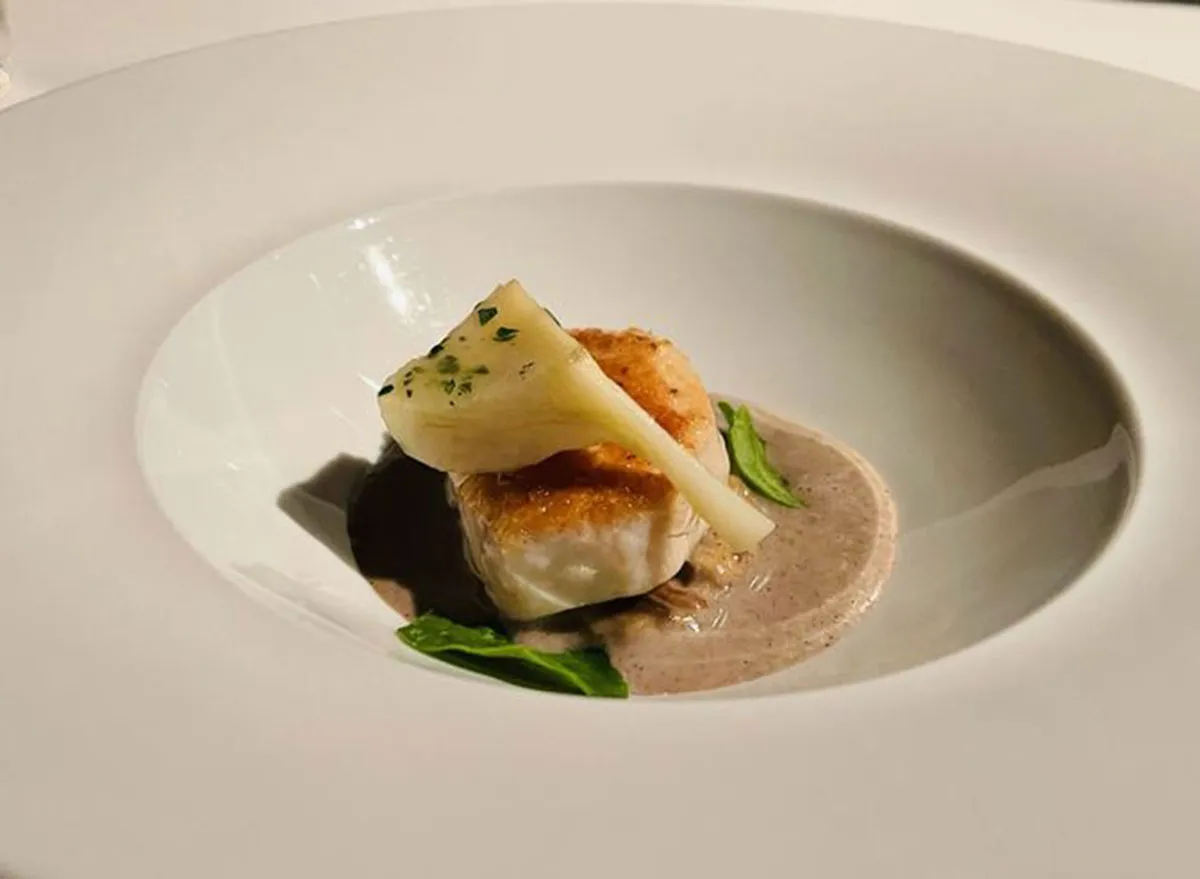 With a state the size of California, it's no surprise that there are many amazing and expensive restaurants to choose from. The three-Michelin-star restaurant The French Laundry in Yountville is highly acclaimed (and notoriously difficult to snag a reservation). Expect to spend $350 to $1,000 per person with a menu that changes daily.
COLORADO: Mizuna in Denver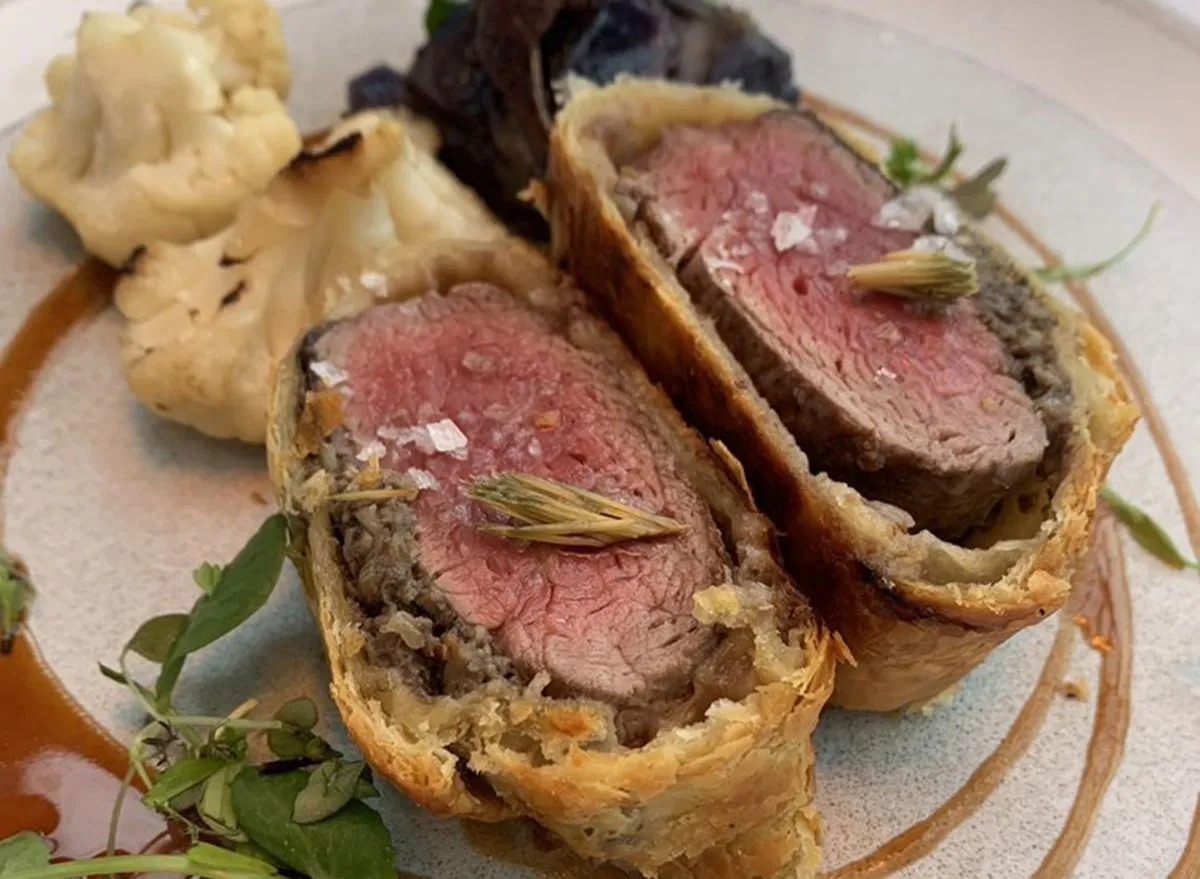 Order a three-course meal for $95 or a chef's tasting menu for $135 at Mizuna in Denver. Although the menu changes monthly, diners highly recommend the Beef Wellington if it's on the menu.
CONNECTICUT: Union League Cafe in New Haven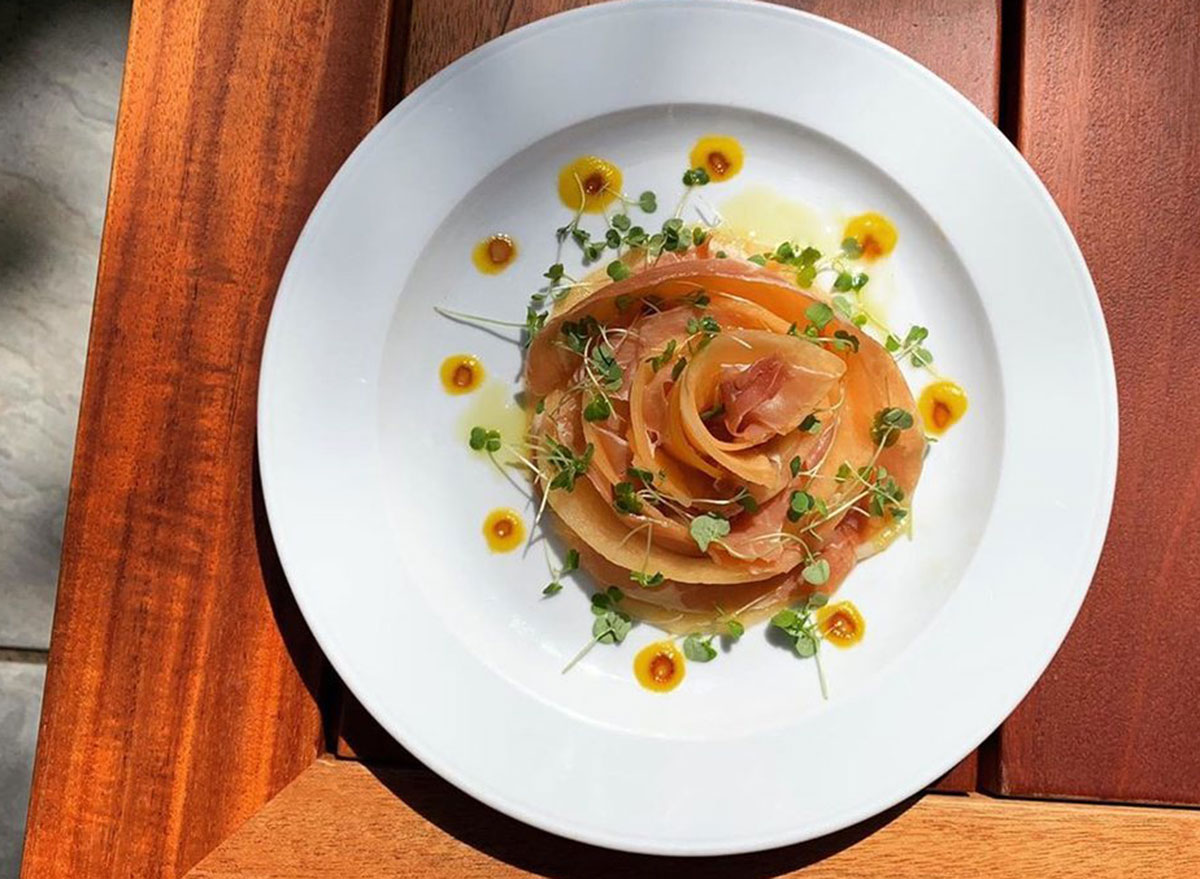 The Union League Cafe in New Haven offers an elegant, upscale setting with raw seafood, including caviar, and French cuisine. Try the chef's five-course tasting menu for $70 (and add on wine pairings for $35).
DELAWARE: Banks Seafood Kitchen and Raw Bar in Wilmington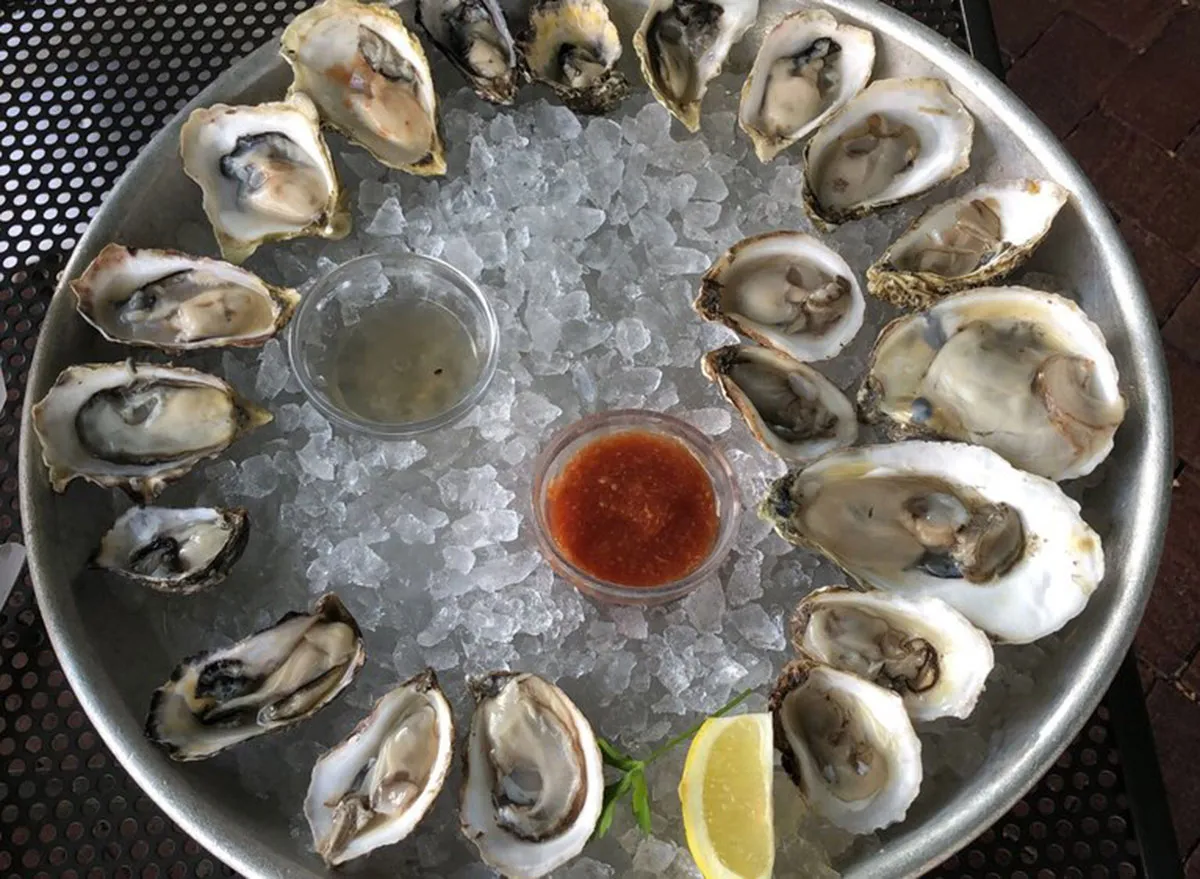 Located in Wilmington, Banks Seafood Kitchen and Raw Bar offers an abundance of fresh seafood, such as the $62 Lobster in the Nude, as well as an extensive raw bar and a surf-and-turf dinner with filet mignon and a jumbo lump crabcake. The soft-shell crab, rainbow trout, and scallops are other popular options.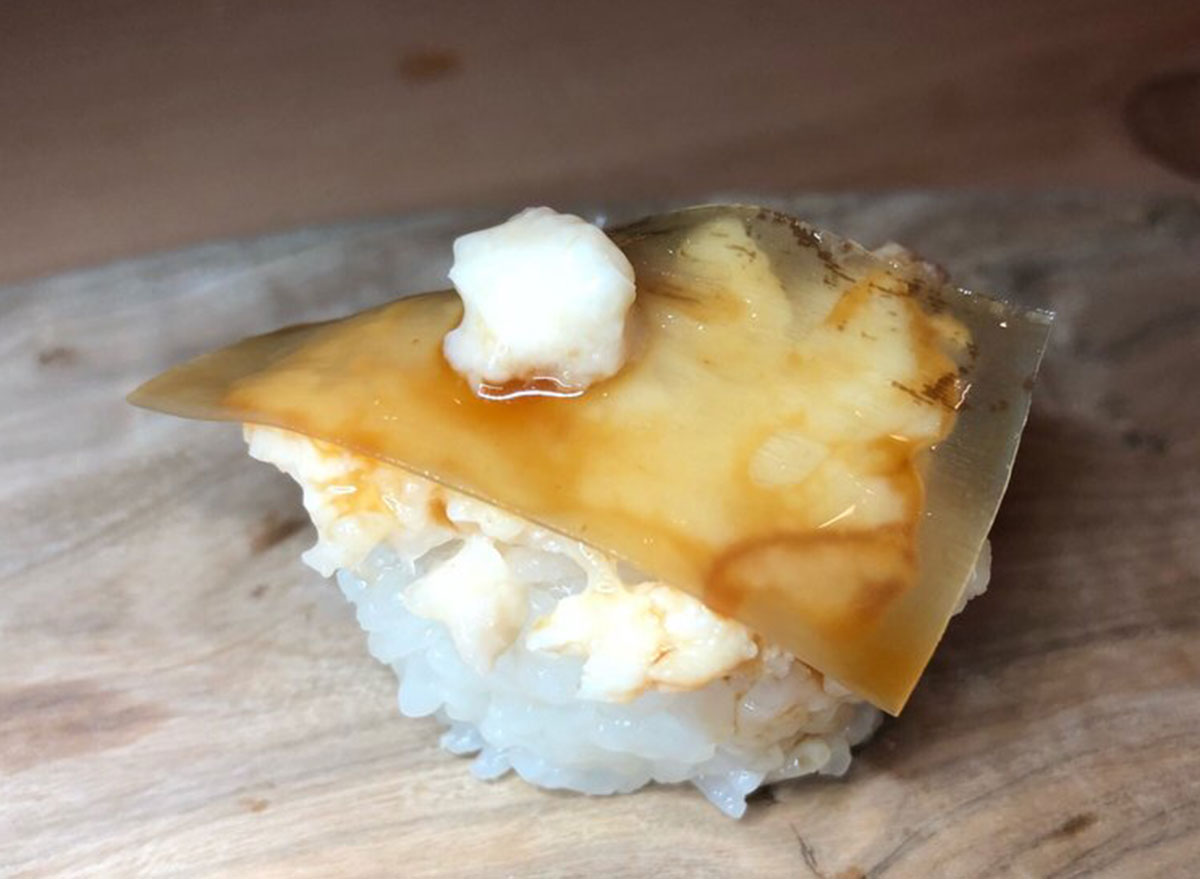 When in Florida, you'll want to make a trip to Naoe, a highly acclaimed Japanese restaurant in Miami. The chef's menu changes each day and is $280 per person. With four or more guests, you'll receive a completely private dining experience. No matter the party size, reservations are required.
GEORGIA: Bacchanalia in Atlanta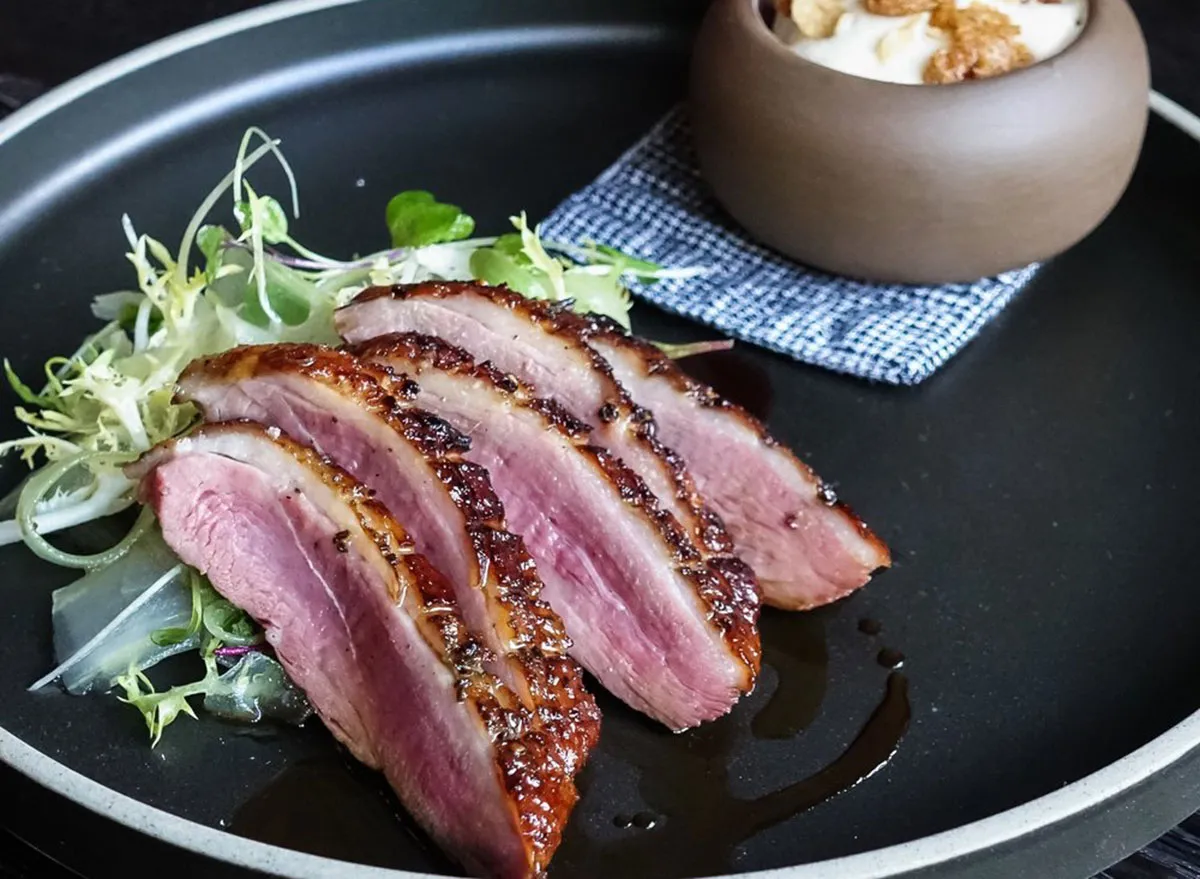 With caviar service and a prix fixe menu that changes with the seasons, Bacchanalia in Atlanta is a popular and delicious option. The foie gras and dry-aged New York strip steak are some of the most loved menu items by diners.
HAWAII: M by Jeremy Shigekane in Honolulu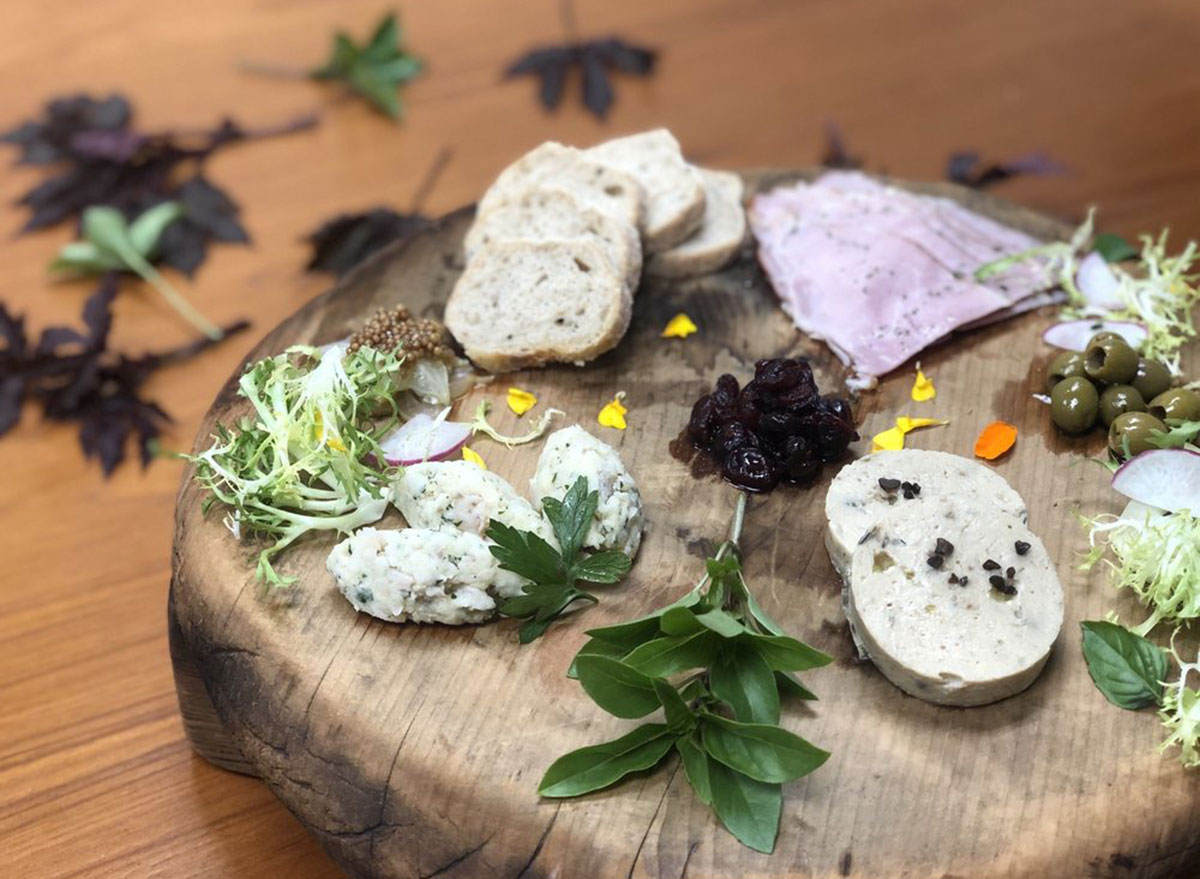 Located in Honolulu, M by Jeremy Shigekane offers Hawaiian-French fusion dishes made with local, seasonal ingredients. Guests recommend the five-course tasting menu, $125, with wine pairings, an added $45.
IDAHO: d'Railed in Idaho Falls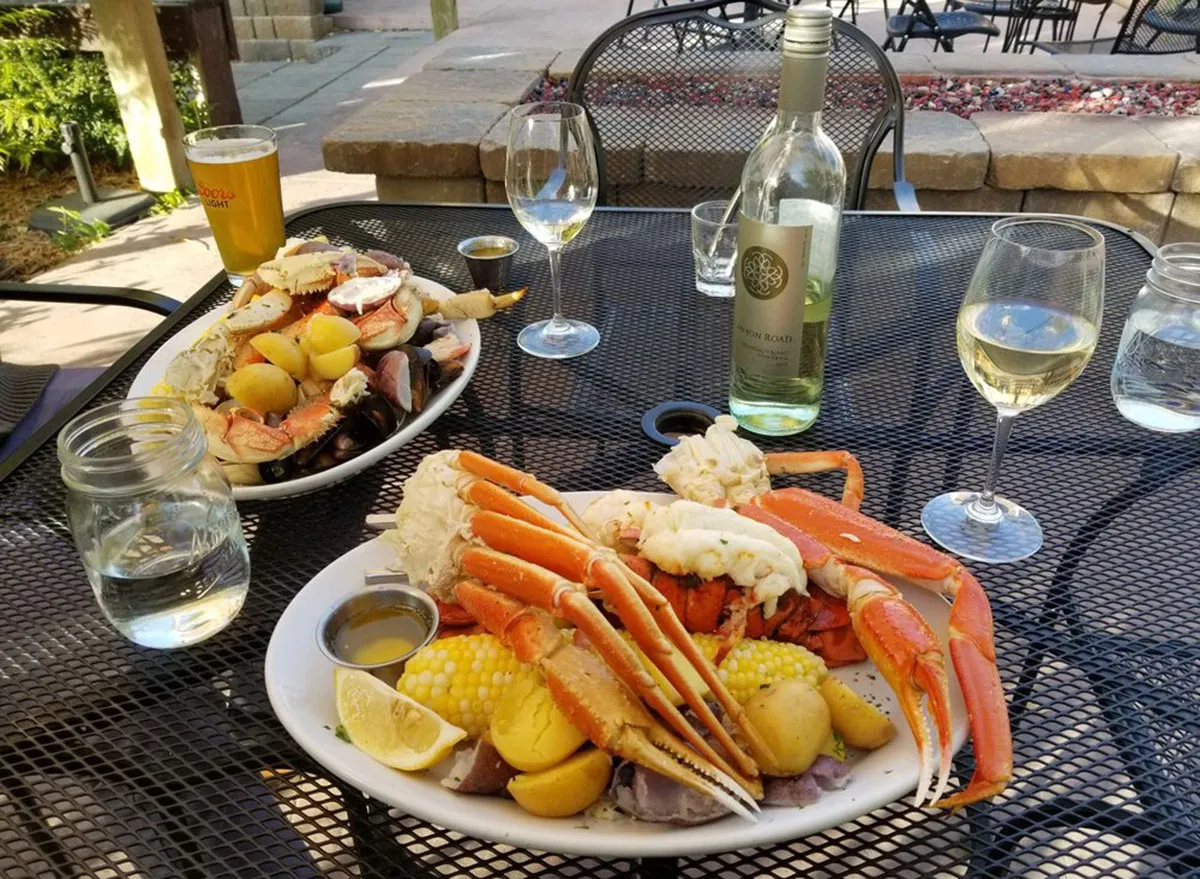 d'Railed in Idaho Falls offers high-end meals in a warm, inviting space that feels a little more casual than you might expect for a pricey restaurant. The food is worth every penny, with customers raving about the Lamb Lollipops, Wagyu steak, and the king crab.
ILLINOIS: Alinea in Chicago
It's no surprise that Chicago's Alinea, with its three Michelin stars, is the best restaurant in Illinois, and one of the top restaurants in the country. You'll enjoy ever-changing tasting menus with dishes that double as art. Dining here starts at $275 per person.
INDIANA: St. Elmo Steak House in Indianapolis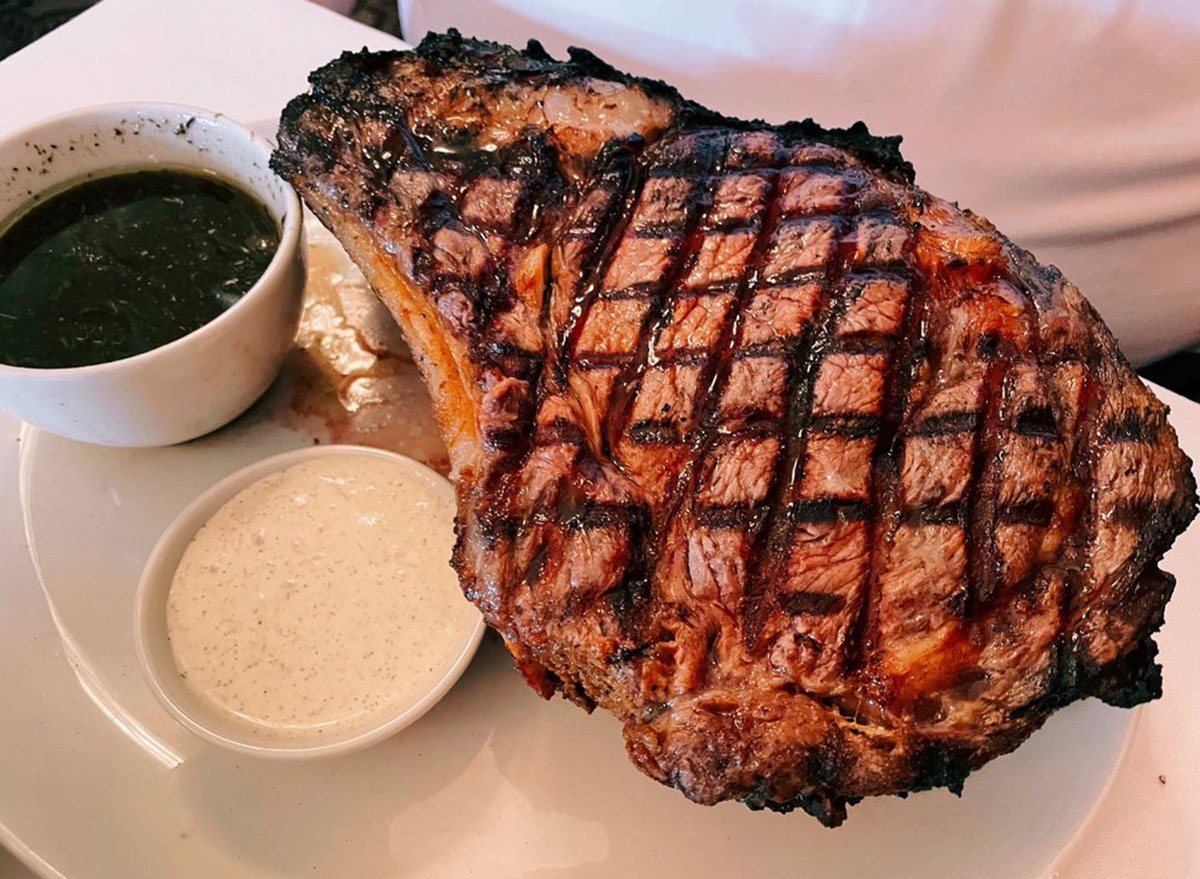 Based in Indianapolis since 1902, St. Elmo Steak House is one of the best classic restaurants in the country. At a steakhouse like this, you'll obviously want to order one of the many steak options, but also try the highly recommended signature shrimp cocktail, which was on the menu when the restaurant first opened.
IOWA: Orchard Green Restaurant in Iowa City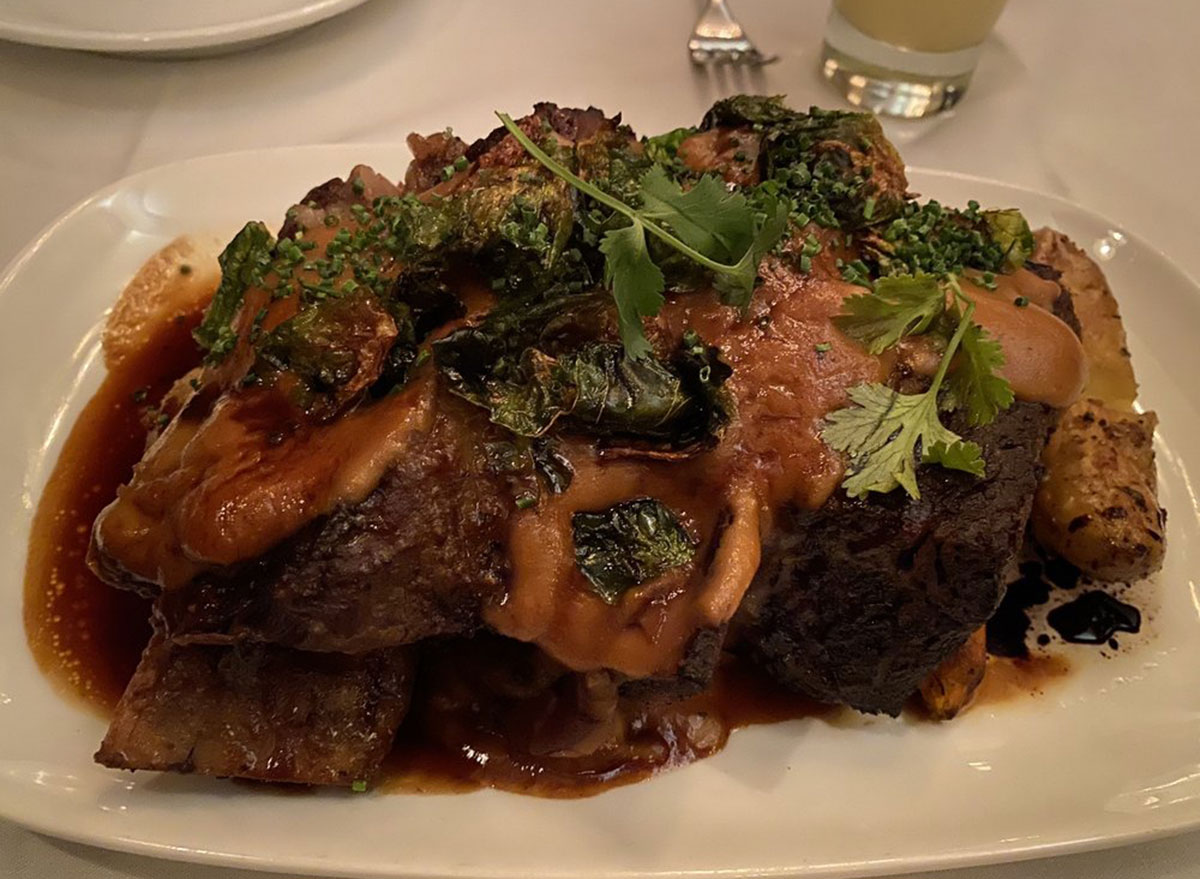 Orchard Green Restaurant in Iowa City offers a menu of dishes and small plates made with seasonal, local fare. The filet mignon, bouillabaisse, and pistachio-crusted whitefish are among some of the top dishes, and don't forget to order dessert.
KANSAS: Scotch & Sirloin in Wichita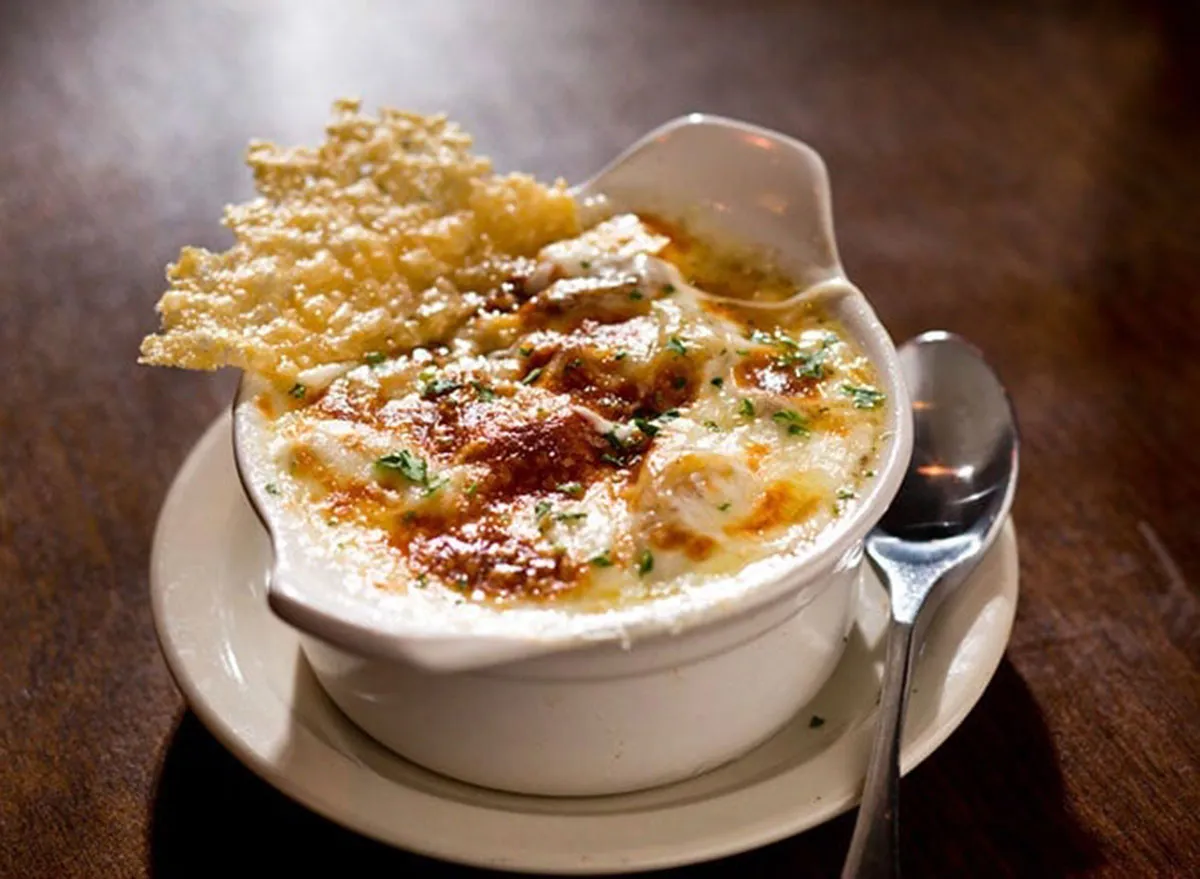 Scotch & Sirloin in Wichita is known for serving up local beef—in fact, the restaurant also doubles as a butcher shop, so you can take some fresh meats home with you. You can't go wrong starting with a bubbly crock of French onion soup and then ordering one of their three cuts of prime rib. Be sure to save room for the carrot cake.
KENTUCKY: 610 Magnolia in Louisville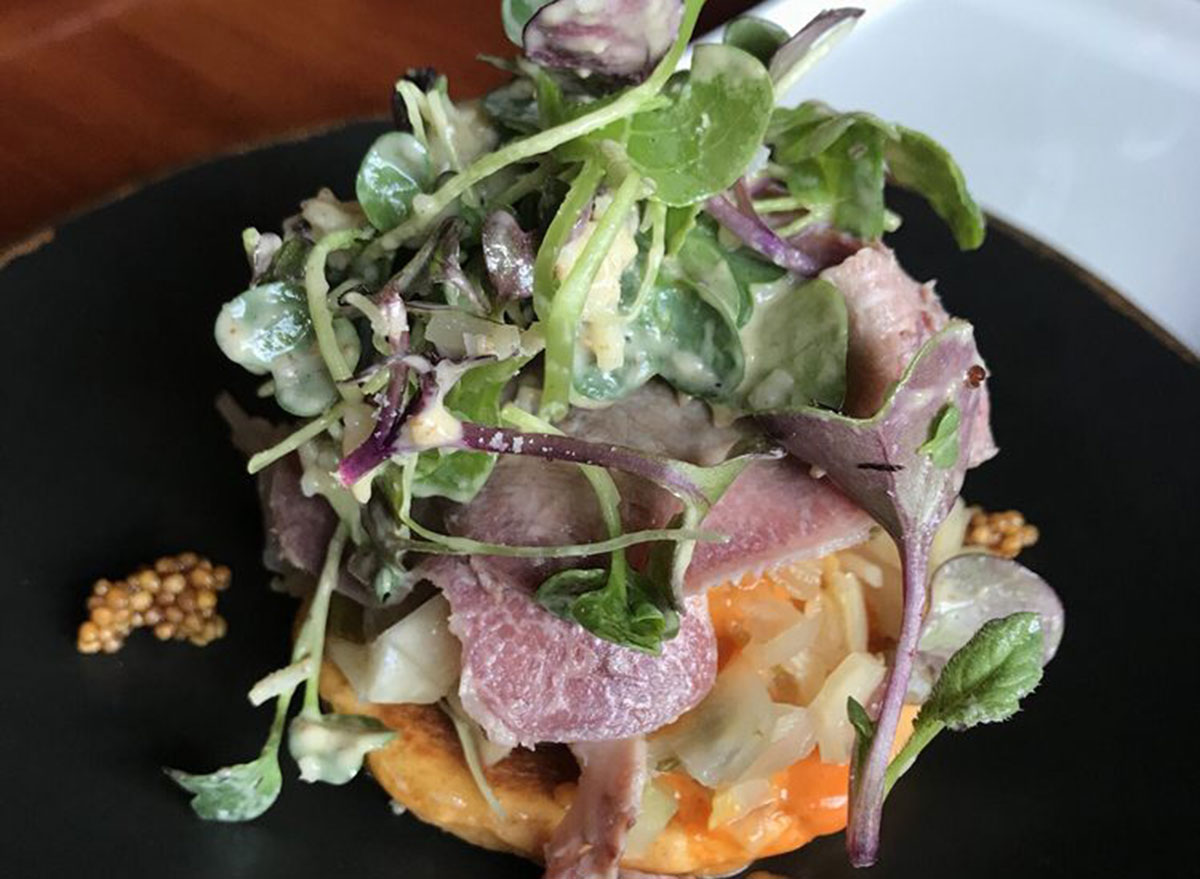 At 610 Magnolia in Louisville, you'll enjoy a prix fixe menu ($110 per person) of Southern dishes with a twist. The menu changes regularly depending on what's in season, but you might see something like duck breast served with "Dirty Carolina Gold Rice" and charred okra for the entree with a fig tart or "drunken" banana cake for dessert.
LOUISIANA: August in New Orleans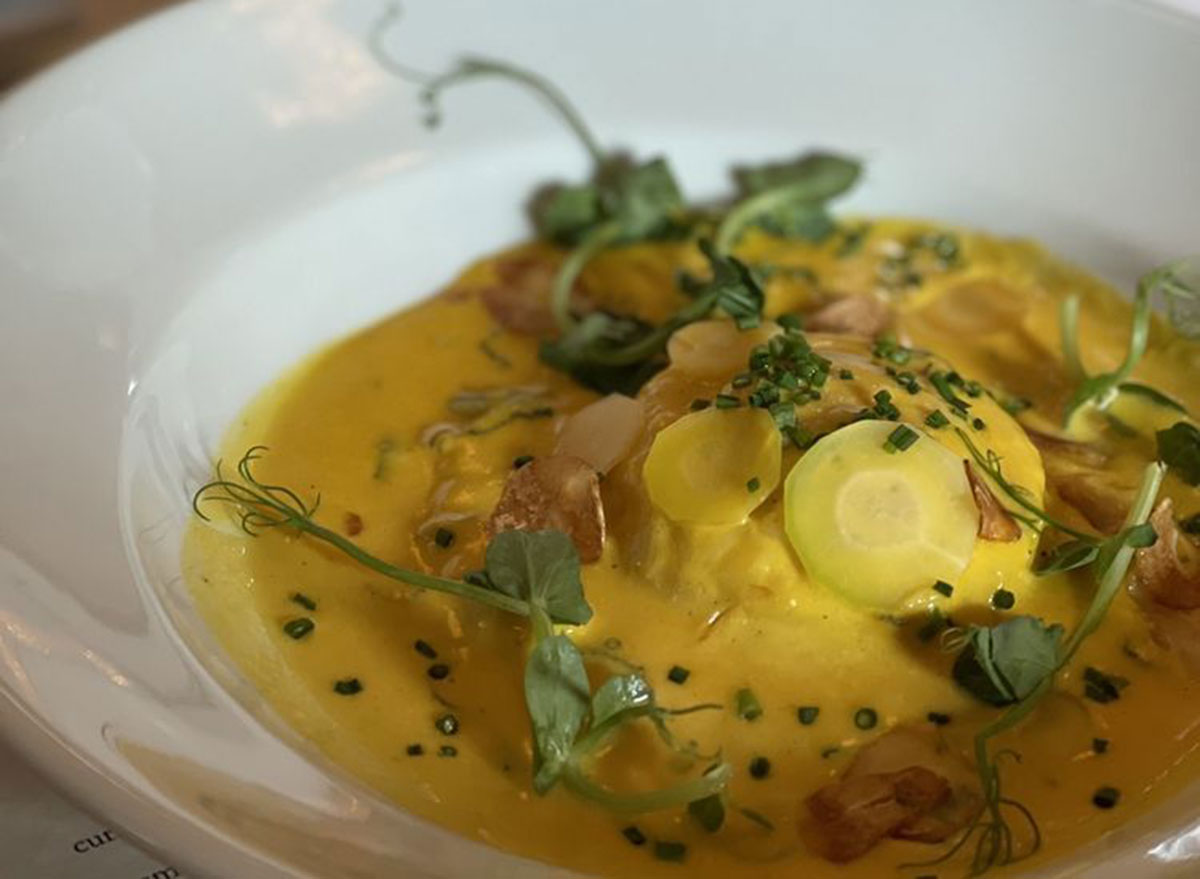 When in Louisiana, you have to stop by August in New Orleans for contemporary Creole cuisine. Although the menu changes, gnocchi and flounder are popular choices when available. You might also see crawfish tart or Louisiana soft-shell crab.
MAINE: Fore Street Restaurant in Portland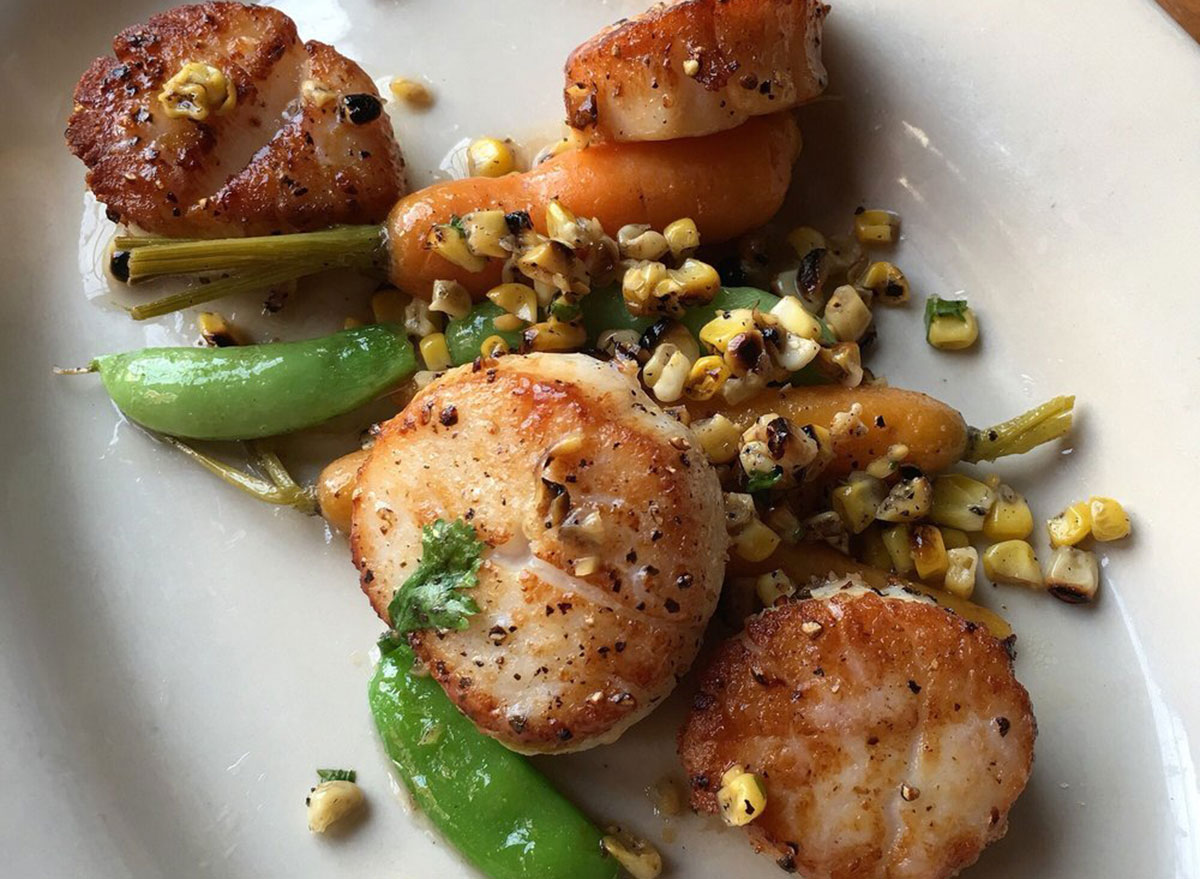 Fore Street Restaurant, located in Portland, has a menu that changes daily based on what is available from its partner farmers, foragers, and fishers. Maine oysters and mussels make frequent appearances, and many of the restaurant's meat dishes are prepared in a wood-fired oven.
MARYLAND: Charleston in Baltimore
Based in Baltimore, Charleston is the place for fine dining in Maryland. The menu changes daily based on what's fresh, and you can choose from three-, four-, five-, or six-course prix fixe options for $89 to $146 per person (or $149 to $260 with wine, which is highly recommended as the restaurant is well-known for its curated wine list).
MASSACHUSETTS: Sorellina in Boston
Boston's Sorellina offers modern spins on classic Italian fare. Lobster gnocchi, oysters, and salmon are some of the stars on the menu here, and the extensive wine list is a favorite for visitors.
MICHIGAN: The Whitney in Detroit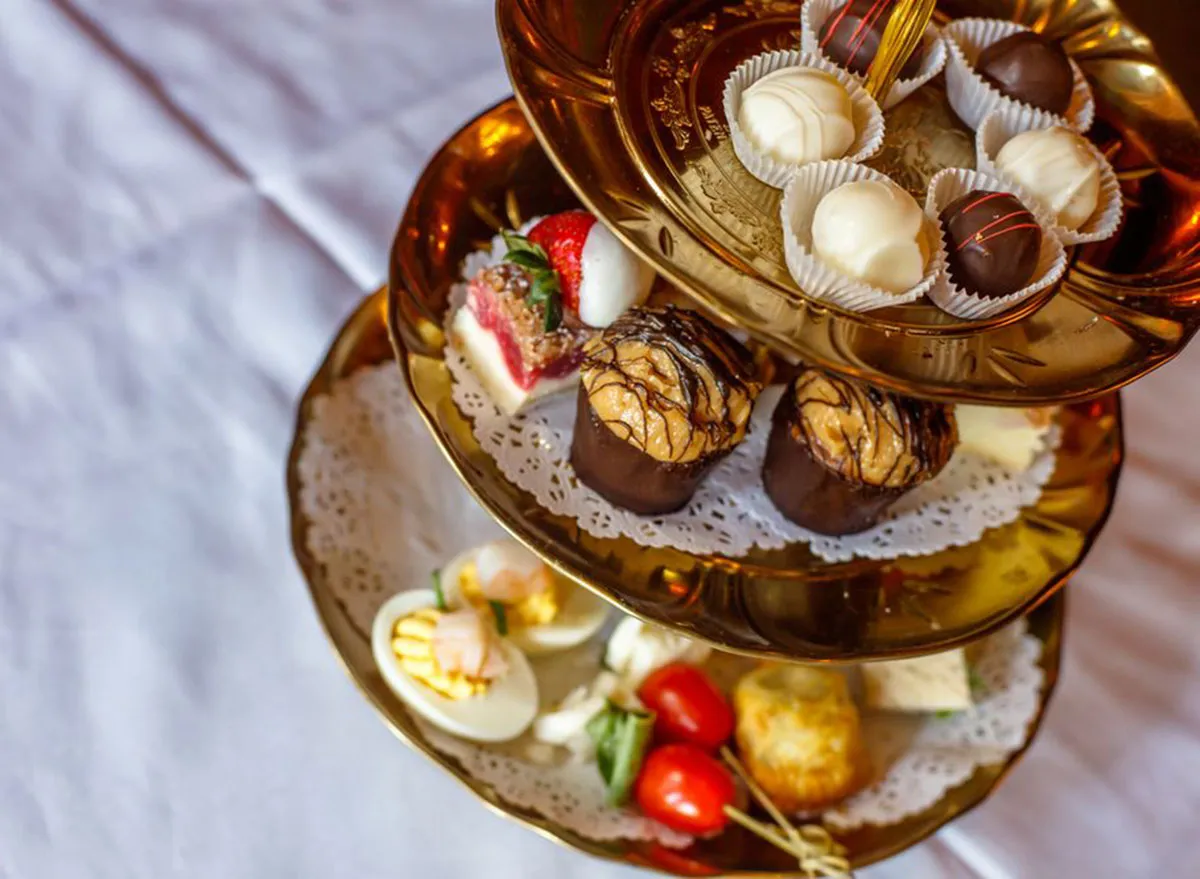 Fine dining in a mansion? Yes, please! At The Whitney in Detroit, you'll dine in one of several dining rooms or outdoors in the gardens. For dinner, there's a four-course menu, and if you eat red meat, the beef Wellington is the restaurant's signature entree. Alternatively, you can stop by for afternoon tea on the weekends.
MINNESOTA: Travail Kitchen and Amusements in Robbinsdale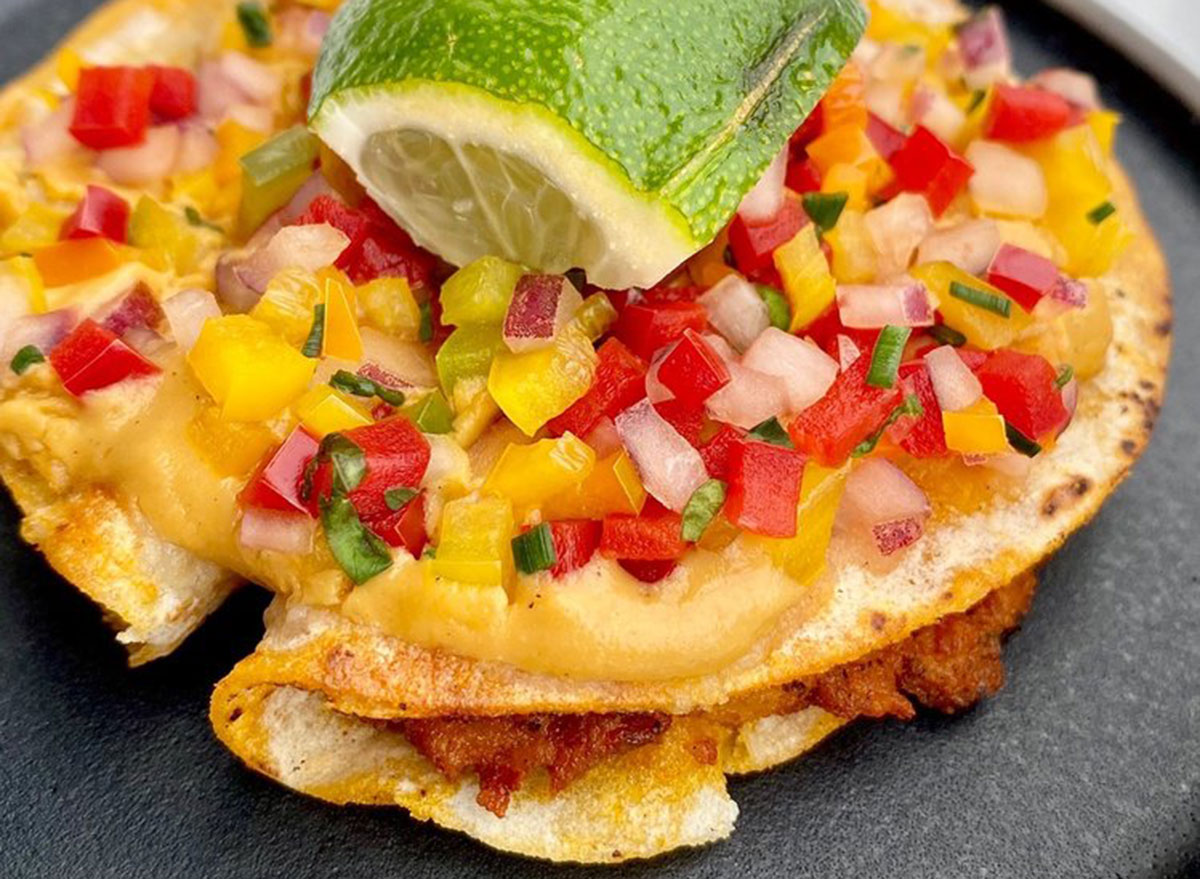 You'll enjoy a six- to eight-course meal while listening to live music on the rooftop of Travail Kitchen and Amusements in Robbinsdale. You can expect upscale dishes including charcuterie, steak frites, duck a l'orange, and ratatouille.
MISSISSIPPI: Char in Jackson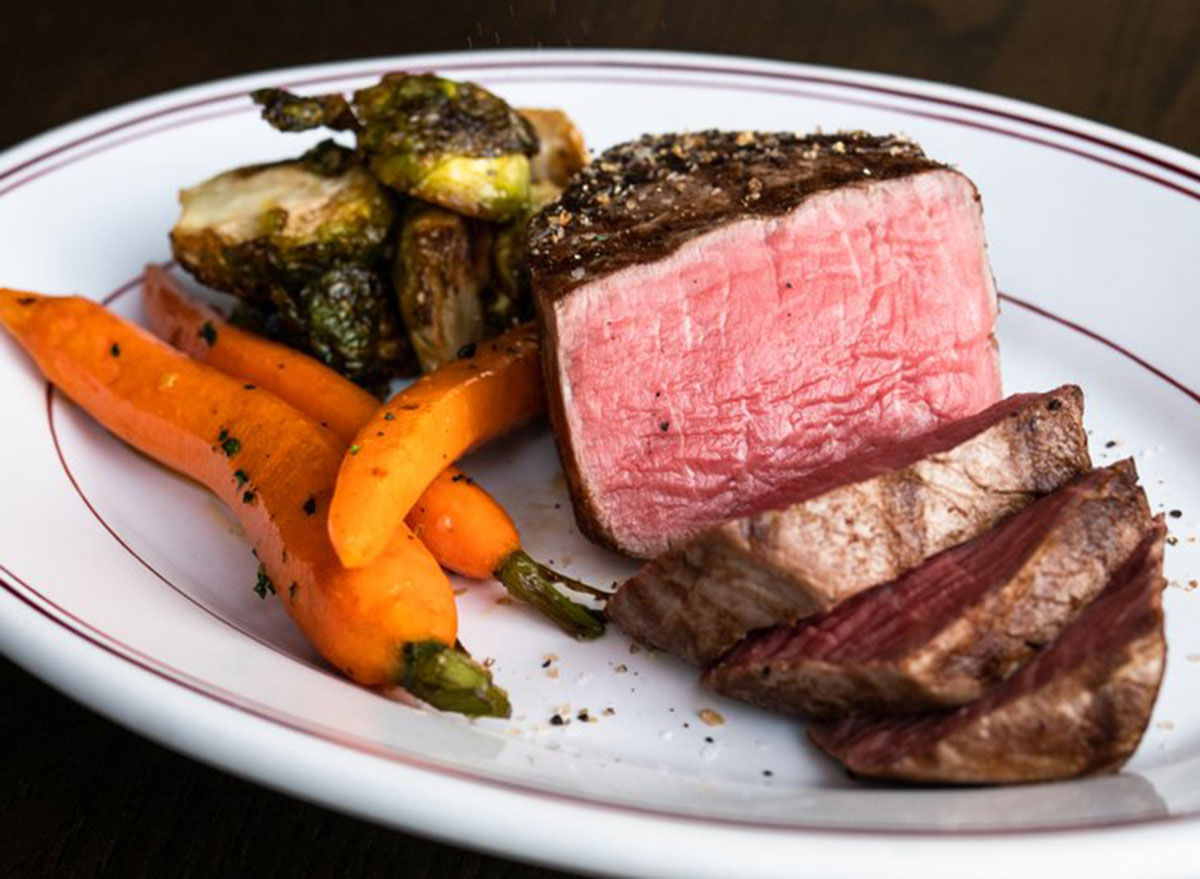 Char is a steakhouse serving up Southern dishes in Jackson. Fried green tomatoes, an award-winning crab-shrimp-andouille gumbo, and the filet steak are some of the most loved dishes at this restaurant.
MISSOURI: Le Fou Frog in Kansas City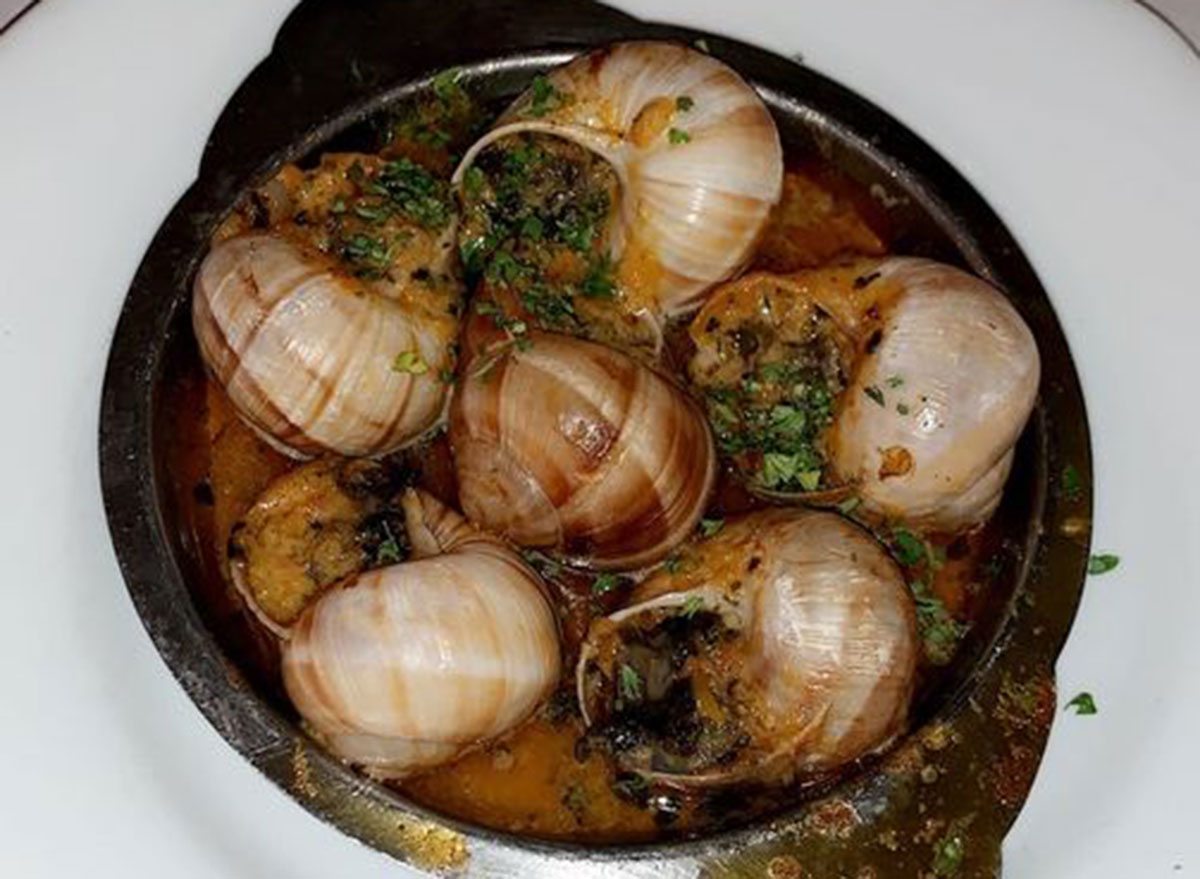 Described as "a bit of France and New York City" in Kansas City, Le Fou Frog is an upscale French restaurant with an intimate, romantic setting. Start with lobster bisque or escargot, then go surf-and-turf with filet mignon and lobster. You can't go wrong ending the meal with a little crème brûlée or profiterole.
MONTANA: The Keep Restaurant in Missoula
In addition to stunning mountain and city vistas, The Keep Restaurant in Missoula is popular for seafood dishes like calamari, Cajun prawns, sea scallops, and potato-crusted halibut, although there's also filet mignon, rack of lamb, or a bison burger if you don't love seafood.
NEBRASKA: V. Mertz in Omaha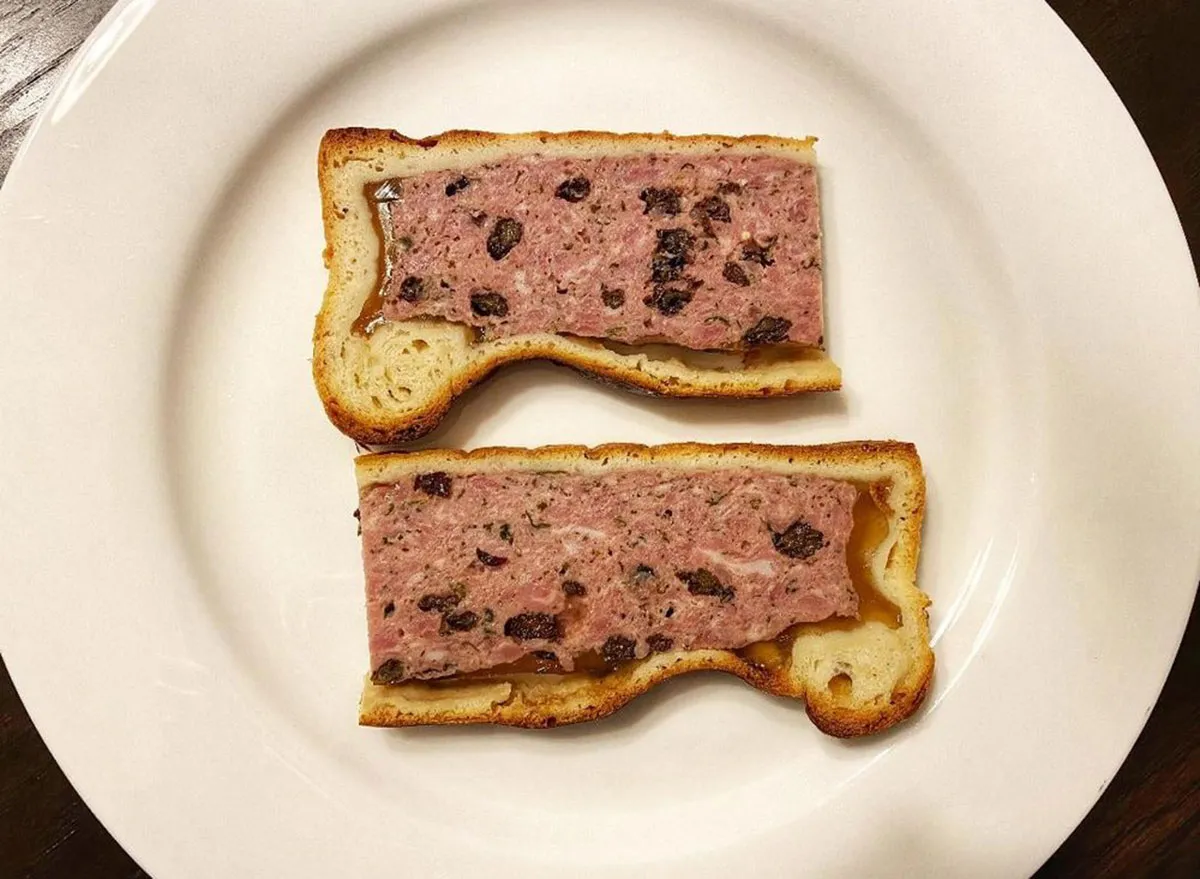 For a cozy, intimate setting, head to V. Mertz in Omaha. You can choose from an $85 tasting menu or a dinner menu with dishes built around seasonal produce. You'll also find caviar along with local, ethically raised meats and fresh vegetables.
NEVADA: Joël Robuchon in Las Vegas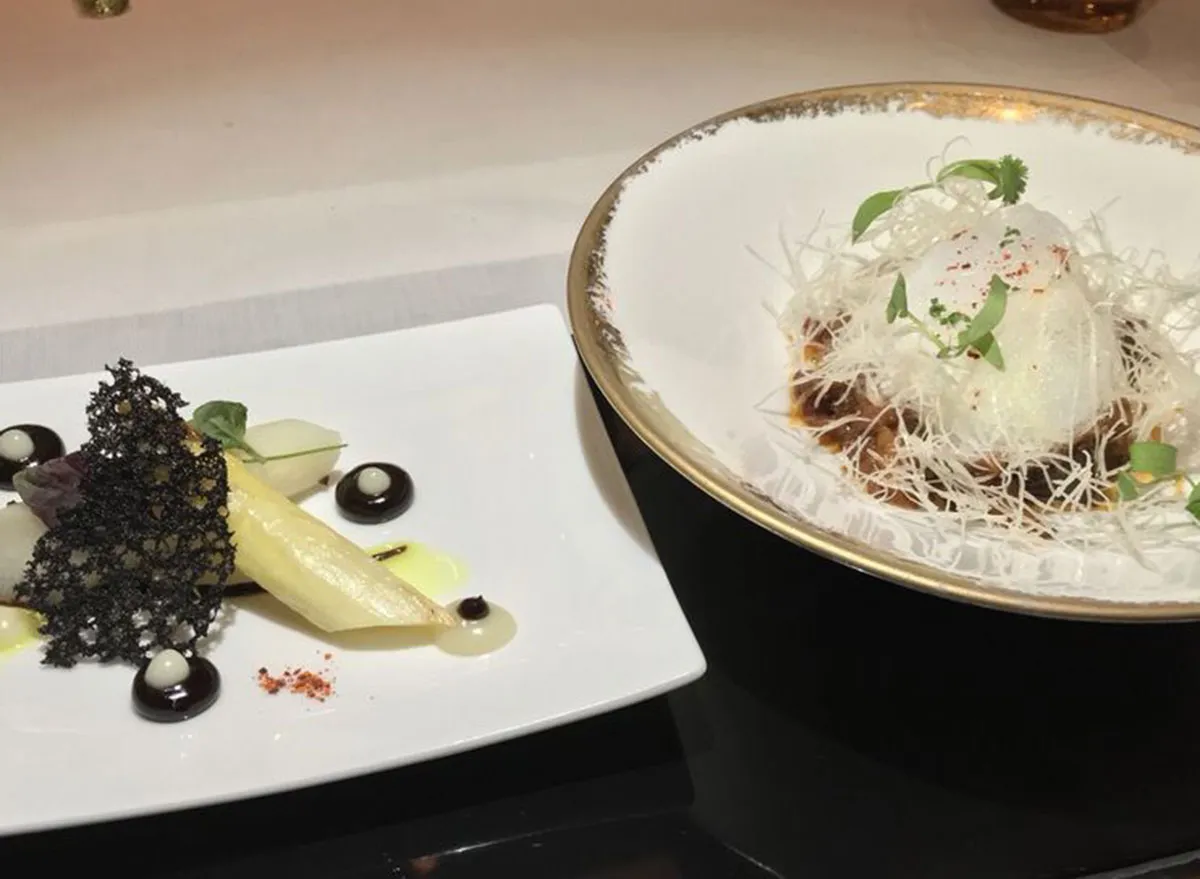 With three Michelin stars, the Joël Robuchon restaurant in Las Vegas doesn't disappoint with its fine French cuisine. The tasting menu changes, but a common favorite is the Le Caviar Imperial. Leave time to savor this robust dining experience because it will take about 3.5 hours to make your way through the tasting menu.
NEW HAMPSHIRE: Hanover Street Chophouse in Manchester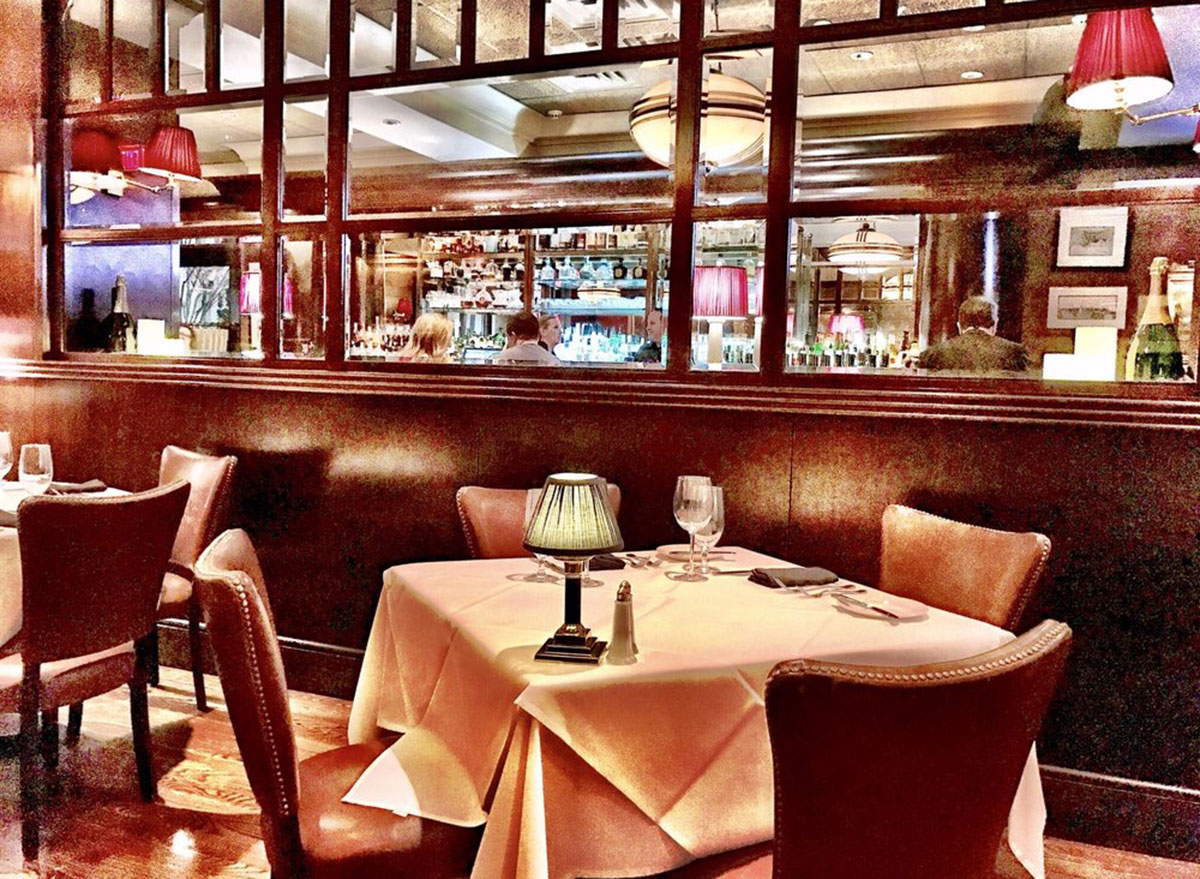 If you want surf and turf, then Hanover Street Chophouse in Manchester is the place for you. In addition to an entree called Surf and Turf, there are several meat and seafood options, such as filet mignon, grilled swordfish, scallops, lamb, and a raw bar.
NEW JERSEY: Restaurant Latour in Hamburg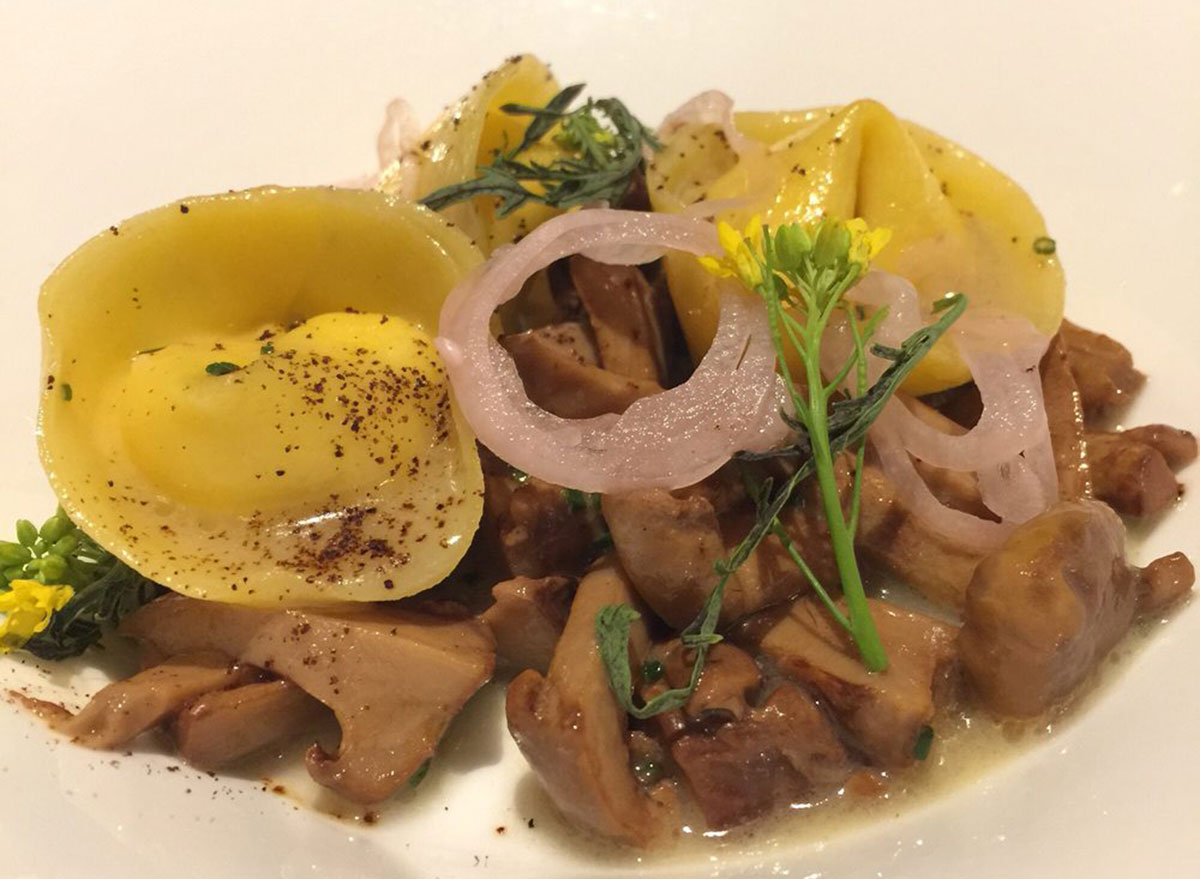 Located in the Crystal Springs Resort in Hamburg, Restaurant Latour has a five- or seven-course prix fixe menu with dishes featuring the freshest local produce. If you choose to imbibe, the restaurant's wine cellar has won the Grand Award from Wine Spectator every year since 2006.
NEW MEXICO: Geronimo in Sante Fe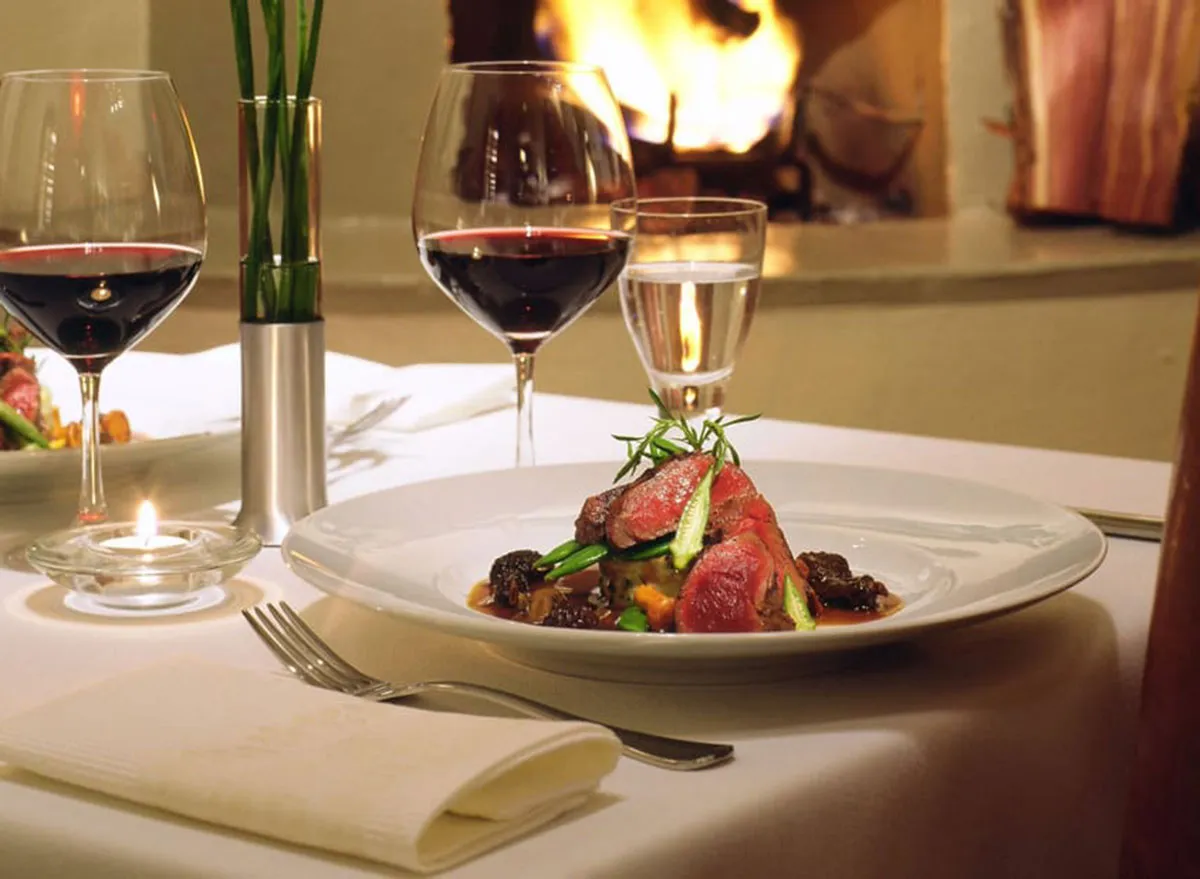 Sante Fe's Geronimo offers eclectic dishes like sweet-and-spicy grilled shrimp, Tellicherry-Rubbed Elk Tenderloin, and 72-hour Sous Vide Beef Short Ribs, plus a four-course vegetarian menu. For dessert, the flourless German chocolate cake is a popular choice.
NEW YORK: Eleven Madison Park in New York City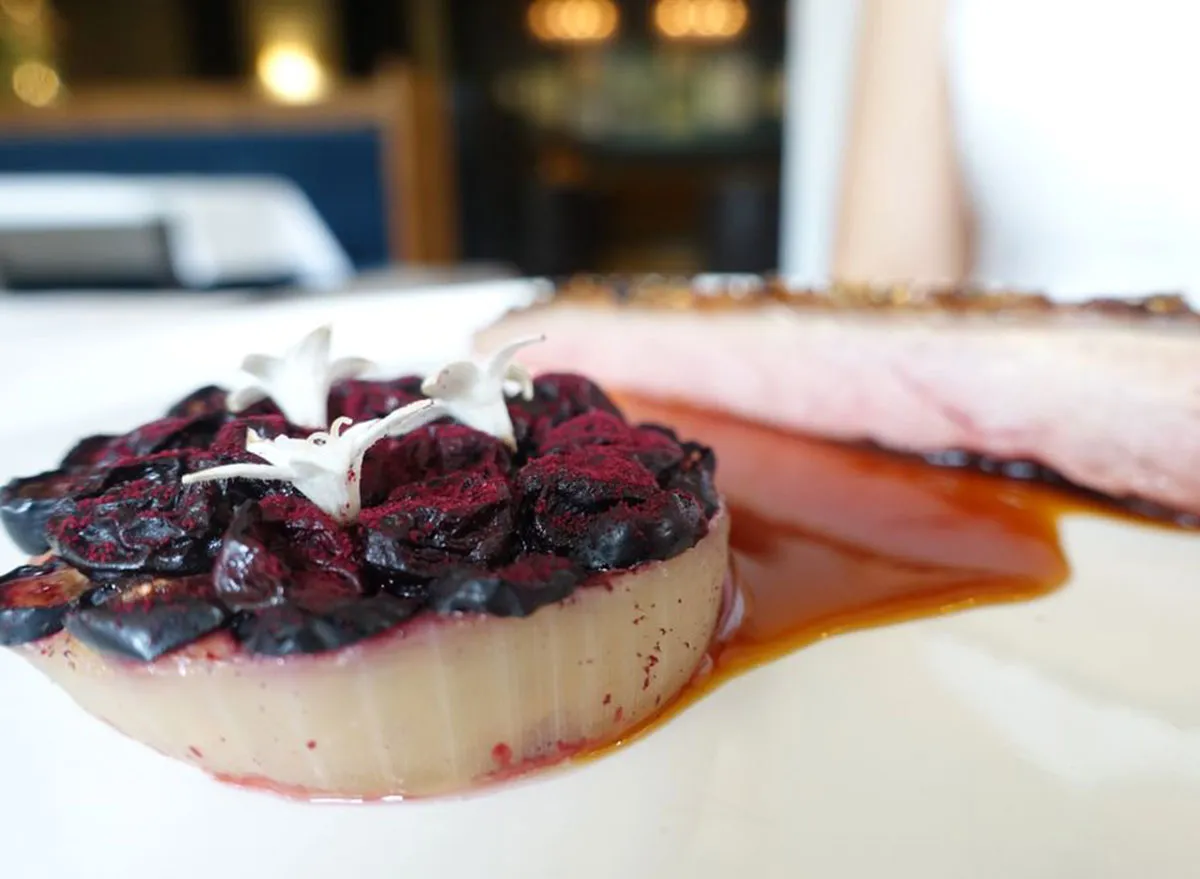 New York has an abundance of fine dining options, including several Michelin-starred picks. The three-star Eleven Madison Park overlooks Madison Square Park. The tasting menu is $335 per person, and vegans will enjoy the restaurant's new plant-based menu. The restaurant gives back to the community by providing five meals to those facing food insecurity for every dinner purchased.
NORTH CAROLINA: The Fearrington House Restaurant in Pittsboro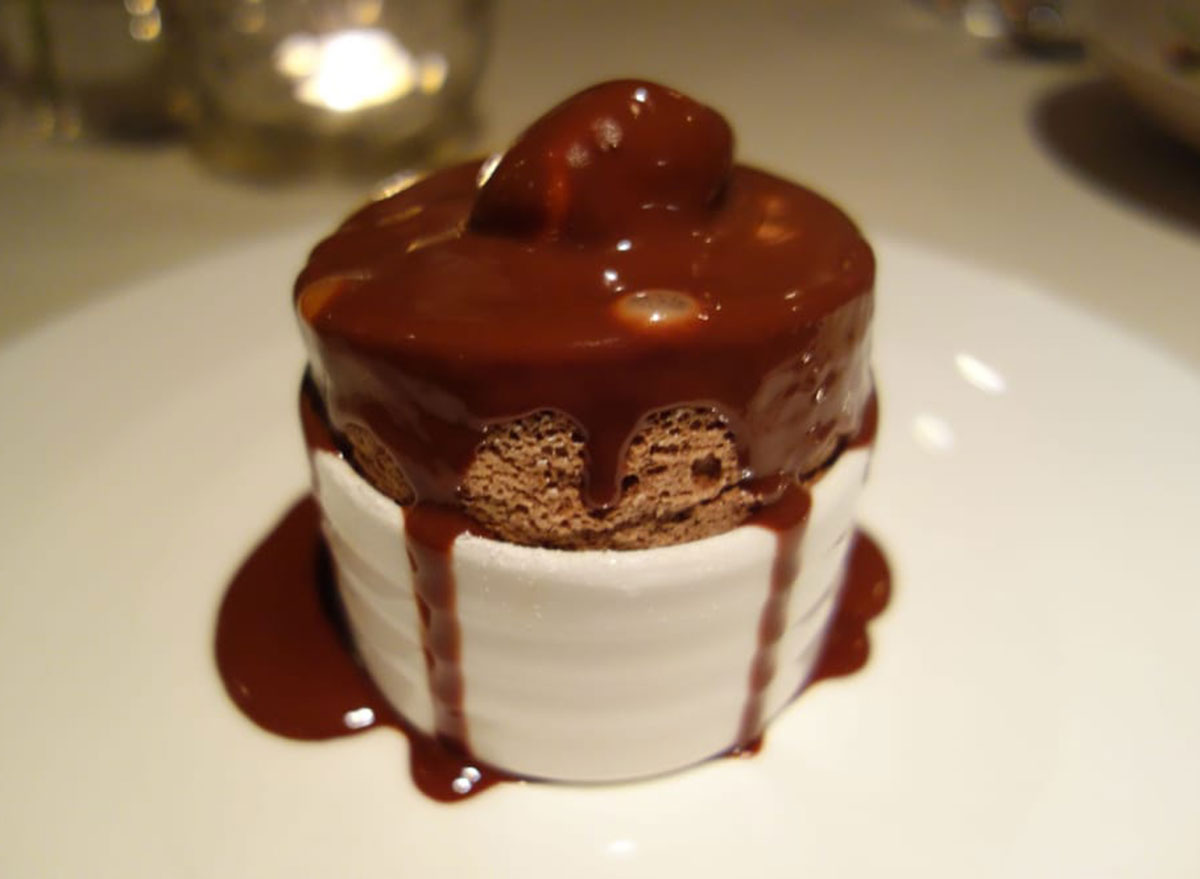 With seasonally inspired dishes and a famous hot chocolate soufflé, there's a lot to love at The Fearrington House Restaurant in Pittsboro. There are three- or four-course seasonal dinner menus as well as an option to enjoy a tasting menu, complete with a cheese course and all.
NORTH DAKOTA: Mezzaluna in Fargo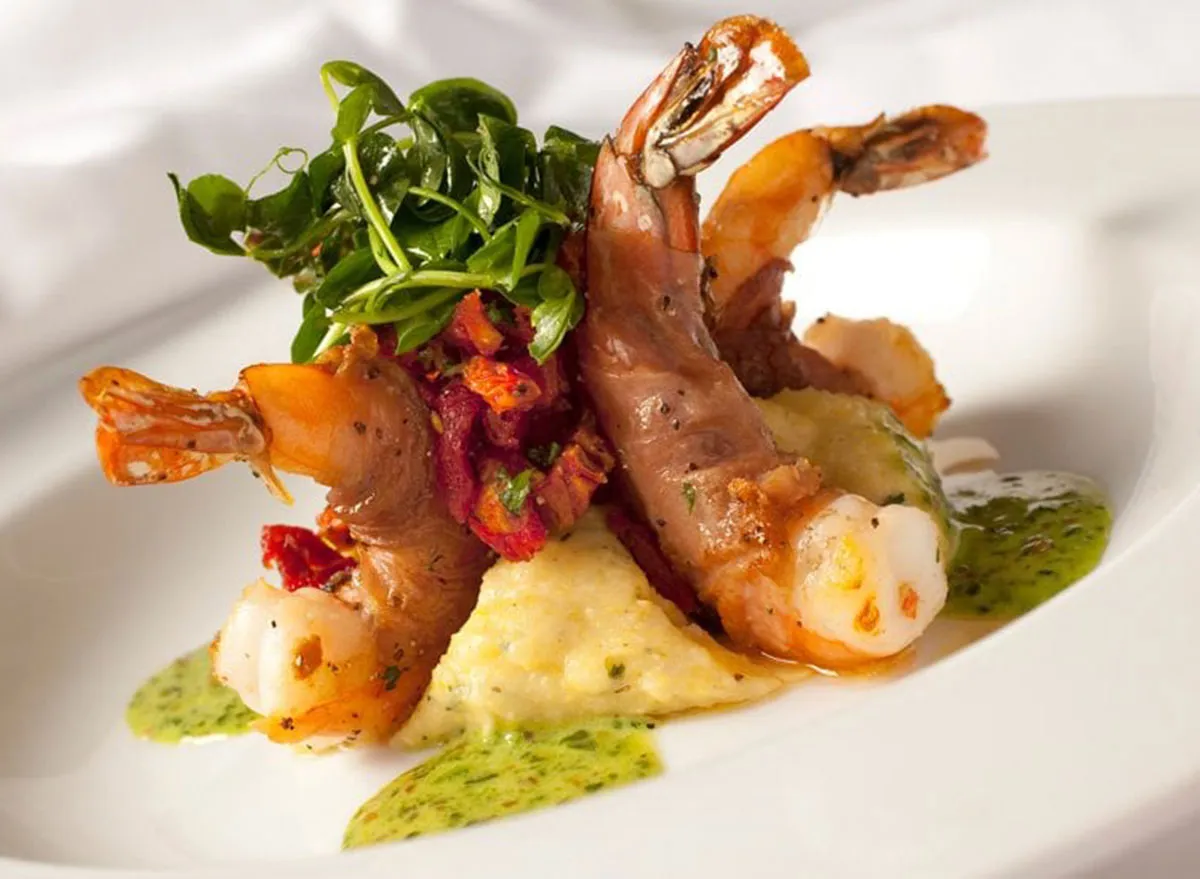 From the atmosphere to the craft cocktails to the incredible and extensive dinner menu made with local ingredients, Mezzaluna in Fargo has a lot to offer. Bacon-Wrapped Bison Meatloaf is one of the top entrees, and seared sea scallops are a favorite starter.
OHIO: The Refectory in Columbus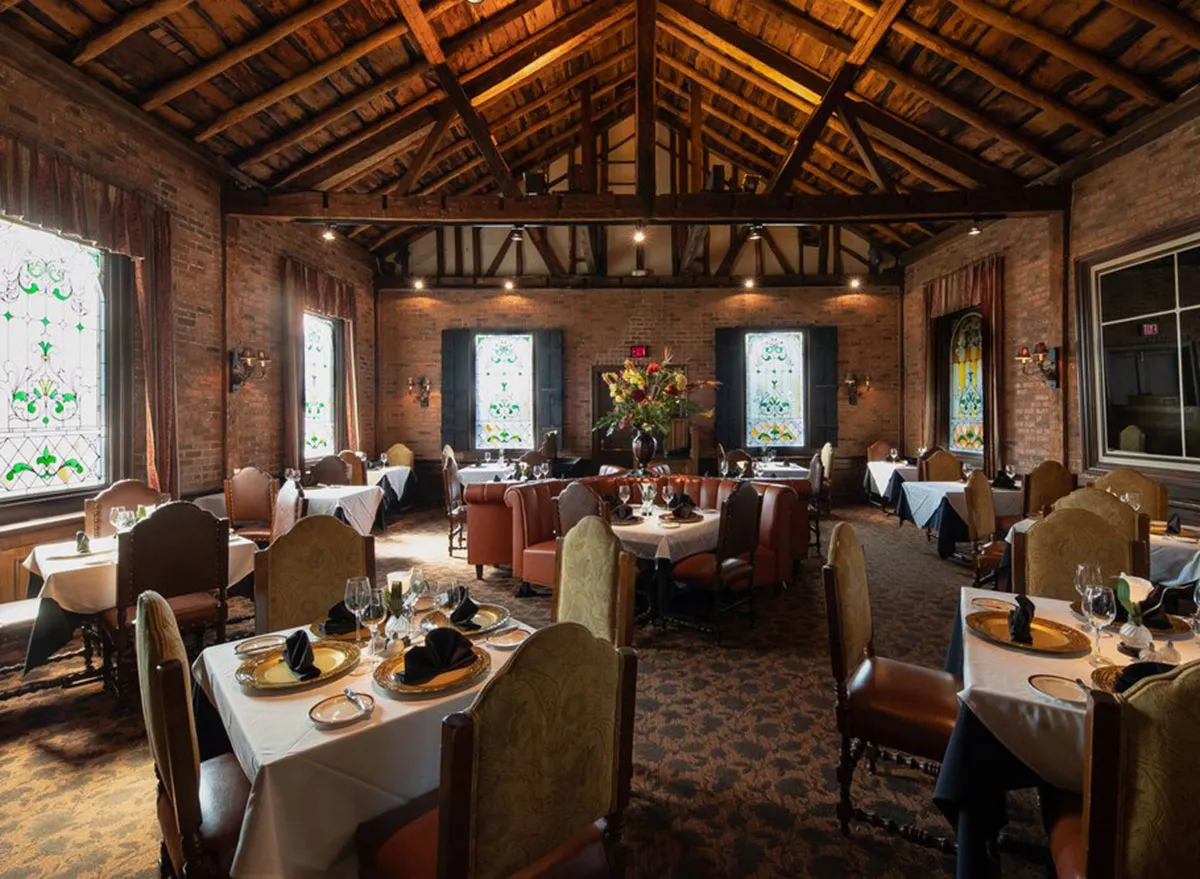 High-end French dining is the name of the game at The Refectory in Columbus. The restaurant, located inside a former church, has an elegant and romantic atmosphere as the backdrop for its ever-changing dinner menus.
OKLAHOMA: Nonesuch in Oklahoma City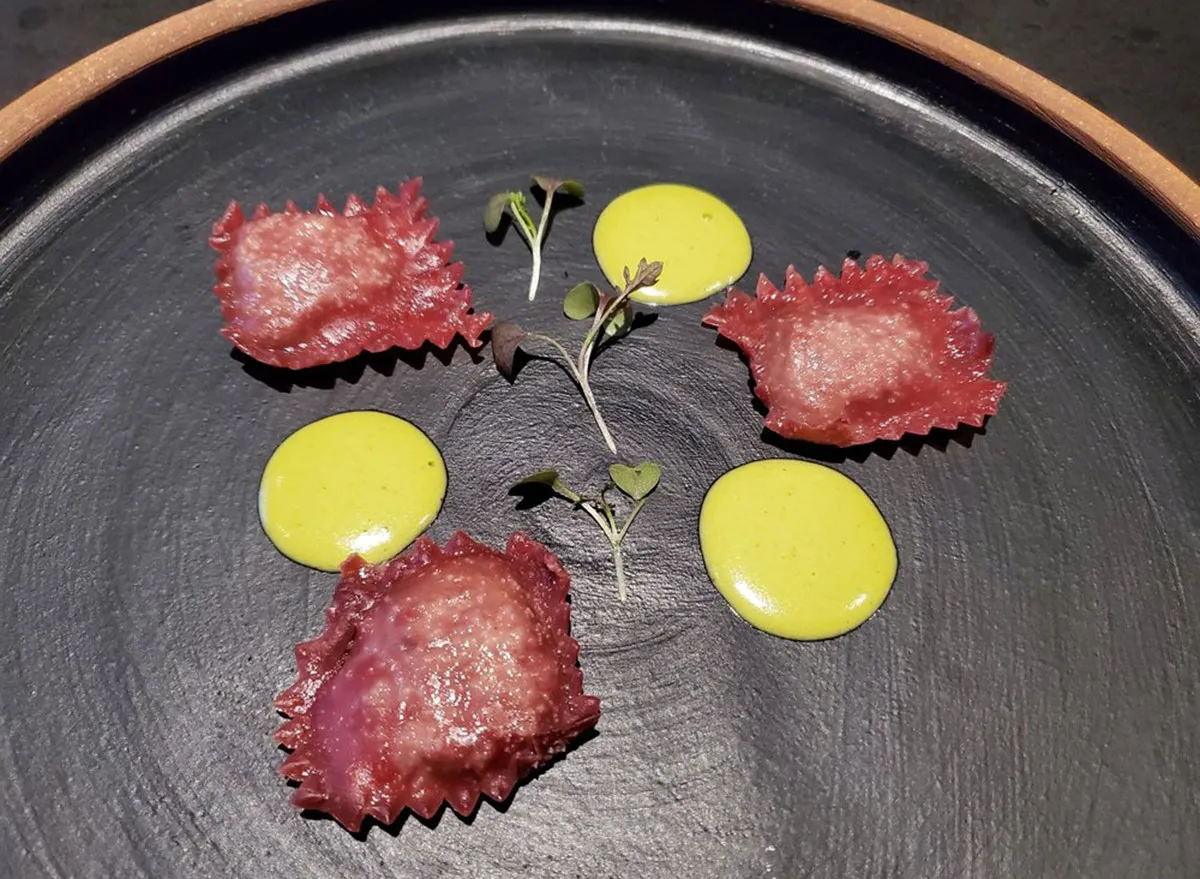 Nonesuch in Oklahoma City is relatively new to the scene, as it opened in 2016. Since then, it's gained a lot of interest for its innovative tasting menu inspired by the local landscape. Although the menu is always changing, you might find artful ravioli, bison tenderloin, or Spanish tortillas.
OREGON: Castagna in Portland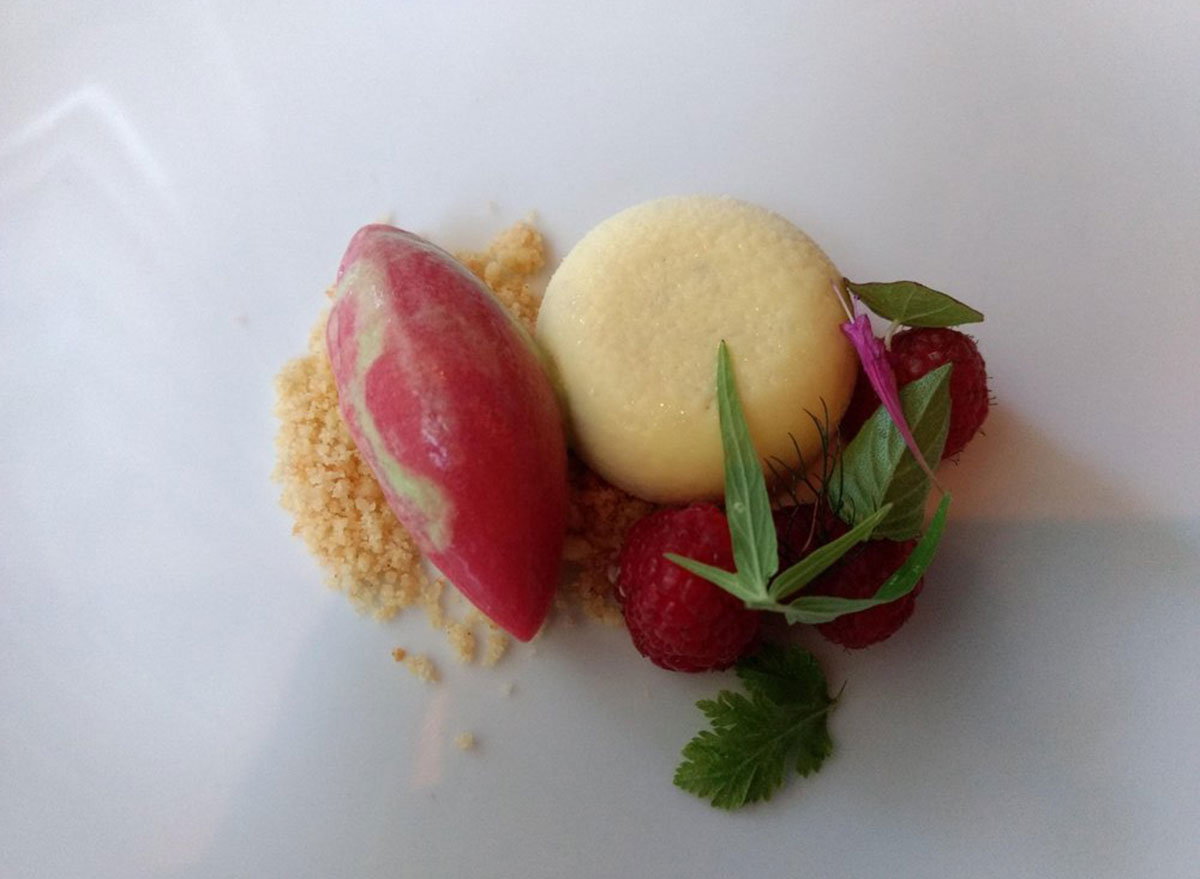 Castagna, in Portland, offers an impressive 11-course prix fixe menu based on local ingredients. The presentation will have you snapping about 100 pictures for the 'gram, and the divine courses will leave you talking about this restaurant for months to come. (Note: They are currently closed for dine-in service but are offering take-out Friday and Saturday evenings.)
PENNSYLVANIA: Vetri Cucina in Philadelphia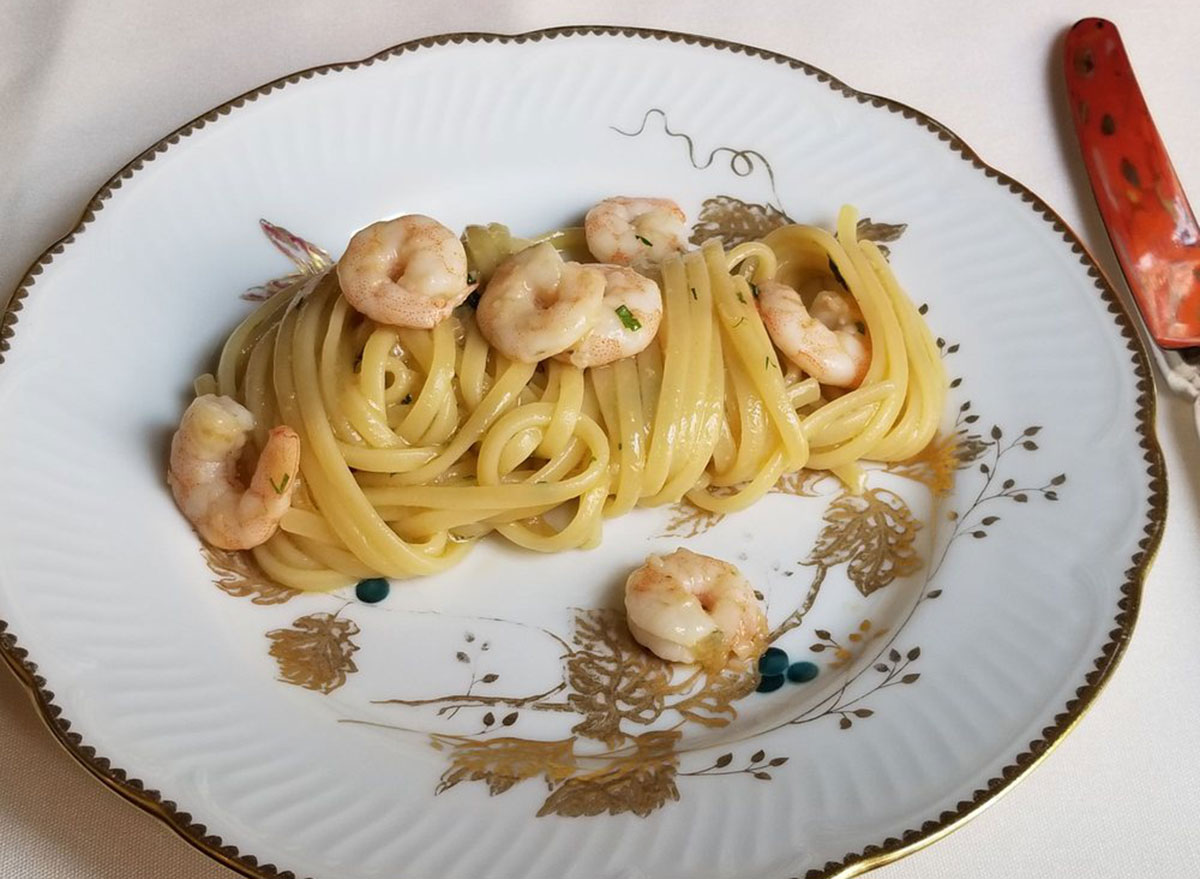 If you want top-notch Italian fare, Vetri Cucina in Philadelphia is the place to go. The four-course menu is $135 per person with a menu that is always evolving. The meal includes a pasta course, with the option to add on extra pasta for carb-lovers.
RHODE ISLAND: Capriccio in Providence
Providence's Capriccio offers a combination of classic European dishes and new fare inspired by whatever is in season. You'll find everything from caviar to frogs' legs to ostrich here, and some meals and desserts are flambéed tableside.
SOUTH CAROLINA: Circa 1886 Restaurant in Charleston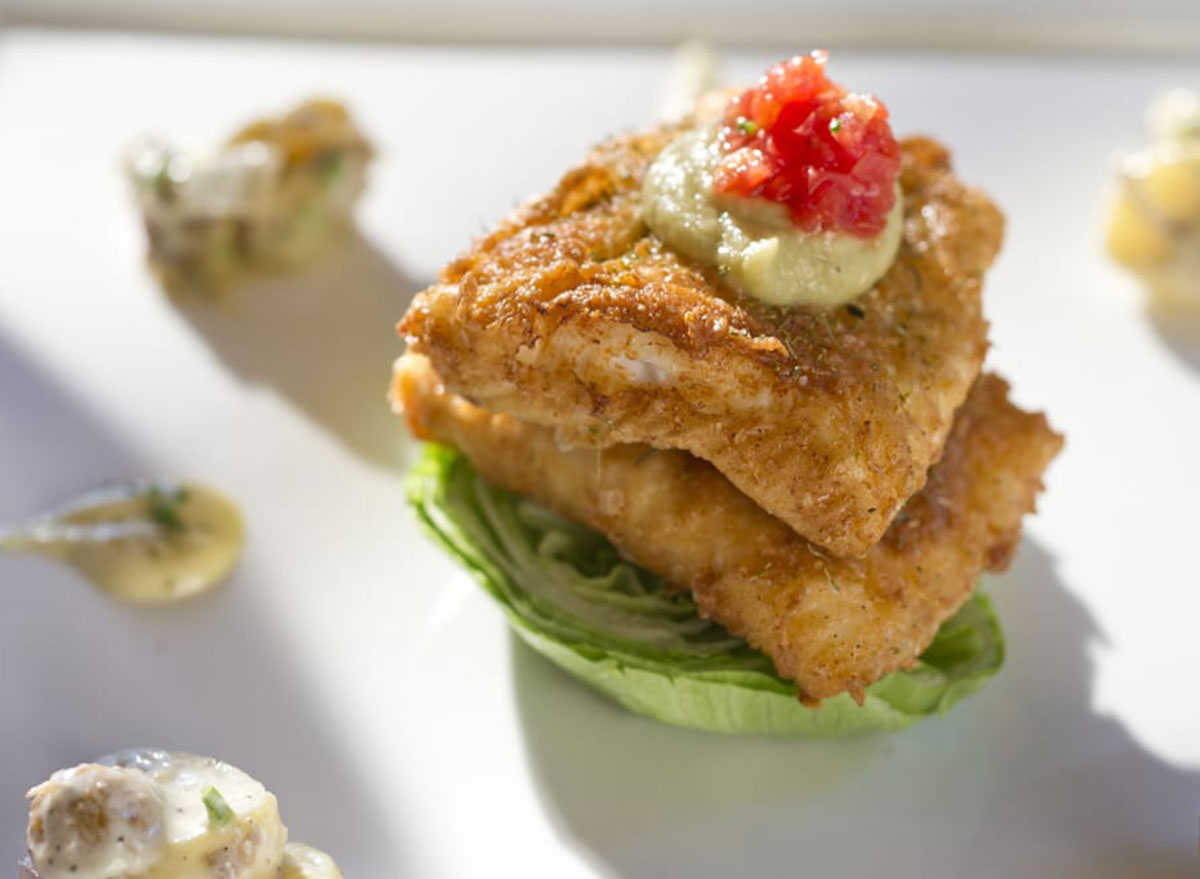 Enjoy elevated Lowcountry cuisine at downtown Charleston's Circa 1886 Restaurant. You'll find innovative appetizers like pimento cheese grilled cheese, preserved rabbit, and shrimp with rice grits, depending on the season. Customer favorites include oxtail and the Pork Duet with pork tenderloin and super spicy Carolina Reaper sausage.6254a4d1642c605c54bf1cab17d50f1e
PLUS: What Happens to Your Body When You Eat Spicy Food? 
SOUTH DAKOTA: Dakotah Steakhouse in Rapid City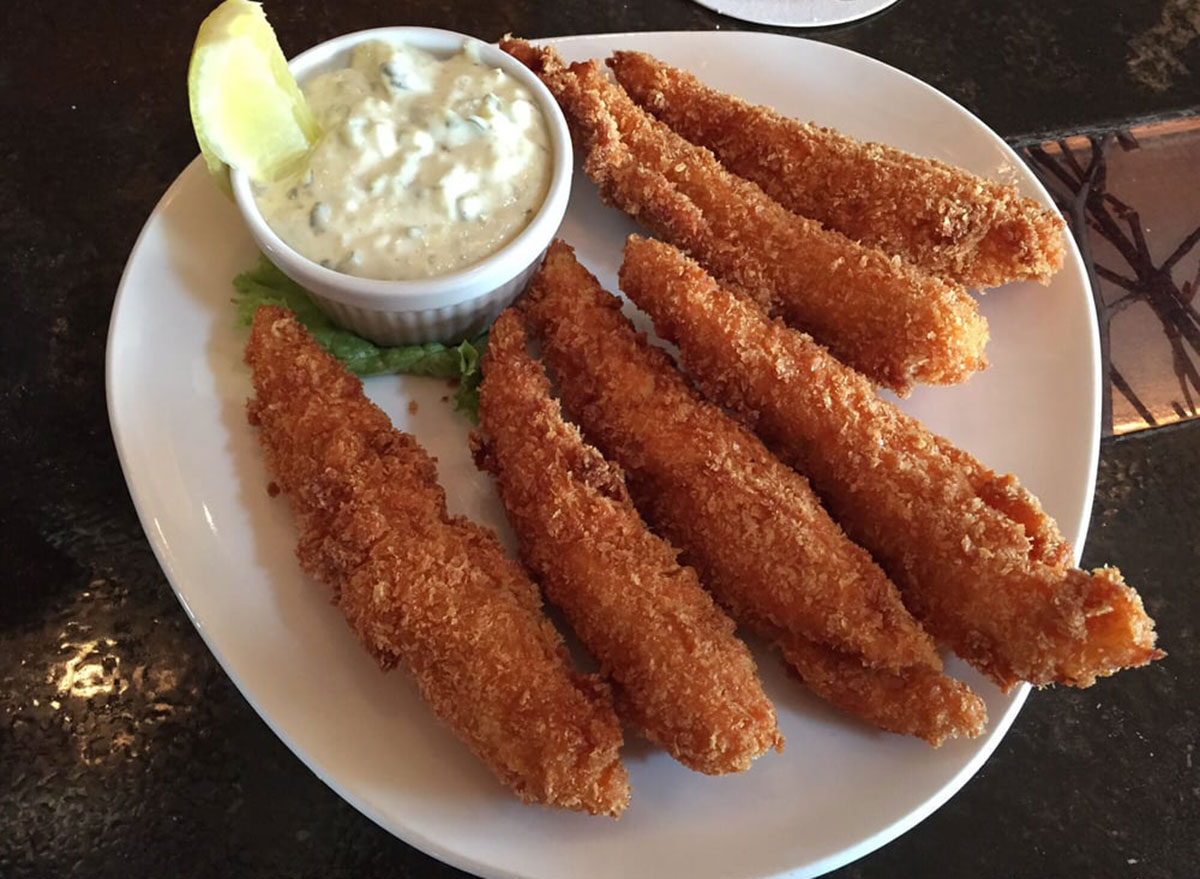 You'll find high-end steaks plus locally sourced fish, buffalo, and elk at Dakotah Steakhouse in Rapid City. The walleye, elk ravioli, and apple crisp are among the most popular dishes here. There's even an ice cream sampler so you can try multiple flavors.
TENNESSEE: The Barn in Walland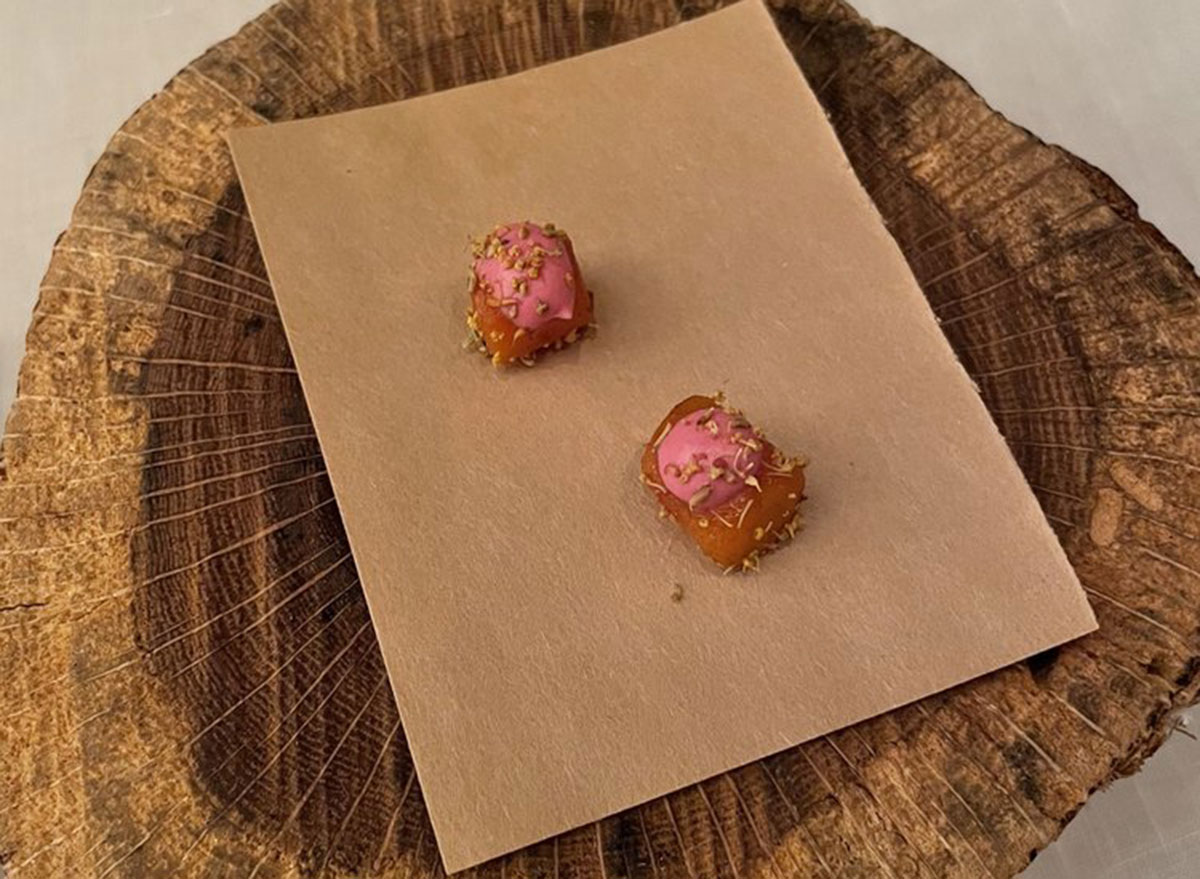 You don't want to miss the farm-to-table tasting menu at The Barn, a restaurant inside an actual charming, rustic barn on Blackberry Farm in Walland. Take in views of the Great Smoky Mountains while enjoying a menu that's always evolving.
TEXAS: Killen's Steakhouse in Pearland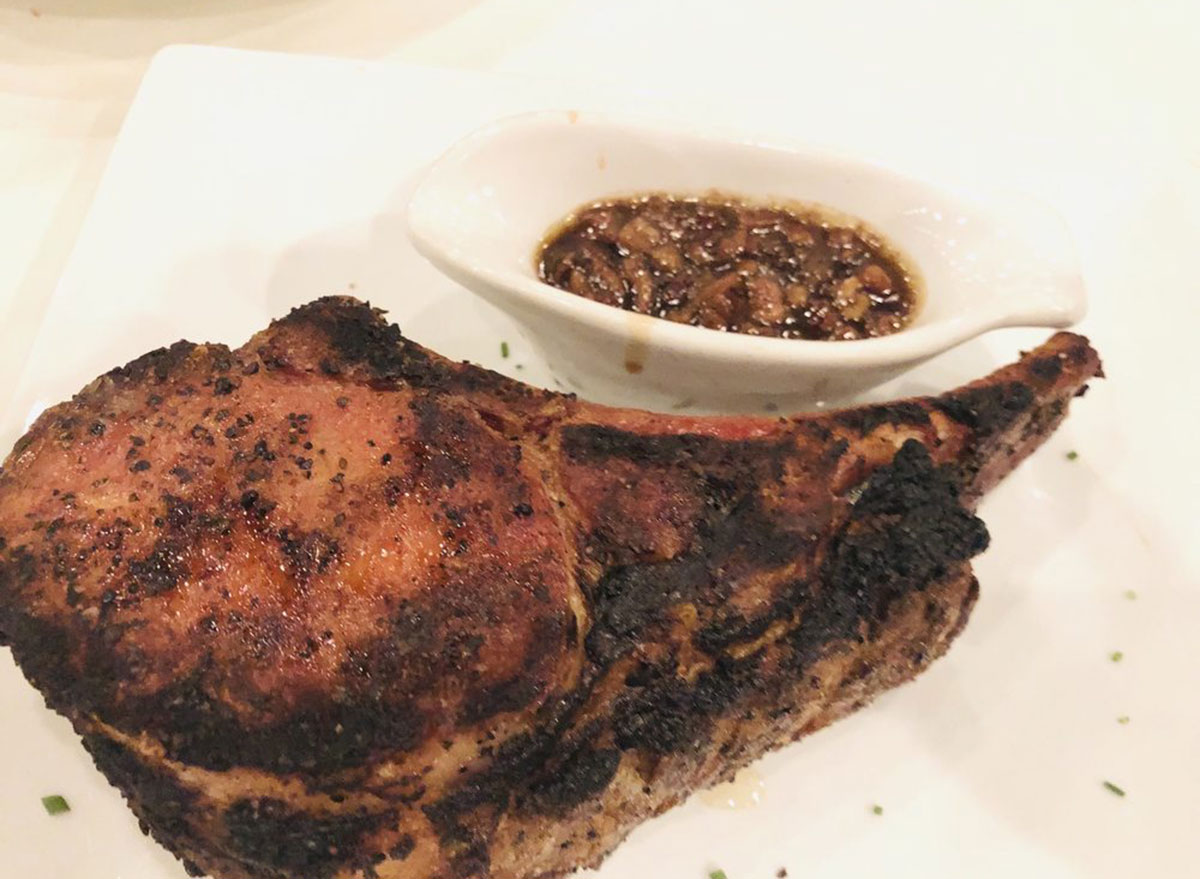 Killen's Steakhouse is a family-owned joint located in Pearland that will make beef lovers rejoice. It features pricey cuts of meat plus seafood from the Gulf. There are multiple options for Wagyu including domestic and Japanese options. They even offer a flight of New York strip steaks for $175.
UTAH: Valter's Osteria in Salt Lake City
For fine Italian dining in Salt Lake City, visit Valter's Osteria. Dishes are inspired by the seasons and classic recipes by the founder's mother. Check out the gnocchi and ravioli sampler, made fresh daily, or the risotto of the day. It's also great if you have a sweet tooth because the gelato and biscotti are top choices here.
VERMONT: Leunig's Bistro in Burlington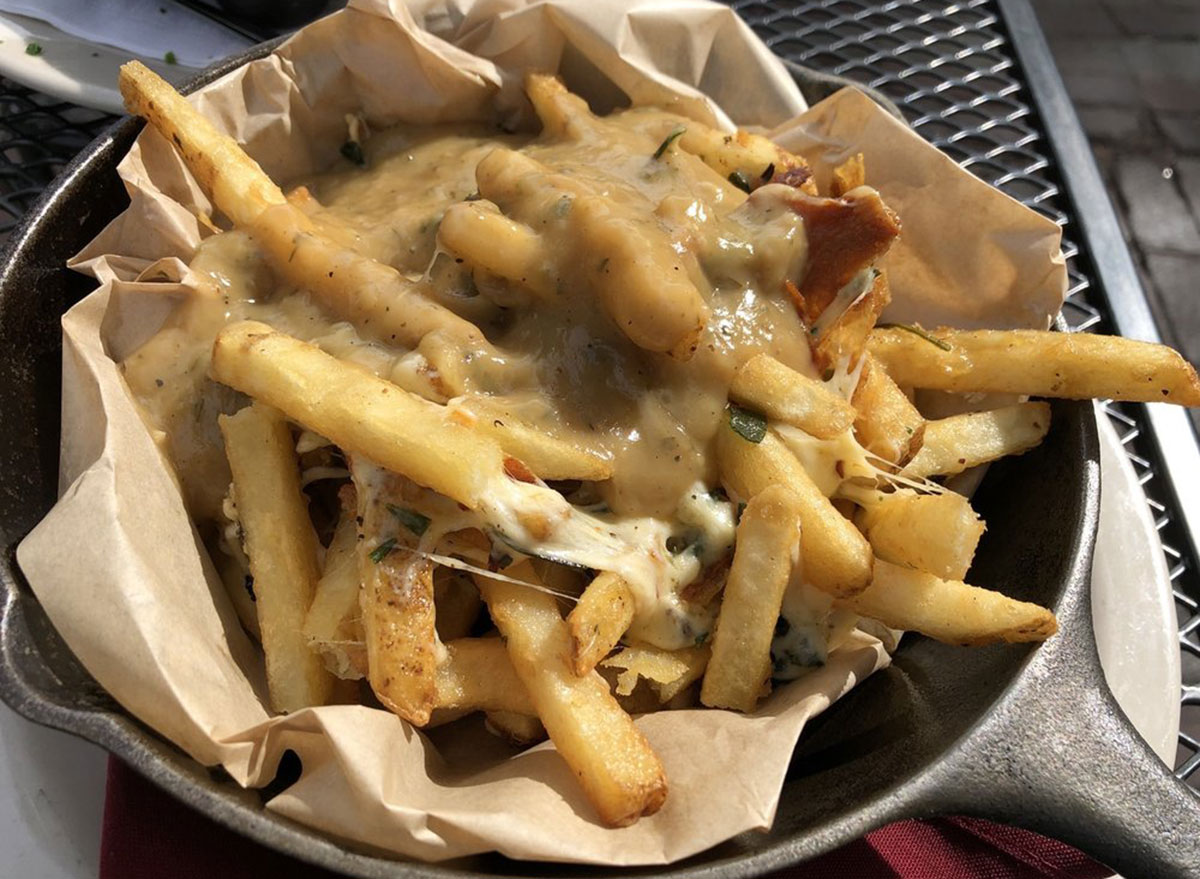 Leunig's Bistro in downtown Burlington is one of the oldest restaurants in the area, and it features French dishes with a local Vermont spin. Check out the cheese plates, made with local Vermont cheeses, the duck confit poutine, and the beef bourguignon.
VIRGINIA: The Inn at Little Washington in Washington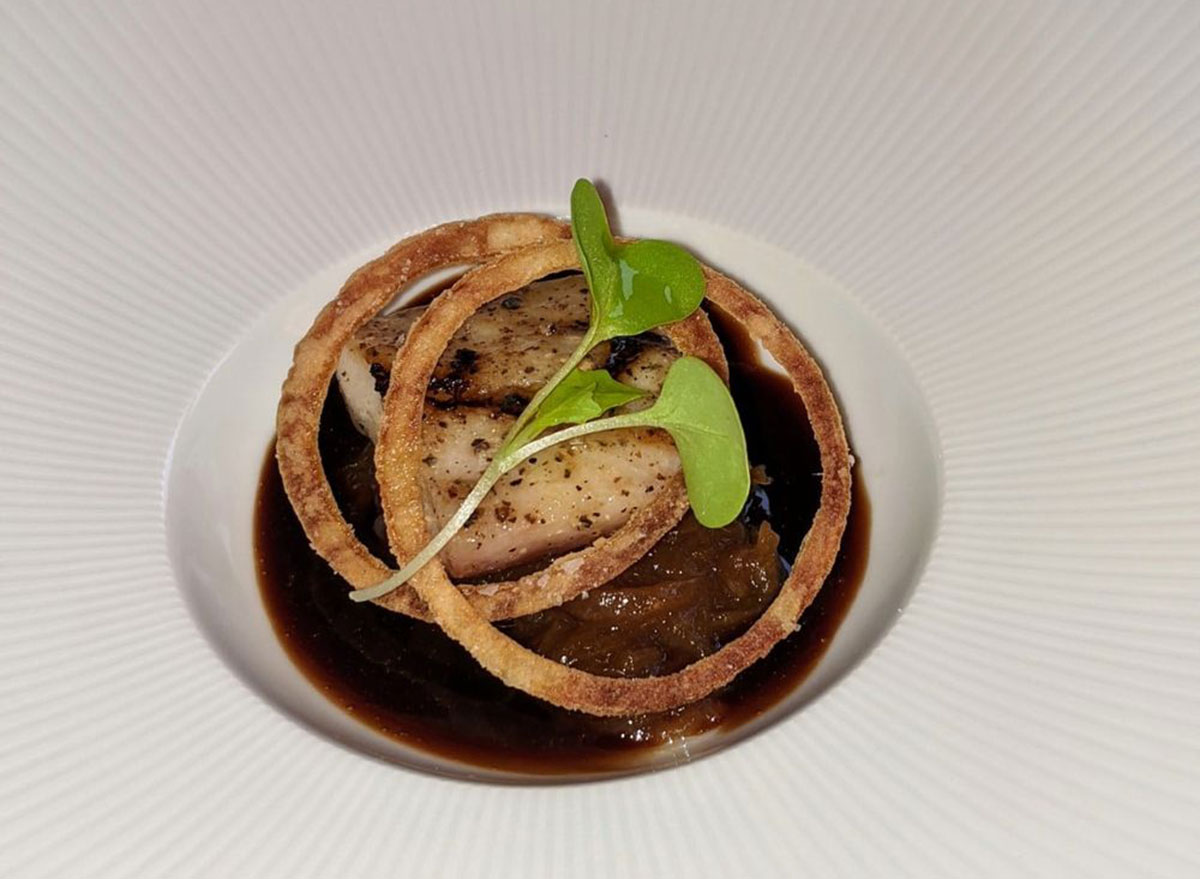 The Inn at Little Washington is a whimsical hotel and restaurant that has been awarded three Michelin stars and a Green Star for its sustainability efforts. Most of the menu's produce is grown by the restaurant's own farm. Diners choose from a standard or vegetarian tasting menu for $265 per person, with the option of adding on the award-winning wine pairings for $208 per person.
WASHINGTON: Herbfarm in Woodinville
Dining at Woodinville's Herbfarm is a journey for the senses. The daily nine-course prix-fixe menu isn't final until just hours before dinner starts, "to best track the symphony of life on the land and sea," explains the restaurant. The menu changes daily, and it follows a weekly theme, such as 100-Mile Dinner and Menu for a Mycologist's Dream.
WEST VIRGINIA: Laury's Restaurant in Charleston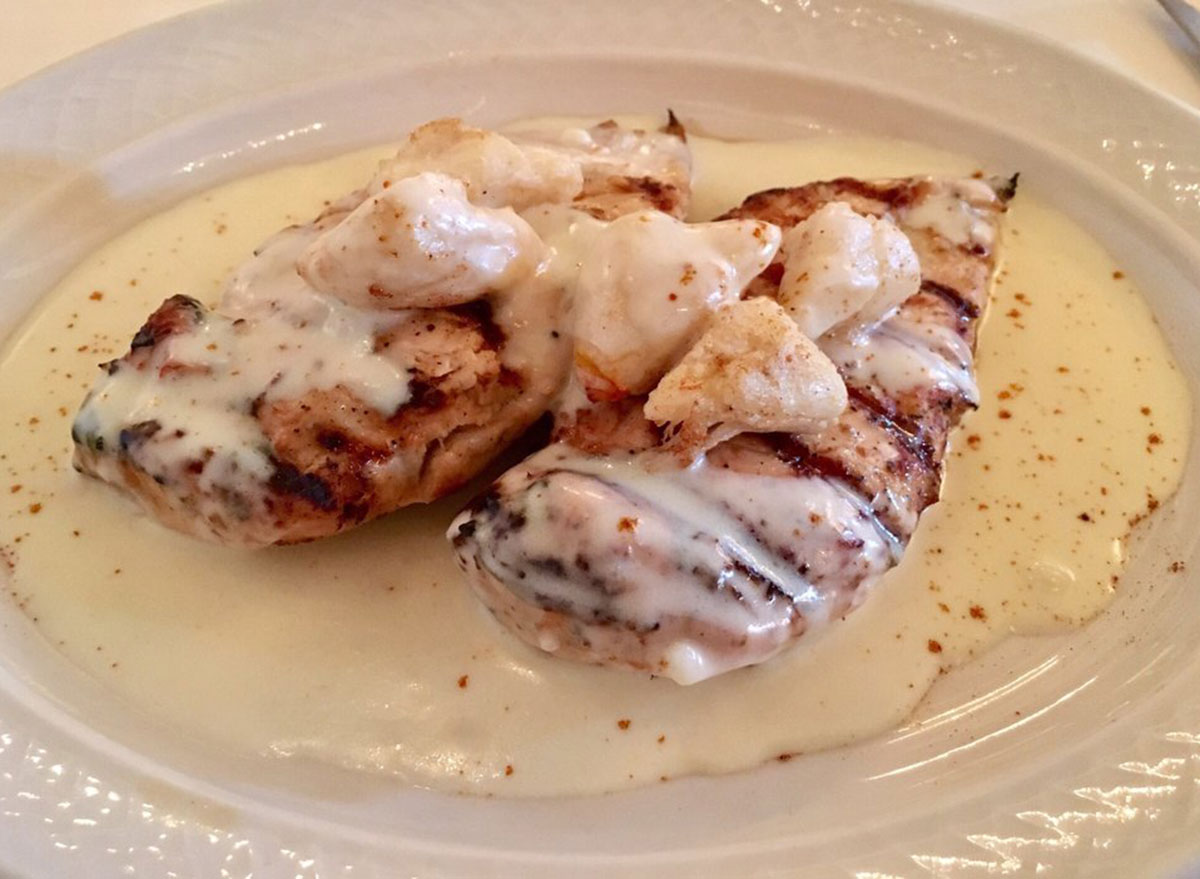 Located in Charleston since 1979, Laury's Restaurant is a fine dining staple in West Virginia. You'll dine in a luxe converted train station overlooking the Kanawha River. Impressive items fill the menu, including parmesan-crusted escargot, lobster-stuffed mushrooms, steak au poivre, and Bananas foster prepared tableside.
WISCONSIN: Sanford in Milwaukee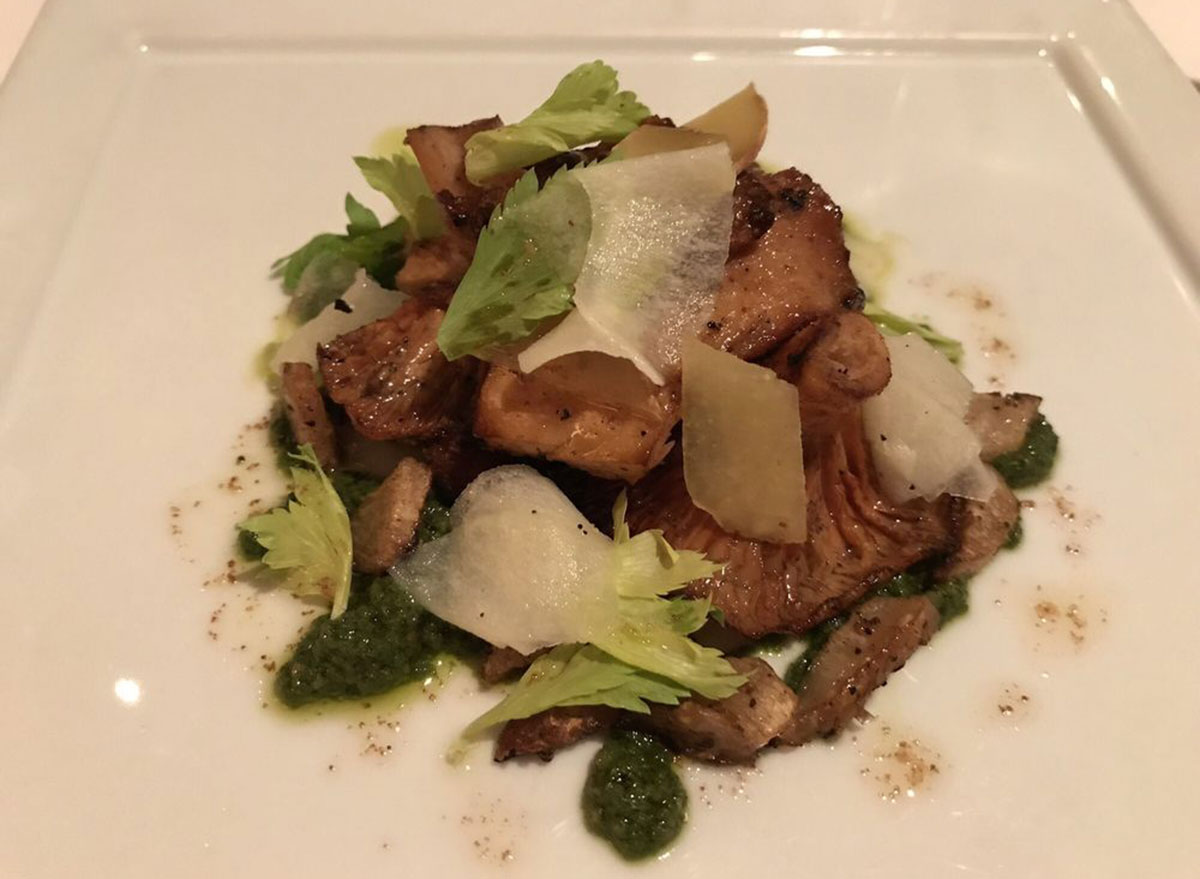 If it's good enough for Julia Child, it's certainly good enough for the rest of us. Sanford, located in Milwaukee, was founded by Chef Sandy D'Amato, who was chosen to cook for Julia Child on her 80th birthday. The basis of the menu is produce sourced as locally as possible. Expect an intimate and always new and innovative tasting menu.
WYOMING: The Blue Lion in Jackson Hole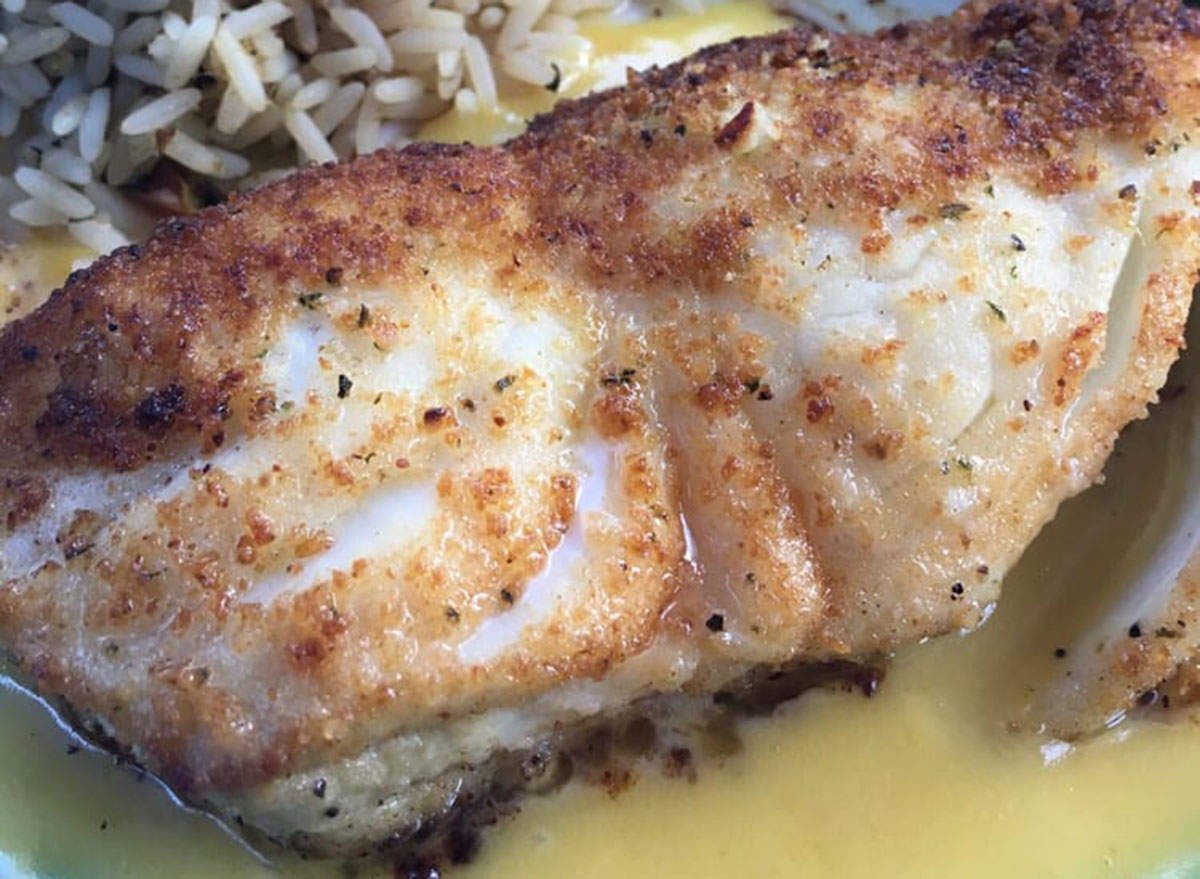 The Blue Lion is located inside a quaint, old home in Jackson Hole. You'll find seasonal items plus signature dishes like cream cheese- and crab-stuffed mushrooms, elk tenderloin, and rainbow trout, plus iconic desserts such as mud pie and tiramisu.
A previous version of this article was originally published in August 2021.
Paige Bennett
Paige is a Los Angeles-based editor and freelance writer. In addition to writing for Eat This, Not That!, she works as the content editor for Inhabitat.
Read more about Paige