The Best Bread Recipe That's Surprisingly Keto Diet-Approved
Yep, you can still eat bread on the keto diet.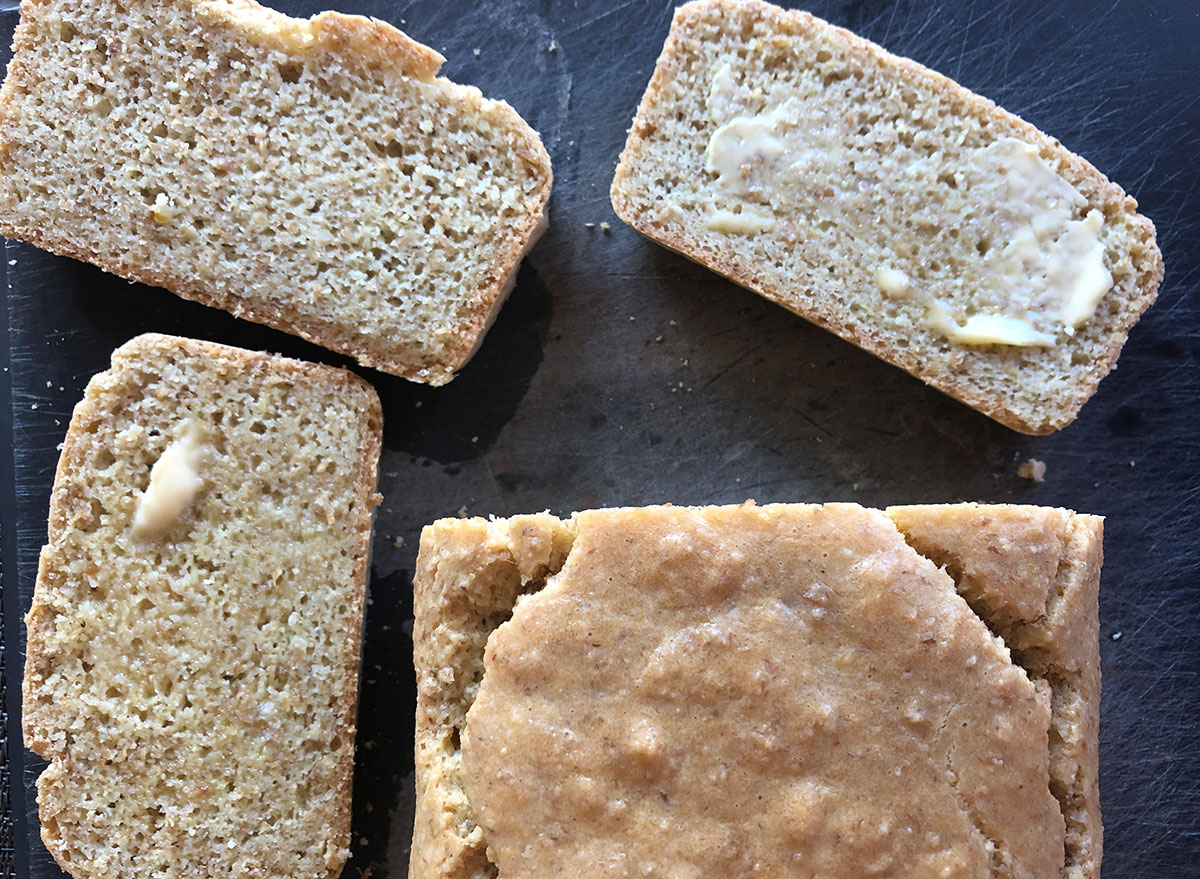 The keto diet is low-carb, so you might think foods like bread are entirely off the table. But thanks to this keto bread recipe, that doesn't have to be the case. By manipulating ingredients like almond flour and flax meal, you can create a keto-compliant bread without sacrificing your goals.
This keto bread has a hearty, whole-wheat quality from the flax meal, and the vinegar lends it a yeasty flavor. It's leavened simply with baking powder and baking soda, and it's free of grains, except for the tiny bit of cornstarch found in most brands of baking powder. You can make sandwiches with it, use it for French toast, or just slice it and slather it with butter. However you serve the final product, this keto bread recipe is sure to be a crowd-pleaser.
Makes 1 9-inch loaf (about 10 to 12 slices)
Ingredients
2 ¼ cups (252 g) blanched almond flour (I used Brad's Organic)
½ cup plus 2 Tbsp (65 g) flax meal (I used Bob's Red Mill)
¼ cup (36 g) arrowroot (I used Bob's Red Mill)
1 tsp baking powder
½ tsp baking soda
1 tsp fine sea salt
4 large eggs
½ cup unsweetened macadamia or almond milk (or other milk of choice; I used Modest Mylk Unsweetened Macadamia Mylk Base with water)
¼ cup extra virgin olive oil
1 tbsp cider vinegar6254a4d1642c605c54bf1cab17d50f1e
How to Make It
Preheat oven to 350ºF; line a 9-by-5-inch loaf pan with parchment.
In a large bowl, whisk almond flour, flax, arrowroot, baking powder, baking soda, and salt until well combined and no lumps remain.
Combine eggs, milk, oil, and vinegar in a blender; blend until well mixed. Pour into bowl with almond flour mixture; stir until all ingredients are well incorporated. Mixture will be very soft, similar to cake batter.
Transfer mixture to loaf pan and spread evenly. Bake until loaf is golden and cooked through, about 45 to 48 minutes. Let bread cool in pan on a wire rack for 20 minutes, then use parchment to help you pull the loaf out of the pan. Remove parchment and place loaf on a rack to cool completely.
Wrap any leftovers and keep refrigerated, or freeze.