Keto Cheeseburger Casserole
Your new comfort food craving.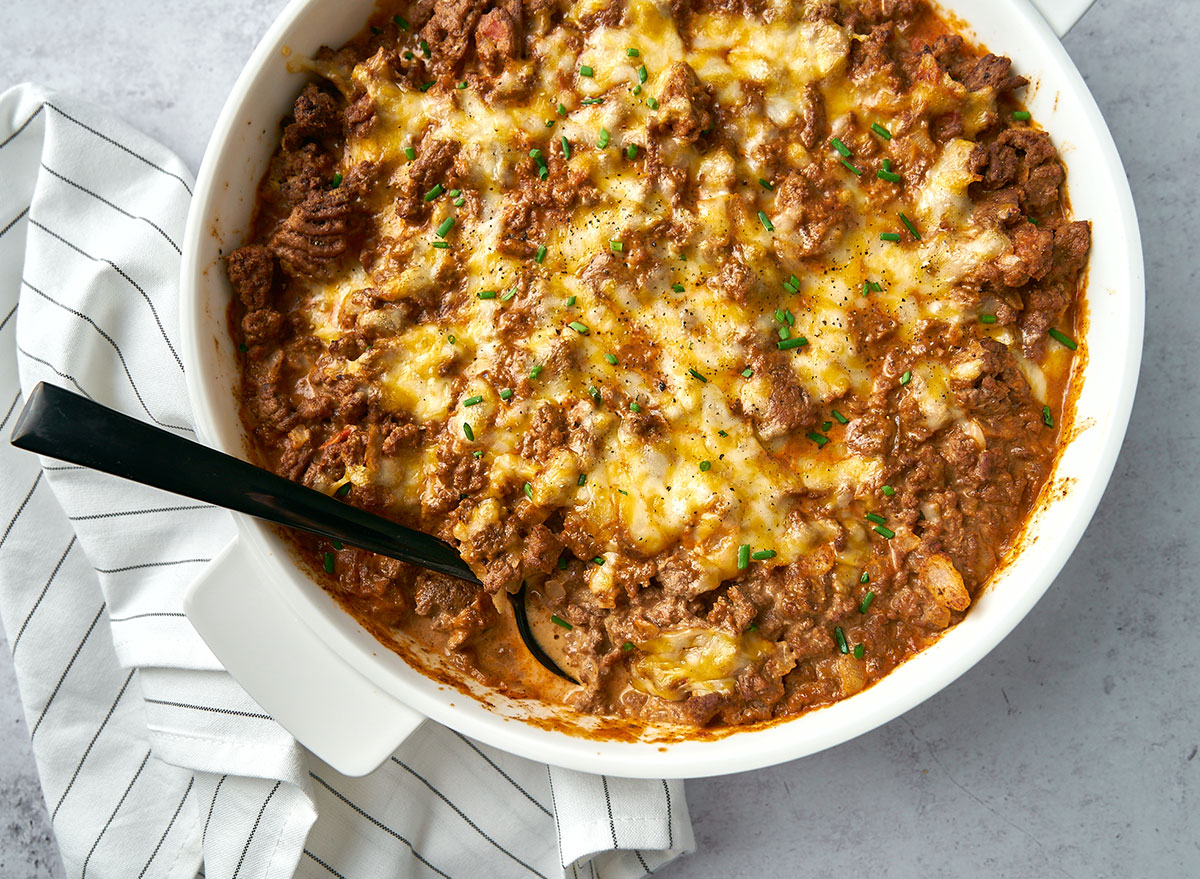 If you grew up loving the taste of Hamburger Helper, you'll enjoy this keto cheeseburger casserole that can feed a crowd. Made with ground beef, spices, no-sugar added marinara, heavy cream, and shredded cheese, this crave-worthy casserole is sure to become your go-to keto classic. While many casseroles rely on starchy components like pasta and rice, this dish will convince you can completely forego the carby additions while still maintaining the heartiness.
Casseroles are a great make-ahead meal. You can meal prep small portions of this recipe, and freeze in small freezer-to-oven-friendly containers. It's also great for parties with gluten-free guests.
Makes 8 servings
Ingredients
1 Tbsp olive oil
3 lb ground beef
1 medium white onion, chopped
1 tsp garlic powder
1 tsp onion powder
1 tsp kosher salt
Freshly ground black pepper
1/4 cup tomato paste
1/4 cup Rao's Marinara Sauce
1 1/2 cups heavy cream
1 1/4 cup shredded Colby jack cheese
1/4 cup chopped chives
How to Make It
Preheat oven to 375°F.
In a very large, shallow pan, heat the oil and add the ground beef. Use a metal pancake turner to press the beef down into a single layer that covers the entire surface of the pan. Cook for 5 to 7 minutes until browned, then use the pancake turner to flip the beef over and cook for another few minutes. Use a large spoon to spoon out excess liquid, until only a small amount remains.
Add onion, garlic powder, onion powder, salt, pepper, and tomato paste to the beef. Stir and cook for 1 minute. Add marinara sauce and heavy cream and remove from heat.
Stir in 1 cup of shredded cheese and spoon the beef mix into a large casserole dish.
Top with remaining cheese and bake about 10 minutes until the cheese is bubbling and melty. Top with chives and serve immediately.