The Keto-Friendly Pumpkin Bars Everyone Will Prefer More Than Pie
You don't need a pie crust to get the delicious taste of pumpkin pie.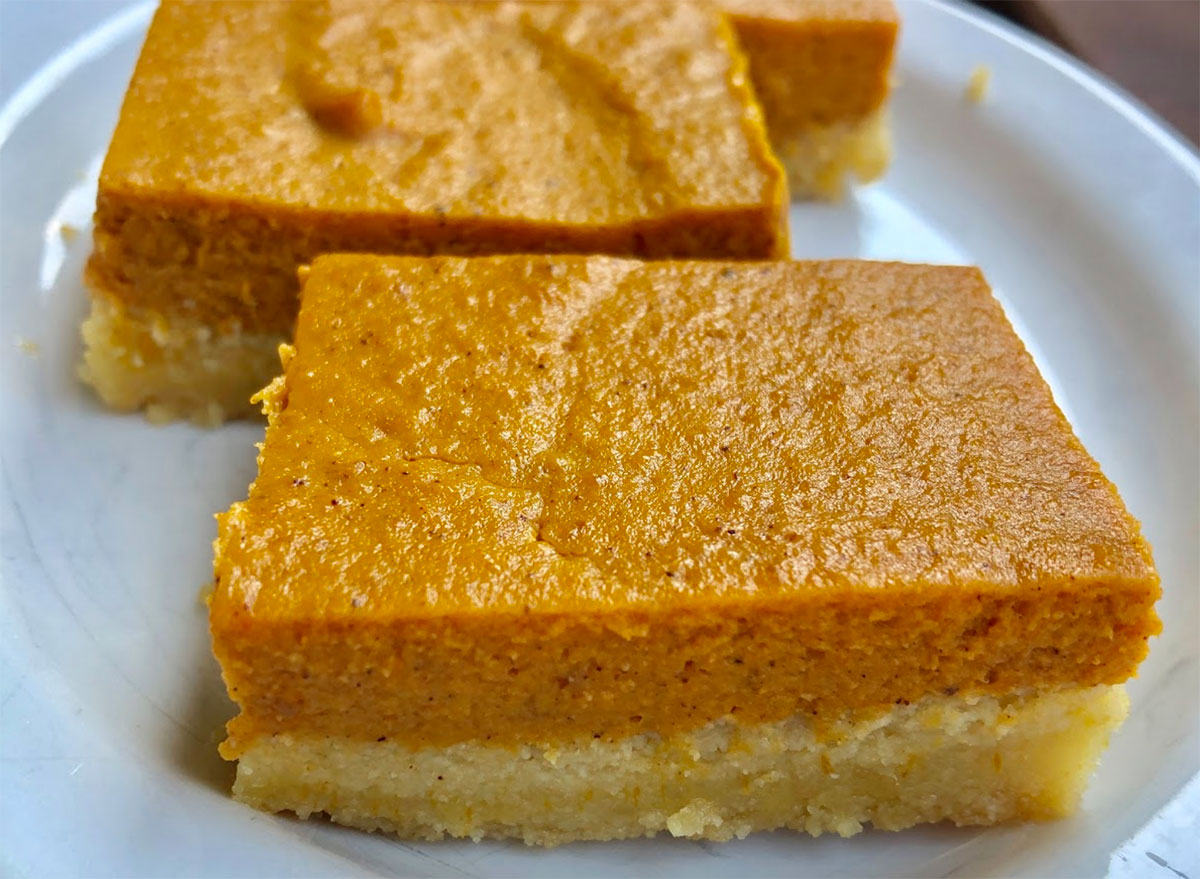 Pumpkin pie is the pumpkin-flavored treat that started it all. While there are countless pumpkin spice products out there, pumpkin pie is a tried-and-true classic. But if you're following a strict eating plan like the keto diet, you might not be able to eat the typical pumpkin pie set out at a family gathering. But fear not! This recipe for keto pumpkin pie bars is full of the goodness of canned pumpkin, without additives and preservatives. Your Thanksgiving table got a major upgrade.
With a filling made from pumpkin puree, cinnamon, nutmeg, cloves, and ground ginger, these bars have all the creamy, spice-filled taste of pumpkin pie. But the bottom "crust" is made from almond flour and butter, making it appropriate for keto followers and other low-carb recipe seekers. Besides, the filling is the best part of a pumpkin pie—you won't even miss that refrigerated crust. You'll be the star of your family's holiday gathering with this recipe, and you'll still be able to meet your keto diet goals.
Makes 20 servings
Ingredients
Crust:
6 Tbsp unsalted butter, melted
2 cups (240 g) blanched almond flour (I used 365 Everyday Value)
¼ cup (48 g) powdered Lakanto sweetener
¼ tsp fine sea salt
Filling:
1 15-oz can pumpkin puree
2 large eggs, beaten
½ cup sour cream
1 tsp vanilla extract
½ cup (96 g) Swerve Brown sweetener
1 tsp cinnamon
½ tsp ground ginger
¼ tsp ground nutmeg
Pinch ground cloves
¼ tsp fine sea salt
How to Make It
Preheat oven to 350ºF. Line a 9-inch square pan with parchment.
Make the crust: Stir together all crust ingredients until well combined. Press evenly in pan. Bake until golden on edges and just set, about 15 to 20 minutes. Remove pan to a wire rack to cool for at least 10 minutes. Reduce oven temperature to 325ºF.
Make the filling: In a large bowl, whisk together all filling ingredients, taking care to get out any lumps. Pour filling on top of the crust, spreading evenly.
Bake until edges have set and center still jiggles slightly, about 45 to 50 minutes. Let cool on a wire rack, then cover and refrigerate for at least 3 hours or up to overnight. Cut into bars and serve.