Keto Smoked Salmon on Cucumber Slices With Lemon-Avocado Sauce Recipe
Once you eat salmon this way, there really is no going back.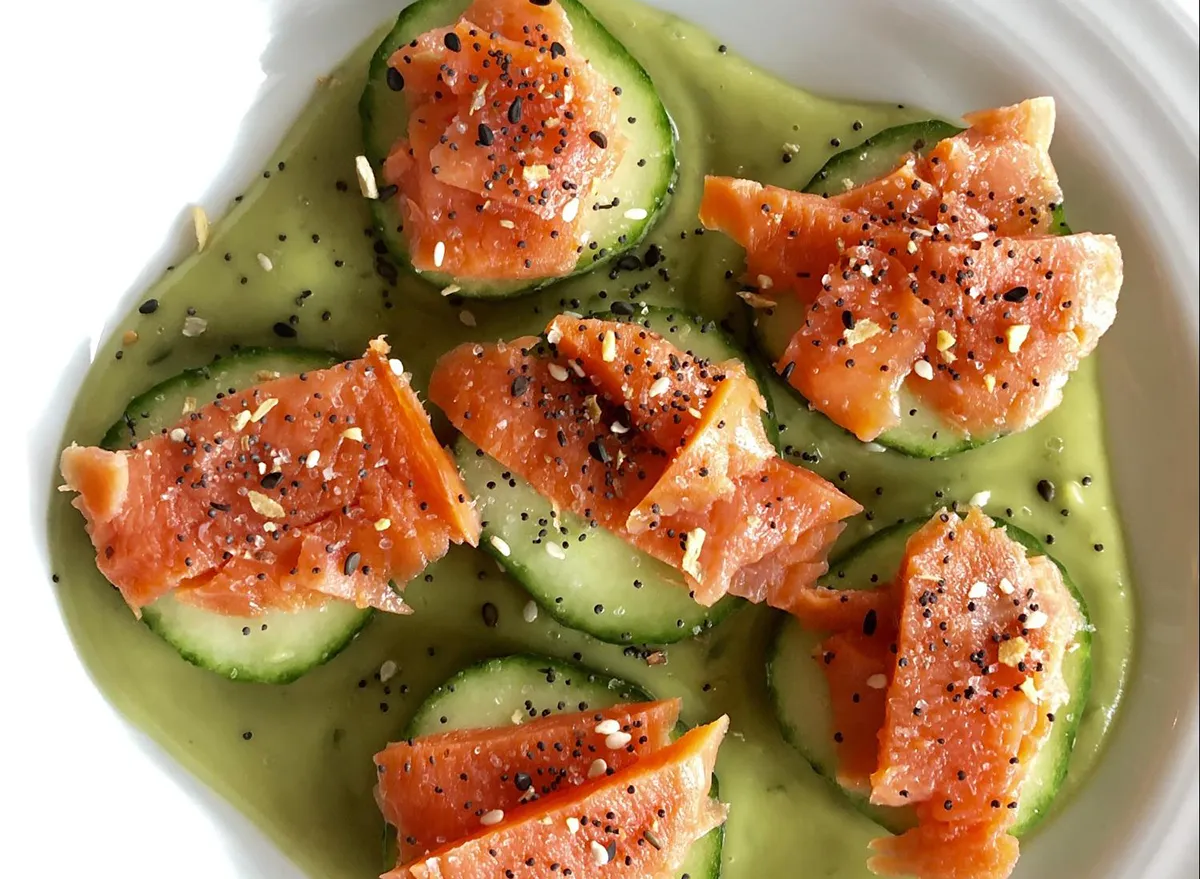 Once you eat salmon this way, there really is no going back. In this keto snack recipe, you'll find the star of the dish is the "everything" seasoning it's topped with. It's all the flavors you would find if you bit into an everything bagel—salt, sesame seeds, onion, garlic, poppy seeds—but without the actual bagel. You are living a low-carb life if you're following the keto diet, after all. so this is a way to not miss out on the part that makes an everything bagel so irresistible. Here, the seasoning is sprinkled over cucumber slices that are topped with smoked salmon and a lemon-avocado sauce.
Check out this keto-friendly smoked salmon recipe, and you'll discover your new favorite low-carb way to enjoy everything bagel seasoning.
Makes 4 servings
Ingredients
1 medium-sized ripe avocado (about 7 ½ oz)
1 tsp lemon zest
3 tbsp lemon juice
2 tbsp chopped fresh parsley
2 tsp coconut aminos
2 tbsp extra virgin olive oil
1 tbsp cider vinegar
Water
1/4 to 1/2 tsp raw honey, optional
Fine sea salt and freshly ground black pepper
1 English cucumber (about 12 oz), cut into 24 slices
6 oz smoked wild salmon, cut into small pieces
4 tsp Everything Bagel spice mix6254a4d1642c605c54bf1cab17d50f1e
How to Make It
Make sauce: In a food processor or high-speed blender, combine avocado, lemon zest and juice, parsley, coconut aminos, olive oil, and vinegar. Blend until smooth, stopping to scrape down sides of bowl or blender as needed. Blend in water 1 tablespoon at a time until you reach desired consistency. Taste and blend in honey, if needed. Season with salt and pepper. (Yield: About 1 cup)
Spread about 2 tablespoons sauce on each of 4 plates. Place 6 cucumber slices on each; divide salmon among slices. Sprinkle with Everything Bagel spice mix and serve.
Note: It is rather unusual to have honey in a keto recipe, but it's such a tiny amount, it won't move the needle (but it does provide the balance the sauce needs). There are about 17 grams of carbs in 1 tablespoon of honey, and this is at most ½ a teaspoon, which adds up to fewer than 3 grams of carbs, even if you ate the entire batch.