Quick and Easy Keto Macadamia Nut and Pepita Trail Mix Recipe
Forget store-bought trail mix—this keto-friendly recipe is bursting with flavor.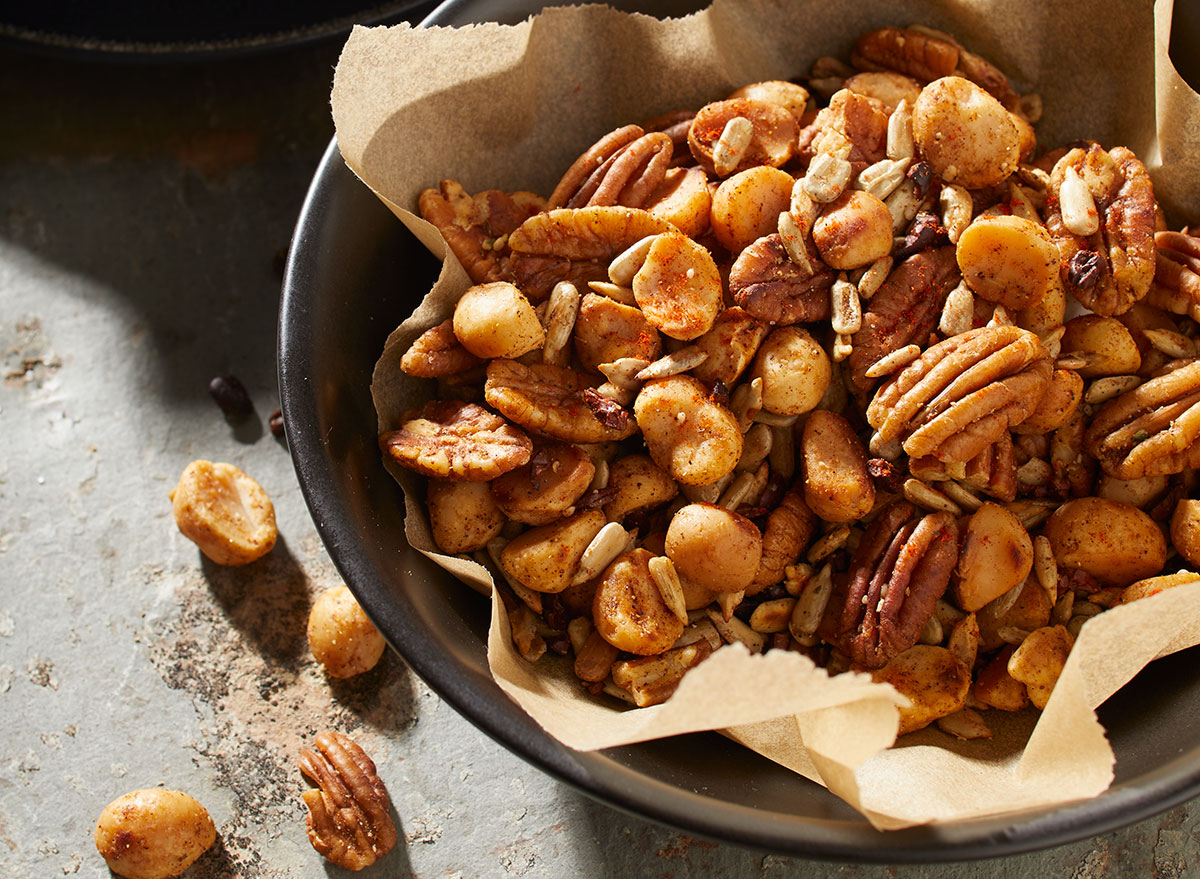 If you're just starting out on the keto diet, it can be tricky to plan out your meals for the week. There are pretty standard rules about what you can and can't eat on the keto diet. But if you haven't prepped recipes for this specific diet yet, you might not know where to start with the list of keto-friendly food. We've got you covered, though, with recipes like this keto trail mix.
And whether or not you're following the keto diet, this flavorful recipe gives trail mix a serious upgrade. With raw pumpkin seeds, cacao nibs, and Berbere seasoning, this keto trail mix is anything but boring. Say goodbye to those sugar-filled trail mixes at the convenience store—once you've tried this recipe, you'll never go back to the packaged trail mix options out there.
Nutrition: 121 calories, 12 g fat (3 g saturated), 17 mg sodium, 2 g fiber, 1 g sugar, 2 g protein
Makes 12 servings
Ingredients
1 tsp coconut oil or butter
1 cup macademia nuts, pecan halves, or walnut pieces
1/3 cup shelled raw pumpkin seeds (pepitas) or raw sunflower seeds
1/2 tsp Berbere spice blend* (see note below)
1/8 tsp sea salt
3 Tbsp cacao nibs
1/2 tsp hemp, flax, or chia seeds
How to Make It
In a medium saucepan, melt coconut oil over medium-low. Stir in nuts and pepitas. Cook and stir 2 minutes. Sprinkle with berbere spice blend and salt. Cook and stir 1 to 2 minutes more or until nuts and pepitas are just starting to turn golden brown.
Remove pan from heat. Stir in cacao nibs and hemp seeds. Turn out onto a clean paper towel and cool completely. Store in an airtight container for up to 2 weeks.
*Berbere spice blend is an Ethiopian seasoning made from a mix of dried red chile peppers and spices such as cardamom, coriander, cloves, allspice, fenugreek seeds, peppercorns, garlic, paprika, and cinnamon. You can find it at a spice store or in the spice aisle of a grocery store. Or substitute 1/4 teaspoon each of ground cinnamon and ground ginger, plus a pinch of cayenne pepper. Or try five-spice powder or garam masala spice blend.
Eat This, Not That!
Inspired by The New York Times best-selling book series, Eat This, Not That! is a brand that's comprised of an award-winning team of journalists and board-certified experts, doctors, nutritionists, chefs, personal trainers, and dietitians who work together to bring you accurate, timely, informative, and actionable content on food, nutrition, dieting, weight loss, health, wellness, and more.
Read more about Eat This