We Tried Krispy Kreme's New Pie Donuts—This Was the Best One
They are only available for a limited time so you better try one soon! So which flavor is the best?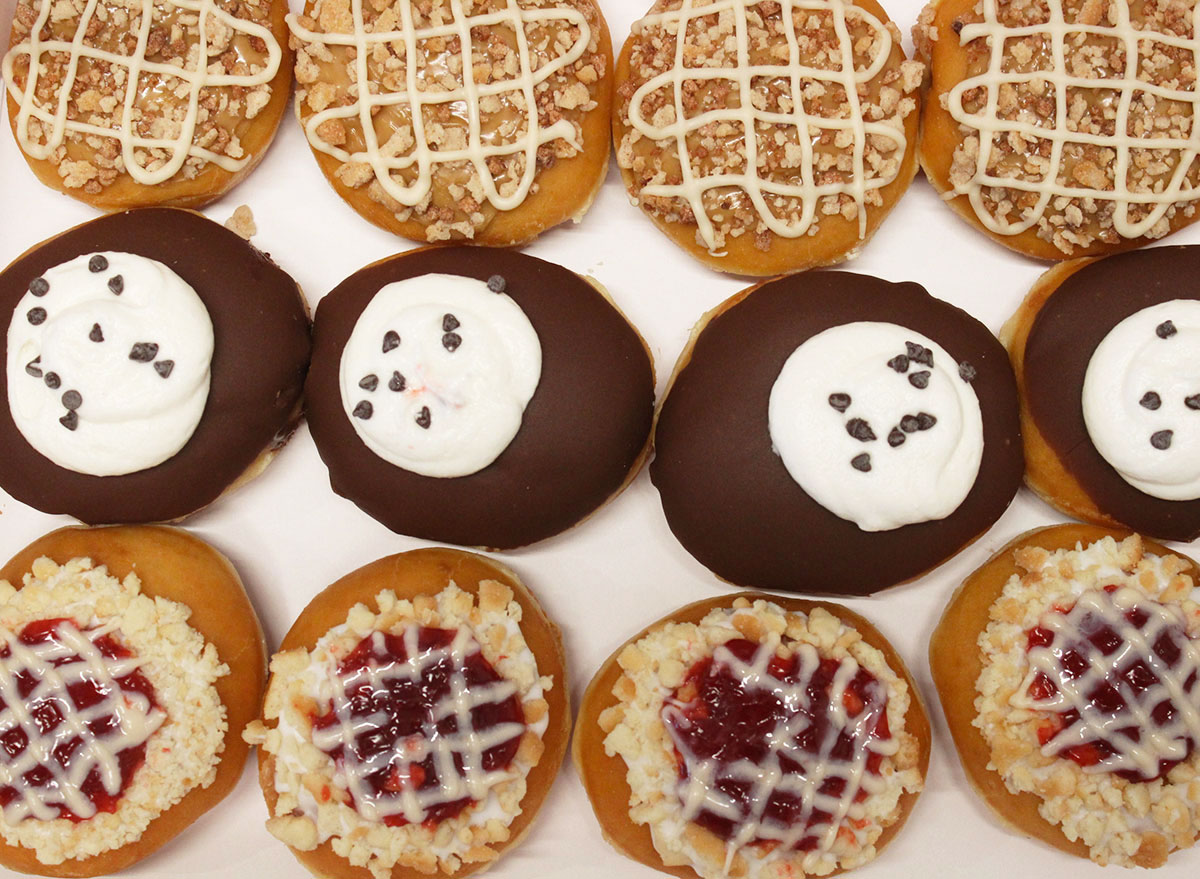 In case you haven't heard, Krispy Kreme has rolled out a new collection of limited-edition donuts called Easy as Pie, available now until Thanksgiving Day, which is Thursday, Nov. 28. The successful donut shop wanted to celebrate the holiday by serving pillowy donuts with flavors that resemble three popular pies—all of which you are bound to find at the Thanksgiving table.
Intrigued by this new launch, the editors at Eat This, Not That! took it upon themselves to do an old fashioned taste test to see which donut tastes most like the delicious pie it's mimicking. Before we tell you which one we thought was the absolute best, here's a little description of each.
What donut flavors are in the Krispy Kreme Easy as Pie collection?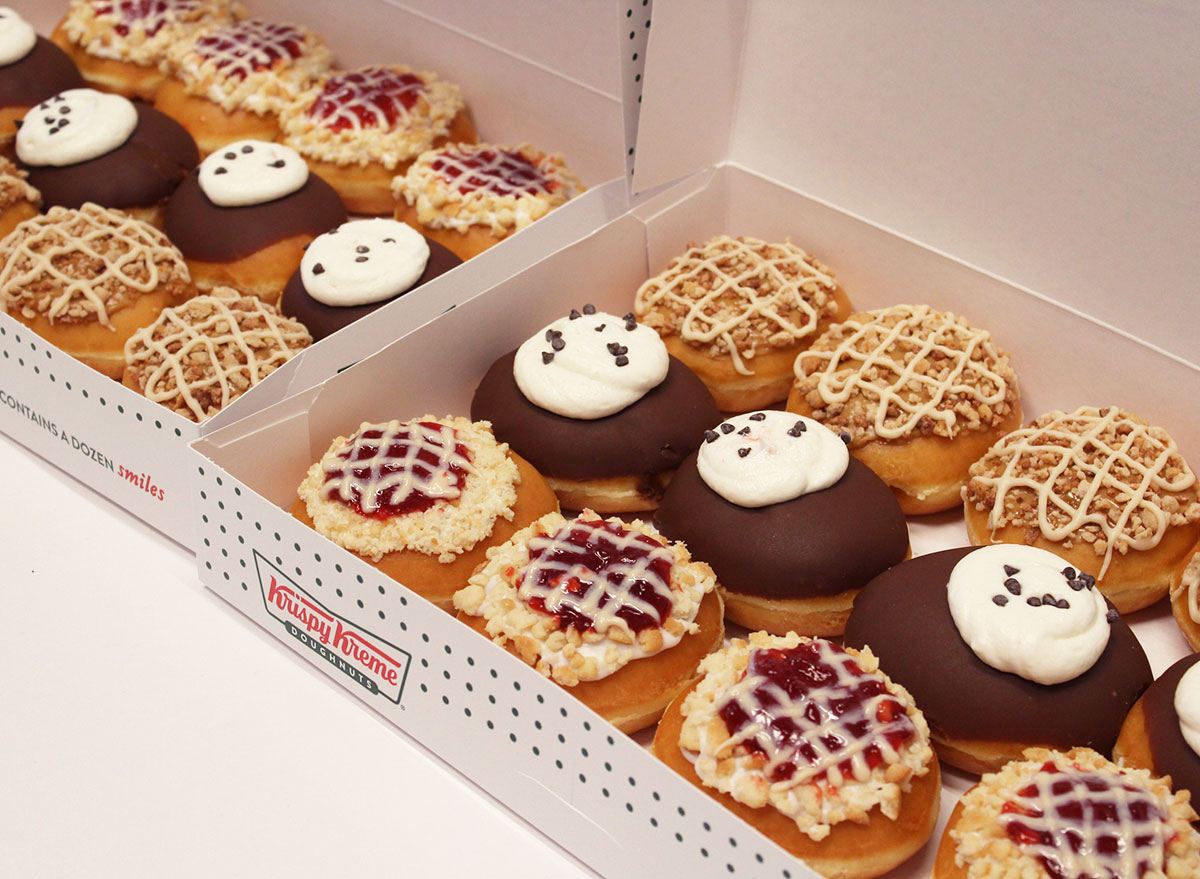 There are three Easy as Pie donut flavors:
Dutch Apple Pie: A fresh take on a fall favorite, this donut is bursting with apple pie filling, dipped in caramel icing, drizzled in streusel topping and hand‑decorated with an icing lattice.
Chocolate Kreme Pie: Chocolate pie lovers will rejoice in this donut filled with silky chocolate Kreme, dipped in chocolate icing, topped with a dollop of Kreme and finished with mini-chocolate chips.
Cherry Pie: This brightly colored donut is topped with pie crust crumbles and a cherry filling and hand-decorated with an icing lattice, making it look and taste as sweet as cherry pie.
Which one did we think tasted the best?
The donut that stole our hearts and made us the most nostalgic was the Dutch Apple Pie.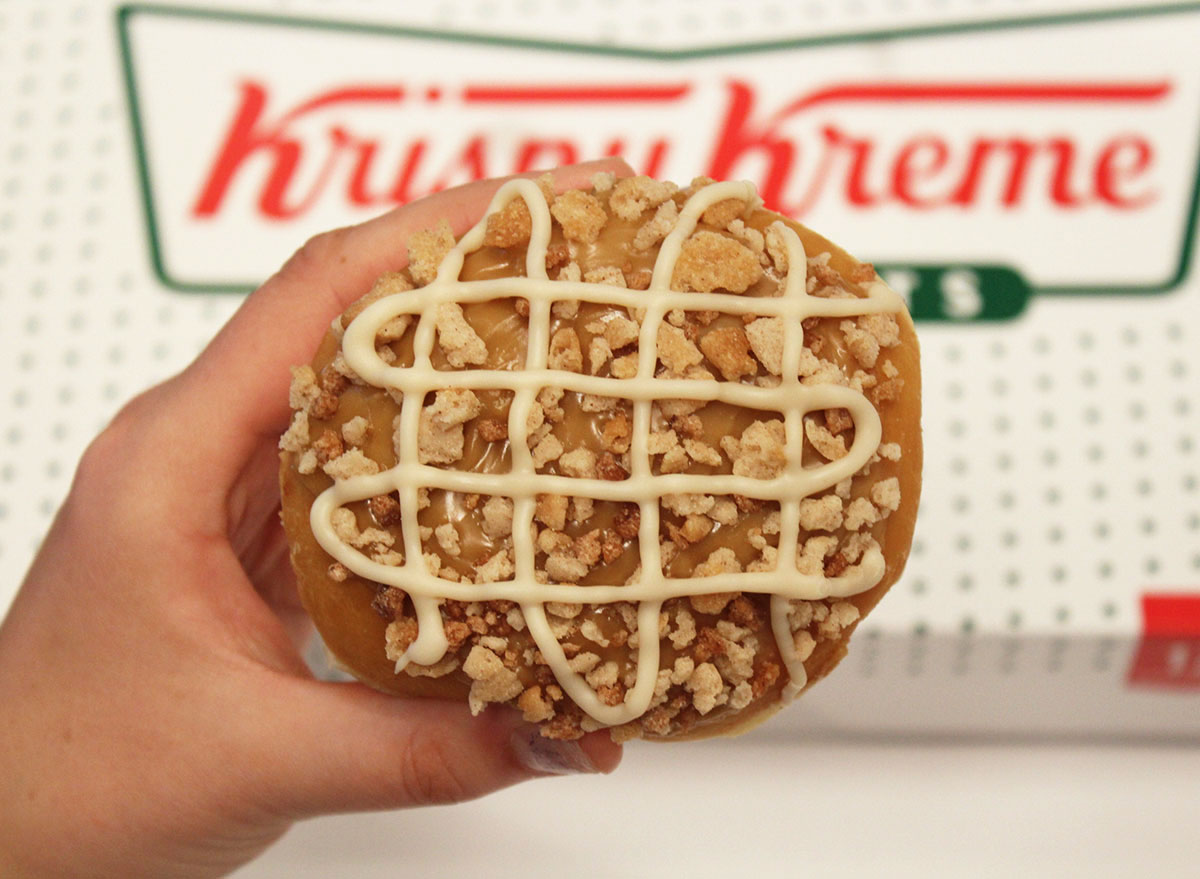 6254a4d1642c605c54bf1cab17d50f1e
While we have some avid chocolate lovers in this office—myself included—we all agreed that while the chocolate filling (that seemingly oozed out of the donut just seconds after cutting it in half) in the Chocolate Kreme Pie donut was heavenly, the Dutch Apple Pie flavor best resembled the traditional pie.
With a topping that looks like the surface of an apple streusel pie, it was hard not to be lured by this decadent Krispy Kreme donut.
"It reminded me of a true classic Krispy Kreme donut with the added benefit of a crunchy, crumbly apple-y streusel topping. I thought it was the perfect amount of sweet," wrote one editor.
Remember, our two requirements were that the donut must taste delicious as well as echo the flavor of the pie it's supposed to emulate. We all came to the consensus that out of the three Easy as Pie Krispy Kreme donuts, the Dutch Apple Pie variety checked both of those boxes.
"The best of the best! The apple flavor is simply delicious and truly tastes like an actual pie," said one editor.
This same editor also noted that when we opened the box, all three pie-inspired donuts collectively smelled amazing. While the apple donut was our favorite, we did enjoy all of the flavors and we think you will too.
Also, mark your calendars because, on Saturday, Nov. 23, fans of Krispy Kreme can get two dozen donuts for just $13. Yep, that's right, 24 donuts for less than $15. See you there!