The Best Chocolate in Every State, According to Yelp
We pinpointed some of the best places to wake up your sweet tooth.
For those who can't resist an intoxicatingly sweet caramel-filled chocolate truffle or a scrumptious piece of cranberry pistachio white chocolate bark, you deserve to know which chocolatiers are crafting the very best desserts in your state. Thankfully, our friends at Yelp did the heavy lifting for us by compiling the data, and then we explored exactly what makes each place so exceptional to determine the best chocolate shop in every state. Some of the chocolate shops, such as Markham & Fitz in Arkansas, are known best for drinking chocolates, while others, such as Newfangled Confections in Indiana, are known for one-of-a-kind creations. We hand-picked what we thought was the very best chocolate treat served at each shop.
Methodology: This is a list of the best places for chocolate in each state in the United States, according to Yelp. All the businesses on this list are in the Chocolatiers category on Yelp. "Best" is measured using an algorithm that looks at the number of reviews and star ratings for a business.
And for more, don't miss these 15 Classic American Desserts That Deserve a Comeback.
ALABAMA: Fudge Sampler Boxes from Chocolate Corner & Ice Cream in Gulf Shores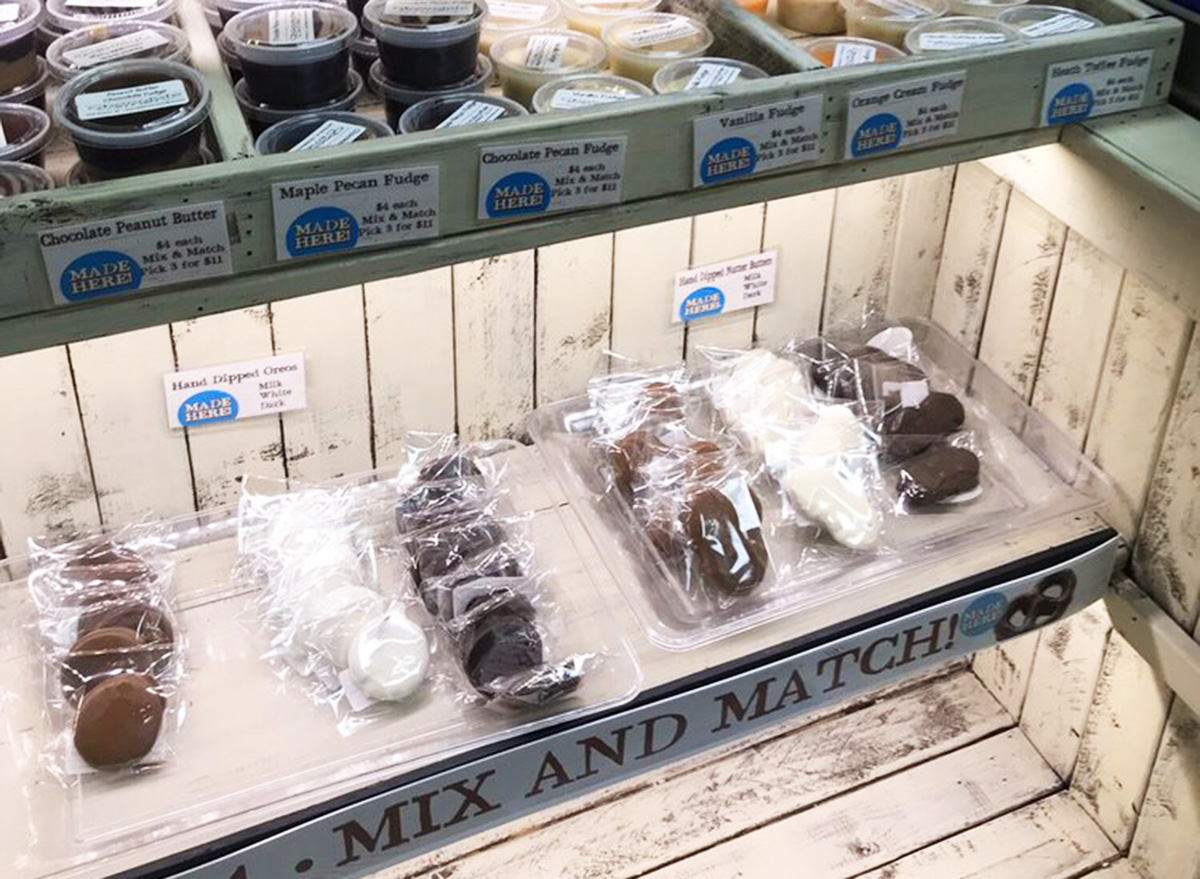 From pecan caramel paws to gourmet truffles, this Alabama chocolate shop has got everything your sweet tooth desires. What appears to be one of the popular chocolate treats served at this chocolate shop is the fudge sampler packs, which allow the customer to choose up to six different kinds of fudge, including flavors such as chocolate amaretto, maple pecan, and cookies & cream.
Where else can you find unique flavors similar to these fudgy delights? Well, at an ice cream shop, of course! Check out The Absolute Best Ice Cream Shop in Every State for more.
ALASKA: Chocolate Bon Bon from Aurora Chocolate in Anchorage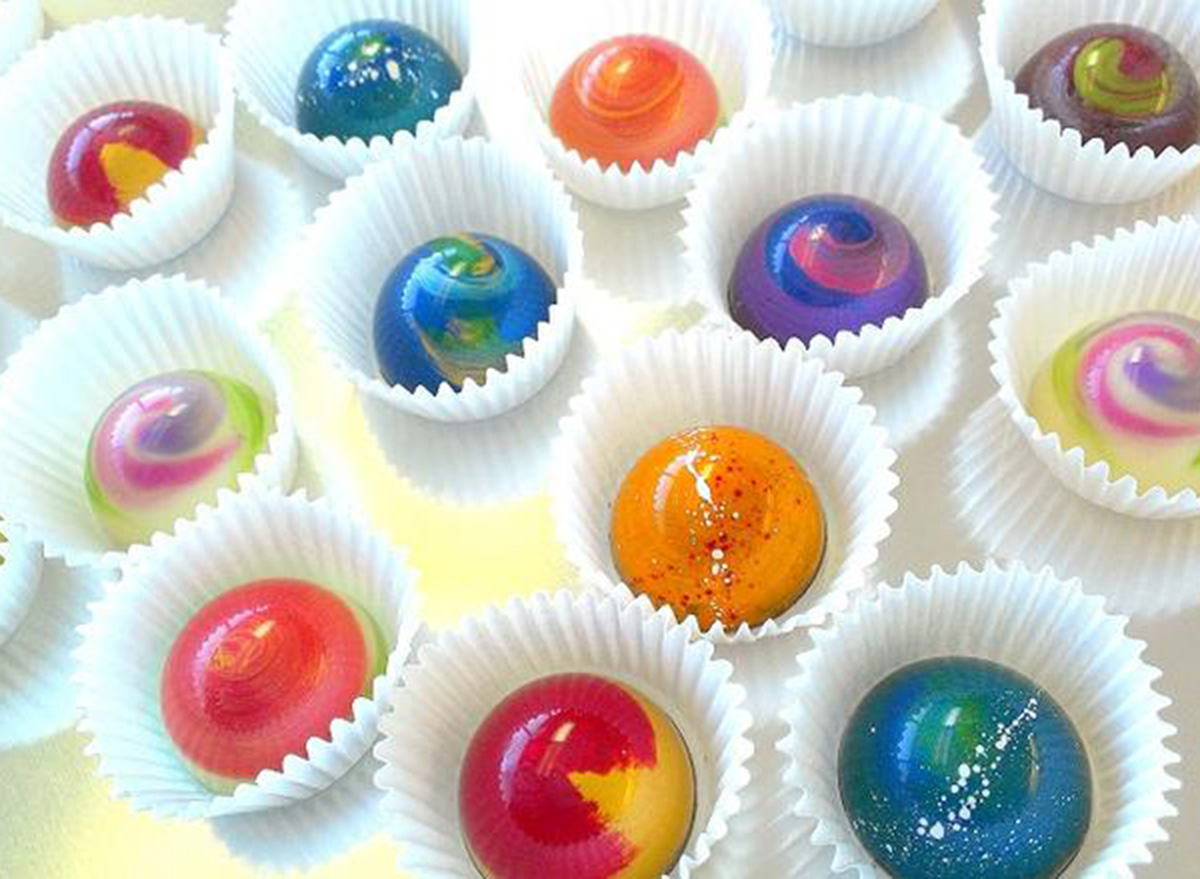 We hear the Aurora chocolate bonbons are a hit at this chocolate shop. Each bonbon is hand-painted with special care, which is evident because the exteriors look as glossy as royal icing on cookies!
Want to make sure you're really perfecting your baking skills at home? Here are The 30 Worst Mistakes You're Making When Baking Cookies.
ARIZONA: Cinnamon Plum Bonbon from Zak's Chocolate in Scottsdale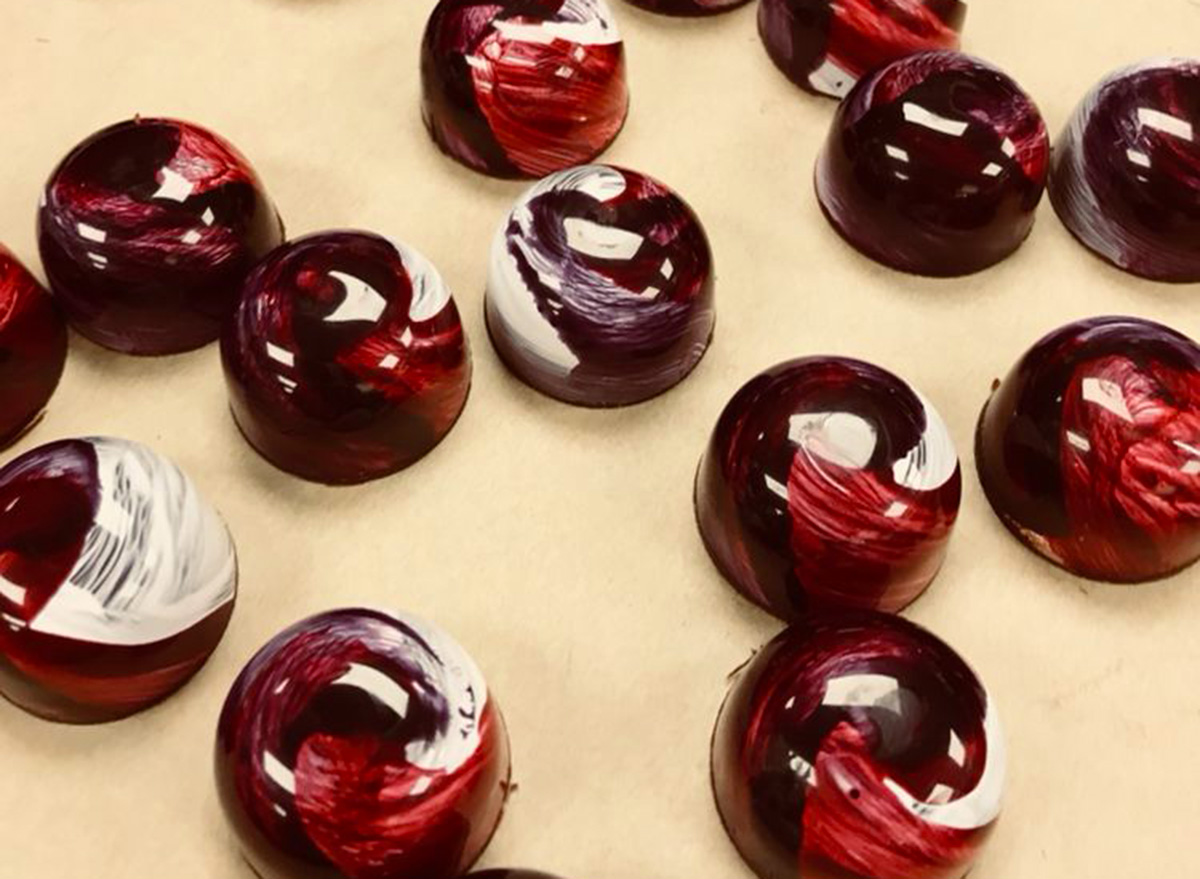 Have you ever had a cinnamon plum bonbon? If you're near the Scottsdale area in Arizona, look no further, as this happens to be one of Zak's Chocolate's specialties. Also, make sure to come here for Valentine's Day for intricate heart-shaped truffles and chocolates.
Looking for some interesting ways to add to your baking? Try these 25 Healthy Ingredient Swaps for Baking for some fun ingredients!
ARKANSAS: Chocolate Sea Salt Caramel from Markham & Fitz in Bentonville
With bean-to-bar chocolate, Markham & Fitz incorporates the sweet stuff into anything from rich chocolate drinks such as Spice Goals (75 percent drinking chocolate mixed with housemade fall syrup and coconut milk) to a Bolivia dark chocolate-based creme brulee. The chocolate sea salt caramel can't be missed, though.
CALIFORNIA: Artisan Hand-Painted Chocolates from Ex Voto Chocolates and Confections in Ventura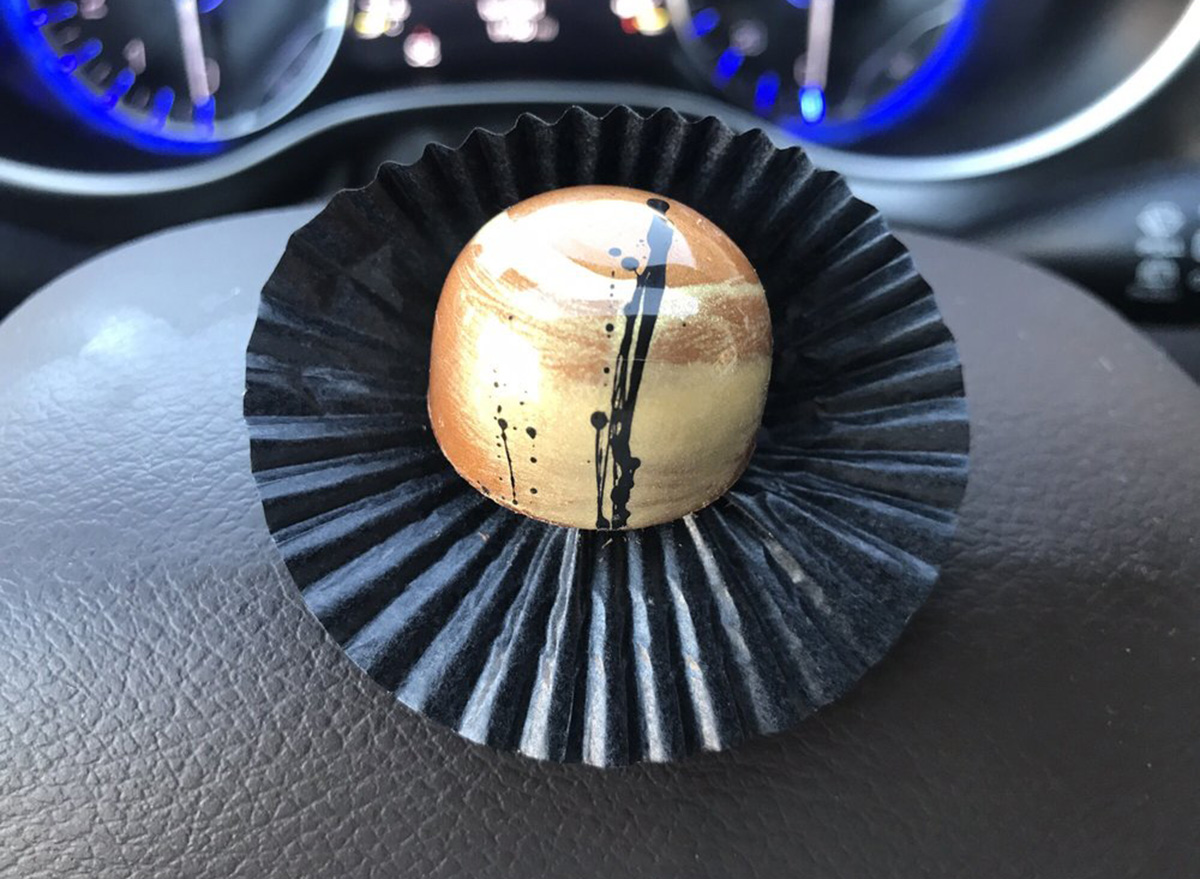 Ex Voto Chocolates and Confections handcrafts the best artisan chocolates in the state. Head to this chocolate shop for an assortment of truffles, ice cream, and baked goods.
Wondering where you can snag a burger to off-set all this chocolate? We rounded up The Absolute Best Burger in Every State, too!
COLORADO: Passion Fruit Mousse Bomb from Piece, Love, and Chocolate in Boulder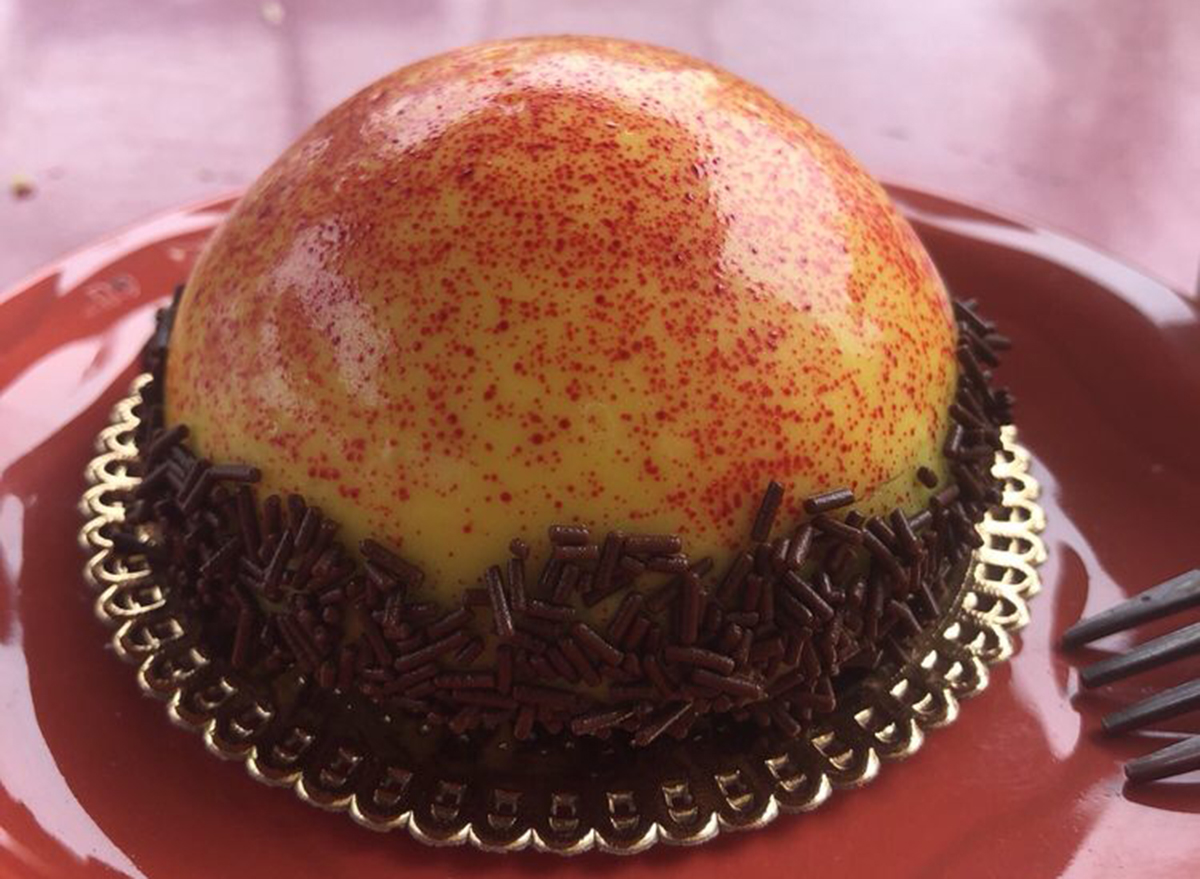 We love the name of this chocolate shop in Boulder. From yule log cakes to slices of caramel and chocolate-covered gingerbread, there's something for everyone to sink their teeth into here. Of course, you cannot go into this shop without purchasing a couple of ornate truffles. There are even vegan truffles, as well as ones that are infused with alcohol. The passion fruit mousse bomb, however, has a lot of reviewers on Yelp talking, which gives us the impression that it's one of the best things to order.
CONNECTICUT: Lavender Chocolates from Thorncrest Farm & Milk House Chocolates in Goshen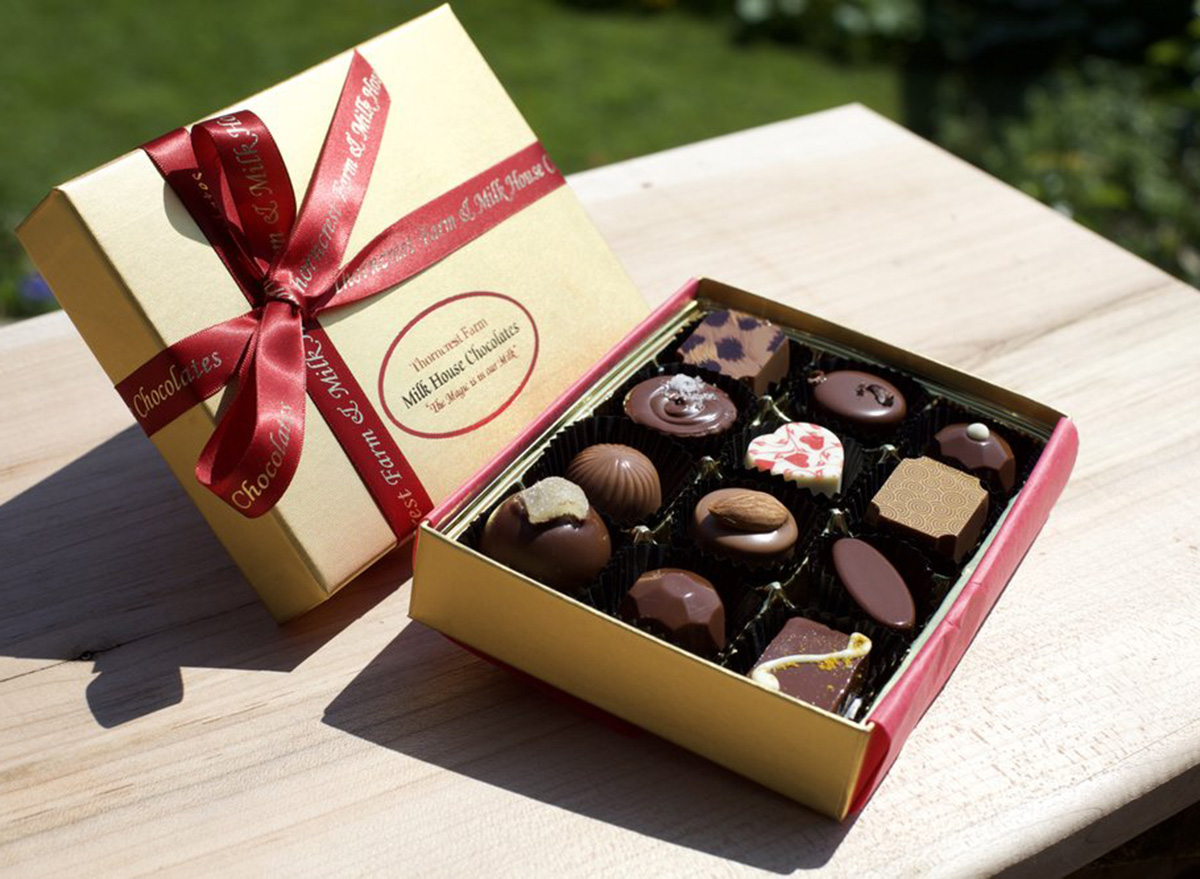 "Whenever I'm in the area I make it a point to visit this place. The staff is an absolute delight and the chocolates are out of this world," wrote one Yelp reviewer.
This place is both a chocolate shop and a farm! Nosh on some lavender chocolates as you pet some friendly cows.
Looking for something not as sweet to dine on before you dive into some chocolates? Check out The Most Mouth-Watering Taco in Every State.
DELAWARE: Chocolate-Covered Strawberries from Sweet Serenity Chocolates in Seaford
Chocolate-covered strawberries, hand-dipped buttercream truffles, and cake pops? It's no wonder why Sweet Serenity Chocolates is the best chocolate shop in Delaware—the options are endless! But you really can't ever go wrong with a classic chocolate-covered strawberry.
FLORIDA: Farris Wheels from Farris & Foster's Chocolate Factory in Orlando
Sadly, Yelp's top chocolate shop in Florida, La Bonne Adresse in Hollywood, has closed. But we love the look of Farris & Foster's Chocolate Factory in Orlando, too. The Farris Wheels feature chocolate-covered nuts with caramel.6254a4d1642c605c54bf1cab17d50f1e
GEORGIA: Heart-Shaped Truffles from The Chocolaterie Luxury Chocolates in Duluth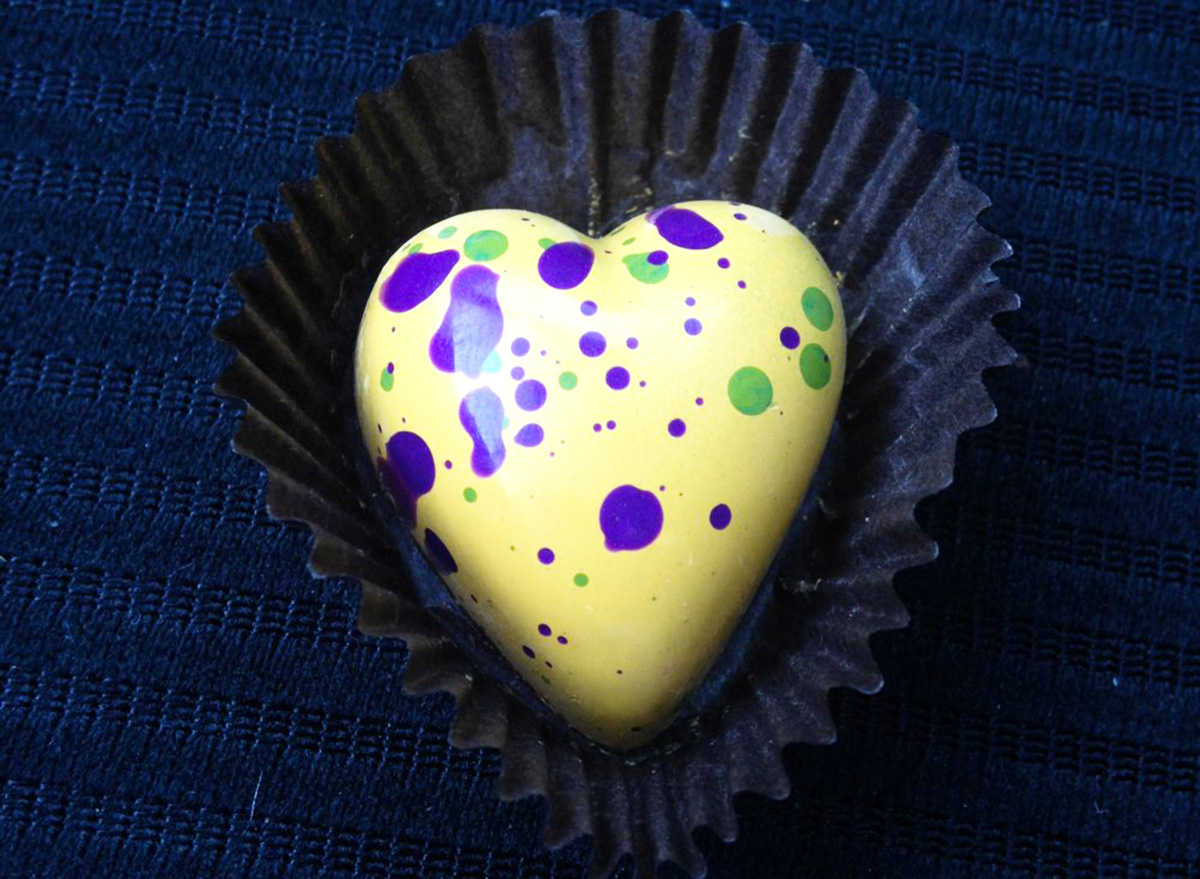 What if we told you that you could order chocolate truffles shaped like butterflies, turtles, and hearts? At The Chocolaterie Luxury Chocolates, that's 100 percent doable!
HAWAII: Almond Pretzel Truffle from Manoa Chocolate Hawaii in Kailua
"Manoa chocolates are absolutely delicious. So much flavor, smooth, not overly sweet, and made with quality ingredients," wrote one reviewer on Yelp.
After the pandemic is over, take a tour at Manoa Chocolate Hawaii to learn exactly how the chocolates are made, and be sure you taste the almond pretzel truffle while you're there.
IDAHO: Lemon Lavender Almond Bark from The Chocolat Bar in Boise
What should you order from The Chocolat Bar in Idaho? We read that the lemon lavender almond bark bark is heavenly.
ILLINOIS: Manhattan Cocktail Truffles from Katherine Anne Confections in Chicago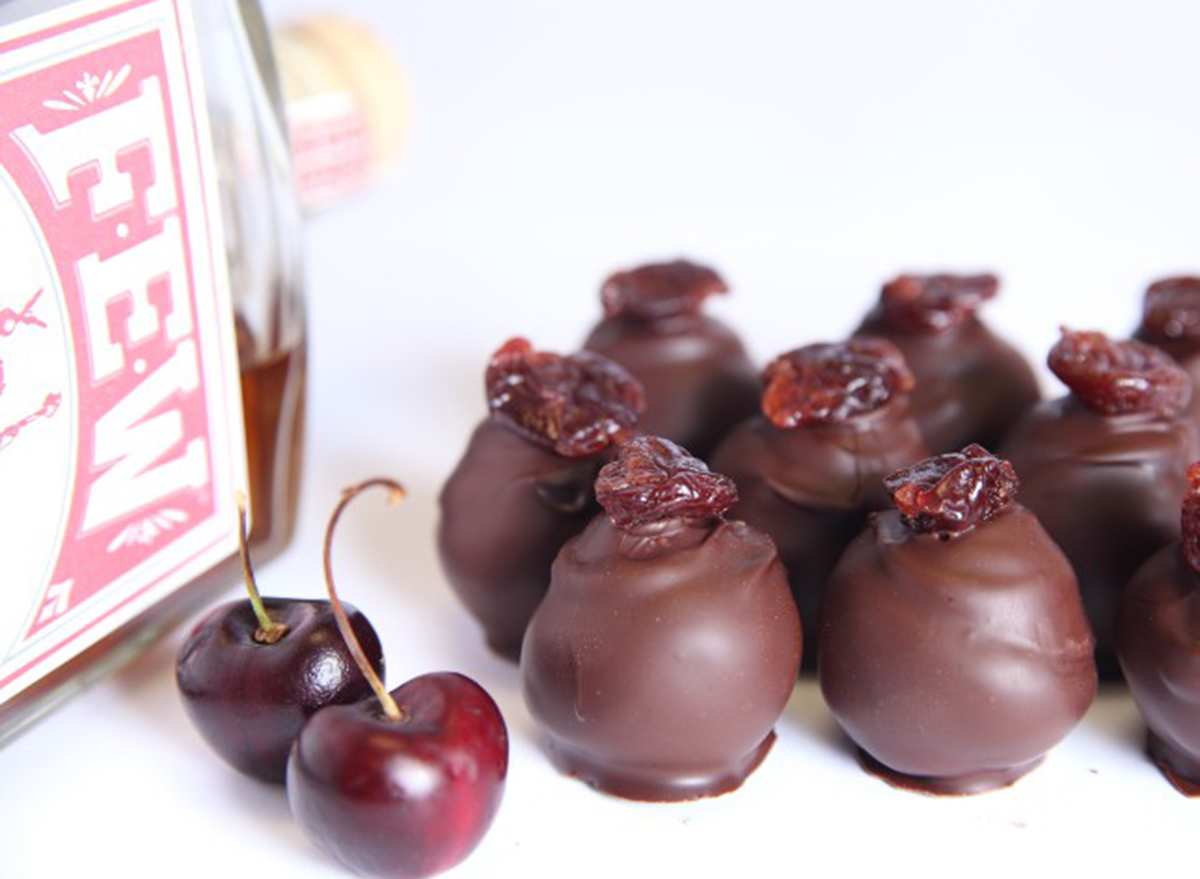 From flavored marshmallows including caramel and mocha to the much-talked-about Manhattan cocktail truffles, Katherine Anne Confections is the place to go in Illinois for all sweet tooth cravings.
INDIANA: Frittle from Newfangled Confections in Indianapolis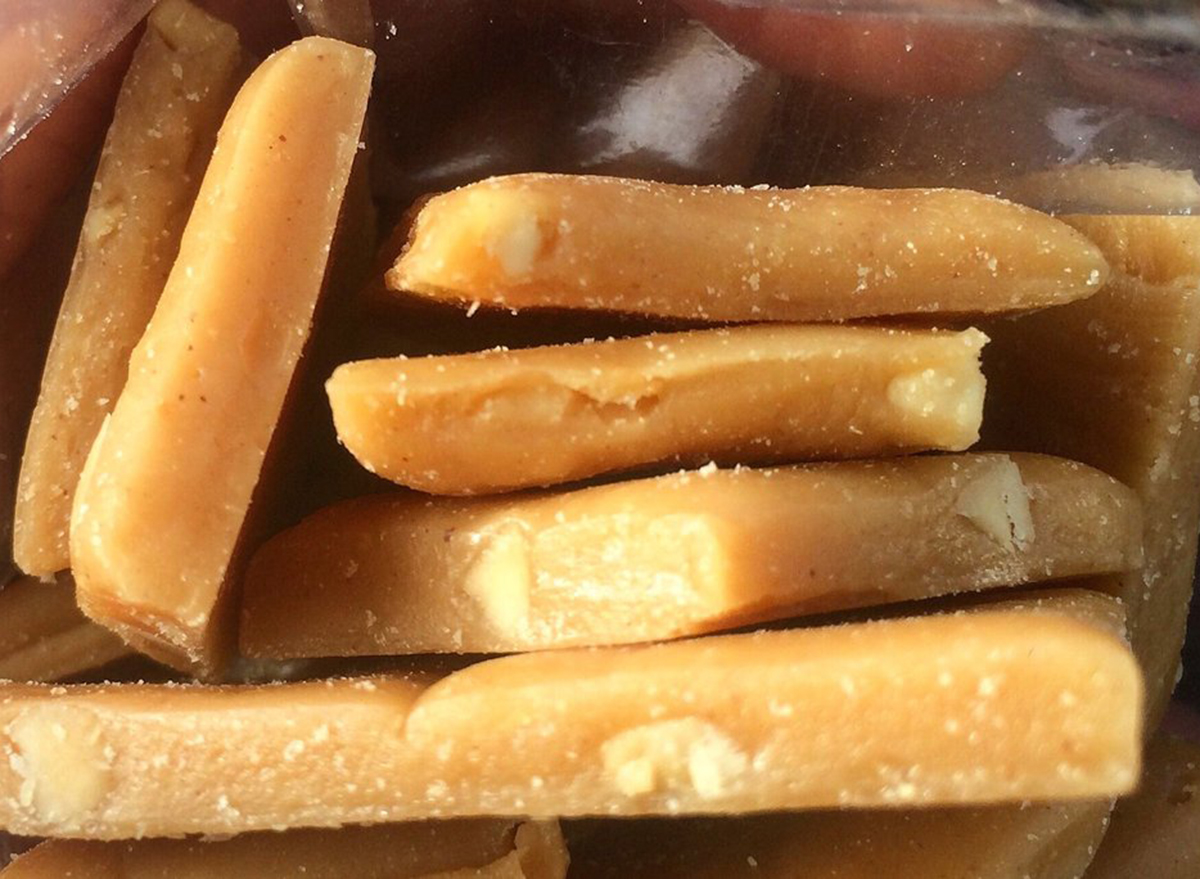 Aside from its decadent chocolates, Newfangled Confections is known for its hybrid of peanut fudge and brittle called the Frittle.
"I'm usually only into chocolate when it comes to candy. That being said, this frittle is some of the best that I've ever tasted. It's sweet, but salty. It's not overly dry, but not too moist. It's the perfect texture with the best crunch," wrote one Yelp reviewer.
Peanut butter and chocolate truly do make a perfect pair. Want to find more? Here are The 20 Best Chocolate-Covered Foods for Your Sweet Tooth.
IOWA: Hot Chocolate from Chocolaterie Stam in Ames
This Dutch-inspired chocolate has been created by the Stam family in Amsterdam, and they've been at it since 1913. The inside of the chocolate shop is described by some reviewers as old school and homey. While the chocolates are delicious, we hear the hot chocolate is unrivaled.
KANSAS: Champagne Truffle from Cocoa Dolce Artisan Chocolates in Wichita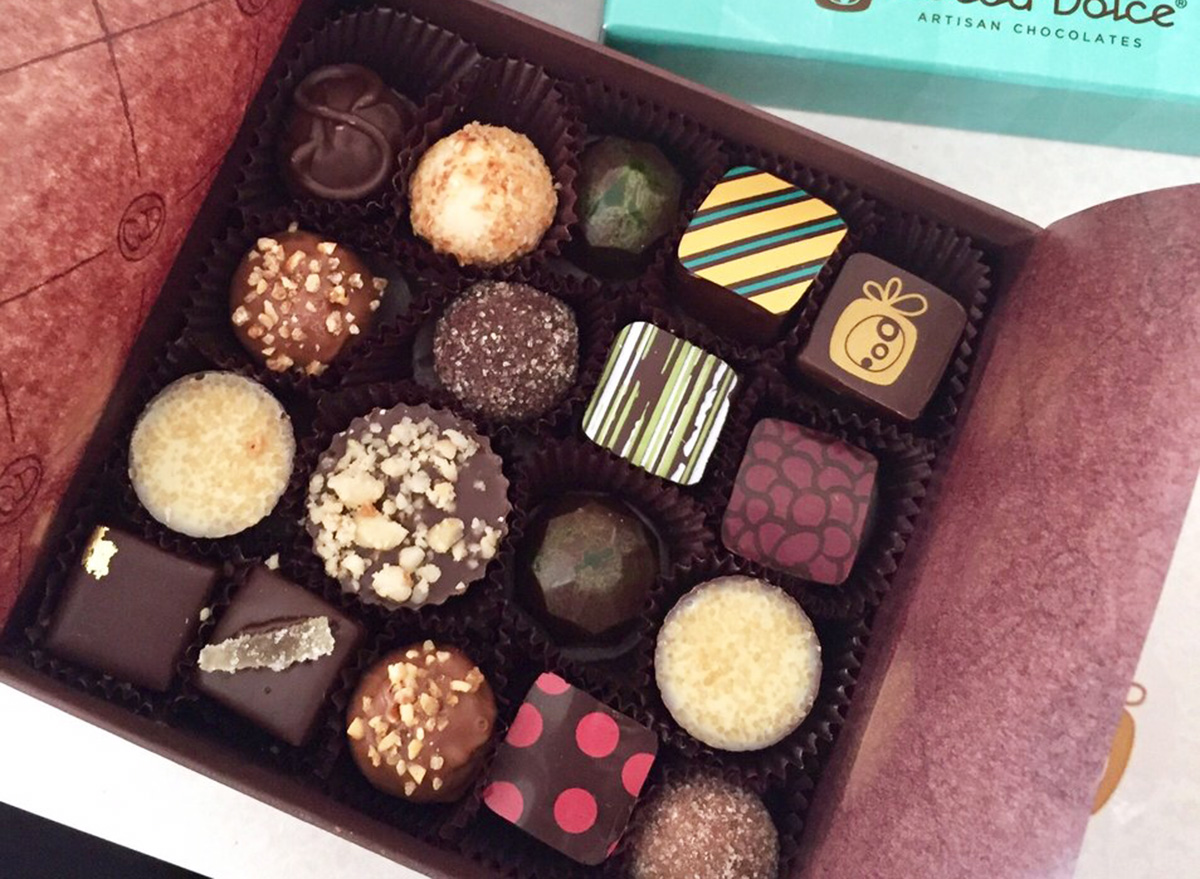 At Cocoa Dolce Artisan Chocolates, you can be assured that you are getting the freshest and quality chocolates in the state, as no batch of chocolate is kept past four weeks. Not to mention all of the ingredients are made in-house, so you won't find any store-bought peanut butter inside of these chocolate treats or in the gelato—everything is truly handmade. We hear the Champagne truffle is out of this world, you can spot it in this picture—it's the second truffle in from the left in the second row.
KENTUCKY: Chocolate Maker's Mark Bottle from Art Eatables in Louisville
Yes, this bottle of Maker's Mark Whiskey is in fact made out of chocolate, which means Art Eatables may just be the most brilliant chocolate shop of them all.
LOUISIANA: Pralines from Southern Candymakers in New Orleans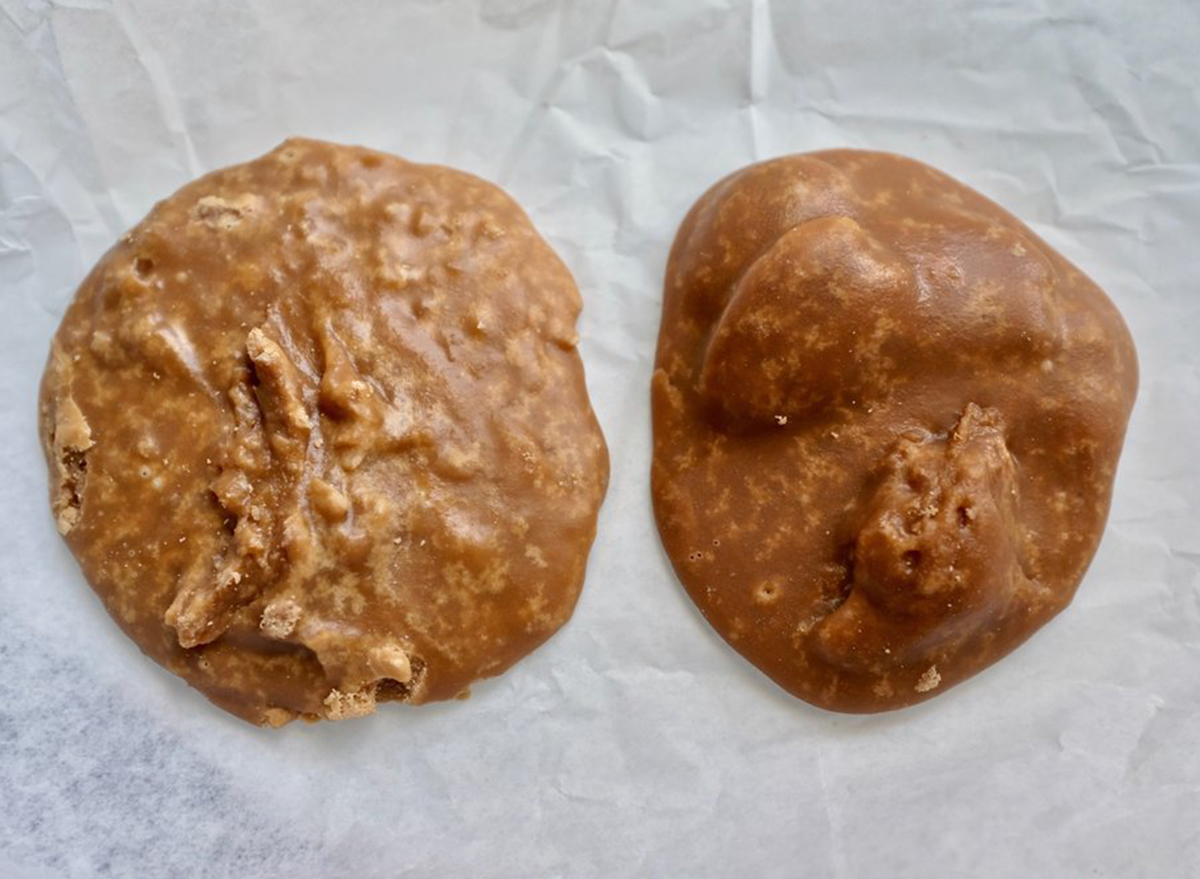 Pralines are a Southern treat, so it's no surprise this store in Louisiana excels at the nutty, creamy dessert. You'll definitely want to taste these when you're in New Orleans. And for more classic desserts, check out The Most Iconic Desserts Across the US.
MAINE: Sea Cucumbers from Monica's Chocolates in Lubec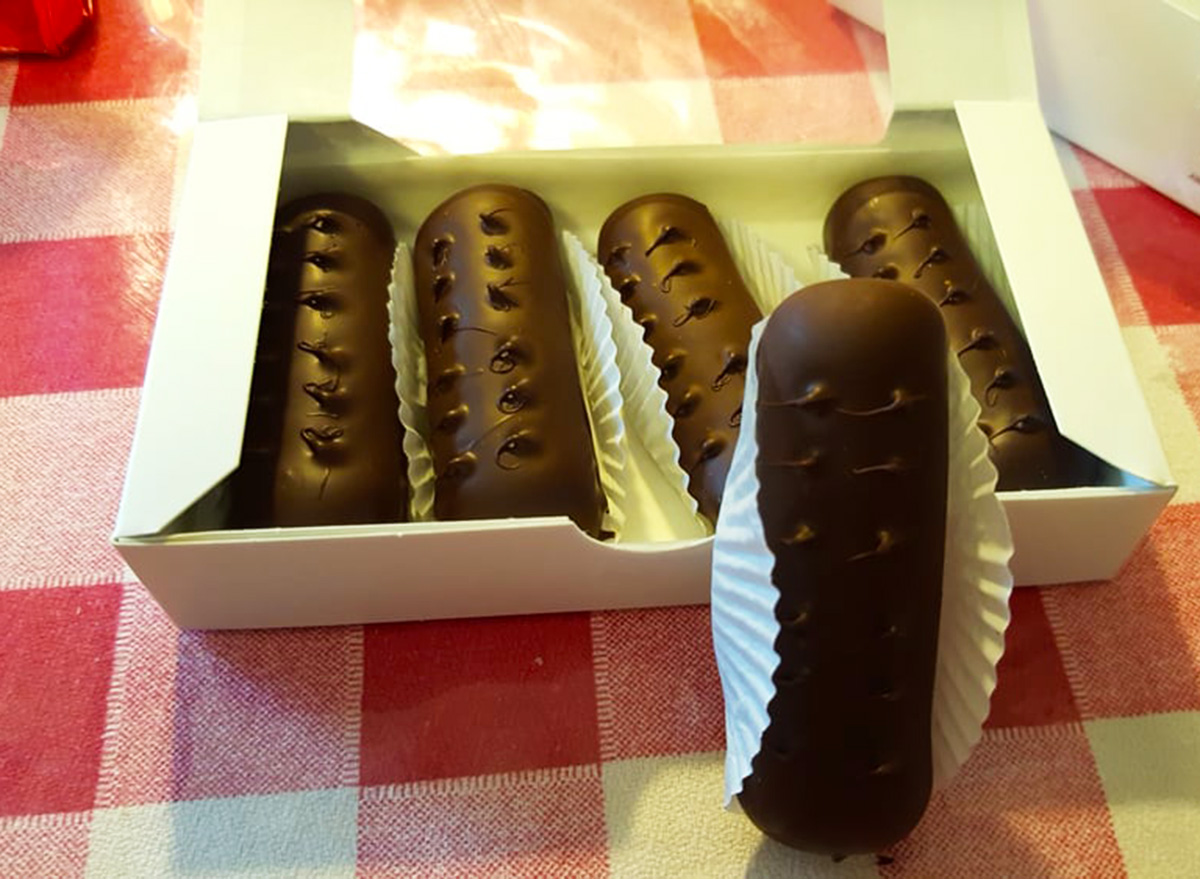 In case you were wondering, this is a photo of Monica's Chocolates Sea Cucumbers, which are chocolate confections shaped like sea creatures with a spiraled chocolate, caramel, and peanut butter filling.
NOTE: Monica's Chocolates is closed until April 1, 2021.
Want more of that old-school vibe? Check out The Best Hole-in-the-Wall Diner in Every State.
MARYLAND: Salted Caramel White Chocolate Triangle from Pure Chocolate By Jinji in Baltimore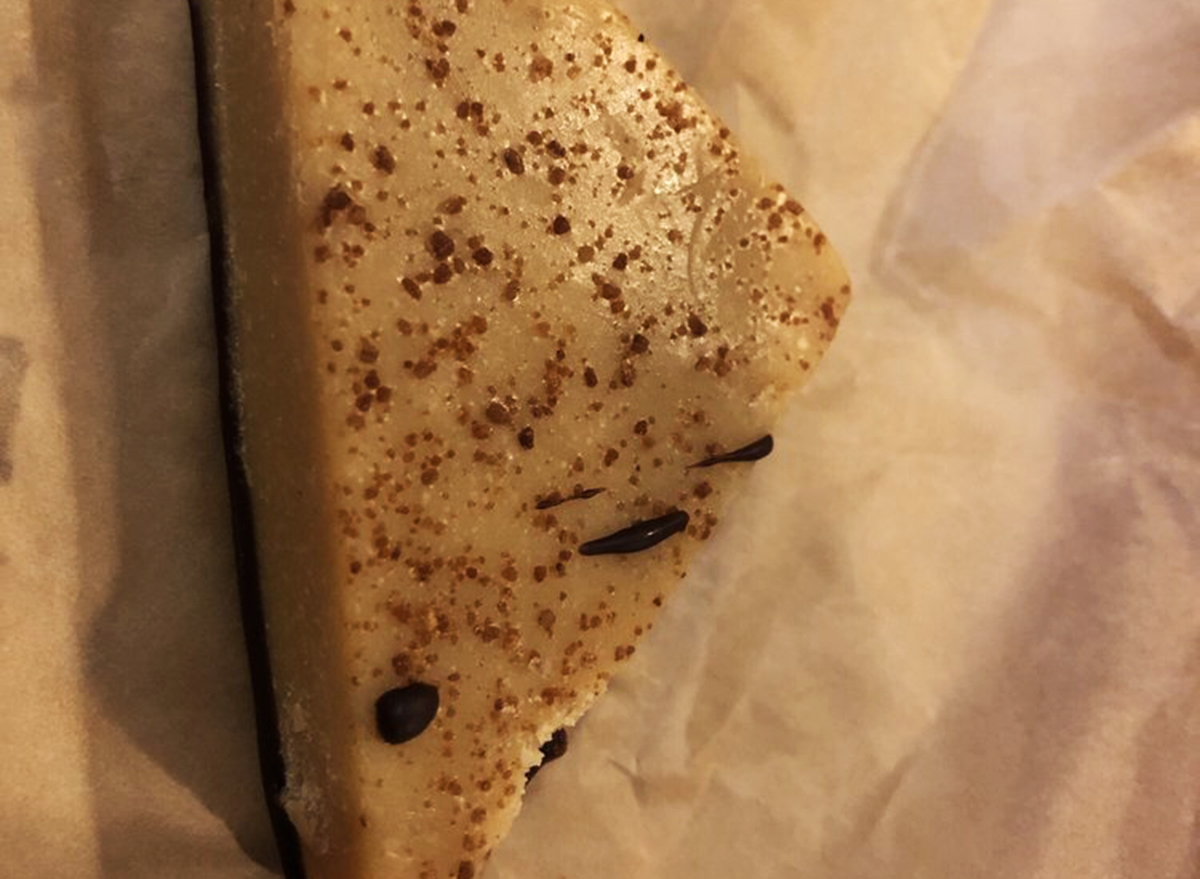 Pure Chocolate By Jinji serves chocolates that are dairy-free and don't include refined sugars. Try a chai truffle or a wedge of salted caramel chocolate! They even have a housemade raw vegan and gluten-free chocolate hazelnut spread. We hear the salted caramel white chocolate triangle is a true gem.
MASSACHUSETTS: Assorted Chocolates from Chequessett Chocolate in North Truro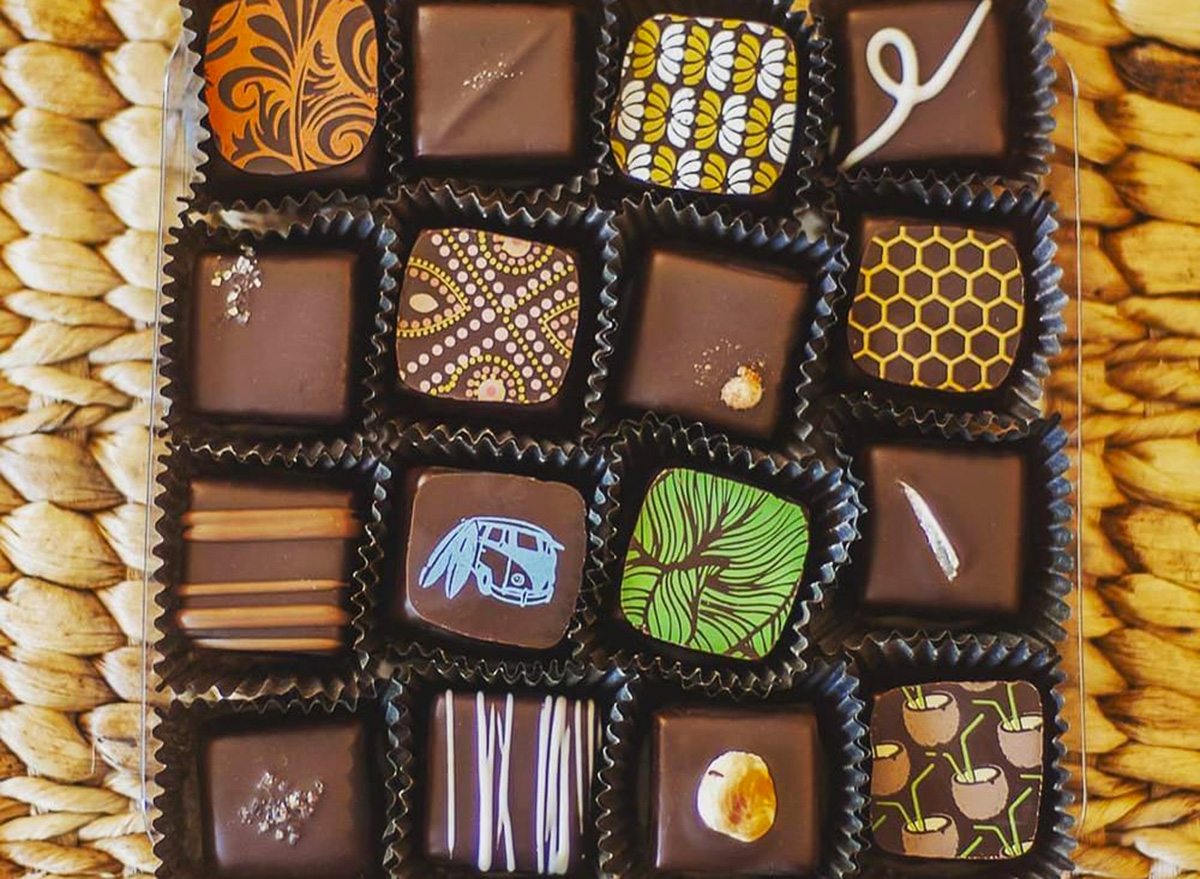 Chequessett Chocolate sustainably grows its cacao beans locally and at the origin in the Dominican Republic and Costa Rica. In other words, the making of this chocolate doesn't harm the environment. Plus, how gorgeous are those designs on top?
MICHIGAN: Thai Basil Black Pepper Truffle from Mokaya in Grand Rapids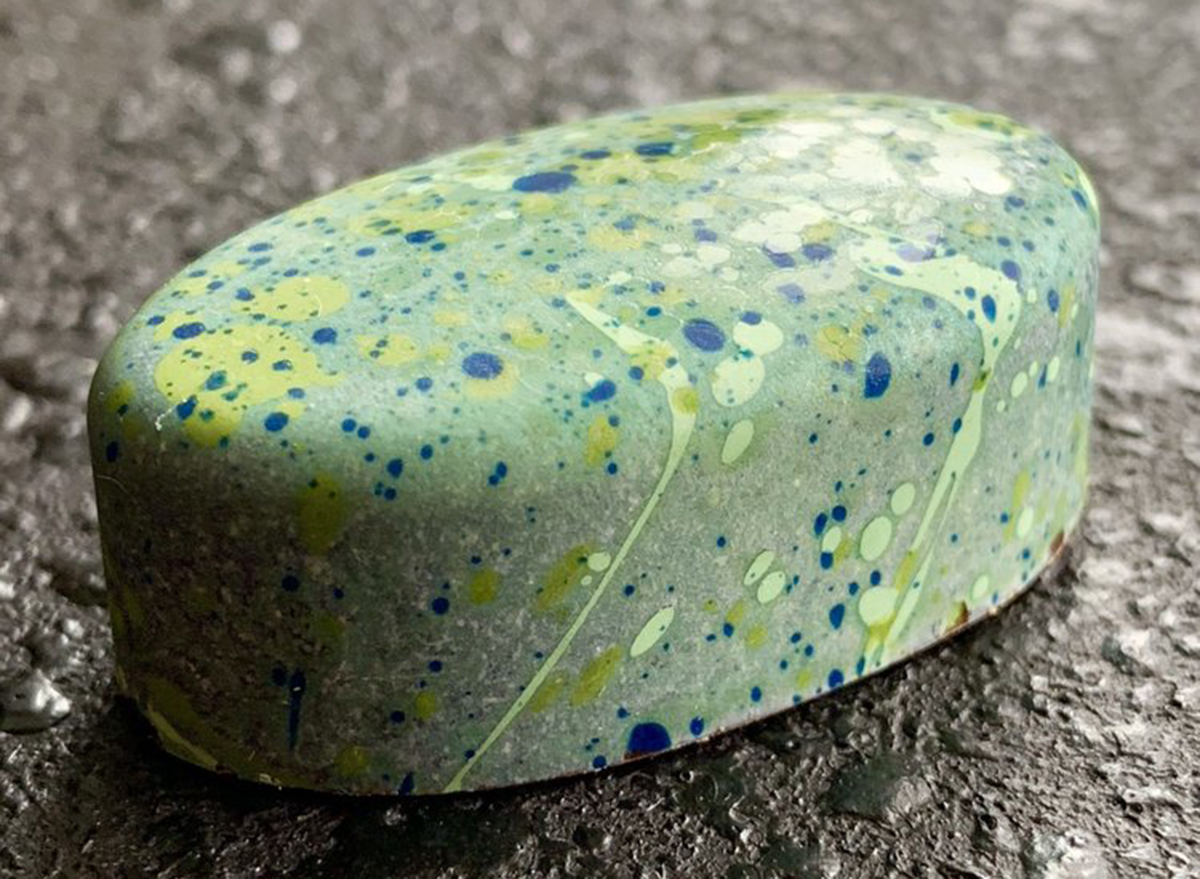 With non-traditional truffle flavors such as Thai basil black pepper, sundried tomato jelly with lemon thyme, and balsamic and white chocolate, you're bound to find a variety that pleases your palate.
MINNESOTA: Raspberry Truffles from Legacy Chocolates in Saint Paul
Looking for aromatic, mouthwatering truffles? If you're near or around the Saint Paul area, this is the place for you. Everything at Legacy Chocolates is made from scratch whether it be the truffles, sauces, or sipping chocolate drink—you can expect it all to be crafted in-house, especially the raspberry truffles.
MISSISSIPPI: Candied Caramel Pecan Apple from Rocky Mountain Chocolate Factory in Vicksburg
Rocky Mountain Chocolate Factory is a beloved chocolate chain in Mississippi. One of the most quintessential treats offered at this chain is the huge caramel apples that you'll crave long past Halloween.
And in case you were wondering, these are The Most Popular Candy Bars in America.
MISSOURI: Bananas Foster Chocolate from Christopher Elbow Artisanal Chocolates in Kansas City
"We are so lucky to have a gem like Christopher Elbow in Kansas City. If you are wanting to try different flavors, stop by on a first Friday when the chocolates are a dollar apiece," wrote one Yelp reviewer.
We'd be happy to spend more than a dollar on these beautiful chocolate truffles, especially the bananas foster version for a fruity, fun flavor.
MONTANA: Huckleberry Chocolate Swirl from Candy Masterpiece in Great Falls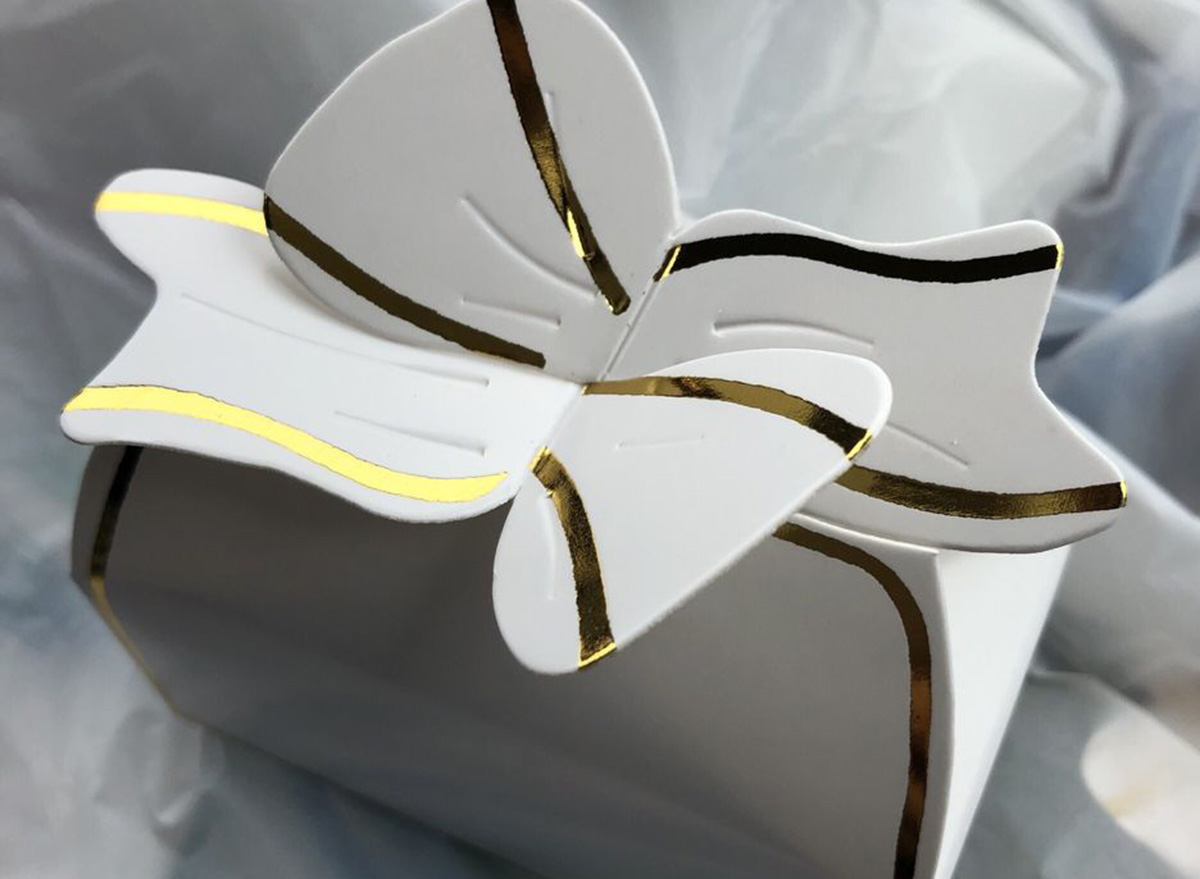 "This is my favorite store in Great Falls, for real. When people ask me what there is to do in the city, I send them to the candy shop," one Yelp reviewer wrote.
Try one of the masterpieces like the huckleberry chocolate swirl, for a unique fruity and chocolaty treat.
NEBRASKA: Turkish Coffee Chocolate from Chocolat Abeille in Omaha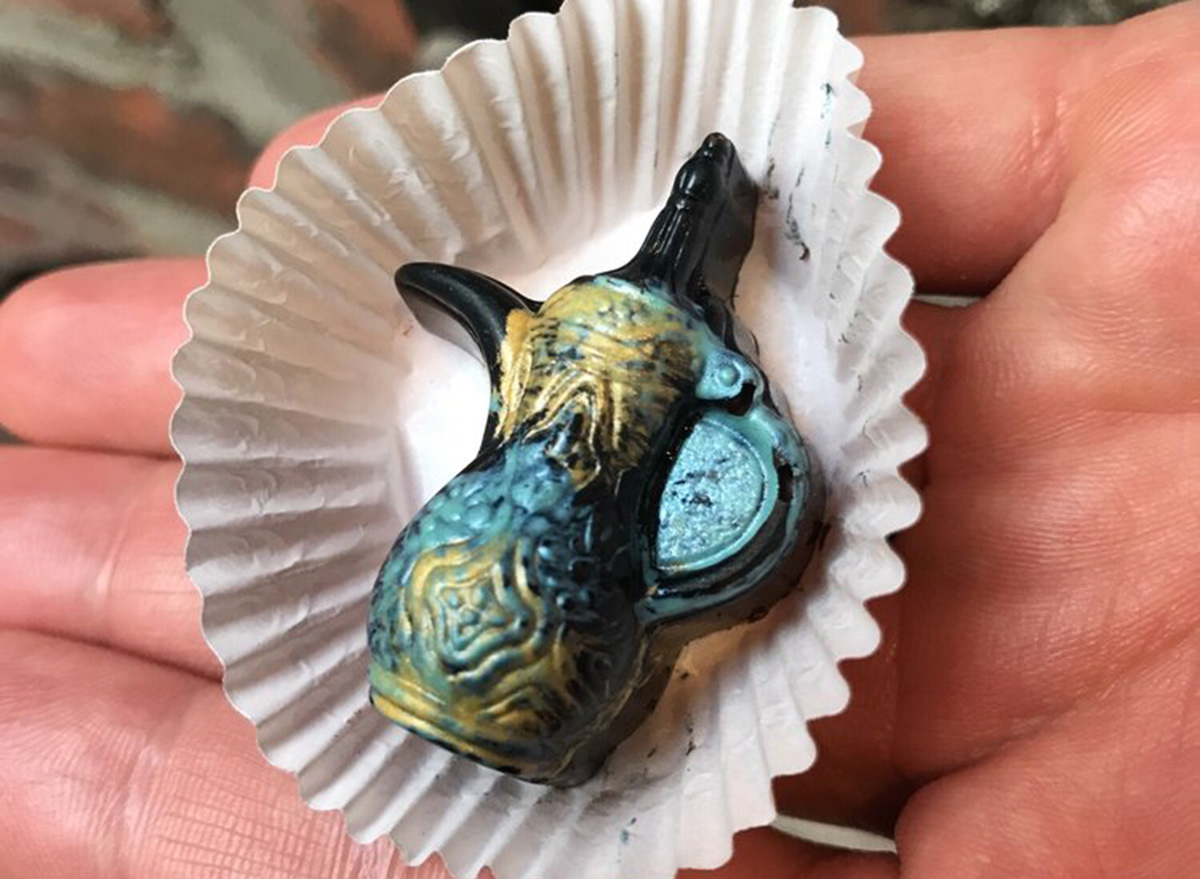 We can confidently say this is the first-ever Turkish coffee pot-shaped chocolate we have ever seen. It's the go-to at this Nebraska favorite!
NEVADA: Champagne Pierre Mignon from Royce Las Vegas at The Grand Canal Shoppes in Las Vegas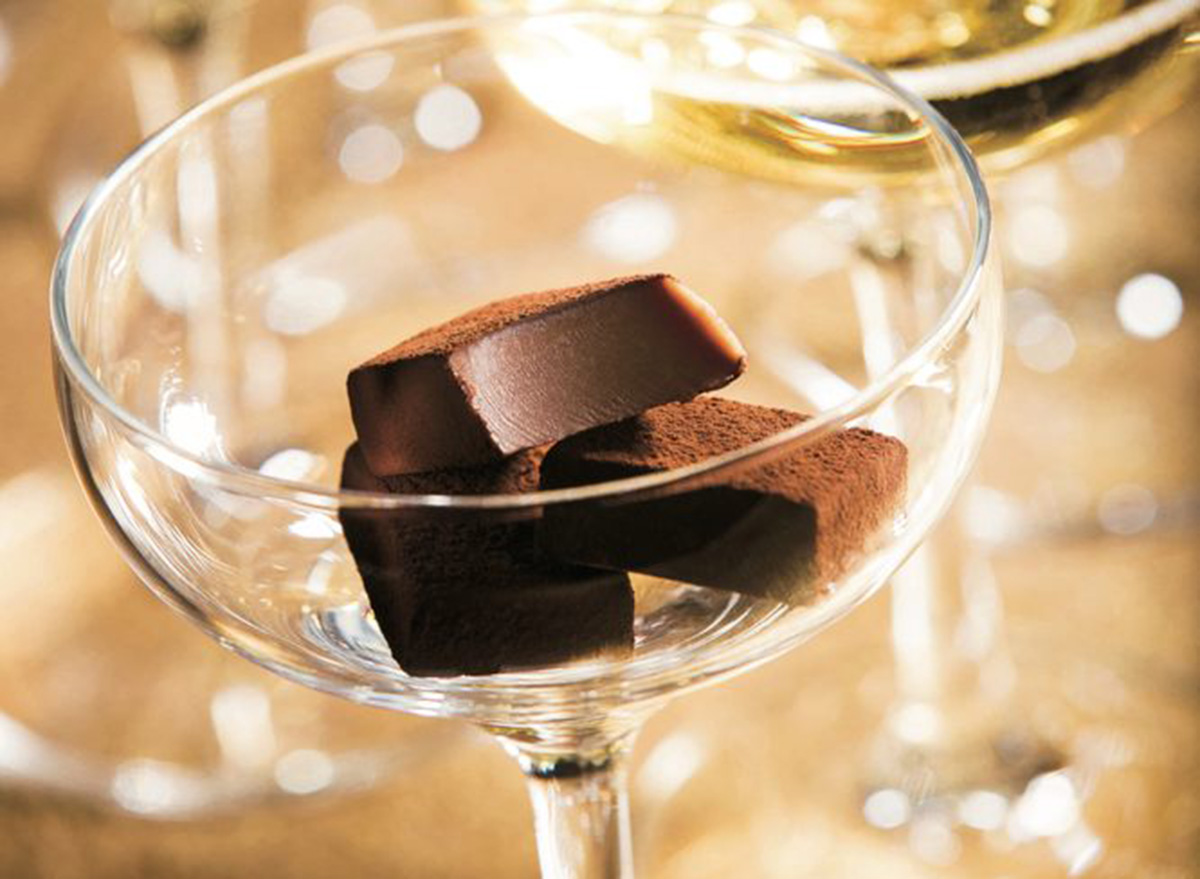 This chocolate looks absolutely divine, yes? Royce offers anything from matcha chocolate bites to what's called Nama chocolates, which are pictured above. This particular variety is the Champagne Pierre Mignon, containing milk chocolate, fresh cream, and a subtle champagne infusion.
NEW HAMPSHIRE: Tangerine Bonbon from Dancing Lion Chocolate in Manchester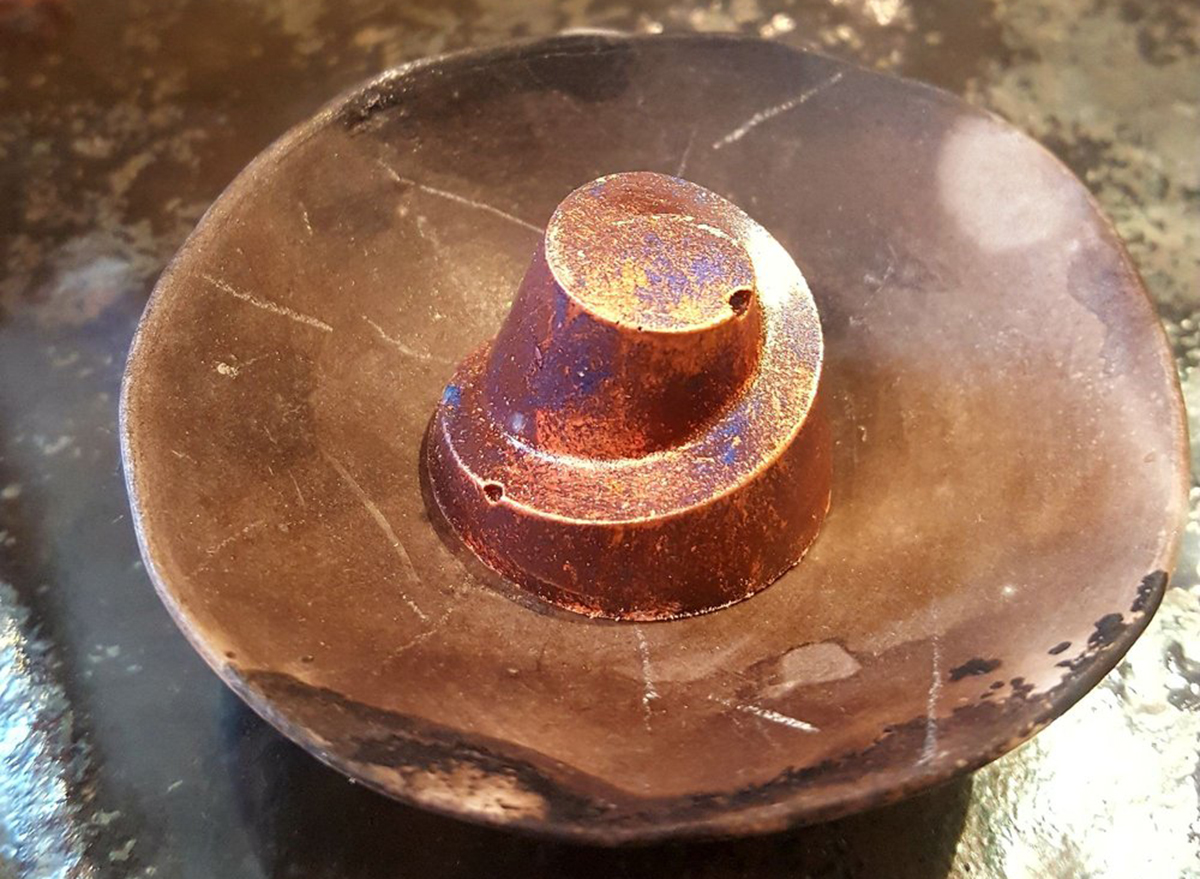 From chocolate bar tasting kits to bonbon sharing boxes, this is the perfect place to go if you need a last-minute gift for anyone who describes themselves as a chocolate lover. For a fun twist on the traditional bonbon, we recommend the tangerine bonbon.
While the truffles are a big deal here, These Are the Most Popular Items at America's Biggest Chain Restaurants if you're looking for a place to eat before dessert.
NEW JERSEY: Assorted Chocolates from Aunt Charlotte's Candies & Gifts in Merchantville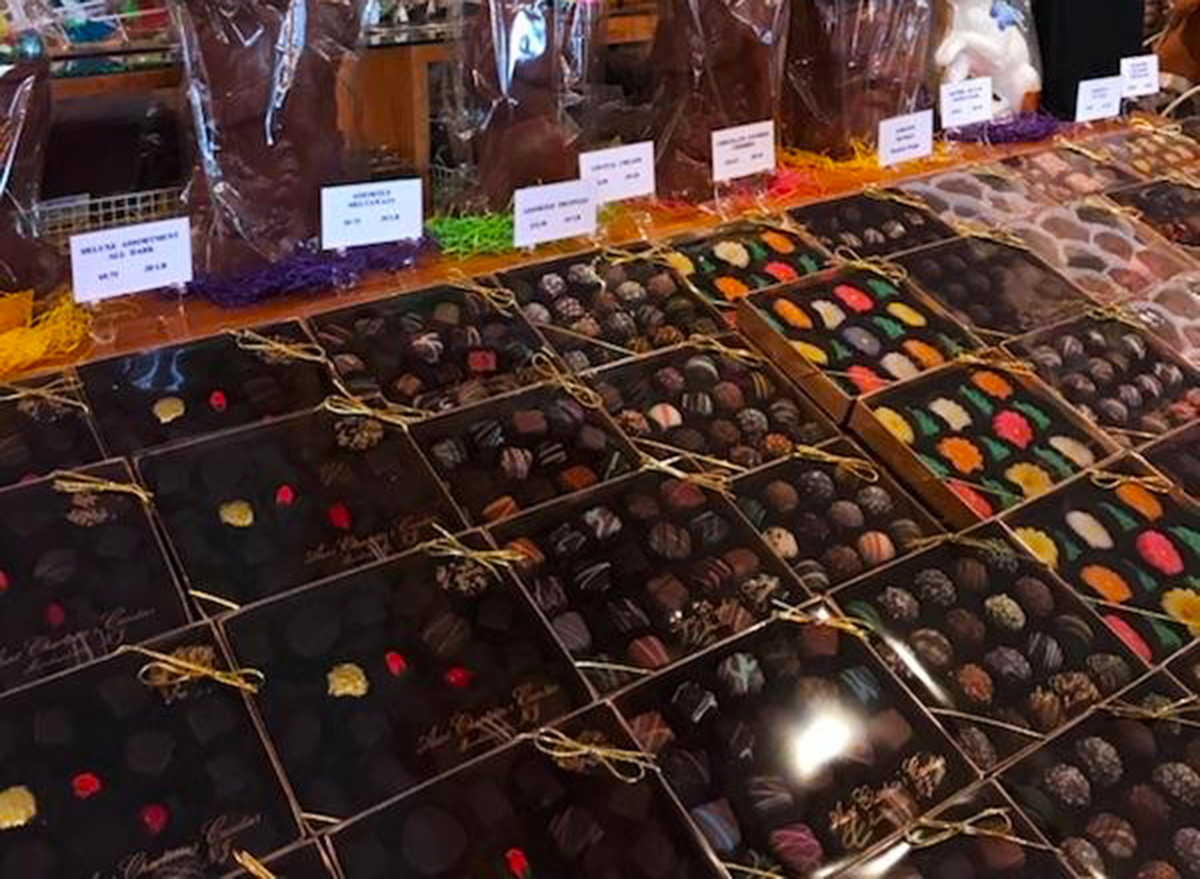 Aunt Charlotte's has been perfecting homemade candies for nearly 100 years, so these chocolate treats have to be the real deal, right? You can't go wrong with an assortment pack!
NEW MEXICO: Chocolate Torte from Chokolà in Taos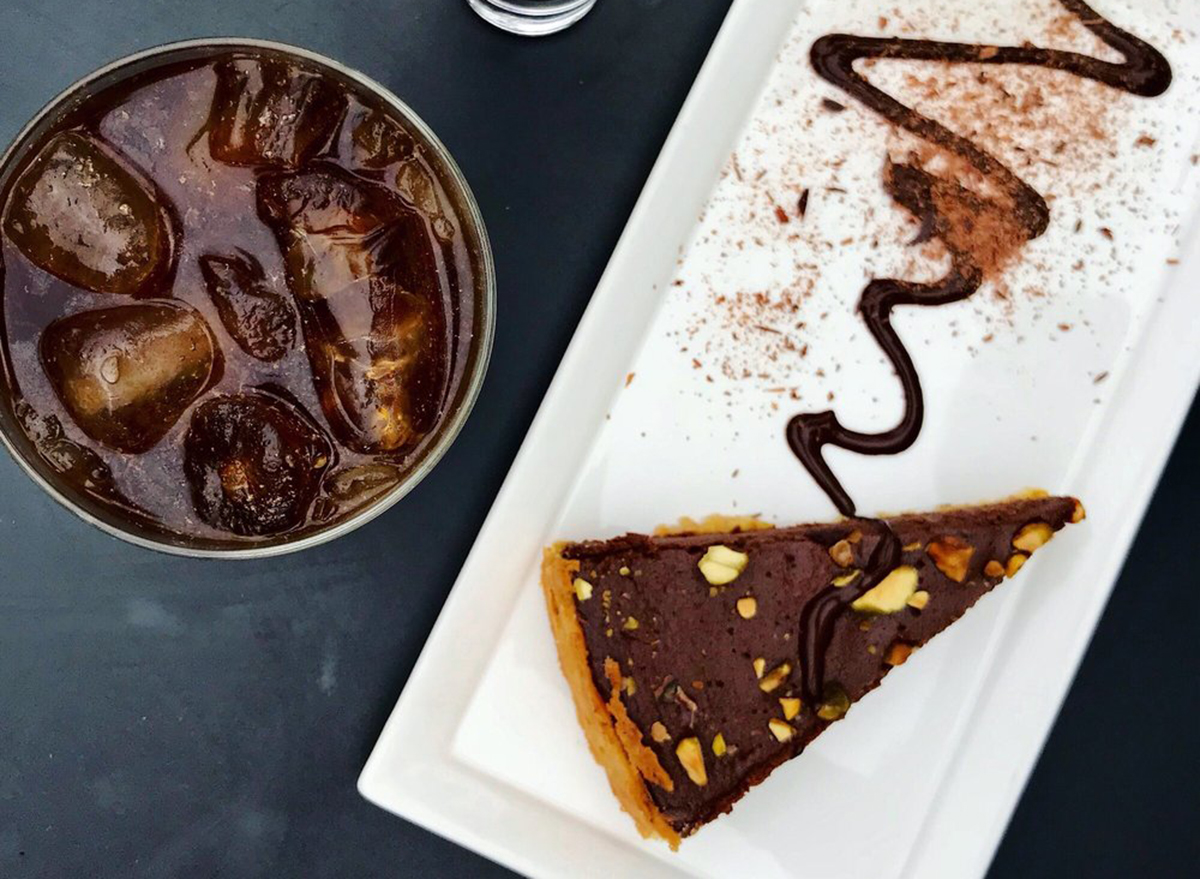 "Inside the shop is chocolate heaven. They offer gourmet chocolates, chocolate tarts, sipping chocolates, a mousse bar, coffee, milkshakes, and ice cream," wrote one Yelp reviewer.
Other reviewers describe the chocolates as deep, smooth, and well-balanced. We hear the chocolate tortes are to die for, and from looking at this photo, we have no doubt.
NEW YORK: Dark Chocolate Peanut Butter Cup from Confectionery in New York City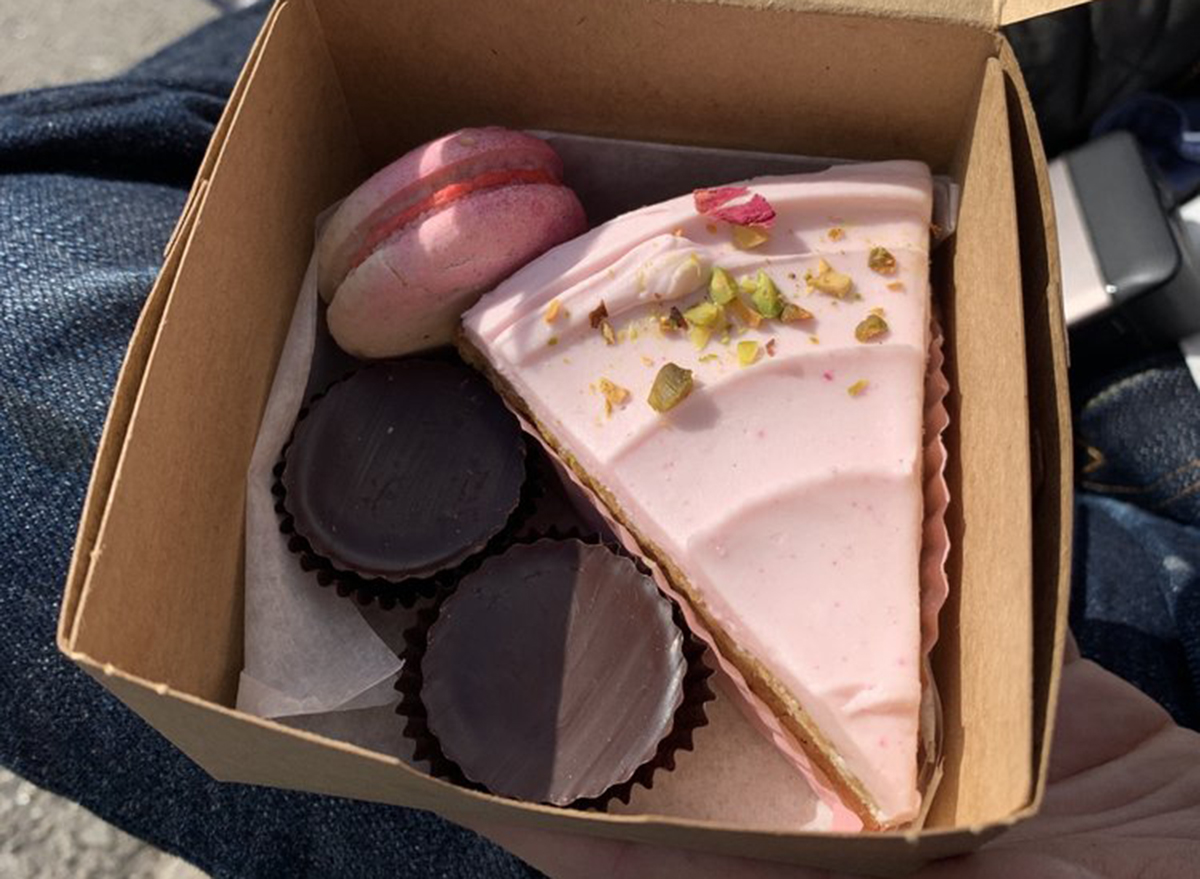 The chocolate at Confectionery is both organic and Fair Trade, and every single item in this shop—from the macarons to the delicious dark chocolate peanut butter cups—is vegan-friendly.
NORTH CAROLINA: Assorted Chocolates from Escazú Artisan Chocolates in Raleigh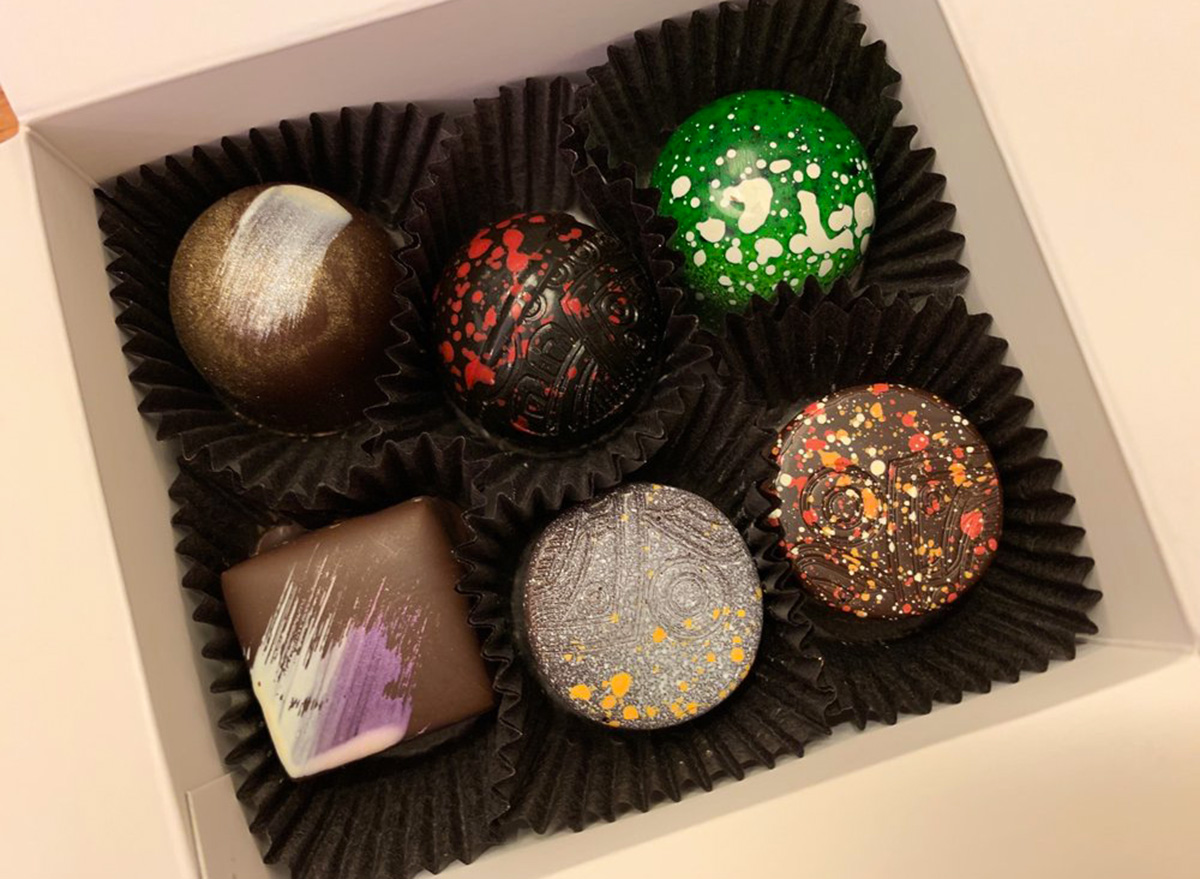 "Craftsmanship, kindness, deliciousness from the ground up. If you are looking for a special local gift, chocolate made from the beans on-premises, or want one of their hot chocolates or mochas, anytime I want to treat myself I'm coming here," wrote one Yelp reviewer.
P.S. We hear the cherry blossom, browned butter, and passion fruit chocolates are all crowd favorites.
NORTH DAKOTA: Chippers from Carol Widman's Candy in Fargo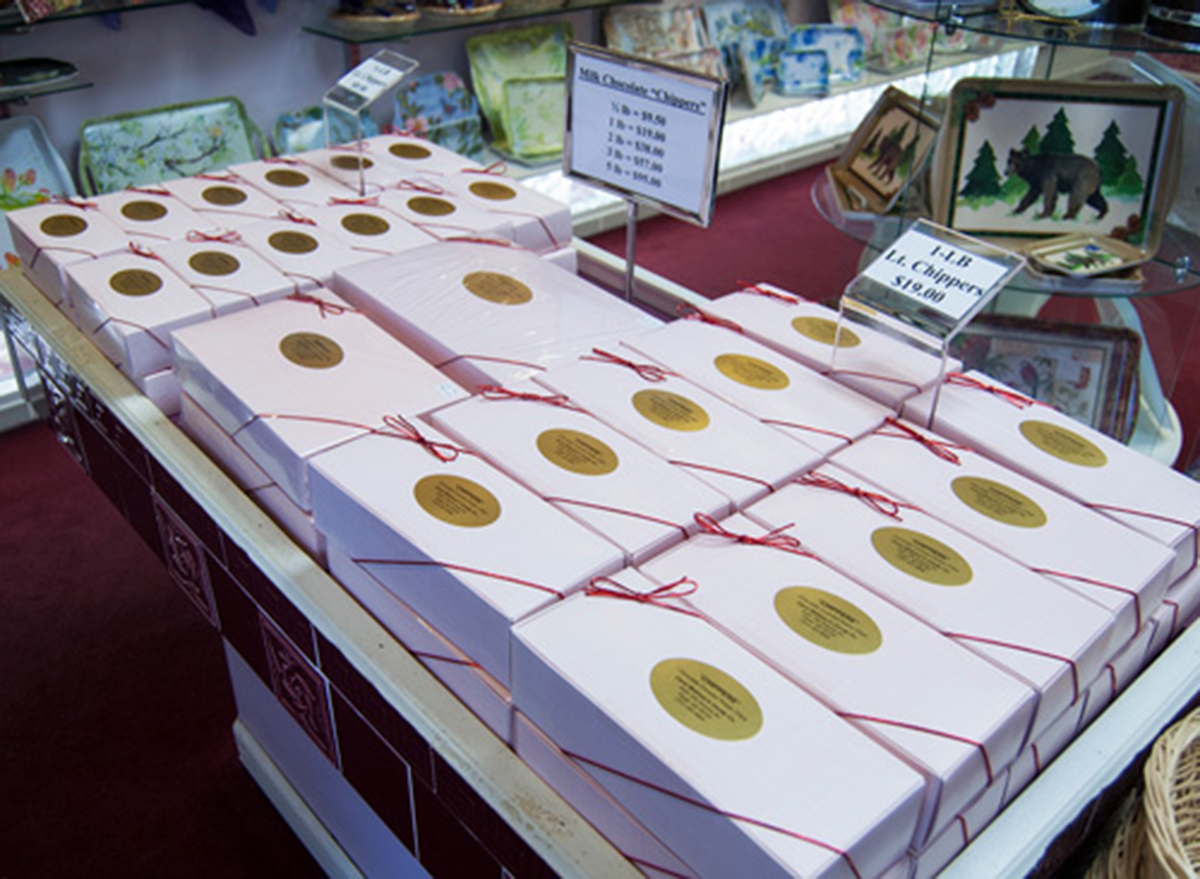 Widman candy makers have been making candies since 1885. Here, you can buy the classics from chocolate roses to assorted chocolate gift boxes and even a special treat called "chippers." Aptly named, this treat is simply a chocolate-covered potato chip, which lends the perfect combination of sweet and salty.
Read more: The Most Popular Fast Food Restaurant in Every State.
OHIO: Buckeyes from Sweet Designs Chocolatier in Lakewood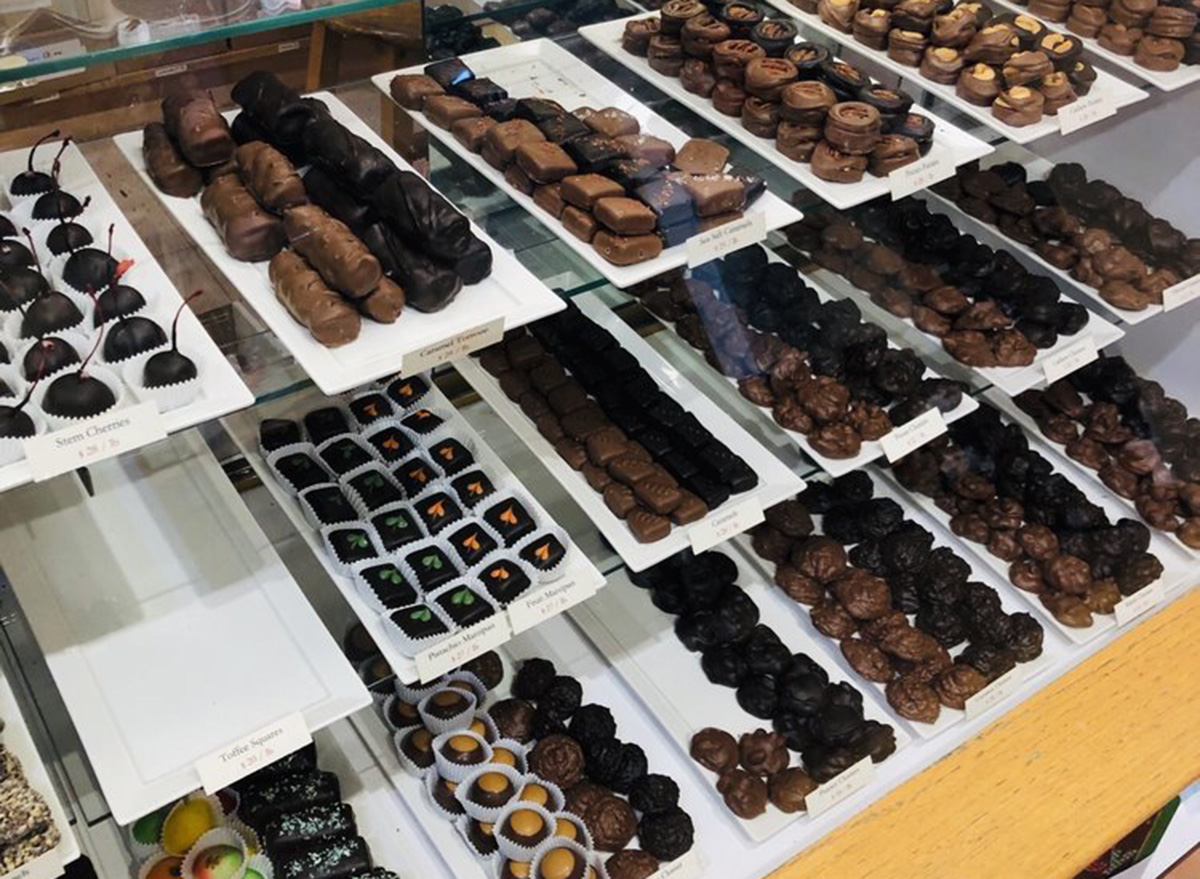 Creamy truffles, salted caramels, vegan chocolates, and buckeye candies? For those of you who aren't native to Ohio, candy buckeyes comprise a peanut butter fudge core that's dipped in chocolate except for on the top. They look exactly like the nut that many midwesterners find in their backyards—just don't eat those!
OKLAHOMA: Blood Orange & Honey Chocolate from Glacier Confection in Tulsa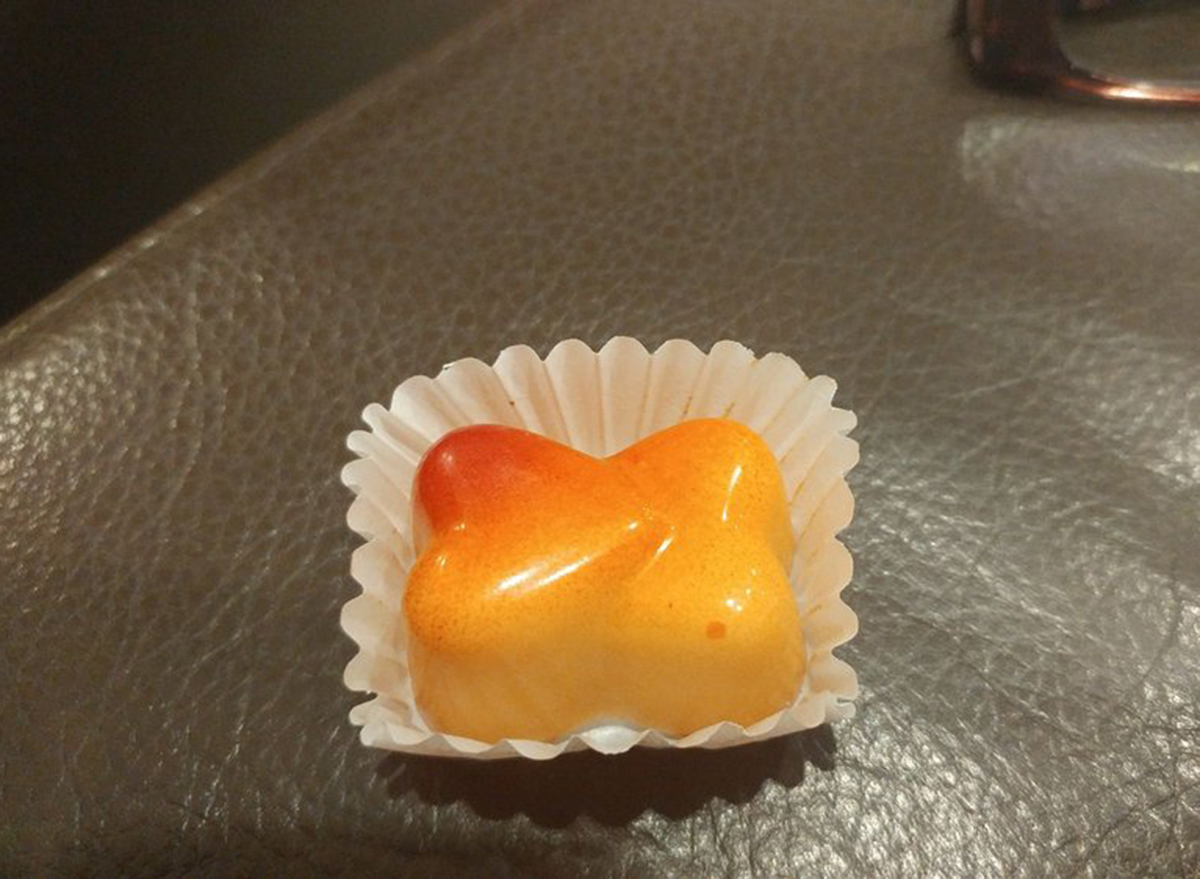 "Awesome staff who gave awesome recommendations! The blood orange and wild honey was my fave followed closely by the Elvis (peanut butter, chocolate, and banana)," wrote one reviewer.
OREGON: Assorted Chocolates from Creo Chocolate in Portland
Take a chocolate tour at Creo Chocolate and see how cacao beans are harvested and how some of your favorite chocolates and truffles are molded and packaged.
PENNSYLVANIA: Crème Brûlée Truffle from Bridge Street Chocolates in Phoenixville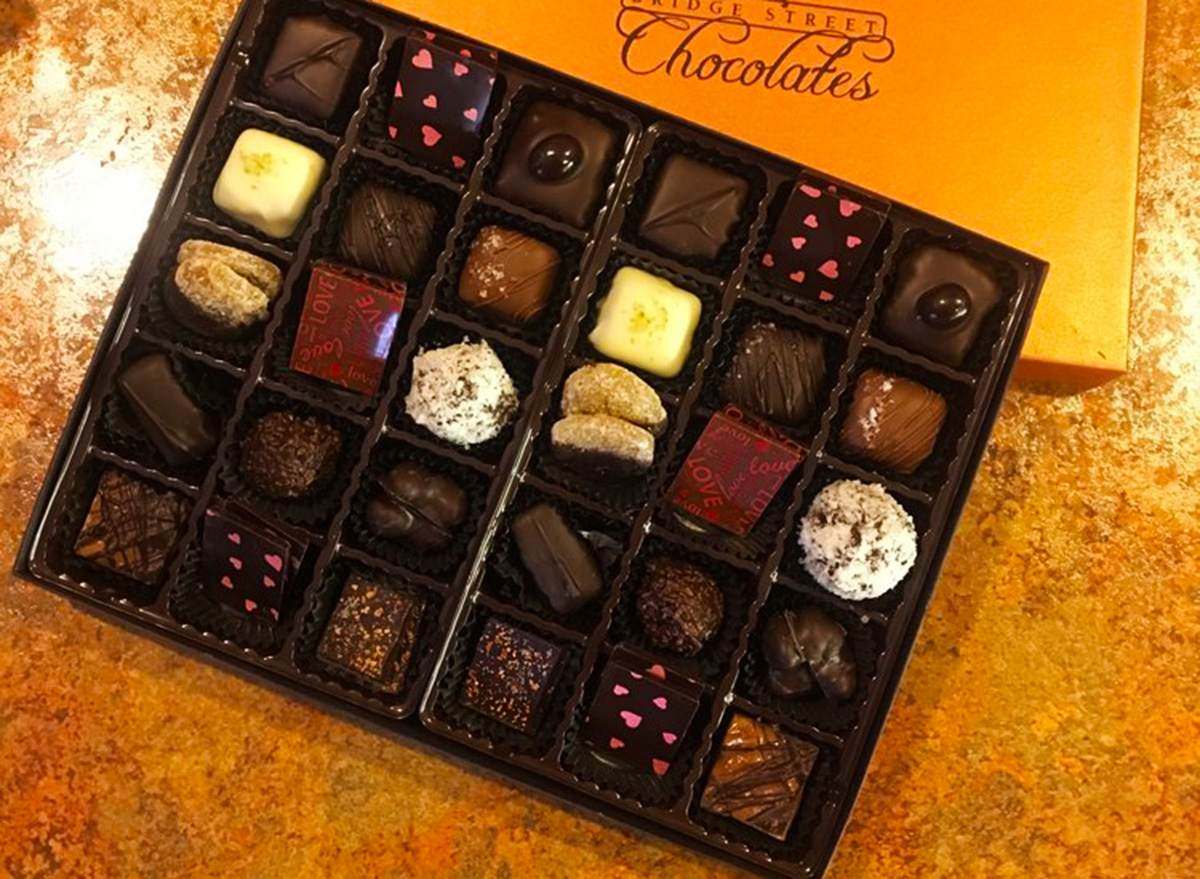 At Bridge Street Chocolates, you can snack on anything from a heat-filled wasabi bark to a decadent creamy creme brulee truffle, which we think is a true standout.
RHODE ISLAND: Caramel Dipped Rice Krispies from Kilwin's in Newport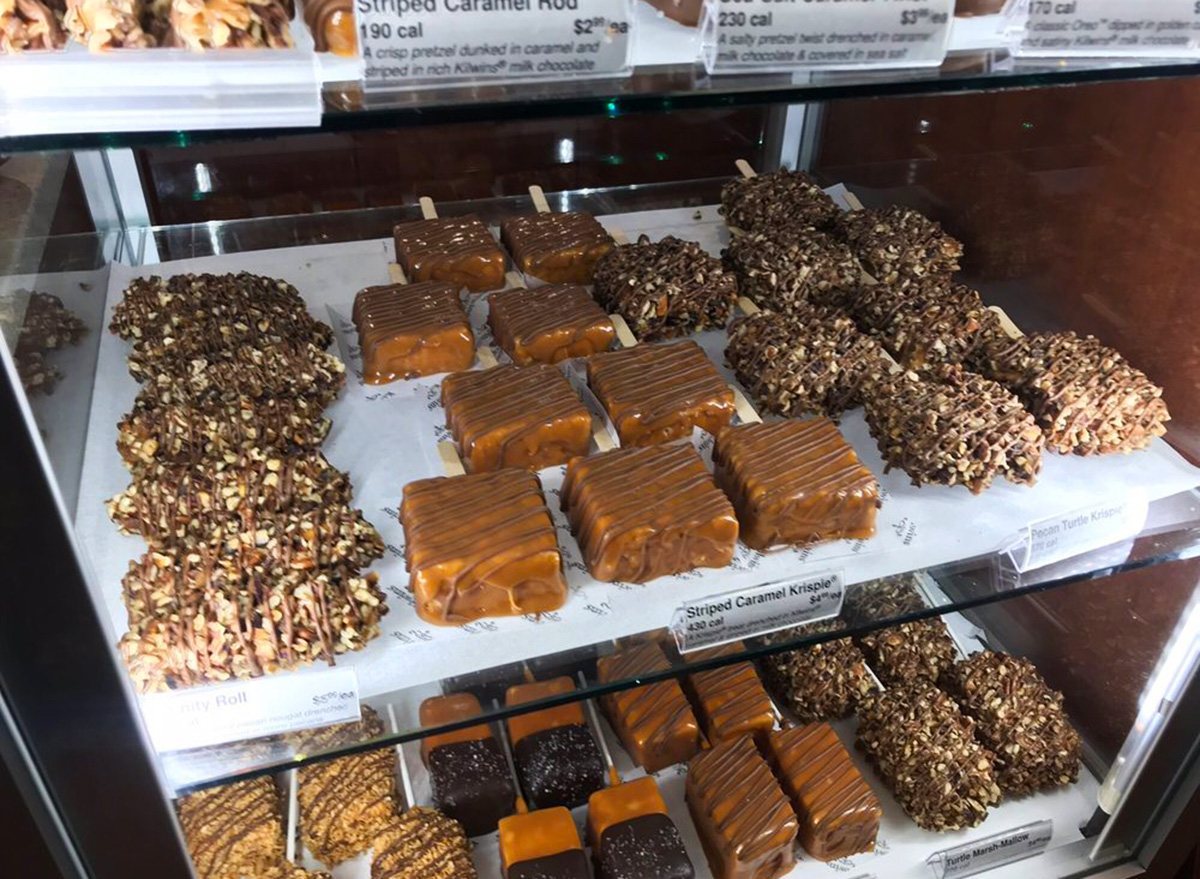 While this place is primarily an ice cream shop, it also happens to supply a lot of homemade chocolate goodies, including caramel-dipped Rice Krispies.
Want to learn more? Check out The Most Iconic Food in Every State!
SOUTH CAROLINA: Chocolate Croissant from Christophe Artisan Chocolatier-Patissier in Charleston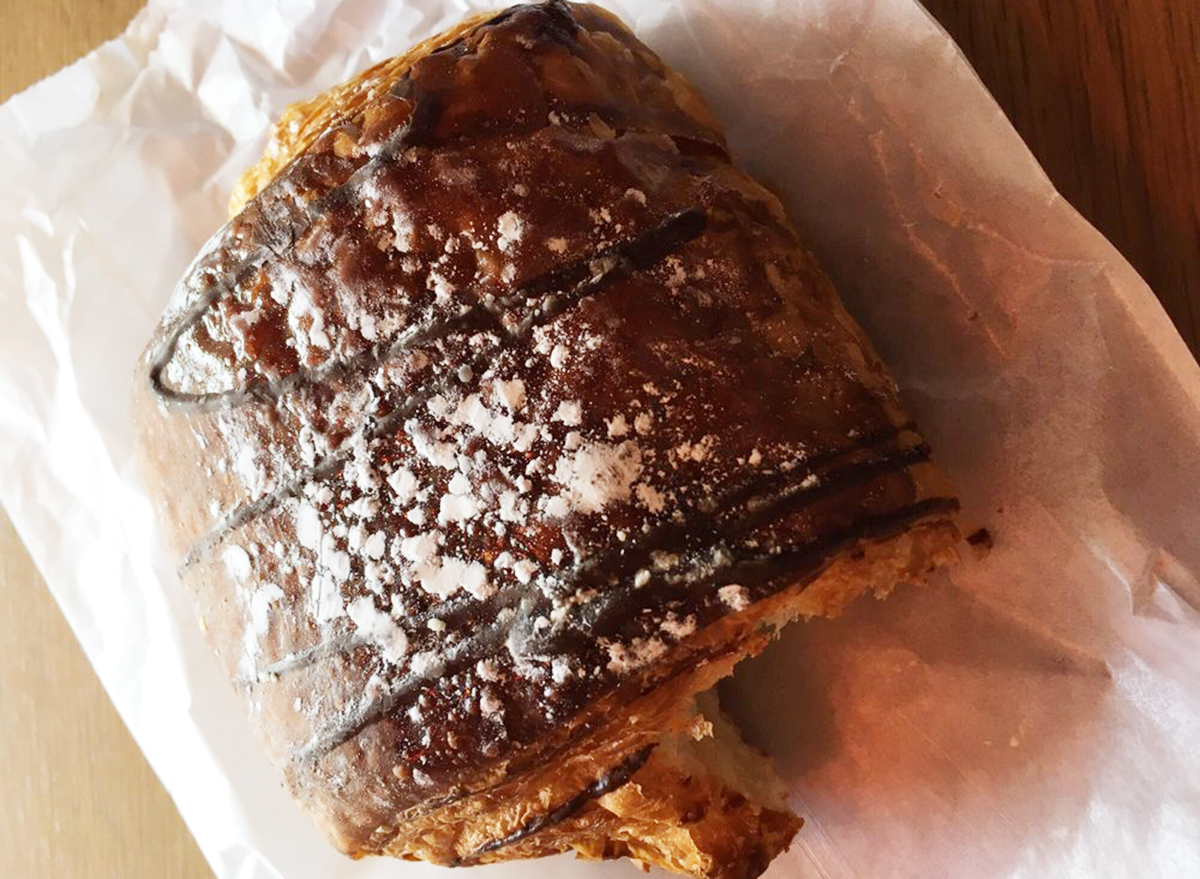 This chocolate shop has got it all. Want a fancy truffle that shimmers in the light? How about a flaky and buttery chocolate-drizzled croissant? We hear the pastries at Christophe Artisan Chocolatier-Patissier are equally as amazing as the gorgeous truffles.
SOUTH DAKOTA: Moose Toffee from Chubby Chipmunk Hand-Dipped Chocolates in Deadwood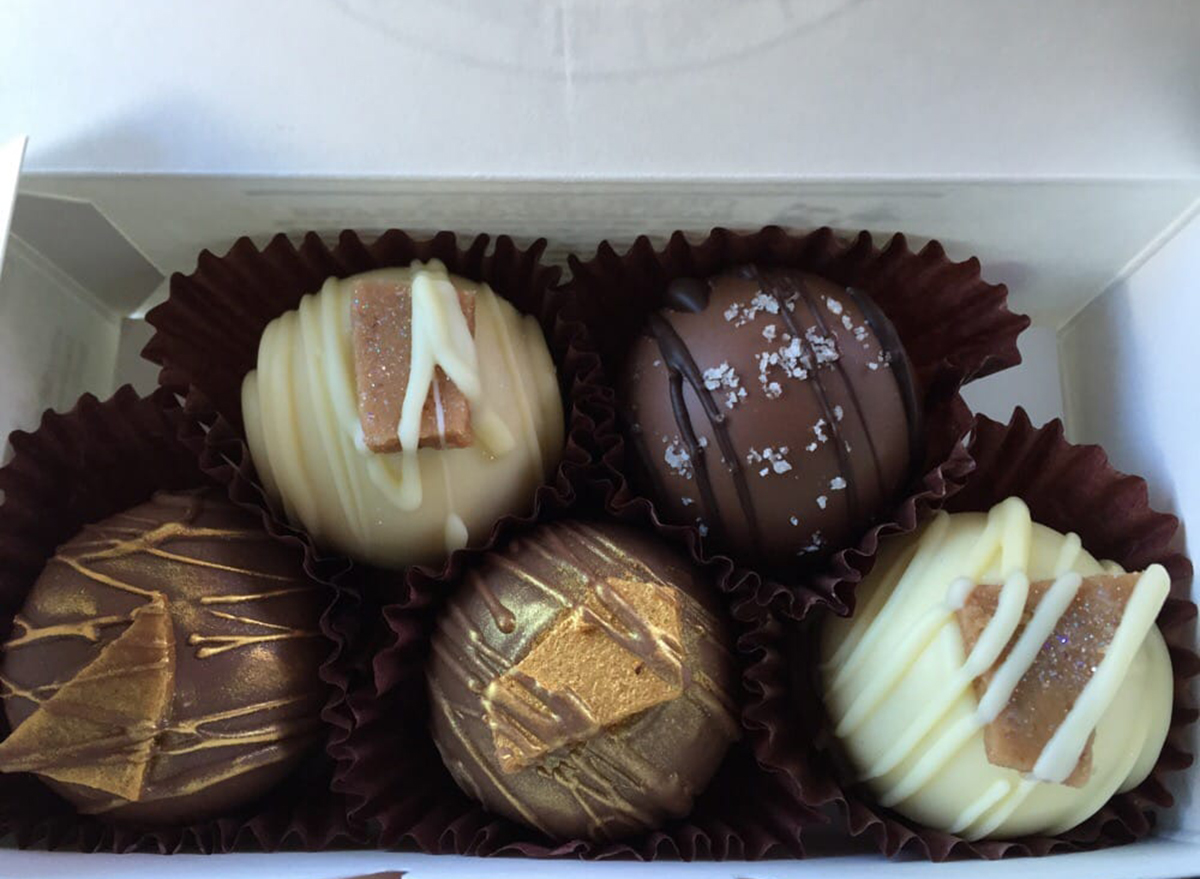 The Moose Toffee, a milk chocolate truffle filled with homemade toffee, at Chubby Chipmunk is the award-winning truffle flavor (it's the two truffles with the golden shimmer top at the bottom of the picture here). However, we'd also be curious to try the Key Lime and the Root Beer Float truffles, too!
TENNESSEE: European Drinking Chocolate from The Hot Chocolatier in Chattanooga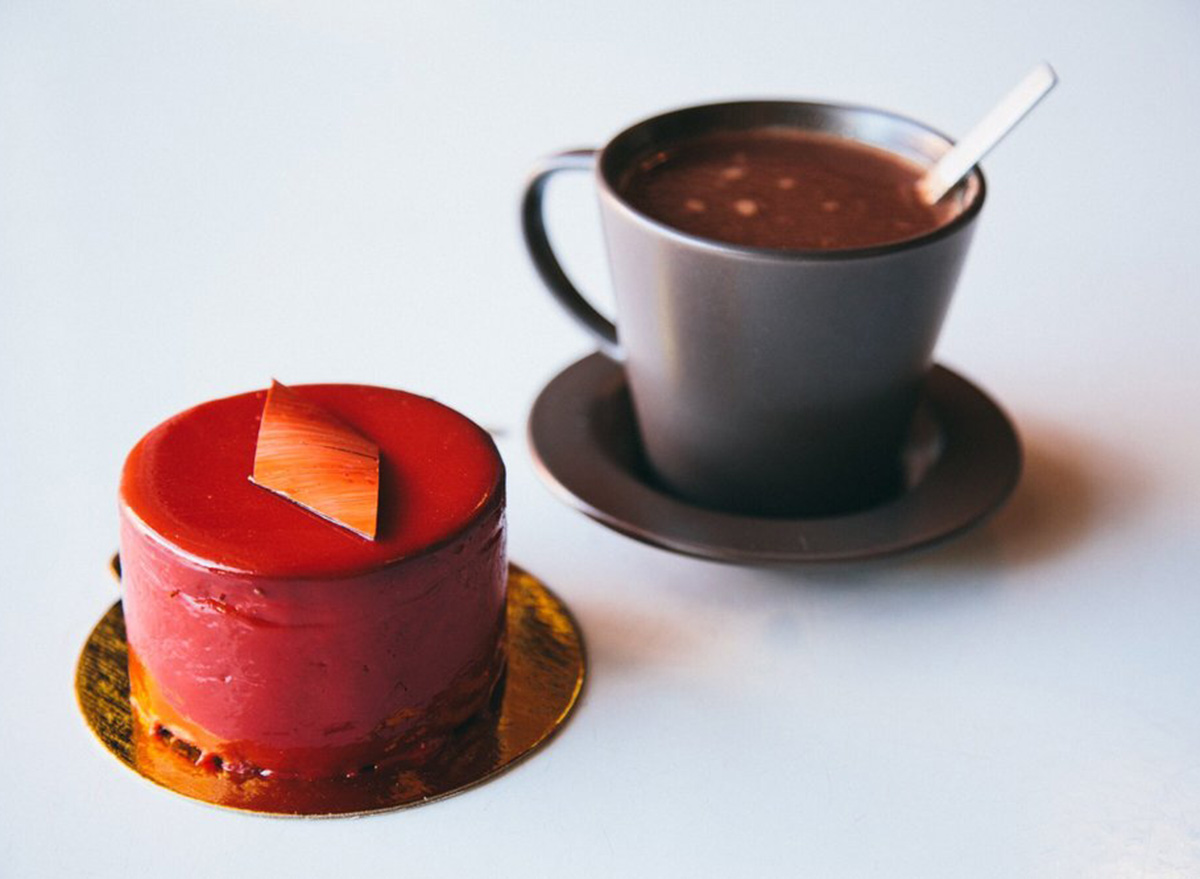 We think the picture does the talking here, folks. This intricately designed chocolate ganache is paired with European drinking chocolate.
TEXAS: Peppermint Truffles from Delice Chocolatier & Patisserie in San Antonio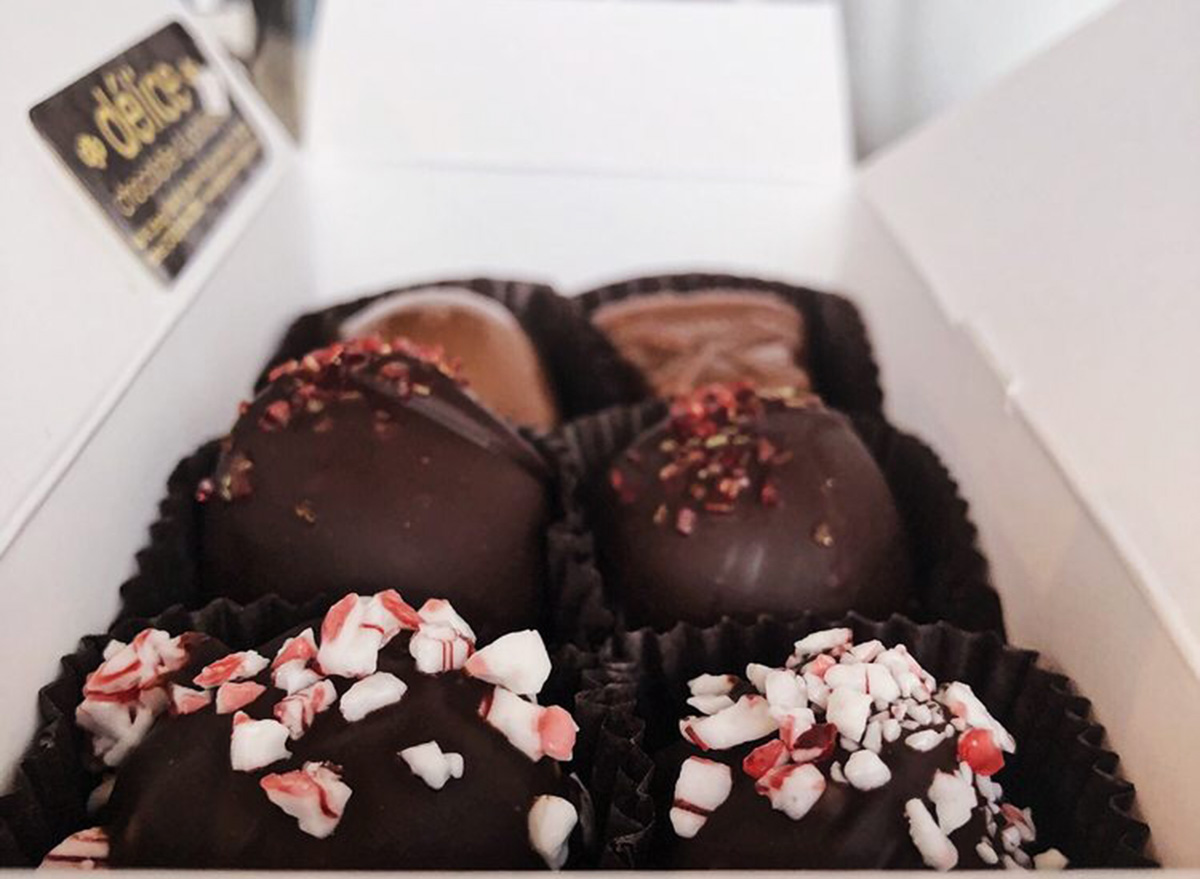 At Delice Chocolatier & Patisserie, they handcraft 25 different bonbons and truffles from Belgian chocolate. This place also whips up cakes and macarons from scratch but the peppermint truffles are a knockout, especially around the holiday season!
UTAH: Dark Chocolate Pecan Turtles from Springdale Candy Company in Springdale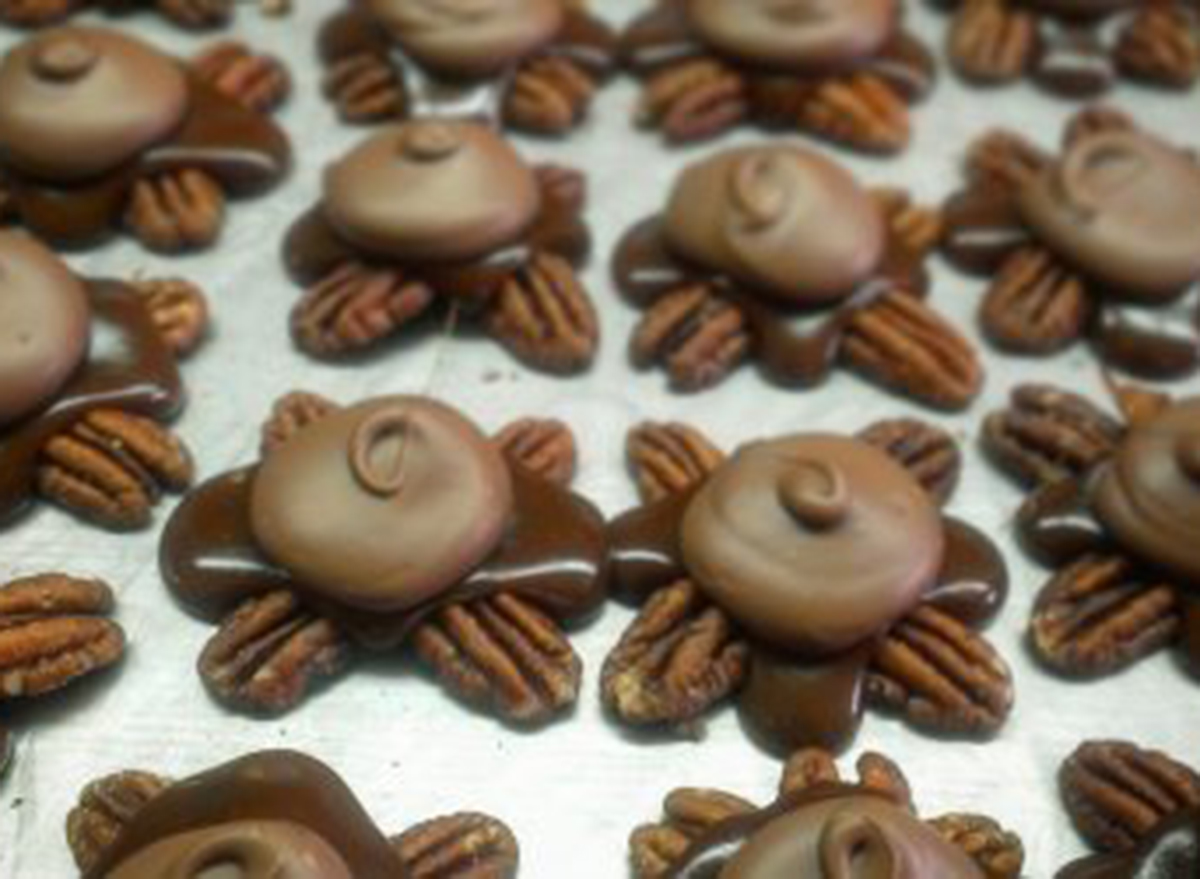 Dark chocolate pecan turtles and burnt almond ice cream? With this kind of menu, it's clear to us why so many Utah residents and tourists alike are obsessed with this place.
VERMONT: Chamomile Lavender Truffle from Laughing Moon Chocolates in Stowe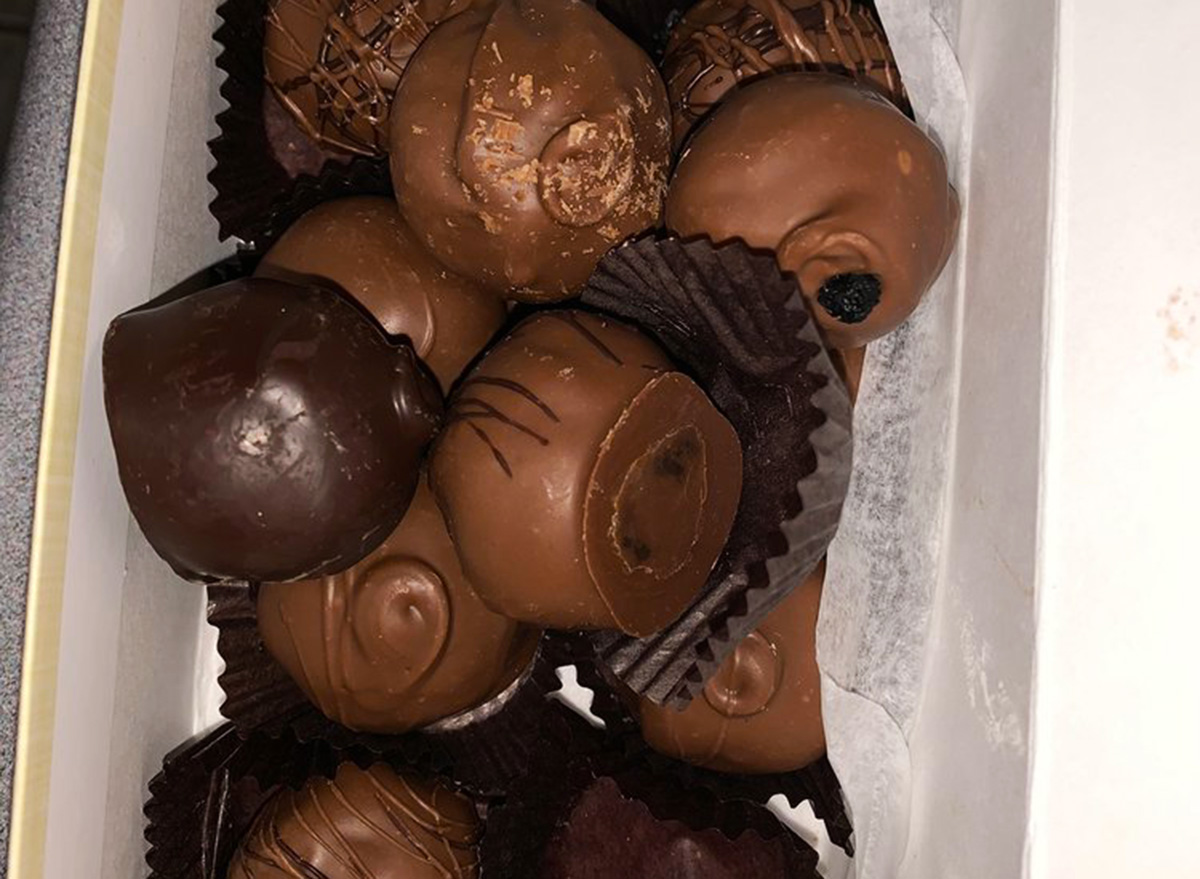 Sample the chamomile lavender truffle or the buttercreams because Laughing Moon Chocolates doesn't seem to disappoint its customers. Tea lovers would be quick to buy the chamomile-infused treat!
VIRGINIA: Fudge from For the Love of Chocolate in Richmond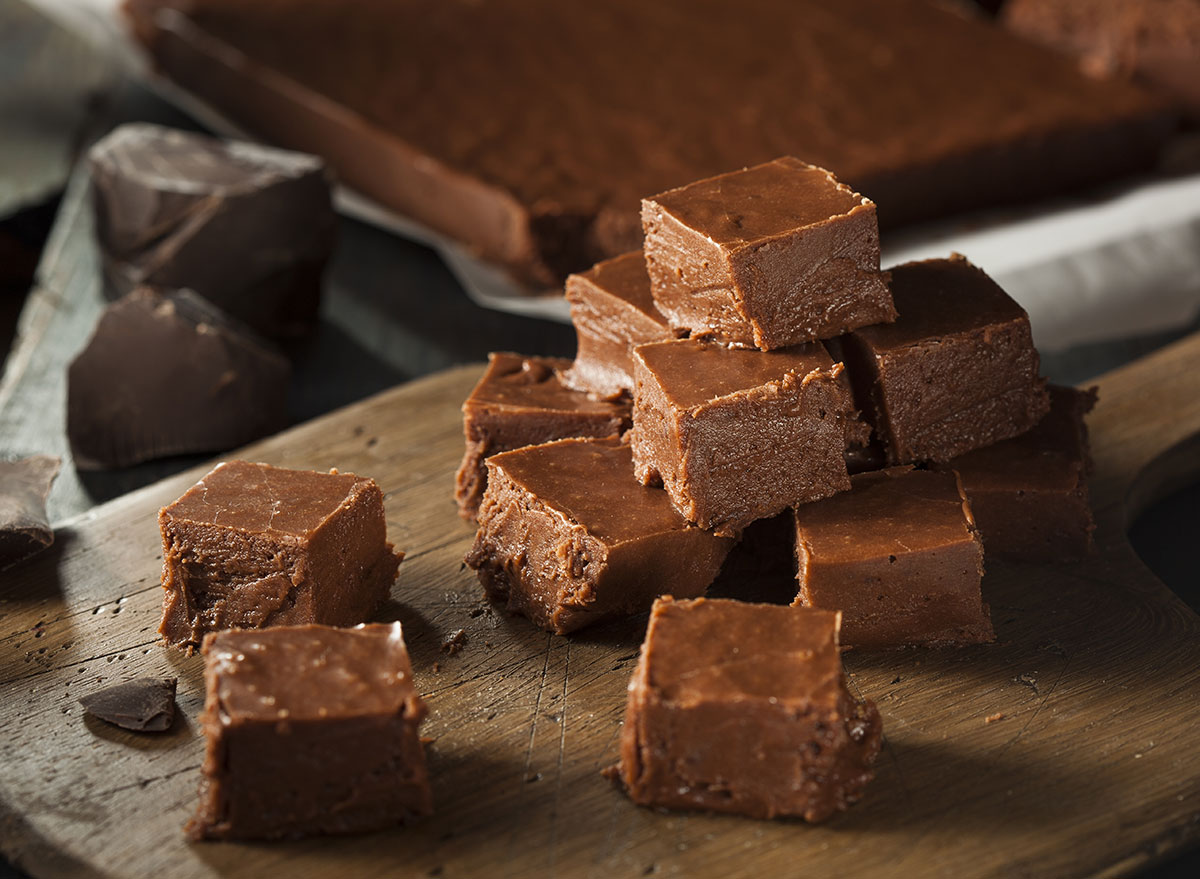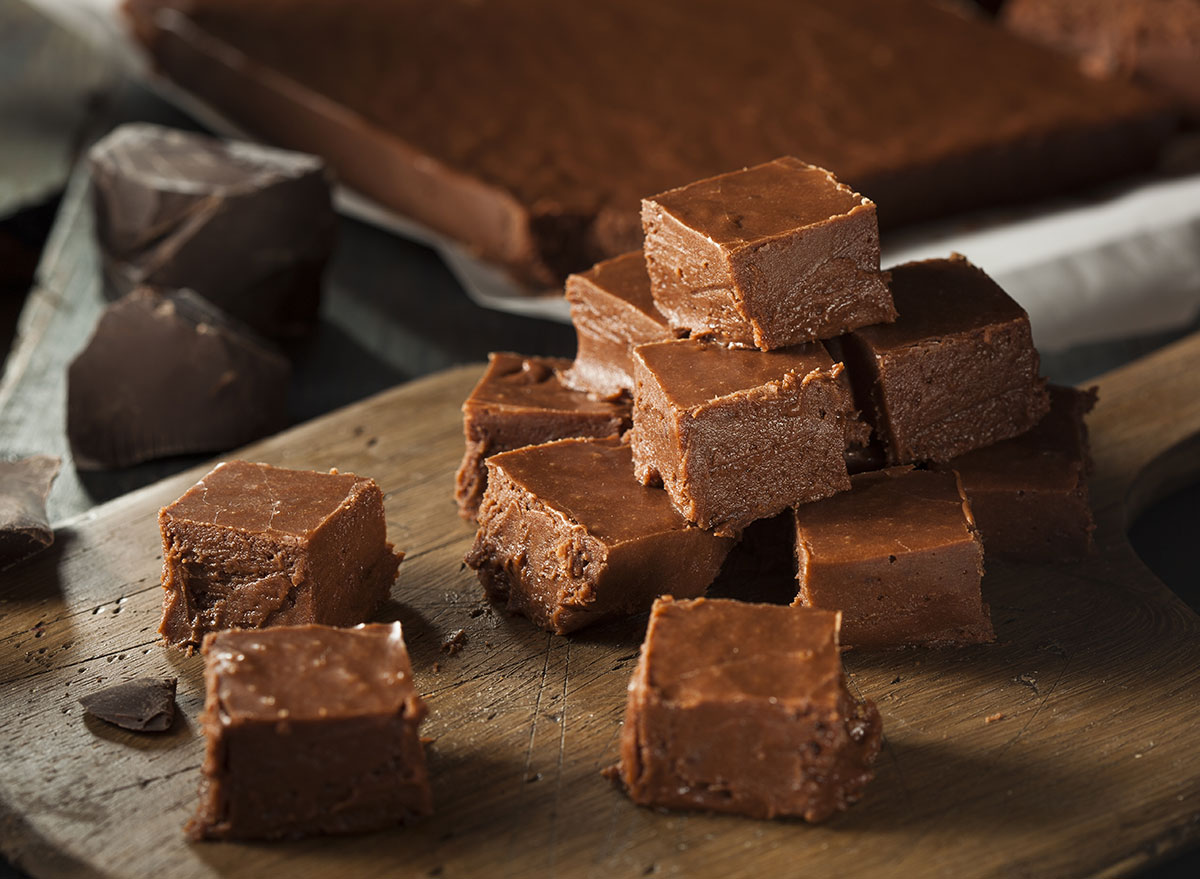 Yelp's top chocolate shop in Virginia, Blüprint Chocolatiers in Alexandria, has closed. But the chocolate and other treats from this Richmond shop look delectable, too.
WASHINGTON: Cardamom Hot Cocoa from Intrigue Chocolate in Seattle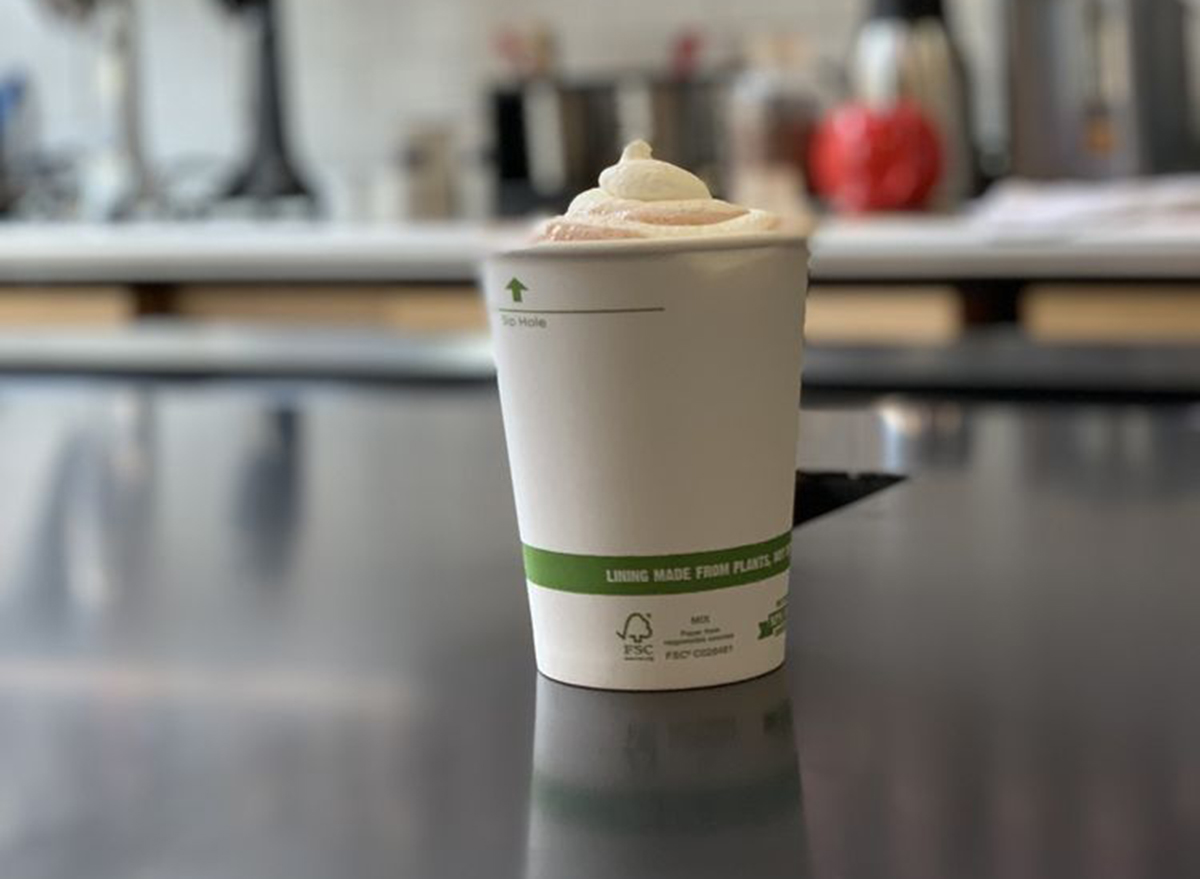 Curious as to what cardamom hot cocoa tastes like? Hop into this chocolate shop to find out.
WEST VIRGINIA: Hazelnut Truffle from Holl's Chocolate in Vienna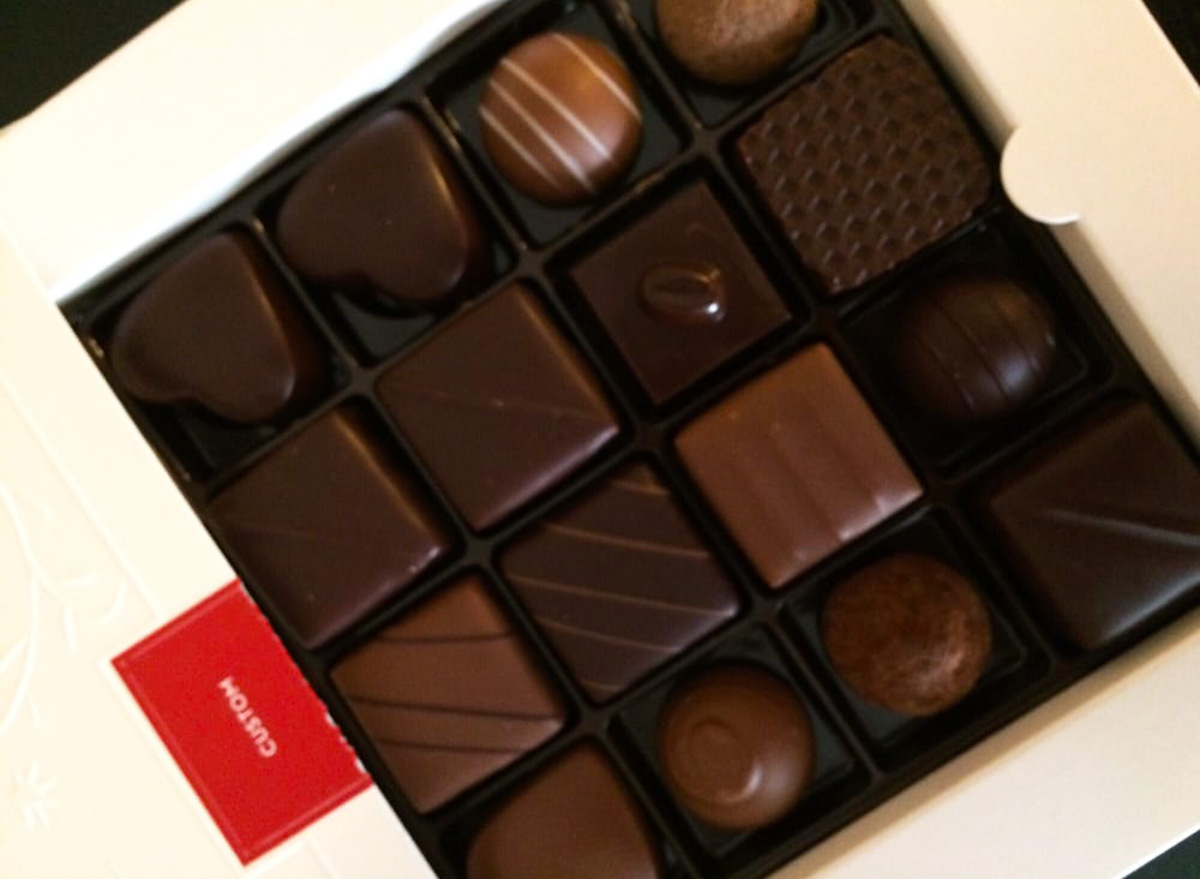 "Holl's is such a gem in my hometown!" one Yelp reviewer wrote. We hear the hazelnut truffle is no joke at this place!
WISCONSIN: Coconut Habanero Chocolate from Indulgence Chocolatiers in Milwaukee
Cheese and gourmet artisan chocolates with wine or bourbon? Now that's what we call an indulgence. A crowd favorite appears to be the coconut habanero chocolate.
Thinking about where to go to dinner before indulging in these sweet treats? Here are The Best Buffets Across the U.S. That'll Have You Getting Seconds and Thirds. Just make sure you save room for these desserts!
WYOMING: Housemade Desserts from Atelier Ortega in Jackson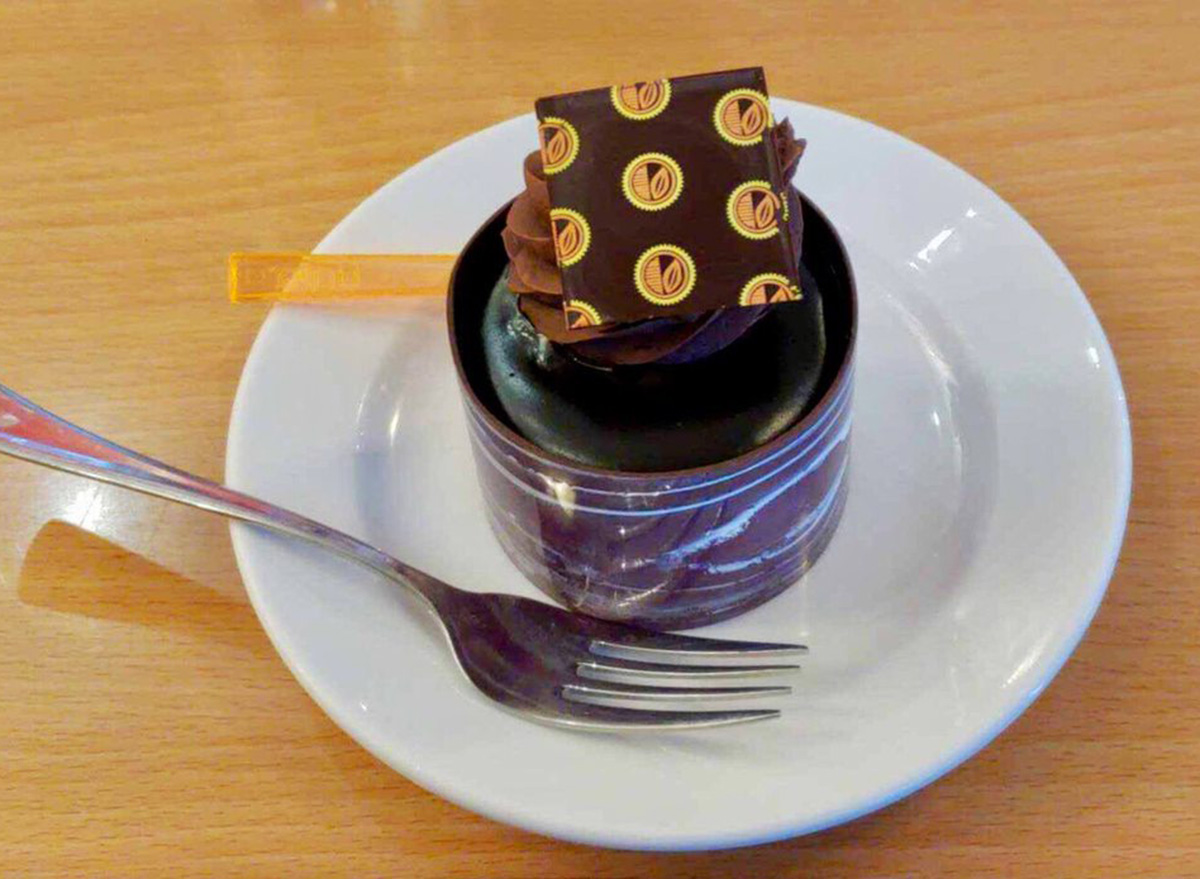 Tahitian vanilla, fresh lime, clover honey, and balsamic modena are just a few of the delicious truffle flavors offered at this Wyoming-based chocolate shop. We hear the desserts made in-house are the best though. Pictured above is the Huckleberry. Other delicious options include a tres leches treat. Now, what about having some cookies…
For more, check out these 108 most popular sodas ranked by how toxic they are.