20 Last-Minute Dinner Ideas
No time to meal prep this week? Don't worry—we've got you covered with these 20 healthy and tasty recipes that take no time to whip up.
Sometimes the stars are aligned and you've meal prepped for the entire week, but more often than not by the time dinner rolls around on any given night you're already hungry and looking to throw something together fast. Sure, picking up the phone or grabbing the computer to order some takeout is easy, but why waste money on delivery when you can throw together a flavorful, healthy meal in under an hour with a variety of proteins, vegetables, grains, spices, and more you likely already have in your pantry.
From sweet Italian sausage with kale and polenta to a chili maple lime salmon bowl, Eat This, Not That! has you covered with these 20 last-minute dinner ideas, most of which can be made in 30 minutes or less. And for some tasty entrees that won't make a mess of the kitchen, try these 30 Quick & Easy One Pot Meals.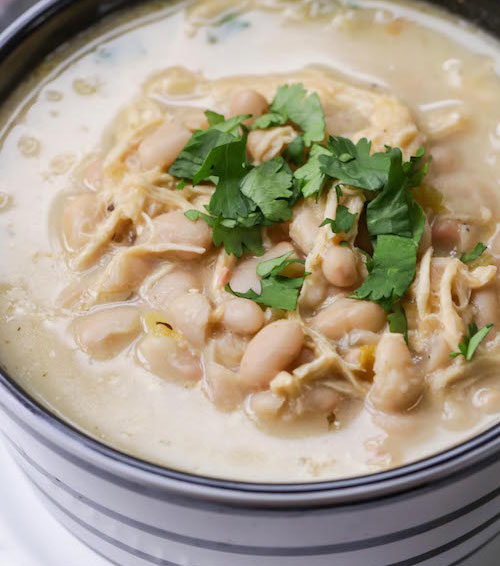 As the days get colder, there's nothing more comforting than a bowl of chili. This white chicken chili from Lil' Luna is super easy to make (you basically throw most of the ingredients in the pot, cook it for 20-30 minutes, and add sour cream and cheese at the end) and tasty to boot. What's more? The beans in this recipe are a great source of fiber and protein, meaning you'll go to bed feeling full.
Chili Maple Lime Salmon Bowl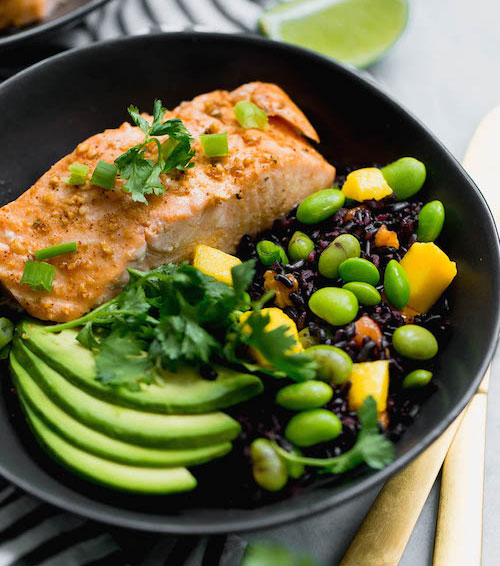 Bowls are a popular dish to order for takeout, but now you can make it at home. This chili maple lime salmon bowl with forbidden rice from Ambitious Kitchen is healthy, tasty, and ready-to-eat in 30 minutes. Salmon is an excellent source of omega-3s, while the forbidden (black) rice has more fiber and protein than both white and brown rice. High-fiber foods are great for weight loss, in part, because they keep you full and curb your desire to binge on sugary treats.
Greek Chicken With Lemon Rice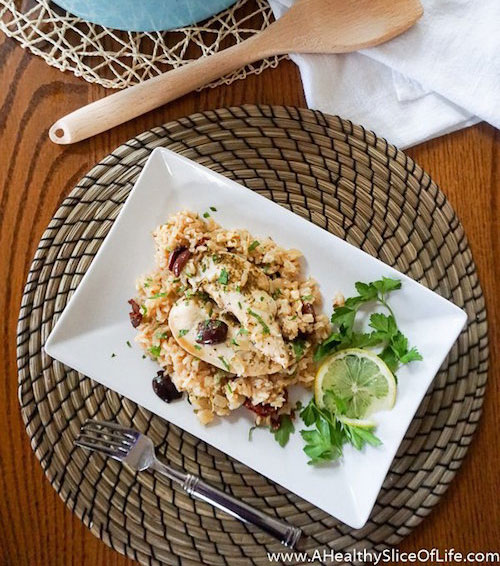 This Greek chicken with lemon rice from A Healthy Slice of Life can be prepared using just one pot and takes less than an hour to make. The yummy dish uses feta, which is great if you're watching your weight and calcium-rich kalamata olives. One bite of this zesty meal and you'll feel like your sailing in the Mediterranean.
Thai Basil Chicken Stir Fry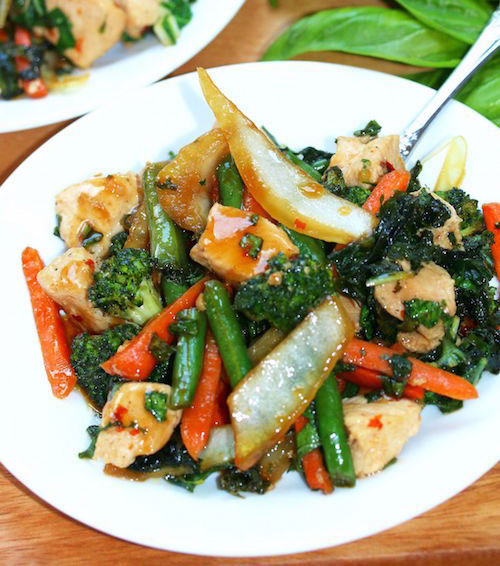 This Thai basil chicken stir fry from The Cozy Cook features three sauces, meaning it is packed with flavor. It's also ready in 40 minutes and loaded with iron-rich vegetables such as broccoli and kale. Top it with some slivered almonds for an added crunch and dose of protein.
Honey French Baked Chicken Breasts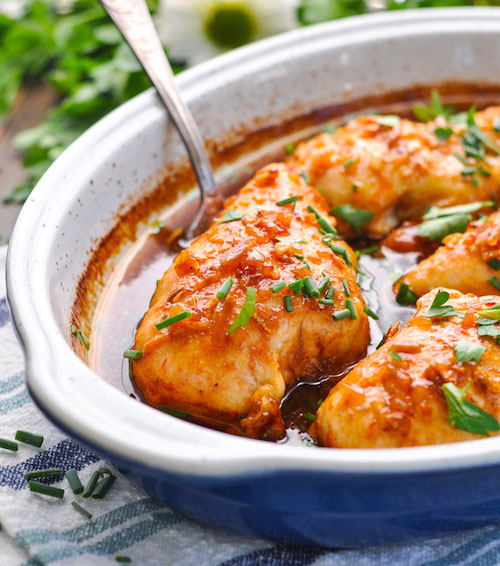 These honey French baked chicken breasts from The Seasoned Mom take just five minutes to prep and are ready to eat about half an hour later. The secret here is the sauce, which uses a combination of olive oil, honey, cider vinegar, chili sauce, Worcestershire sauce, dry soup mix, and salt to achieve the perfect sweet-and-tangy flavor. Serve with broccoli or string beans for some added nutrients.
Green Goodness Bowl with Pesto Steelhead Trout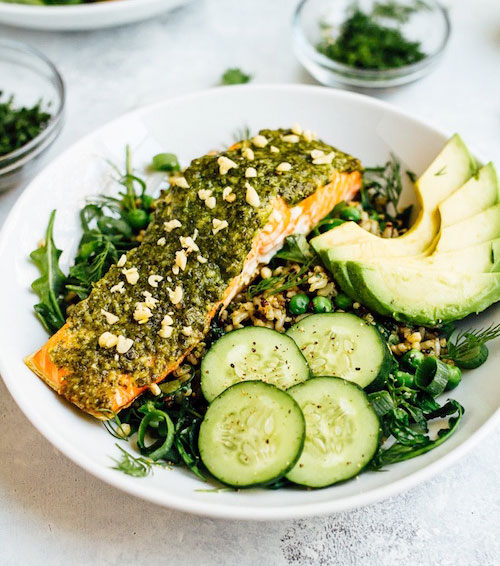 The green goodness bowl with pesto steelhead trout from Eating Bird Food sounds incredibly fancy, but it is easy to prepare and ready in just 30 minutes. Thanks to a great mix of greens, grains, and more, this meal is also a nutritionist's dream. Trout is a lean protein and a great source of omega-3s, while the olive oil and pine nuts in the tasty pesto are packed with excellent hearty healthy fats.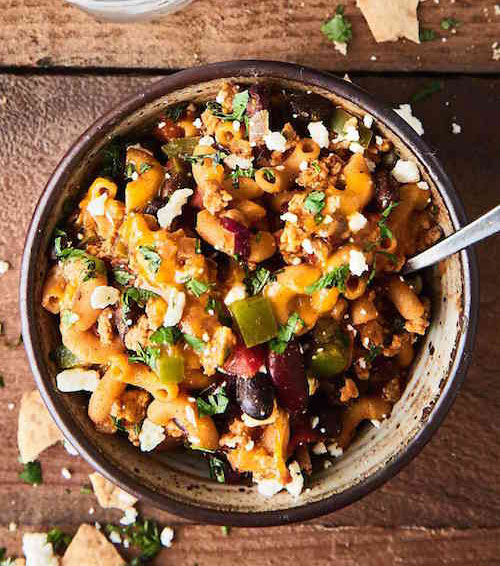 Not only is this Chicken Chili Mac from Show Me the Yummy the perfect comfort food for the colder months, but it is healthy to boot. With two kinds of beans, this dish is an excellent source of fiber, and spices such as cumin and paprika give it a great boost of iron and vitamin C, respectively. And if you're in a time crunch, you'll be relieved to know this healthy twist on a classic is ready in just 30 minutes!
Almond-Crusted Pesto Chicken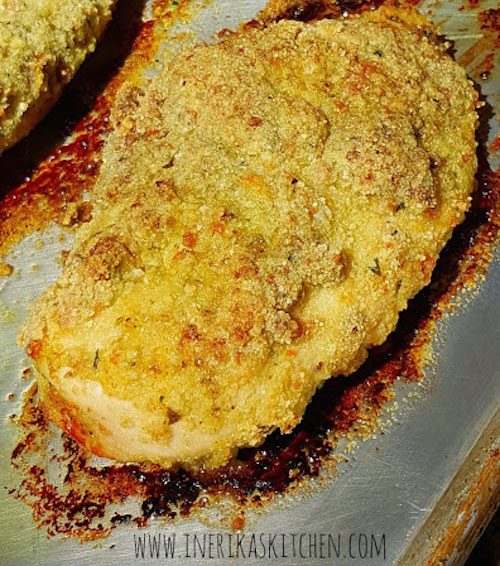 Almond flour is chock-full of vital nutrients such as protein, fiber, and calcium, and this almond-crusted pesto chicken from In Erika's Kitchen calls for half a cup of it. The recipe also calls for an equal amount of Parmesan cheese, which provides an impressive 360 milligrams of calcium per ounce. This healthy and tasty chicken is ready to eat in under an hour and is sure to quickly become a family favorite.
Sweet Italian Sausage with Kale and Polenta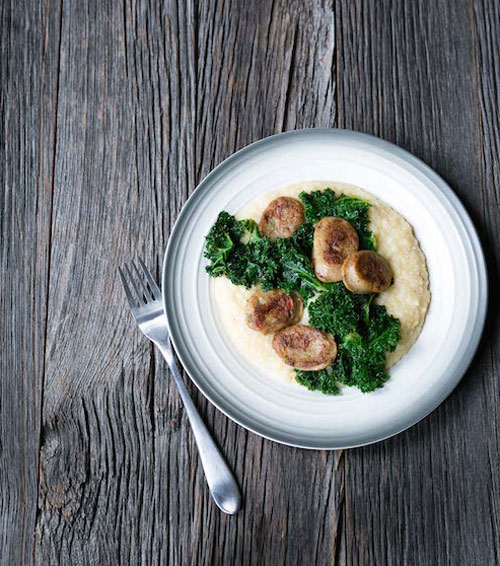 With just ten minutes of prep time, this sweet Italian sausage with kale and polenta from Savory Simple is surprisingly easy to throw together after a hectic day. The flavorful meal filled with textures and color is healthy as well, thanks to plenty of nutrient-rich kale and polenta, which is a good source of vitamins A and C.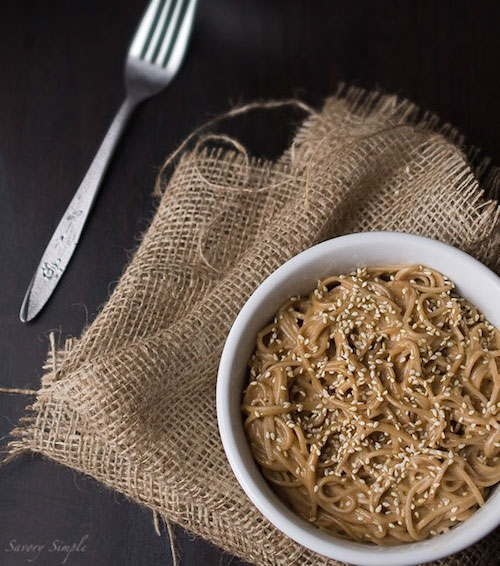 Another Savory Simple favorite is this cold sesame soba noodle dish. Ready in just ten minutes, this vegan dish is the perfect thing to whip up after a long day. Soba noodles, which are buckwheat-based, are a lower-cal alternative to wheat pasta and offer a little boost of protein. The recipe also calls for sesame oil and sesame seeds, which are loaded with antioxidants and fiber, respectively.
Cajun Salmon with Salted Lime Butter
Salmon is rich in omega-3s, a healthy fat that fights off metabolism-slowing inflammation, and a great source of protein, and this Cajun-inspired version with salted lime butter is about as tasty as they come. Ready in just 30 minutes, this dish from How Sweet Eats features spices such as smoked paprika and cayenne pepper, which, in addition to adding a flavorful kick to the meal, also provide a solid dose of inflammation-fighting vitamin A.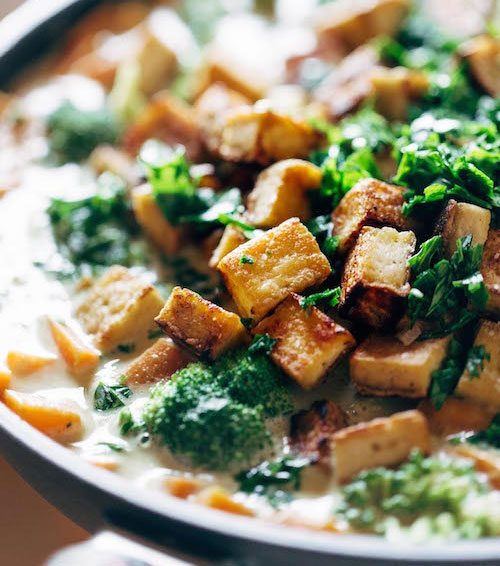 Not only is this tasty green curry from Pinch of Yum ready to eat in about half an hour, but it also has just a handful of ingredients, meaning it is very easy to throw together in a pinch. The best part about this no-fuss recipe is that you can customize it to your own tastes. Feel free to swap out the tofu for a different protein such as chicken or fish, or add some cruciferous vegetables for a nutrient boost.
Spicy Sesame Zoodles with Crispy Tofu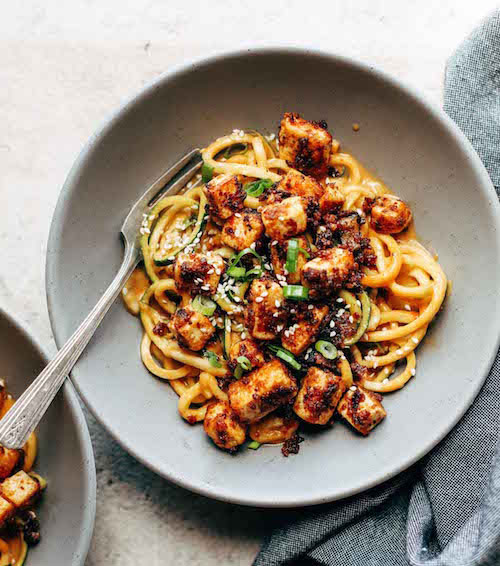 Another Pinch of Yum favorite are these spicy sesame zoodles with crispy tofu. Though zoodles can sometimes be bland and boring, this recipe is packed with flavor thanks to an easy-to-make spicy sesame peanut sauce that you'll want to toss on just about anything. What's more? Vegetarian-friendly tofu is an excellent source of protein, amino acids, iron, and calcium.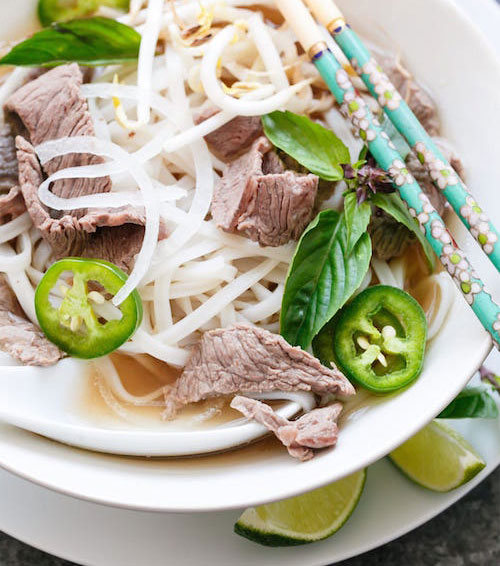 Though this beef pho from Love and Olive Oil doesn't taste exactly like what you'll find in Vietnam, it's an incredibly tasty and comforting soup that can be prepared in just 30 minutes. The recipe calls for either flat iron steak or rib-eye steak, which is one of the fattiest cuts, so consider swapping the red meat for veggies if you're looking for a leaner option.
Weeknight Mediterranean Frittata
Eating eggs in the morning is a great way to lose fat without really trying, but who is to say eggs can't be enjoyed later in the day as well? This weeknight Mediterranean frittata from To Her Core is a quick and easy dish to make if you haven't had a chance to go food shopping because you can just throw in whichever veggies and herbs you have on hand and you'll be chowing down in about ten minutes. What's more? The protein-packed eggs ensure you won't go to bed hungry.6254a4d1642c605c54bf1cab17d50f1e
Mediterranean Cauliflower Couscous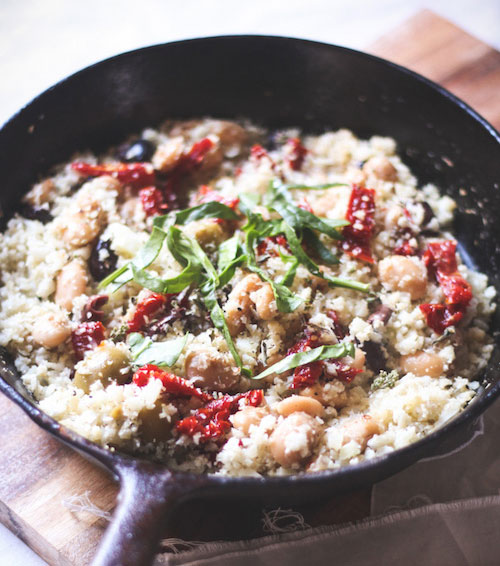 The Mediterranean cauliflower "couscous" from To Her Core is another crowd pleaser that requires only one pan and takes about half an hour to prep. The vegetarian-friendly dinner option uses cauliflower as "rice" which is great for your waistline and overall health without sacrificing flavor. The recipe also calls for butter beans and sundried tomatoes, which are both great sources of protein and fiber.
Spicy Korean Ground Beef and Cauliflower Rice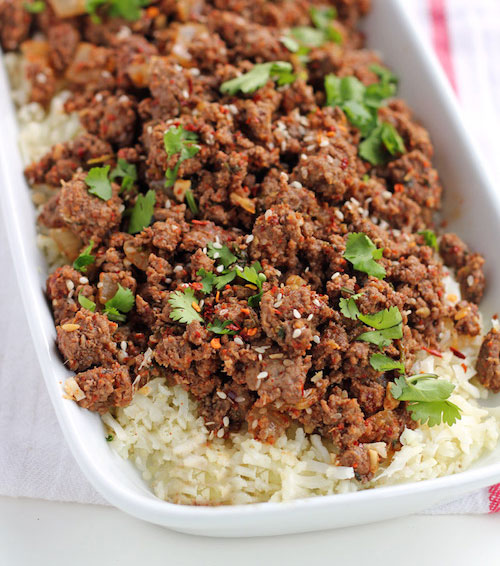 Speaking of cauliflower rice, this spicy Korean ground beef and cauliflower rice recipe from In Sonnet's Kitchen is another easy and nutritious meal to throw together when you're not in the mood to spend a ton of time in the kitchen. In just 25 minutes you can whip up this paleo and dairy-free dish that's super tasty. Though you should try and limit your weekly consumption of beef to a couple times a week, the popular protein delivers amino acids that increase satiety, speeds up metabolism and builds lean muscle. Beef also contains healthy doses of iron, zinc, niacin, selenium, vitamin E and B vitamins — nutrients that support blood formation, as well as brain and nervous system function.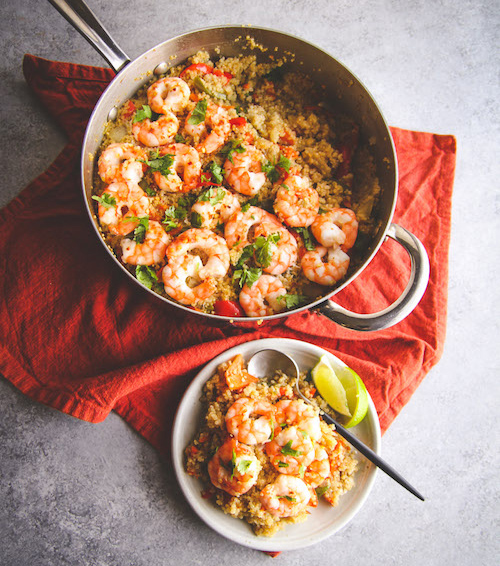 Why order in mediocre Thai food when you can make this tasty Thai shrimp and quinoa recipe from Sweet Phi in just 35 minutes? Shrimp is one of the most protein-dense foods you can find, and because this recipe also calls for protein-rich quinoa, it's a great dinner option for those looking to lose weight and uncover their abs. And thanks to the array of herbs and spices in this dish, it's most definitely not lacking in flavor.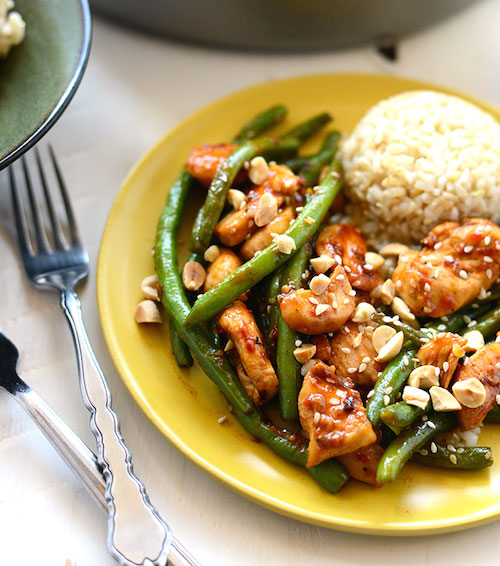 This healthy take on kung pao chicken—a fast-food favorite—requires only eight ingredients and is ready in just 20 minutes. The Fit Foodie Finds recipe is protein-packed and paleo-friendly but if you've got a hankering for some grains it goes great with a simple side of brown rice as well. This recipe also mixes sweet and spicy flavors, meaning you can make it as hot (or not) as you'd like.
Arugula Pesto Pasta With Garlic Shrimp
One bite of this arugula pesto pasta with garlic shrimp from What's Gaby Cooking has the power to transport you to the Italian coast, but it turns out you can make the fancy dinner in the comfort of your own home in about 30 minutes. Arugula, like broccoli, is a cruciferous vegetable that's great for beating the belly bulge, while protein-packed shrimp will keep you full. In fact, even the garlic and olive oil in this recipe are working in your favor because they're both fat-burning foods that can help you lose weight.