8 Secrets You Never Knew About Little Caesars
Everything that's made it the pizza chain it is today.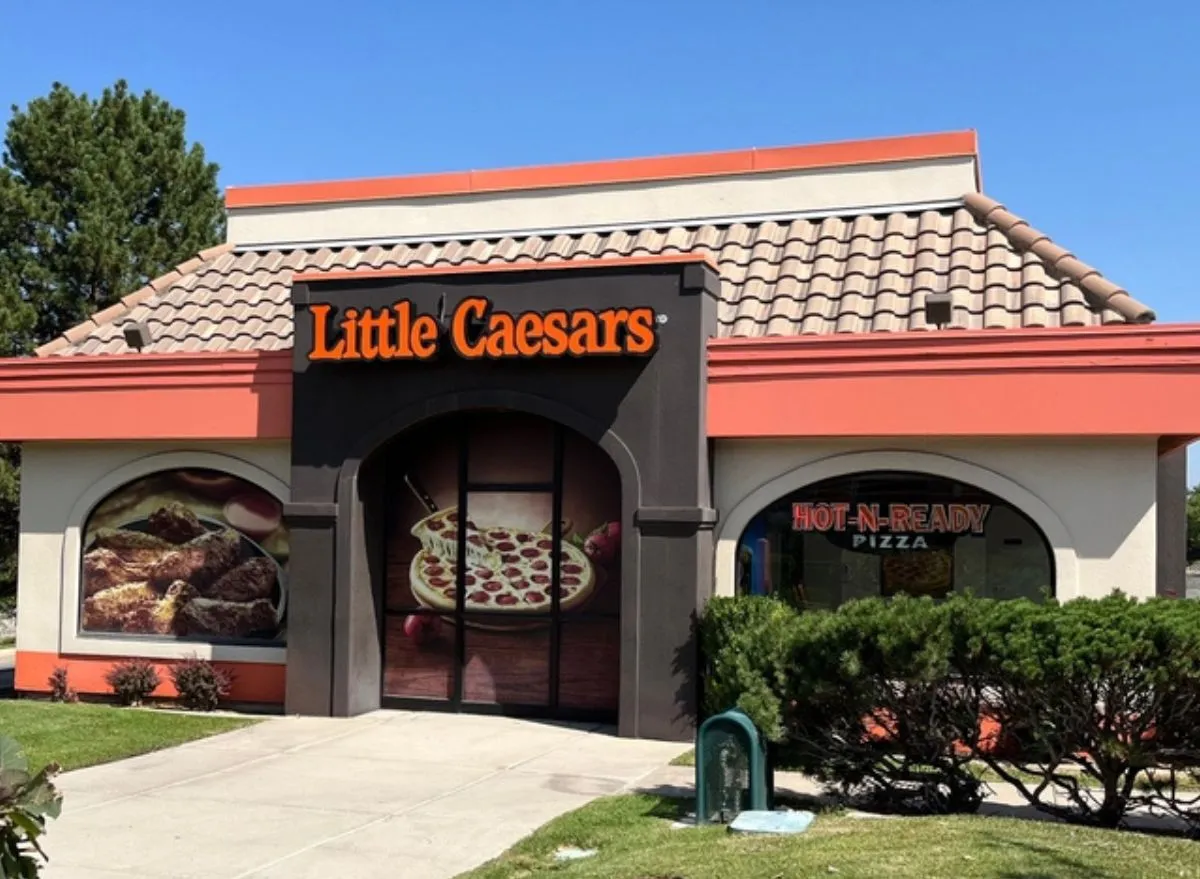 What's not to love about "Hot-n-Ready" pizza with a side of warm, Crazy Bread from Little Caesars? The pizza chain serves both up perfectly for any occasion where you need a  little pizza to get the party started. But there are some secrets behind those orange and white tiled counters and their orange togaed mascot.
Even though Little Caesars recently raised their prices for the first time in almost 25 years for a pepperoni pizza—with the promise of "more meat for their money"—it still remains one of the most inexpensive fast-food pizza chains in the US. How do they do it? And what's really behind the pizza-making magic?
Here are 8 Secrets You Never Knew About Little Caesars.
Little Caesars has launched some of the craziest items as a pizza chain.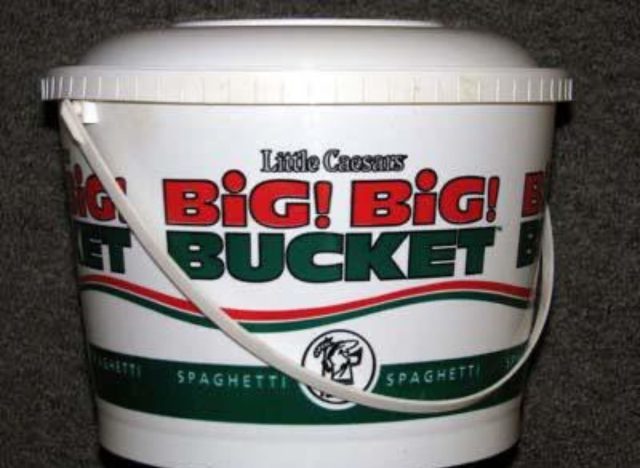 1993 was the year that Little Caesars decided to try some new things in creative and wacky ways. Meal deals and the introduction of deep-dish pizza weren't enough, and so then came the spaghetti buckets and unique versions of pizza crusts.
The chain came out the buckets full of spaghetti and sauce, with a side of bread, and pasta lovers thoroughly enjoyed it for the limited time it was offered. Little Caesars was also the proud creator of the now-discontinued french fry pizza crust—which didn't catch much attention—along with the pretzel crust pizza, which has had Little Caesars fans banging down the doors for more (even after being discontinued).
The franchise made the owners richer than rich.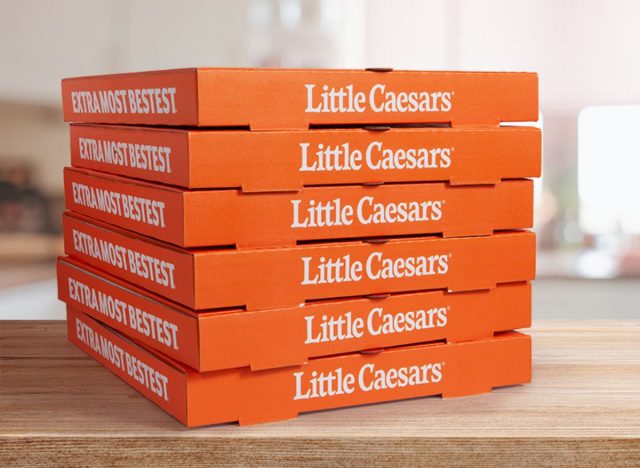 For an inexpensive pizza chain, Little Caesars brings in an exponential amount of revenue to co-owners Mike Ilitch and his wife Marian Ilitch —$4.5 billion in annual systemwide sales to be exact. The couple was found to be one of the richest in the country in the year 2017, alongside billionaires such as Donald Trump and Robert Kraft. Unfortunately, Mr. Ilitch passed away in the same year.
Now in 2022, the Forbes annual report has named Marian Ilitch #244 in the Forbes 400 and #4 in America's Self-Made Women, as the business continues to boom and hasn't missed a beat since opening in the 70s.
Little Caesars has had an impact on the NHL.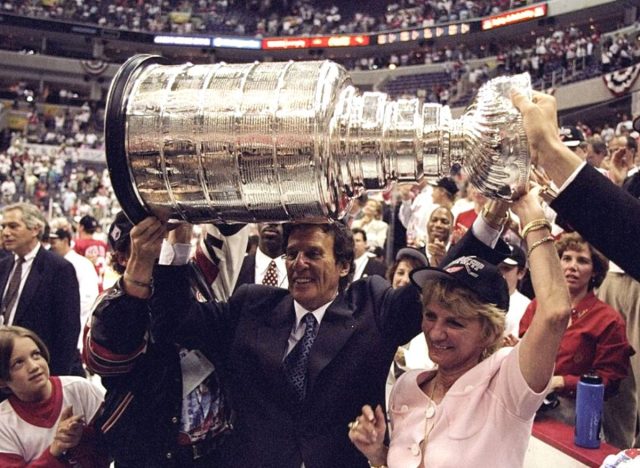 The pizza chain began Little Caesars Amateur Hockey League in 1979 and has expanded to be one of America's biggest hockey programs to date. The sports league is located in Detriot, Michigan, which also happens to be home of the very first Little Caesars pizza shop.6254a4d1642c605c54bf1cab17d50f1e
Mike Ilitch spent many of his early years playing minor-league baseball for the Detroit Tigers. As a way to give back to his supporters and community, Ilitch and his wife purchased the Detroit Red Wings hockey team, as well as the Detroit Tigers in the years 1982 and 1997 respectively. This investment has made the couple well-known for the revival of the "Dead Wings" (the unfortunate nickname for the Red Wings at the time) hockey team, who went on to win a total of four Stanley Cups. The story has inspired thousands of kids growing up and participating in the long-standing amateur hockey youth program.
The name "Little Caesars" hits close to home.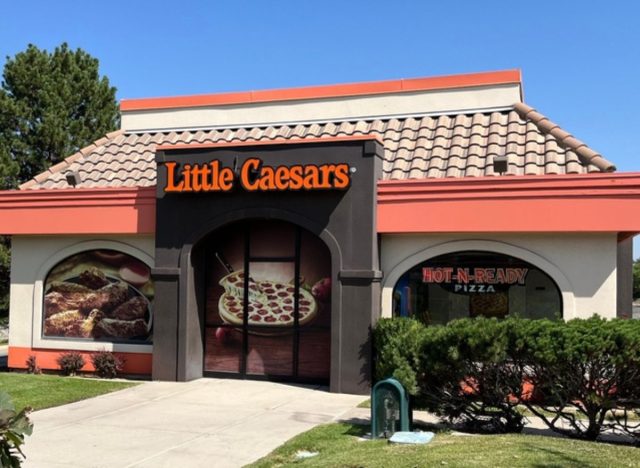 The first-ever pizza joint of the franchise was originally called "Pizza Treat," back in 1959. However, co-owner Marian Ilitch wanted to take the name a different route. She decided it should represent their family more and changed it to "Little Caesar," which came from her nickname for her husband Mike, according to The Detriot News.
The catchphrase "Pizza! Pizza!"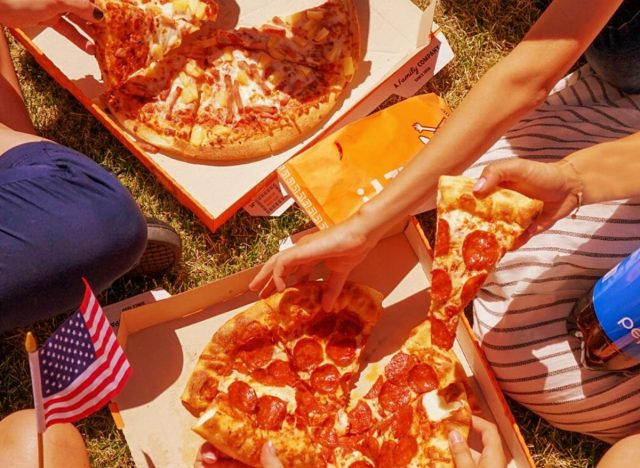 The little Italian man that goes "Pizza! Pizza!" in commercials has been ingrained into American minds somewhat intentionally. In hopes to grow the chain further and incentivize customers, Little Caesars started a "two pizzas for one" deal, hence the catchphrase, "Pizza! Pizza!"
Although, when this little saying was originally implemented and trademarked by the company in 1979, there was a catch when trying to expand more globally. Since the late 60s, Pizza Pizza has been a successful chain in Canada, and Little Caesars was just too late to the jump on claiming the slogan themselves within the country.
Some locations have allegedly used an unlikely tool to mix up the sauce.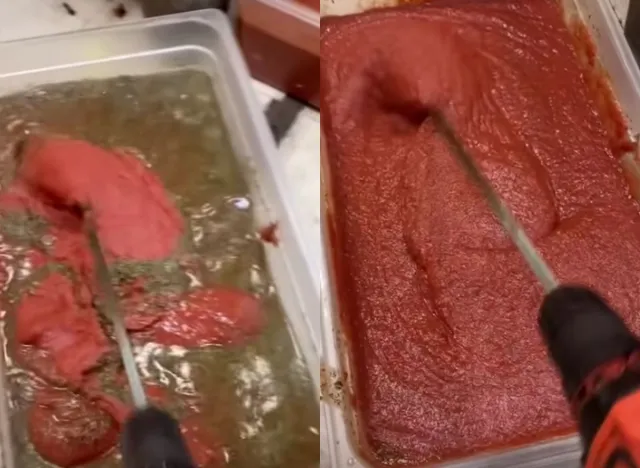 A crucial part of good pizza is a delicious and smooth marinara sauce. Little Caesars has received a lot heat for straying from normal sauce-making methods after a former employee went viral on Tik Tok for mixing up the few ingredients the chain's sauce requires by using a power drill.
The user @tye_pearson shared clips of combining water, tomato paste, and a baggy of Little Caesars herbs and spices into a large plastic container on the floor, where he then turns on his tool and mixes away. The famous video received over 4.3 million viewers and had been seen about 430,000 times, Newsweek reports. (The video has now since been deleted.)
Tons of other Little Caesars employees commented on the Tik Tok, some admitting to other mishaps in the kitchen and others disputing the entire contents of the video. Representatives of the franchise have also denied the allegations that this process occurs and says employees are to use a spatula or mixing spoon to create their staple sauce, per Mashed.
There's barely any cheese on that pizza.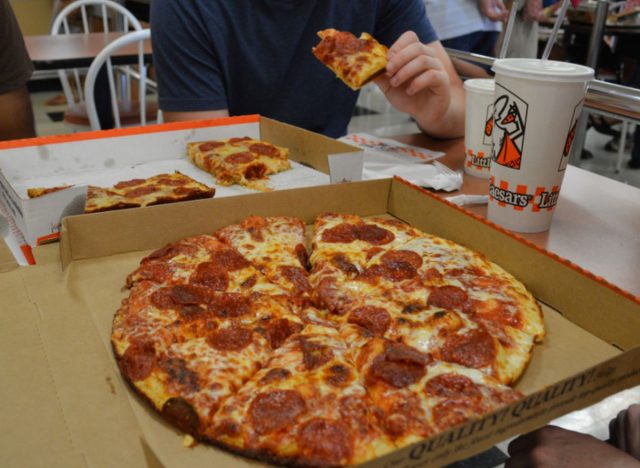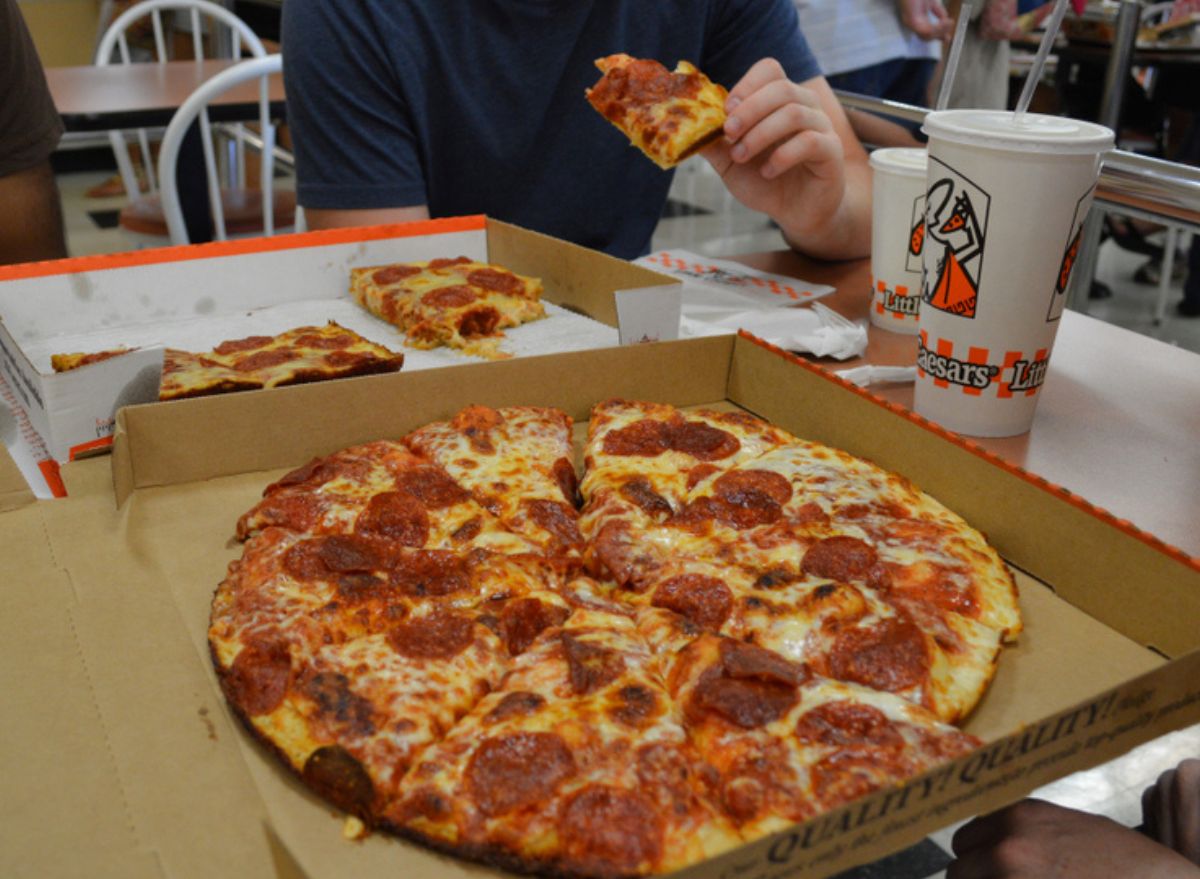 If there's one way to cut costs, it's to use the least amount of the ingredients that are the most pricey. According to a former Little Caesars employee on Reddit, "The 5-dollar pizzas were cheaper to make because we used half the cheese of a normal pizza. Cheese is the highest ingredient cost by far." The cheese is also a combination of one part muenster and three parts mozzarella cheese that gets thinly spread far and wide on a round pie. As the chain is increasing their prices for additional meat and toppings, maybe they'll consider adding one more scoop of the ooey-gooey good stuff.
A few items are actually still made from scratch.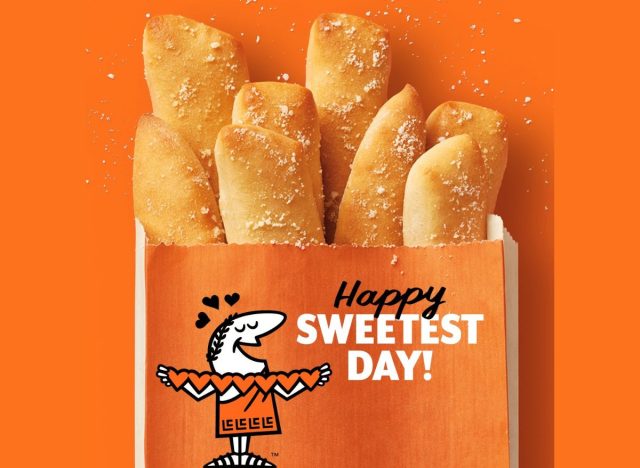 When you think of cheap, ready-to-order fast food chains and their products, fresh ingredients aren't always a given. Instead, it's realistic to expect most items to be frozen or come out of a vacuum-sealed package. Shockingly enough, as Little Caesars is ridiculously affordable, they make their pizza dough and legendary Crazy Bread in-house daily or every other day from just a few ingredients: flour, water, sugar, salt, yeast, and soybean oil. Once it's risen, the dough is shaped, baked, and then smothered in parmesan, and an almost addictive buttery garlic spread.
Jordan Summers-Marcouillier
Jordan Summers-Marcouillier was born and raised in San Jose, California and now works as a writer in New York, NY.
Read more about Jordan