9 Ways to Lose Weight in 5 Seconds
No time? No problem. All it takes is 5 seconds to implement these quick and easy tricks for healthy eating and weight loss!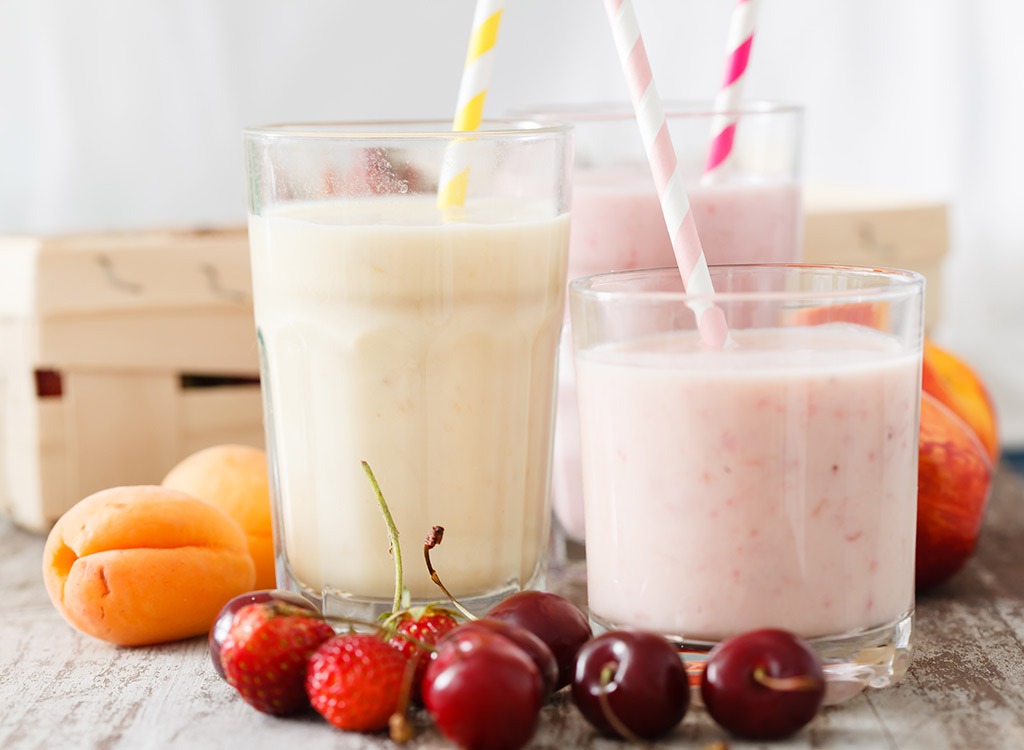 Frozen fruit is often looked upon as a second- class citizen in the produce world, but it's the secret ingredient in a first-rate smoothie. Not only does frozen fruit give you a cold smoothie without the diluting effects of ice, it also lends a thick, creamy body to the final product. The nutritional advantages may be even greater. Studies have found that many nutrients are higher in frozen fruits and vegetables than in fresh, since frozen fruits are picked at the height of their season and frozen immediately, while "fresh" fruits often take weeks before landing in your shopping cart. Mix some into our Best-Ever Smoothie Recipe for Weight Loss!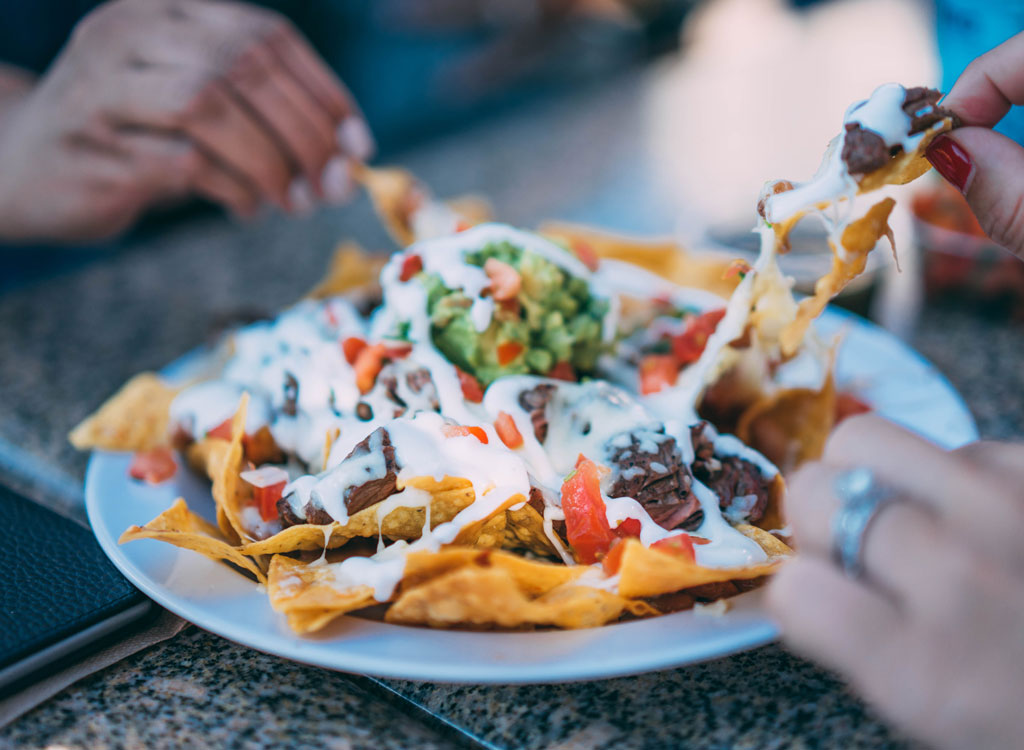 The secret to a great, healthy nacho is balance. Put too much on and that little chip grows soggy and overburdened. Add too little and they're not really nachos, are they? To hit the sweet spot, spread a single layer of chips (the bigger, the better) on a baking sheet. Start with beans, followed by cheese, meats, and vegetables. Save all cold toppings (guac, salsa, etc.) for after the nachos emerge from the oven.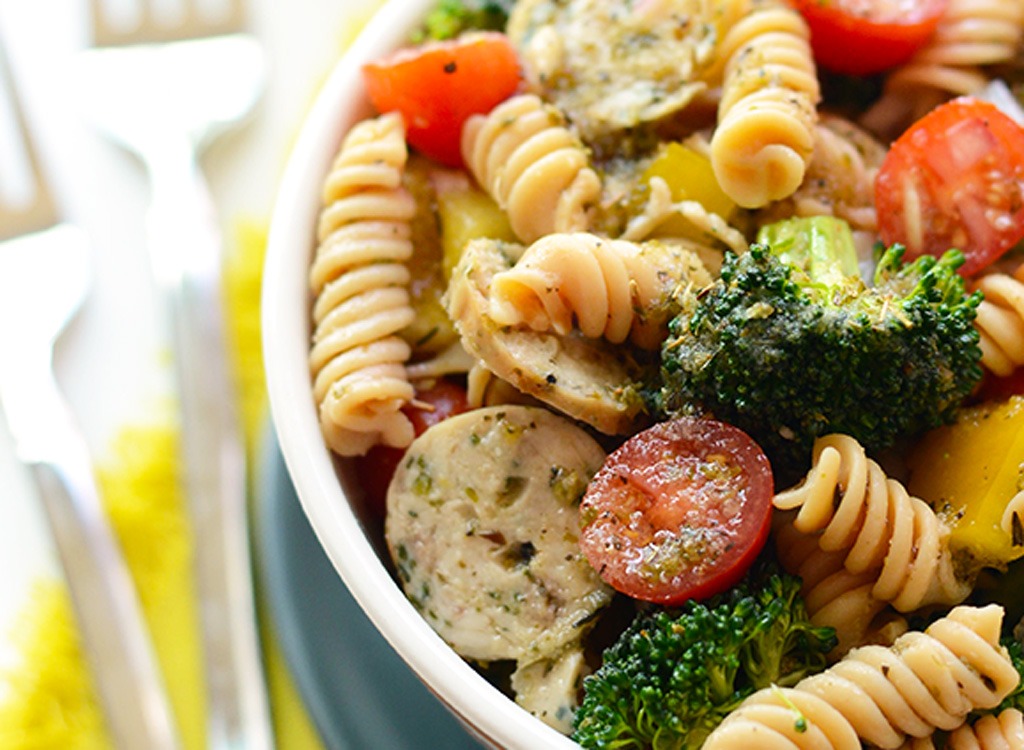 Cut calories by swapping in low-fat cheese for the full-fat; add fiber by using whole wheat or fortified pasta (preferably Ronzoni Smart Taste) instead of white noodles; and boost nutrition by stirring in steamed broccoli, cherry tomatoes, roasted peppers, even a few scoops of salsa. By the way, lose weight eating pasta with these Best Carbs for Weight Loss!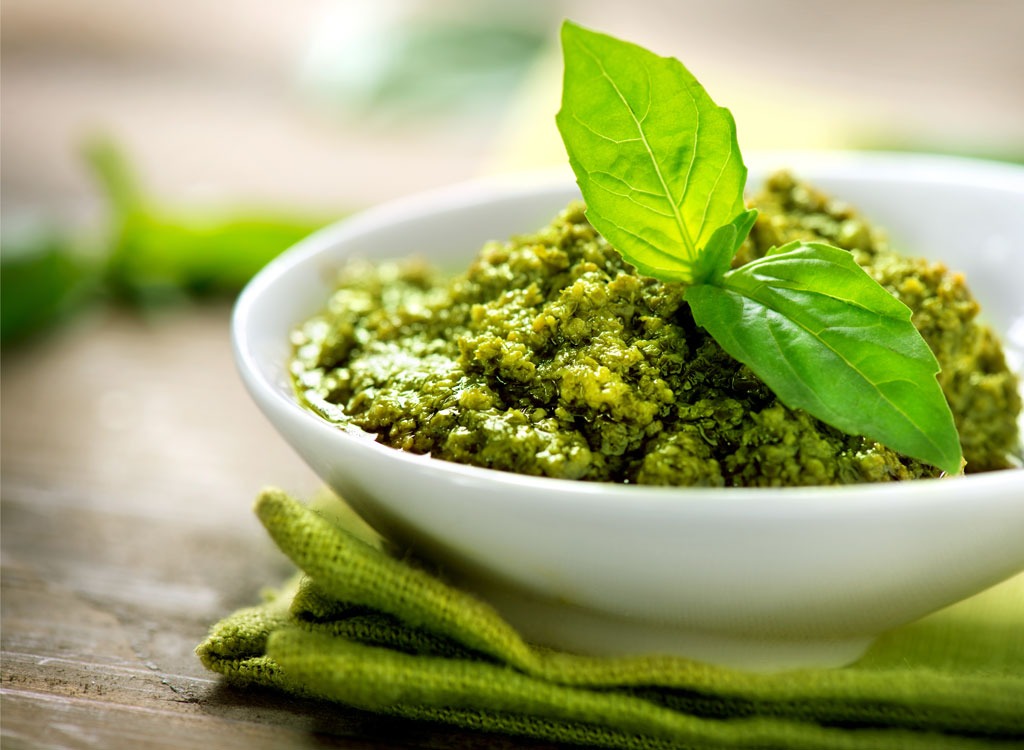 6254a4d1642c605c54bf1cab17d50f1e
A serving size of pasta in Italy is about 6 ounces; here, many restaurant noodle bowls top 2 pounds. Limit your noodles to 5-6 ounces, but keep the sauce portions more substantial. That means the pasta-to-sauce ratio will skew toward the latter, which makes for a more satisfying meal for fewer calories.
Chipotles are smoked jalapeños, and they come canned with a spicy, vinegary tomato sauce called adobo. You'll see a lot of recipes in this book that call for chipotles, so here's what you do: Buy a can, dump the whole thing into a blender or food processor, and pulse. Use a spoonful to spike salsas, marinades, mashed potatoes, and soups. Beyond being insanely delicious, the capsaicin in chipotle has been shown to boost metabolism.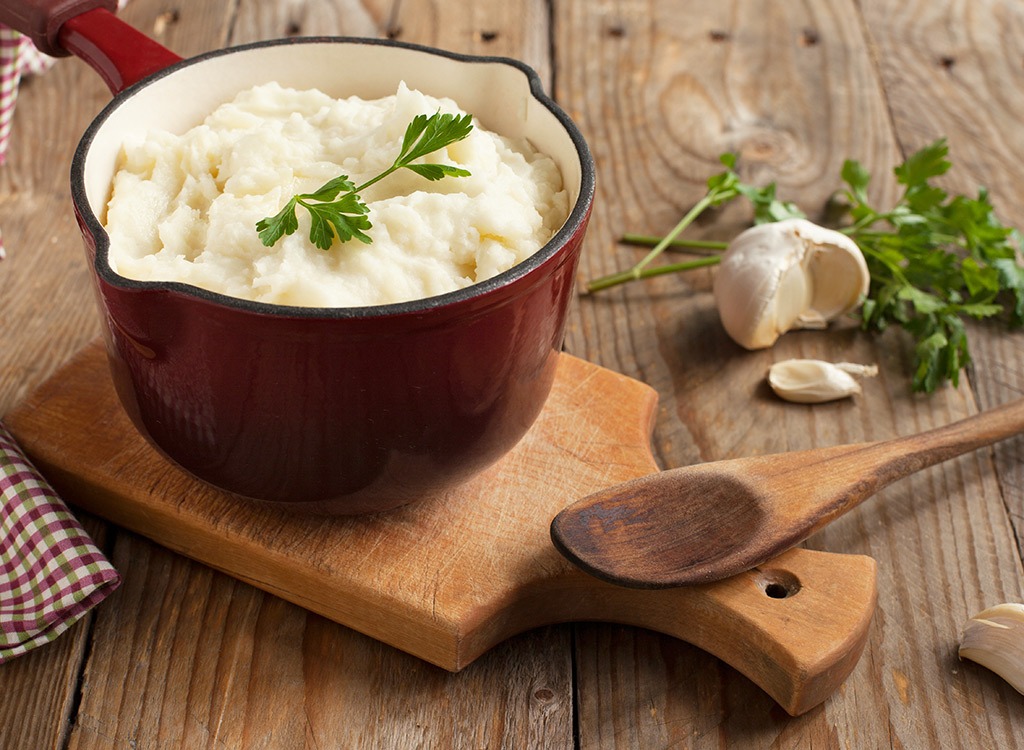 For extra flavor and nutrients add any of these extras:
• Artichoke hearts, lemon zest, and grated Parmesan
• Crumbled bacon, sharp Cheddar, and minced scallions
• Sun-dried tomatoes, chopped olives, and crumbled goat cheese or feta
• Caramelized onions and grated horseradish.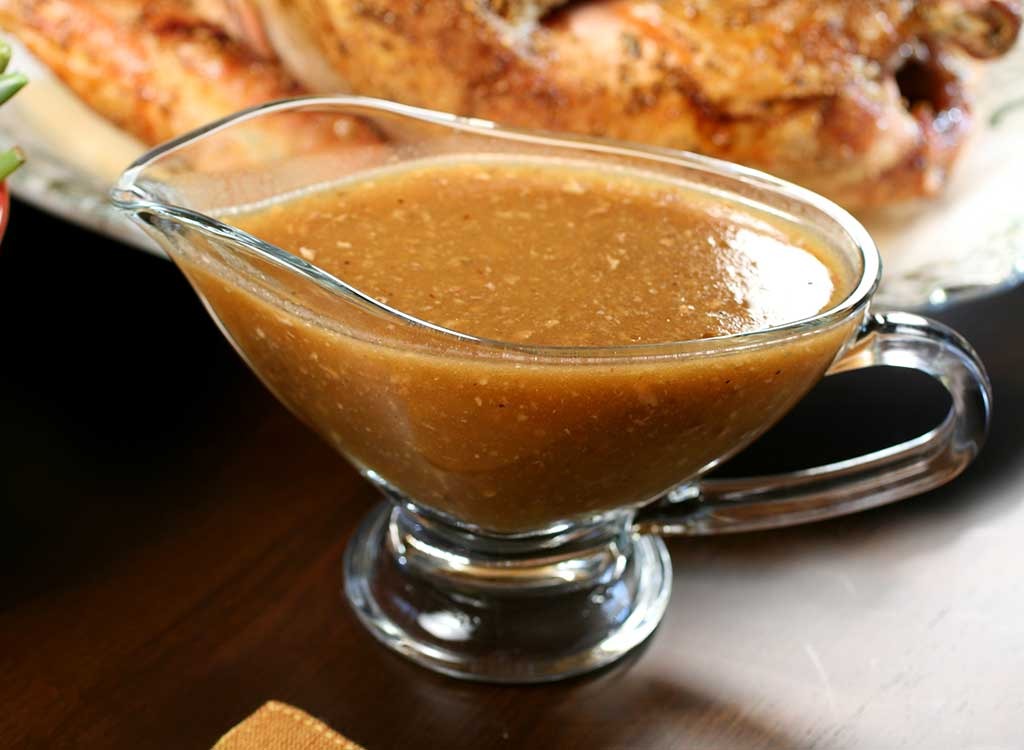 A roast chicken leaves behind the perfect base for a rich gravy. Combine the roasting juices accumulated beneath the chicken in a pan with a spoonful of flour. Slowly add warm chicken stock, whisking to keep lumps from forming. Flavor with herbs, a splash of white wine, or a squeeze of lemon. Enjoy any of these 10 Fat-Blasting Chicken Recipes!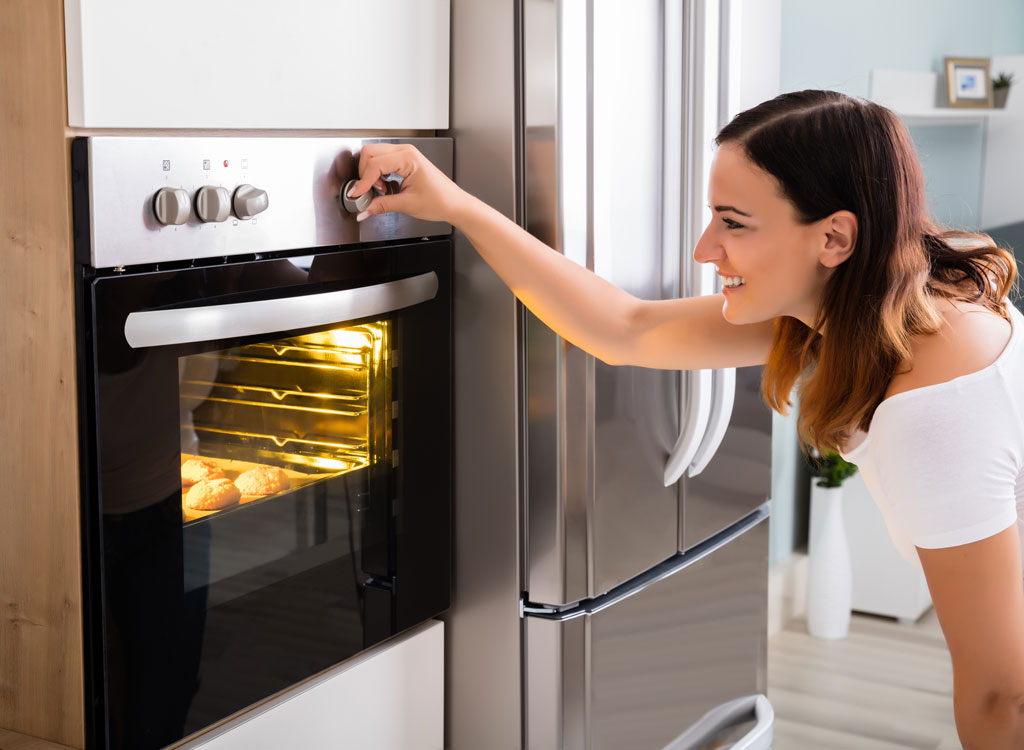 Many recipes call for baking racks to allow the warm air to fully circulate around the meat, but you can simulate the effect very simply with no extra equipment. Position one oven rack in the middle of the oven and another immediately below it. Prep and season the meat, then place it directly on the middle rack. Place a rimmed baking sheet below to catch the juices as they fall from the meat. (Those precious juices can be turned into gravy with a bit of flour and broth!)
Before draining your pasta, dip a coffee mug into the pot and scoop up the cooking water. If the noodles look dry, add a few splashes of this magical stuff. The starchy water not only moistens the dish, but it helps the sauce cling to the noodles.
Eat This, Not That!
Inspired by The New York Times best-selling book series, Eat This, Not That! is a brand that's comprised of an award-winning team of journalists and board-certified experts, doctors, nutritionists, chefs, personal trainers, and dietitians who work together to bring you accurate, timely, informative, and actionable content on food, nutrition, dieting, weight loss, health, wellness, and more.
Read more about Eat This