15 Best Low-Carb Fast Food Orders, According to Dietitians
Cut back on carbs while eating your favorite foods — with just a few expert-recommended tweaks.
If you're looking to cut your carb intake, or are considering giving a low-carb diet such as Atkins or keto a try, the fast-food counter probably isn't the first place you should go to; however, that doesn't mean there are no low-carb fast food menu items for you to choose from.
We reached out to nutrition experts and registered dietitians to put together a list of 15 low-carb fast food orders so you can stick to your heart-healthy weight loss diet while you're out and about.
What is considered low carb?
While there is no set or strict definition of a low-carb diet, there are some guidelines to keep in mind if you are interested in lowering your carb intake.
"According to the Dietary Guidelines for Americans, it is recommended to make 45-65 percent of your diet consist of carbohydrates," says Amanda A. Kostro Miller, RD, who serves on the advisory board for Smart Healthy Living. "A low-carb diet can technically mean a diet that contains a carbohydrate percentage less than the recommended amount—less than 45 percent of the diet."
There are other low-carb diets that cut back on carbs even more. "Some popular low-carbohydrate diets set much lower carbohydrate expectations. For example, the keto diet typically allows no more than 5-10 percent of calories from carbohydrates, which for a 2000-calorie diet is just 25-50 grams of carbohydrates daily. To put this in perspective, a medium apple contains 25 grams of carbohydrates," says Staci Gulbin, MS, MEd, RD, and a licensed dietitian with Livin3.
Why should you pay attention to your carbohydrate intake?
The appeal of low-carb diets largely stems from the belief that they can accelerate weight loss and do so rather quickly. "The idea behind the low-carb diet is that decreasing carbs lowers insulin levels, which causes the body to burn stored fat for energy and ultimately leads to weight loss," says Hayley Cimring, a registered dietician who currently writes and reviews articles for Fitness Savvy.
A person's overall health may contribute to their decision to stick to a low-carb eating regimen. "People who need to lose weight and those diagnosed with diabetes (type 1 and 2) can benefit a lot from low-carb diets like keto and Atkins", says Sofia Norton, a registered dietitian working with Kiss My Keto. "Such diets help 'flip the metabolic switch,' i.e. make the body 'switch' from glucose burning to fat burning. Flipping the metabolic switch increases metabolic flexibility, enhances glycemic control, burns excess fat, and even improves insulin sensitivity."
She says: "When you restrict carbs on a low-carb diet, you create somewhat of an energy crisis. The body prefers burning carbs for energy because they're easier to burn than fat and protein. But once you deprive it of its favorite fuel, the body has no other option but to start burning fat. This boosts your chances of weight loss, and for those with diabetes, it lets your body utilize a different fuel source and it improves metabolic health in the long run."
What are the best low-carb fast food orders?
We all crave fast food from time to time, and there's nothing wrong with that. Scroll down for the 15 best low-carb fast food finds that dietitians recommend.
"Chick-fil-A's 8 piece grilled chicken nuggets has only 2 grams of carbs," says Katie M. Dodd, MS, RDN, a registered dietitian nutritionist with The Geriatric Dietitian. "A side salad is the lowest carb side with 12 grams of carbs. Be cautious with sauces and dressings, as this will add more carbs."
"When you eat at fast-food restaurants, you could always eat a burger on a lettuce wrap instead of a bun or eat eggs and cheese with no biscuit. However, to make sure the meal is both low-carb and balanced, you should choose something that contains both protein and fiber," says Gulbin. "An example of this is a half-portion of the Green Goddess Salad with chicken from Panera Bread. It contains 8 grams of net carbohydrates (12 grams total carbohydrates, 4 grams fiber), 21 grams of protein, and is even lower in sodium than you would expect from fast food with 370 milligrams of sodium."
3. In-n-Out's "Protein-Style" Hamburger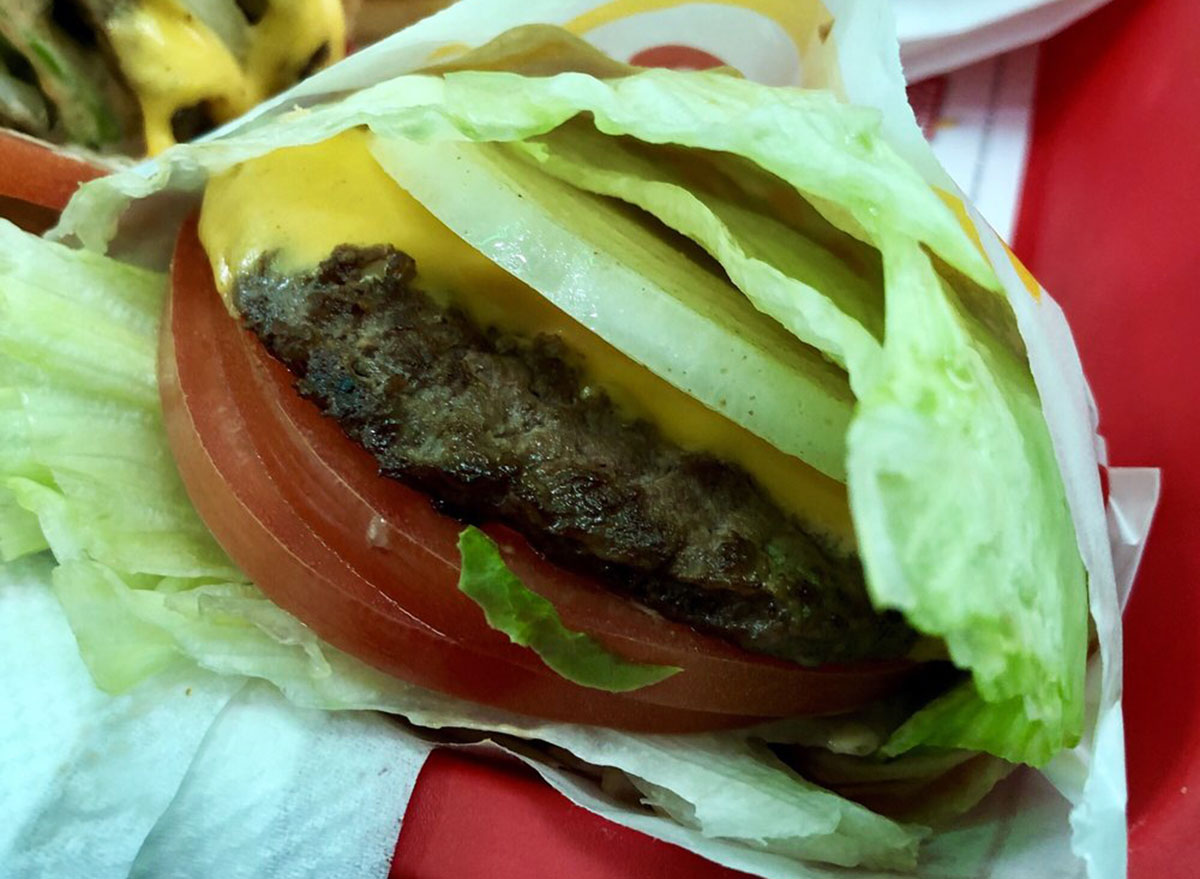 The chain's healthier version of a hamburger uses lettuce leaves in place of a traditional hamburger bun, which automatically cuts down on carbs. "I love the option to use a lettuce wrap whenever I can find it, as it cuts down on refined, processed grains and automatically cuts down on overall calories," says Amanda Baker Lemein, MS, RD, LDN. "Plus, you may actually like the extra crunch from the lettuce."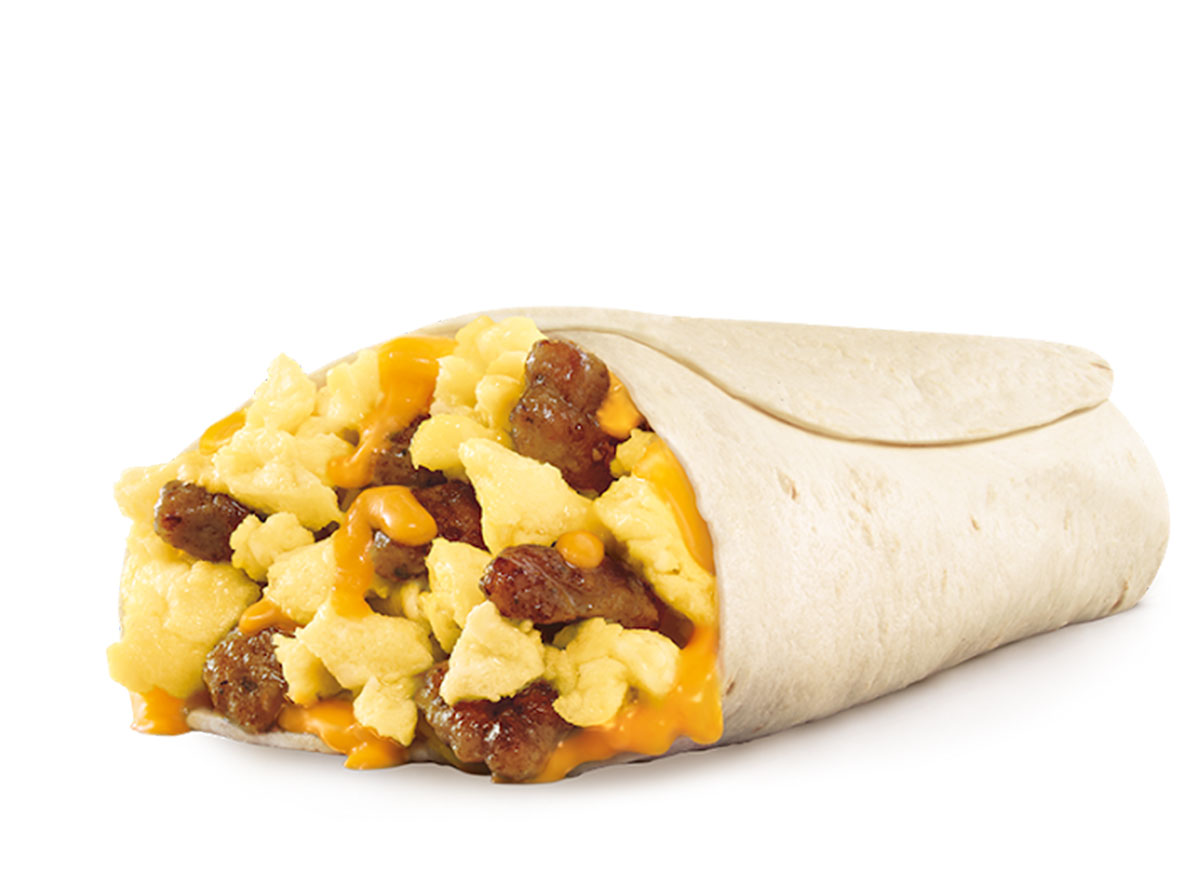 Cimring is a fan of Sonic's breakfast burritos as a low-carb option, so long as you forgo the tortilla. "Just make sure they don't add tater tots or hash browns to them," she says. "Some have them, some don't." For lunch, Cimring suggests any one of Sonic's 15 hamburgers, sans the bun.
5. A&W's Grilled Chicken Sandwich with Ranch Dipping Sauce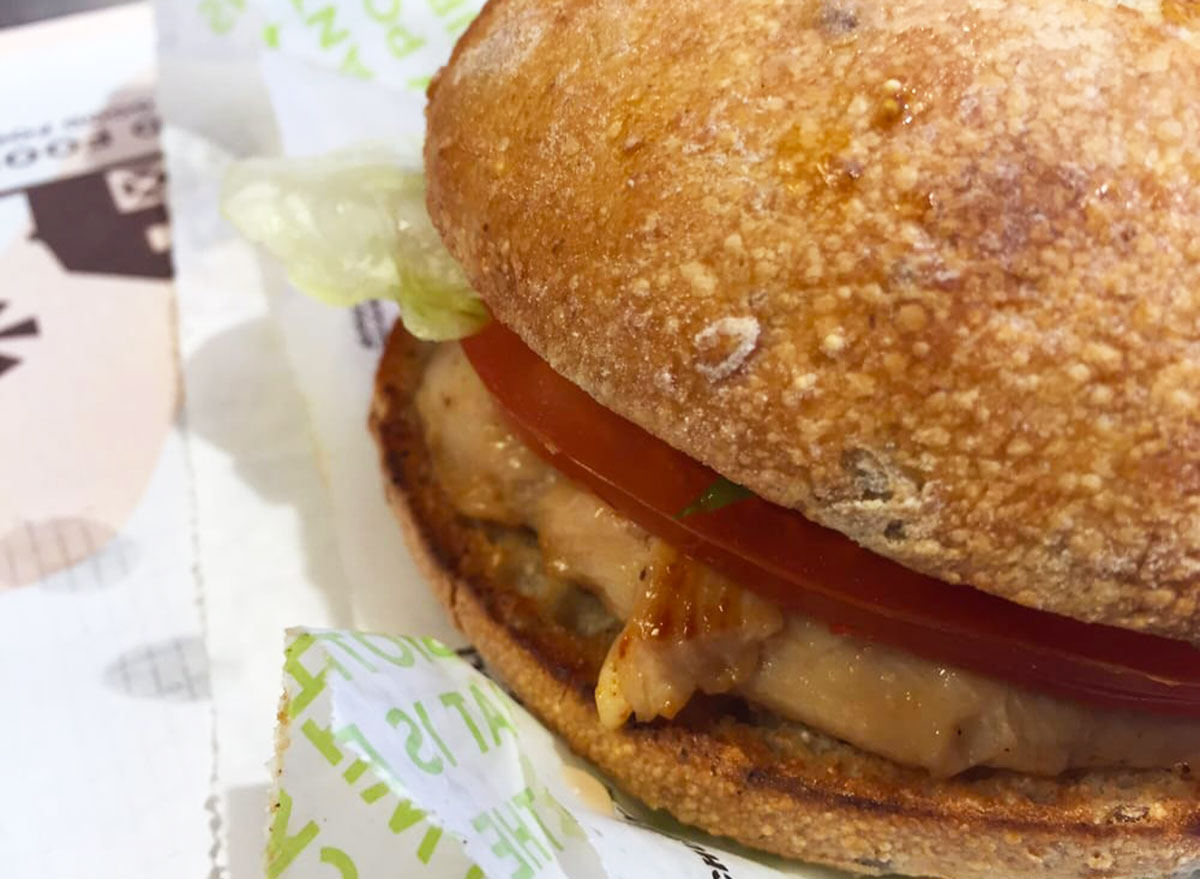 Colette Heimowitz, VP of Nutrition, Research and Education at Atkins, likes the no bun approach, especially when it comes to A&W. "Get the hot dog, cheese dog, Coney dog, hamburgers, cheeseburgers, or the grilled chicken sandwich with ranch dipping sauce, but ask for no bun."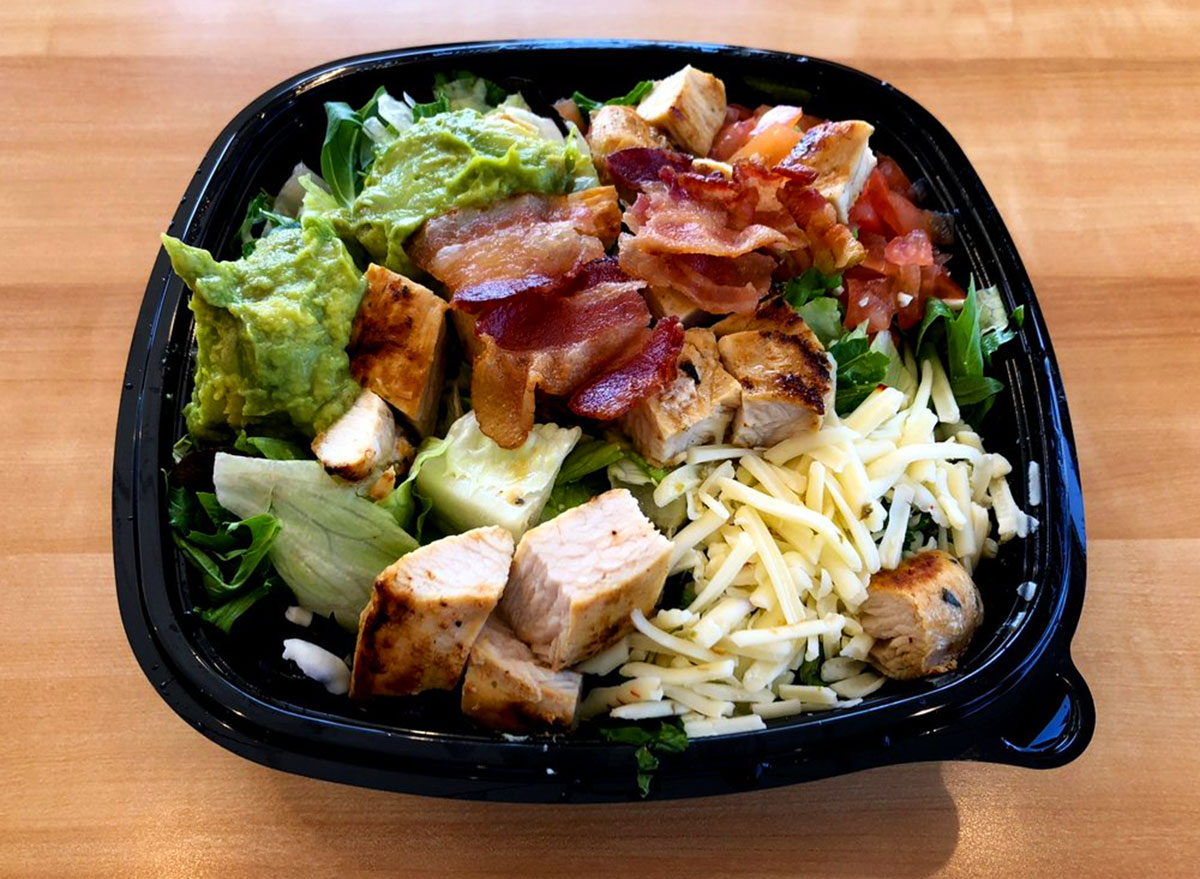 "Lettuce, cheese, tomatoes, avocado, bacon, and grilled chicken are all keto-friendly and low-carb ingredients, making this salad perfect as is for any low-carb diet," says Norton. "It's around 600 calories and 10g of net carbs, which makes it filling and satisfying."6254a4d1642c605c54bf1cab17d50f1e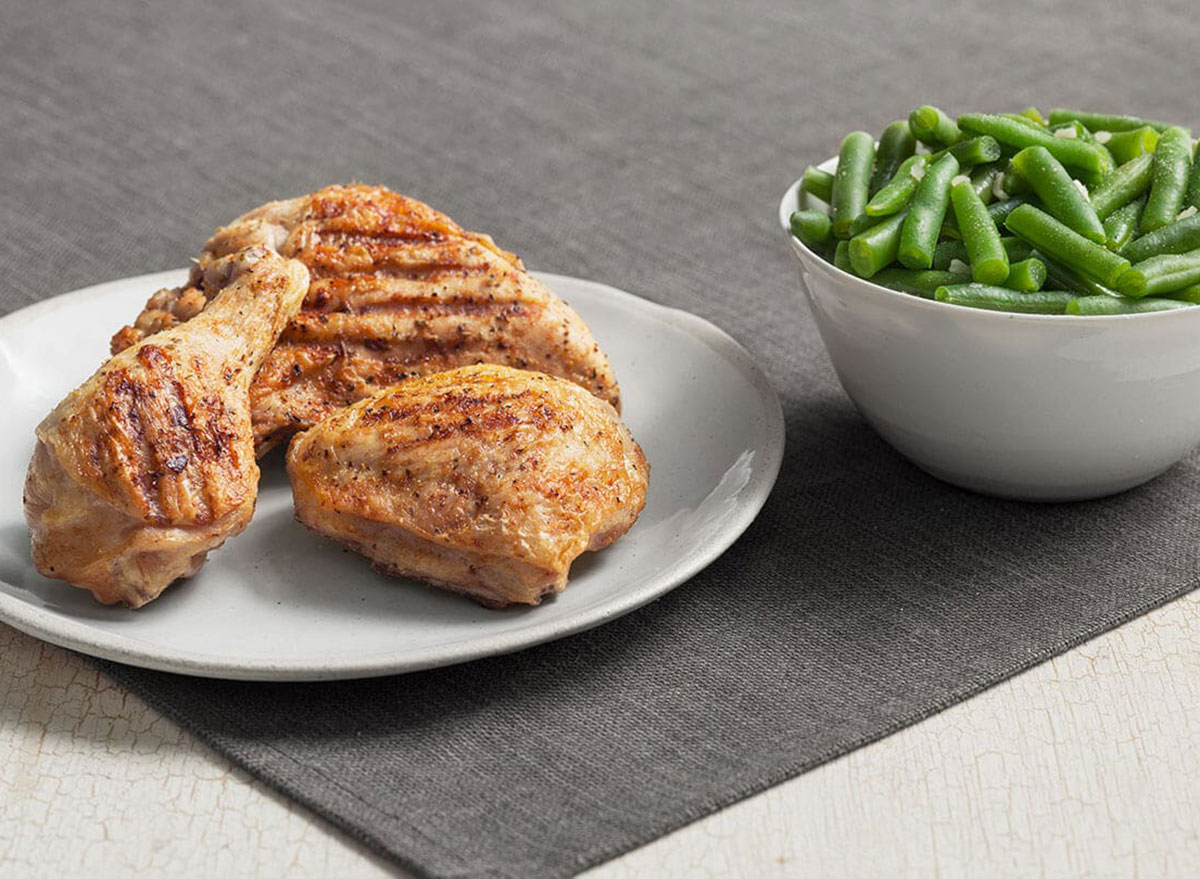 "Marinated grilled chicken and green beans are both low-carb meals," Norton says. "They're also healthy compared to many other fast food options since you'll get quality protein and fiber with such an order."
8. Chipotle's Make-Your-Own Salads or Bowls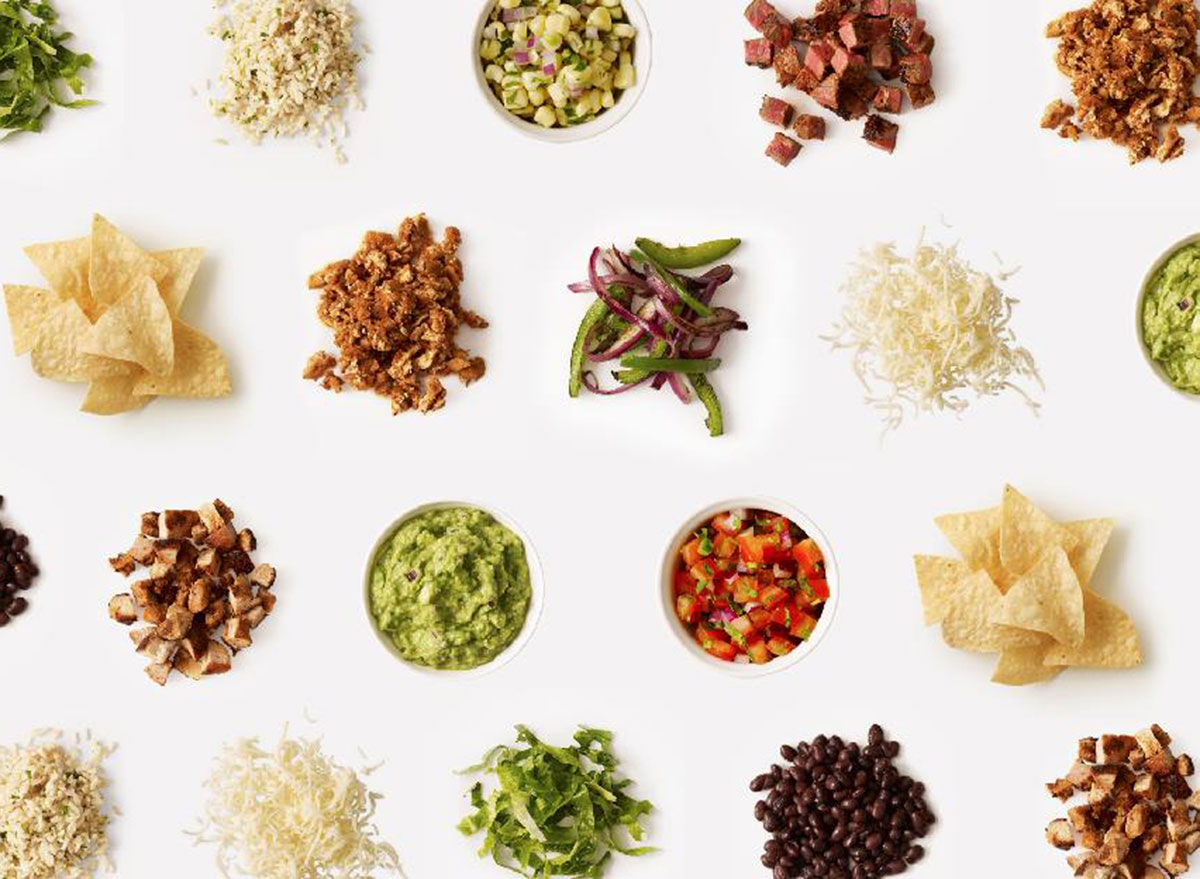 "Chipotle may be perhaps the easiest way to get low-carb meals since you can often choose exactly what goes into your meal," says Kostro Miller. "Choose a salad, burrito bowl or lifestyle bowl that contains little to no rice, beans, corn, tortilla chips and tortillas. Choose a meal that is rich in meats, avocado, veggies (i.e. fajita veggies), greens, salsa. Control the amount of sour cream and cheese that you put on, because these options do contain some carbohydrates."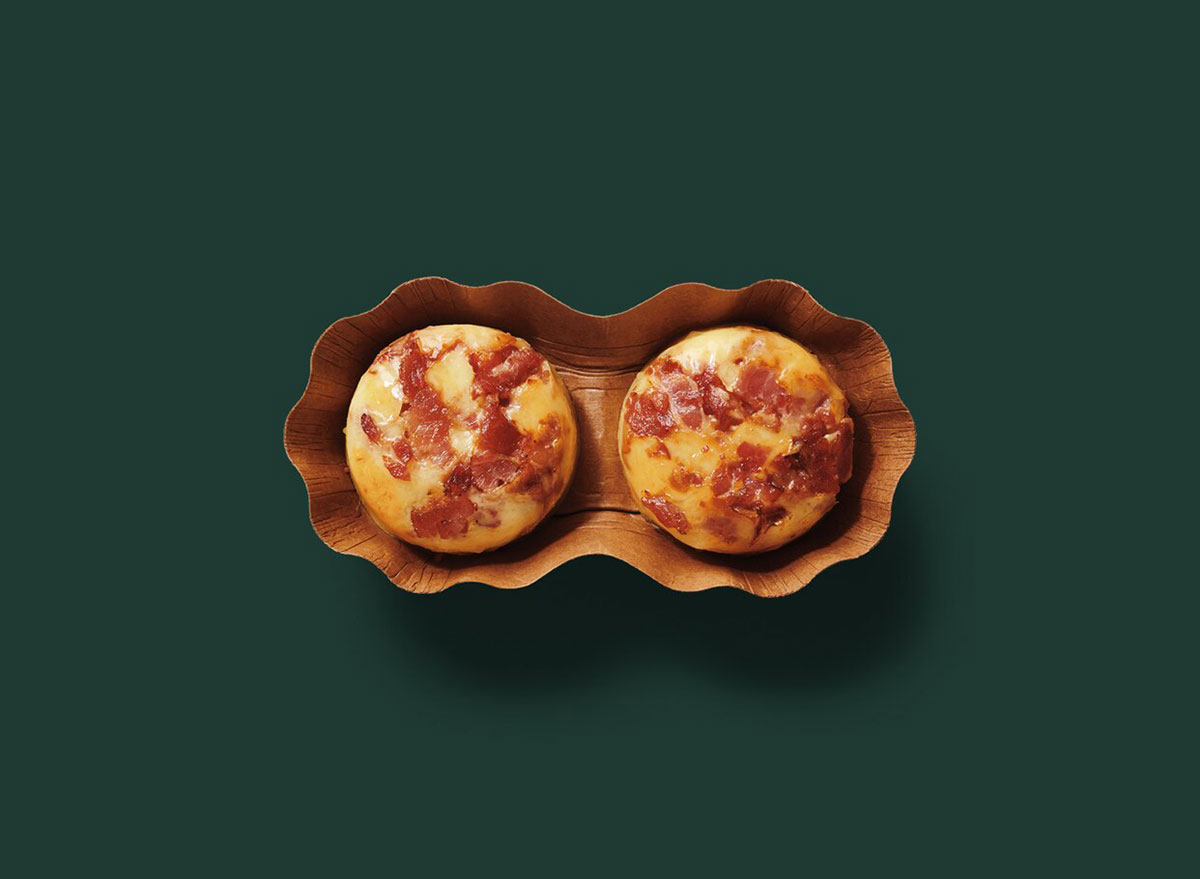 "I love the egg white or regular egg sous vide bites from Starbucks," says Lemein. "These are perfect for pairing with high fiber crackers (like everyone's favorite GGs), instead of choosing a refined muffin or wrap in some of their other sandwiches."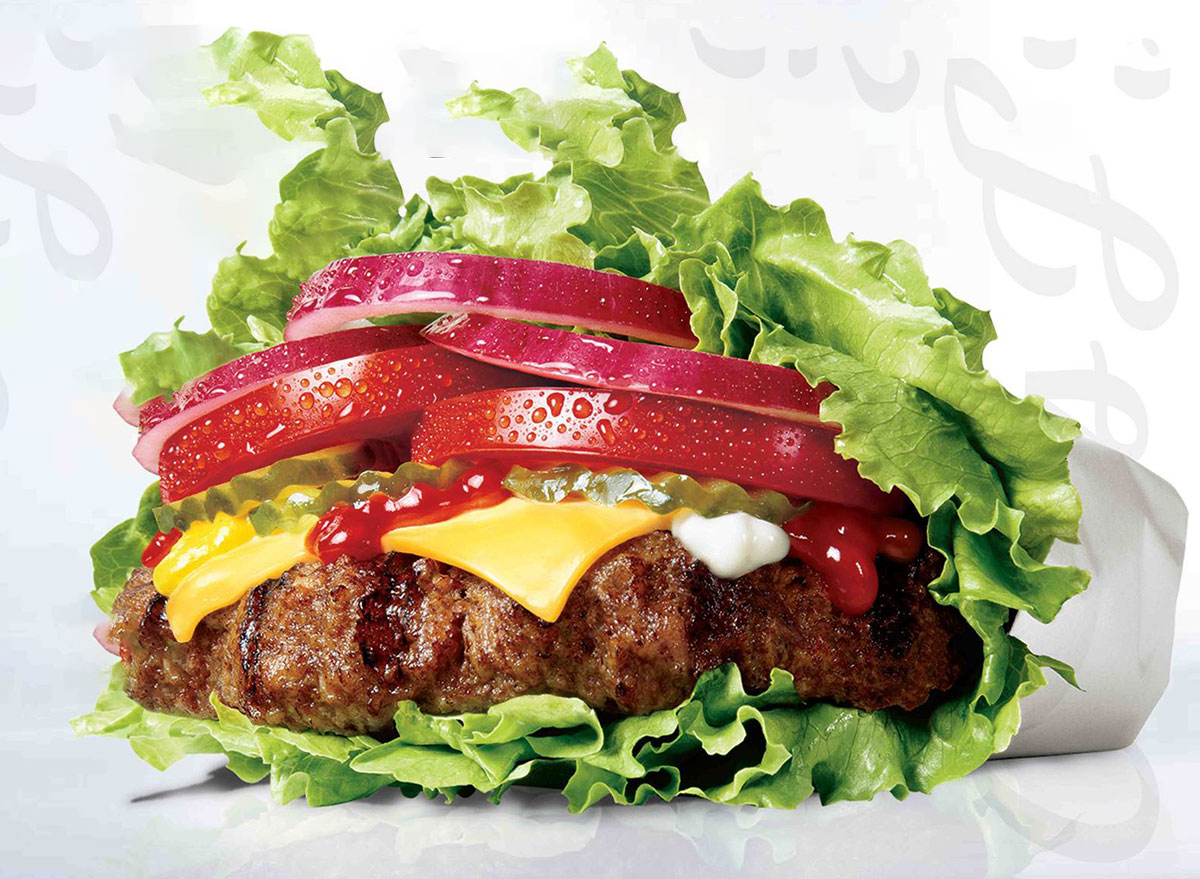 This lettuce-wrapped burger has low carb in its name, which is why Cimring likes it. As far as other low-carb options from this chain go, Cimring is also a fan of the Charbroiled Chicken Salad, though she advises you to "lose the croutons." As far as condiments go, she recommends the "house and blue cheese salad dressings and the house and buffalo wing sauces."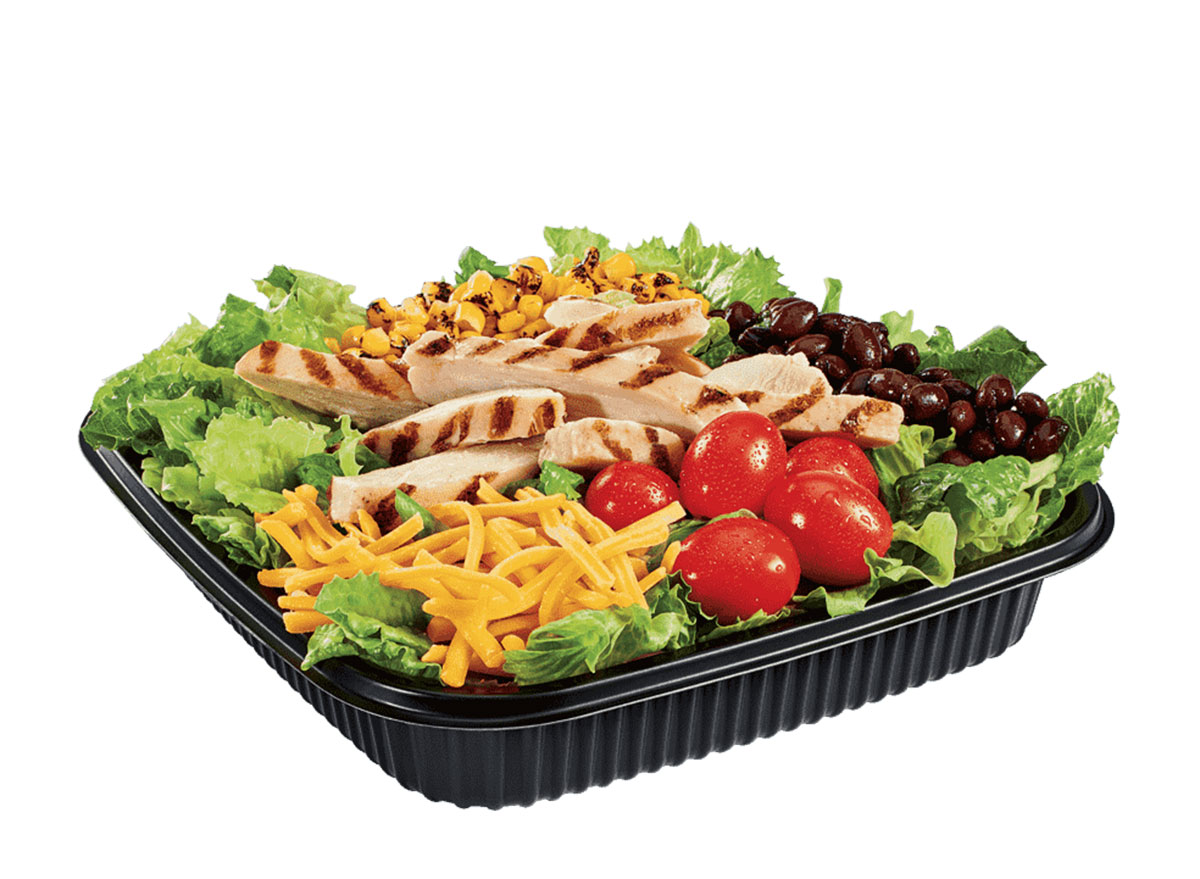 This salad, along with the Grilled Chicken Salad, Chicken Fajita Pita and Chicken Teriyaki Bowl are all solid low-carb options according to Kathleen Kennedy, Jack in the Box's Director of Culinary Innovation. "These meals work since they are both flavorful and offer the right amount of balance and protein for those looking for a healthier, lower-carb option to still satisfy their cravings on the go," she says. "And of course you can replace any of our Jack burgers or grilled chicken sandwiches with lettuce for the bun as a low-carb option."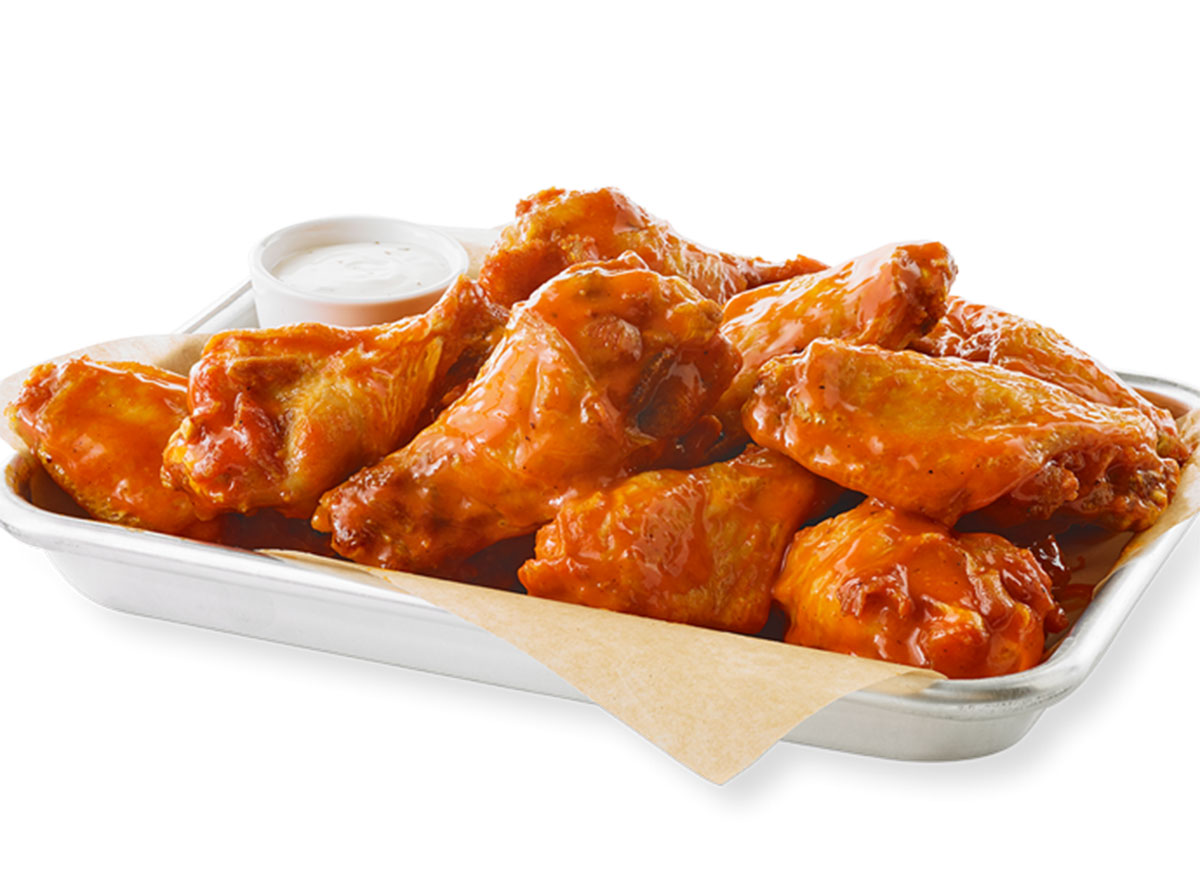 Miriam Christie MS, RD, LD and a medical advisor for eMediHealth notes that Buffalo wings can be a great low-carb fast-food choice, so long as they're prepared the right way and are served with certain sauces. "Traditionally, buffalo wings are covered in a spicy red sauce made from vinegar and hot red peppers. An order of these buffalo wings typically has 0–3 grams of carbs per serving," she says, warning that those looking to limit their carb intake should avoid some sweet sauces such as "barbecue, teriyaki, and anything made from honey." With that in mind, BWWs 6-Count Traditional Wings with Original Buffalo Sauce are a solid option, with just 1 g of carbs.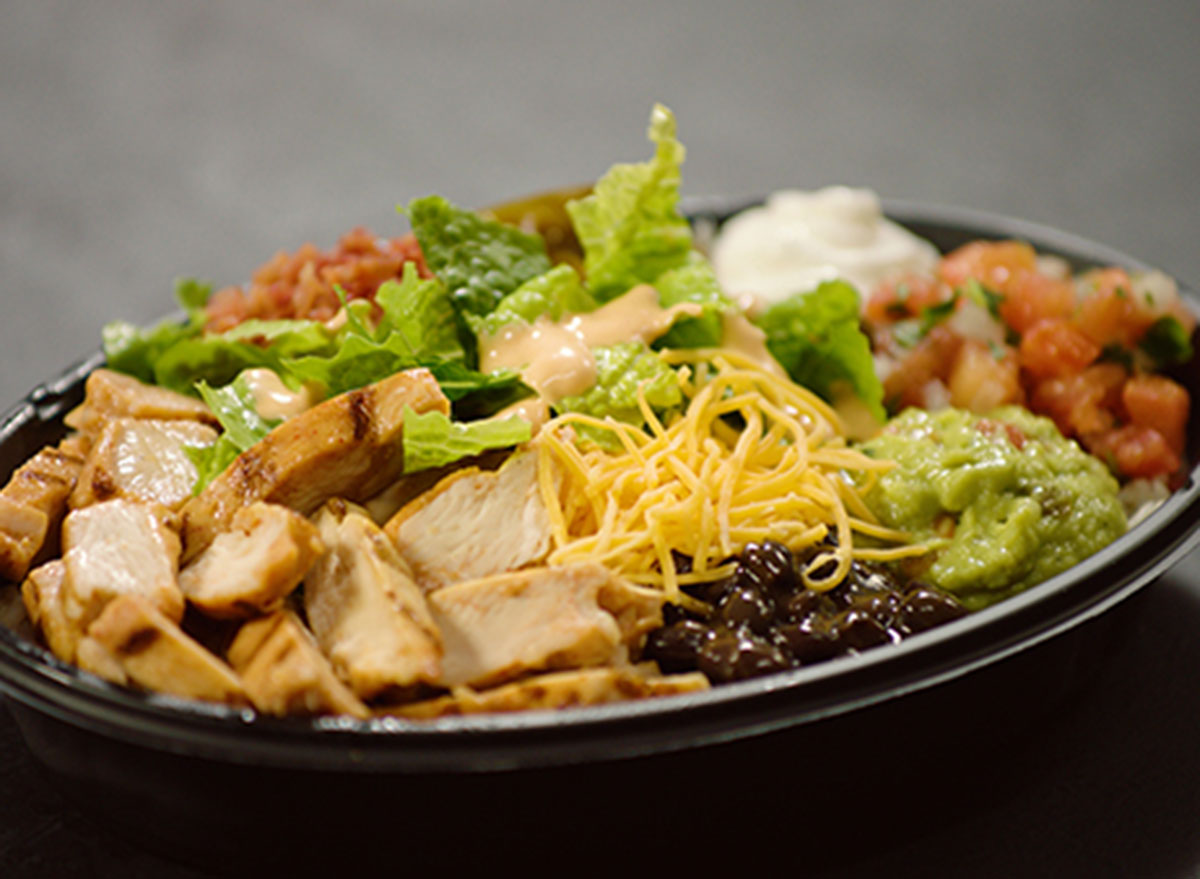 "Fast Food (while not the healthiest option for eating a lower carb meal plan) can sometimes be the only option. If you're going to do it … do it right," says Katie Boyd (MS). She's partial to Taco Bell's Power Chicken or Power Steak Bowls, prepared with "no rice and no beans." She's also fond of the Fiesta Taco Salad sans tortilla strips.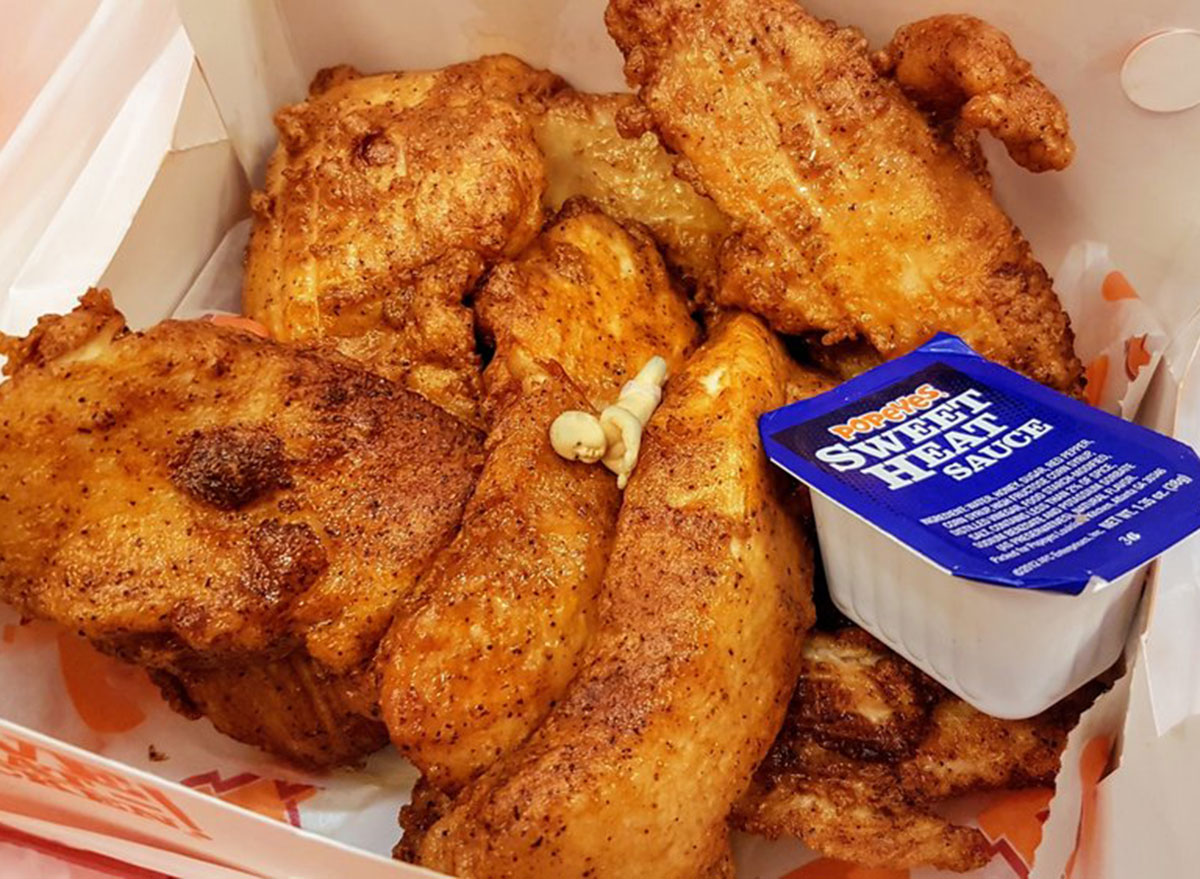 "Fried chicken at KFC or Popeyes can pack a hard core punch of glutinous carbs and vegetable oils both causing inflammation in the body. Your best low carb options at these places are the grilled chicken and green beans and cole slaw which is about 15 grams of carbs," says Boyd. A 5-piece order of Popeyes' blackened chicken tenders has just 3 g of carbs.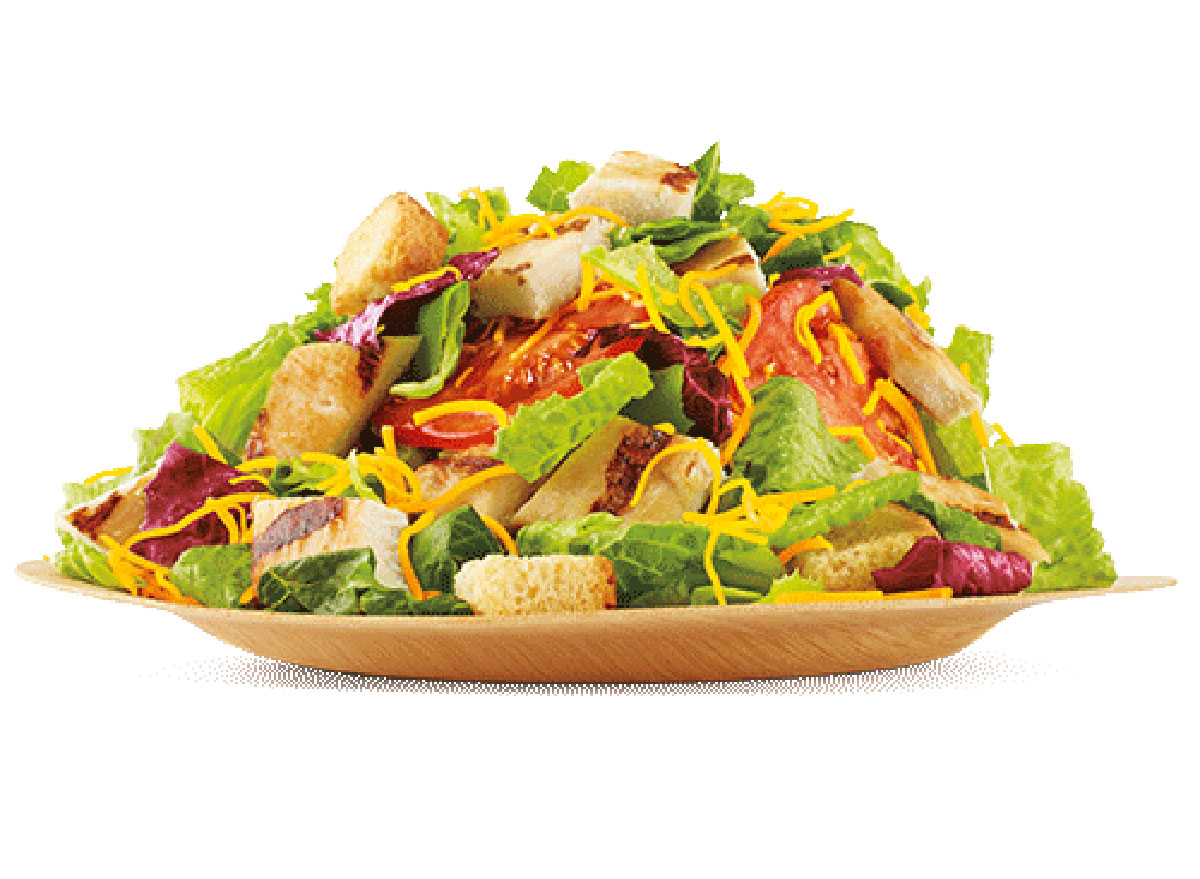 When it comes to eating low carb, Cimring likes Burger King's Chicken Garden Salad; Ken's Ranch dressing. She's also a fan of the chain's burgers and Whoppers, as well as the Grilled Chicken Sandwich, so long as they are all served without a bun. "The bottom line is, there are truly tasty and healthy low-carb options out there in the fast-food industry," she said.