This Is What a McDonald's Menu Looked Like in the 1980s
The menu was filled with both nostalgic favorites and one-time novelties.
When we were growing up, a trip to McDonald's made any day extra special. Mere mentions of our favorite breakfast or lunch menu items flood us with nostalgia and send us right back to childhood. Some of these popular offerings survived through the years, while others couldn't compete and fell to the wayside.
If you grew up in the 1980s, you saw a new wave of McDonald's instant favorites grace menus across the United States. While some of these new items took off with the public, other items meant to compete with fast-food chains like Pizza Hut or Burger King wouldn't last. Let's take a trip down memory lane to conjure up some of the best-loved McDonald's favorites that popped up or became mainstays in the '80s and explore some novelties that disappeared as fast as they came.
And for even more about the chain, don't miss these 30 Crazy McDonald's Facts That Will Blow Your Mind.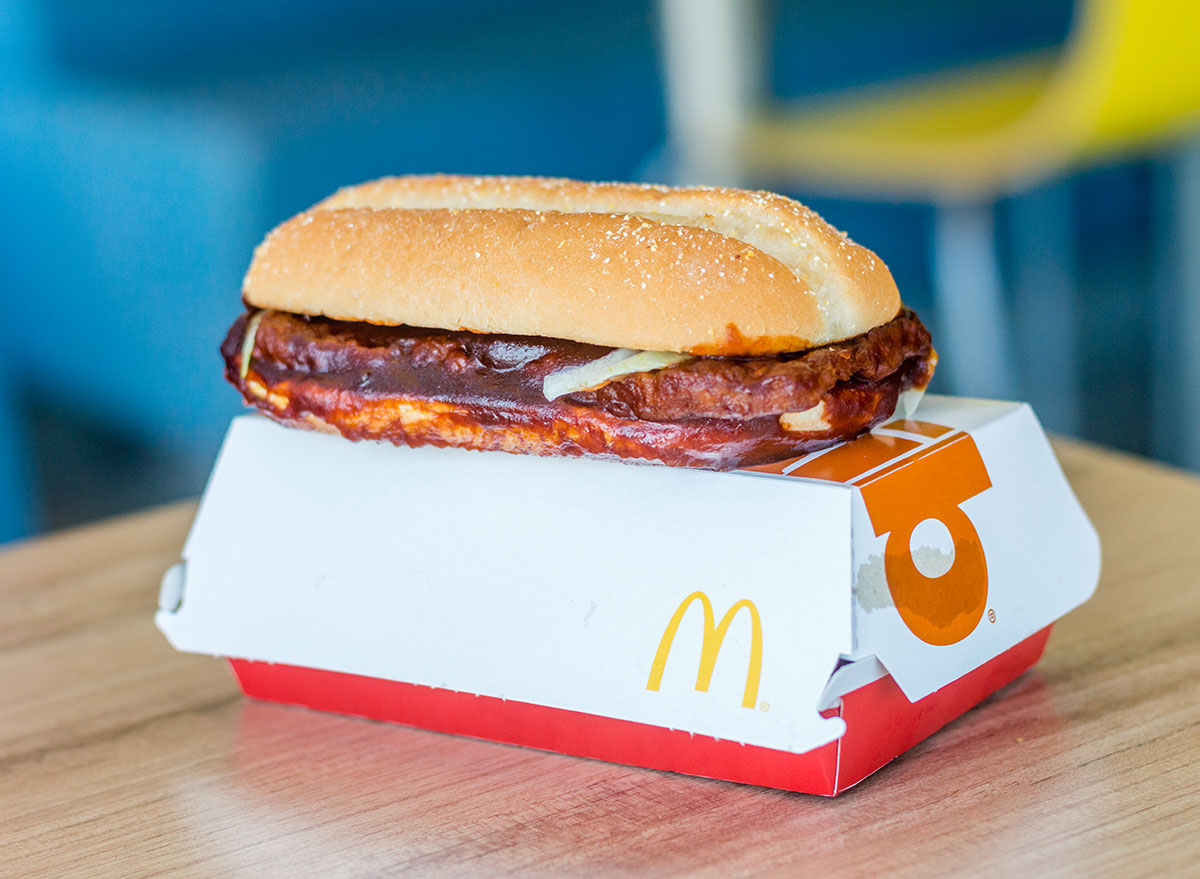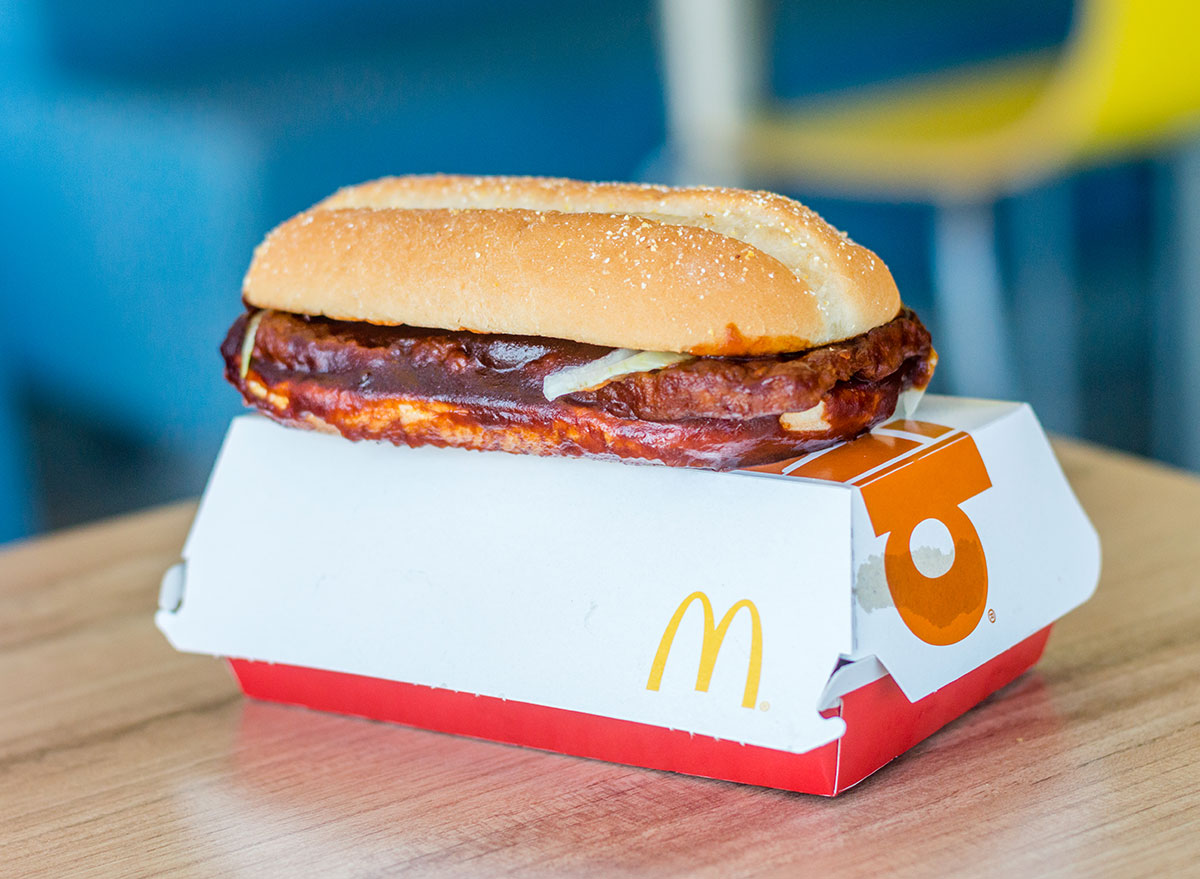 The McRib created a massive fanbase the moment the signature sandwich graced McDonald's menus in 1981. Since its introduction to the fast-food pantheon of popular sandwiches, this juicy pork patty came in the shape of a rib and was slathered in sauce, onions, and pickles. Despite its initial poor sales, this classic sandwich helped define a new generation of meals in the 1980s, and many still clamor for its permanent return.
And for more about McDonald's, here are 30 McDonald's Facts All '80s Kids Remember.
When you need to get your nugget fix, McDonald's always has some of its classic Chicken McNuggets on hand. Despite the McNuggets' solid presence among the classic menu items at McDonald's, it took some time for these fried favorites to take off. While McNuggets were created in 1979, chicken supply problems caused the national launch of this product to stall and it wouldn't be until 1983 when stores across America could consistently carry the nugget. By the mid-'80s, this staple could hold its own against any burger and became synonymous with McDonald's.
If you're a McNugget lover, you'll want to know Why All McDonald's Chicken Nuggets Come in the Same 4 Shapes.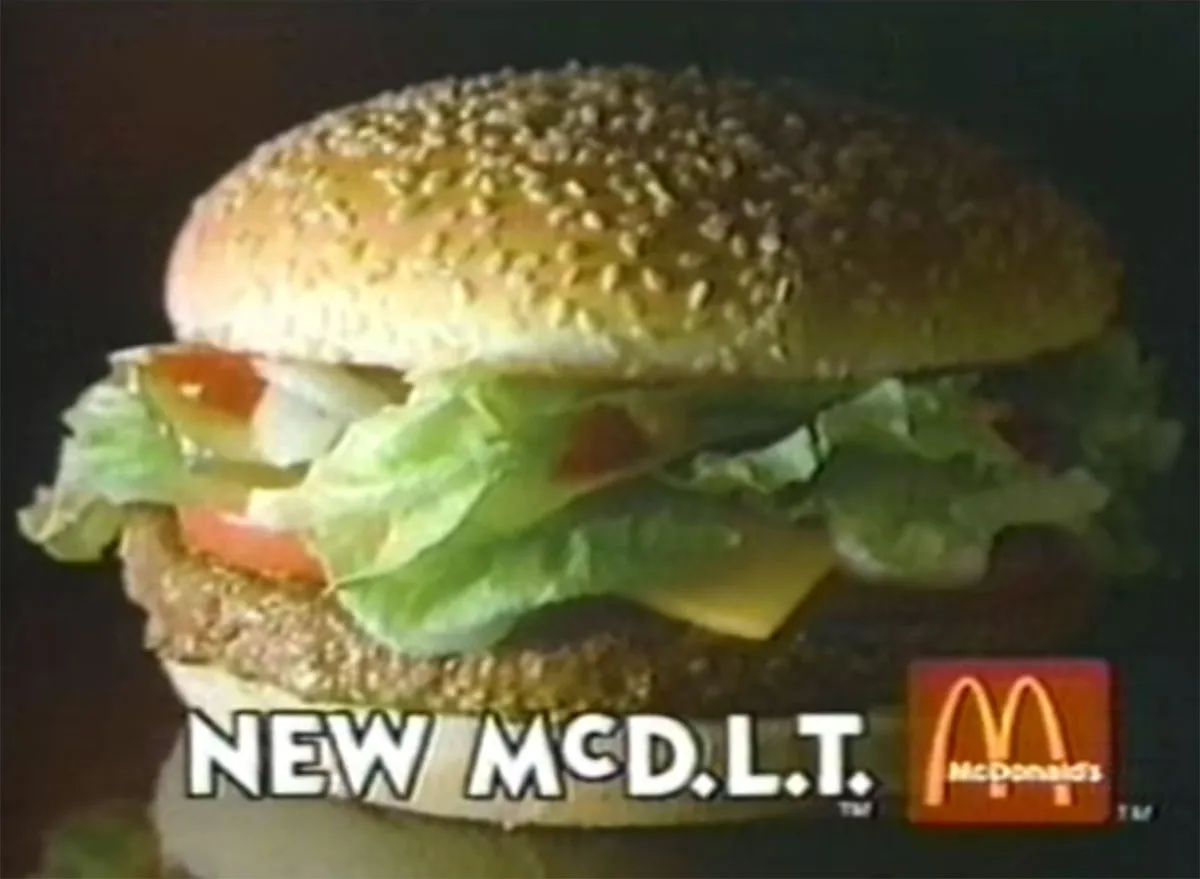 While Chicken McNuggets survived through multiple menu shakeups, the same can't be said about the McDLT. This sandwich offered up one of the restaurant's first forays into including fresh tomato and lettuce on a burger by splitting the item in half. The burger came in a divided styrofoam clamshell, where one half contained the burger patty and bun, while the other side contained a bun topped with cheese, lettuce, and tomato, in order to keep the produce unwilted. The product lasted until 1998, but many consumers mostly remember the giant double clamshell holder and the ecological terror brought on by its packaging.
Want to know what used to be on a McDonald's menu? Here are 20 Failed McDonald's Menu Items You Won't Believe Existed.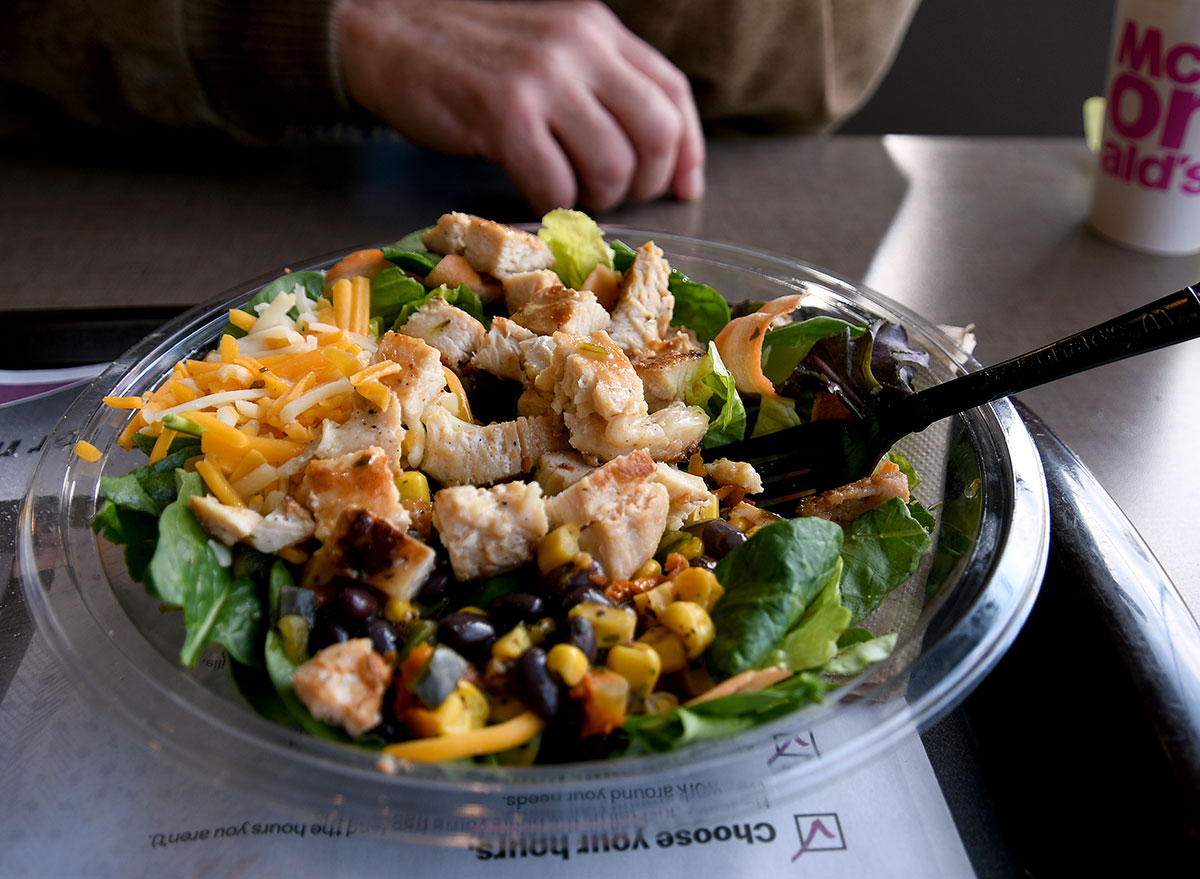 Within the past 40 years, it's been hard to stop by a McDonald's and not notice a new salad addition to their menu. The original salads popped onto menus in 1984 via test locations across the country. Whether this item appeared on menus in order to combat other chains with popular salad staples or McDonald's wanted to jump on the health food craze of the decade, McDonald's initial garden, chef, and shrimp salads of the '80s proved a popular alternative to their standard burgers. The offerings have changed, but salads are still on the McDonald's menu today.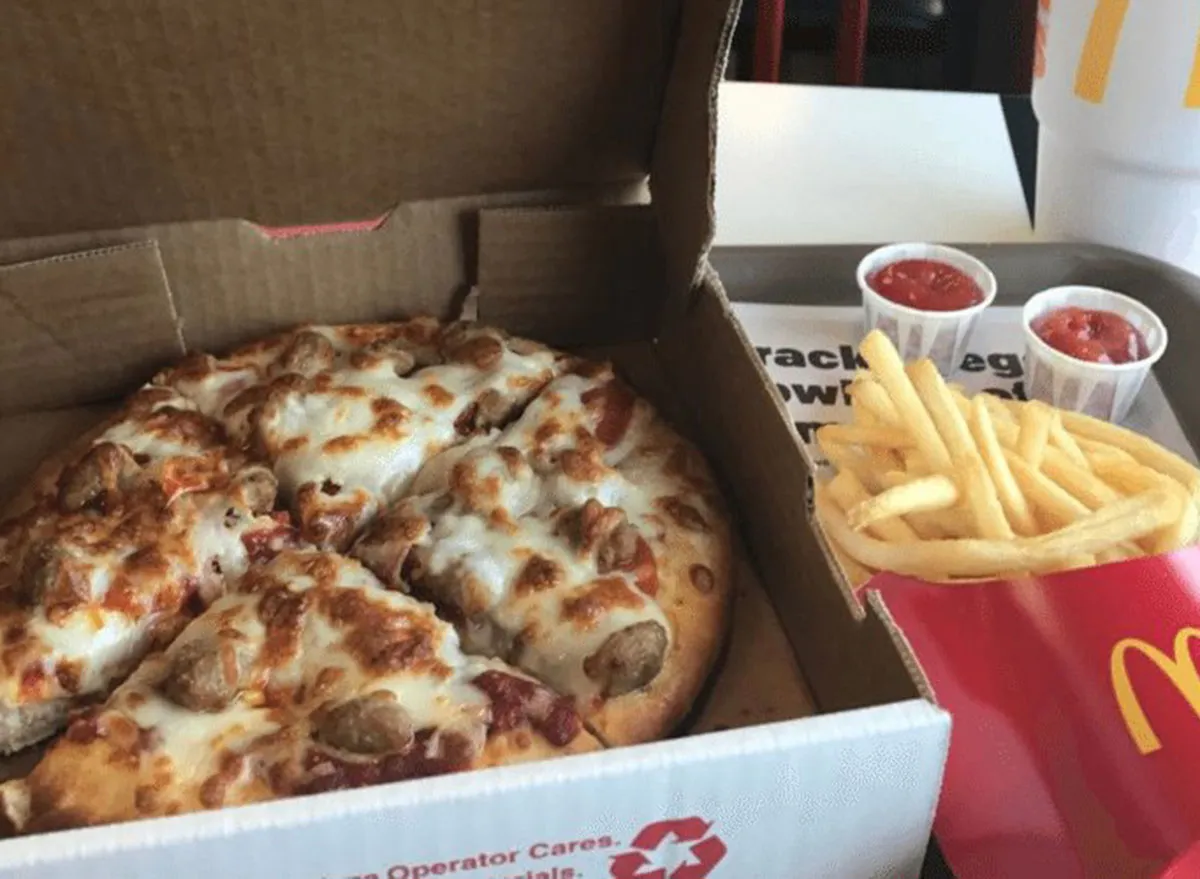 The 1980s saw a wave of McDonald's products that flopped hard, and the McPizza stands as one of the best examples of one-time novelties. This late-'80s item appeared on menus as a response to pizza chains like Pizza Hut and Dominos but proved to be a tough item to sell, especially because each pizza took 11 minutes to prepare. Due to low sales, the McPizza eventually disappeared from the nationwide menu, but if you still crave this blast from the past, a single branch in Orlando still offers this retro item.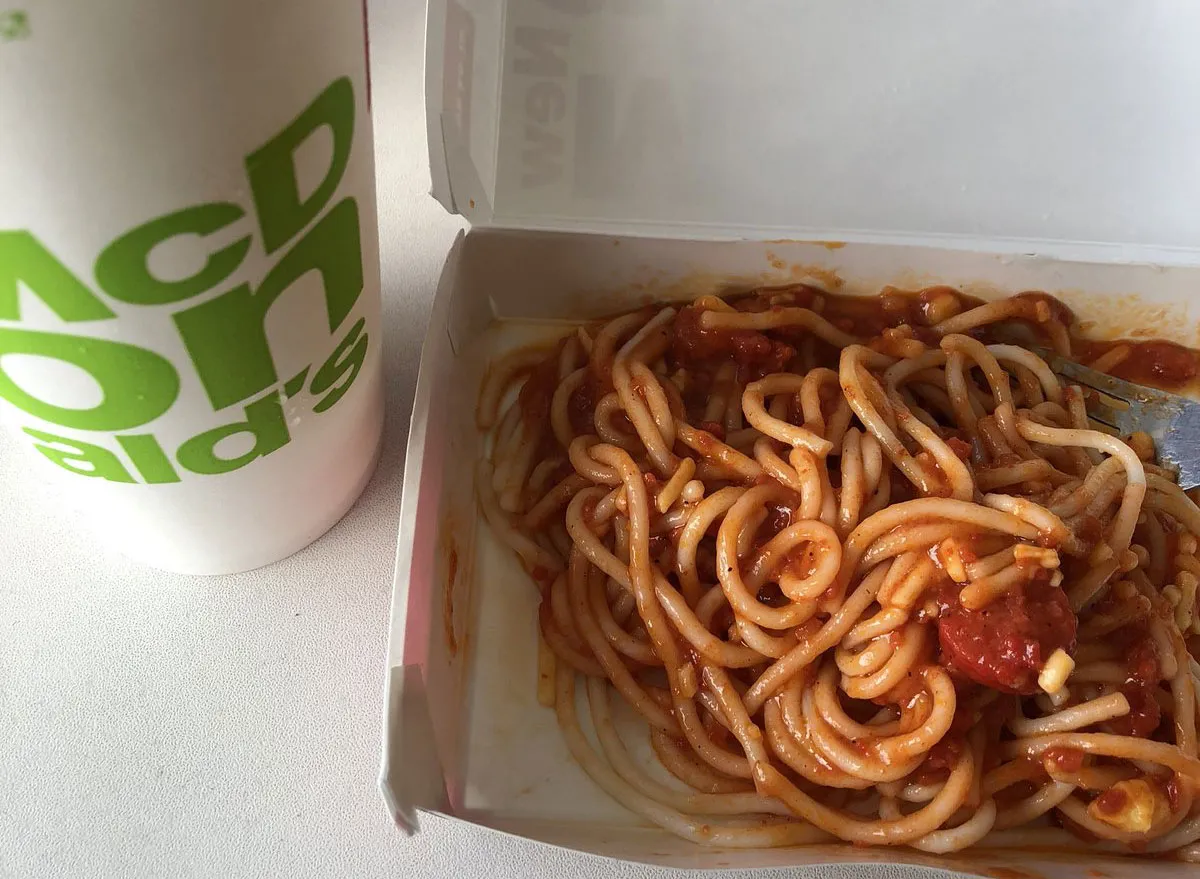 When you conjure up the perfect McDonald's menu in your head, you probably don't think of spaghetti. But the late 1970s saw McDonald's try to enter the fast-food Italian market with this bizarre offering, which ran alongside lasagna and fettuccine alfredo. This item could be found on most menus through the 1980s until it was retired in America. If you grew up with this pasta and can't live without it, have no fear—McSpaghetti still thrives in the Philippines.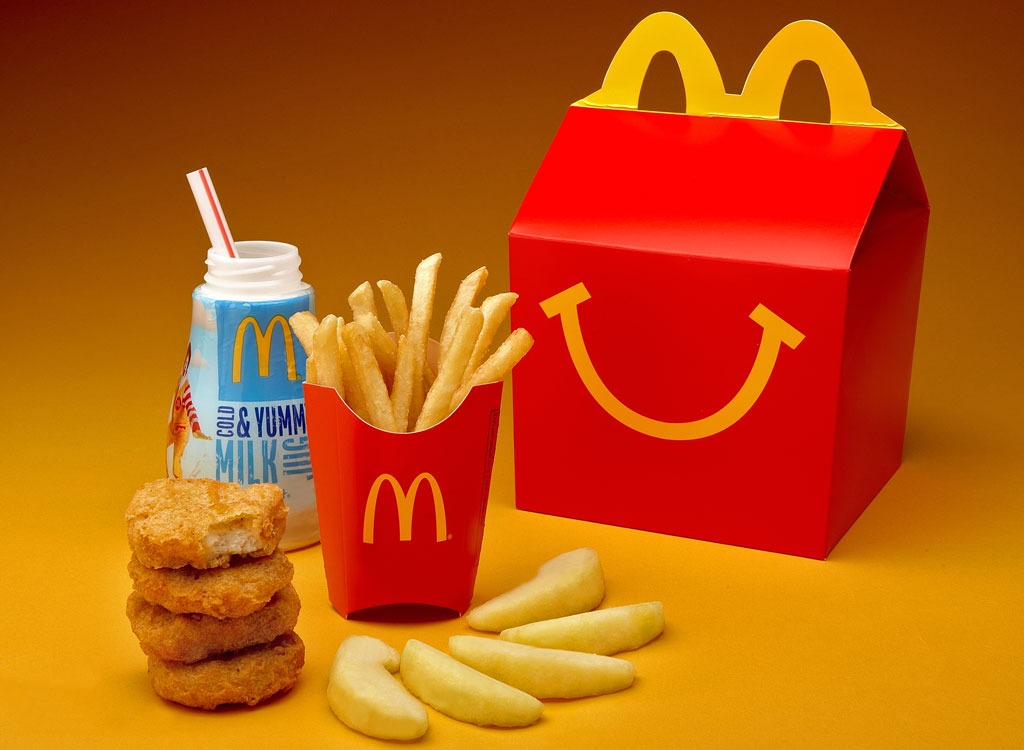 Even though this childhood favorite sprang to existence at the end of the 1970s, Happy Meals would grow to be a respected McDonald's favorite throughout the 1980s. This children's meal served up a burger or McNuggets alongside fries, a soft drink, and a toy in each box. With this treat in McDonald's back pocket, children's fast-food meals across the country would never be the same again.
And for even more nostalgia, don't miss these 19 Old Happy Meal Toys That'll Bring You Back to Your Childhood.
When the Quarter Pounder burst onto McDonald's menus in 1971, everyone couldn't get enough of the signature sandwich. This quarter-pound burger maintained its popularity for decades, and the sandwich was a McDonald's staple by the 1980s. The sandwich began appearing internationally and was marketed as the Royal and McRoyal. If you visited any McDonald's in the '80s, you would definitely have come across this classic.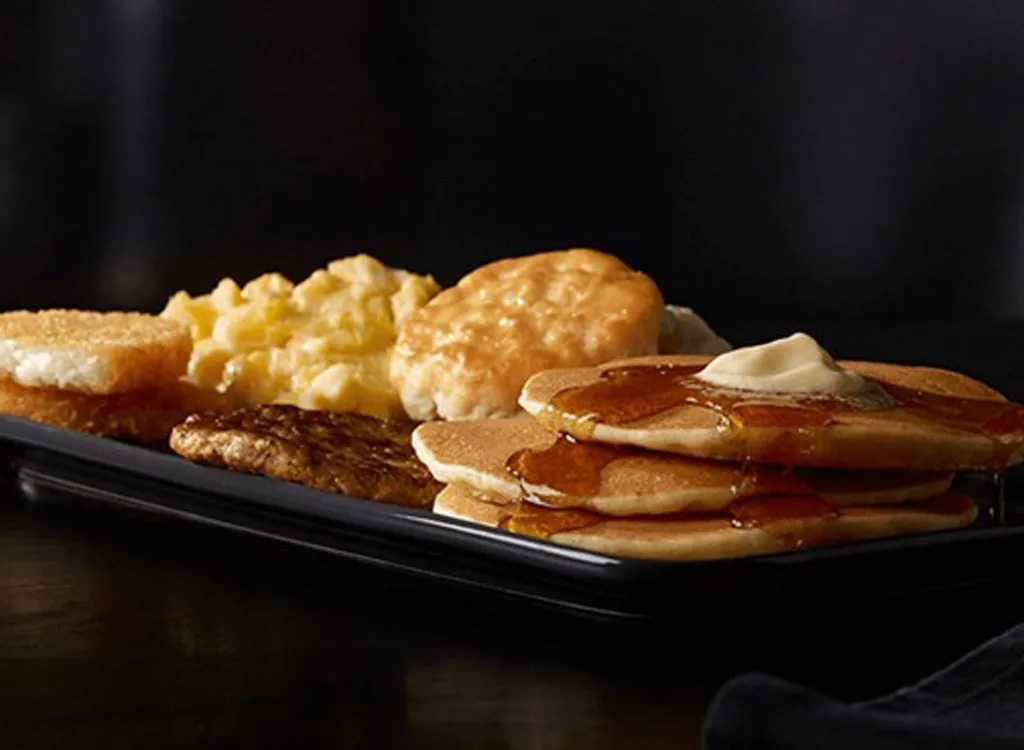 If you love to start your day with a McDonald's breakfast, you definitely have tried the restaurant's signature hot cakes—fluffy pancakes that can soak up as much syrup as you throw at them. Prior to 1977, you would be surprised that this classic item was nowhere to be found. But the product truly hit its stride and became a fan favorite when it was served up alongside a pork sausage patty in the 1980s.
And for even more about the chain, don't miss these 30 Crazy McDonald's Facts That Will Blow Your Mind.
McDonald's has tried out a variety of dessert items, and none have stuck around like the McDonaldland cookies—animal cracker-style crunch cookies in the shape of the faces of McDonald's mascots like Ronald McDonald or the Hamburglar. These treats have evolved over the course of their run, but ever since their creation in the '70s, they became a crowd favorite and appeared on every menu throughout the '80s.6254a4d1642c605c54bf1cab17d50f1e
You probably love McDonald's apple pie, but do you remember the signature fried cherry pie? This alternative hand pie flavor maintained the same popularity as its apple cousin and appeared on every menu across the country in the 1980s. This pie eventually fell out of favor, but it occasionally pops up from time to time for limited runs and that nostalgic taste.
Scrambled eggs & English muffins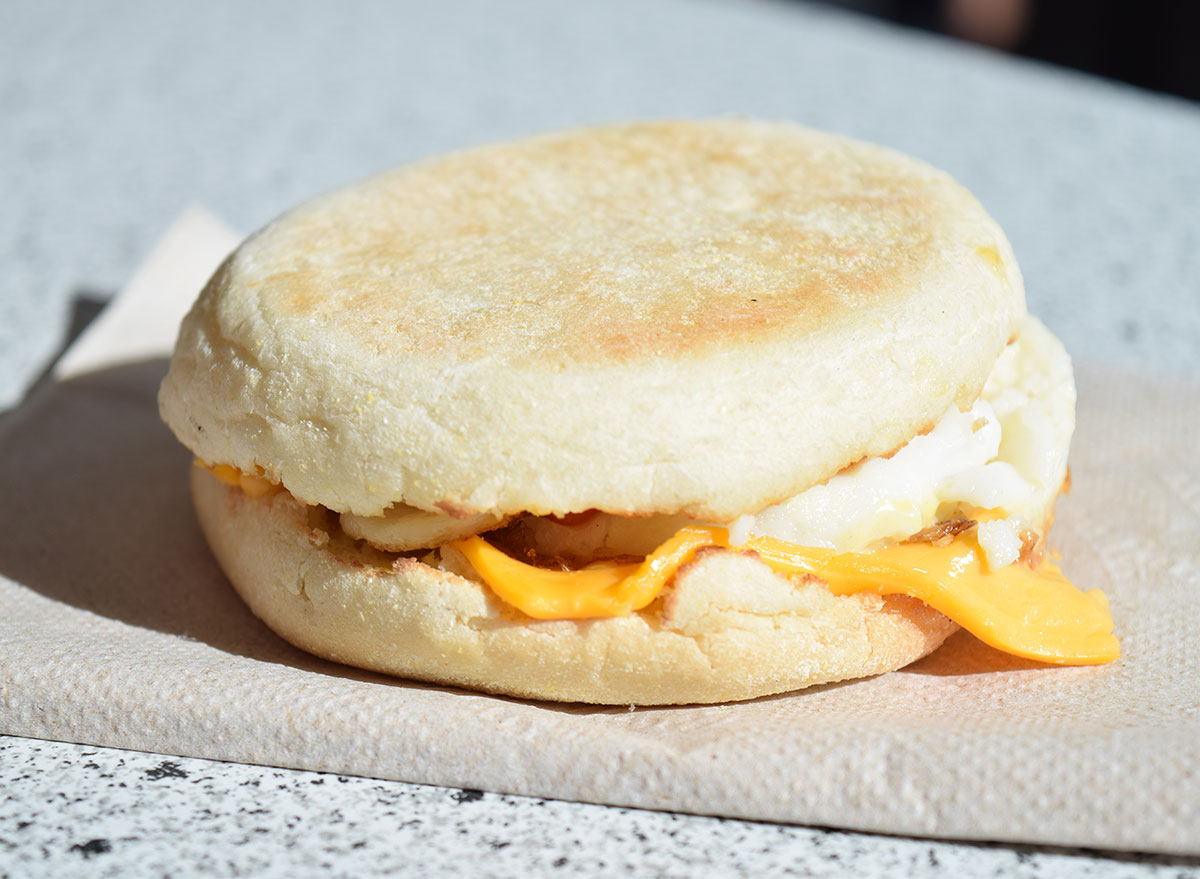 When McDonald's rolled out its "Big Breakfast" in the 1970s, the chain's take on scrambled eggs paired with an English muffin made Americans love breakfast again and provided a quick and easy way to enjoy a hearty meal. This morning staple appeared as a standalone meal throughout the '80s and captured consumers' hearts long before McMuffins and McGriddles were on the menu. If you had a McDonald's breakfast in the '80s, you can guarantee you tried these items.
And for more ways to up your meals, don't miss these 52 Life-Changing Kitchen Hacks That'll Make You Enjoy Cooking Again.