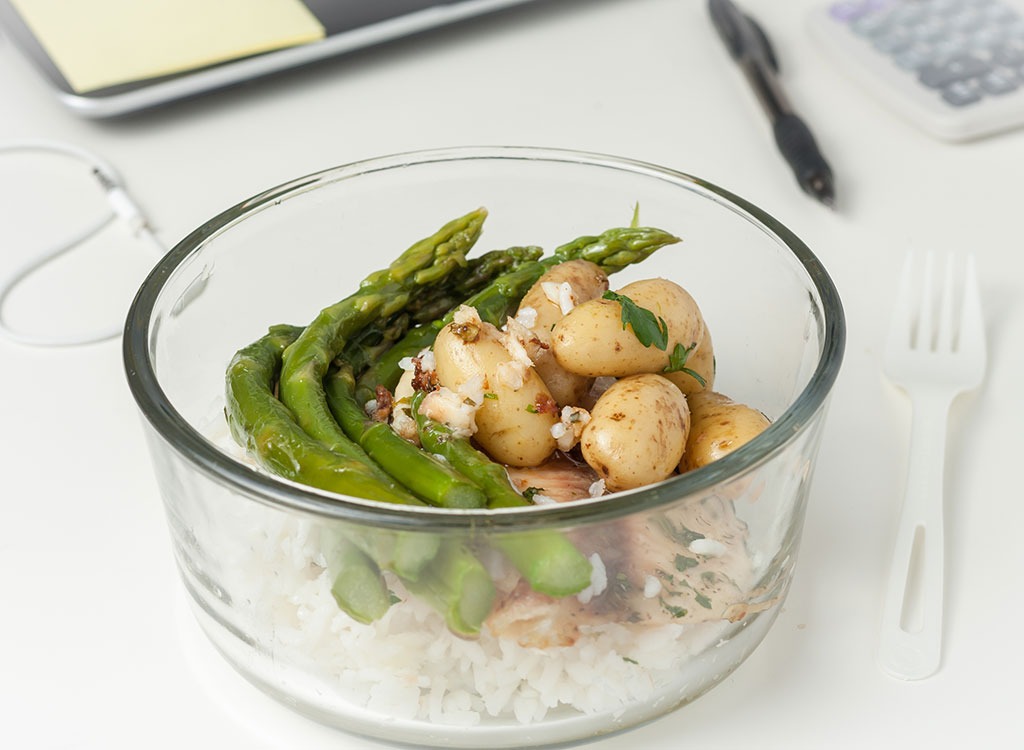 You spend hours getting ready for a night out on the town and meticulously schedule your vacations months before getting on the plane. Shouldn't that same level of care go into preparing your daily meals? It's the food you eat that's going to help you lose weight, after all.
Spending more than an hour a day on meal prep is linked to better dietary habits, like eating fruits and vegetables, which can ultimately help the scale tip in your favor, according to research. But most of us have jam-packed schedules, so slaving over a stove every day to make fresh meals isn't always an option. Thankfully, that doesn't mean it's impossible to fit into your skinny jeans again. With a little know-how, you can easily prep seven day's worth of flat-belly meals and snacks over the weekend, ensuring your diet doesn't fall off track during the hectic work week.
To help you strategize, we checked in with some of the nation's top nutrition experts and asked them to share their go-to meal prep tips. Read on to get in the know.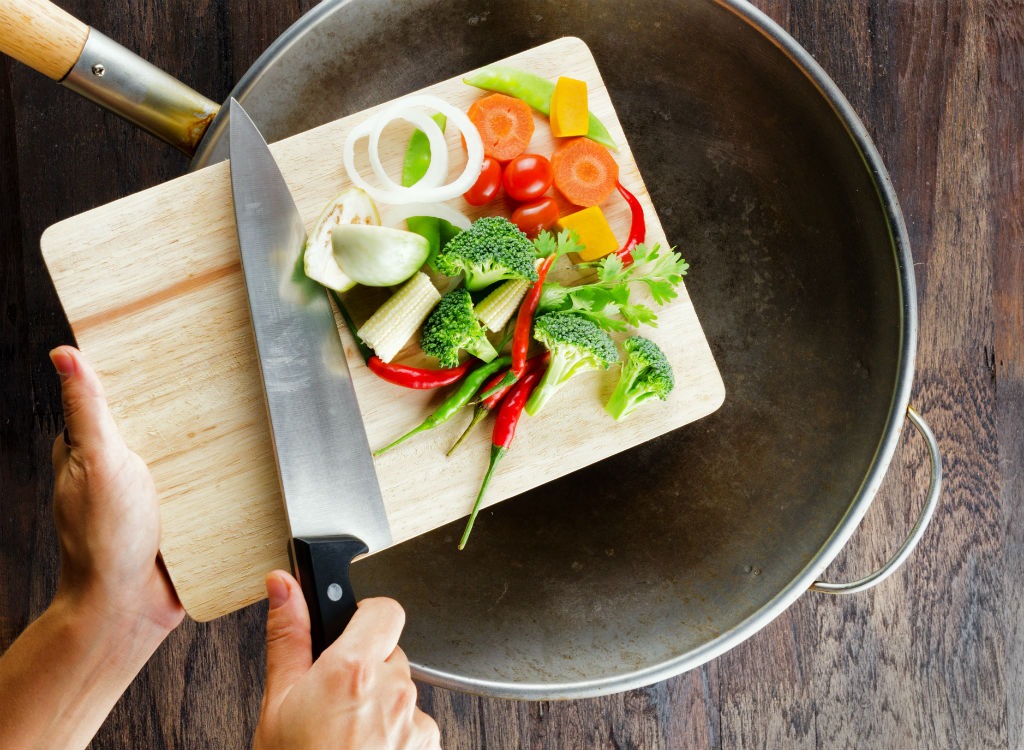 "Cut veggies ahead of time. I love vegetables, but I'm more likely to eat and cook them if they're cut and ready to go. Store each vegetable in an individual container so when it comes time to cook, all you have to do it grab the ones you want and get to work. They're also great to have on hand to snack on when you get hungry." — Ilyse Schapiro, MS, RD, a registered dietitian with private practices in New York and Connecticut
"Slice fresh fruit and vegetables in advance. This way you can easily make a salad or side dish for dinner and ensure you have a portion or two of vegetables. The cut-up fruit is a perfect sweet ending to a meal, instead of higher-calorie indulgences like ice cream or cookies." — Jessica Fishman Levinson, MS, RDN, CDN, nutrition communications consultant and founder of Nutritioulicious
MAKE FREEZER FRIENDLY FOODS
"If you only have time to cook once in a while, make healthy meals that freeze and reheat easily. Turkey meatballs, lentil soup, chilis and stews all fit the bill. This way you can reach for a homemade meal instead of calling for takeout on hectic evenings. While your food is heating up, throw together a quick side salad to add some additional fiber and vitamins to your meal." – Ilyse Schapiro MS, RD
"Simplify weekly meal prep with freezer-friendly foods. Soups, broths, smoothies and sauces can be frozen in ice cubes trays, which comes in handy for portion control and weight management. Veggie-based casseroles, whole-grain wrap burritos and homemade turkey or veggie burgers can be frozen individually, giving family members a healthy grab-and-go option."— Weight loss dietitian and personal trainer, Stephanie Brookshier, RDN, ACSM-CPT
"Buy lean ground turkey, beef, or chicken cutlets and freeze into individual serving sizes of five or six ounces. Because of the small serving size, the meat will quickly defrost when you're ready to cook. This strategy ensures you always have quality lean meats on hand for healthy cooking." — Martha McKittrick, RD, a New York City-based registered dietitian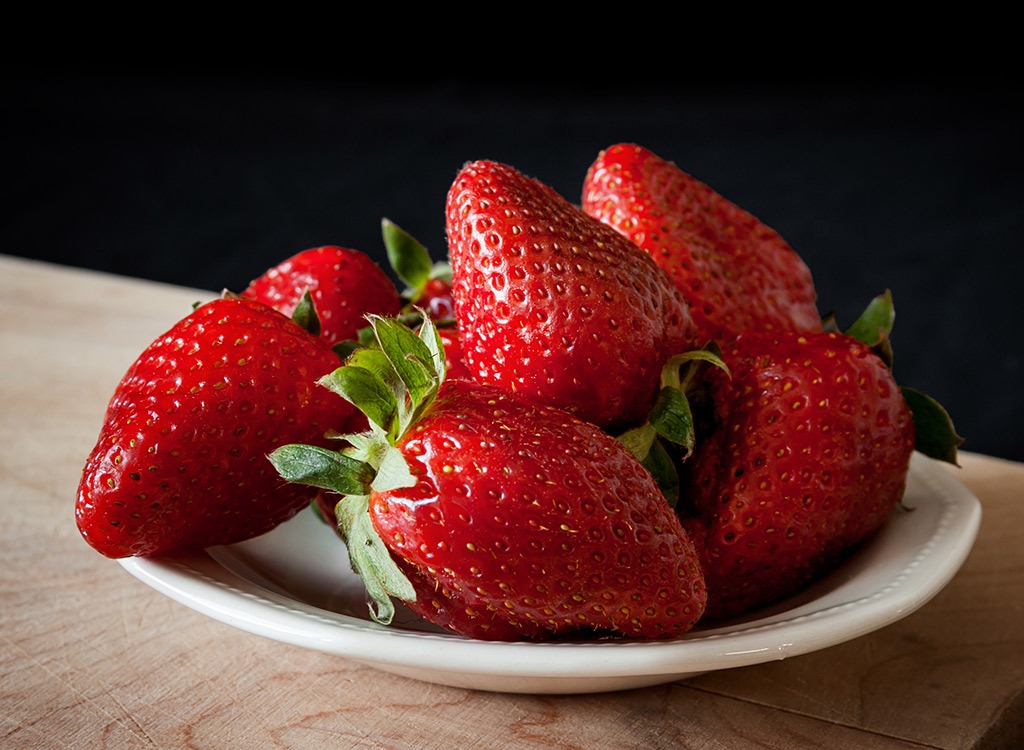 "Snacks help control hunger levels, decrease sugar cravings and make it easier to make healthy choices during main meals. On Sunday, spend 10 minutes prepping your snacks for the week ahead. To keep things simple, plan to eat the same thing daily (veggies, fruits, hard-boiled eggs and nuts are all easy and healthy) and put each in an individual bag. This way, you can just grab your snacks and go without having to give it much thought. The following week, try two new snacks so you don't bore your taste buds." — Sarah Koszyk, MA, RDN, Dietitian/Nutritionist, founder of Family. Food. Fiesta.
"Despite what many people think, you don't have to cook entire meals ahead of time—that can be overwhelming. Instead, think of what will save you the most time during the week and focus on just making those things. Boil eggs for a quick grab-and-go breakfast or snack. Sauté ground turkey and use it for tacos or stuffed bell peppers. You can also grill chicken and use it as a salad topper or main dish." — Stephanie Brookshier, RDN, ACSM-CPT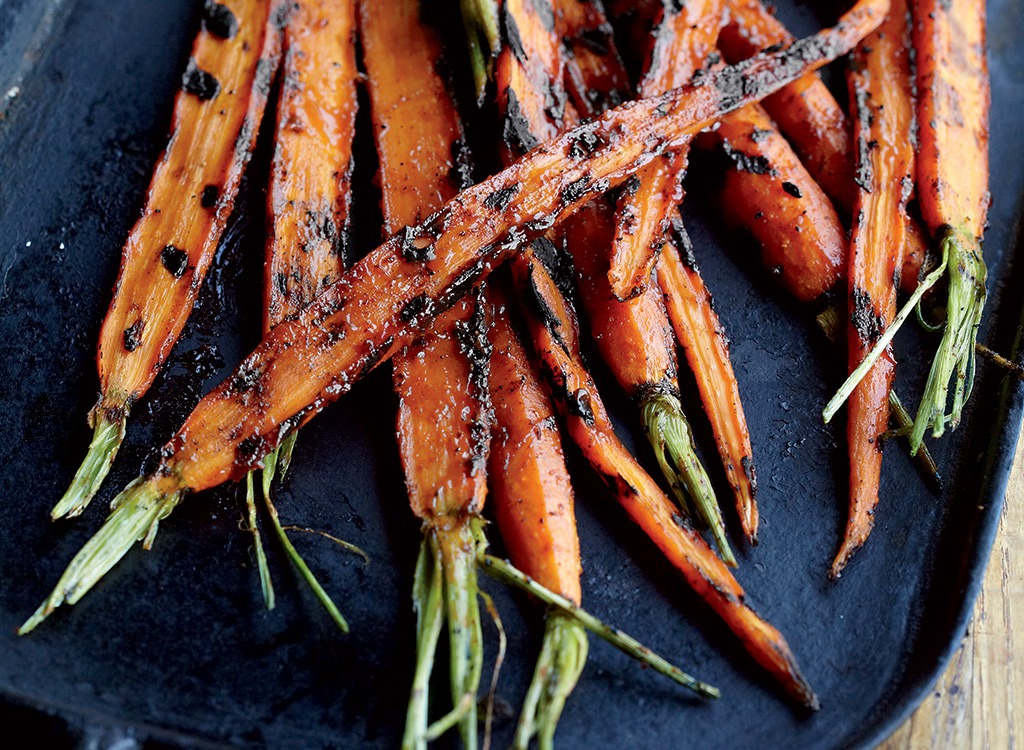 6254a4d1642c605c54bf1cab17d50f1e
"Veggies provide fiber to fill you up and are low in calories and chock full of health benefits. Get your daily dose by roasting a huge batch of vegetables over the weekend. Doing so ensures you have the delicious side every night of the week no matter how busy you are." – Sarah Koszyk, MA, RDN,
"Over the weekend, steam, roast, or sauté a large batch of veggies so that they're ready to use throughout the week. Veggies add fiber, vitamins, minerals and antioxidants to your diet and can easily bulk up a variety of meals. Toss them together with quinoa, a half-cup of drained and rinsed beans and a teaspoon of olive oil for a quick weeknight dinner." — Alissa Rumsey, RD Owner of Alissa Rumsey Nutrition & Wellness Consulting

"Keep tasty, healthy accompaniments on hand including olive oil, flavored vinegar, salsa, lemon, soy sauce, fresh ginger and fresh parmesan cheese. The flavor variety keeps things interesting and makes it simple to turn just about anything into an exciting, healthy meal in minutes. I make stir-frys with frozen veggies, soy sauce and ginger, vegetable omelets with salsa and flavor veggies and meats with olive oil, lemon and spices." —Martha McKittrick, RD
"We know breakfast is an important meal, but many people have busy schedules that make cooking in the morning impossible. To ensure you'll have a protein-packed breakfast every morning, make egg muffins over the weekend. Here's how: Sauté a variety of veggies in a pan with olive oil and garlic until soft. Then, in a large bowl, beat a dozen eggs. Spoon veggies into a muffin pan sprayed lightly with oil and then pour the eggs on top. Cook in the oven at 350 degrees F for 20 minutes or until the eggs start to puff up. Store the muffins in the fridge for up to four days; when you are ready to eat, pop 2 of them in the microwave for 45 seconds and enjoy!" —Alissa Rumsey, RD
"Over the weekend, plan your menu for the week and make a grocery list to go along with it. Making a list will help you avoid unhealthy impulse buys, and knowing what you're cooking in advance will prevent you from ordering sodium- and calorie-filled take-out fare or bingeing on whatever's in the pantry when dinnertime rolls around." —Jessica Fishman Levinson, MS, RDN, CDN
MELT UP TO 10 POUNDS IN ONE WEEK!
WITH OUR BEST-SELLING NEW DIET PLAN, The 7-Day Flat-Belly Tea Cleanse! Test panelists lost up to 4 inches from their waist! Available now in paperback!