A Lighter Meatballs With Polenta Recipe
Say so long to spaghetti in this low-calorie take on the ultimate Italian dish.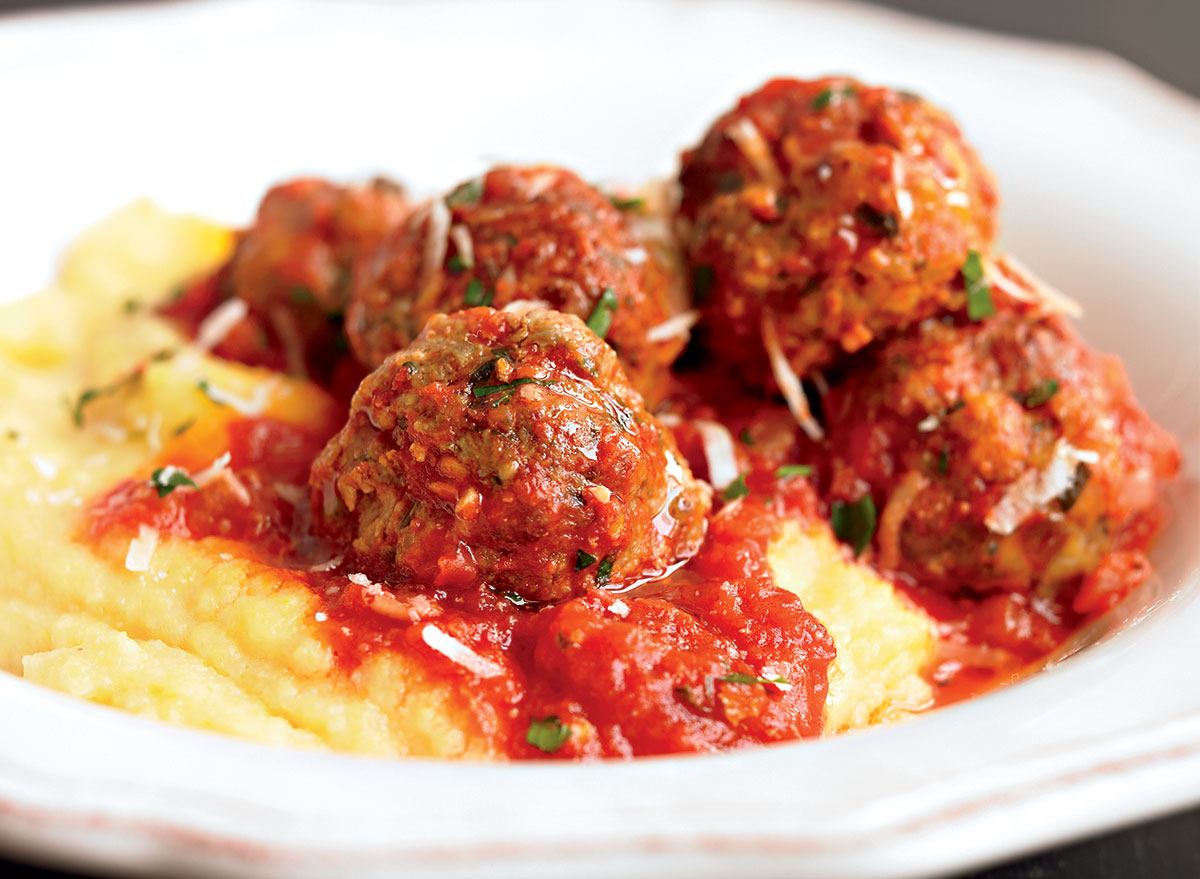 Spaghetti and meatballs are inevitably a high-calorie affair, but the meatballs aren't the problem—it's the massive serving of pasta beneath them. At restaurants such as Romano's Macaroni Grill, Olive Garden, and even your local Mom & Pop's corner Italian joint, more than half the calories are likely to come from the noodles alone. This recipe lightens up the meatball (using sirloin and turkey instead of veal and pork), but, more importantly, it ditches the spaghetti in favor of polenta, an Italian staple of stone-ground corn with a fraction of the calories, but just as hearty, creamy, and completely delicious.
Nutrition: 380 calories, 14 g fat (4.5 g saturated), 1,010 mg sodium
Serves 4
You'll Need
8 oz ground sirloin
8 oz ground turkey
1 egg
1⁄2 cup chopped fresh parsley, plus more for garnish
1⁄4 cup grated Parmesan, plus more for garnish
1⁄2 tsp fennel seeds
Salt and black pepper
1 slice white bread, torn into small pieces and briefly soaked in milk
1⁄2 Tbsp olive oil
1 small onion, minced
2 cloves garlic, minced
Pinch of red pepper flakes
1 can (28oz) crushed tomatoes
1 cup dried polenta, prepared according to package instructions6254a4d1642c605c54bf1cab17d50f1e
How to Make It
Preheat the oven to 450°F.
Combine the sirloin, turkey, egg, parsley, Parmesan, fennel seeds, and 3⁄4 teaspoon salt in a large mixing bowl.
Squeeze the excess milk from the bread and add to the bowl. Use your (impeccably clean!) hands to gently mix the ingredients together.
Form meatballs the size of golf balls, about 1" in diameter, being careful not to overwork the meat.
Place the meatballs in a baking dish and bake for 25 minutes, until nicely browned all over.
While the meatballs bake, heat the oil in a large sauté pan over medium heat.
Add the onion, garlic, and pepper flakes and cook for about 3 minutes, until the onion is soft and translucent.
Add the tomatoes, plus salt and pepper to taste, and simmer while the meatballs finish cooking.
Transfer the meatballs straight from the oven to the sauce.
Cook for at least 10 minutes (but preferably 20 to 30 minutes), turning the meatballs so that all parts have a chance to simmer in the sauce.
Serve the meatballs and sauce over soft polenta, topped with a bit of chopped parsley and grated Parmesan.