17 Healthy Microwave Recipes Better Than Lean Cuisine
Microwaves aren't just for popcorn and mac and cheese. They can actually be used to whip up some of your favorite dishes—in less than half the time!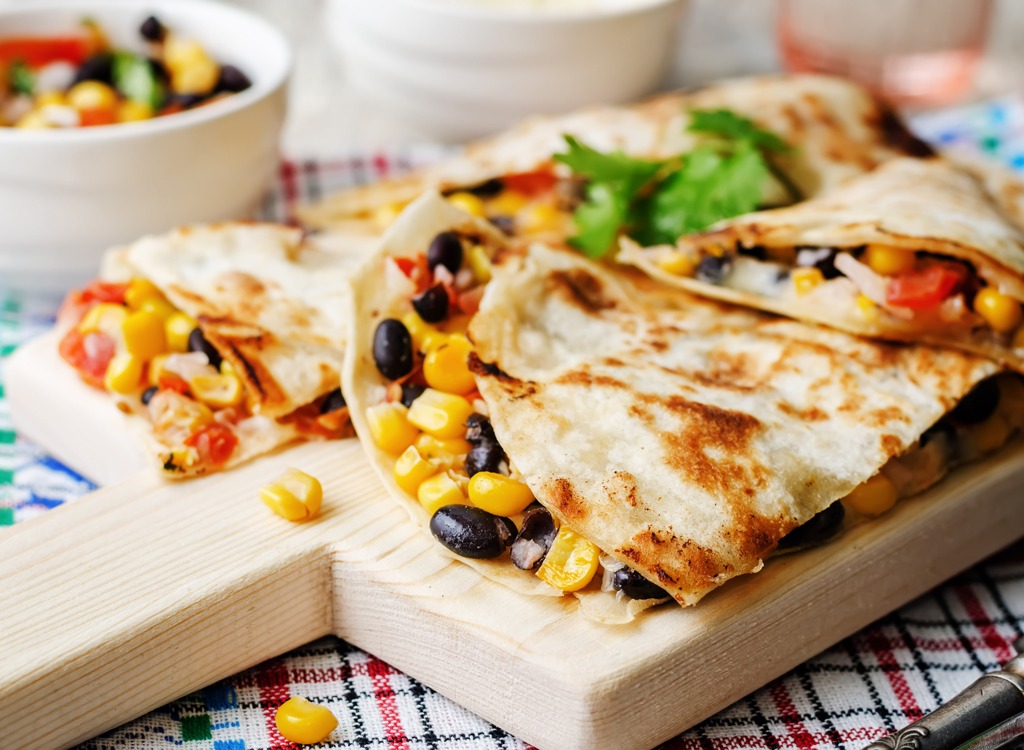 Sure, getting dinner on the table more quickly was the microwave's initial purpose, but years of food rumors—involving microwaves zapping all the nutrients out of food or injecting your chow with radiation—have put this useful kitchen appliance in a bad light. And guess what? These notions are downright false! In fact, using a microwave to cook your food can actually preserve more micronutrients than other cooking methods, according to Harvard researchers and the FDA, which is great news if you've been trying to figure out how to lose 10 pounds.
How does the magic happen? Unlike a regular oven, which warms the air around the food, a microwave heats up the water molecules present in the food itself, causing them to vibrate and warm up. This allows food to cook at a lower temperature and in a shorter amount of time, keeping more of those precious fat-fighting, health-promoting nutrients intact.
So whether you're rushing out the door in the morning, coming home late from the office, or feeling a need for a healthy snack before your hanger forces you to ravage through that secret cookie stash, turn to one of these microwave recipes to curb your cravings. These meals, snacks, and treats make it easy to satisfy your hunger pangs so you can keep your healthy diet on track without having to resort to belt-busting, fast-food or frozen fixes.
Eat This! Tip:
There are some guidelines you should follow for safe microwaving: only use ceramic or glass cookware—never non-microwave-safe, single-use plastic containers or plastic wrap that touches your food. These containers have been found to leach hormone-disrupting chemicals such as BPA or phthalates into your meal; and don't use thin metals like tin foil, which can cause a fire if heated for too long. And to make sure you're not cooking and eating other things in a less-than-ideal fashion, check out these 18 Foods You're Eating Wrong!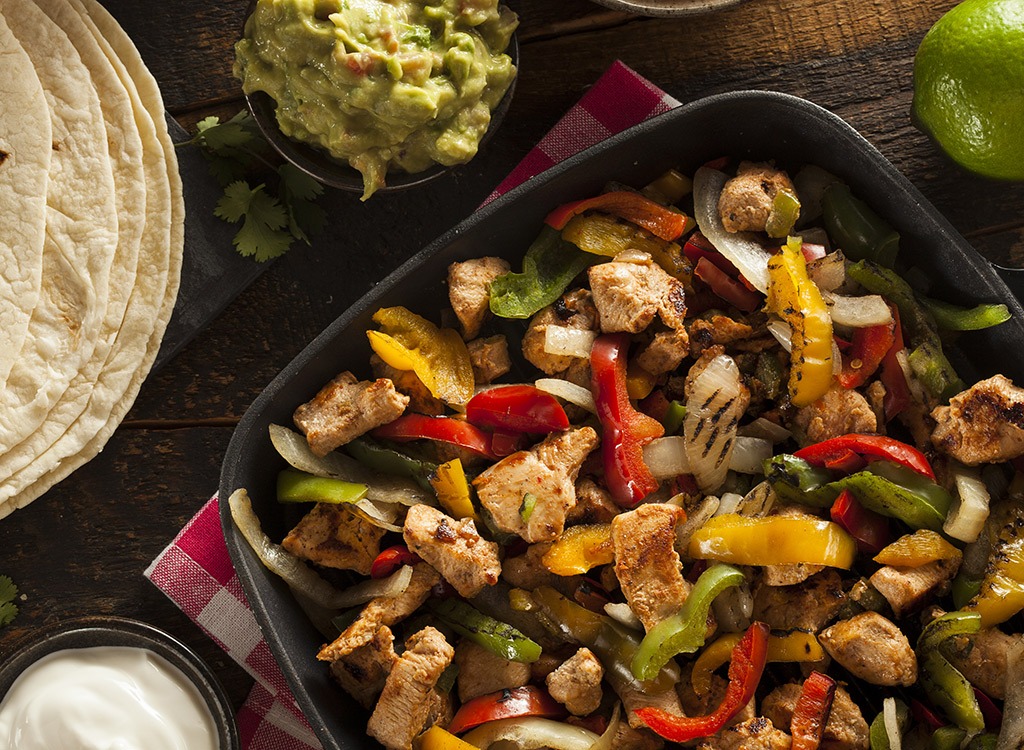 What You'll Need: Chicken tenders, red pepper, red onion, chili powder, corn tortillas, guacamole
Too hot to fire up your skillet? Make your Tex-Mex in the microwave instead. Cut a quarter pound of chicken tenders, a red pepper, and half a red onion into thin slices, and season with chili powder, oregano, salt, and pepper. If you have a piece of cookware like Magic Chef's Microwaveable Cookware with Steam Basket, all you have to do is add water to the bottom of the dish, place your chicken and veggies in the basket, cover, and cook for 6 minutes or until the juices of the chicken run clear. No steam basket? No problem! Without water, place veggies on the bottom of a glass container, cover with chicken, a lid, and microwave on high for 10 minutes. Serve on corn tortillas with a dollop of guacamole!
Guacamole is one of our favorite additions to any dish because it's full of healthy monounsaturated fats that keep you fuller longer and could play a role in reducing risk of heart disease. Looking to slim down and improve your health? Why not take a look at these avocado recipes for weight loss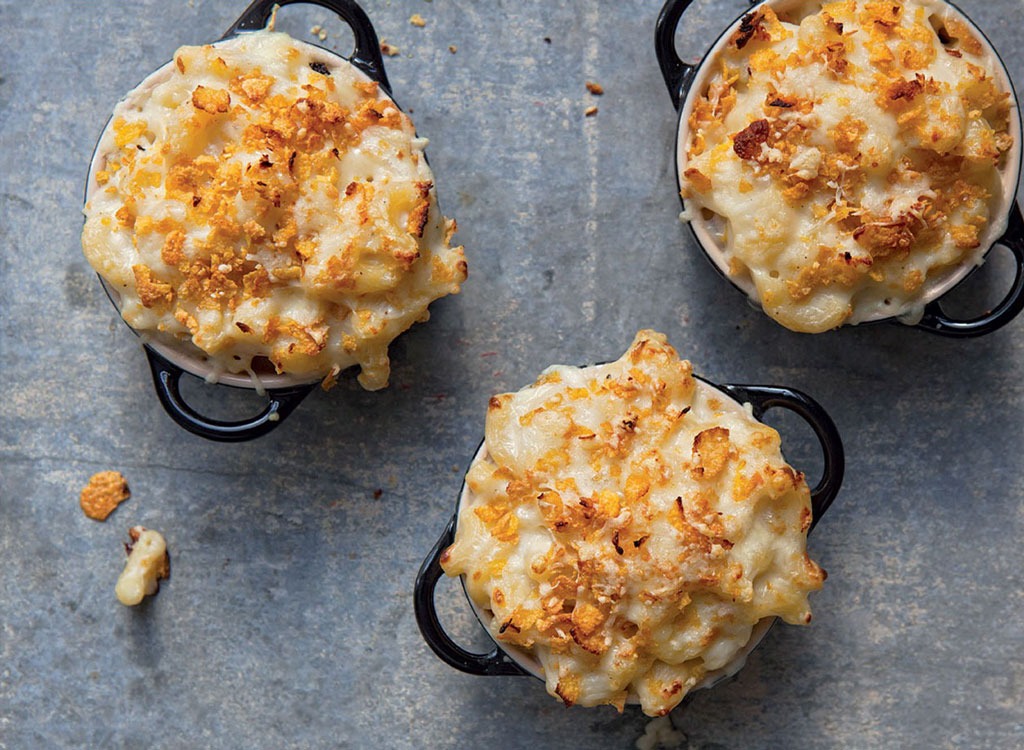 What You'll Need: Macaroni pasta, 2% milk, shredded cheddar cheese, flour
Why reach for a powdered product when you can make your own mac & cheese at home in the same time? It's easy! Just combine half a cup of pasta, 1/4 cup of water, and salt in a bowl. Microwave for 6 minutes, stirring every 2 minutes, and adding another 1/4 cup of water after the first 2 minutes. Once the pasta is done, add in enough milk to cover the pasta, a handful of cheese, and a small scoop of flour to help thicken the mix. Stir and cook for another 30 seconds. This quick meal will provide plenty of calcium to help maintain proper bone health.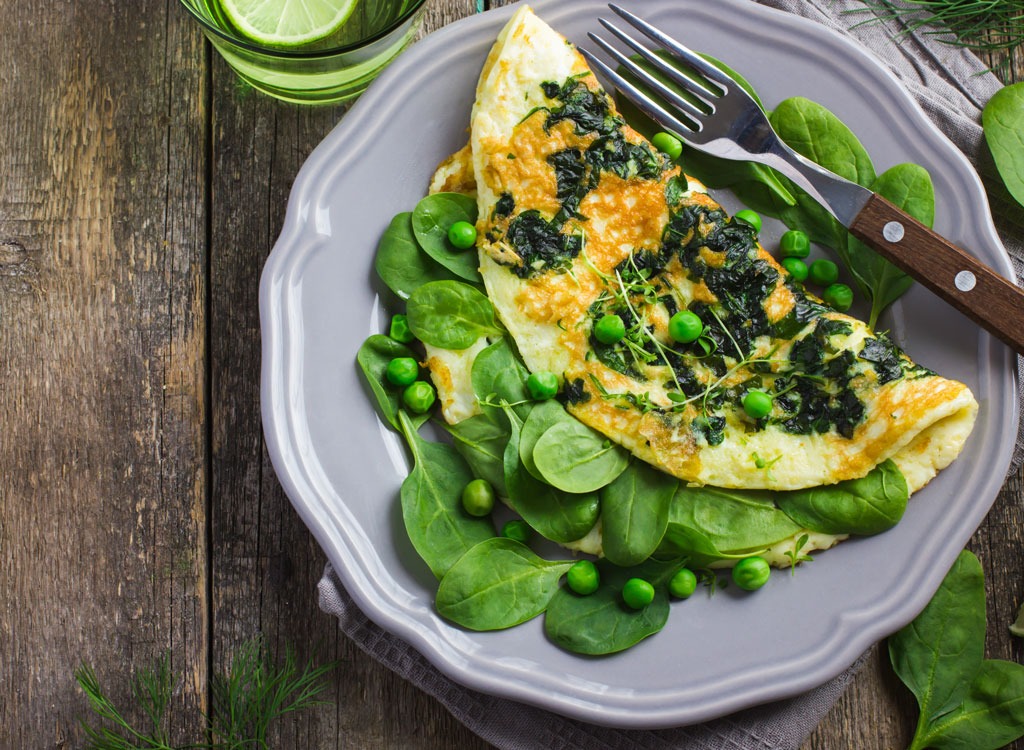 What You'll Need: 2 eggs, 2% milk, spinach, salt and pepper
If you're looking for healthy breakfast ideas, look no further than this spinach omelet. Don't want to dirty a pan? Just whip it up in the microwave. Here's how: In a small bowl, lightly beat 2 eggs and 2 tablespoons of milk; season with salt and pepper. Pour mixture into a high-edge plate or an omelet pan, like Nordic Ware's Microwave Omelet Pan, in which you should divide the mixture evenly between 2 sides. Cook for 2 minutes, remove from microwave, place spinach on each half, and continue to cook until eggs are set, about 1 ½ more minutes. Fold omelet in half, and enjoy!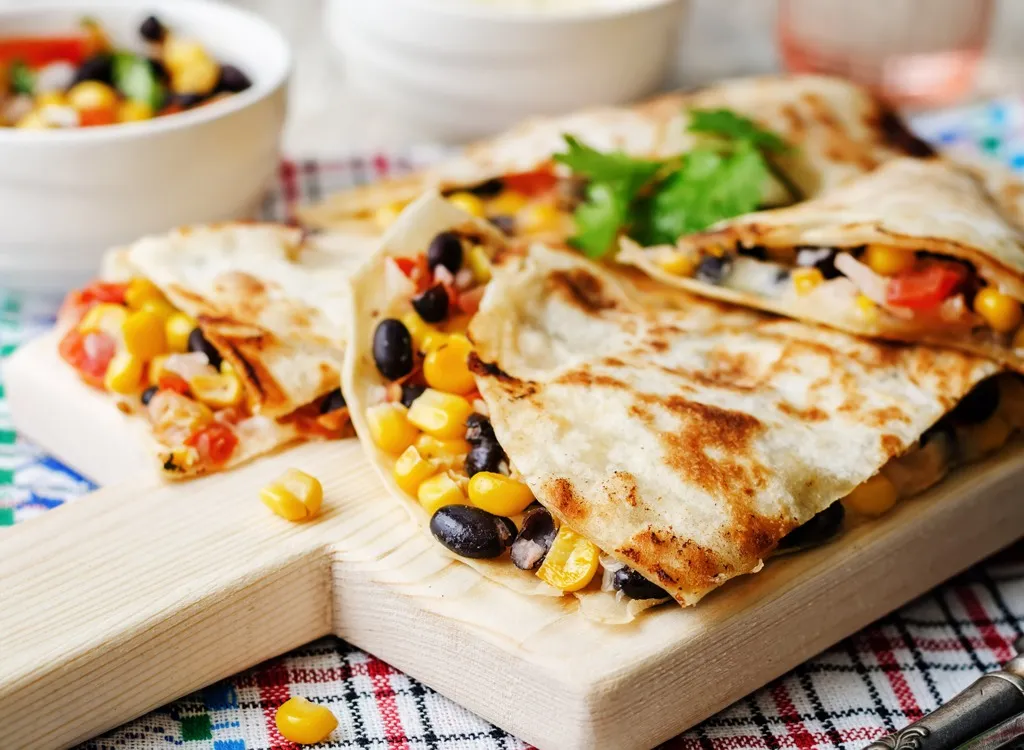 What You'll Need: Can of black beans, bag of frozen corn, fajita seasoning blend, chopped cilantro, lime, diced red onion, shredded Mexican-style cheese, corn tortillas, salsa
Upgrade your usual Tex-Mex meal with our secret protein-packed ingredient: black beans! Drain the can of beans and rinse lightly with water. Place the beans in a large bowl, season with spice mix, toss in cilantro, and sprinkle with lime juice. With the back of a fork, crush beans and other ingredients to form a paste. Spread bean paste on one corn tortilla, layer on corn, diced onion, and a handful of cheese, then top with another bean-smeared tortilla. Place on a glass plate and microwave for 1 minute or until cheese melts. Top with your favorite salsa. By leaving out the butter you'd traditionally use to fry the quesadilla in a skillet, this microwave method will also help you to cut calories!
Peach & Blueberry Cobbler
What You'll Need: 3 peaches, ¼ cup blueberries, lemon zest and juice, 2 tbsp coconut sugar or brown sugar, honey, ½ cup rolled oats, handful finely chopped walnuts, ¼ cup flour, pinch cinnamon, 1-2 tablespoons butter, 2% greek yogurt
Unlike a traditional cobbler, we like to pump up the fiber and healthy fats in the crumbly top by adding omega-3-rich walnuts and fiber-full raw oats. In a large bowl combine flour, oats, nuts, cinnamon, sugar, and a pinch of salt. With a fork, cut in cold butter until mixture is crumbly. In a small, square baking dish, combine sliced peaches, blueberries, lemon zest and juice, a bit of honey, and a pinch of flour. Mix well, then sprinkle over the crumble. Microwave 15-20 minutes or until fruit mixture begins to bubble through the topping. Serve with a dollop of one of our favorite Greek yogurts.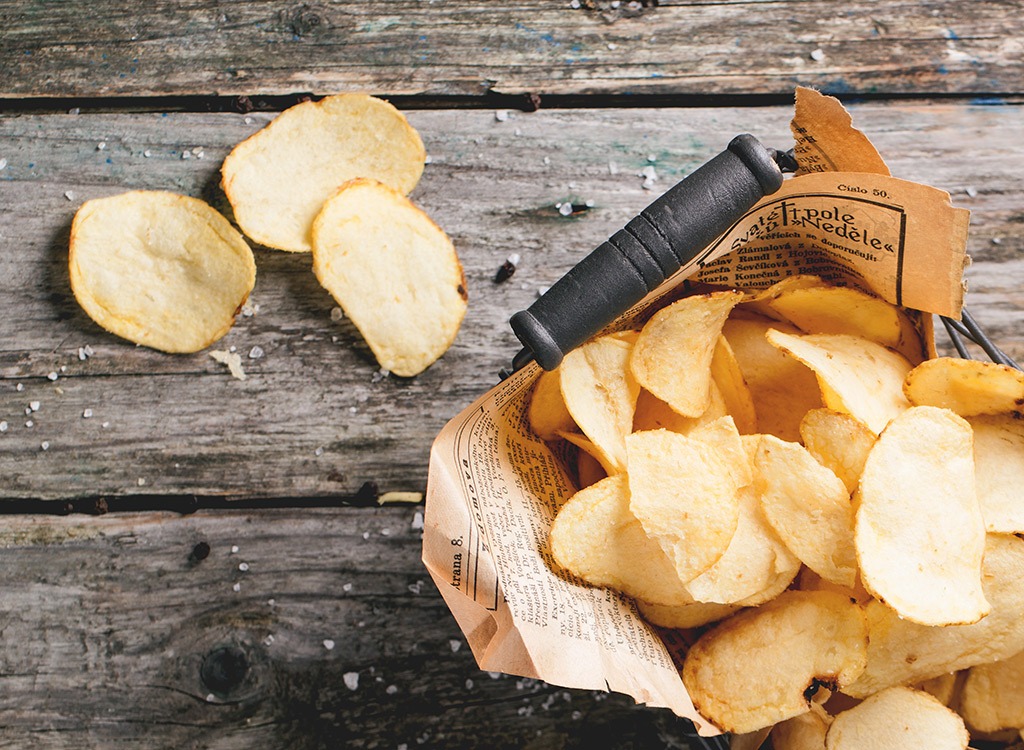 What You'll Need: 1 potato (if you're looking to up your immune-boosting vitamin C, grab a sweet potato!), salt, olive oil
Once you try this recipe, you'll never have to buy another bag of deep-fried, inflammatory-oil-laden potato chips again. Simply slice a cleaned potato on a mandolin, rinse well, and then dry thoroughly. Lightly brush each chip with olive oil and sprinkle with salt. Spread out on a paper-towel-lined plate and microwave for 3 minutes. Flip the chips and finish them off with another 3 minutes. You won't believe how crispy these chips get!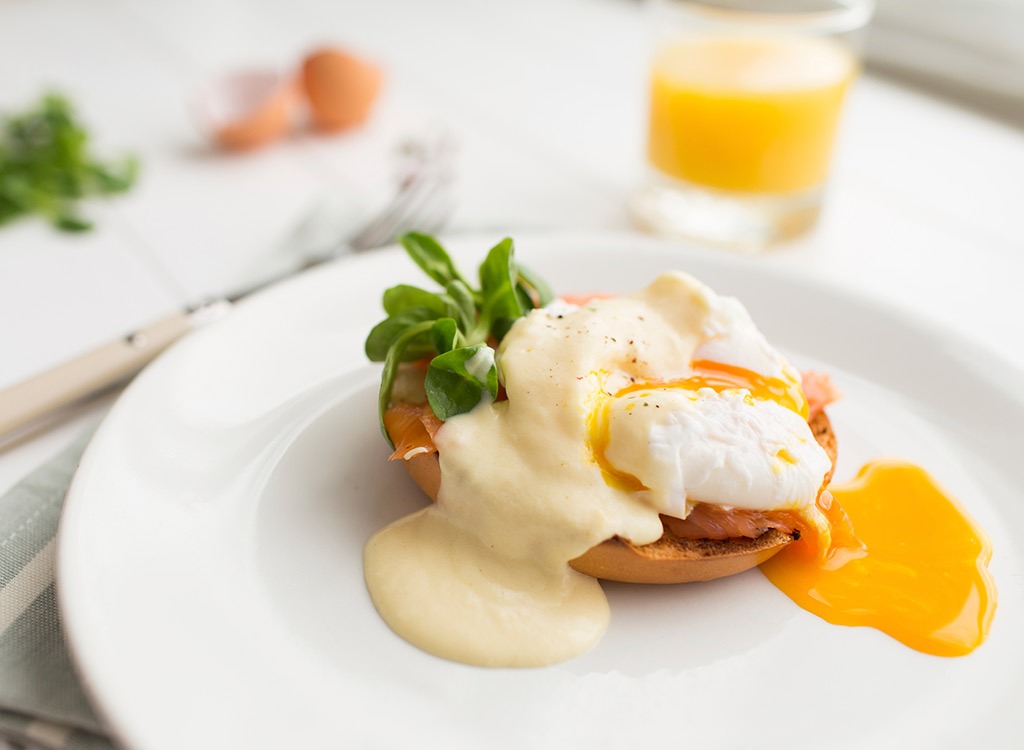 What You'll Need: Eggs, water, Ezekiel bread (or your favorite whole grain loaf), avocado, tomato
To get the most of your eggs, poach them! Scientists have found this method offers up the most nutrients. Why? The egg whites are cooked, which denatures the protein to help with digestion, and the yolk is left runny, allowing your body to more easily absorb its vitamins and minerals which have been known to boost your metabolism. For our microwave version, fill a microwave-safe bowl with hot water (tap is fine). Add a bit of salt, a splash of white vinegar, and then slowly break an egg into the bowl while the bowl is in the microwave. Nuke on high for about 3 minutes. Serve on top of toasted sprouted bread, mashed avocado, and sliced tomato.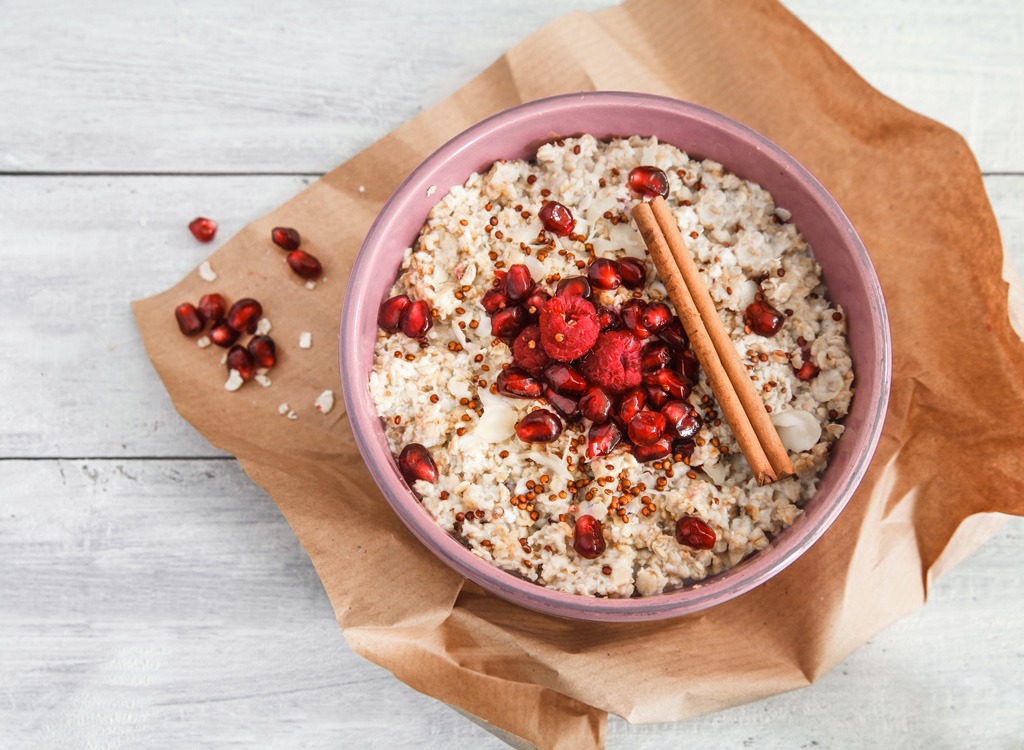 What You'll Need: ½ cup sprouted quinoa, water, cinnamon, almond milk, banana, raspberries, pomegranate seeds
Quinoa is a great grain if you're a vegetarian. Why? Because it's a complete protein, which means it provides all 9 essential, muscle-building amino acids—a rarity for plant-based proteins. To make this simple breakfast, rinse quinoa under cold water. (We like to use sprouted because the quinoa cooks faster and provides you with more nutrients!) Then, place in a bowl with a cup of water and cinnamon. Microwave on high for 4 minutes, stir, then follow up with another 3. When you remove from microwave, cover with a lid or foil and allow to sit and steam for 2 more minutes. Fluff with a fork, add a splash of milk, mashed bananas for sweetness instead of syrups or raw sugar, and then top with raspberries and pomegranate seeds.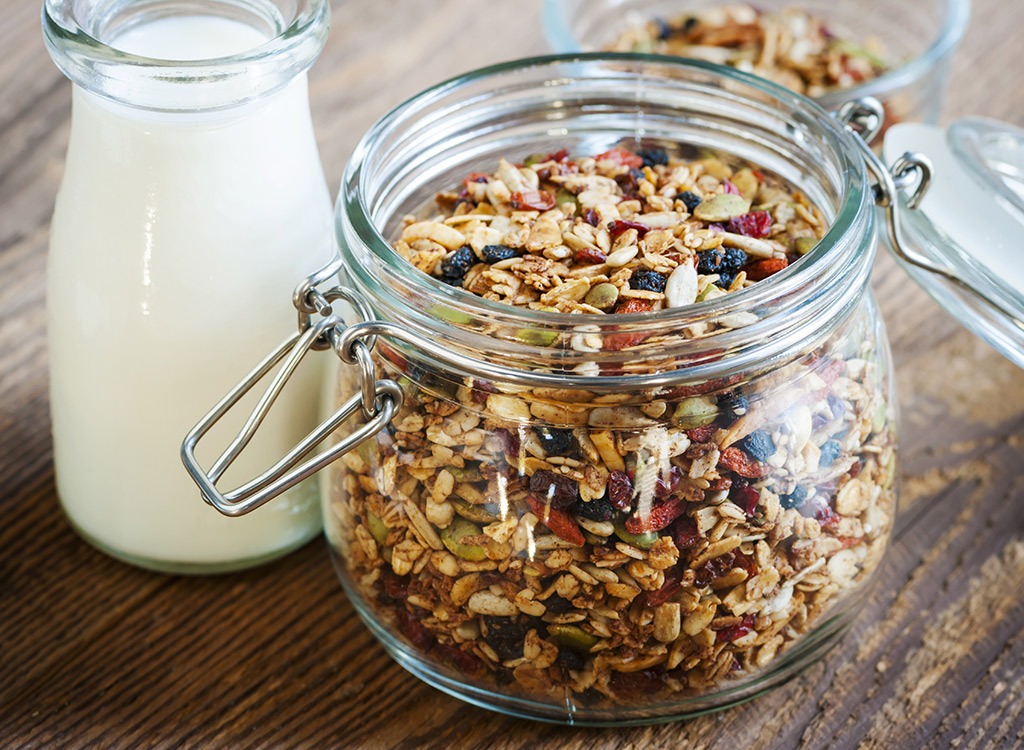 What You'll Need: 1 tsp maple syrup, 1 tsp coconut oil, 1 tsp water, 1 cup rolled oats, shredded unsweetened coconut, salt, nuts, seeds, cinnamon, nutmeg
Many granolas on the market are full of sugar—just look at these gluten free granolas—but that shouldn't stop you from getting in on the sweet cereal trend. Adding this blend of oats to your morning yogurt balances out the protein-rich carton with complex carbs and healthy fats. Make your own at home to control the sugar levels: All you have to do is combine all the ingredients together in a bowl, and stir. Microwave in two-minute increments until the oats become crispy, stirring every so often. It should take roughly 12 minutes. You'll be surprised at how crunchy this microwave granola gets!
Mushroom and Spinach Quiche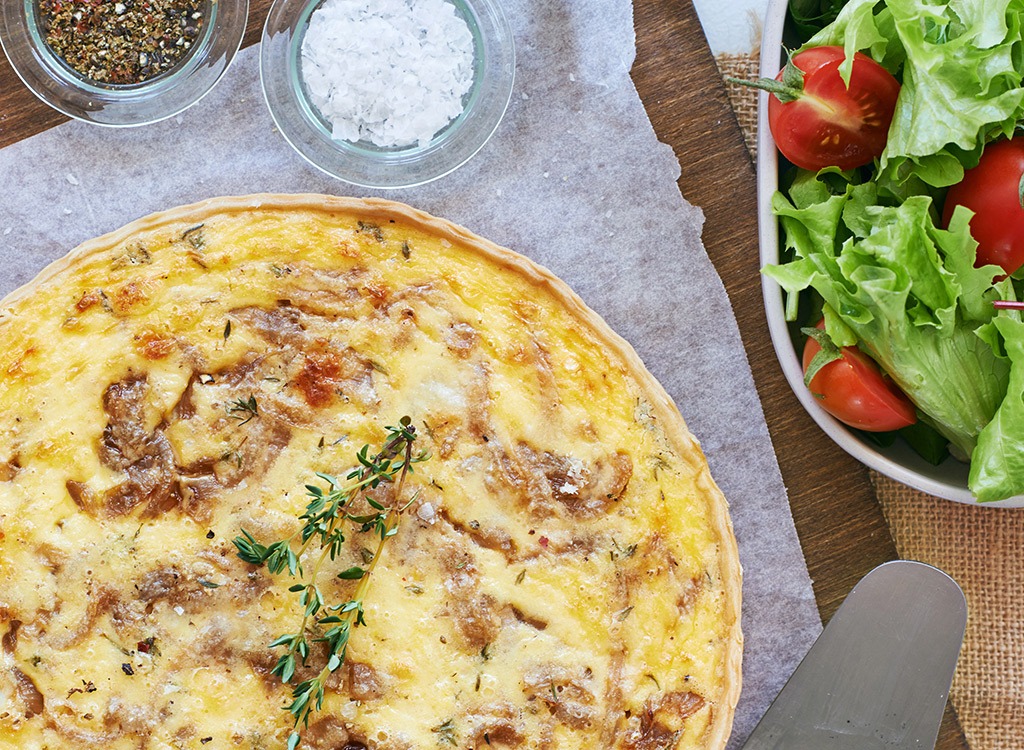 What You'll Need: 10-inch baked pastry shell, 5 eggs, 1 cup whole milk, nutmeg, 1 small onion sliced, 2 handfuls of spinach, handful of button mushrooms, butter, salt and pepper
This recipe is great for brunch or even a light lunch. It's packed with protein and full of healthy fats from the milk to keep you satiated until dinner. Start by whisking eggs in a bowl, then adding the milk, a pinch of nutmeg, and season with salt and pepper. Set aside. In a microwave-safe dish, combine thinly sliced onions and chopped mushrooms with a tablespoon of butter. Cover, vent, and microwave for 8 minutes or until onions are clear. Add spinach and zap for another minute. Pour veggies and egg mixture into pastry shell, and then microwave for around 25 minutes or until a skewer stuck in the quiche comes out clean.
Spaghetti Squash with Marinara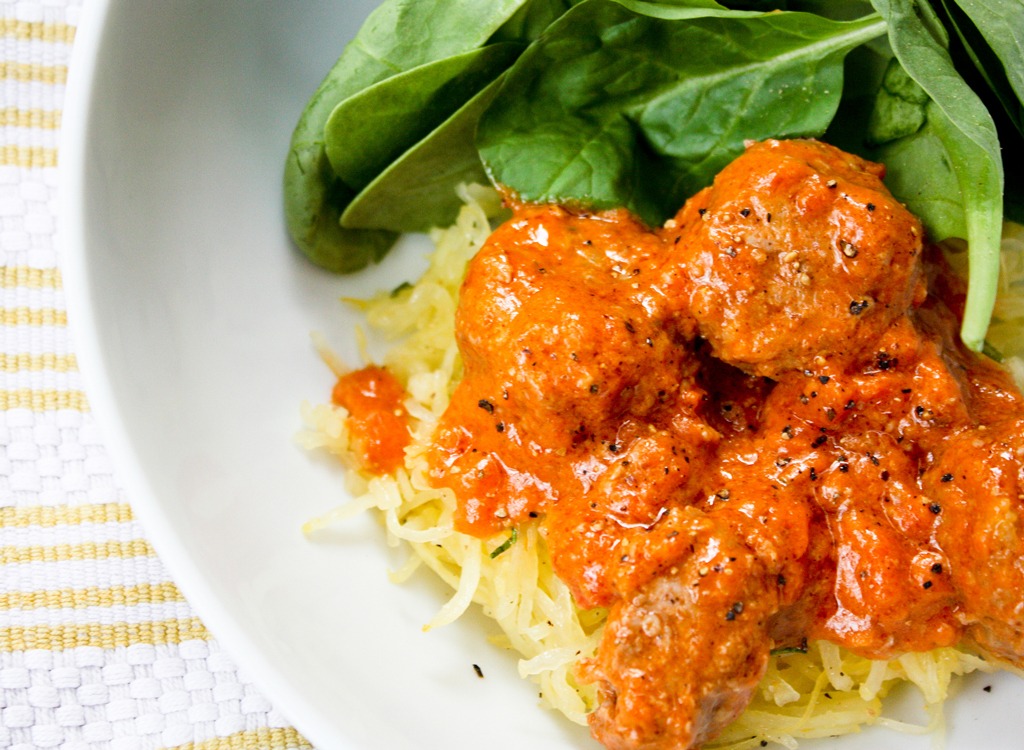 What You'll Need: Spaghetti squash, marinara sauce, seasoning, fresh basil
If you're looked to cut down on carbs, try your hand at the spaghetti squash trend with this simple microwave meal. Pierce a spaghetti squash with a paring knife in multiple places. Microwave for 12 minutes, rotating the squash halfway through cooking. Slice in half, remove the seeds, and then shred up the spaghetti strands with a fork. Season with salt and pepper, spoon over your favorite marinara sauce, and then blast in the microwave for another minute or so, until the marinara sauce is warmed. Serve topped with freshly julienned basil!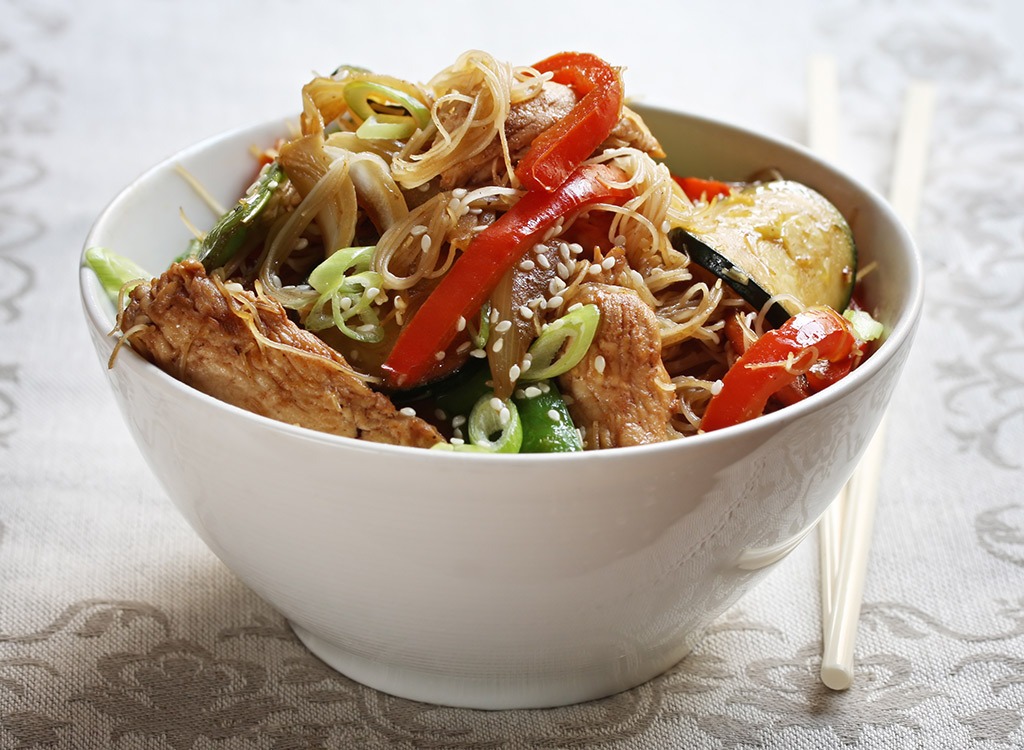 What You'll Need: ¼ pound chicken breast tenders, soy sauce, rice vinegar, sugar, sesame oil, ginger powder, garlic powder, scallions, sesame seeds, thin vermicelli noodles, red pepper, snap peas
Who needs takeout when you have this microwave recipe in your repertoire? Whisk together liquid ingredients in a bowl, add chicken, and pierce chicken with a fork. Cover the bowl, and marinate chicken in the refrigerator for 30 minutes. Meanwhile, soak a portion of vermicelli rice noodles in water for 20 minutes. Either placing chicken in microwave-safe dish or in a steam basket like Magic Chef's Microwave Cookware, lay chicken so they don't overlap. Cover with microwave-safe lid, vent, and microwave for 2 minutes. Flip chicken, add chopped red pepper and snap peas, and microwave another 3 minutes. Toss with noodles, garnish with sesame seeds—a single serving provides nearly two days worth of copper, a mineral which helps maintain anti-inflammatory and antioxidant responses in the body— and chopped scallions.
Sriracha Salmon with Quick Pickle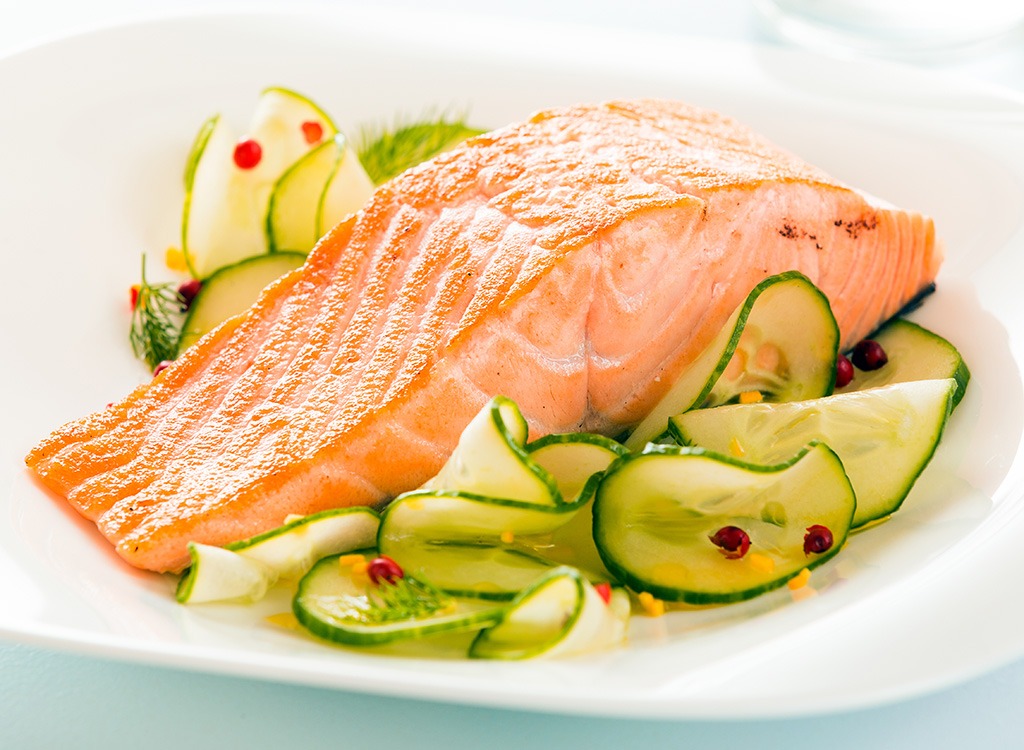 What You'll Need: 1 5-oz salmon fillet, slice lemon, sriracha, cucumber, white vinegar, sugar, salt, and pepper
Worried you can't sear a fish properly? Microwave it! Grab a piece of sockeye or pink salmon, two filets that are teeming with brain-protecting, anti-inflammatory omega 3 fatty acids, and season all over with salt and a squirt of spicy Sriracha. Place the filet on a square of parchment paper, and then top with lemon slices, lemon juice, and a touch of water. Fold paper to create a pouch, and then microwave on high for 3 ½ minutes. Meanwhile, create a quick pickle with sliced cucumbers, white vinegar, a small spoonful of sugar, salt, and pepper
Risotto with Peas and Parmesan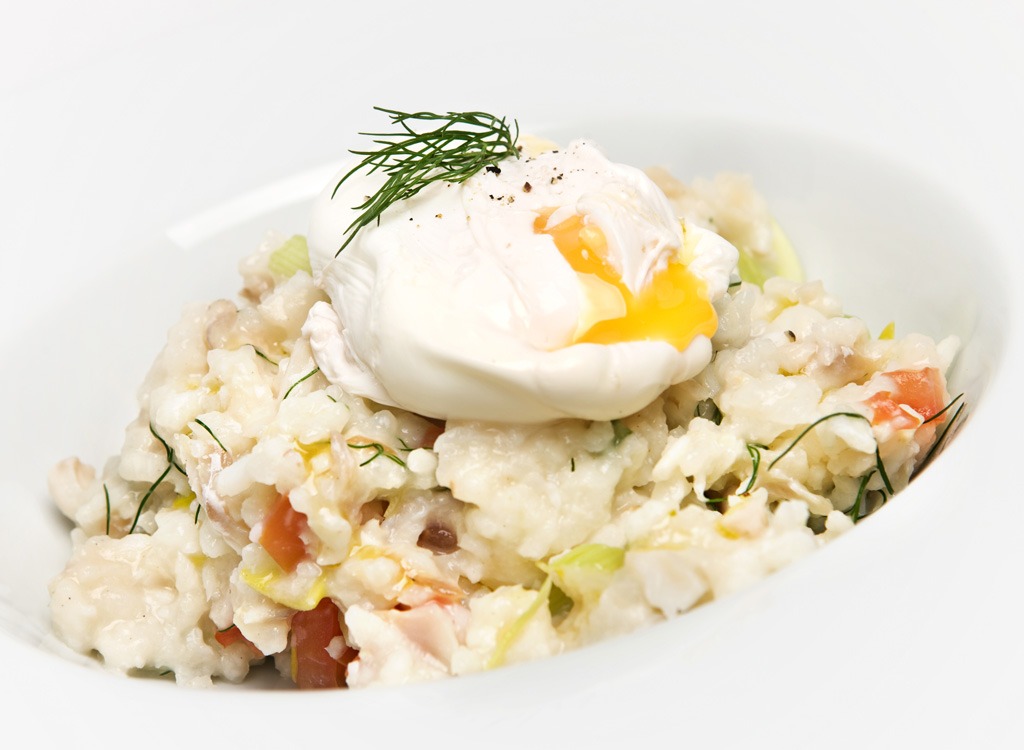 What You'll Need: 2 tablespoons butter, clove garlic, 1 shallot, 1 cup arborio rice, ¼ cup white wine, 3 cups low-sodium chicken broth, frozen peas, freshly grated parmesan cheese
Want the taste of a creamy risotto without having to babysit a pot on the stove for thirty minutes? Well, this recipe is for you! Add 2 tablespoons of the butter, a clove of garlic, and 1 minced shallot to the bottom of a small baking tray. Microwave about 3 minutes or until shallots have softened. Add 1 cup of arborio rice to the tray and toss to coat in butter. Then pour in white wine, 2 cups of the chicken broth, and microwave covered for 8 minutes. Stir the rice and then add the remaining 1 cup chicken broth. Recover and microwave until the rice is cooked, about 10 minutes. Add some frozen peas, sprinkle with some parmesan cheese, and season with salt and pepper. Zap again for a minute to warm up the peas.
What You'll Need: 1 can crushed tomatoes, 2 oz pancetta, 1/2 medium onion (diced), 2 cloves garlic (minced), 1/2 tsp red pepper flakes, 4 eggs, salt and black pepper to taste, fresh basil for garnish
When you need a little hangover helper, turn to this microwave meal. Packed with healthy ingredients, including cooked tomatoes, eggs, and prebiotic-rich onions, this balanced meal will provide your body with some much-needed nourishment. To a microwave-safe dish, add onions, garlic, salt, and pepper. Heat, covered, for 5 minutes. Add pancetta and cook another 2 minutes uncovered. Add can of crushed tomatoes, season with crushed red pepper, and then use a spoon to form 4 wells in the tomatoes. Crack eggs directly into wells, gently pierce the yolks each with a knife, then microwave on high for 3-4 minutes or until the egg looks cooked. Garnish with fresh basil.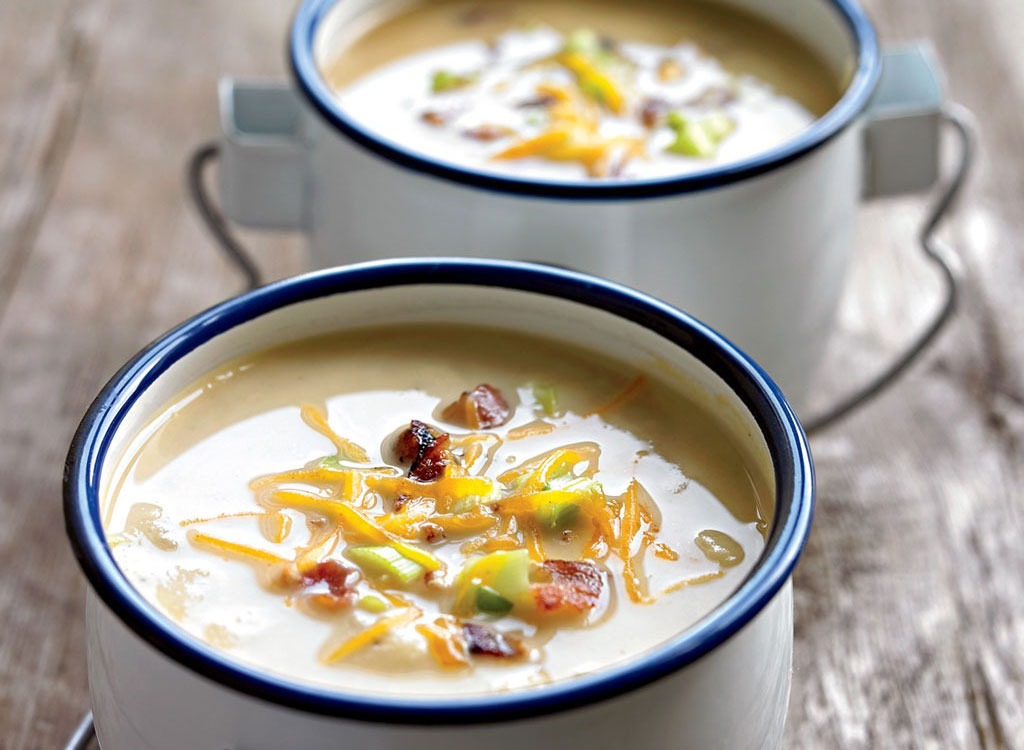 6254a4d1642c605c54bf1cab17d50f1e
What You'll Need: 2 cups low-sodium chicken broth, 1/4 cup all-purpose flour, 1 small diced onion, 1 stalk chopped celery, 2 tablespoons unsalted butter, fresh thyme, 2 cups pulled rotisserie chicken, 1 cup frozen trio of peas, corn, and carrots, salt, and pepper
Free from any dough to weigh it down, this chicken pot pie will satisfy your comfort food cravings without widening your waistline. Whisk together the chicken broth and flour in a microwave-safe square baking dish until there are no lumps. Stir in the diced onions, chopped celery, pieces of butter, thyme leaves, and season with salt and pepper to taste. Cover with microwave safe lid with vent, and microwave on high for 5 minutes. Remove, whisk broth to get rid of flour clumps, and place back in the microwave without the lid for another 5-8 minutes or until the base thickens up. Add frozen peas, carrots, and corn, rotisserie chicken, cover and microwave for another 4 minutes. This pot-pie turned soup is sure to please.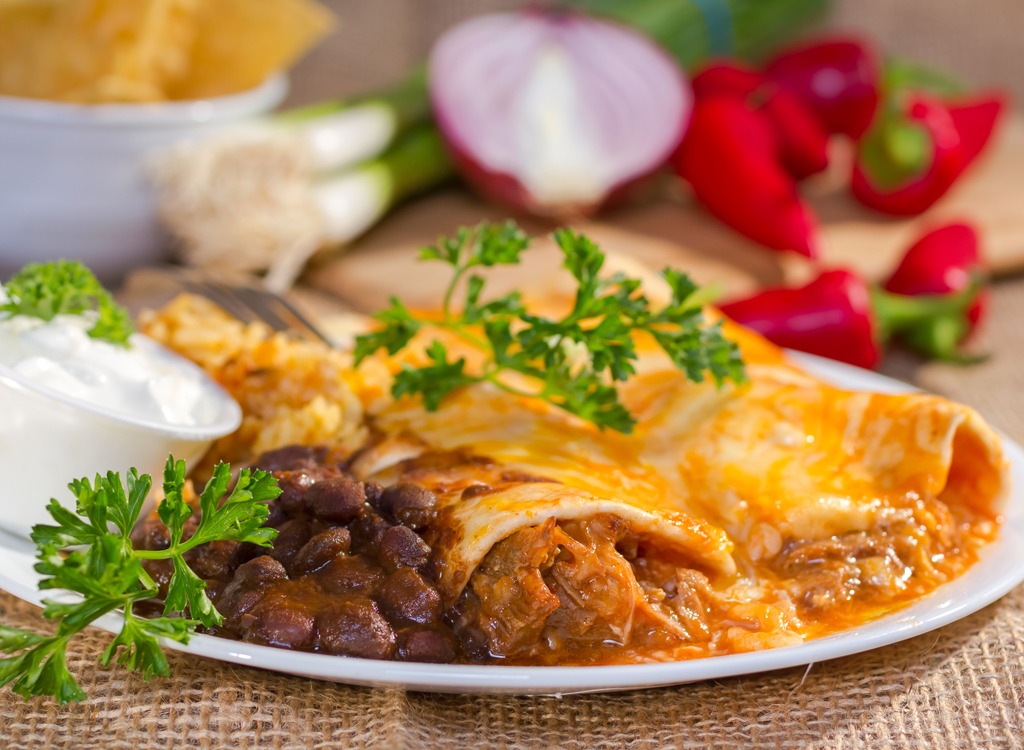 What You'll Need: Rotisserie chicken, fajita seasoning, enchilada sauce, cheddar cheese, can black beans, whole wheat flour tortillas, cilantro and chopped white onion for garnish
Have you ever craved an enchilada but didn't want to spend the time to make it or the money to buy it? Well here's your solution: this microwave recipe that takes only 10 minutes to whip up! Simply shred some rotisserie chicken, season with a Mexican blend of spices, and then mix in black beans. Pour enchilada sauce into a small baking tray (that will fit in the microwave!) and then dip a tortilla into the sauce, spoon the mixture of chicken and beans, roll up, and place in the tray. Continue until the mixture of chicken and beans is done or no more enchiladas fit in the tray. (You can always make another tray if you have more cookware.) Top with cheese, leftover enchilada sauce, and microwave for 7 minutes. Serve with freshly chopped cilantro and diced onion—it's so good, we're sure you'll be adding this to your list of healthy chicken recipes!
Olivia Tarantino
Olivia Tarantino is the Managing Editor of Eat This, Not That!, specializing in nutrition, health, and food product coverage.
Read more about Olivia