Mini Cakes and Desserts That Help You Lose Weight
As weight loss strategies go, this one's pretty delicious: miniature desserts that let you have your cake and lose it, too.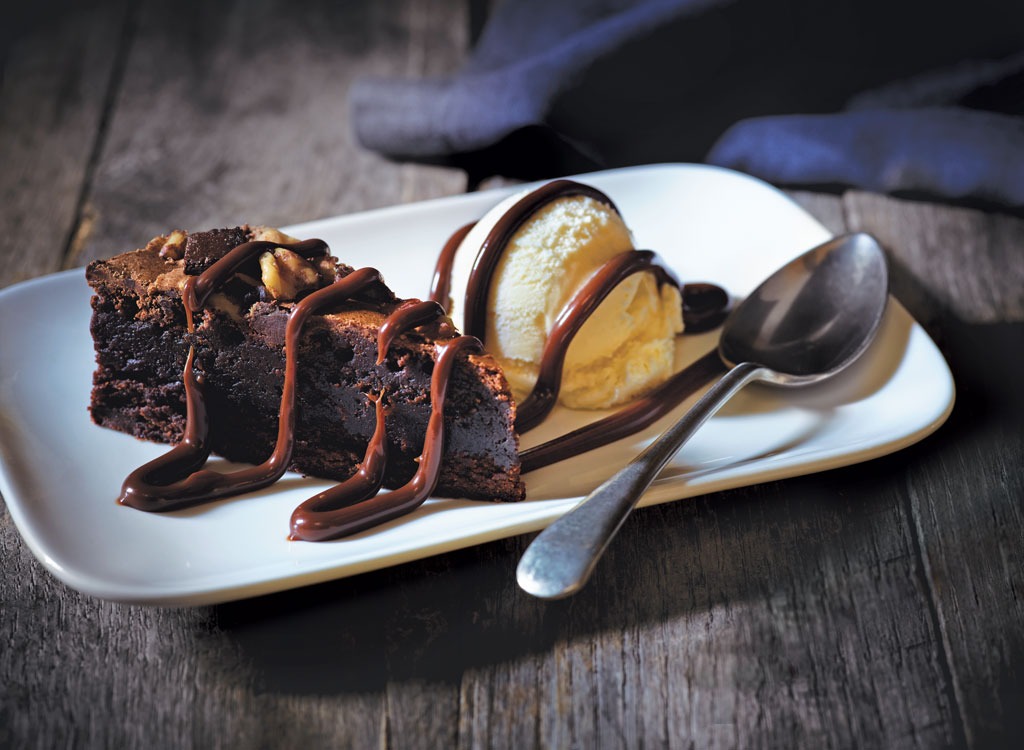 Tiny desserts—cupcakes, cookies, brownies and ice creams—are popping up on menus across the country. According to the latest restaurant industry research, miniature desserts appeared on nearly 12 percent of all menus last year, twice the rate of just 10 years ago. And 99% of Americans eat some kind of dessert, with 70% indulging at least once a week—that's way up from 57% just three years ago, according to another study.
The mini-trend may be responsible for the boom. The Italian fast casual chain Fazoli's, for example, has been moving a lot of their miniature Italian Donuts, according to Jon Quinn, the company's vice president of marketing. "The shareability is a big draw," Quinn told the trade journal Nation's Restaurant News. "Guests can share a sweet treat after dinner for the whole family without feeling too overindulgent." They cost less than the bigger desserts, too.
Miniature desserts are actually a great diet tool. A study in the journal Appetite found people with a weight-loss goal who associated chocolate cake with feeling guilty were less successful at losing weight compared to those who associated the same treat with celebration. It seems a little counterintuitive, but to really take control of your cravings you've got to indulge in them. "A little sweet treat on occasion can help keep those cravings in check and allow you to follow your weight-loss or weight-maintenance regimen," dietician Maria-Paula Carrillo, M.S., R.D.N., L.D, told us.
Inspired by these findings, our team at Eat This, Not That! magazine sought out some of the most delicious miniature desserts in America's most popular restaurants. Here are some tiny nutritional sins that have real weight-loss virtue. (And to enjoy your mini dessert and wake up with a flat belly tomorrow, check out these 14 must-have secrets to eat, drink and still shrink!)
Mini Indulgence #5: Olive Garden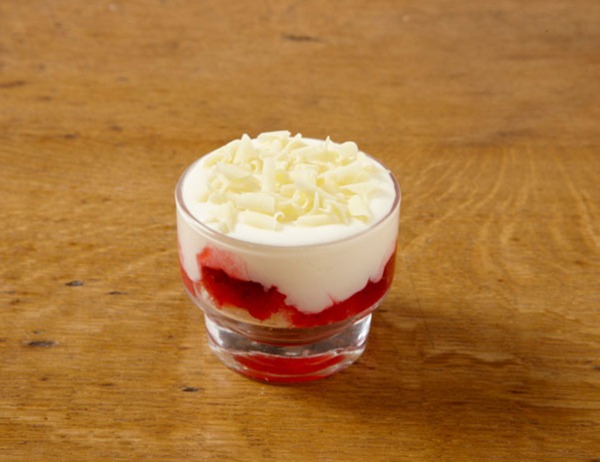 EAT THIS: Strawberry & White Chocolate Dolcini
190 calories, 11 fat, 5 g saturated fat, 0 g trans fat, 17 g sugar
NOT THAT! White Chocolate Raspberry Cheesecake
890 calories, 62 g fat, 36 g saturated fat, 3 g trans fat, N/A Sugar
SAVE! 700 calories and 51 grams of fat!
When it comes to trans fat, "zero" is the healthiest number, but Olive Garden packs a day and a half's worth of the stuff into its cheesecake. Avoid it all costs. If you're not carbed-up beyond belief from the chain's pasta offerings, try one of their Dolcini offerings, little dessert treats served in glass bowl and ranging from 190 to 270 calories per serving.
MiniIndulgence #4: Starbucks
EAT THIS: Chocolate Cake Pop and a Mini Coffee Frappuccino
260 calories, 9 g fat, 4.5 g saturated fat, 0 g trans fat, 39 g sugar
NOT THAT! Devil's Food Doughnut and a Grande Coffee Frappuccino
670 calories, 26 g fat, 13 g saturated fat, 0 g trans fat, 77 g sugar
SAVE! 410 calories, 17 grams of fat and 38 grams of sugar!
Since launching them in 2011, Starbucks Cake Pops have been a perfect way to keep kids satisfied while Mom enjoys her latte. But cake on a stick isn't just for kids; anyone craving a small dessert can save hundreds of calories by opting for this mini treat. Wash it down with a Mini Frappuccino—available through July—instead of the chain's standard 16-ounce size and you've saved yourself the sugar and calorie equivalent of two 100 Grand bars. Not into sippable sweets? Trade the Frappuccino for one of these 4 Teas That Melt Fat Fast to make this swap more effective.
Mini Indulgence #3: Yard House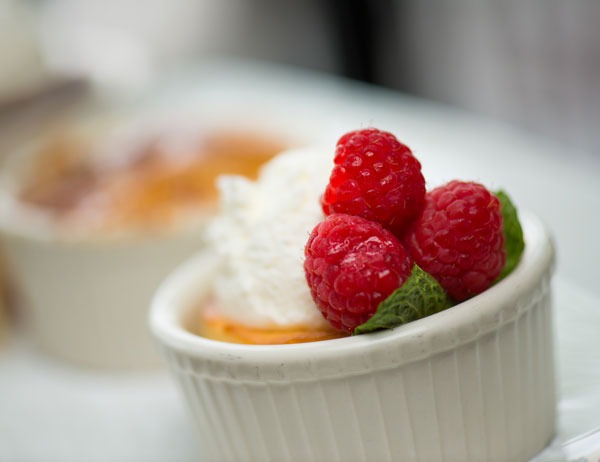 6254a4d1642c605c54bf1cab17d50f1e
EAT THIS: Mini Lemon Soufflé Cake
330 calories, 18 g fat, 11 g saturated fat, 0.5 g trans fat, 33 g sugar
NOT THAT! Macadamia Nut Cheesecake
1,330 calories, 84 g fat, 44 saturated fat, 2.5 g trans fat, 112 g sugar
SAVE! 1,000 calories, 66 g fat and 79 grams of sugar!
This fast-growing chain specializes in craft beers, but friends don't let friends order dessert drunk. While not all of their "Mini" indulgences are so innocent (their Mini Creme Brulee still packs 700 calories), the Lemon Soufflé satisfies with a quarter of the calories of their cheesecake.
Mini Indulgence #2: PF Chang's
EAT THIS: Chocolate Raspberry Wontons
285 calories, 16 g fat, 6 g saturated fat, N/A trans fat, N/A sugar
NOT THAT! The Great Wall of Chocolate
1,540 calories, 72 g fat, 26 g saturated fat, N/A trans fat, N/A sugar
SAVE! 1,255 calories and 56 grams of fat!
Even if you scale the Great Wall together with your date, you're still consuming 770 calories each, the equivalent of almost 3 cups of Breyer's Natural Vanilla ice cream. Instead, share an order of four wontons–or get a two-piece order for yourself–and indulge your way to your weight-loss goals.
WEIGHT LOSS IN EVERY BITE Arm yourself with the ultimate weapon in winning the war on fat, in this free Eat This, Not That! Special Report: The 5 Unhealthiest Desserts in America!
Mini Indulgence #1: Applebees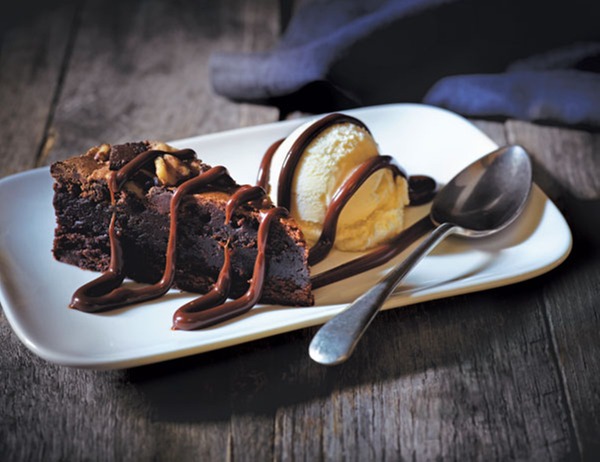 EAT THIS: Brownie Bite
380 calories, 18 g fat, 9 saturated fat, 0 g trans fat, 36 g sugar
NOT THAT! Blue Ribbon Brownie
670 calories, 78 g fat, 40 g saturated fat, 0.5 g trans fat, 154 g sugar
SAVE! 290 calories, 60 grams of fat and 118 grams of sugar!
Leave the blue ribbons to the pigs at the county fair. Applebees' modest Brownie Bites give you the chewy, chocolatey carb indulgence you want for a whisper of the fat and sugar you'd get from their regular offering.
FOR HUNDREDS MORE WEIGHT-LOSS IDEAS, click here for our new book Eat This, Not That! 1,247 Awesome Slimming Swaps. Order now to get your FREE GIFT!
Eat This, Not That!
Inspired by The New York Times best-selling book series, Eat This, Not That! is a brand that's comprised of an award-winning team of journalists and board-certified experts, doctors, nutritionists, chefs, personal trainers, and dietitians who work together to bring you accurate, timely, informative, and actionable content on food, nutrition, dieting, weight loss, health, wellness, and more.
Read more about Eat This