The Most Popular Restaurants in America in 2021, According to Data
Thanks to Yelp findings, you can now uncover the best spots to enjoy a meal in your city.
It's safe to say just about everyone has strong thoughts on where the best restaurant is in the city they reside. But if you're looking for a recommendation you can trust, well, look no further, as our friends at Yelp have done all the research for you. And they've determined which are the best, most popular restaurants all across the U.S.
To determine the top places to eat at in 2021, Yelp reached out to its user community and requested individuals to submit restaurants that they can't wait to return to in 2021 in the U.S. Yelp's data science team then analyzed the submissions from the community to determine the top restaurants by ratings, number of reviews, and volume of submissions. To finalize the list, Yelp worked with its Community Managers around the country to determine the final rankings.
Now, here are the most popular American restaurants of the year, so you know exactly where to dine in your city, ranked from good to the absolute best. If you're looking for more fun food insight, be sure to check out these 15 Classic American Desserts That Deserve a Comeback.
Royal Sushi & Izakaya in Philadelphia, PA
If you're looking for tons of sushi options, then go ahead and place an order from Royal Sushi & Izakaya. As one Yelp reviewer wrote, "some of the sushi is simply beautiful and worthy of a photo!" Food that tastes just as great as it looks? A win-win.
Lang Van in Charlotte, NC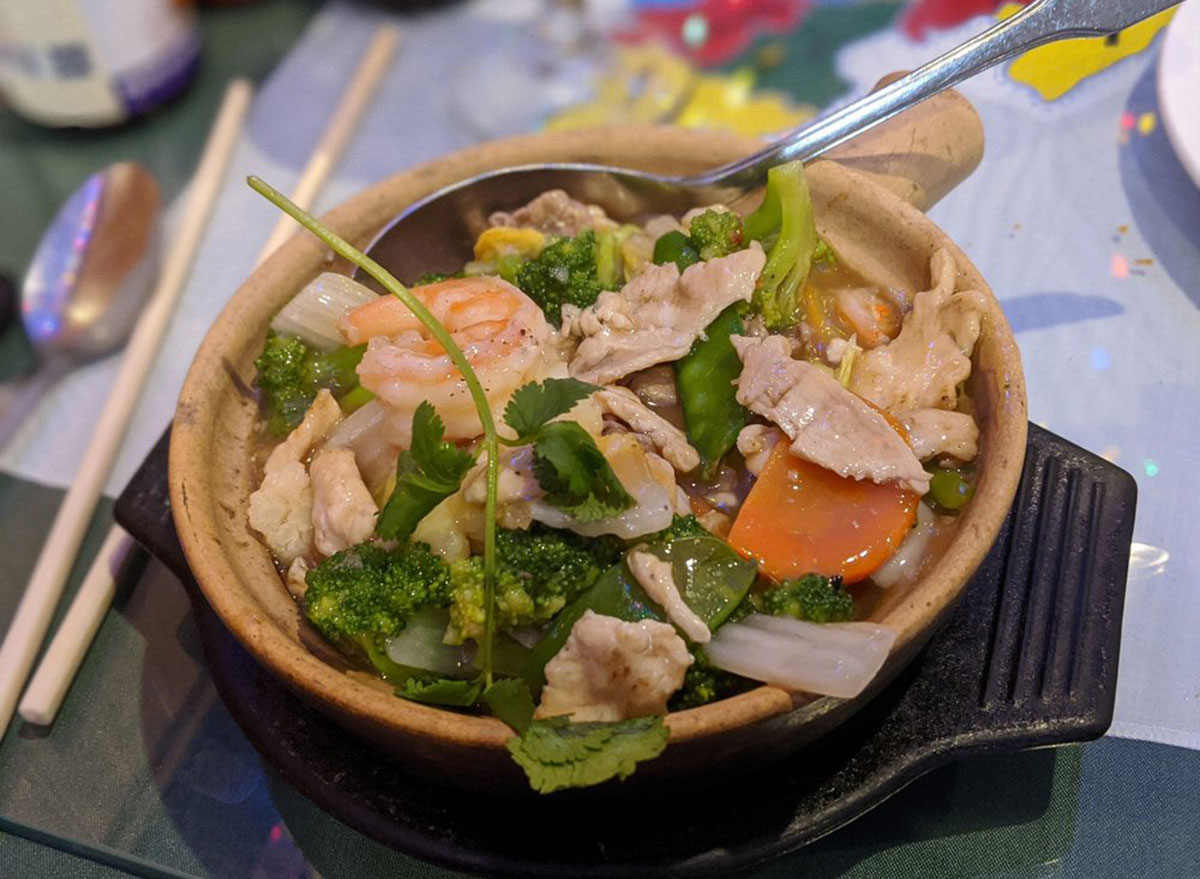 When you're craving Vietnamese food, you'll want to pay Lang Van a visit when in North Carolina. The pho has rave reviews from Yelp users, along with the pineapple fried rice.
Aba in Chicago, IL
This restaurant's menu is loaded up with all different types of tapas dishes, so you can really get a taste of everything. Some of the most popular options include the short rib hummus, the whipped feta, and the chicken and lamb and beef kefta.
Bacco Vino & Contorni in Providence, RI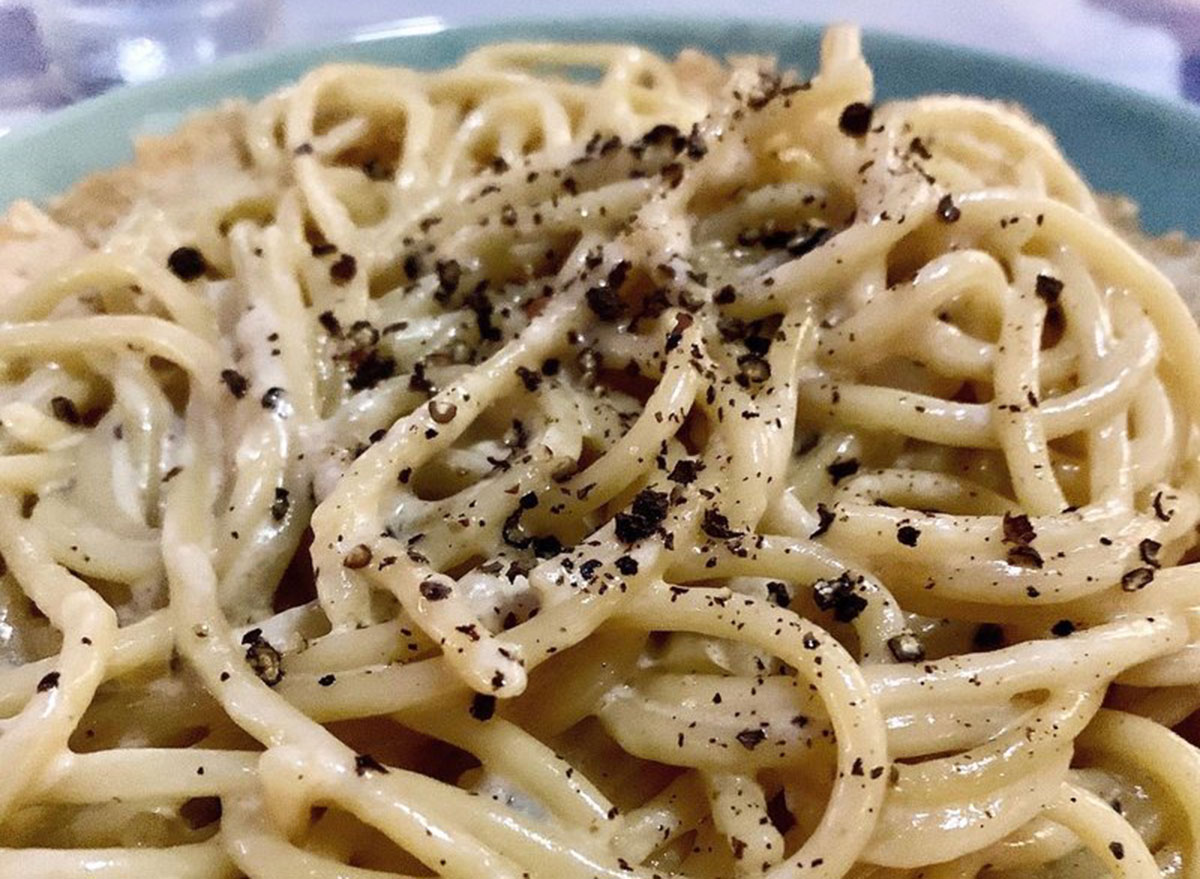 At this cozy Italian restaurant, you can order the "Armando Experience," in which you get a 4-5 course blind dining experience that is prepared by Chef and owner Armando Bisceglia. Yelp reviewers who have opted for this special have called it "phenomenal" and described each of the five dishes they had as "thoughtful, hearty, and full of flavor."
White Yak in Philadelphia, PA
If you're looking for delicious Tibetan food, then White Yak is the perfect spot in Philly. As one Yelp reviewer wrote, "This place is phenomenal. I've never had Tibetan food before, but I couldn't resist trying it after all the raves I've heard about White Yak. If you are on the fence, do yourself a favor and just go! Your taste palate will thank you."
Bennett's Sandwich Shop in Portsmouth, NH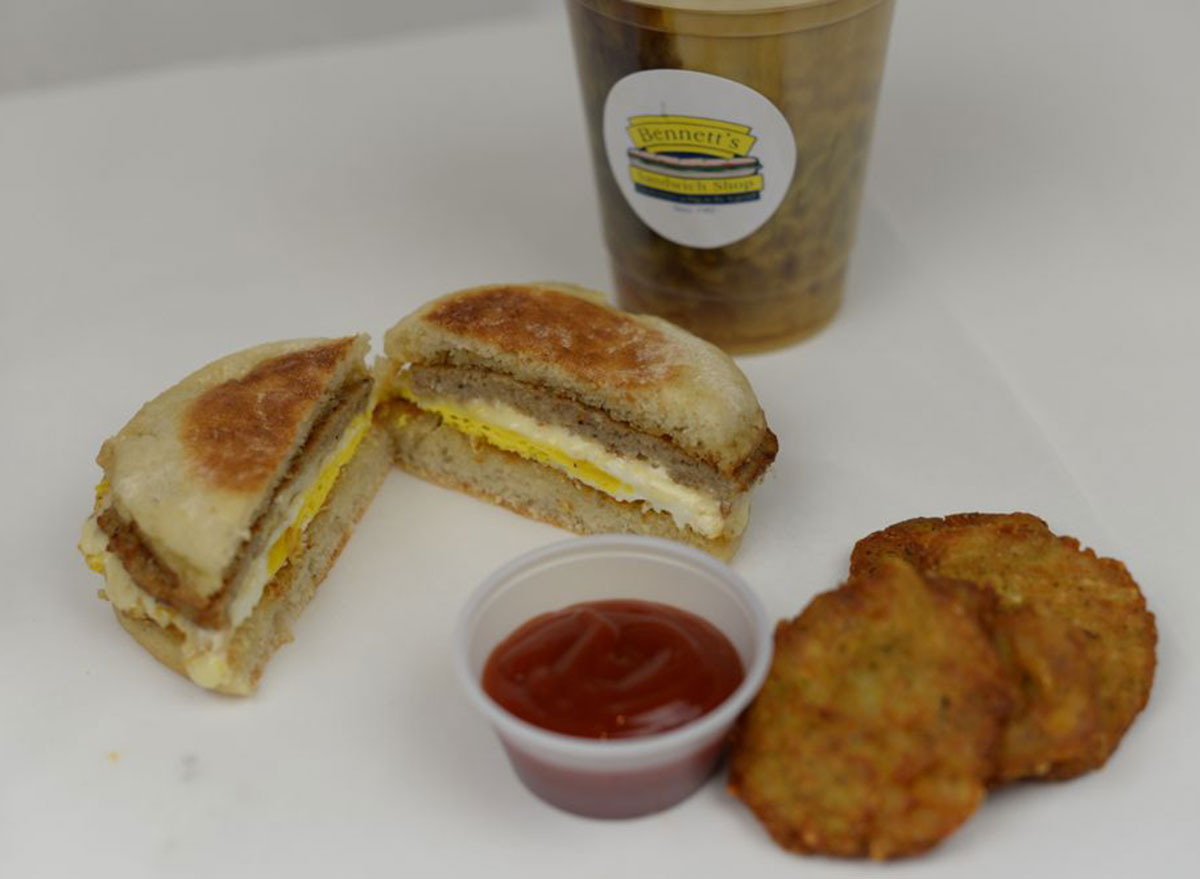 This place knows how to make a sandwich! From the Philly cheesesteak to the grilled cheese to the breakfast sandwiches, you really can't go wrong with anything on the menu at Bennett's Sandwich Shop.
Looking for more helpful tips? Your ultimate restaurant and supermarket survival guide is here!
Jack Stack Barbecue, Overland Park in Overland Park, KS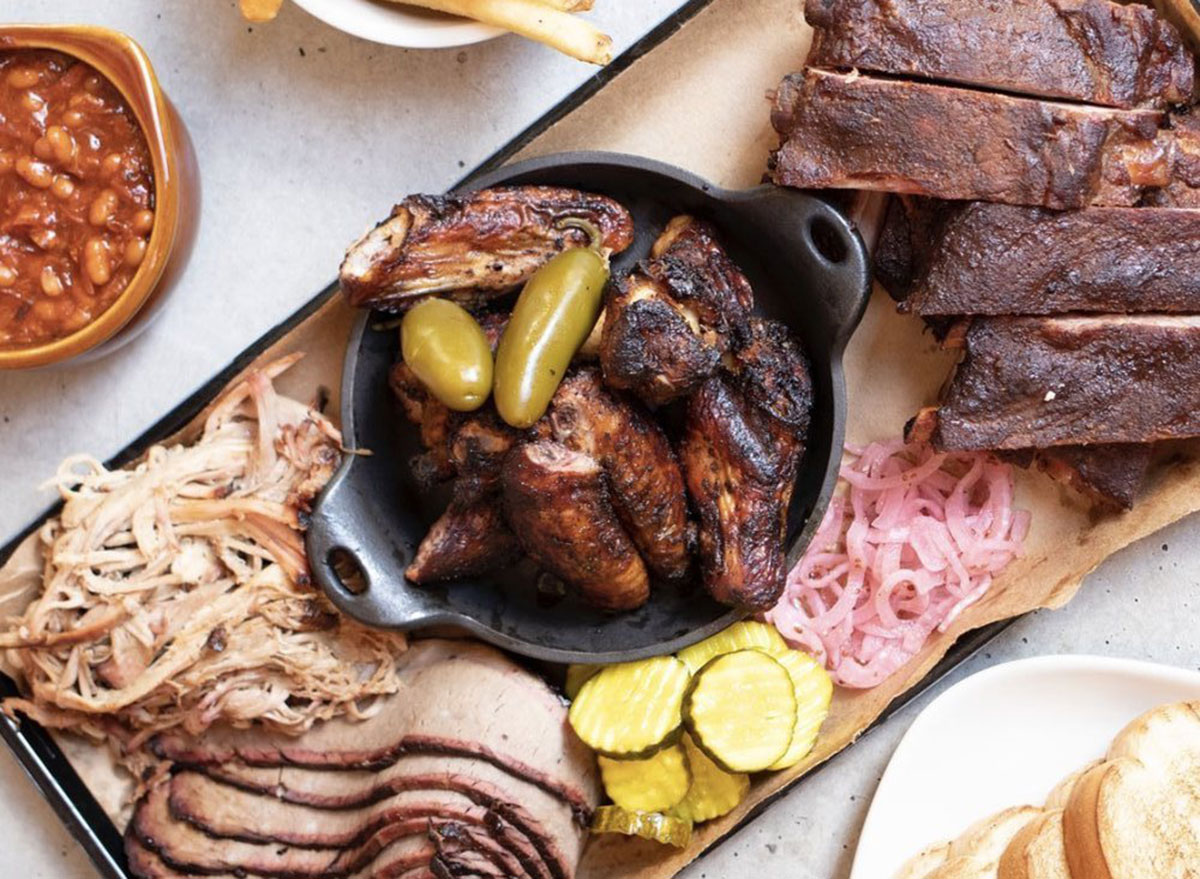 Sometimes, you're just in the mood for some classic barbecue, and this restaurant is the perfect spot. The hot menu item Yelp reviewers unanimously agree is the best? The burnt ends.
Waffle Love in Round Rock, TX
Who doesn't love a waffle with all the fixings? At Waffle Love, the waffles are simply next level, transformed into yummy grilled cheese that is served with tomato bisque, a chicken bacon avocado sandwich, and, of course, plenty of oh-so-sweet options, like the Churro Dream.
Momo Sushi in Minneapolis, MN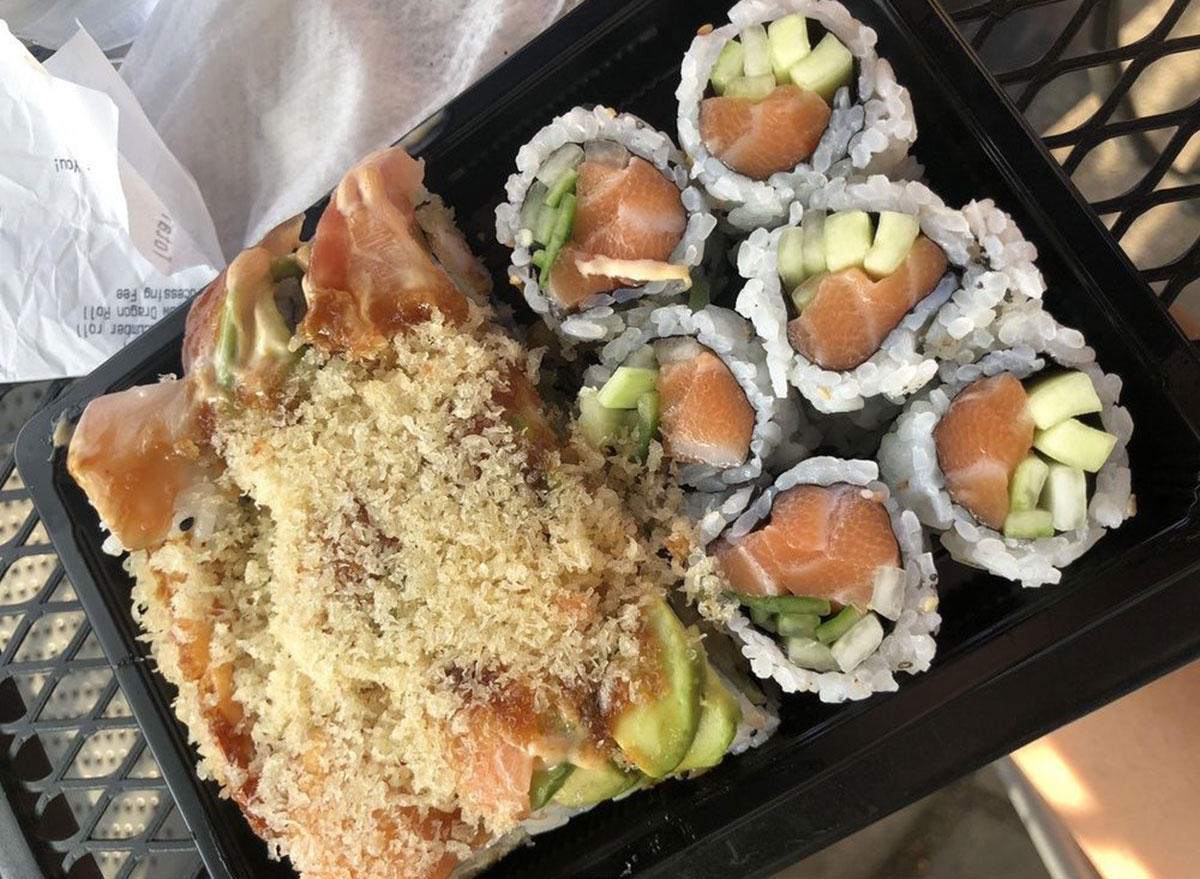 As one Yelp reviewer explained, "The menu [at Mono Sushi] is extensive with an abundance of choices—from beverages to lunch items to sushi," with the wontons being a stand-out menu item.
DiAnoia's Eatery in Pittsburgh, PA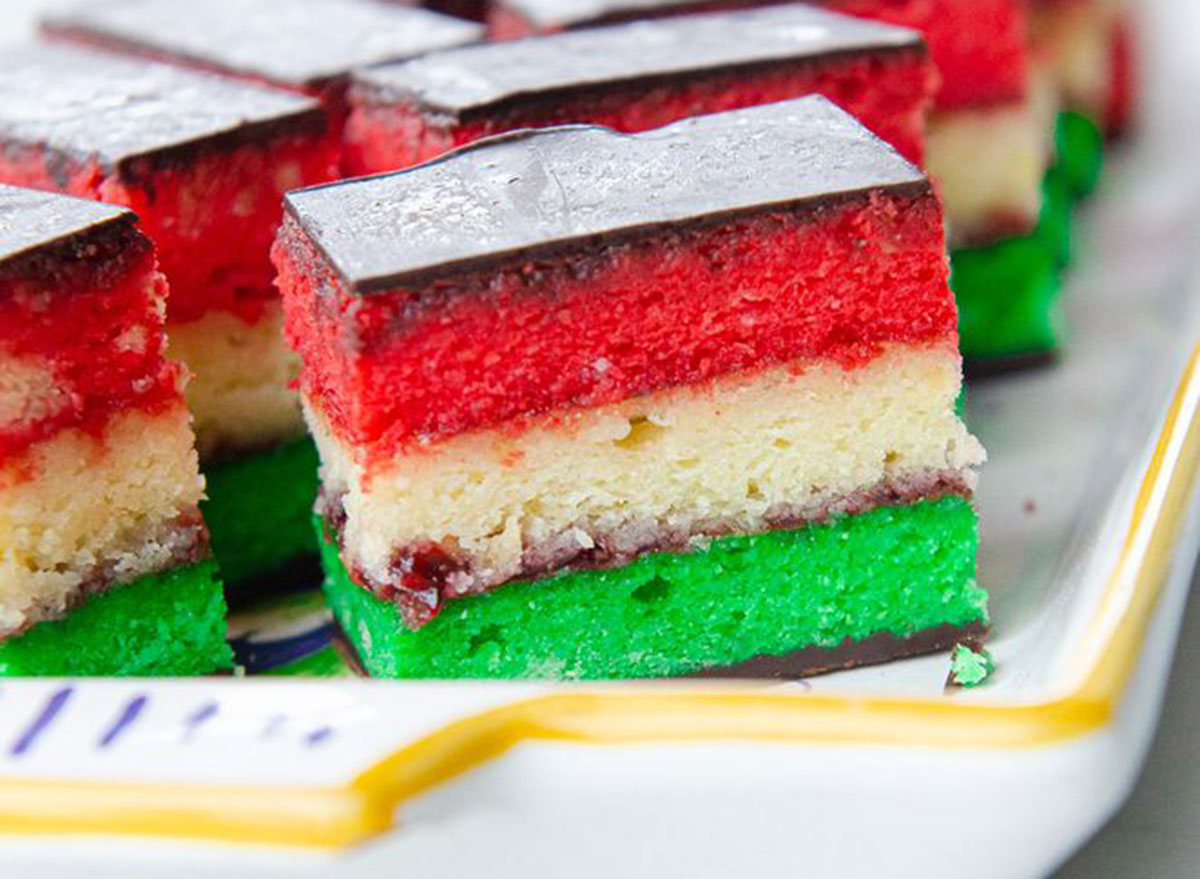 When you find an Italian restaurant in your city that never disappoints, there's a good chance you'll keep eating there time and time again. That's exactly how fans of DiAnoia's Eatery feel! The food is described as "fresh and homemade," by Yelp reviewers, with the bread and gnocchi both being standouts.
The Jones Assembly in Oklahoma City, OK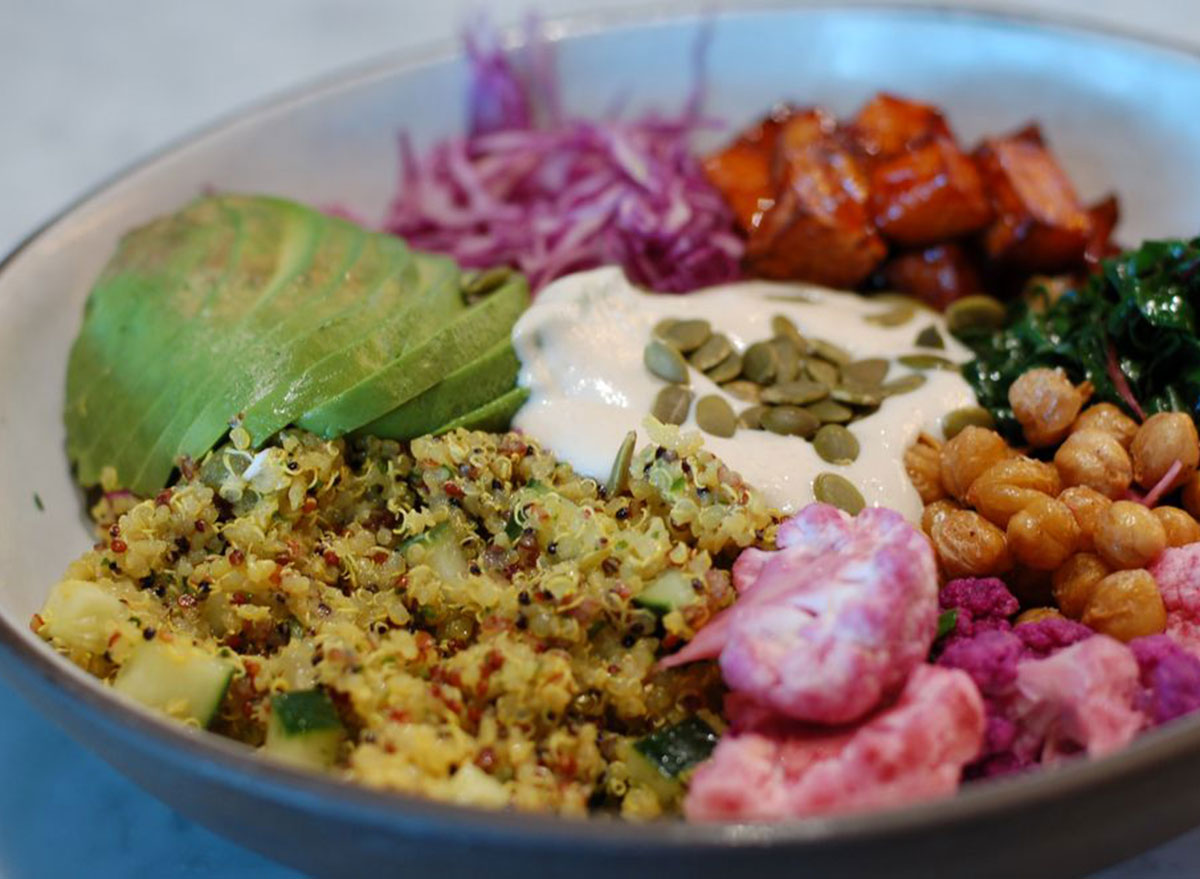 The overall decor and feel of The Jones Assembly wins over customers, along with the Nashville hot chicken.
Khana Indian Grill – Fayetteville, AR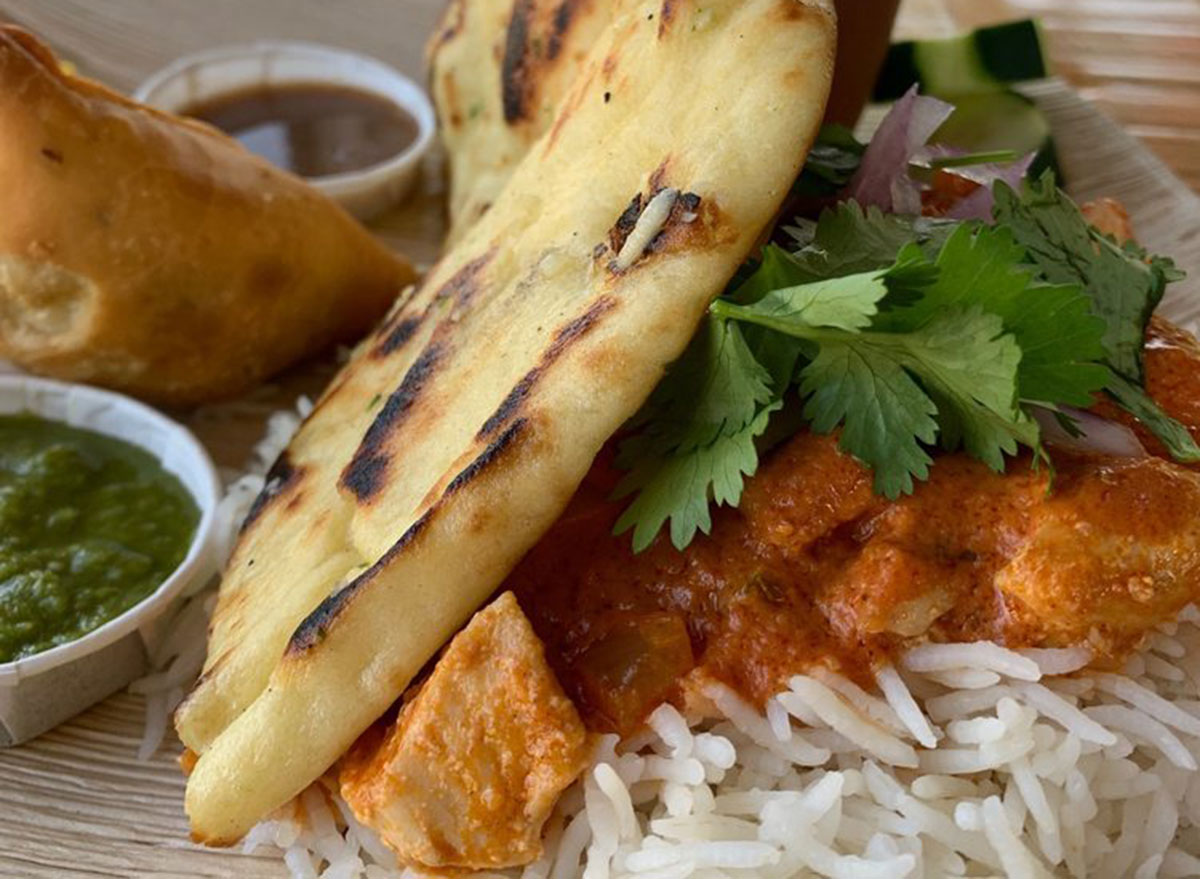 This restaurant is described as having a "casual yet visually elegant atmosphere" with a menu filled with flavorful Indian dishes. One popular option is the coconut malai.
The Parish in Tucson, AZ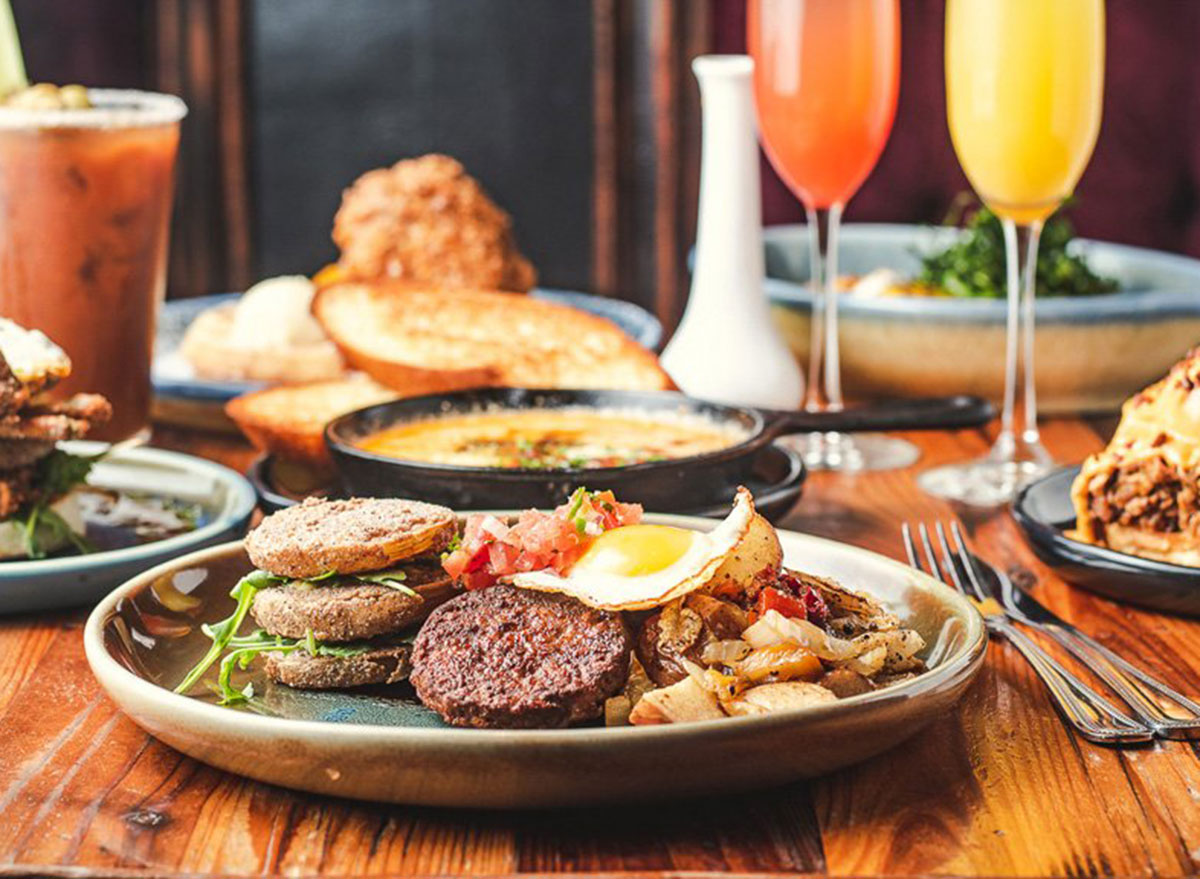 As one Yelp reviewer pointed out, "You don't find a lot of Cajun/Creole/Southern flair in Tucson, so this spot is super welcome." When you're at The Parish, you'll want to order the hush puppies and the Drunken Angel pasta. It's made with burgundy-colored angel hair pasta in a saffron red pepper cream sauce and lobster broth, along with plenty of shrimp and crawfish. And it's topped with parmesan cheese—easy to see why it's one of the most popular dishes!
Beerline Cafe in Milwaukee, WI
This vegetarian cafe specializes in crepes, paninis, and sandwiches, and there are plenty of gluten-free menu items, too. Yelp reviewers all agree you can't really go wrong with any of the crepe options.
Terra GR in Grand Rapids, MI
Terra GR is a farm-to-table neighborhood restaurant specializing in locally sourced, sustainable ingredients, known for its drinks and cocktails, wood-fired pizza, and brunch. The ambiance here is upscale, yet still welcoming, and as one Yelp reviewer wrote, "if you're looking for a 'wow' location for your next or maybe first date, this is the place to go."
El Maestro del Taco in Bellevue, WA
This hidden gem of a spot has rave reviews, with Yelp users going as far as to say the tacos offered up here are the best tacos they've ever eaten. If you're not sure which to order, the beef tacos are said to be the most delicious.
Rainbow Donuts in York, SC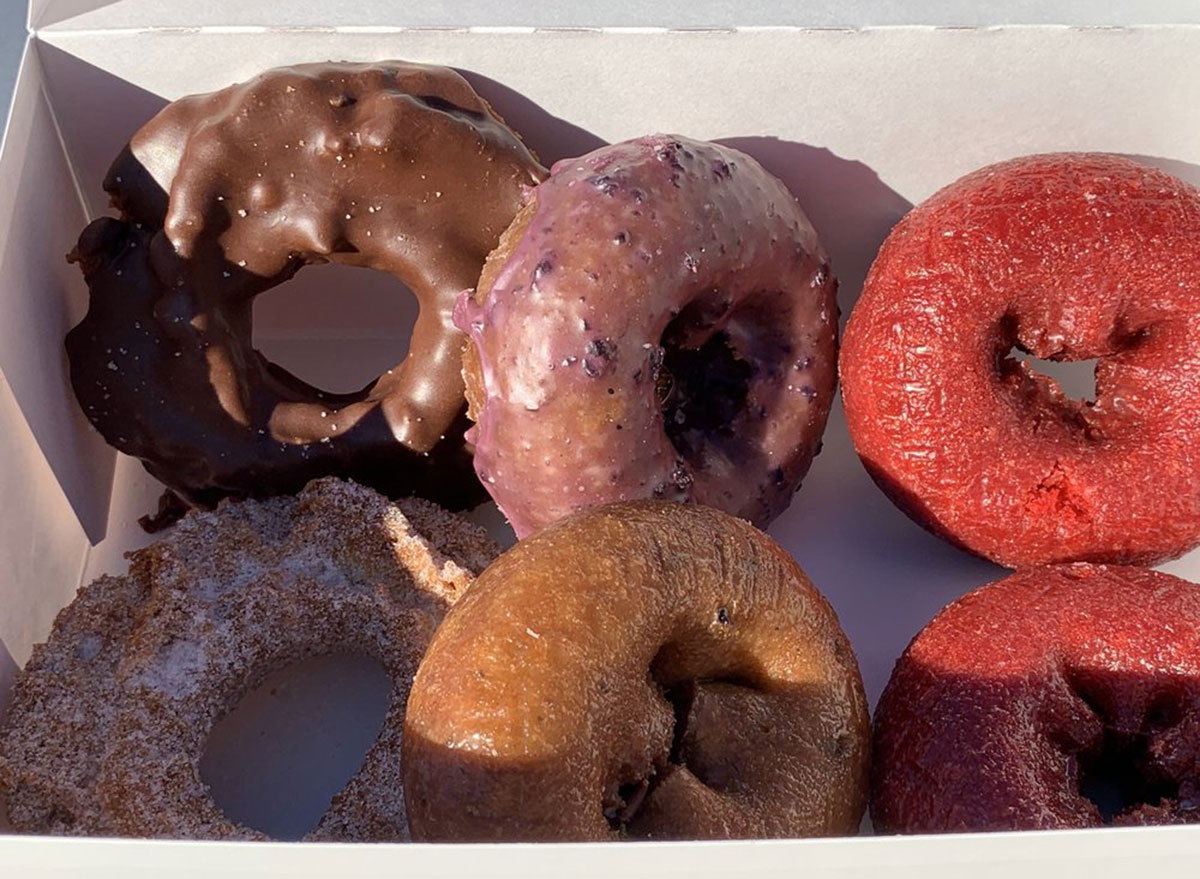 While the donuts here are downright yummy (as one Yelp reviewer wrote, "stopped in to try their donuts. Glad I did. I'll never eat Krispy Kreme or Dunkin" again!"), there are plenty of other menu items that are a must-try, including breakfast burritos and a sausage, egg, and cheese on a croissant.
ABC Pony in Washington, DC
The burgers at ABC Pony are said to be some of the best burgers customers have ever had. That's all we need to hear!
Lazo's Taco Shack in Milwaukee, WI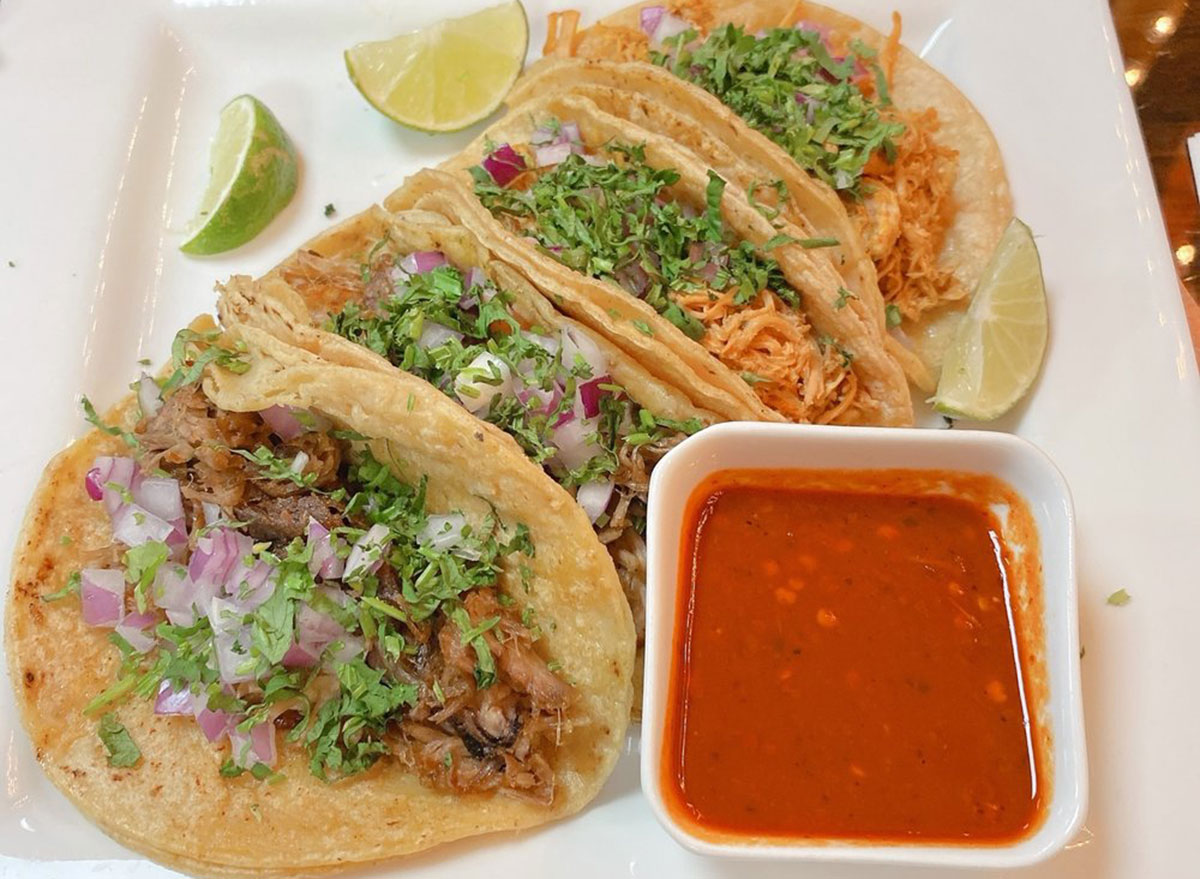 The birria tacos are the most popular menu item and based on the rave Yelp reviews, it's easy to see why, as they're packed with flavor.
Sushi House in Bentonville, AR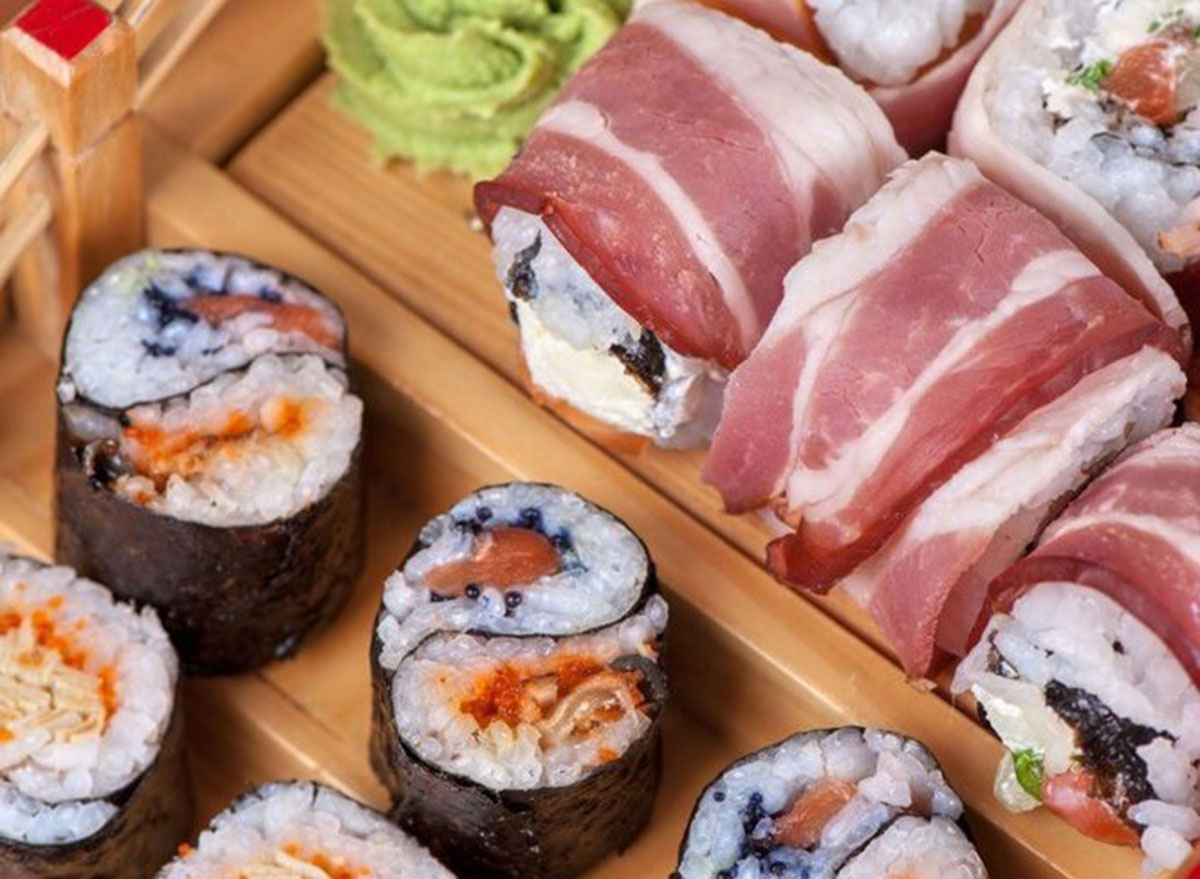 Not only do Yelp reviewers praise the quick and friendly service, but the quality of the fish and the sushi, in general, is top-notch.
Paisan's Old World Deli & Catering in Reno, NV
The sandwiches at this deli are truly memorable, with the meatball sub being a beloved classic favorite.
Two Cities Pizza Company in Mason, OH
If you're a fan of both New York Style Pizza and Chicago Deep Dish, you're in luck because at Two Cities Pizza Company, you don't have to choose. You can have the best of both with authentic slices of each at this pizza spot.
Brick 29 in Nampa, ID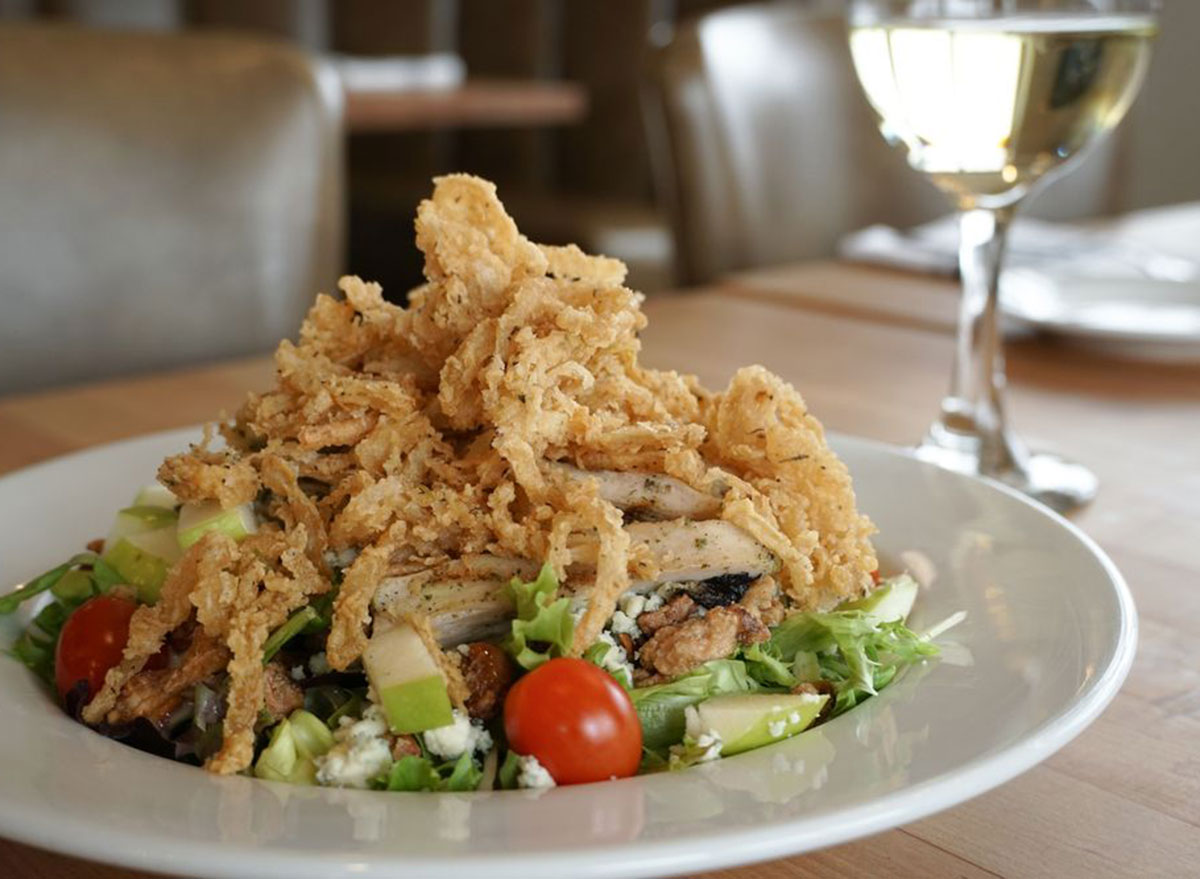 This restaurant in Nampa, Idaho takes comfort food to a whole new level. Yes, we're talking all your favorites from mac and cheese to steak—they've even got a Reuben on the menu. You'll have a new dish to try every time you go.
La Sabrosita Restaurant in Lilburn, GA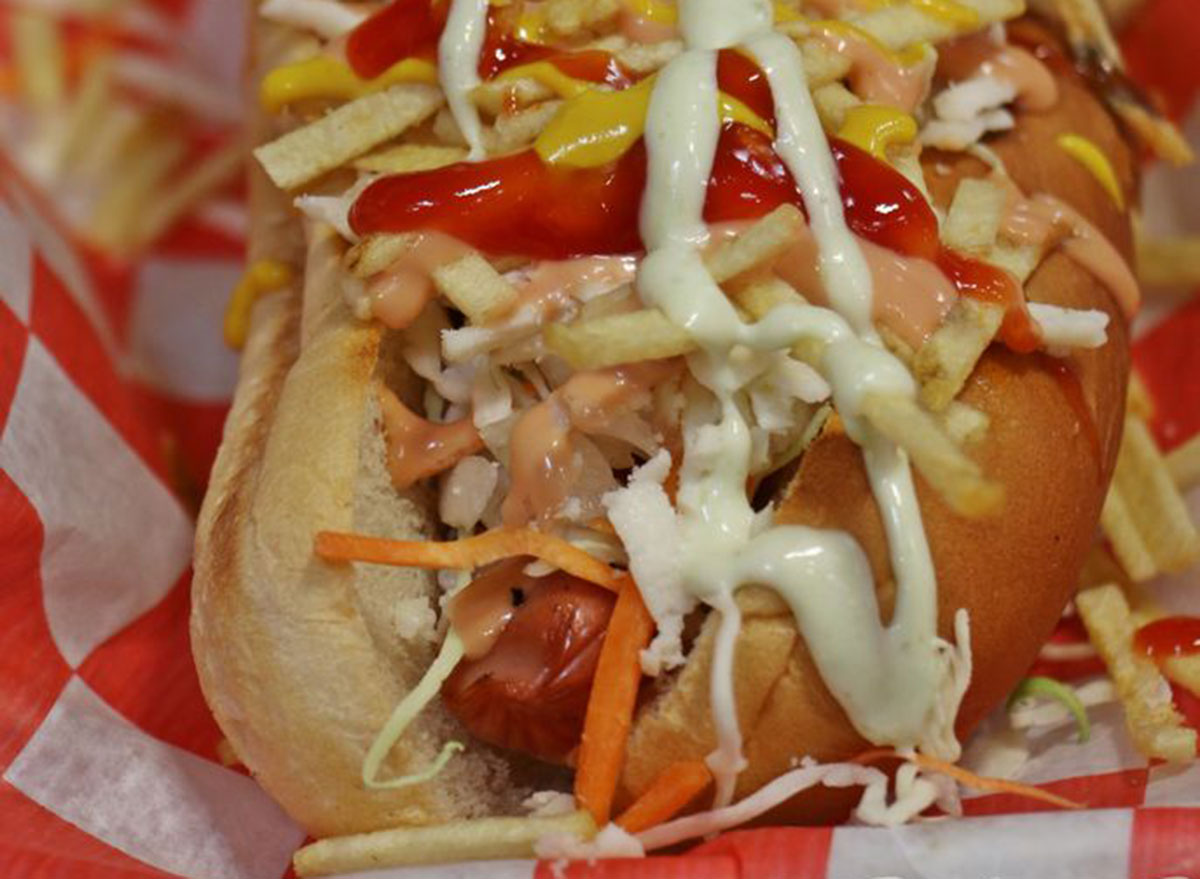 You may think that a Venezuelan restaurant can't do hot dogs, but you'll see you're mistaken once you give La Sabrosita Restaurant a try. All of the menu items play on some classic dishes like hamburgers and hot dogs, but with the Venezuelan flair you never knew they needed.
Pomodoro in Seattle, WA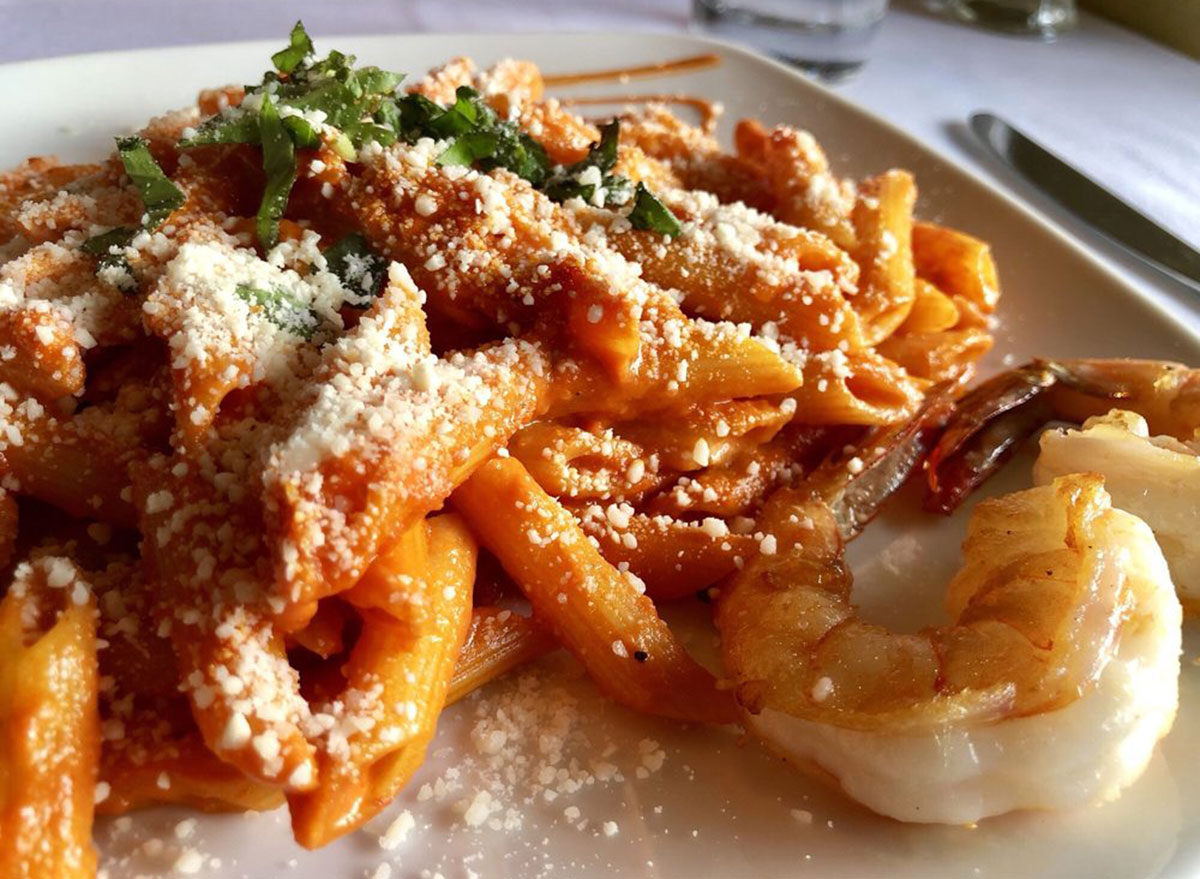 Oftentimes if a restaurant is serving two types of cuisines, they're doing too much, but at Pomodoro, both the Italian and Spanish options can't be beaten. It's probably a food duo that you didn't see coming that now you absolutely need in your life.
Frank Gourmet Hot Dogs in Buffalo, NY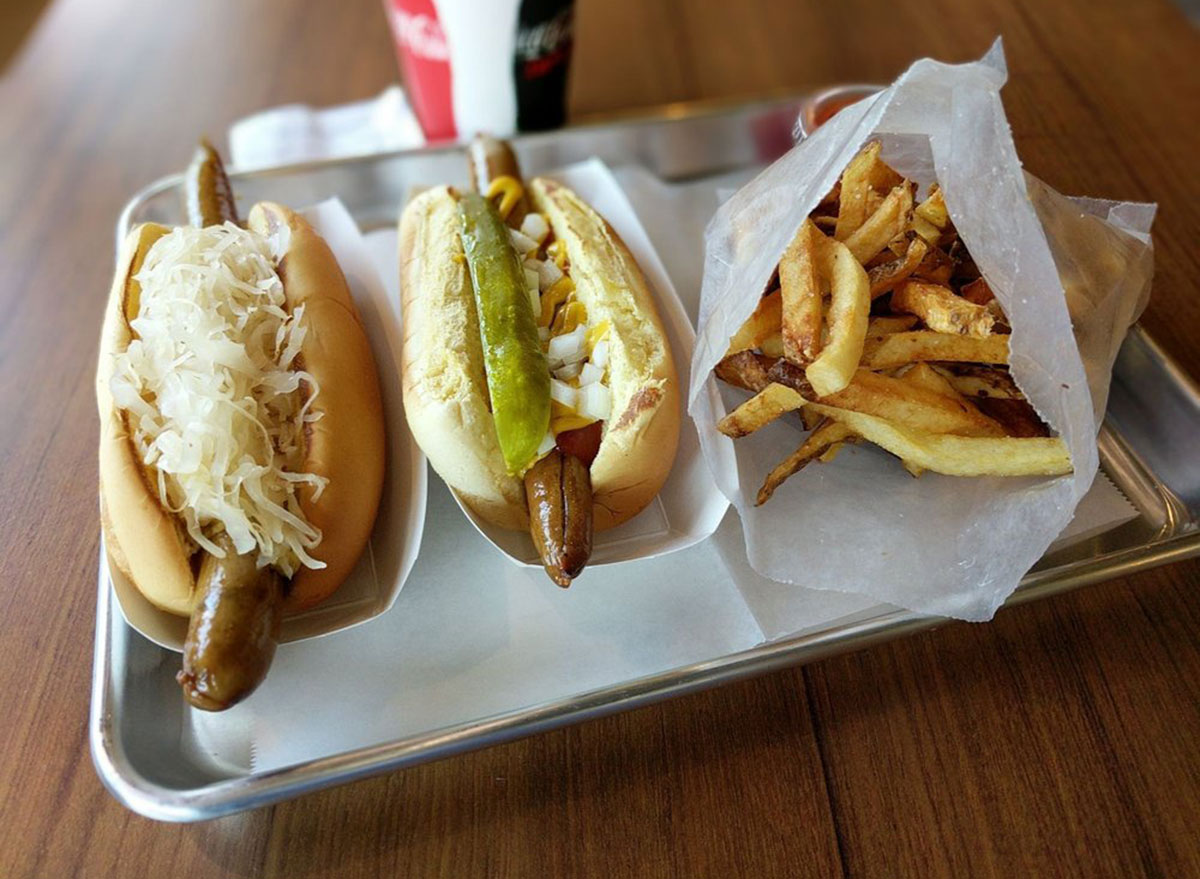 Frank Gourmet Hot Dogs has more variety than you can count on your fingers. That's right, we're talking twelve different types of franks on the menu. Plus, they also have burgers and sides. The options are endless.
Pho Vn Cuisine in Fishers, IN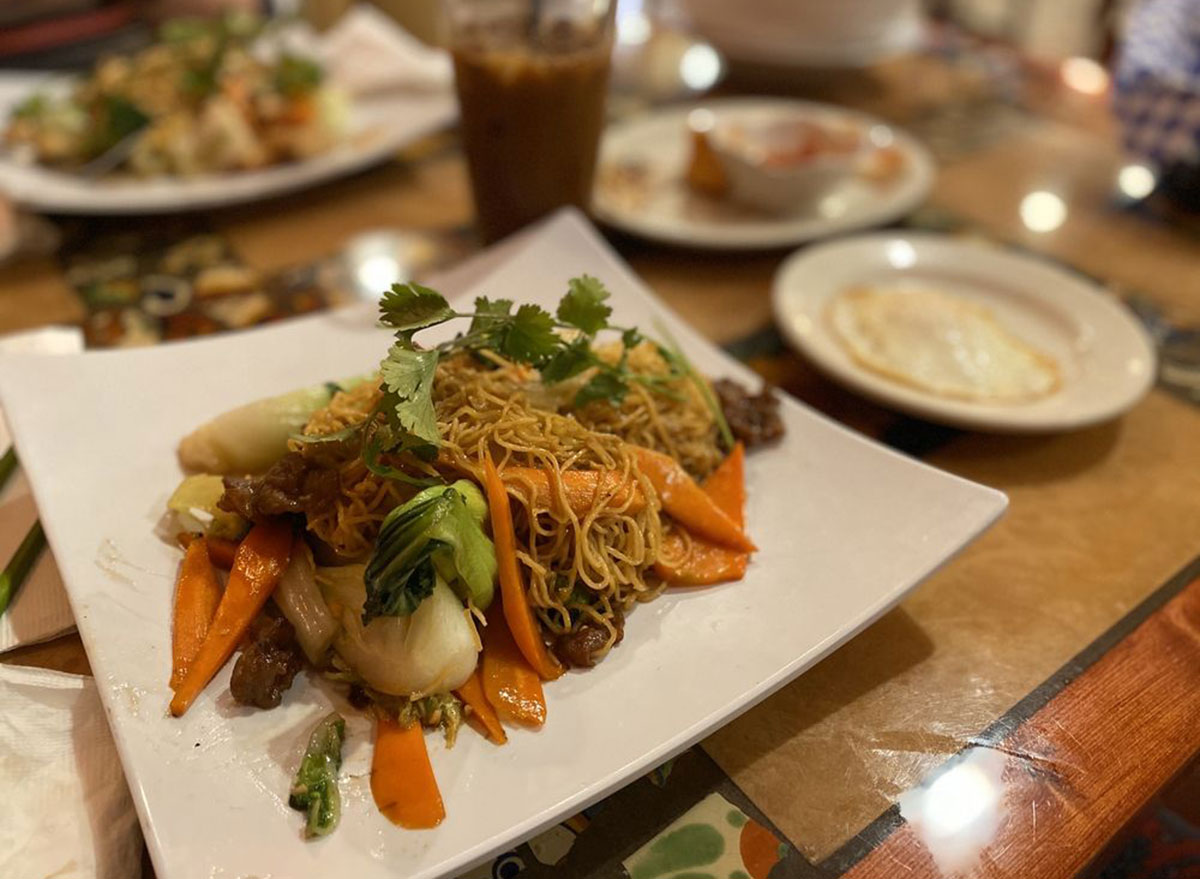 We're sure one of the last places you'd think to find good Vietnamese food is in Indiana, but Pho Vn Cuisine will definitely prove you wrong. With all of the traditional Vietnamese dishes, this spot is a favorite for a reason.
PLAYDATE NYC in Flushing, NY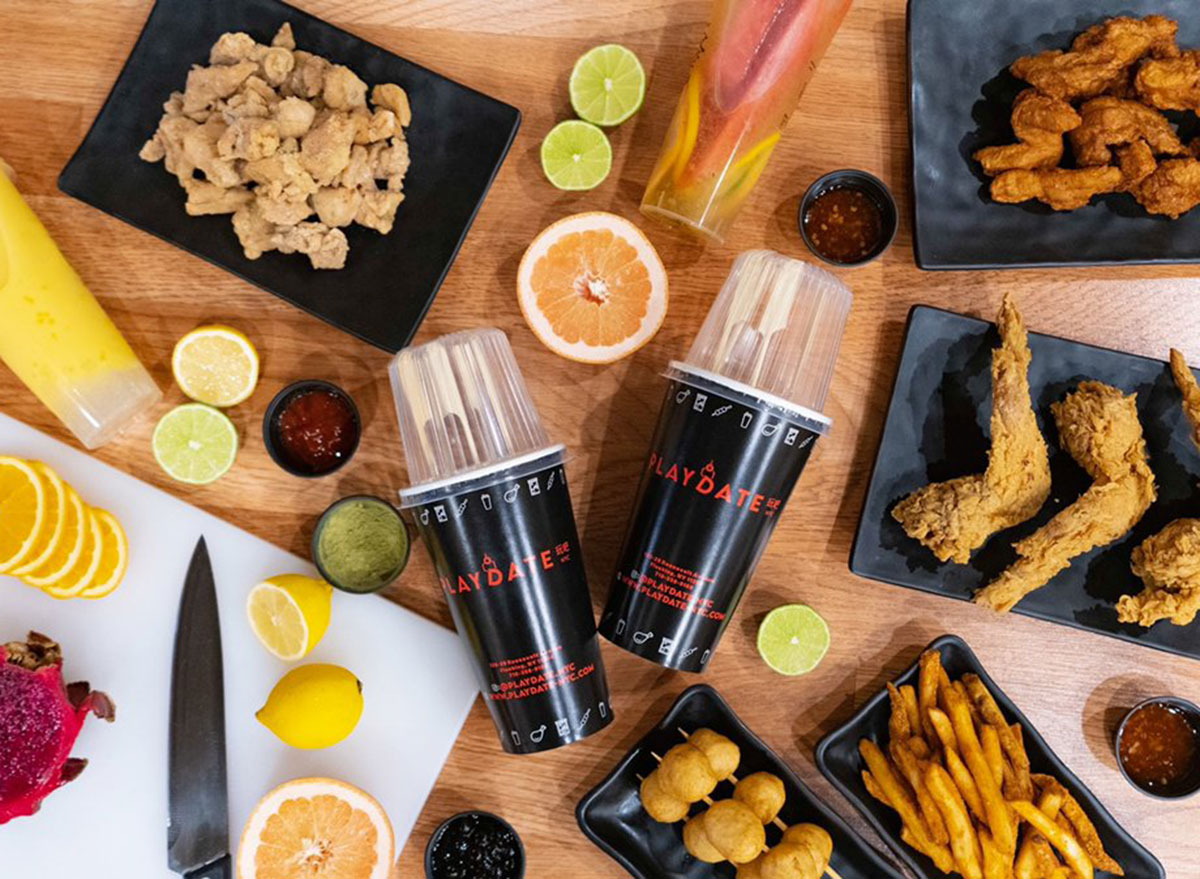 This place is no ordinary restaurant—it's got an arcade, a smoothie and juice bar and not to mention unbelievable chicken wings. There is no question this is where you'll want to stop on your next NYC adventure.
Higo Bakery in La Habra, CA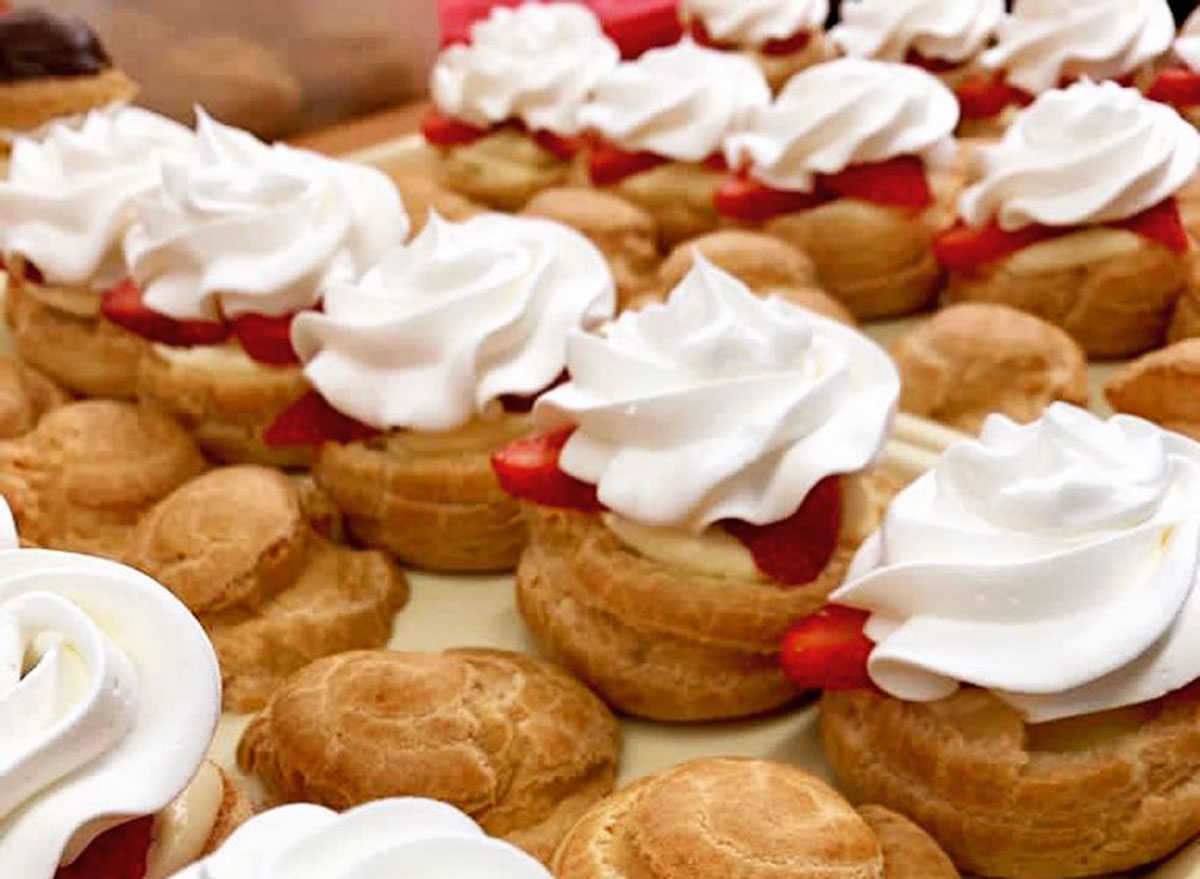 Higo Bakery is where you can go for a beef empanada and a red velvet cupcake, and you won't be disappointed with either one. In fact, this place has 5-stars on Yelp, so it seems that everyone who comes through the doors leaves happy and full.
Henry VII Carvery in Kittery, ME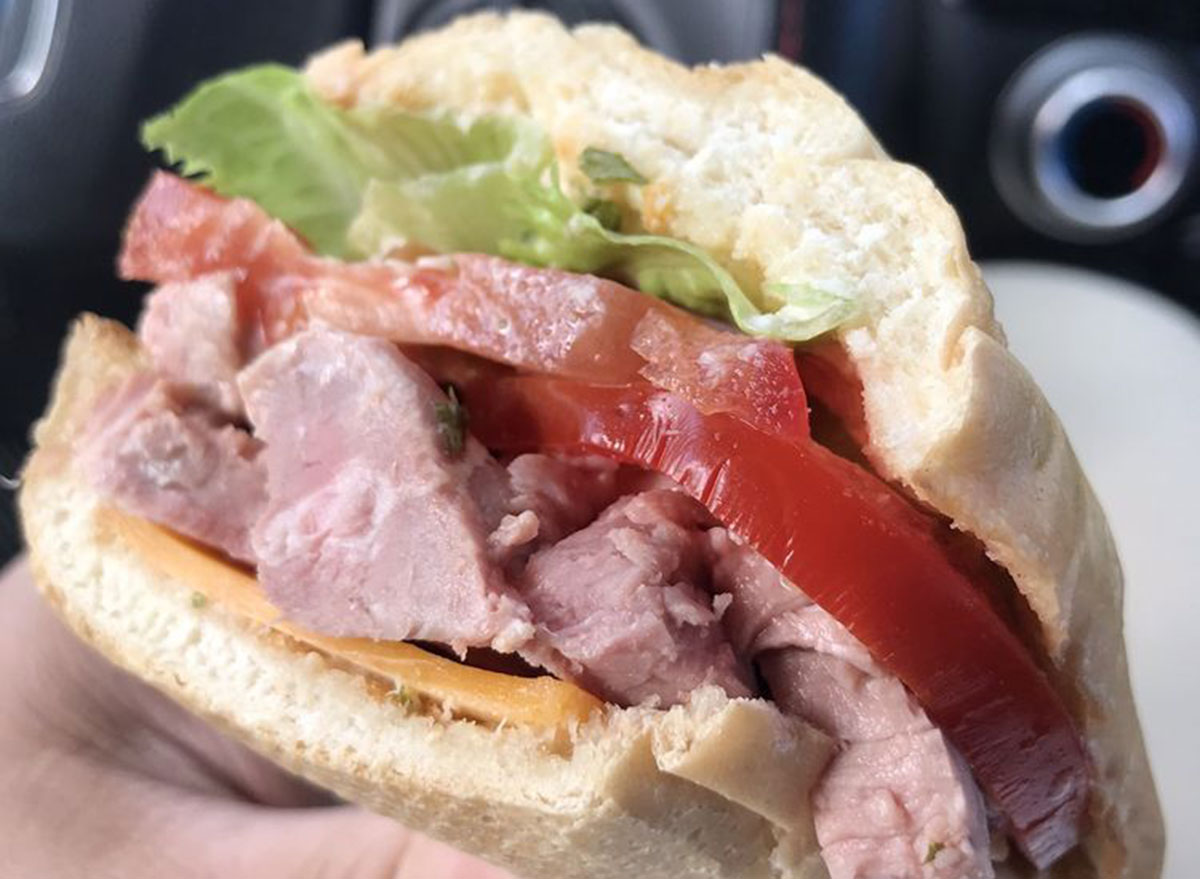 Kittery, Maine is the place you need to go if you're looking for a sandwich. They have hand-carved beef, turkey, pork or ham sandwiches and wraps, along with a few salads as well. If you're overwhelmed by the options, go for the roast beef.
Shun in Houston, TX
Looking for a Japanese spot in Houston? Look no further than Shun. Not only is the menu packed with tons of sushi options, but they also have plenty of other dishes for those who don't love raw fish.
Boludo in Minneapolis, MN
Even though the food at Boludo isn't typical comfort food, there's something about it that just makes us feel all warm inside. The menu is packed with tons of options from empanadas to Argentinian street food and some super highly rated pizza.
Poor Calvin's in Atlanta, GA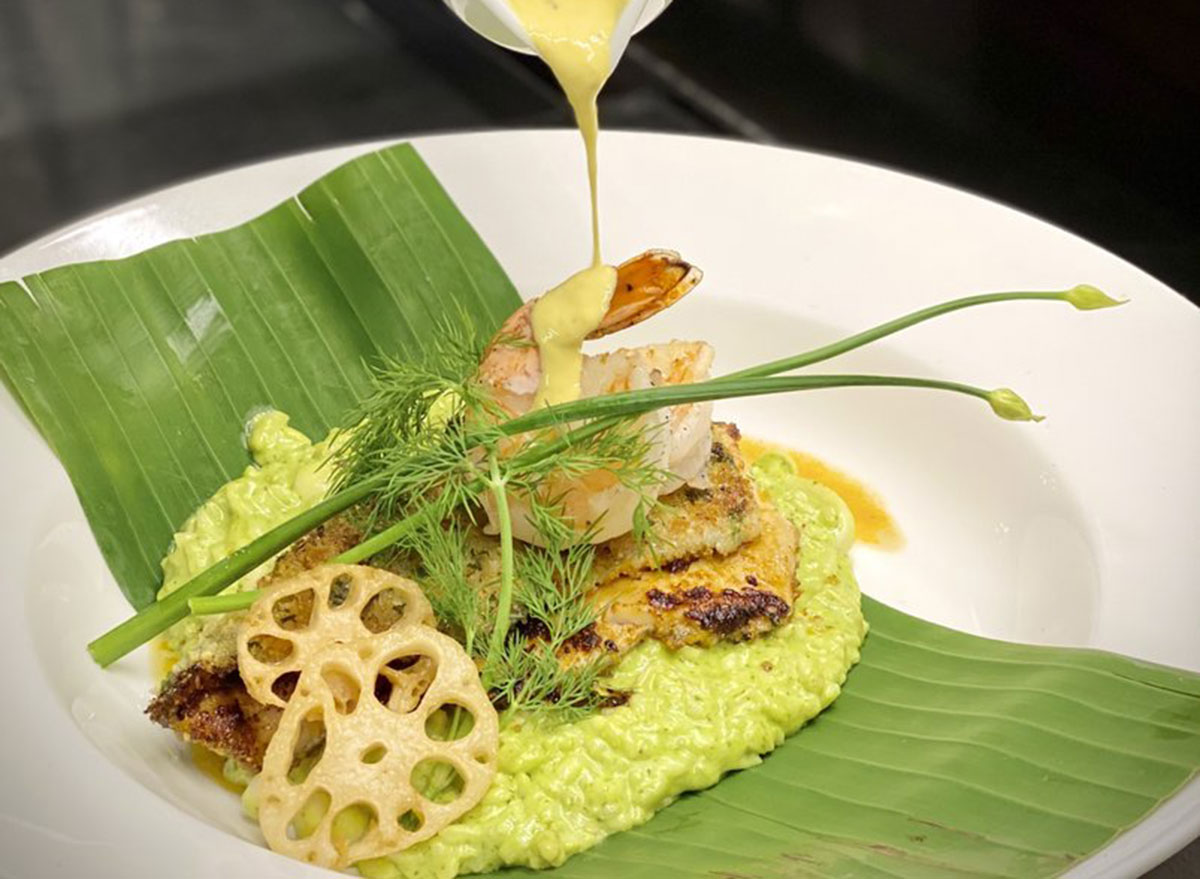 Poor Calvin's is described as a Southern Asian fusion restaurant, so you already know the flavor combinations are going to be unlike anything you've ever had before. Yelp reviewers highly recommend the lobster fried rice and lobster wontons.
Siam Hibachi in Grove City, OH
As one Yelp reviewer explained, Siam Hibachi is "a fast-casual joint; this family-owned restaurant is known for their hibachi dishes, but also has several Thai entrees to round out their menu. It's an order at the counter, they'll bring your dishes out to you kinda place."
The Copper Kettle Tea Bar in Foley, AL
If you want to feel fancy and enjoy some high tea, The Copper Kettle Tea Bar is the perfect place. You'll find an extensive menu of both tea and sweets.
Glur Thai in New York, NY
There are plenty of vegan and vegetarian options at this gem of a restaurant, with one standout being the vegan duck noodle soup.
Vegan Friendly Foods in Baton Rouge, LA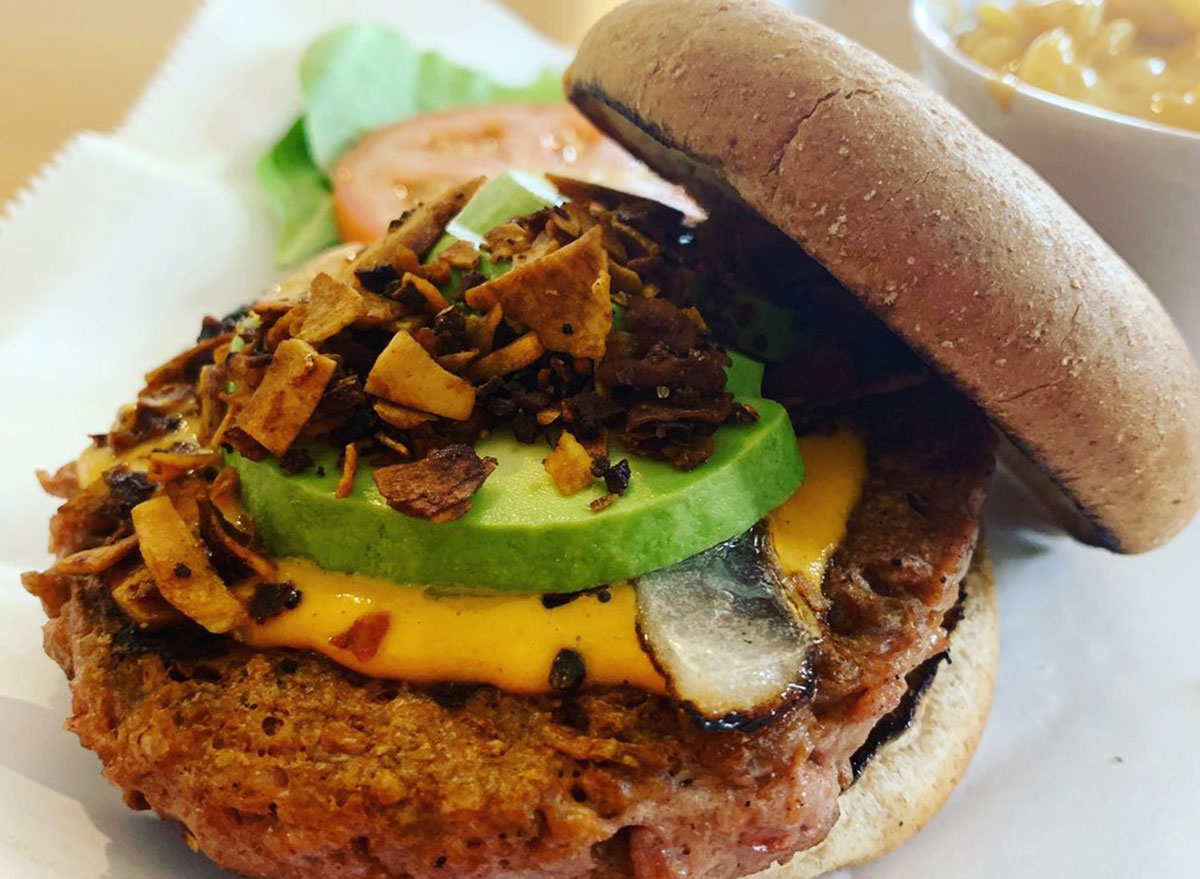 Yes, you can enjoy some vegan Southern comfort food, and that's at Vegan Friendly Foods. The Back Sliding Burger is a must!
Fresh Tiki Bar in Somerville, NJ
When you're in the mood for something sweet and refreshing, Fresh Tiki Bar will hit the spot. Yelp reviewers love the acai bowls, and there are plenty of non-dairy ice cream flavors for those who enjoy vegan ice cream, too. As one Yelp reviewer wrote, "this place is a ray of sunshine, a burst of happiness and just covered in pink and flamingos."
Egg Roll Number 1 in Indianapolis, IN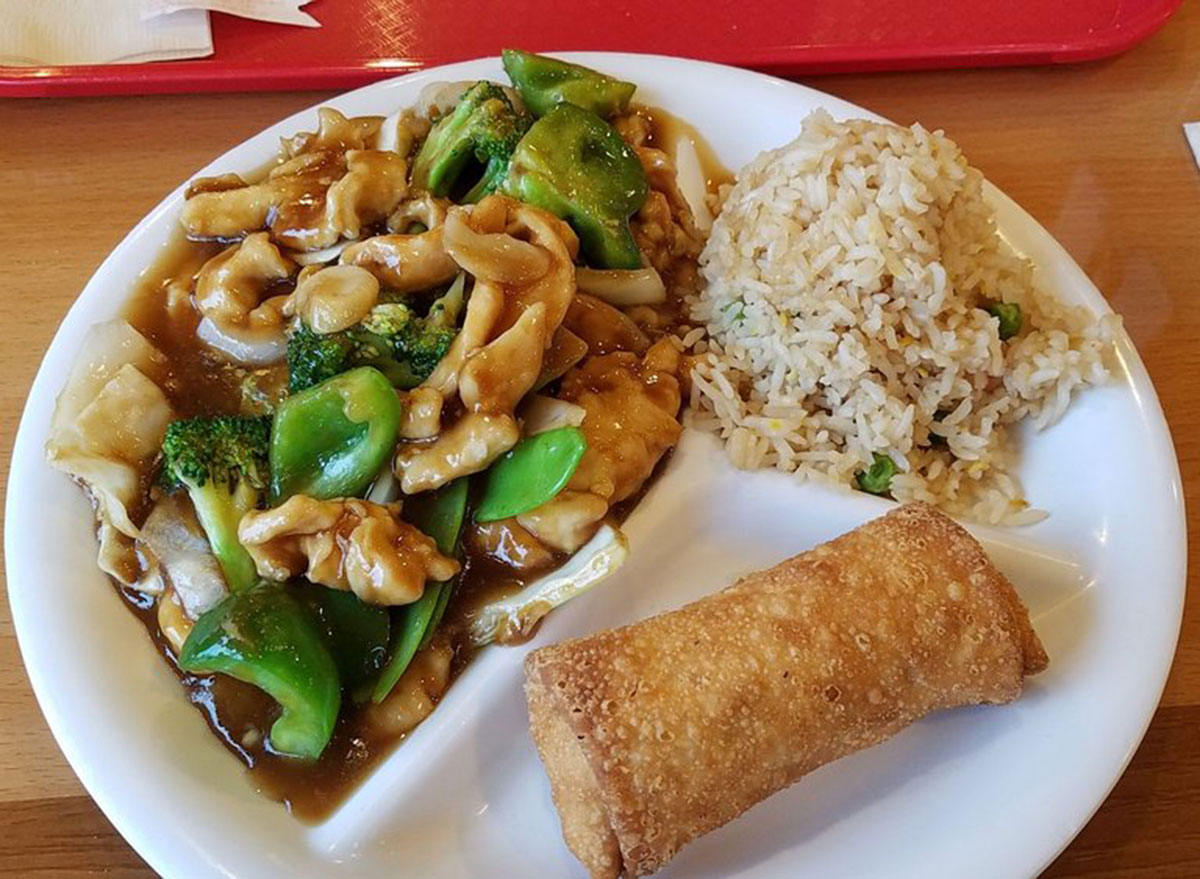 This is a no-frills restaurant, where you're going to get your food fast, and it's going to taste great. Can't top that! Just be sure to get the spring rolls.
September in Bangkok in New Haven, CT
If you really want to treat yourself, order the crab rangoons, as reviewers have pointed out they're the biggest you'll ever see!
Grassroots Ice Cream in Granby, CT
Unique, gourmet ice cream flavors—who wouldn't want to try that? Yelp reviewers suggest going for the blood orange chocolate chip ice cream.
CLTRE vgn jnt in Virginia Beach, VA
If you're looking for a truly delicious vegan-friendly spot to eat, head on over to CLTRE vgn jnt. The buffalo chicken wrap (which is made with buffalo cauliflower!) is a favorite among customers.
Casa Corazon Restaurant in Phoenix, AZ
There is a legit salsa bar at Casa Corazon where you can select from many different salsas—need we say more?
Northstar Cafe in Liberty Township, OH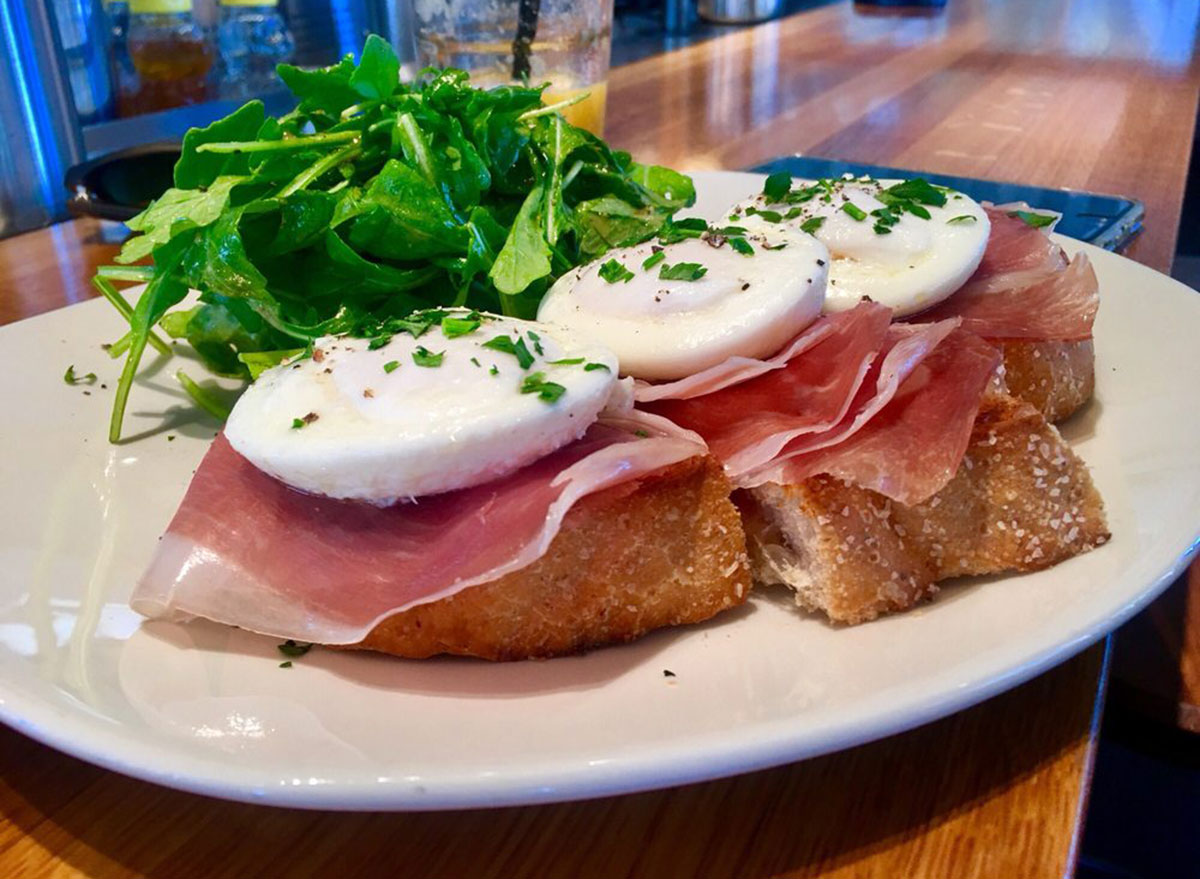 The burgers at Northstar are truly unmatched and Yelp reviewers all make it clear, you're going to want to make sure you don't leave without trying one of the cookies. And how decadent does this prosciutto and poached eggs dish look?
Pho Bac in Baltimore, MD
When you find a great pho spot, you don't ever want to get pho anywhere else. And that's how loyal customers of Pho Bac feel, according to the glowing Yelp reviews. "The pho combination was heavenly. The broth was aromatic and you could really smell/taste all the spices punching through. Taste like home!" one reviewer shared.
Eem in Portland, OR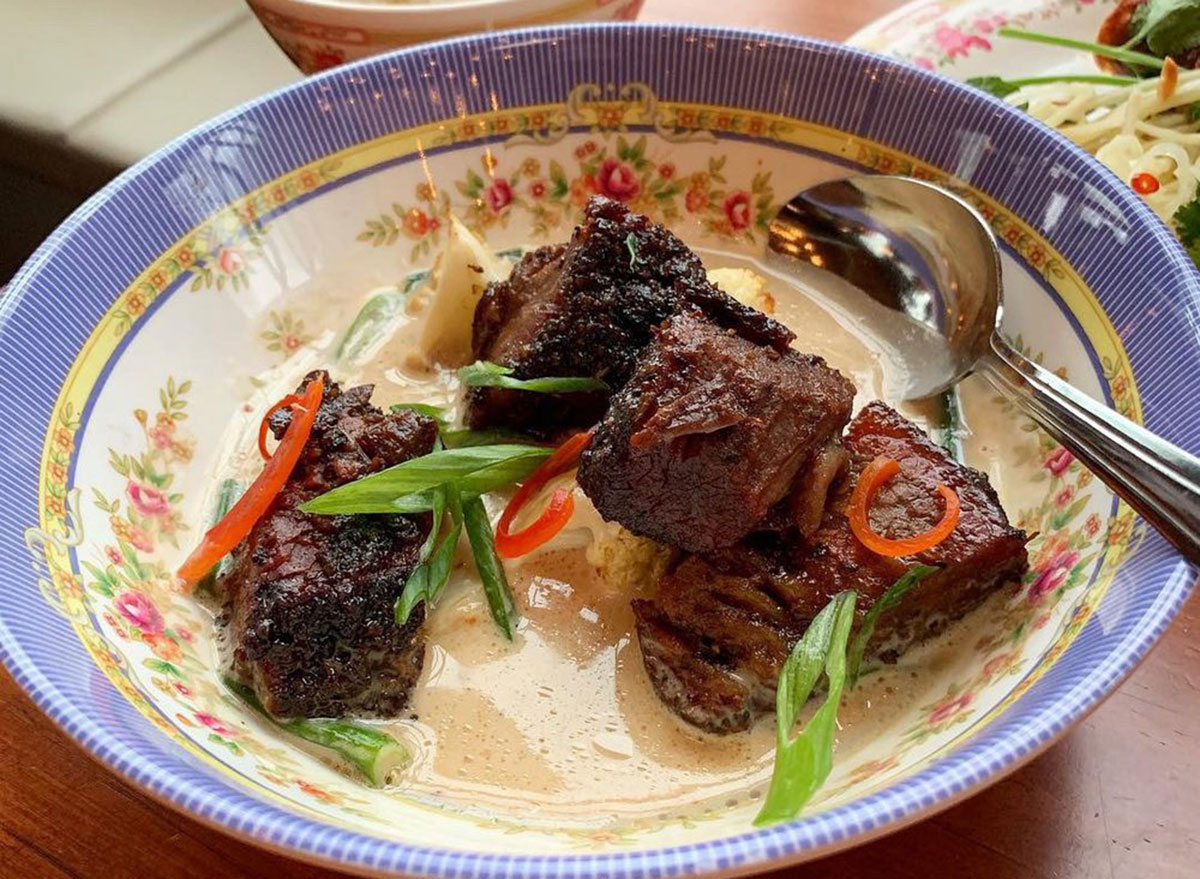 As one Yelp reviewer wrote, at Eem, you're getting "delicious, crave worthy, and lick the bottom of your plate food." The burnt ends white curry is a must when you're dining here.
Maple Leaf Diner in Dallas, TX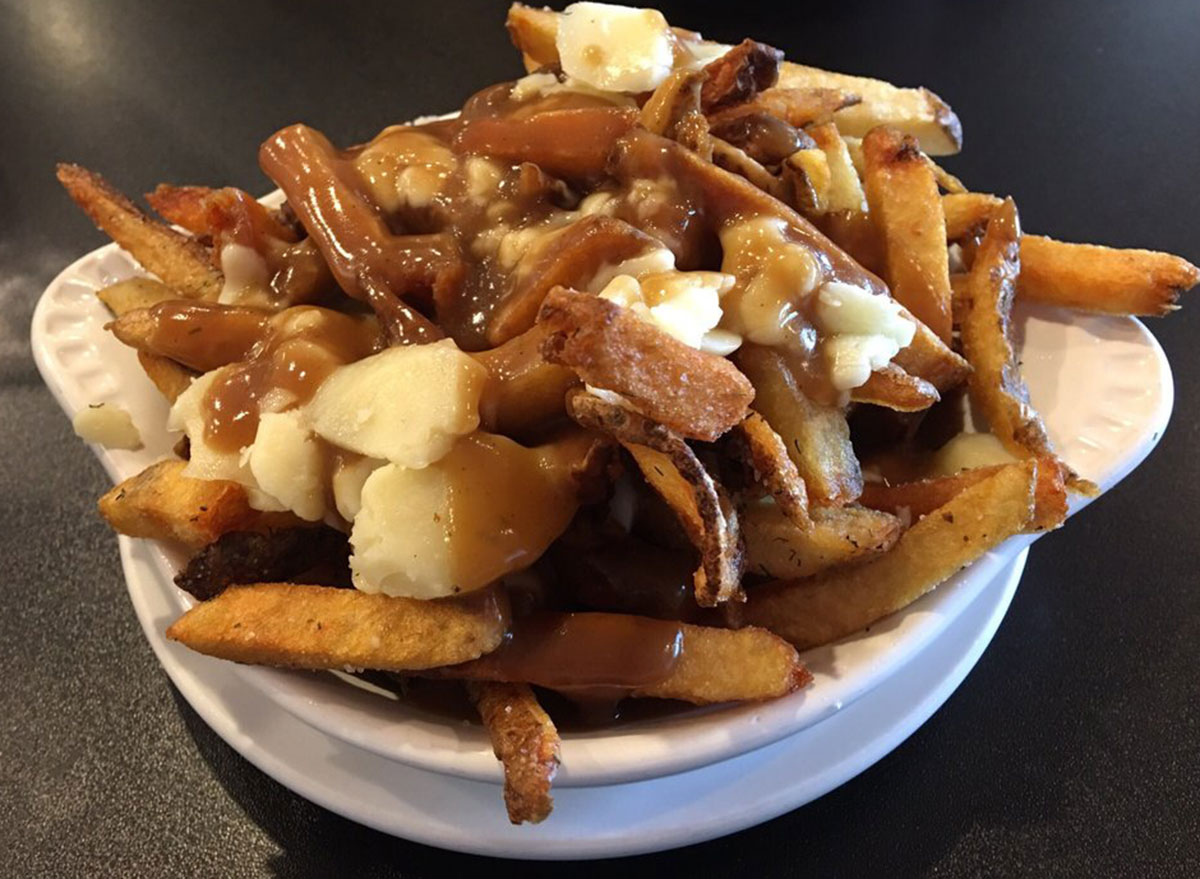 Eating at Maple Leaf Diner is truly a delicious experience. The menu is filled with showstopping dishes including poutine and chicken, bacon, and waffles.
Odd Duck in Milwaukee, WI
The menu does change quite often at Odd Duch, but the beef short ribs and the scallops are dishes Yelp reviewers really enjoy.
Havana Tropical Grill in Rogers, AR
The drinks and appetizers do not disappoint at Havana Tropical Grill, and Yelp reviewers are huge fans of the arroz con pollo entrée option.
Lucky Noodles in Denver, CO
Not sure what to order at Lucky Noodles? The Pad Thai is a favorite among Yelp reviewers.
Olive + Oak in St. Louis, MO
Olive + Oak is a great spot to head to if you're looking to celebrate something special in your life, or just want to enjoy a nice meal in a sophisticated setting. Even if you're not a huge appetizer fan, Yelp reviewers recommend the Blue Crab Gratin.
Esther's Kitchen in Las Vegas, NV
Fun fact: The pasta, bread, and pizza are all made in-house at Esther's Kitchen. The service at this cozy restaurant is said to be "always great with knowledgeable servers that describe a dish so well it makes your mouth water."
Buena Gente Cuban Bakery in Decatur, GA
Here, you're in for some Cuban sweet and savory delights! Plus, all of the Cuban sandwiches are made with authentic Cuban bread that is baked every morning. Go for the guava and cheese pastelitos and empanadas—you won't be sorry.
Cafe Kacao in Oklahoma City, OK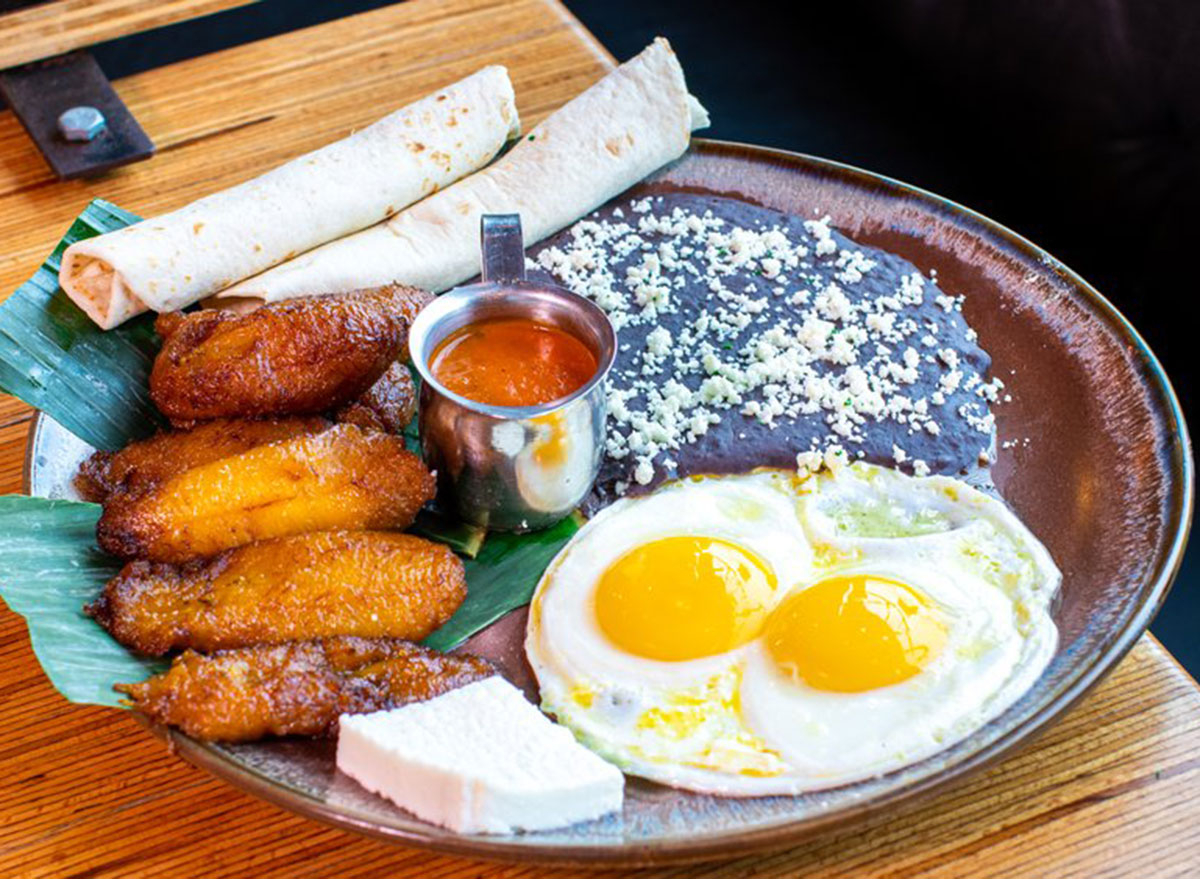 At Cafe Kacao, you will find a fusion of many Latin American cultures in the breakfast and brunch dishes. As one Yelp reviewer explained, "The food is some of the best I have ever tasted, and the service is great too!" So what isn't there to like?
Caffè Panna in New York, NY
If decadent, high-quality ice cream is your vice, then it's time to try Caffè Panna. The chocolate sorbet has rave reviews, along with the yummy sundae topping options.
Kim's Sushi in West Orange, NJ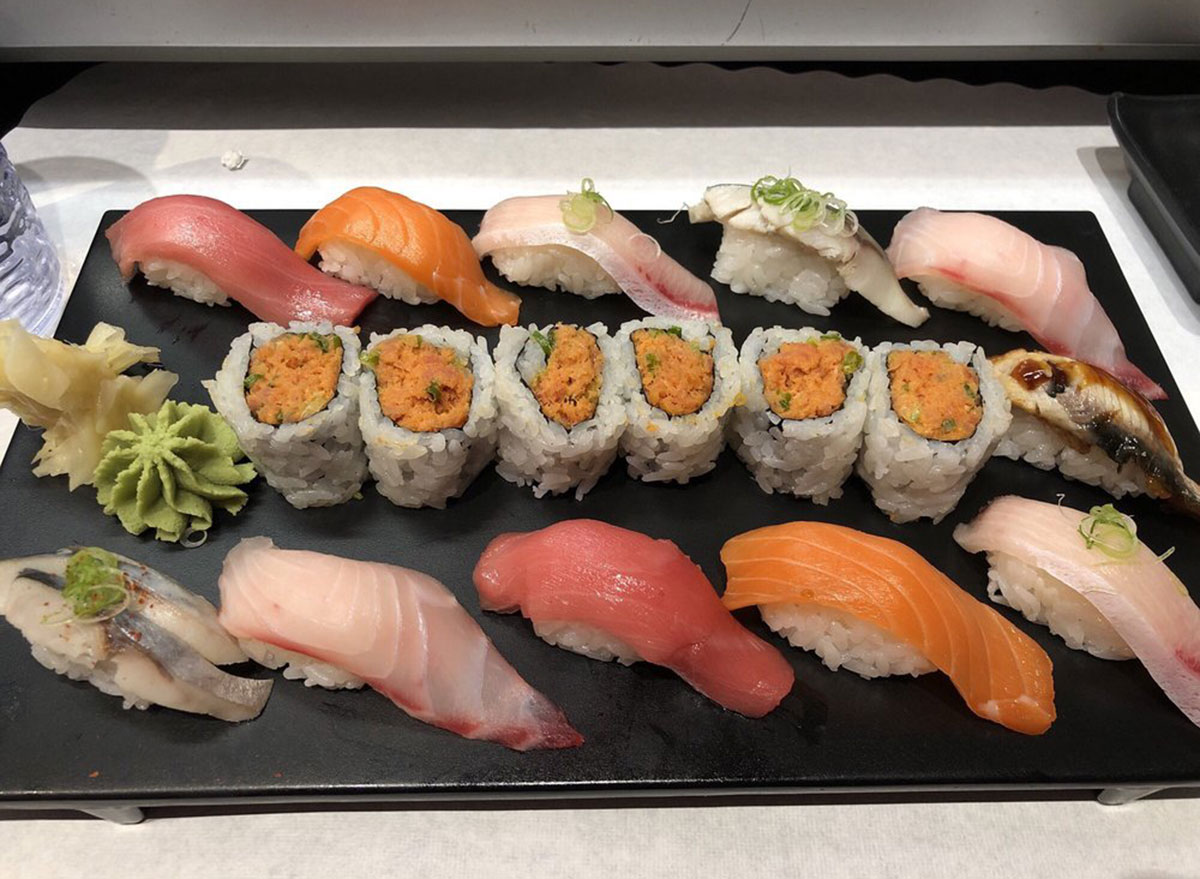 At Kim's Sushi, you'll be treated to sushi rolls that are not only fresh but are unique, thanks to the complex flavor combinations. Some of the popular options include the Elizabeth Roll and the French kiss roll.
A2Z Cafe in Indianapolis, IN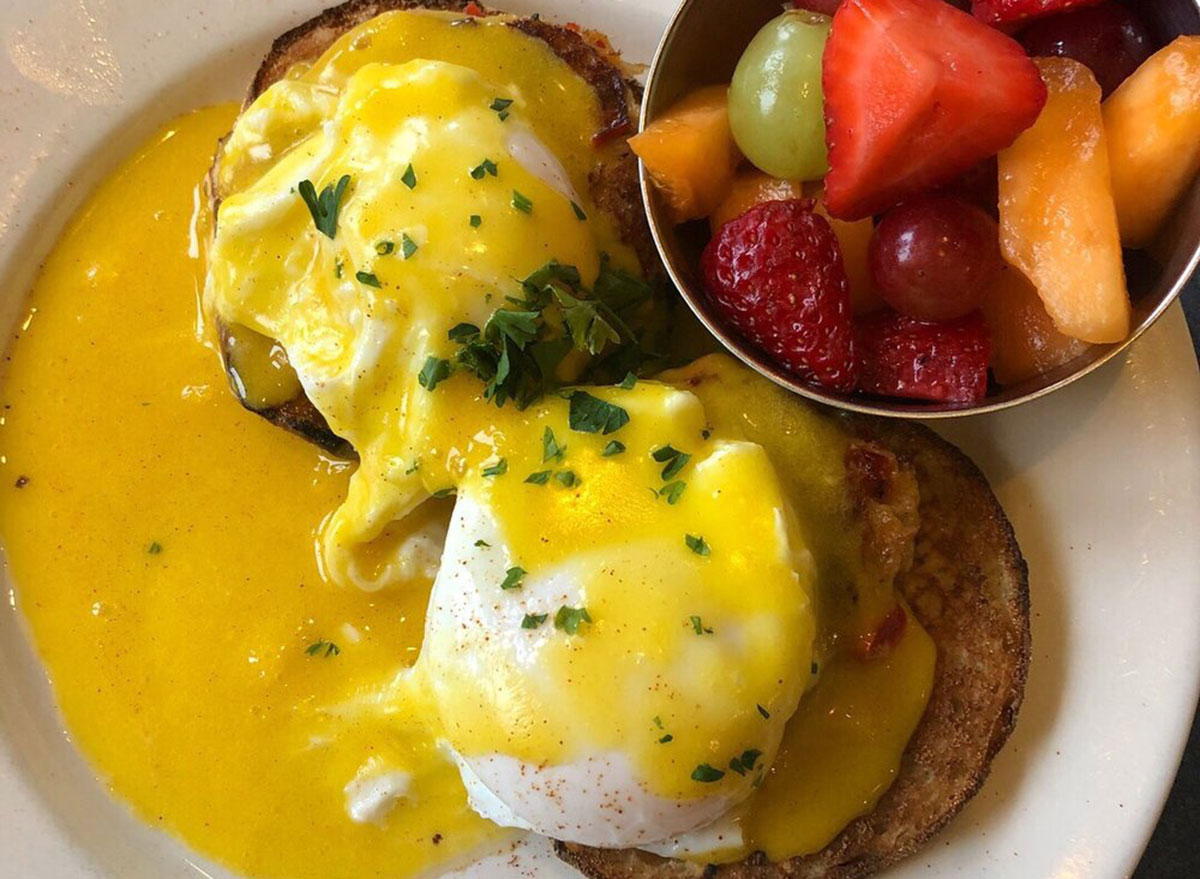 This is a cozy breakfast, brunch, and lunch spot that offers up a Hawaiian twist on traditional dishes. Yelp reviewers are fans of the Aloha Benedict and the Hawaii Five-O, which is a dish made up of Spam, eggs, coconut rice, grilled pineapple, and sliced tomato.
Esters Neighborhood Pub in Denver, CO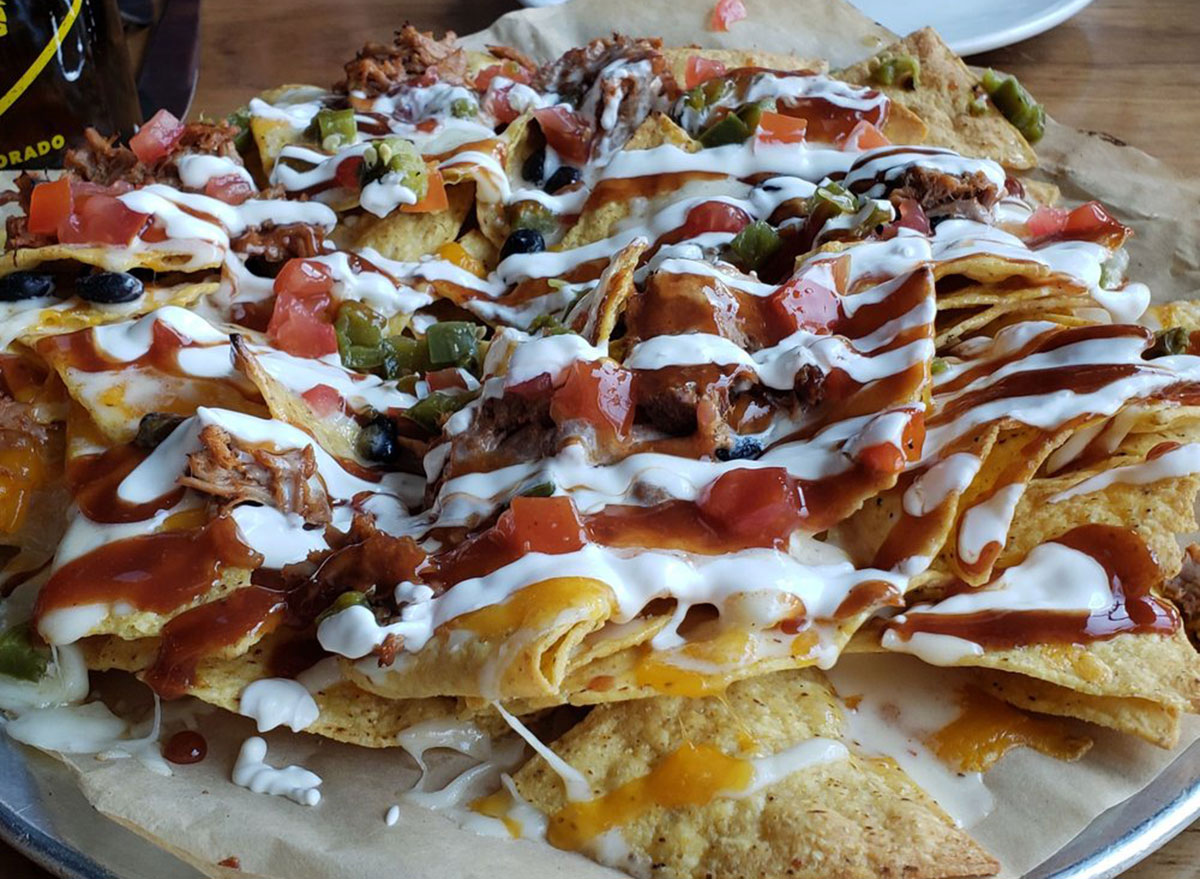 If you're craving pizza and nachos, then it's time to head to Esters Neighborhood Pub.
The Chef and I on Ninth in Nashville, TN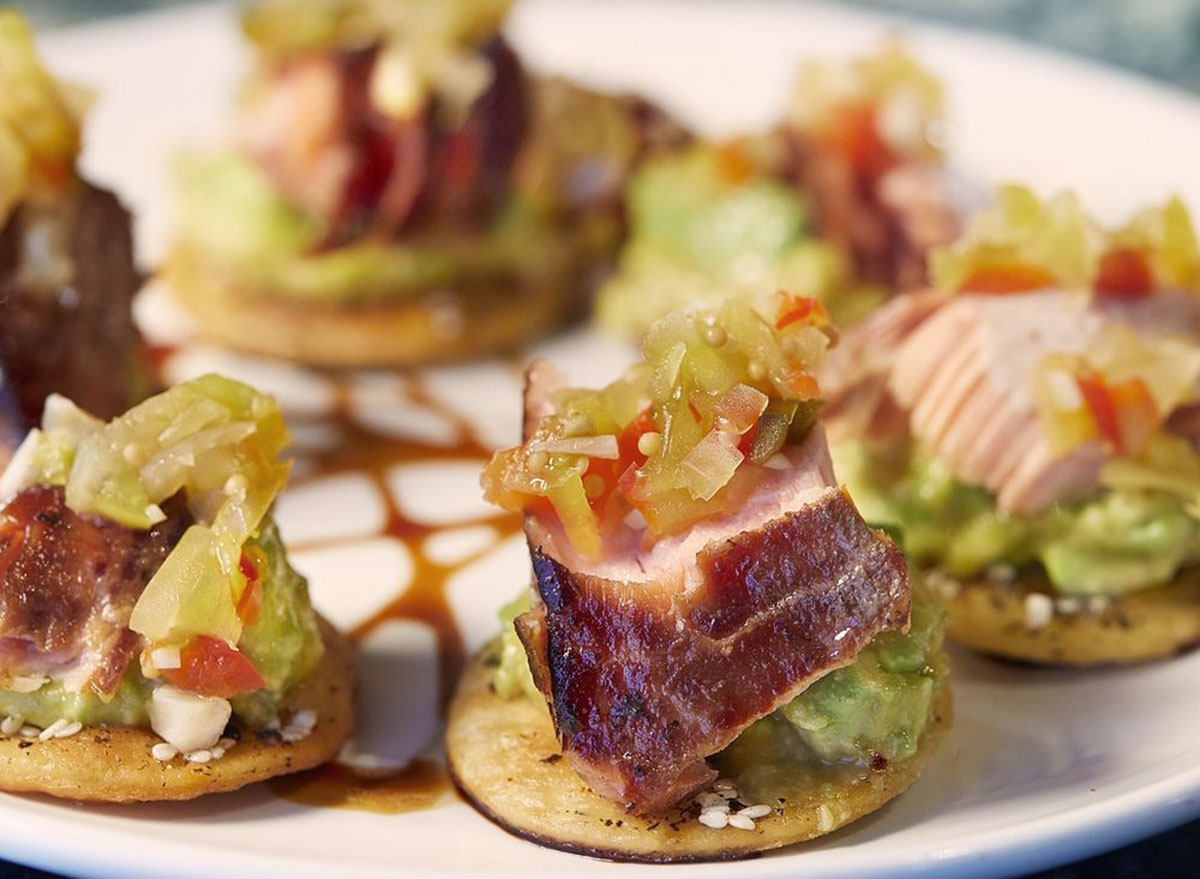 The Chef and I on Ninth is said to offer a unique spin on the fine dining restaurant in Nashville, and with a menu that changes quite often, you're always in for something different.
Slackwater in Sandy, UT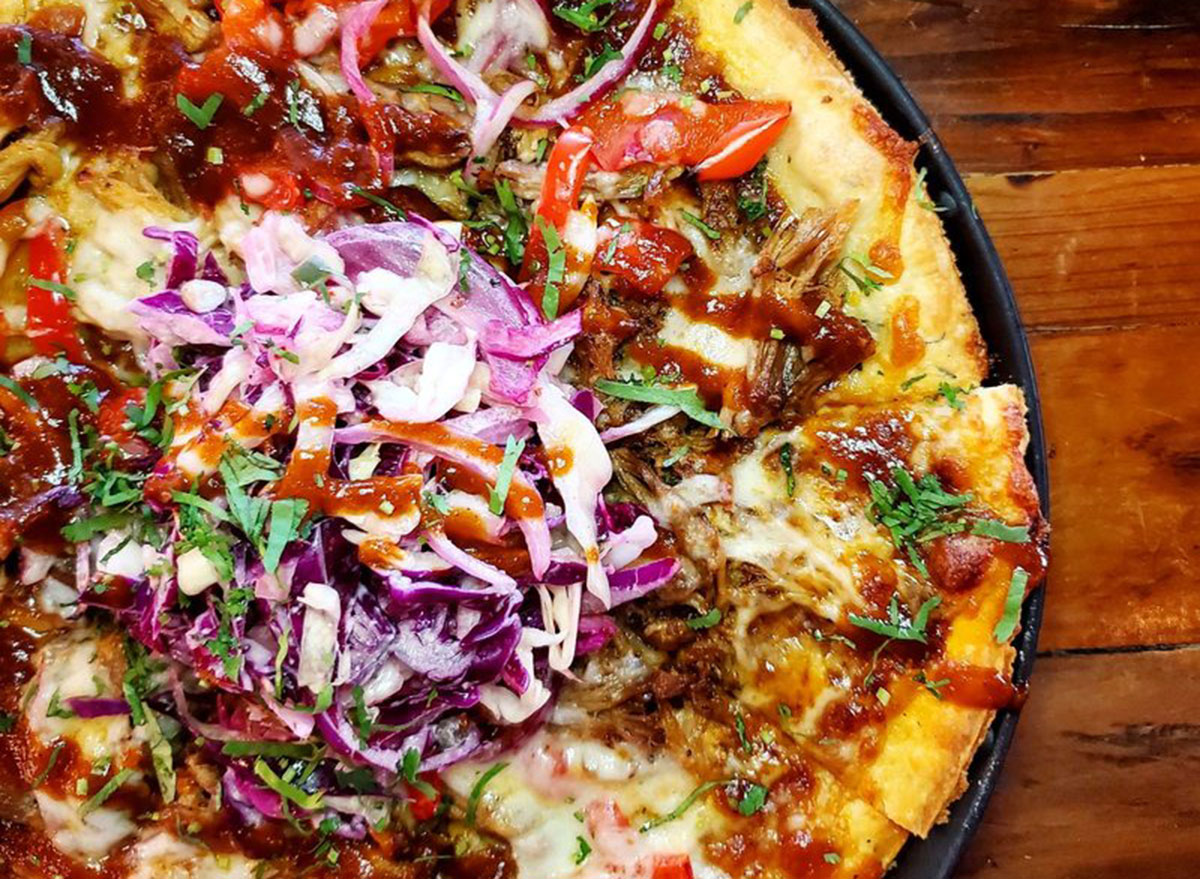 "Am I in heaven? That's the question you'll ask after trying their pizza. It was that tasty!," one Yelp reviewer wrote about his dining experience at Slackwater. The pizzas here definitely are not what you would find at every pizza shop, including the tikka masala and Southern comfort pizzas, but they're oh-so-delicious.
The Robin's Nest in Salt Lake City, UT
This is yet another eatery known for its great staff and service! The Flower Child sandwich and orzo pasta are two popular menu items.
Manna Bistro & Bakery in Centerville, VA
With its authentic Ethiopian food, Manna Bistro & Bakery in the heart of Centreville is a local favorite. As one Yelp reviewer explains, here, you're in for some "comforting, spicy, savory, and large portions of everything for a super affordable price."
Skull's Rainbow Room in Nashville, TN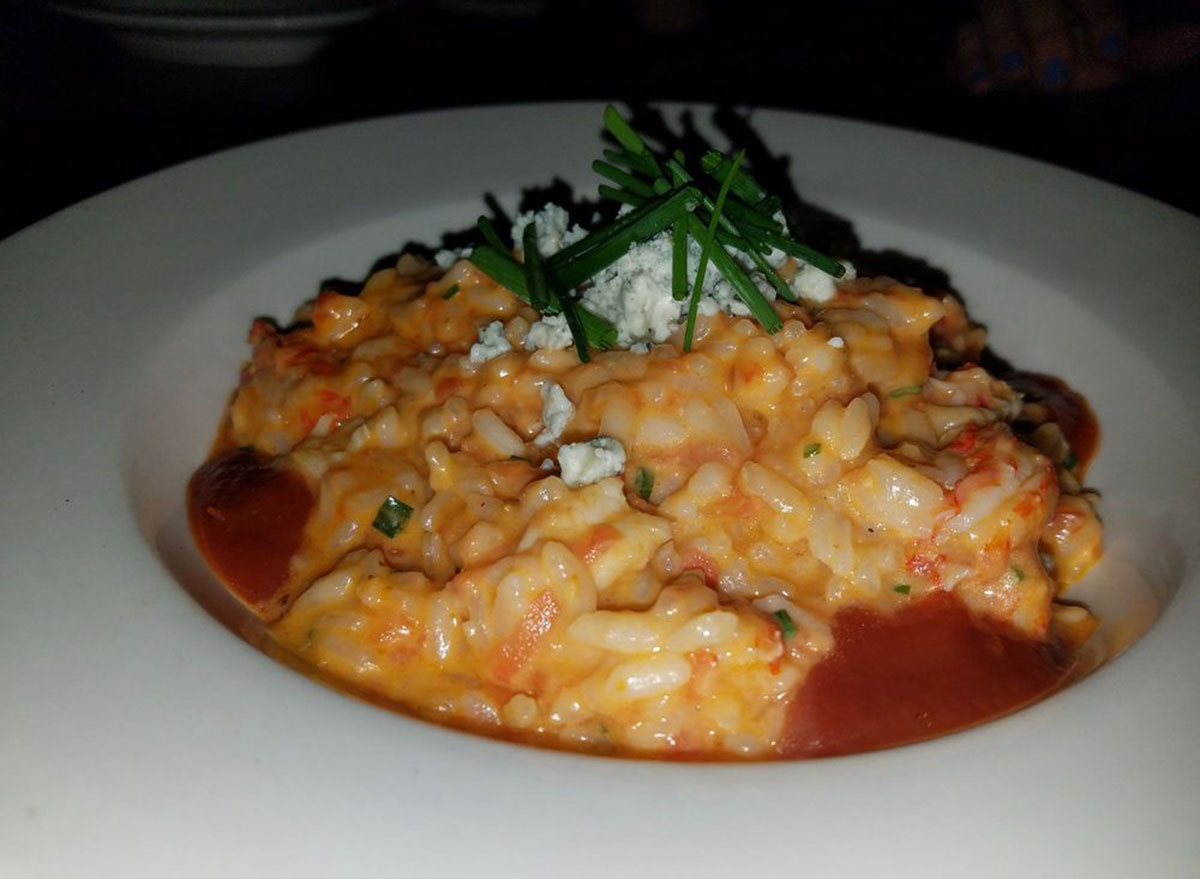 Besides the yummy food (including the prime rib), customers like to head to Skull's Rainbow Room for the live music.
Saddle Creek Breakfast Club in Omaha, NE
If you're looking for breakfast that looks just as lovely as it tastes, then prepare to be impressed by the dishes at Saddle Creek Breakfast Club. One beloved menu item is the banana bread French toast.
Creekwood in Berkeley, CA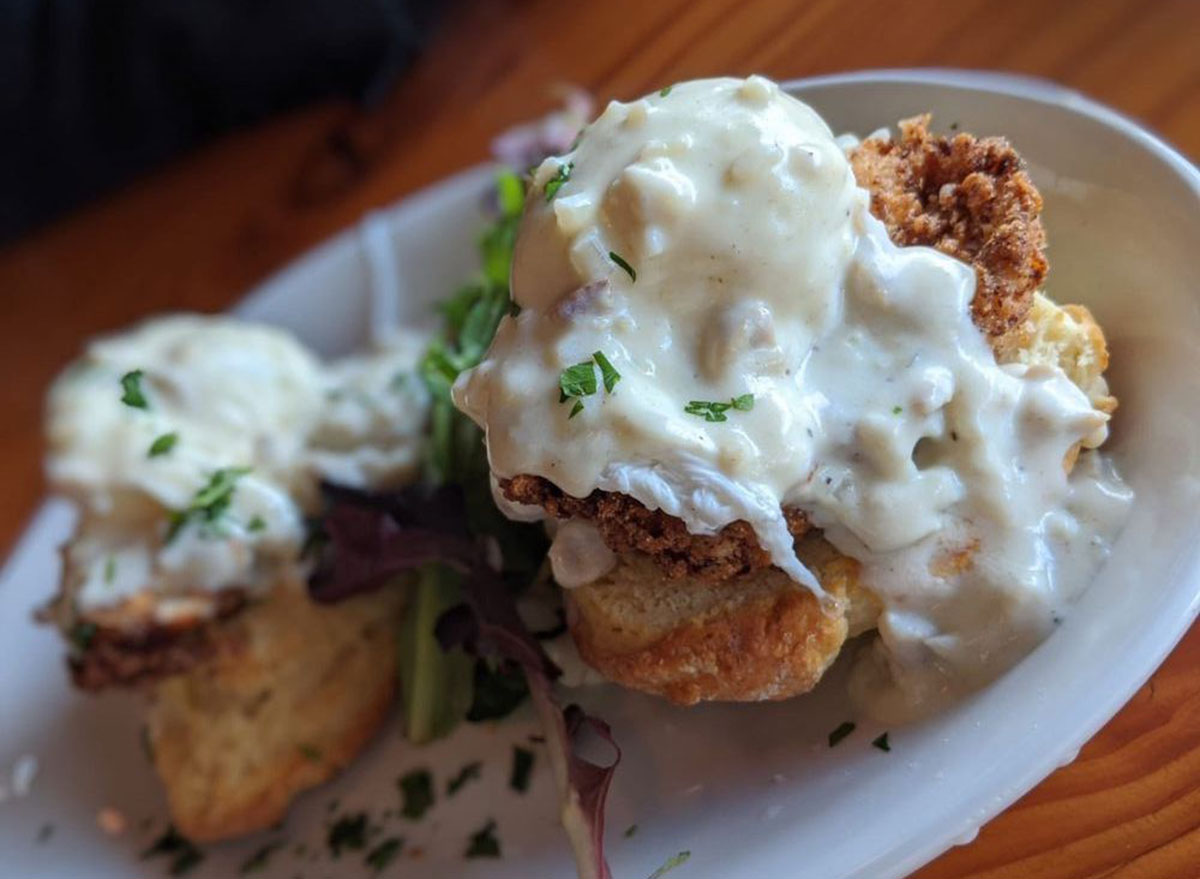 Whether you're in the mood for pizza or gnocchi that is as soft as pillow clouds, according to reviewers, Creekwood has it all when it comes to delicious Italian food.
Ace No 3 in Charlotte, NC
For all the burger fans out there, you need to make your way to Ace No 3. The onion straws and comeback sauce are said to be delicious, so you'll want to include those on your burger!
Sindoore—Indian By Nature in Nashville, TN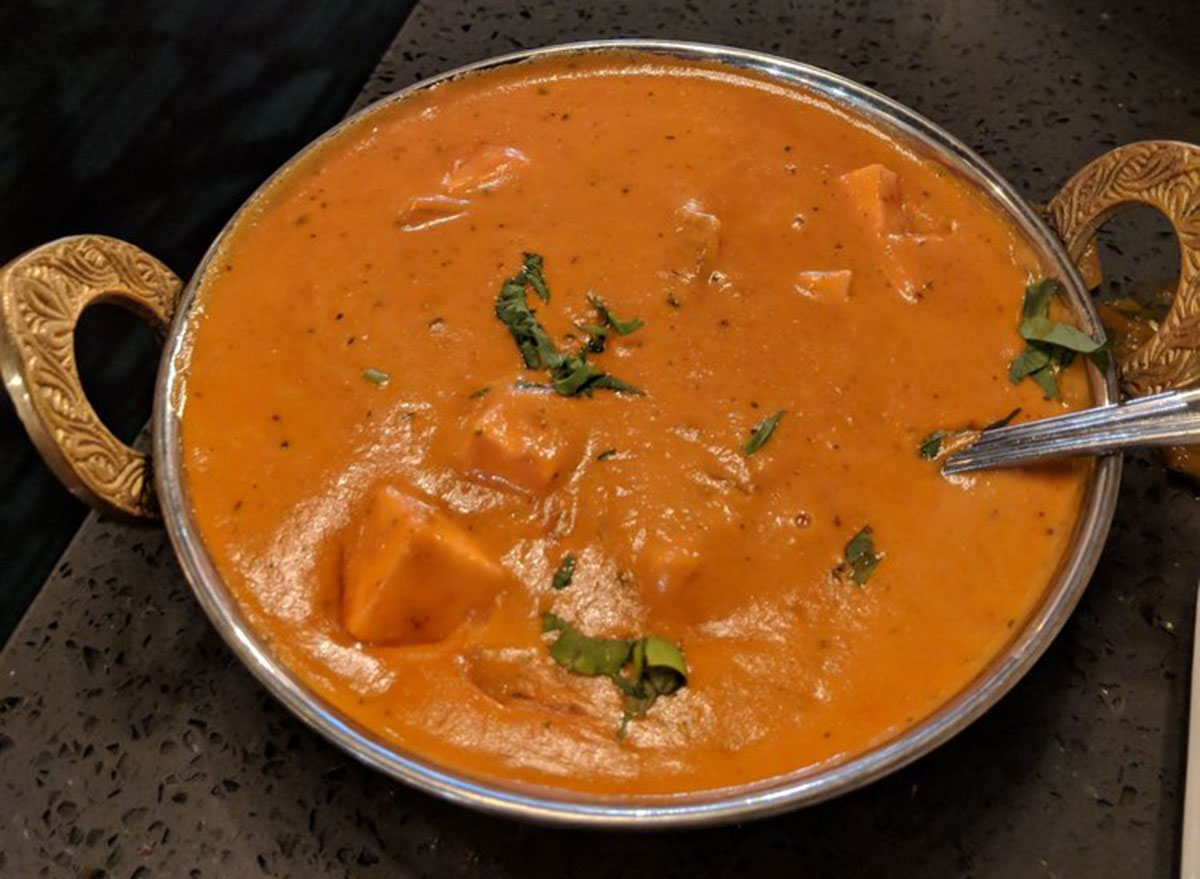 At Sindoore, you'll find the staff to be friendly and welcoming, which is always a bonus. Yelp reviewers enjoy the tikka masala, which one customer said has "the most wonderful creamy taste."
Tacos El Azteca in Norwalk, CT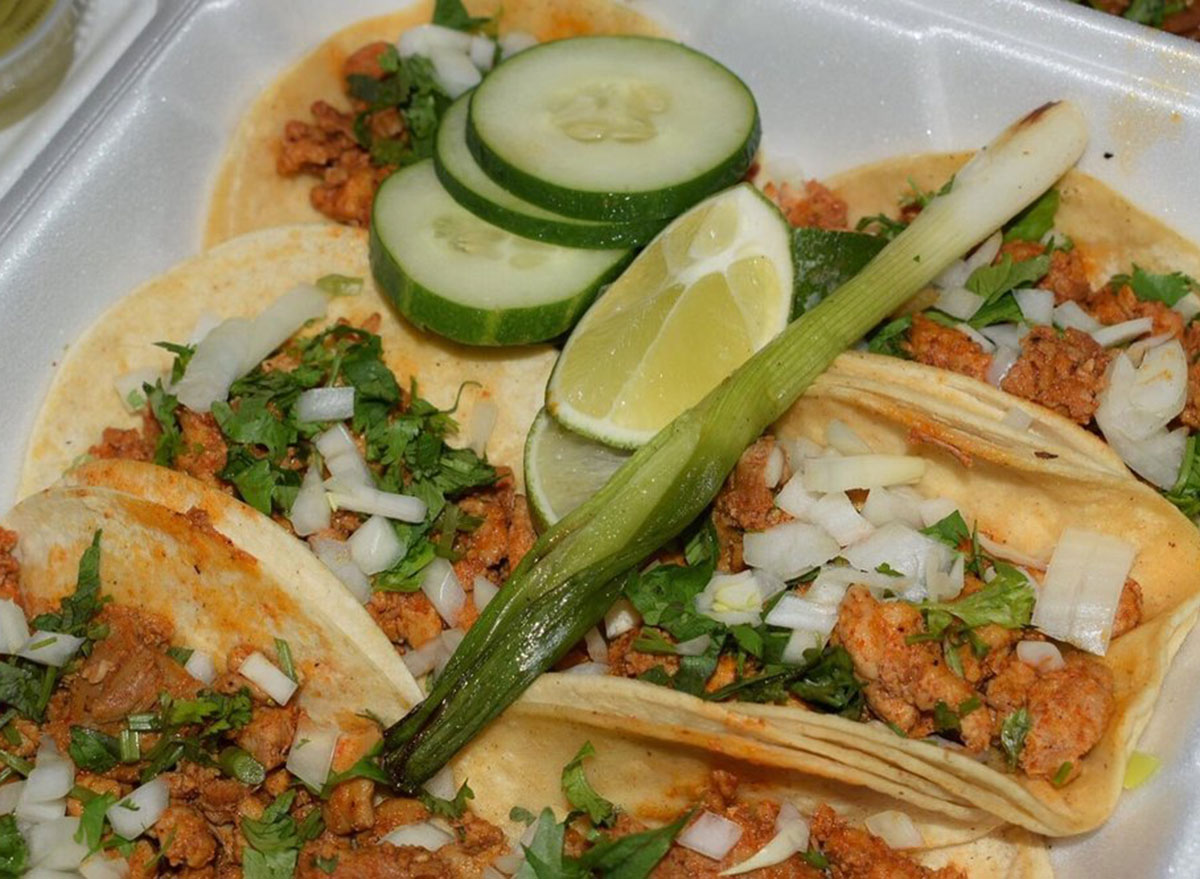 The best part about the tacos here—besides how delicious they are—is the price point, as Yelp reviewers can't help but all agree you really get quality food for that low price. There are plenty of options too, with the menu offering up tacos, burritos, tortas, and quesadillas.
Zahav in Philadelphia, PA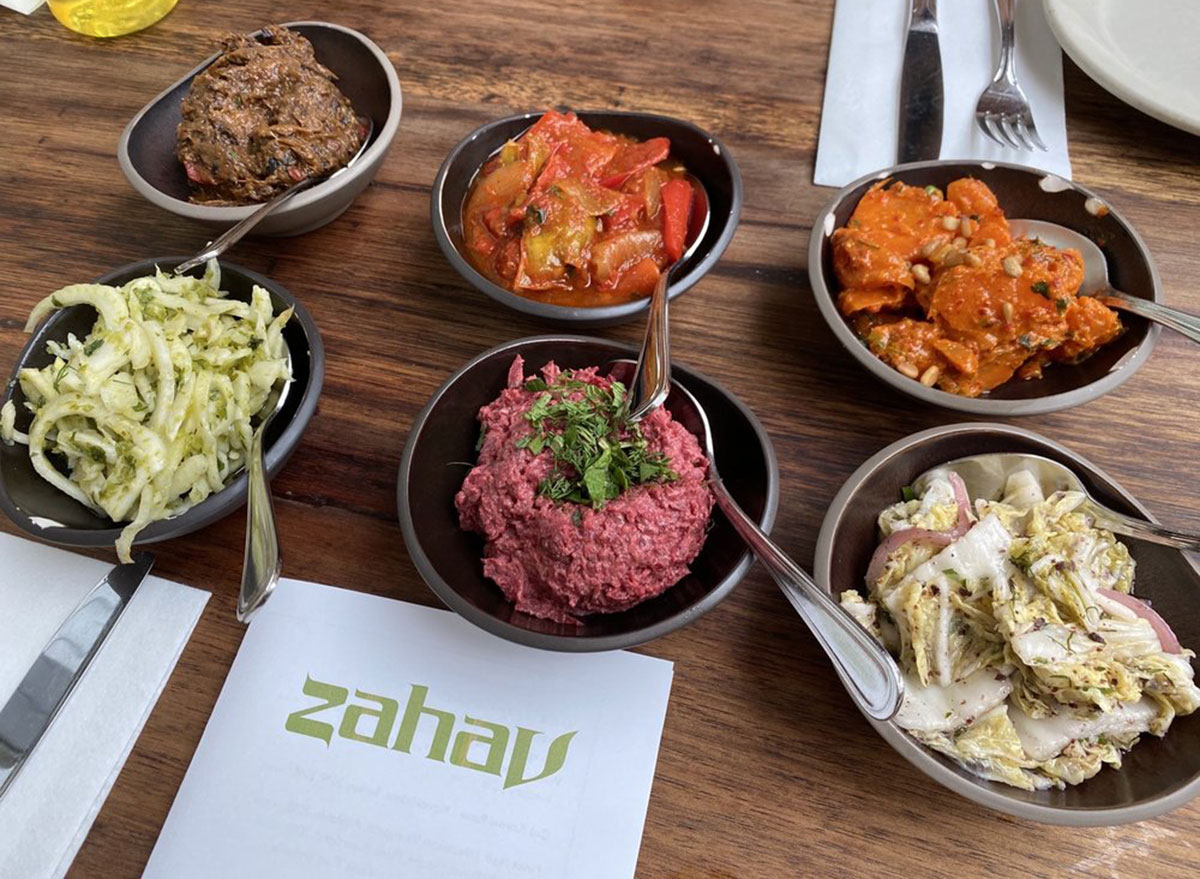 If you're looking to feast on Middle Eastern food that will really knock your socks off, look no further than Zahav. "Easily one of the best meals I have had in my life—Zahav absolutely deserves every award and all of the hype it receives. The chefs here are magicians, packing unbelievable flavor into every bite of food to create dishes unlike anything you've had before," one Yelp reviewer wrote.
GW Fins in New Orleans, LA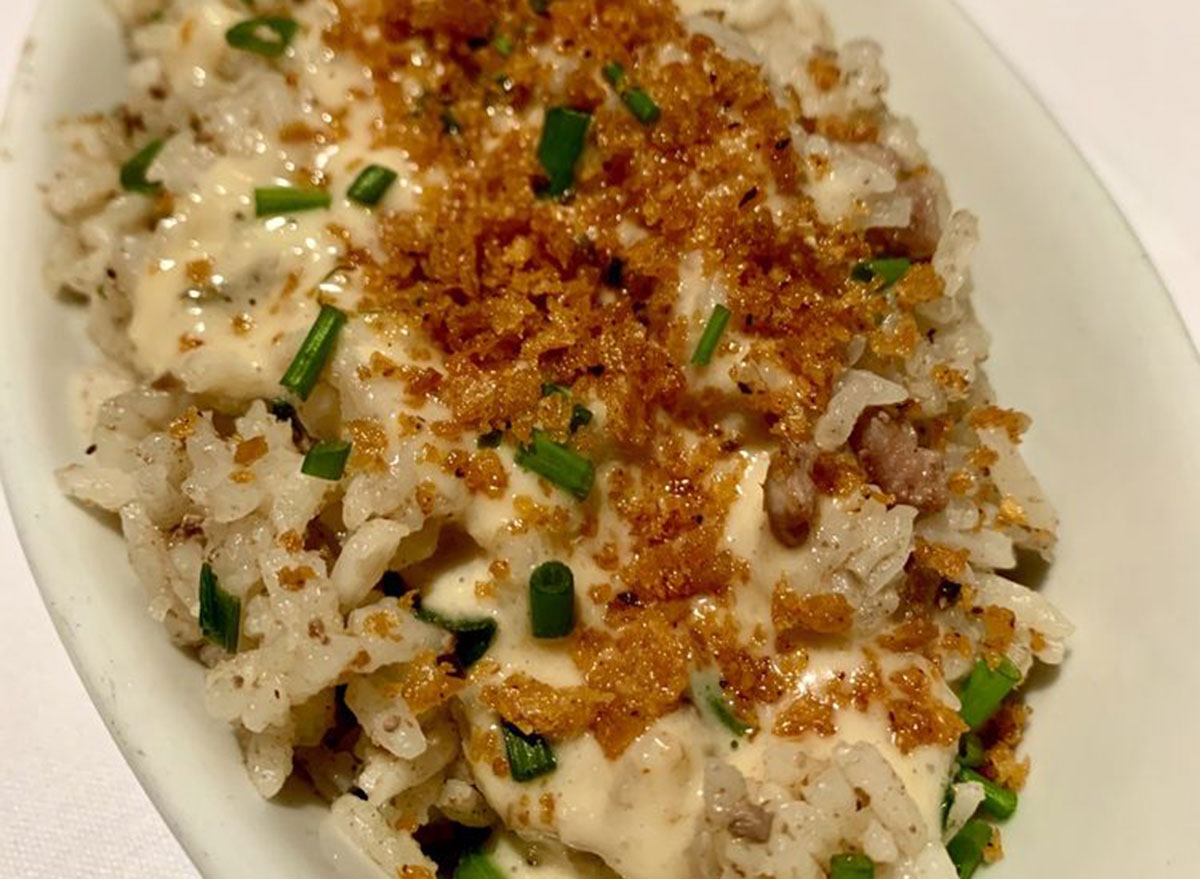 GW Fins is located in the heart of the historic French Quarter, said to be serving up the freshest and finest quality seafood. Yelp reviewers are crazy about the biscuits diners get as a starter, with the halibut being a popular meal choice.
Santo Brúklin in New York, NY
This Brooklyn spot offers Brazilian food in a decidedly New York atmosphere. Try the Moqueca, a stew made with Brazilian coconut milk and peppers, or the garlic-parsley Ipanema Chicken Wings.
Forastero in Chicago, IL
There's a taco to please every palate at this hip Chicago spot. Try the Porky Pig, Big Bird, or Korean BBQ Pork.
The Vox Kitchen in Fountain Valley, CA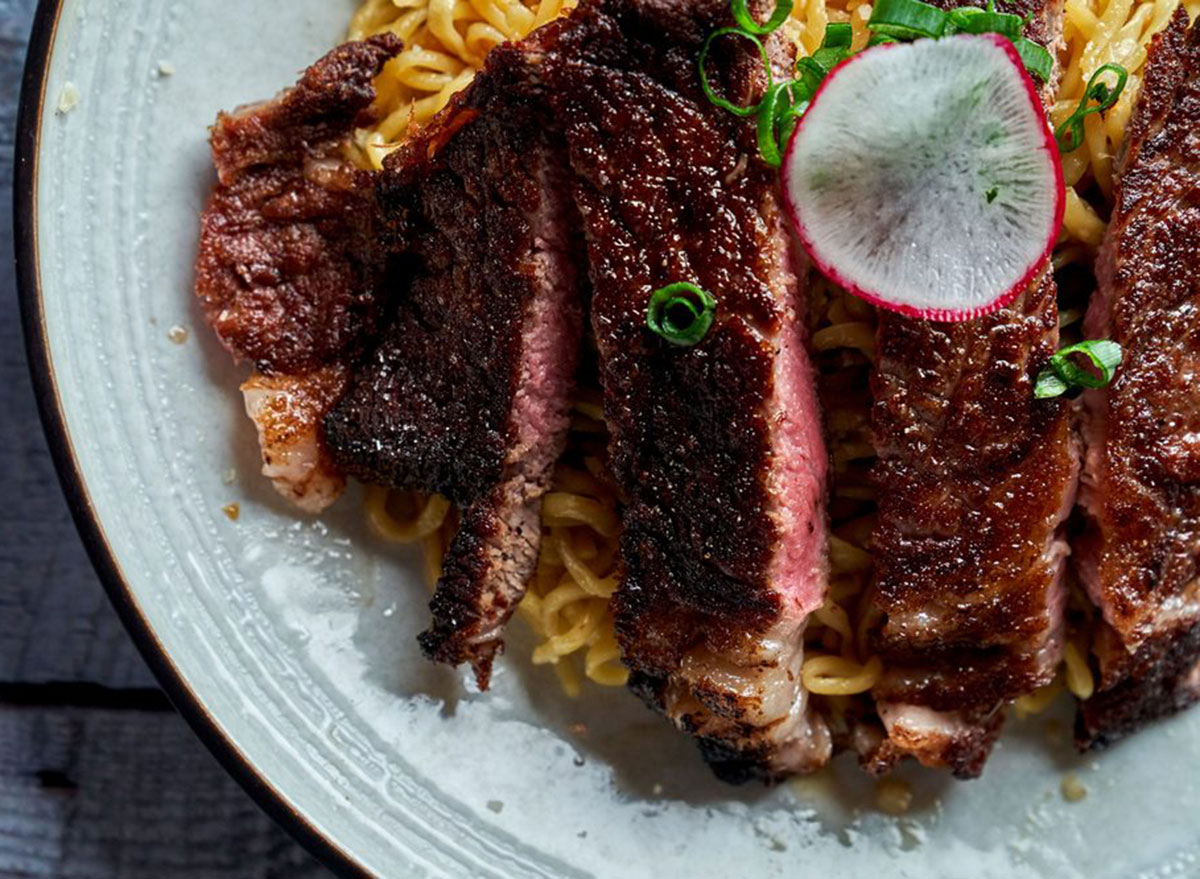 "All the food[s] we ordered were really great," one Yelp reviewer wrote. "Three highlights were the crab congee, chicken wings, and the garlic noodles with shrimp." Sounds good to us!
Latke Love in Littleton, CO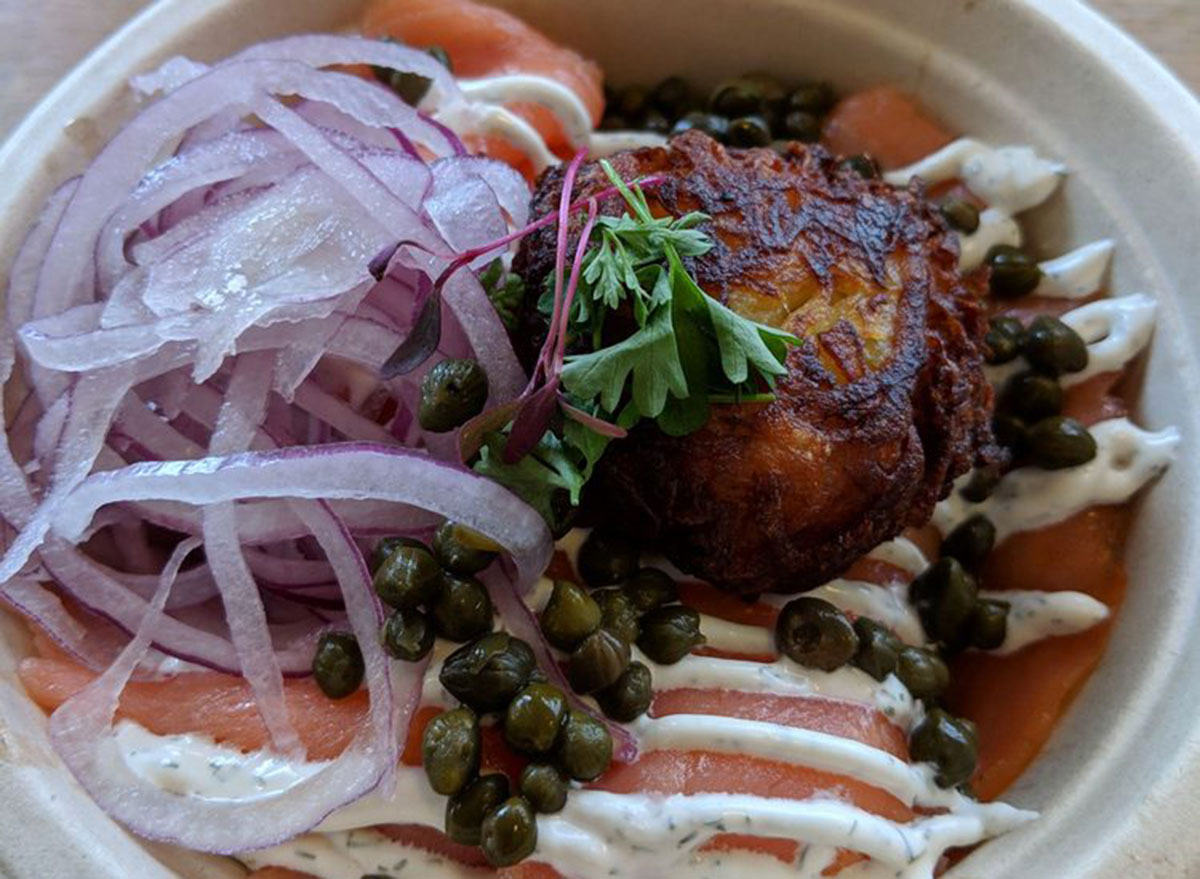 Latkes and slow-cooked brisket sound delicious, whether or not you're visiting this spot during the High Holidays.
Mayan Cafe in Louisville, KY
Did you ever think you'd find farm-to-table Mayan food in Kentucky? This spot offers traditional dishes like scallop ceviche and cactus stir-fry.
Pho Haus in Denver, CO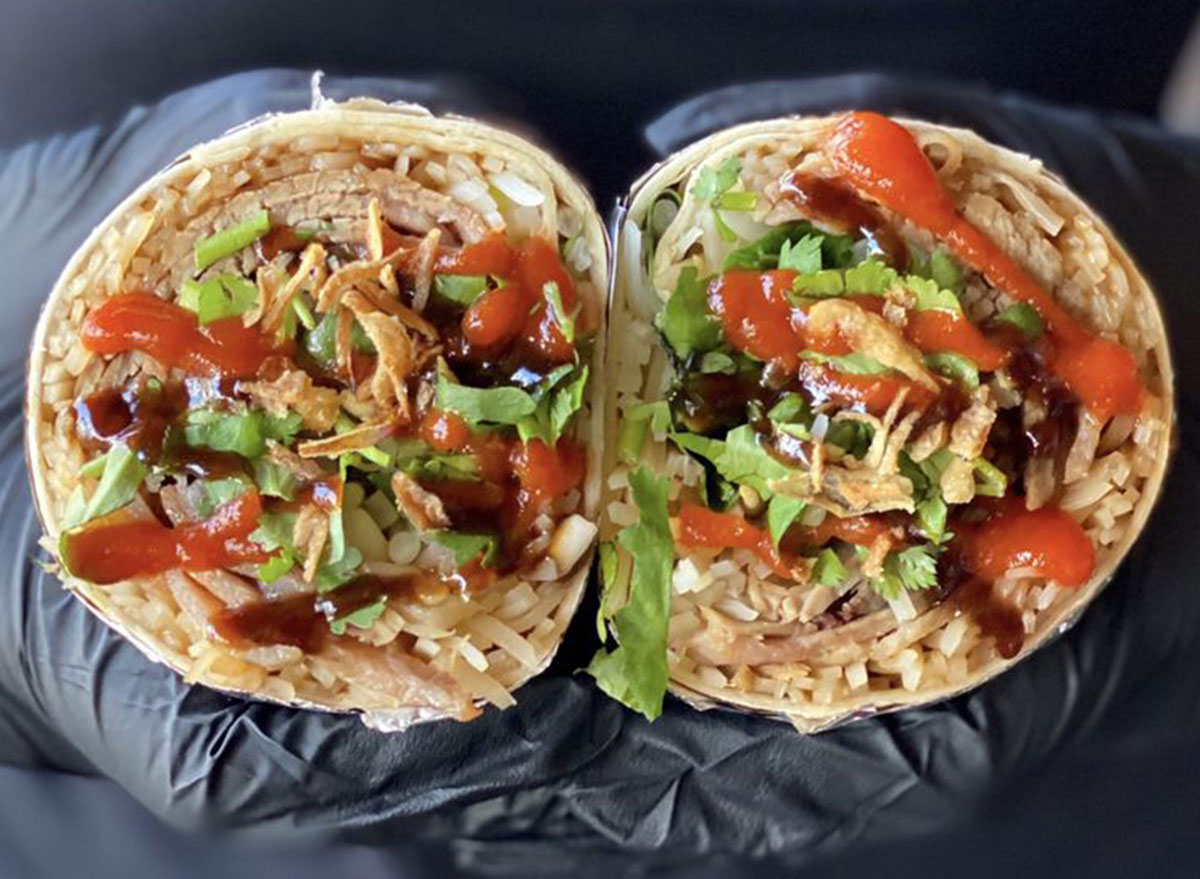 This Vietnamese spot offers a variety of pho, as well as appetizers like Bahn Mi sliders. You can't go wrong with anything on the menu!
Chris's Ice Cream in Indianapolis, IN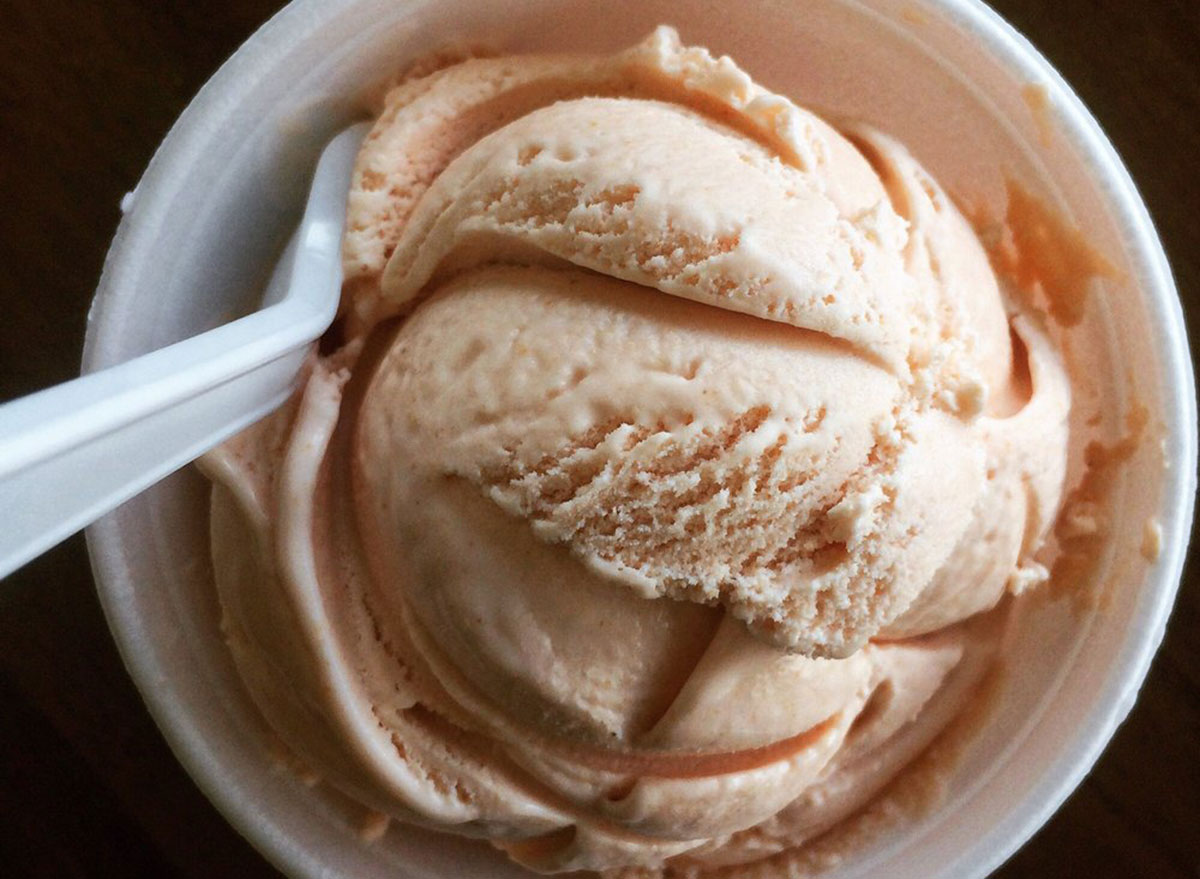 An ice cream shop and a Mexican restaurant in the same spot? Now we're talking! "Best Mexican food in the city hands-down," wrote one Yelp reviewer. "The fresh flavors were out of this world. Follow this amazing meal up with a homemade ice cream and you're set."6254a4d1642c605c54bf1cab17d50f1e
Los Andes Restaurant in Providence, RI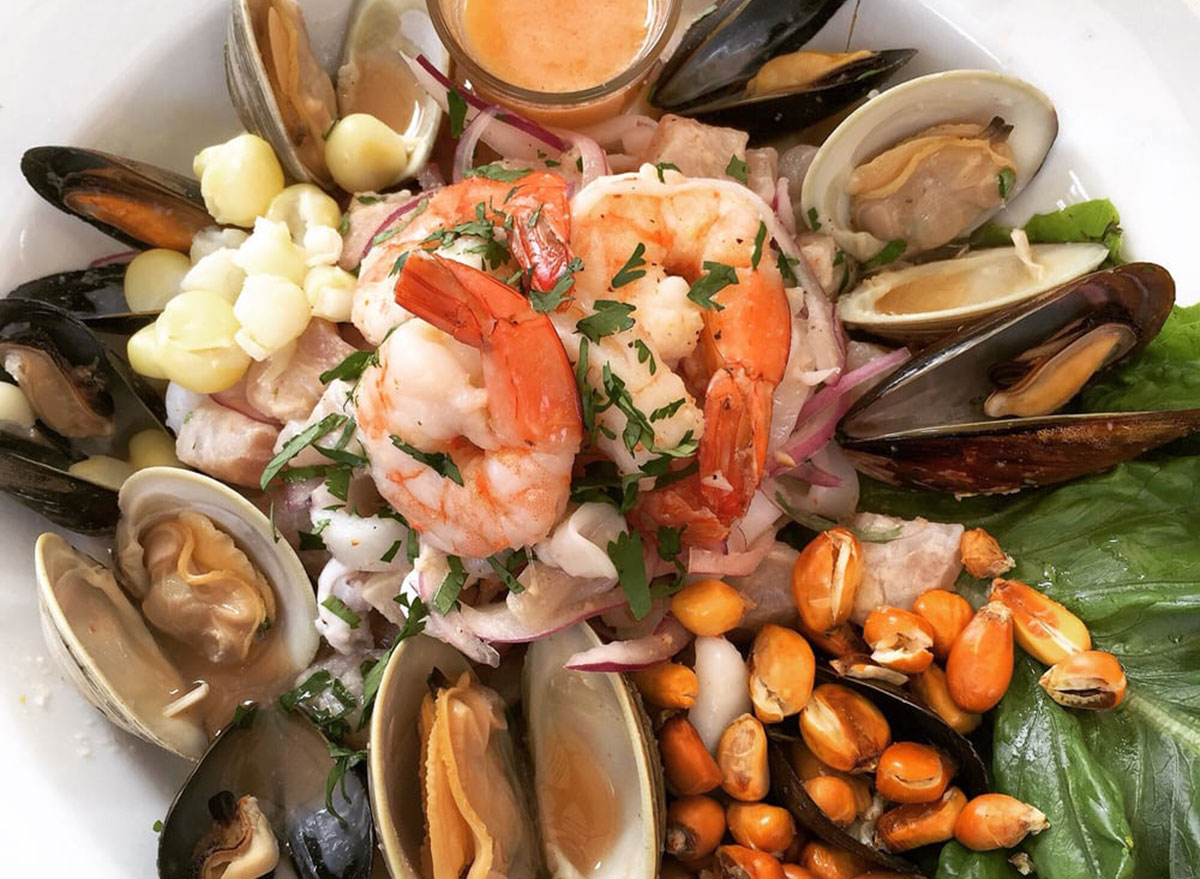 If you haven't had Peruvian or Bolivian cuisine, give Los Andes a try. With everything from ribeye steaks to fresh seafood on the menu, there's something for everyone.
Cafe La Maude in Philadelphia, PA
Cafe La Maude calls itself "Philadelphia's best brunch" for a reason! The French-Lebanese spot has everything from pastries to shakshuka.
Moku Roots in Lahaina, HI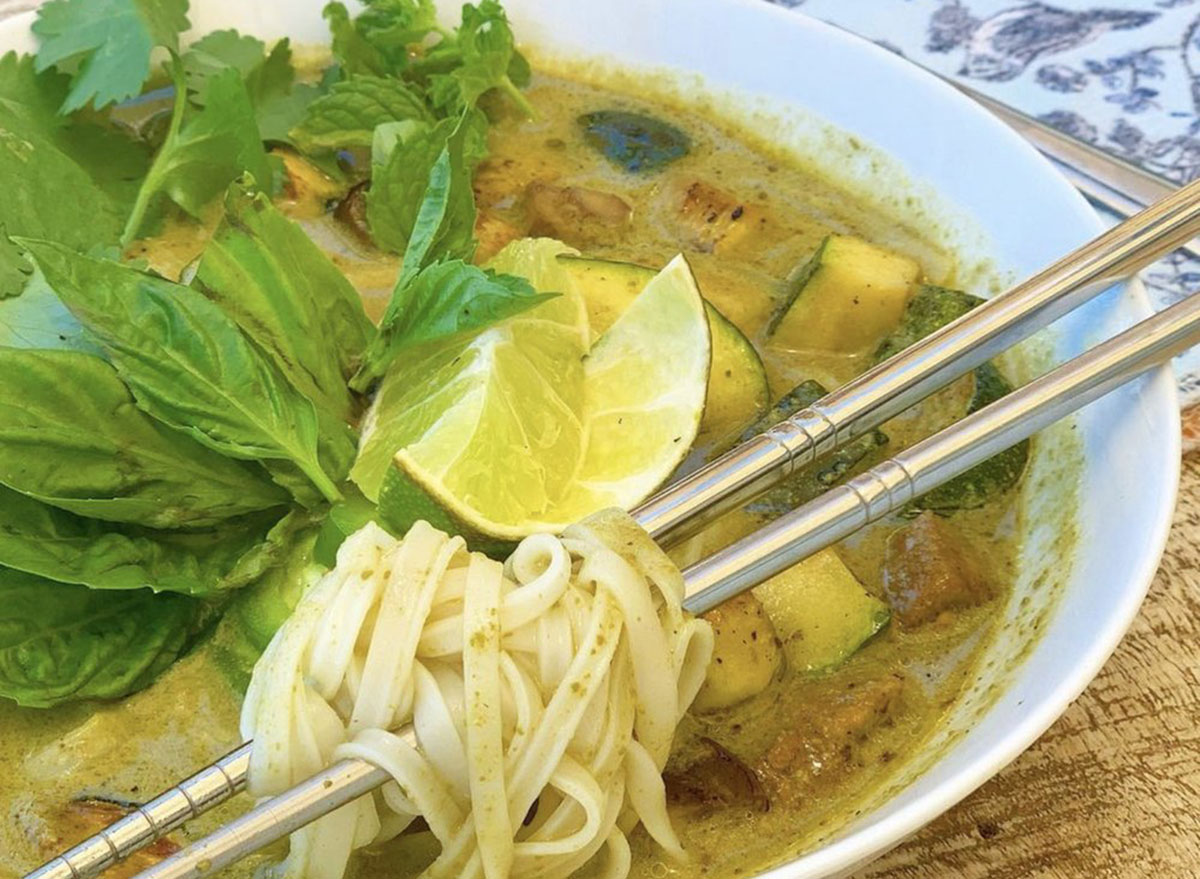 Whether or not you're vegetarian, you're sure to love this plant-based Hawaiian spot. Try the taro burger or the vegan eggplant parmesan.
Cutbow Coffee Roastology in Albuquerque, NM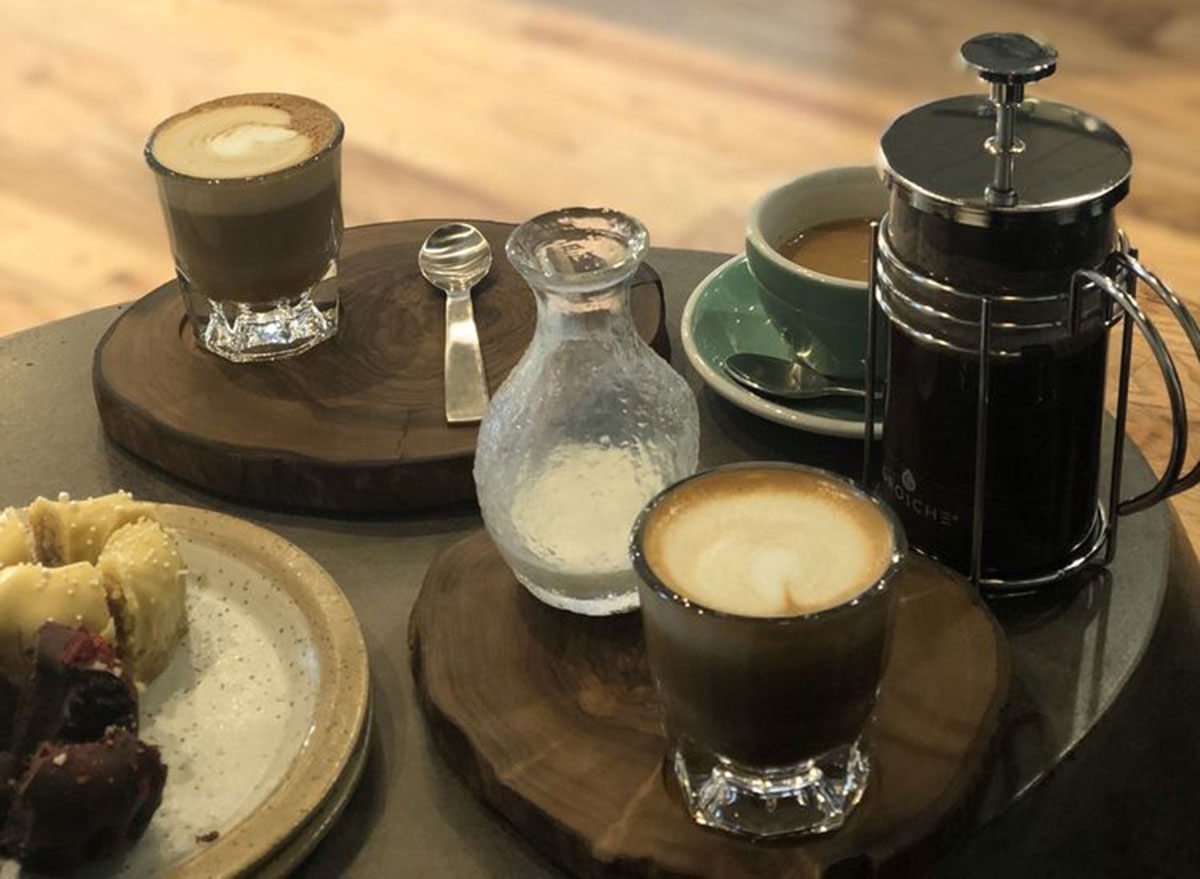 If you're looking for a truly great cup of Joe, Cutbow Coffee Roastology is where you want to be. As one Yelp reviewer explained, "This coffee is ridiculous! Smooth and perfectly brewed. Heaven in a cup truly."
The Pasta Shop in Denville, NJ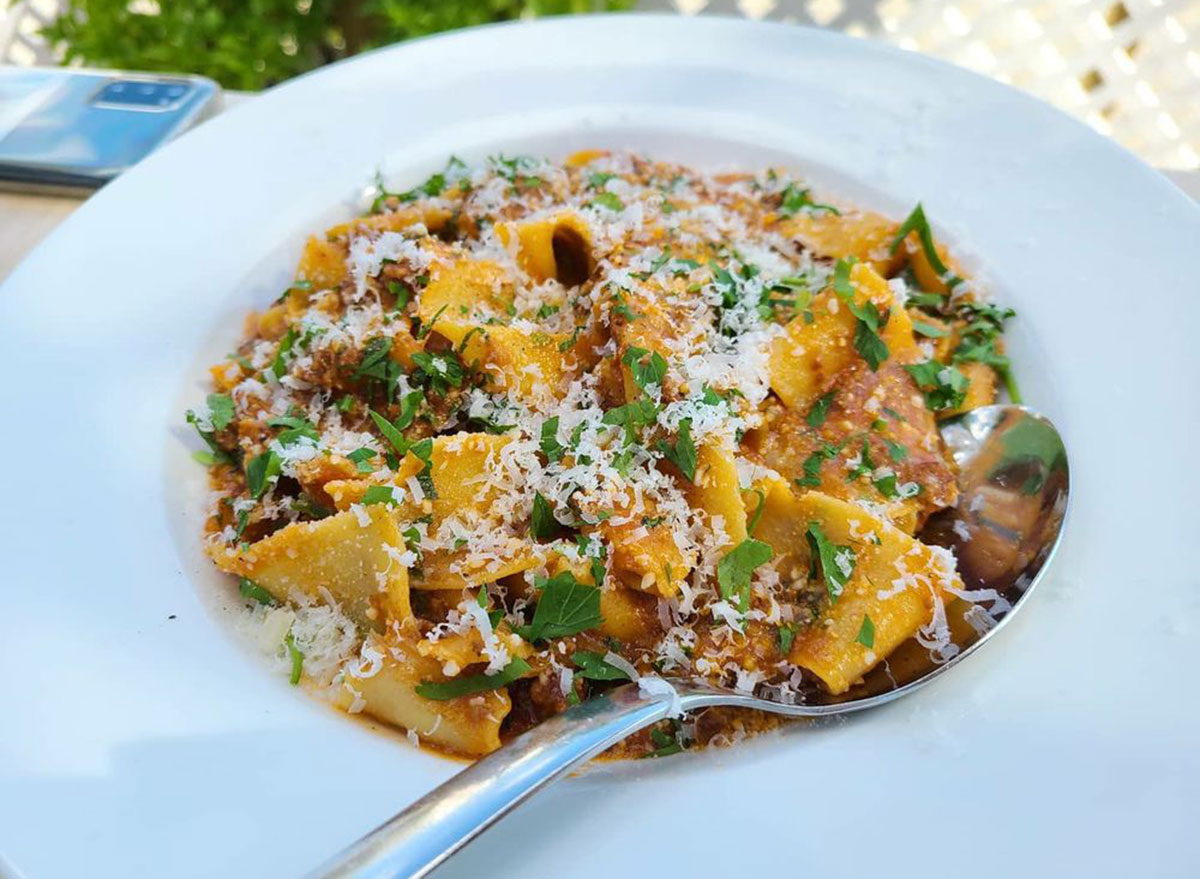 From the pappardelle bolognese to the rigatoni alla vodka, all of the pasta dishes are solid options. This is something you would expect from a restaurant called The Pasta Shop, after all! As one Yelp reviewer wrote, you're in for some "fresh pasta done right with quality ingredients. Don't skimp on the appetizers, all of them are top-notch."
Wright's Barbecue in Johnson, AR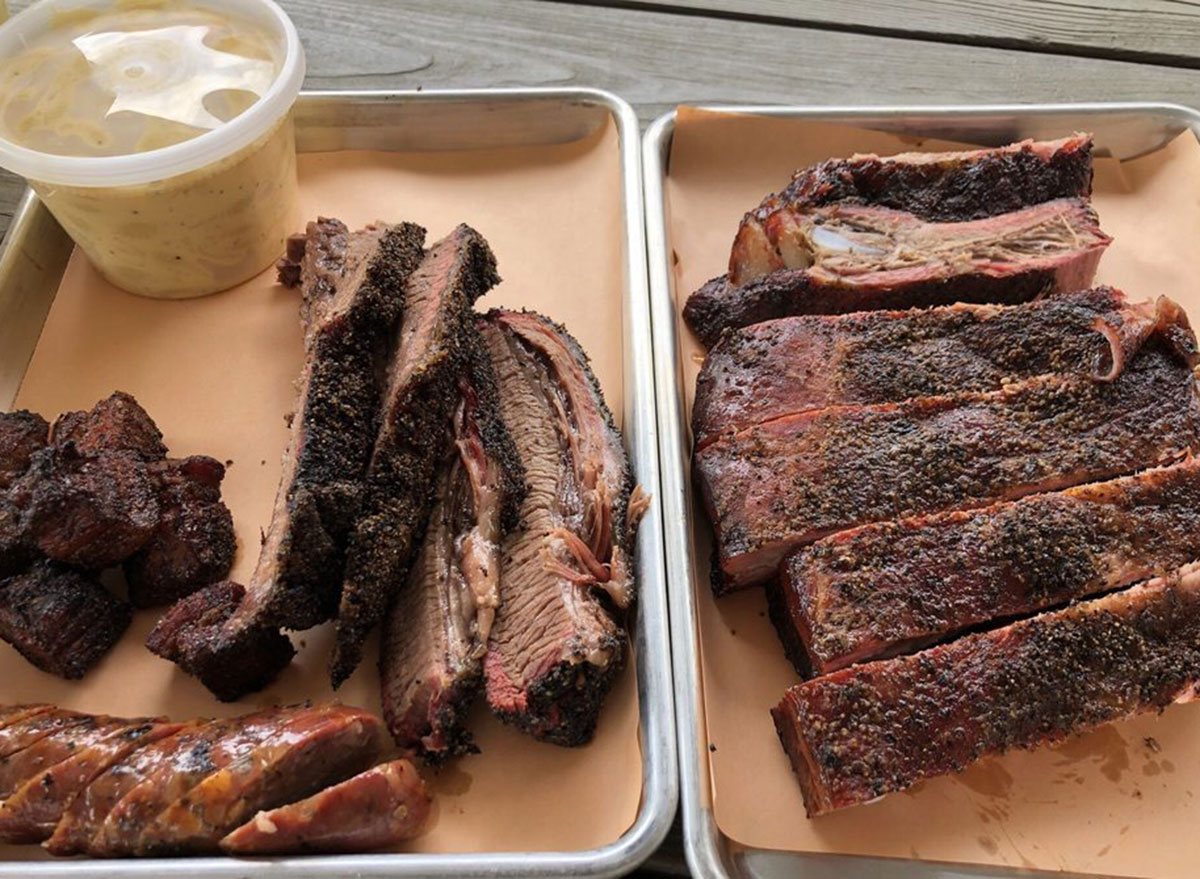 At Wright's Barbecue, you're going to want to feast on the brisket and some mac and cheese, according to all the glowing Yelp reviews.
Juan's Flaming Fajitas & Cantina—Henderson in Henderson, NV
You can't go wrong ordering the flaming fajitas—they're in the restaurant name for a reason! If you're in the mood for traditional Mexican favorites, then this is your spot.
Tacos Doña Lena in Houston, TX
One Yelp reviewer says "it's difficult to get more authentic than Doña Lena," as everything on the menu has that homemade feel and flavor to it. When you're craving tacos in Houston, pay this restaurant a visit.
Tasty Pizza in Omaha, NE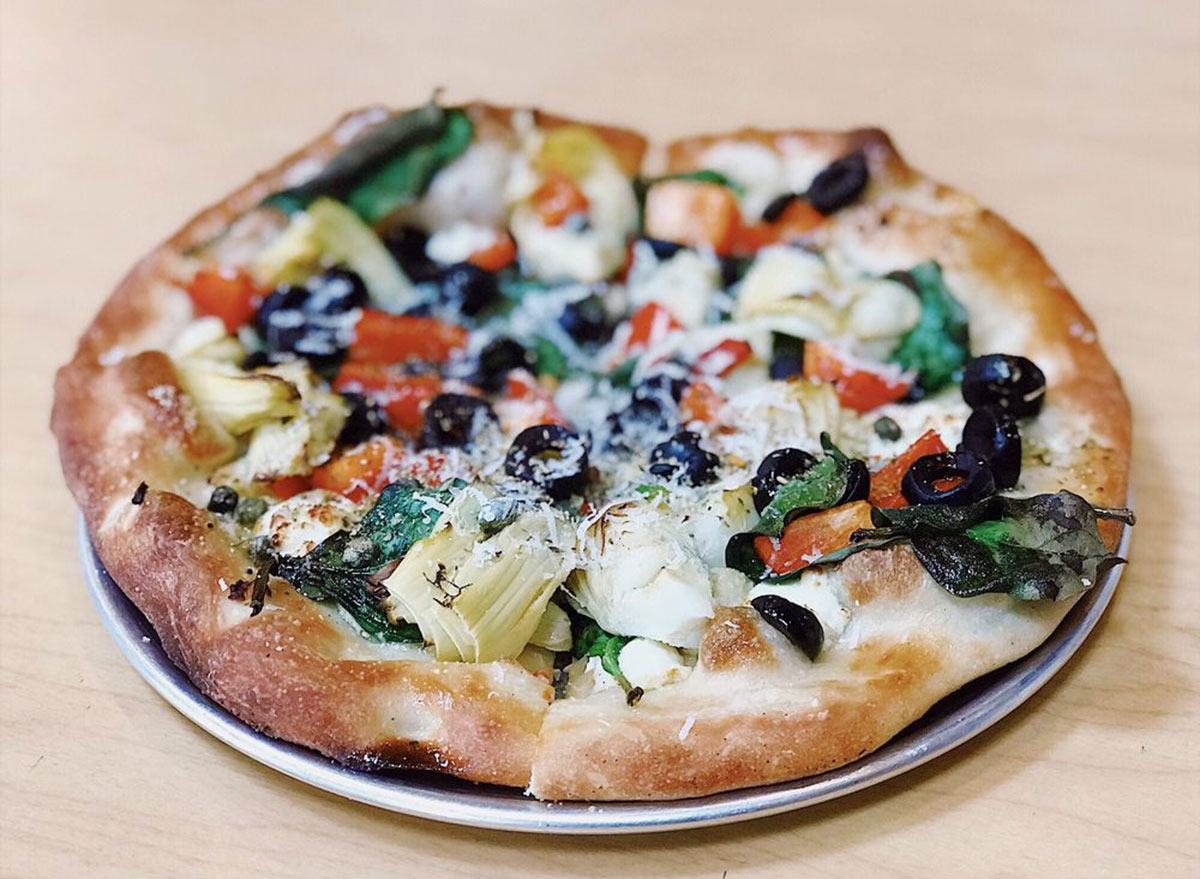 The menu is short, sweet, and to the point—and that's part of Tasty Pizza's appeal. One bite, and you're in for a thin-crust slice that is made with fresh toppings. Yelp reviewers love the hamburger pizza!
Sushi J in Bellevue, WA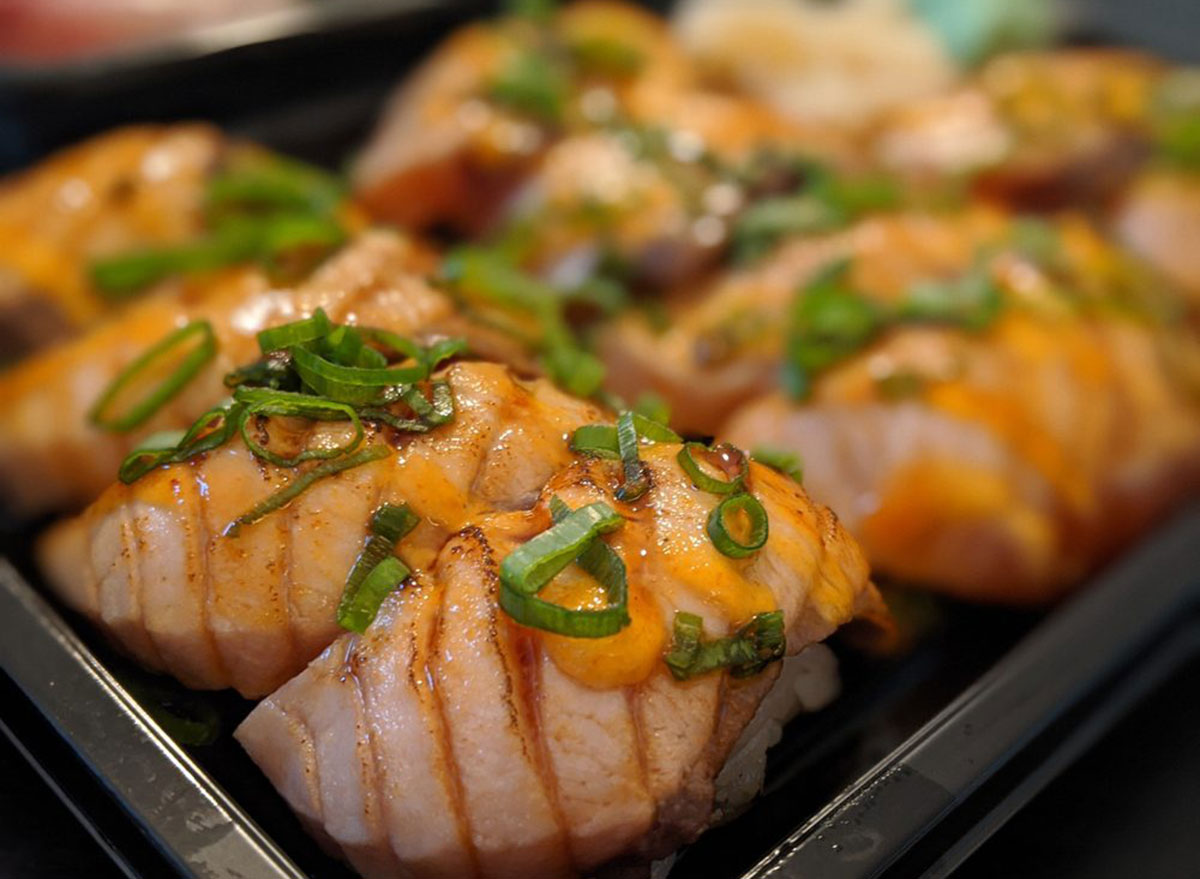 Not only are you treated to a warm service by the staff at Sushi J, but, as one Yelp reviewer pointed out, you're getting "amazing value for the quantity and quality—they're generous on the seafood, condiments, and rice."
La Finca Bowls in Albuquerque, NM
If you're really trying to stay on track with any healthy eating goals, then eating at La Finca Bowls is for you. You can concoct your own bowl, but Yelp reviewers agree the menu staples of La Finca (chicken), Fisherman (salmon) and the Farmer bowl (steak) are all delicious just the way they are.
Jack of Cups Saloon in Folly Beach, SC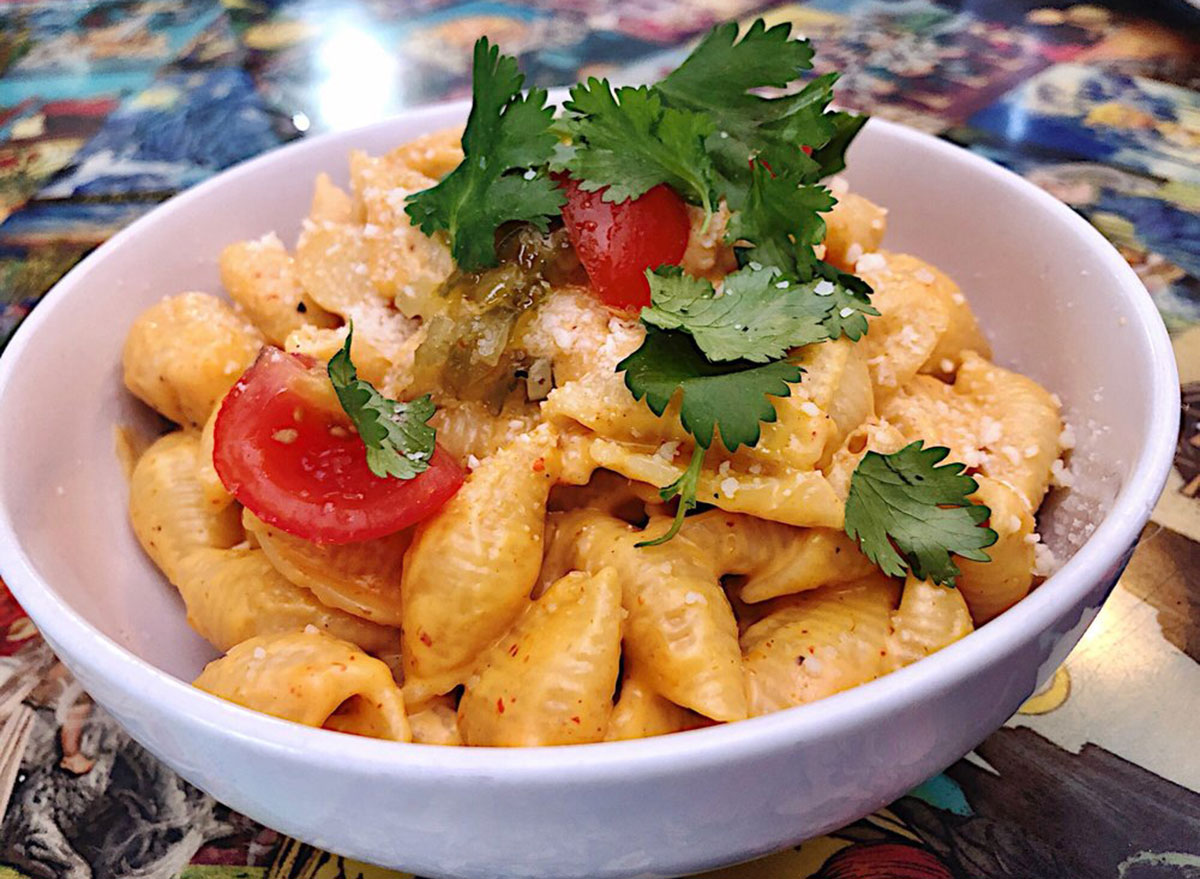 This restaurant's dishes are Asian-fusion creations that bring tons of flavor. Yelp reviewers really enjoy the coco pork!
Nova Kitchen & Bar in Garden Grove, CA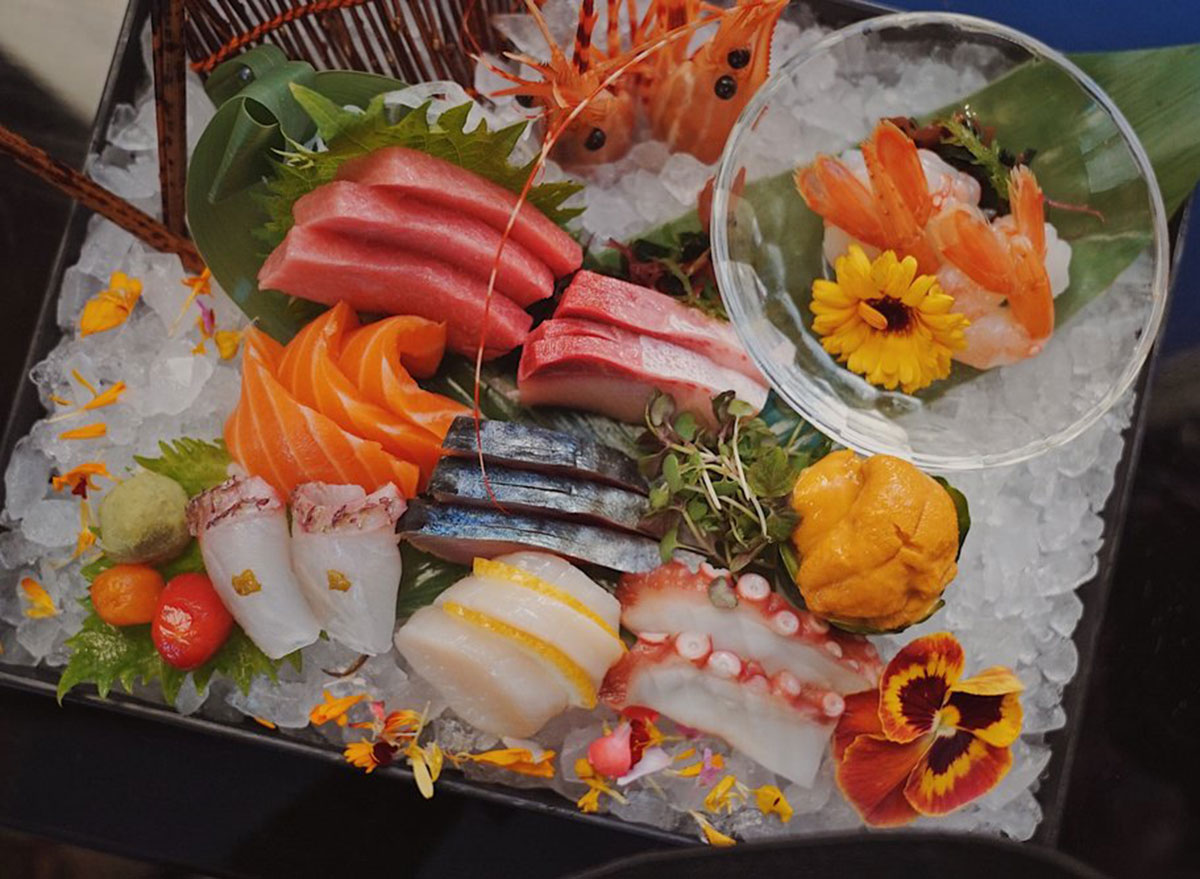 The presentation of the meals at Nova Kitchen & Bar is truly something to marvel at, according to Yelp reviewers. Be sure to order the pork belly bao, as it's said to be the best appetizer.
Enat Ethiopian Restaurant in Charlotte, NC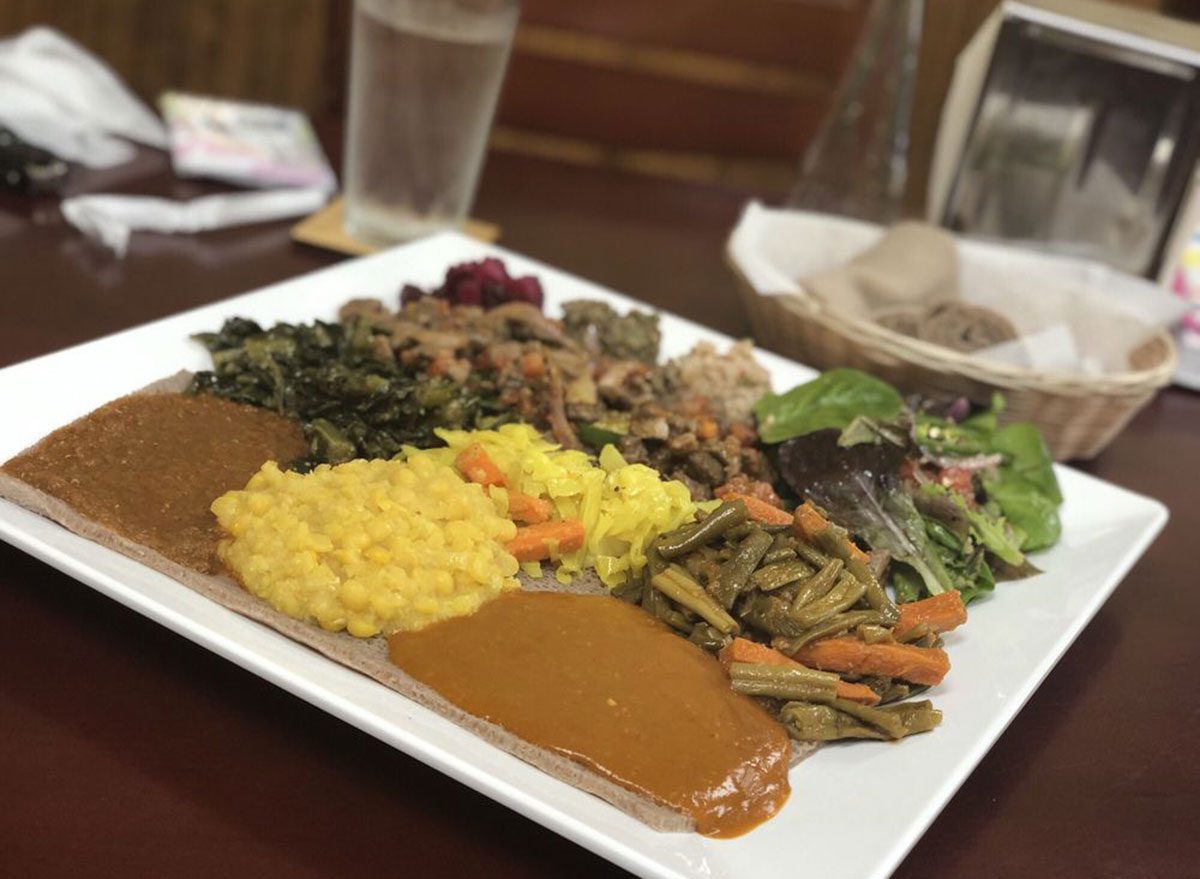 Enat specializes in making traditional East African, Ethiopian dishes like the highly recommended Derek tibs and Doro wat.
Intentional Food Cafe and Market in Mesa, AZ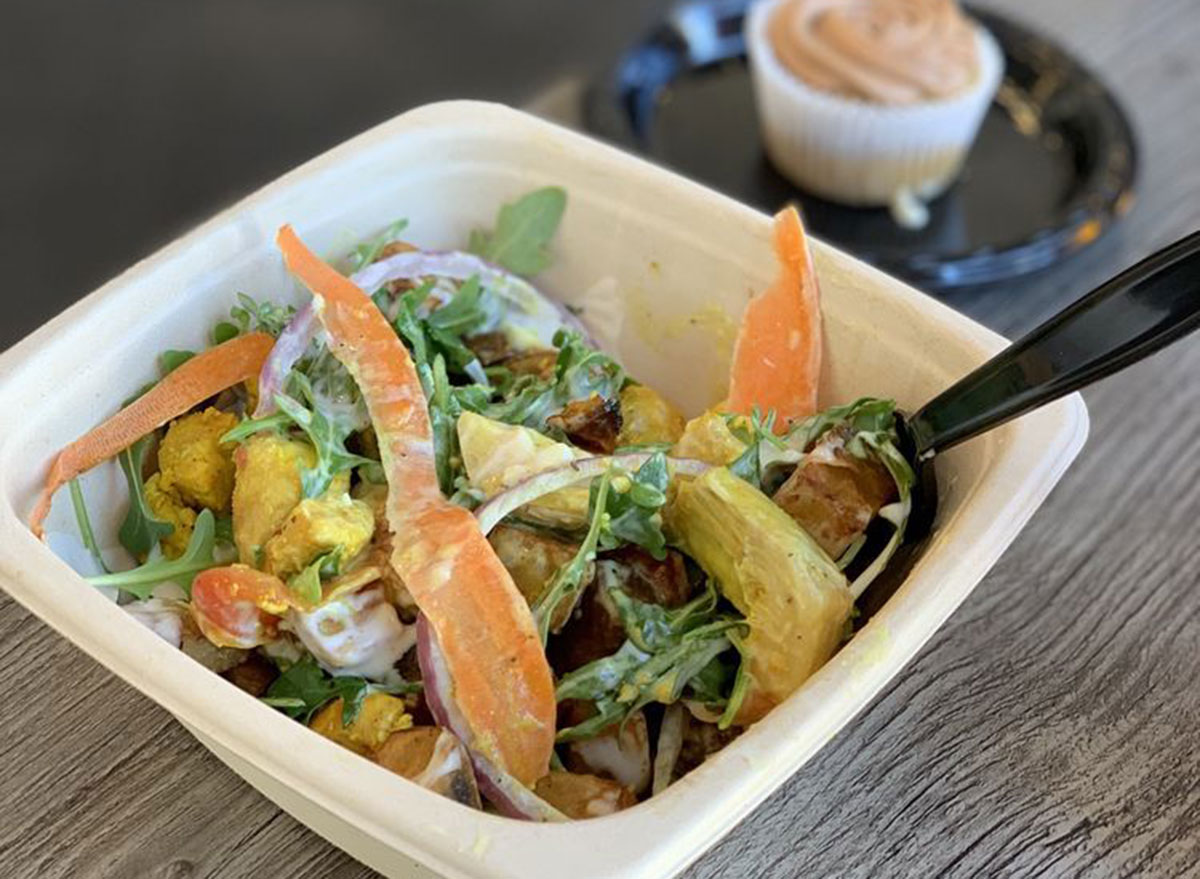 What really sets this restaurant apart is that it's an allergy-friendly cafe and market with food that is always free from the top 8 allergens. You can feast on salads, sandwiches, bowls, and even desserts without having to worry for those who do have food allergies.
1618 Asian Fusion in Austin, TX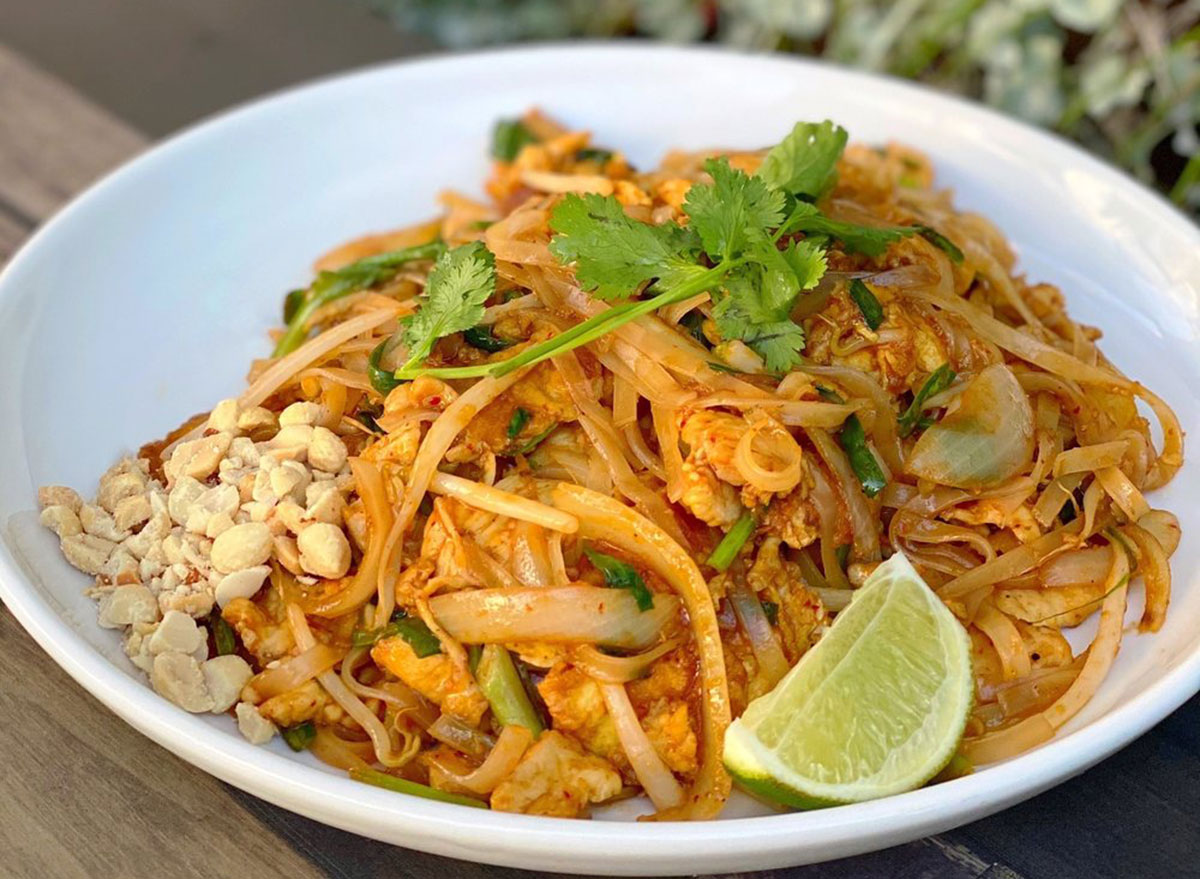 Here, you'll find crispy pad thai, filet mignon pho, and delicious soup and shrimp dumplings. Is your mouth watering already?
Halls Chophouse in Charleston, SC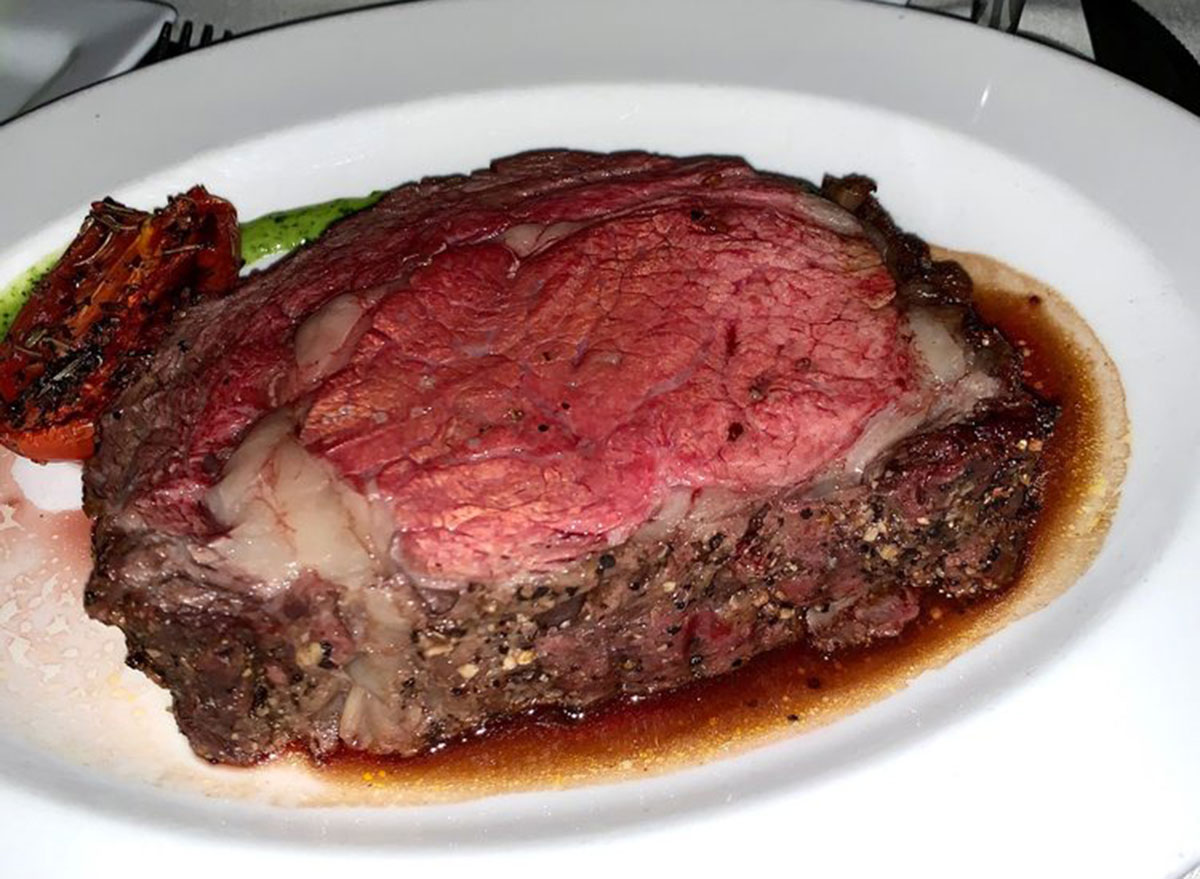 If you are lucky enough to pay a visit to Halls Chophouse, you can't go wrong with any of the steak options, according to Yelp reviewers. The truffle butter is said to be a gamechanger!
Arun's Indian Kitchen in Coral Springs, FL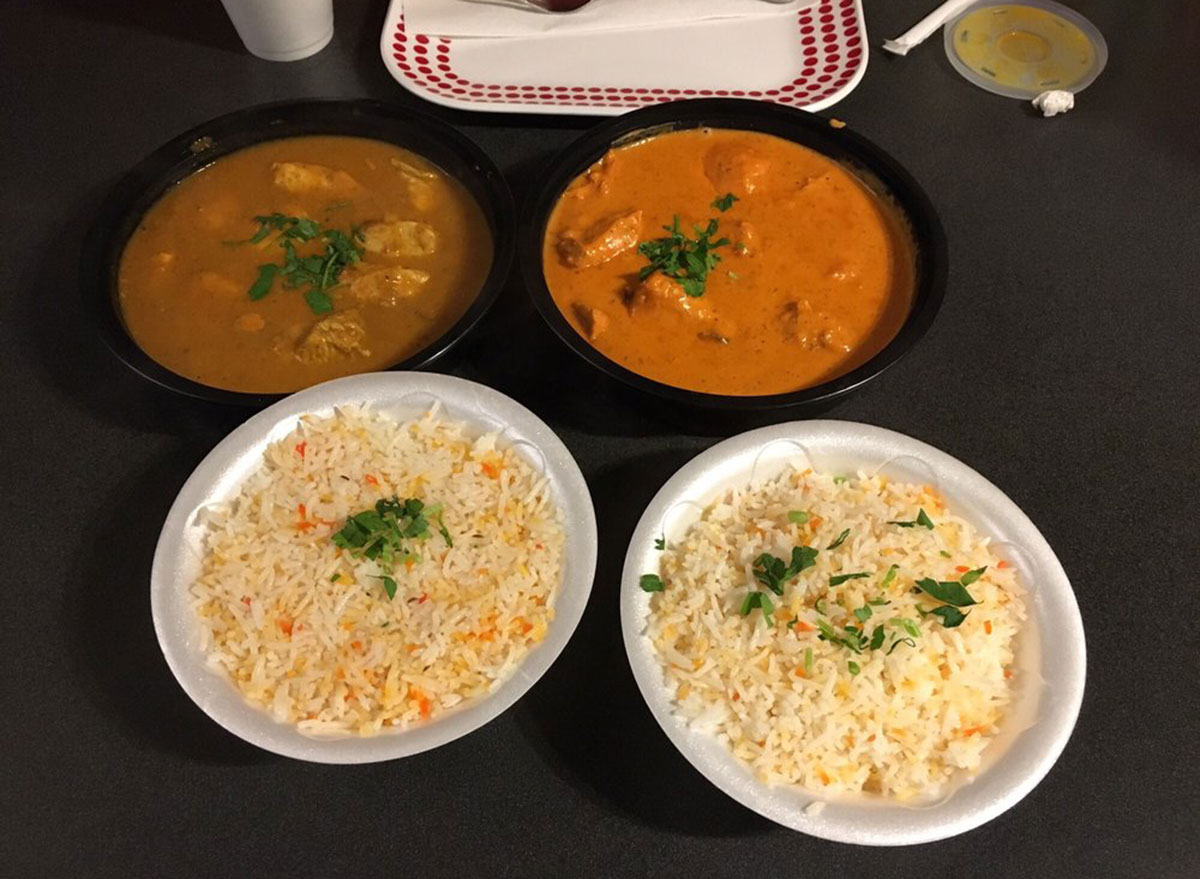 This Indian restaurant is said to be some of the best takeout you'll find in South Florida, according to Yelp reviewers. "The food is fantastic—try the chicken tikka masala first, it seems to be everyone's favorite and add the Garlic Naan (flatbread) with it," one loyal customer suggests.
Simon's Hot Dogs in Scottsdale, AZ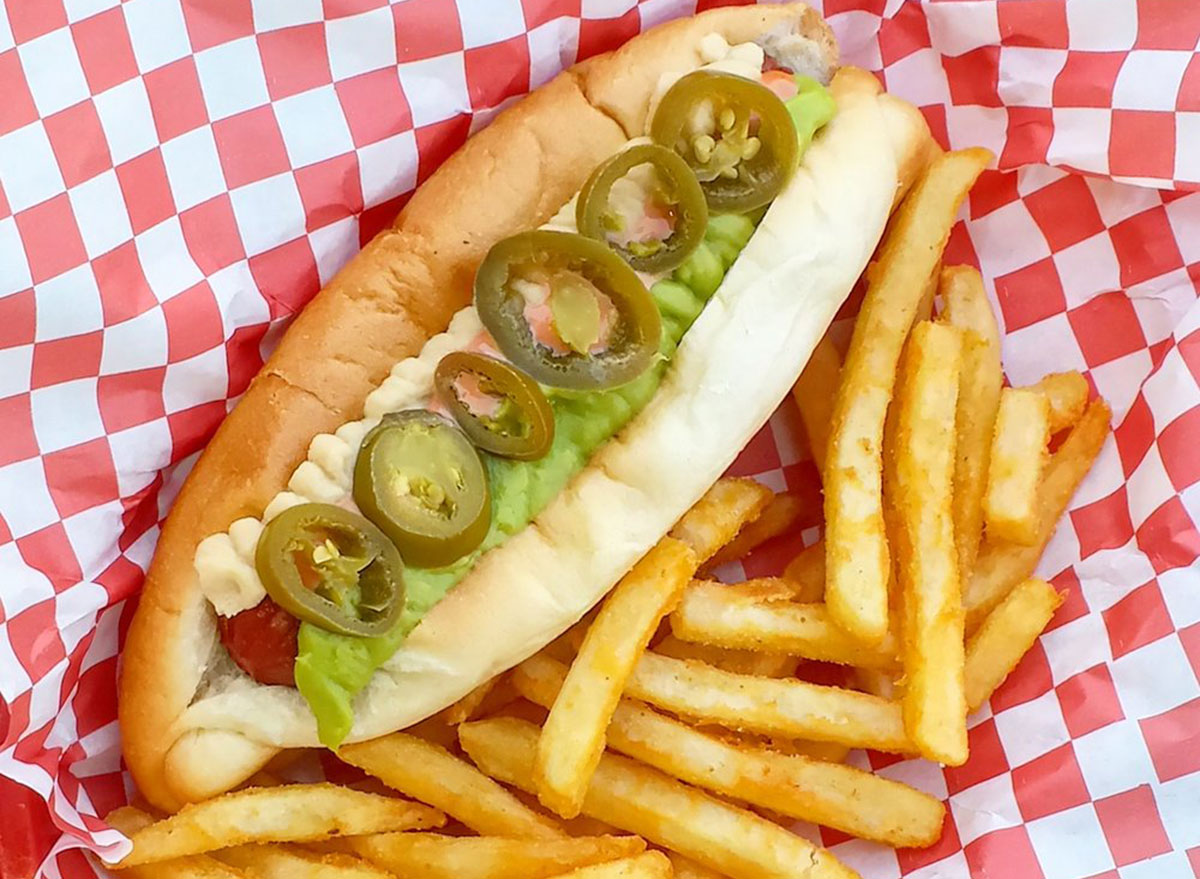 You will find some specialty hot dogs at Simon's Hot Dogs, as you can choose from beef, pork, or vegan Colombian-style hot dogs. Reviewers suggest getting a side order of maduritos (which are sweet plantains you can get topped with cheese) and Alfajores for dessert, which are classic Colombian cookies.
Heat Da Spot in Washington, DC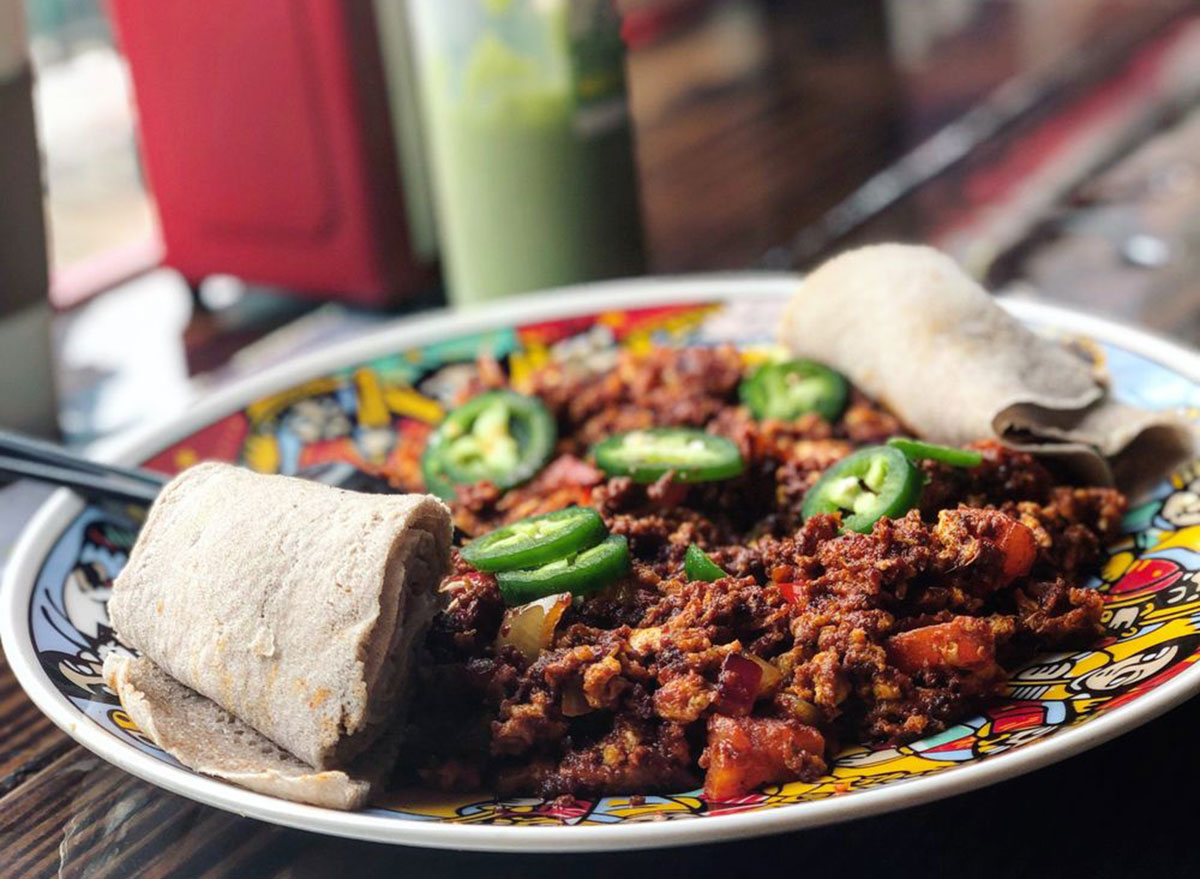 At Heat Da Spot, you're in for coffee, breakfast and lunch items that are all made with an Ethiopian twist. The breakfast items (including sandwiches and scrambles) all have stellar reviews, with customers really raving about how friendly and welcoming the staff is, and that instantly makes any restaurant even more memorable.
Local Expedition Wood Fired Grill in Alpharetta, GA
The dishes on the menu here bring together flavors representing Asia, Turkey, and Europe. Yelp reviewers commend the friendly staff and suggest getting an order of the LA street corn.
Mazra in San Bruno, CA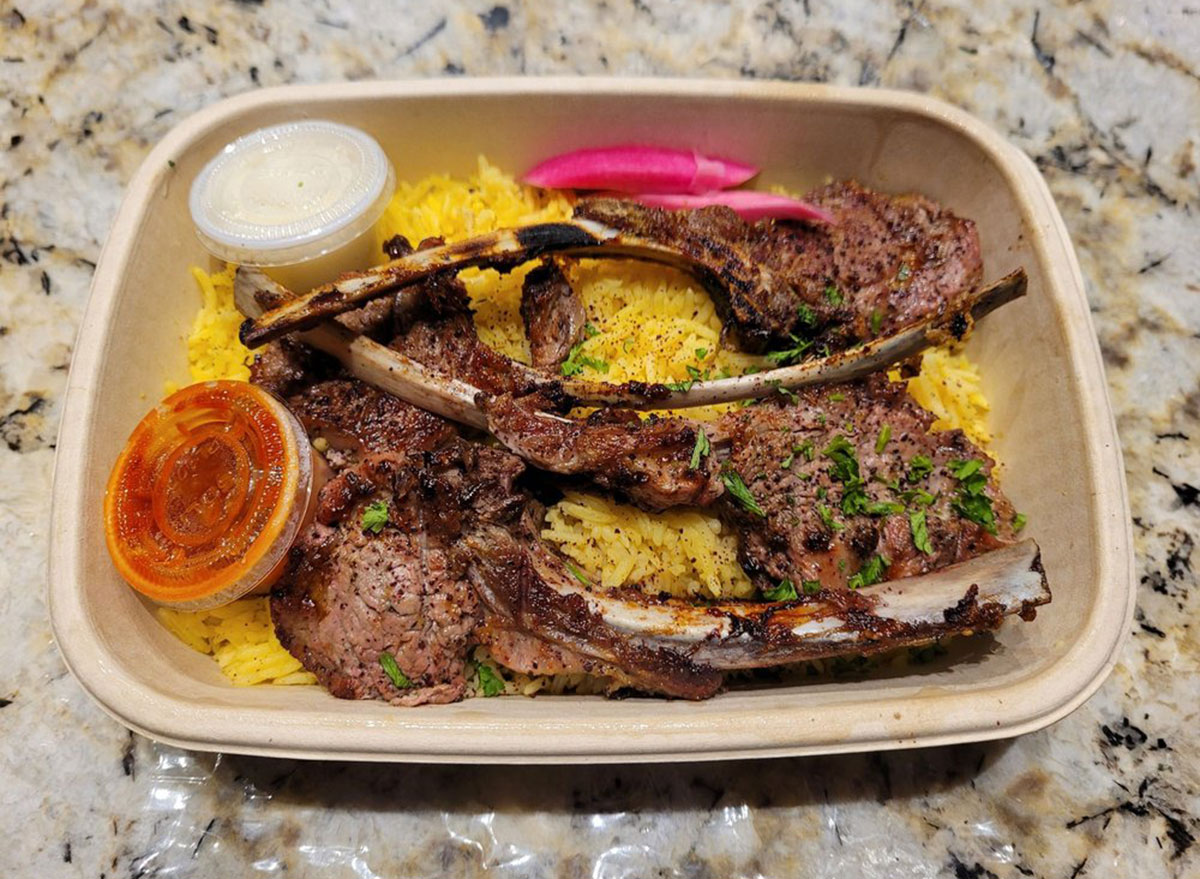 Mazra is a family-owned Mediterranean restaurant, known for its kebabs. You'll want to be sure you end your meal with some of the house-made baklava, a crispy and sweet dessert.
Kelley Farm Kitchen in Harpers Ferry, WV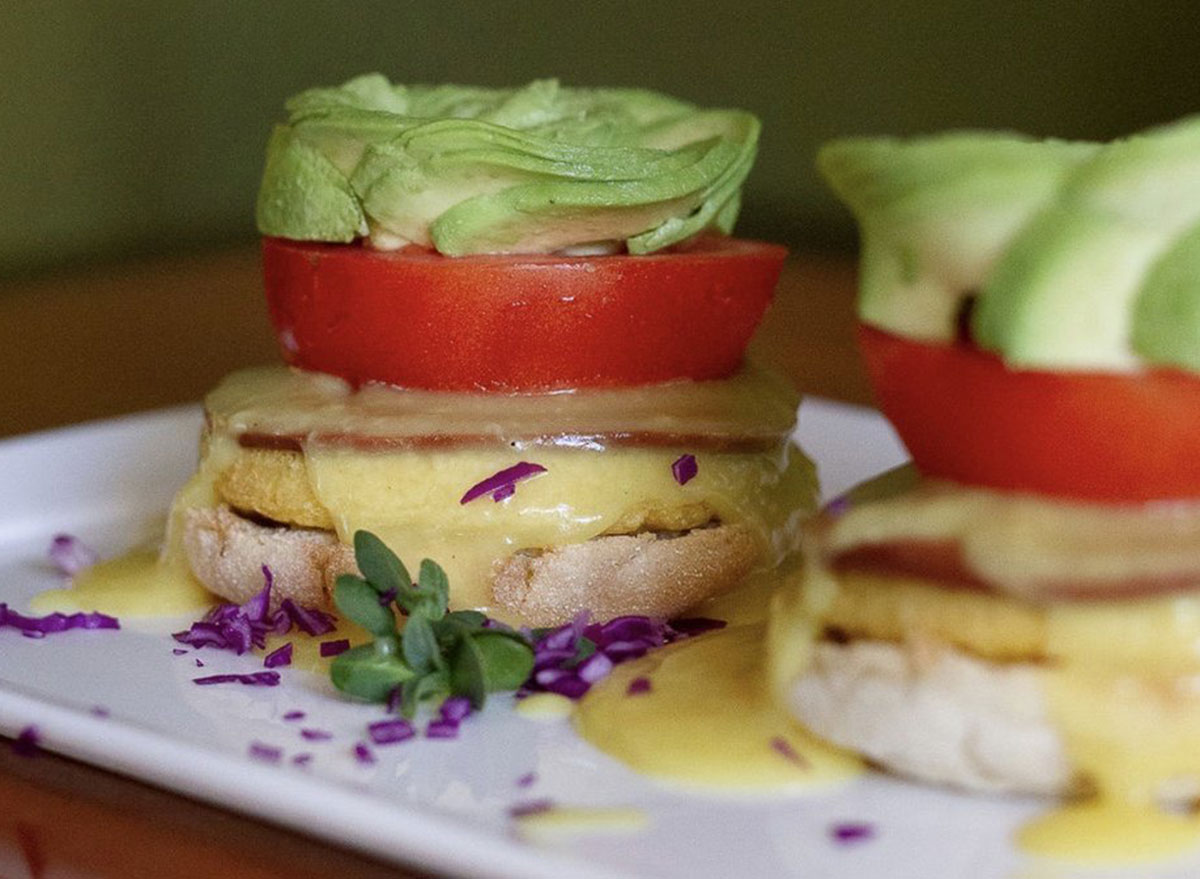 This woman-owned vegan restaurant in West Virginia takes the top spot as the best place to eat in 2021 from all across the country. The menu is filled with delicious options, and the portion sizes are generous. Yelp reviewers rave over the burgers, mac and cheese, salads, BBQ jackfruit sandwich, and the nachos "that you can't finish." That's how big the order is! But most importantly, many reviewers comment on how the owners and staff "treat their guests like family."
Jennifer Maldonado
Jennifer Maldonado is a senior editor at Eat This, Not That!, specializing in food and health content.
Read more about Jennifer