The Best Foodie Destination in Every State
You're going to want to add all of these restaurants to your list of "places you need to visit."
If you're the person who identifies as a foodie in your friend group, you're probably always on the lookout for restaurants that you haven't tried yet. You most likely have an endless list of bookmarked spots to visit, should you ever go to that city or state, and we're here to help you add more places to your tally.
Below, check out the best foodie destination in every state, spanning across all different price ranges and types of cuisine so you can find the best one for you. Also, don't miss Best Once-in-a-Lifetime Meal in Every State.
(Plus, if you're in the mood for a burger, be sure to skip these 8 Worst Fast-Food Burgers to Stay Away From Right Now.
ALABAMA: Yo' Mama's in Birmingham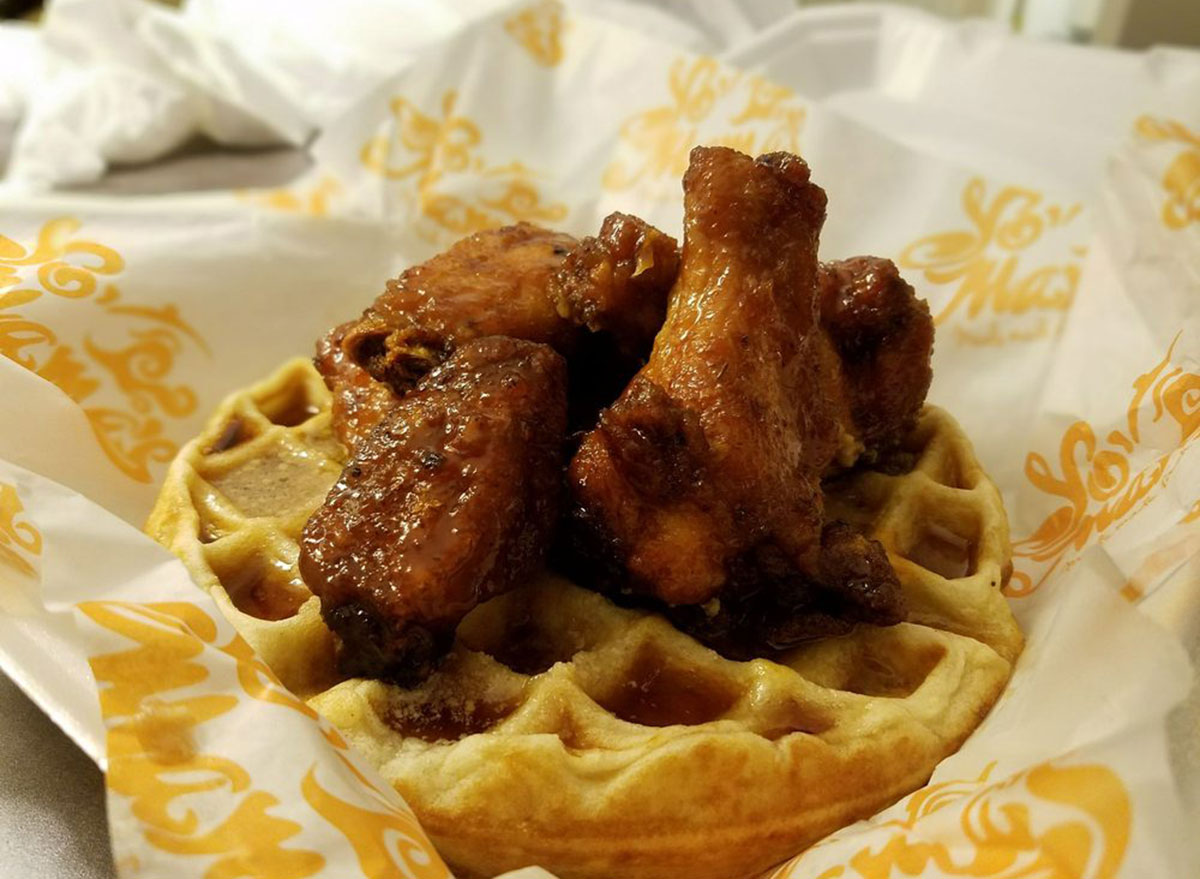 If you're making a stop in Birmingham, Yo' Mama's is definitely not a spot you want to pass up. This cult-favorite restaurant is known for its signature chicken and waffles, as well as other southern comfort staples. If you're looking for more places like this, check out the best southern restaurants you've got to visit at least once!
ALASKA: The Bagel Shop in Homer
You probably don't think of bagels when you think of Alaska, but locals know that this unassuming spot is the place to go for great breakfast and lunch bagel sandwiches. The Bagel Shop has unique creations, as well as a variety of schmears for you to customize your order. Make sure you bring an appetite: The bagels are filling but you're going to want to try multiple.
ARIZONA: Cafe Monarch in Scottsdale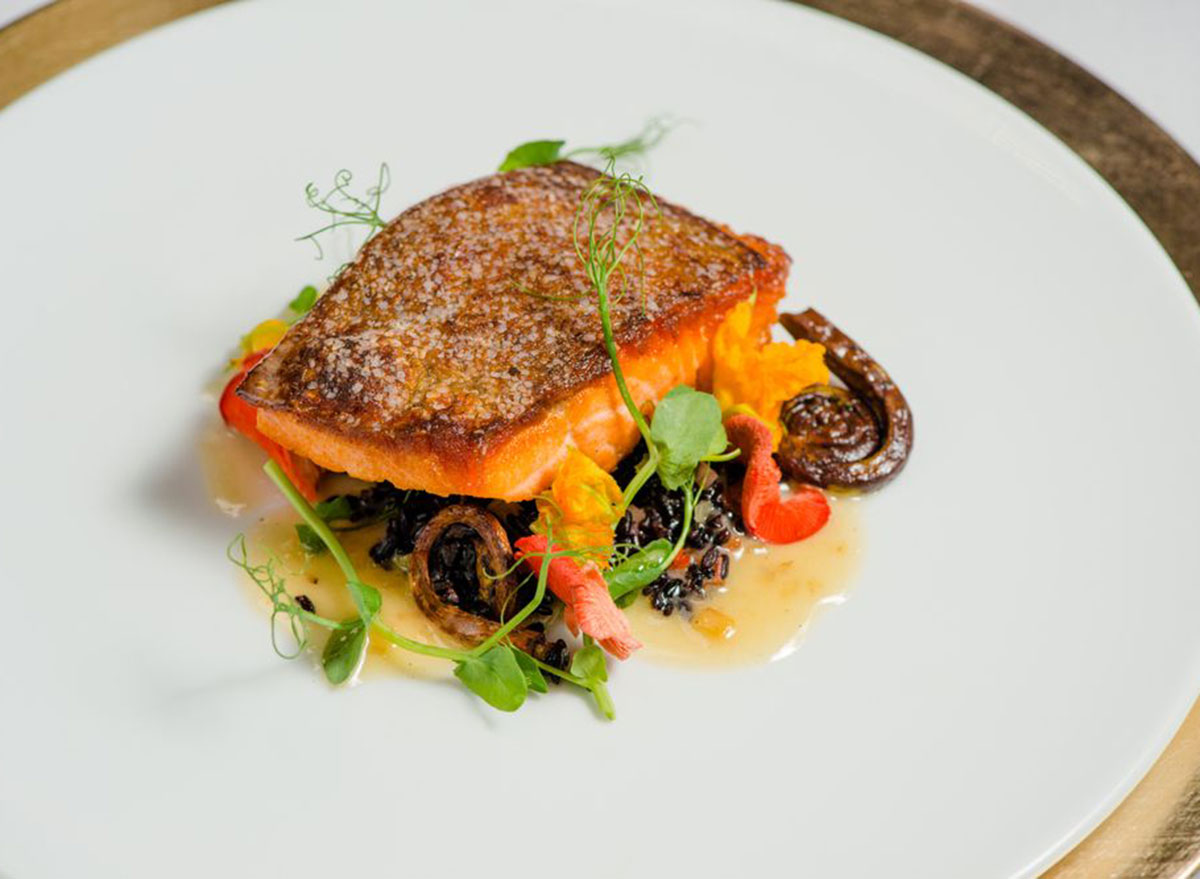 For a fine dining experience in an elegant setting, head to Cafe Monarch. The New American menu is a four-course prix fixe structure that changes often. Each of the servers is trained through the Court of Master Sommeliers program to ensure that your wine pairings are the best possible fit.
ARKANSAS: Ed Walker's Drive-In & Restaurant in Fort Smith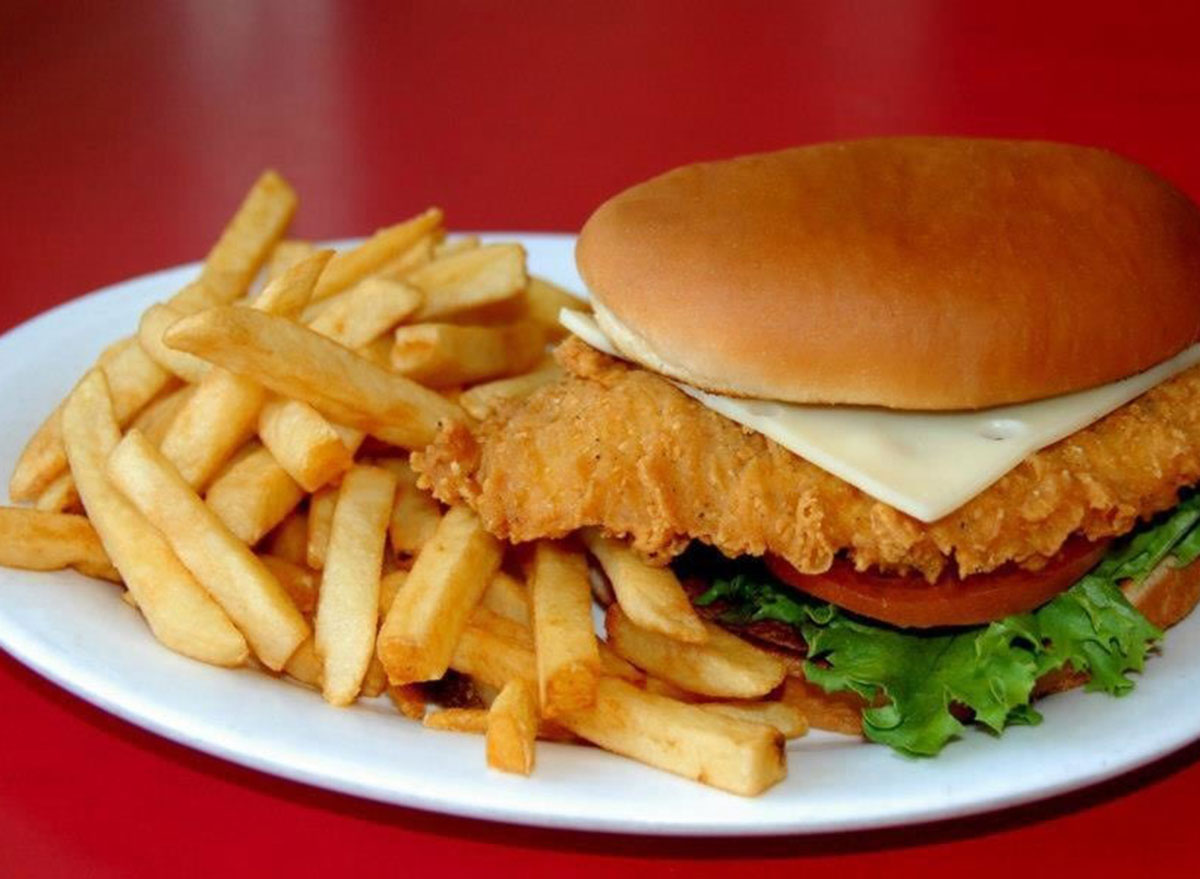 With a 70-year-long history in Fort Smith, Ed Walker's is an Arkansas foodie staple. Its retro vibes and nostalgic feels will instantly transport you to the '50s! The menu offers a mix of southern staples like baked beans and chicken fried steak, as well as all of the classic diner favorites that you can enjoy while listening to some Elvis on your radio. Don't forget to order a malt to dip your fries in!
CALIFORNIA: Chi Spacca in Los Angeles
There are way too many restaurants in Los Angeles (let alone the rest of California!), but if we have to pick just one that exemplifies LA's approach to cuisine, it's Chi Spacca, which describes itself as "an Italian steakhouse on steroids."
COLORADO: Edelweiss German Restaurant in Colorado Springs
This family-owned restaurant offers authentic German cuisine that has been passed down from generation to generation. Edelweiss has more than 4,000 Google reviews averaging at 4.6 stars, so you know that it's a hotspot for both tourists and locals alike. The restaurant is decorated with genuine German memorabilia and is made to feel like a cozy cottage. Naturally, some bratwurst and a pint of German beer are a must.
CONNECTICUT: Louis' Lunch in New Haven
If a restaurant claims to have invented the hamburger, we think it's an absolute must-visit. Louis' Lunch is a 125-year-old institution that has been run by the same family for four generations. The classic hamburger is still served with cheese, onion, and tomato on white toast, as it has since it first opened in 1895. Speaking of classic, here are 50 Classic American Dinner Recipes We Never Eat Anymore for you to try out!
DELAWARE: Jessop's Tavern in New Castle
Jessop's Tavern is a colonial-inspired restaurant that brings the best of 1700s pubs into present-day Delaware. The waiters even dress in period costumes to fully immerse customers in the experience. Reviewers on Google recommend trying the classic pub fare like the Shepherd's Pie and meatloaf.
FLORIDA: La Teresita Restaurant in Tampa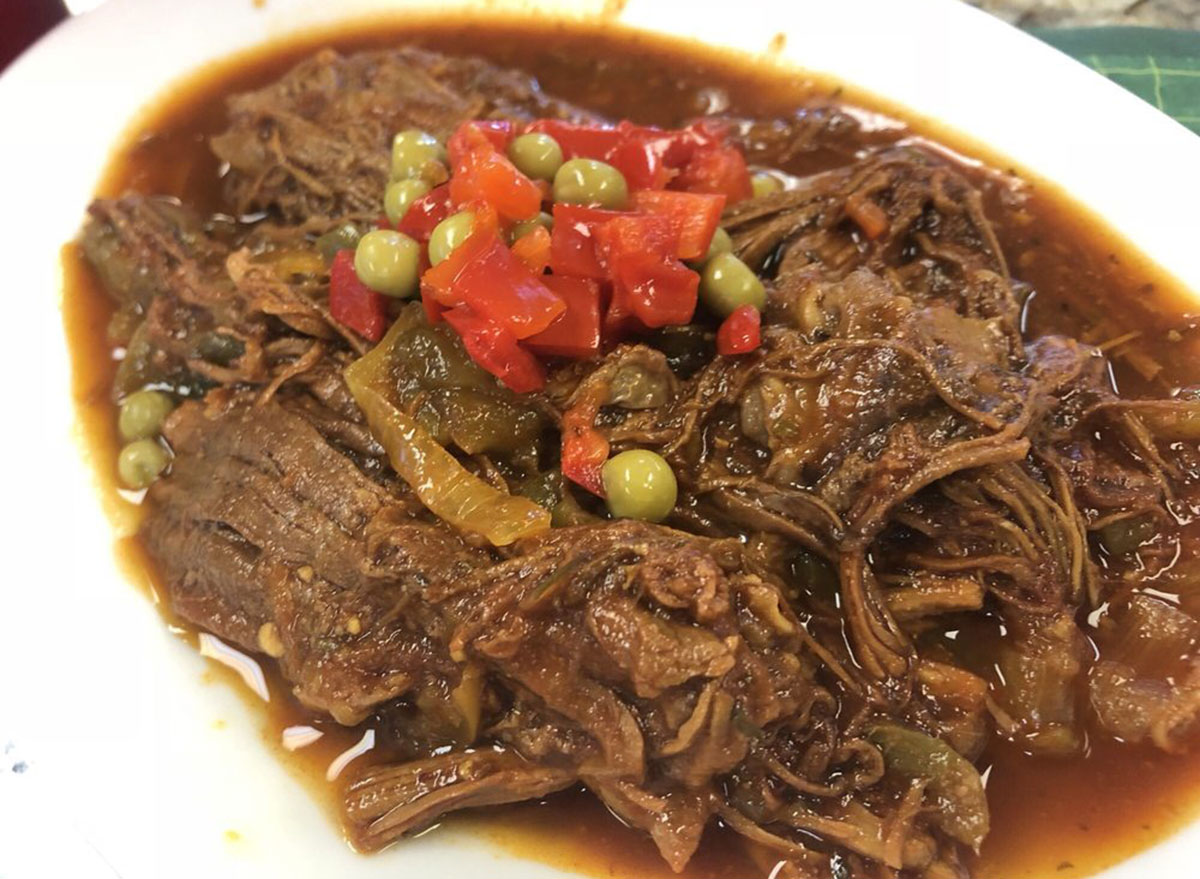 We know that Miami is usually the top destination for mouthwatering Cuban food, but we absolutely love the down-home vibe of La Teresita in Tampa. This local-favorite restaurant has two sides: One is a sit-down situation, better for family gatherings and dates, while the other is set up as a diner, where you can eat at a counter for a quick bite. (The menus are exactly the same, just the ambiance is different.) Don't pass up the endless baskets of buttered Cuban bread to dip in the sauce from your boliche mechado.
GEORGIA: Canoe in Atlanta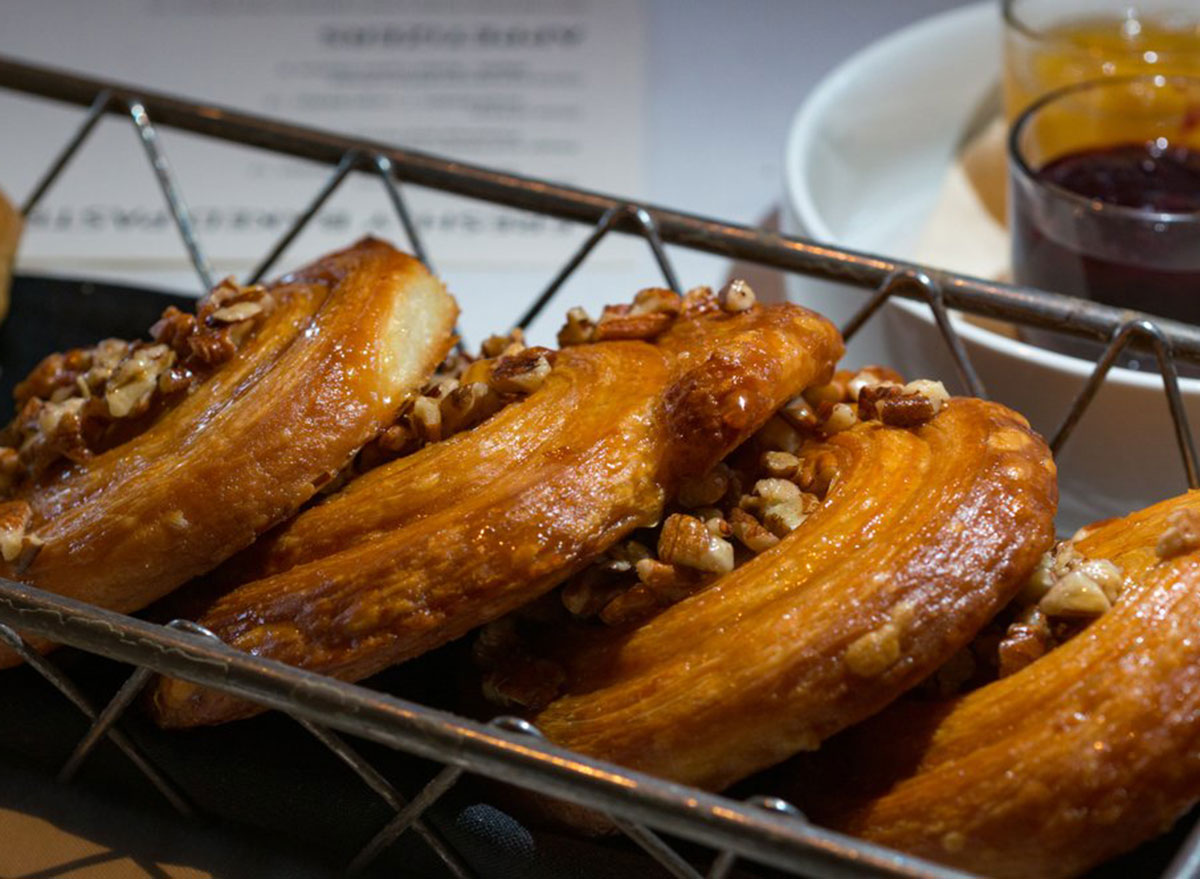 Canoe is a critically-acclaimed restaurant right on the Chattahoochee River, bringing the best of Georgia's countryside to a refined approach to southern cuisine. The service is unparalleled, so you're sure to have an experience even more pleasant than your meal. If you go for brunch, make sure you try the Georgia pecan sticky buns, and for dinner, the slow-braised rabbit is a local favorite.
HAWAII: Tinroof in Kahului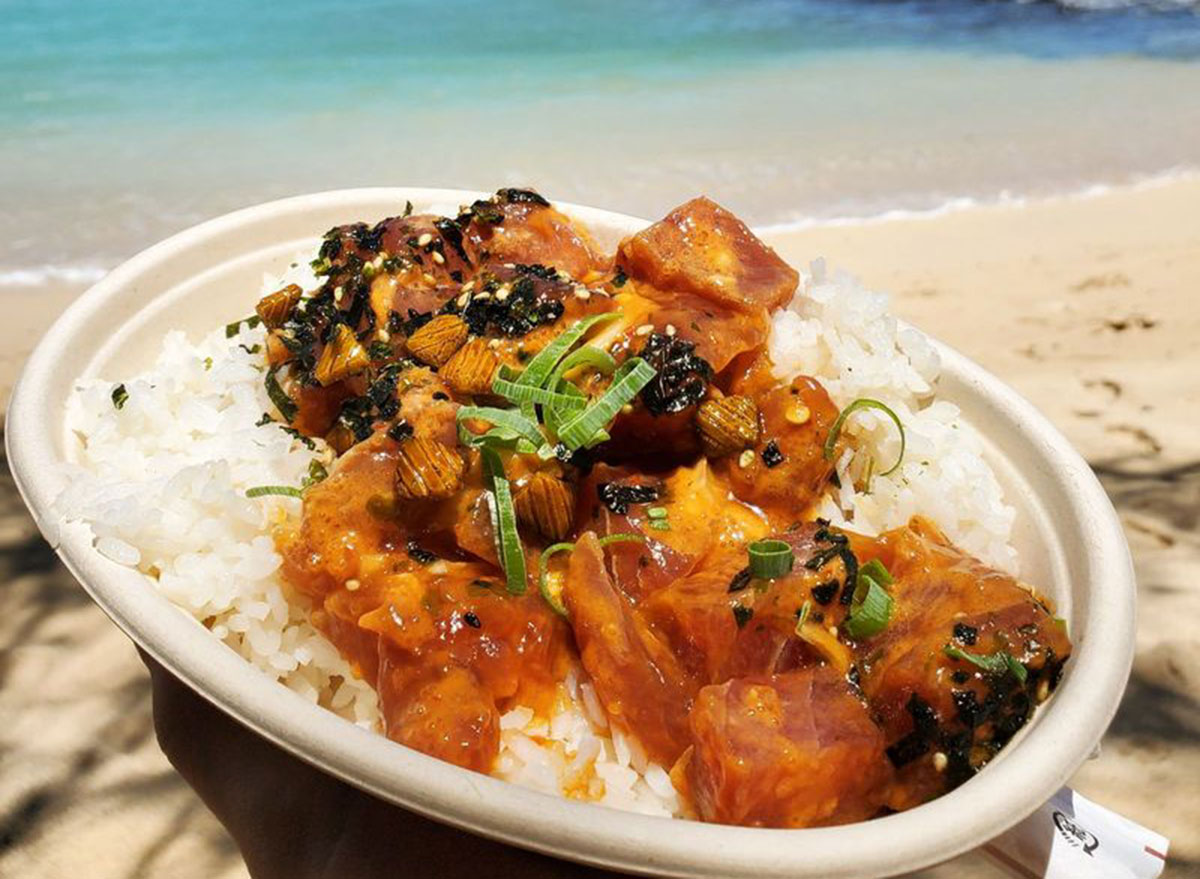 Top Chef fans will probably recognize Chef Sheldon Simeon, a Hawaii native who cooks food that blends together his Filipino heritage with his love for his hometown. His latest venture, Tinroof, is no different. The casual spot offers Hawaiian favorites like pork belly and macaroni salad. The prices are accessible so you can stop in for a quick snack or go in for a heartier dinner.
Fork's specialty is farm-to-table cuisine, with an emphasis on sustainability. Most of the ingredients are sourced from local Boise and Idaho farmers, ranchers, bakers, distillers, and more. They even source 75% of the alcohol from the northwest. If you have a sweet tooth, make sure you try the sweet butter cake!
ILLINOIS: The Publican in Chicago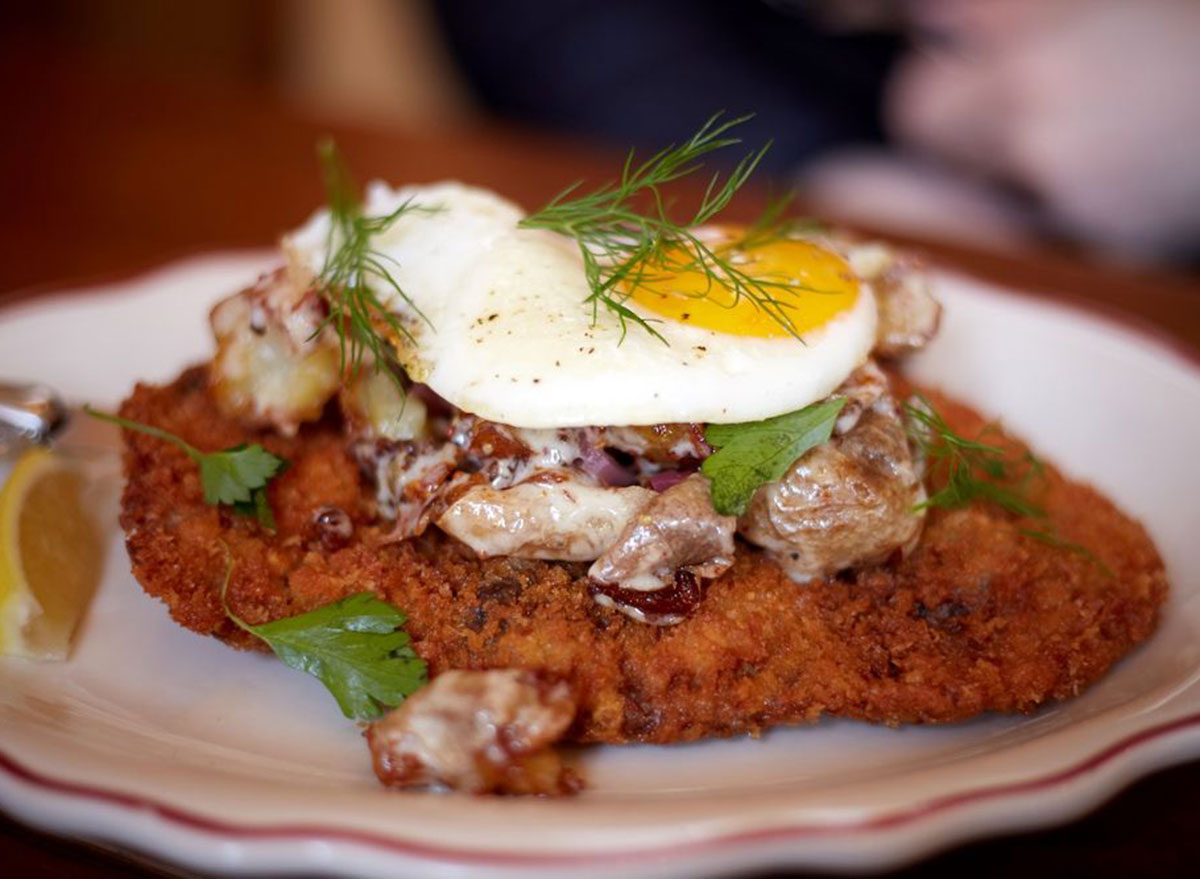 Beer, and pork, and oysters, oh my! The Publican's menu focuses on pork and seafood, as well as local Chicago and Illinois beers. It mixes the feelings of a homey restaurant with a traditional European beer hall. Go for the shrimp boils, sausages, and of course, the Oktoberfest celebration.
INDIANA: Milktooth in Indianapolis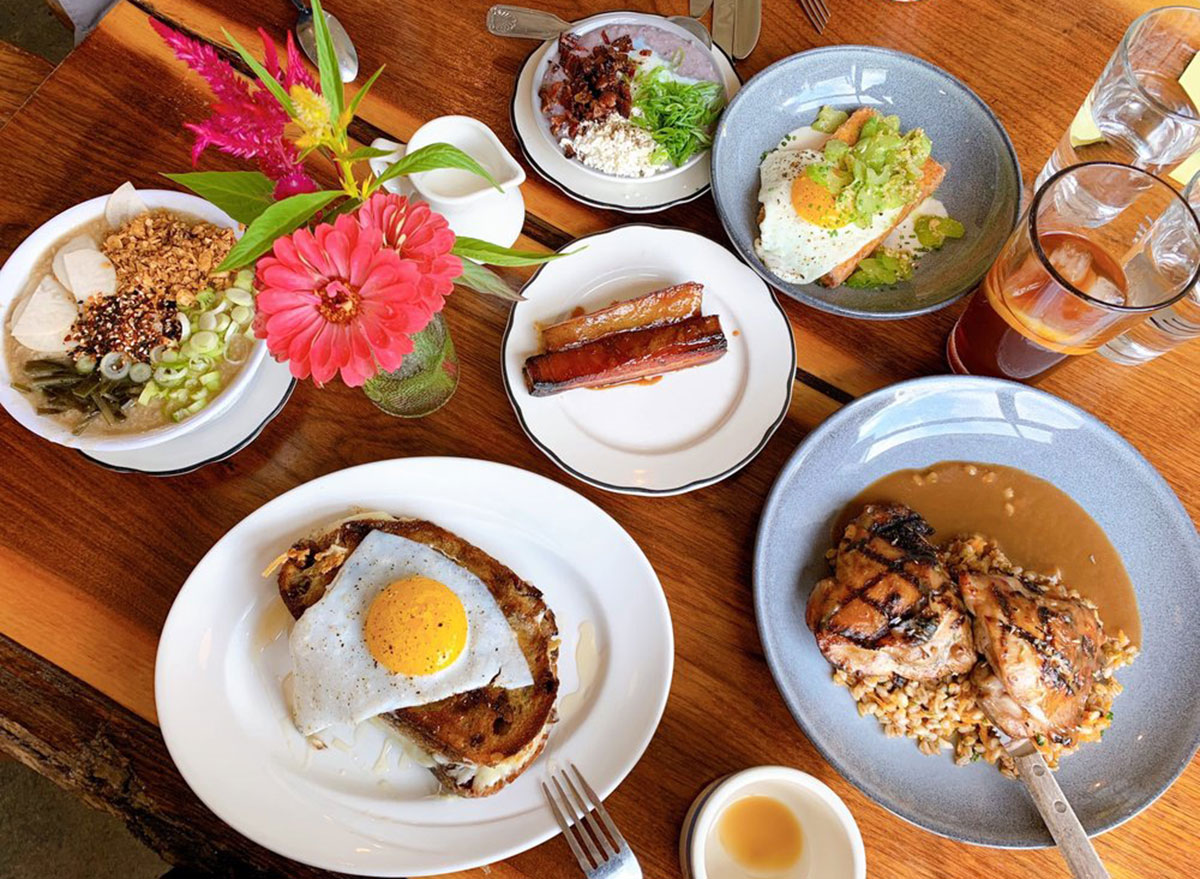 You can never say no to a good brunch spot, and it doesn't get much better than Milktooth in Indianapolis. The inventive menu features all of the staples, like waffles and different kinds of open-faced toasts, as well as more unconventional plates like the stadium nacho latke and the sweet and savory dutch babies.
IOWA: Centro in Des Moines
You probably don't think of Italian food when you think of Iowan cuisine, but this downtown Des Moines restaurant has become a hotspot for locals and tourists alike. Go to Centro on Monday nights for half-priced pizza and Peroni beers, and make sure you try one of the pasta dishes as well.
KANSAS: Joe's Kansas City Bar-B-Que in Kansas City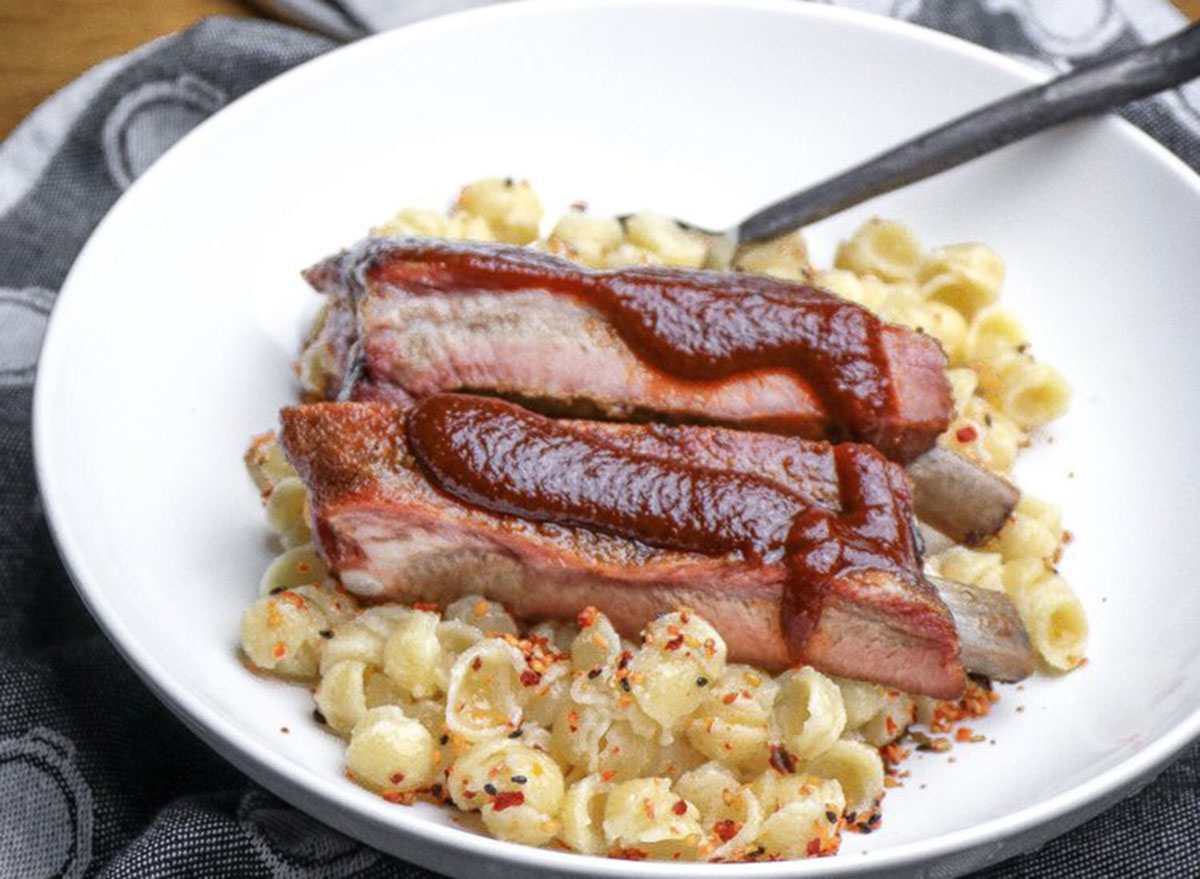 You can't stop in Kansas City without trying some barbecue. With almost 10,000 Google reviews averaging at 4.8 stars, Joe's has become a staple for traditional KC barbecue. There are four different locations around Kansas City, but you should definitely make an effort to go visit the OG location, which is at a Shamrock gas station. The prices are affordable so you can try an assortment of cuts. Naturally, a barbecue dish isn't complete without some sides like baked beans, creamy slaw, and Kansas caviar (a mix of black-eyed peas, pinto beans, black beans, and corn).
KENTUCKY: Doc Crows in Louisville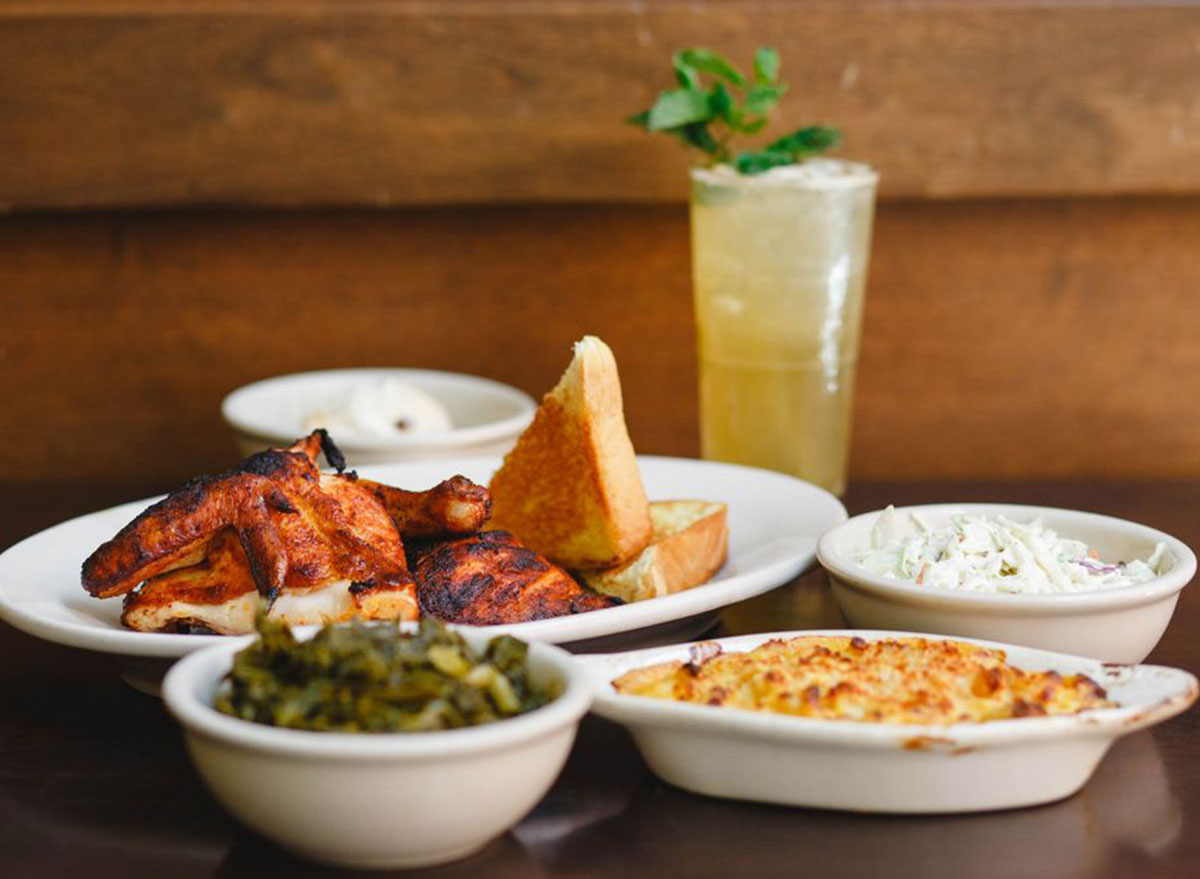 If you're looking for a spot to experience Kentucky hospitality, Doc Crows is it. You can enjoy both Kentucky barbecue and a raw bar, so you can have a little surf and turf for lunch or dinner. Make sure that you have a mint julep, Louisville's signature drink (and the official cocktail of the Kentucky Derby).6254a4d1642c605c54bf1cab17d50f1e
LOUISIANA: Dooky Chase Restaurant in New Orleans
There's no better place to experience Creole cuisine in New Orleans than Dooky Chase. This legendary spot, founded by the "Queen of Creole" Leah Chase, is a NOLA landmark that every foodie must visit at some point in their life. It is full of tradition and rich history, and of course, some killer Creole fried chicken.
MAINE: Portland Lobster Company in Portland
When you think of Maine cuisine, lobsters are always top of mind. Portland Lobster Company, named after the city it's in, offers New England seafood classics like lobster rolls, clam chowder, steamers, and much more. The casual spot isn't the kind of place that you get dressed up to visit, but you'll have a special meal there nonetheless.
If you want to try making any of these dishes yourself, be sure to check out the 43 Healthy Seafood Recipes That Are Surprisingly Easy to Make.
MARYLAND: The Point Crab House & Grill in Arnold
Of course, there's nothing quite like a Maryland crab cake, and there's no place as good as The Point. The open-air restaurant is nestled comfortably on the Chesapeake Bay so you can take in the surroundings while you enjoy your meal. Naturally, you have to try the crab cakes, but you should also make it out for happy hour so you can enjoy some cocktails as well.
MASSACHUSETTS: Modern Pastry in Boston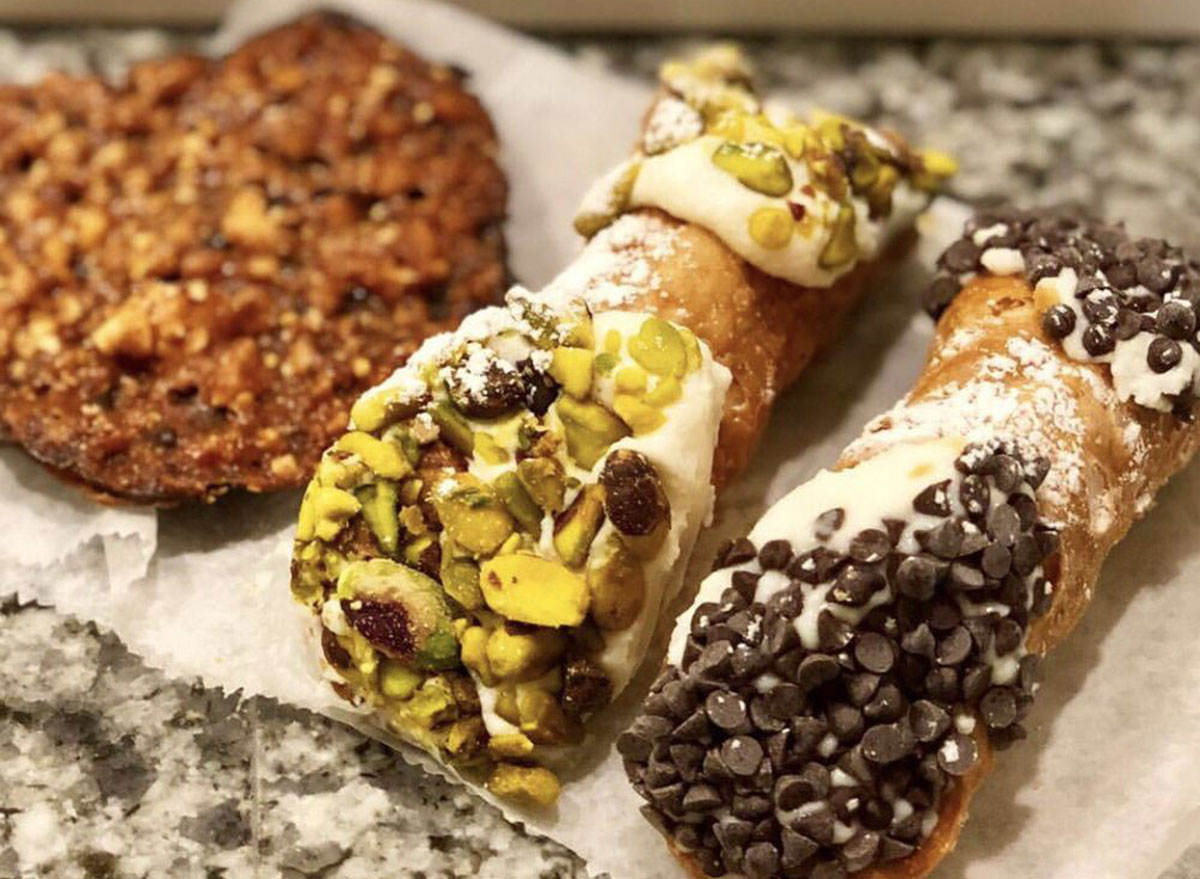 The North End is one of the most iconic neighborhoods in Boston, especially for foodies, and you can't leave without sampling some Italian pastries. You might have heard of Mike's Pastry, and while it's definitely worth a visit, more locals favor Modern, which is a smaller setup with pastries that are just as good (if not better). Cannolis are a staple, naturally, but you should also try the strawberry cheesecake and the eclairs.
MICHIGAN: Greg & Lou's Family Restaurant in Owosso
It's hard to imagine that a cult-favorite family restaurant could exist in the middle of nowhere in Michigan, but Greg & Lou's has become a must-see. It's a homey restaurant full of typical American fare, but people really come (and return) for the service. It's a welcoming place that makes people feel like family. Make sure you try one of the homemade pies for dessert, too.
MINNESOTA: 112 Eatery in Minneapolis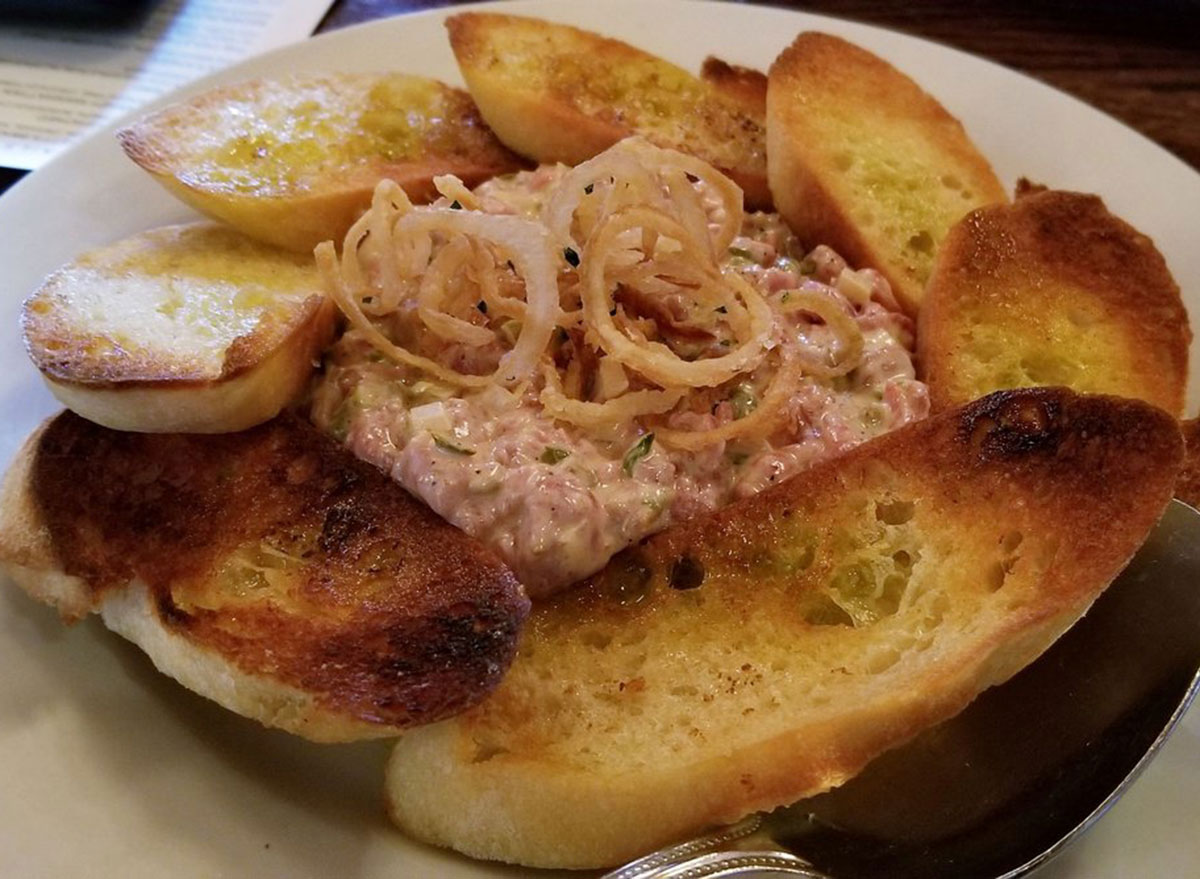 Late-night grub can be hard to come by, especially if you're looking for food that feels elevated and not like your typical pizza and bodega-type options. 112 Eatery in Minneapolis is open till 10 p.m. on weeknights and 12 a.m. on weekends, so you can satisfy those cravings for gourmet food. They also have an entire section of the menu dedicated to vegetarian and vegan food so there are plenty of options for those who have different dietary habits.
MISSISSIPPI: Weidmann's in Meridian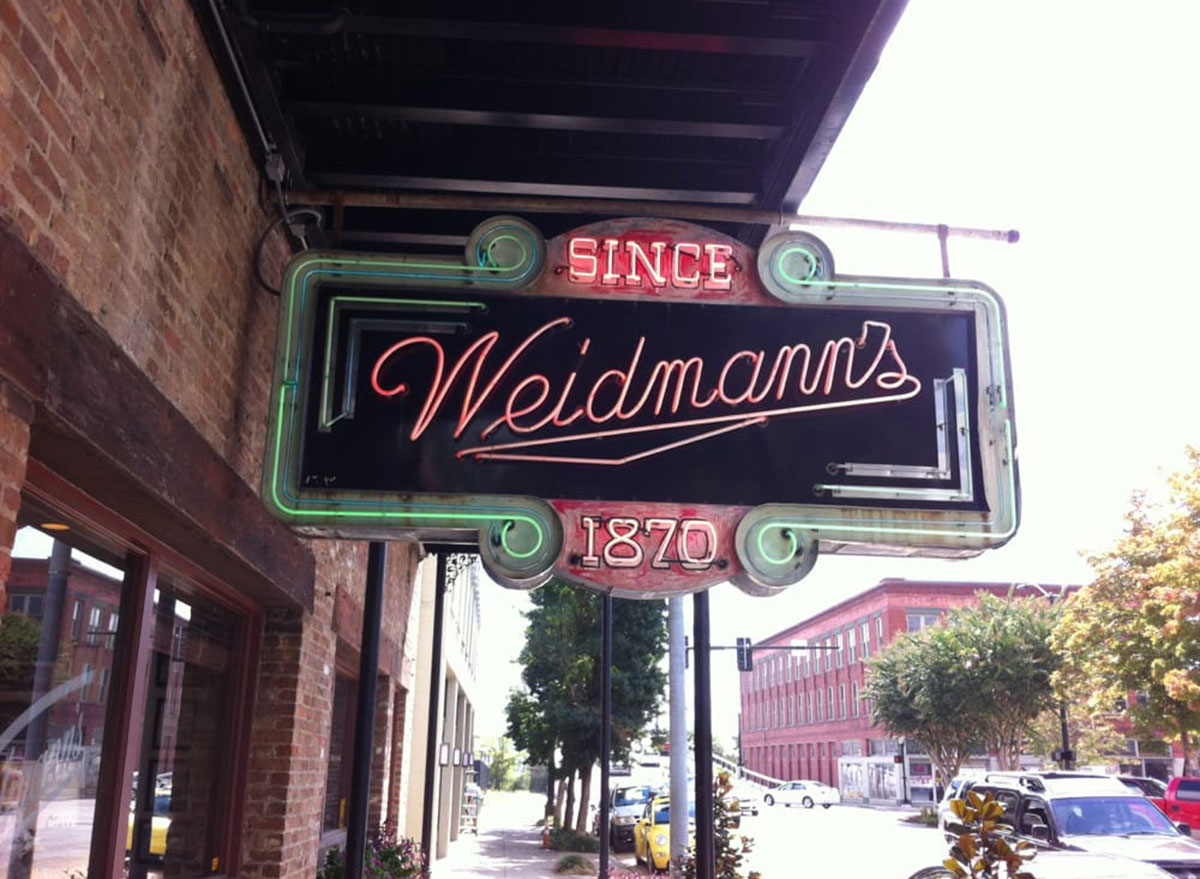 This traditional spot, which has been in Meridian since 1870, is not only known for traditional southern comfort food, but also the giant crocks of peanut butter that are served with every meal. The staff exudes the best of southern hospitality, making this a place that both locals and tourists love visiting over and over again.
MISSOURI: Flat Creek Restaurant in Cape Fair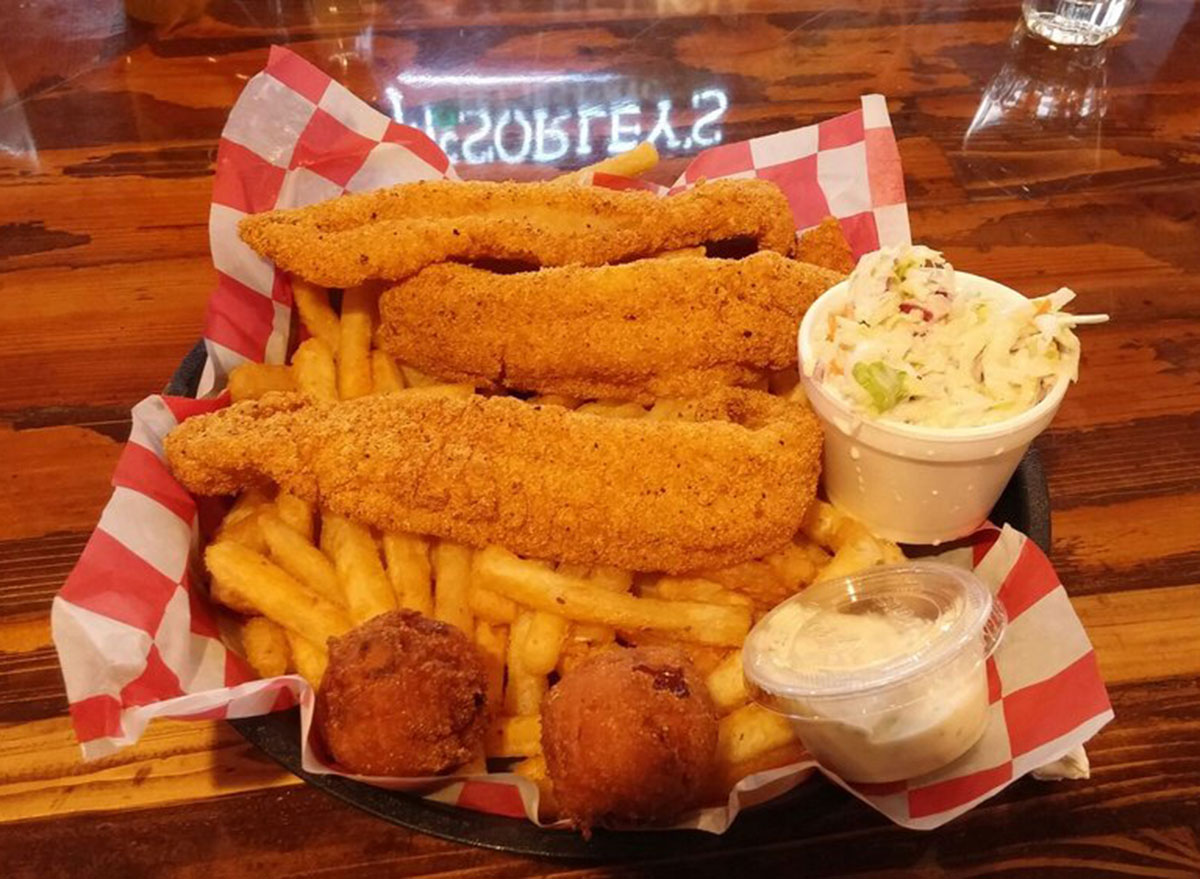 You can't take a foodie tour around Missouri without stopping in one of the Flat Creek locations. This local staple, which offers Missourian takes on southern comfort food, is a go-to whenever you're looking for a solid bite to eat. The country-fried steak is a local favorite, as is the fried catfish.
MONTANA: Montana Ale Works in Bozeman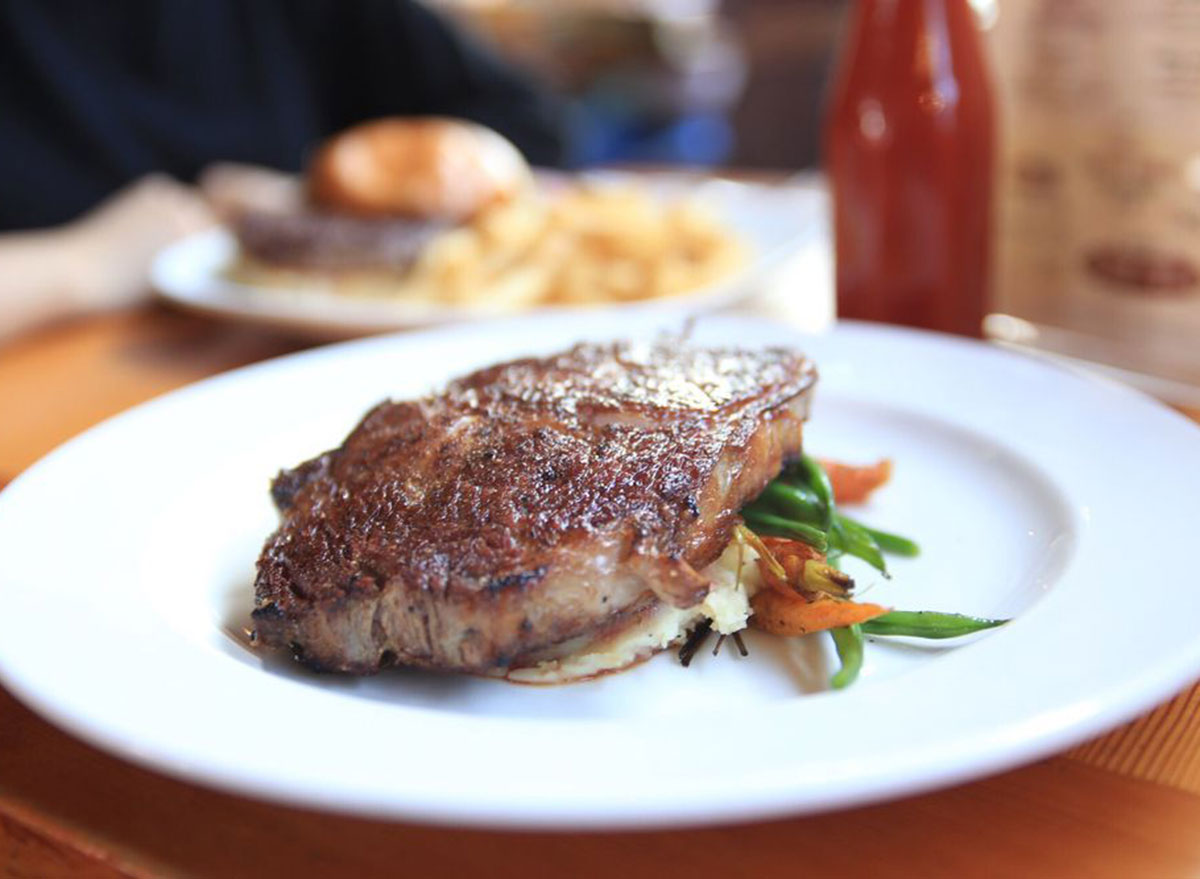 40 craft beers on tap—need we say more? Known for the expansive selection of craft beers (with many of them locally made in the northwestern U.S.), Montana Ale Works is a great place for you to pair your beer with your food. In true Montana fashion, they're known for the buffalo meat menu options. Try out the buffalo burger, the buffalo steak, or even the buffalo patty melt.
NEBRASKA: Dish Restaurant in Lincoln
Dish, located in downtown Nebraska, is known for its expansive menu and fun cocktails. The New American spot focuses on updated takes of traditional dishes and seasonal ingredients for an elevated dining experience. Make sure you try the seared scallops, which are served with polenta, butternut squash, romesco, smoked hazelnut, mushroom, and broccolini. One of the more unique cocktails is the Beet's All Happening, made with beet grenadine, bitter truth Violette, gin, and prosecco.
NEVADA: Crepe Expectations in Las Vegas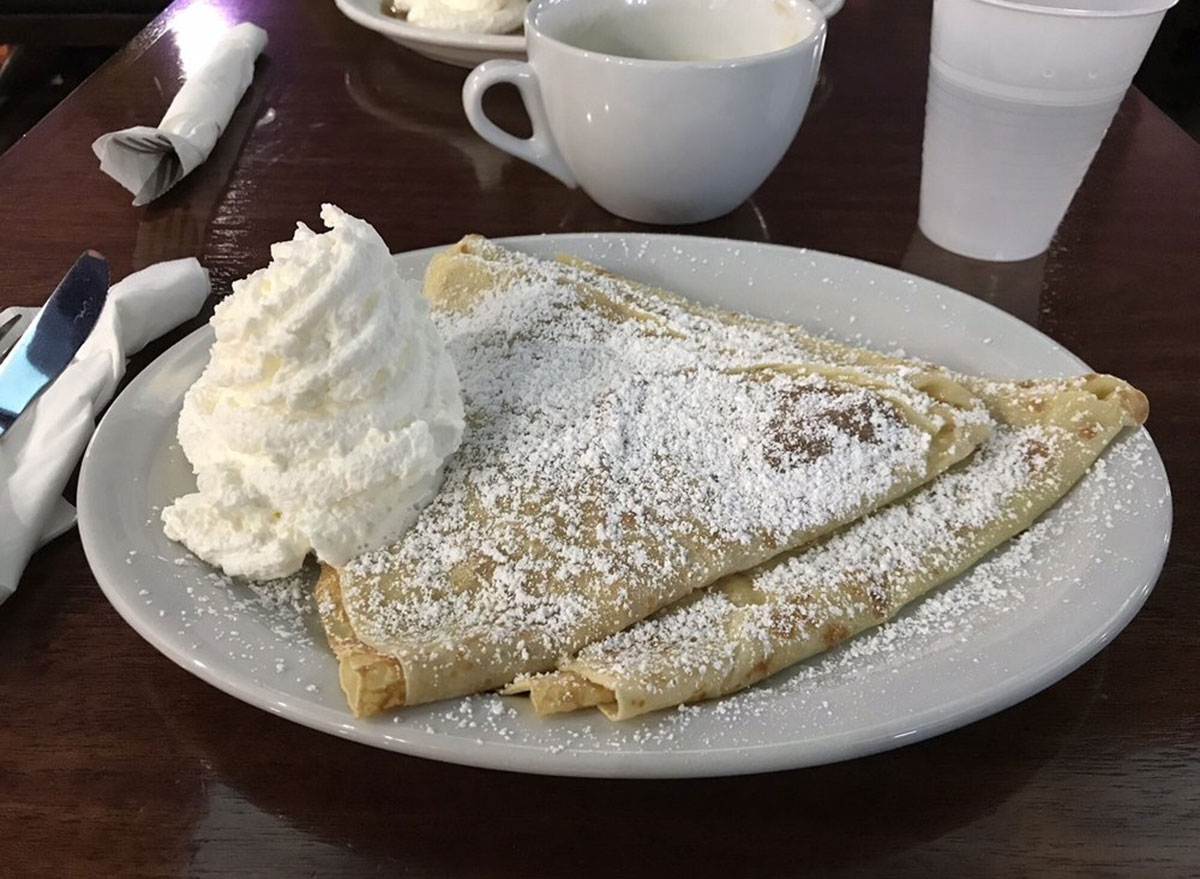 Like many other major cities in the country, there is no shortage of foodie destinations in Las Vegas. However, if you travel past the Vegas Strip and a little into the suburbs, you'll come across an unassuming restaurant in the middle of a strip mall called Crepe Expectations. As the name suggests, you can choose from a variety of both sweet and savory crepes for breakfast and brunch. It's a hidden gem in a city full of delicious and lavish food.
NEW HAMPSHIRE: Republic in Manchester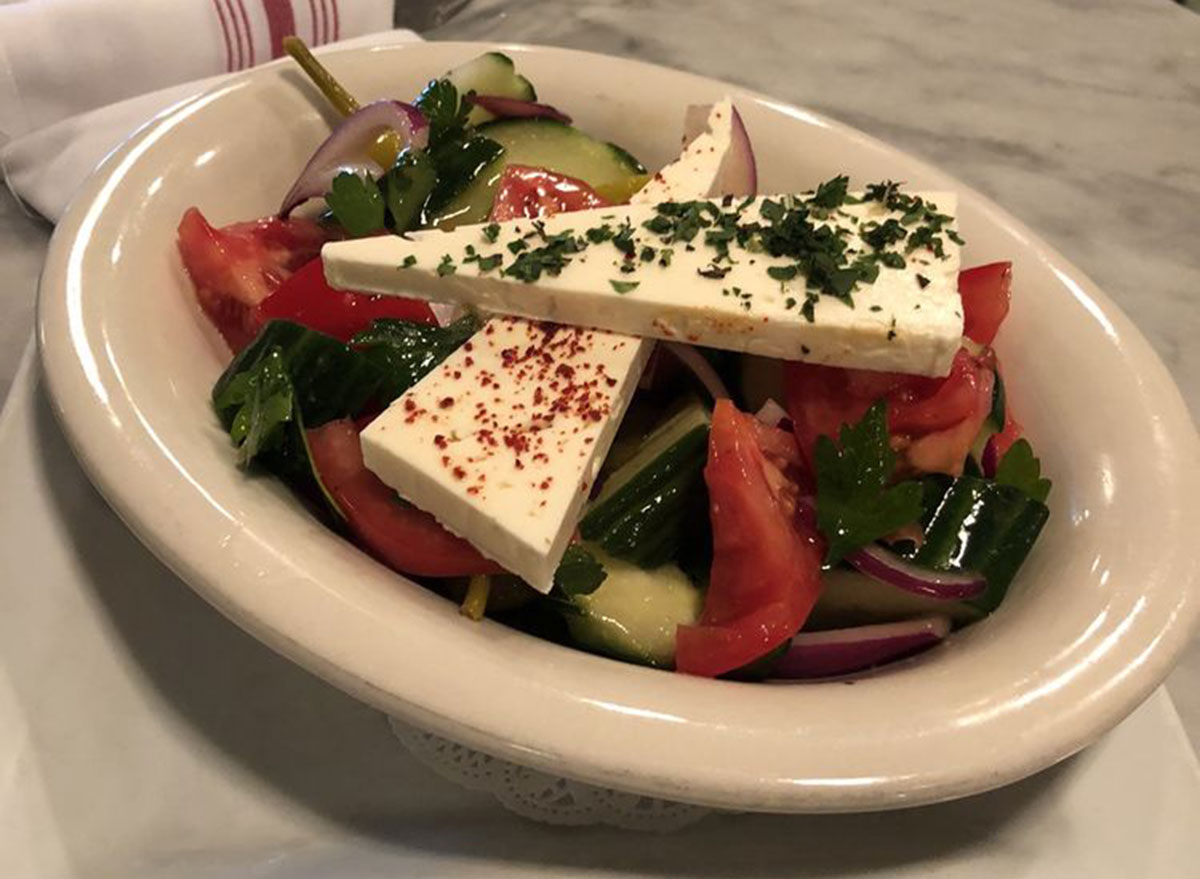 New Hampshire isn't particularly known for Mediterranean food, but Republic has certainly made its mark. The restaurant has a farm-to-table focus, partnering with 75 farms and artisan producers within 50 miles of the location. They even leave the name of the boat when they post the fish of the day on the specials board so you know it's super fresh. There are many vegetarian and vegan options offered up as well.
NEW JERSEY: Battello in Jersey City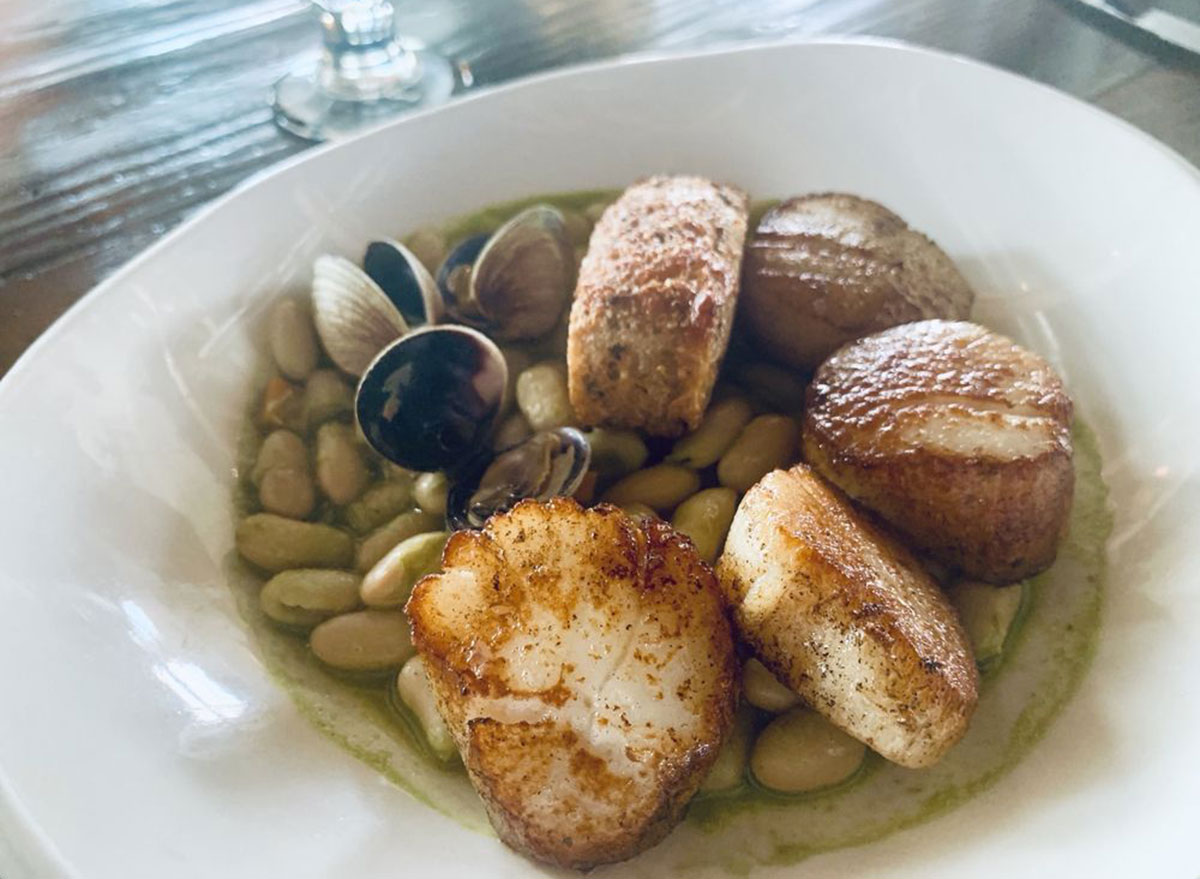 If there's any one state in the country to look for Italian food, Jersey is definitely it. Battello is one of the most beloved Italian restaurants in Jersey City, offering a seafood-focused menu while inviting guests to enjoy their meals right on the Hudson. It's an elegant spot, perfect for a night out. Don't forget to ask for a wine pairing to go with your meal. And FYI, here are 13 Wine and Cheese Pairings You Have to Try!
NEW MEXICO: Indian Pueblo Kitchen in Albuquerque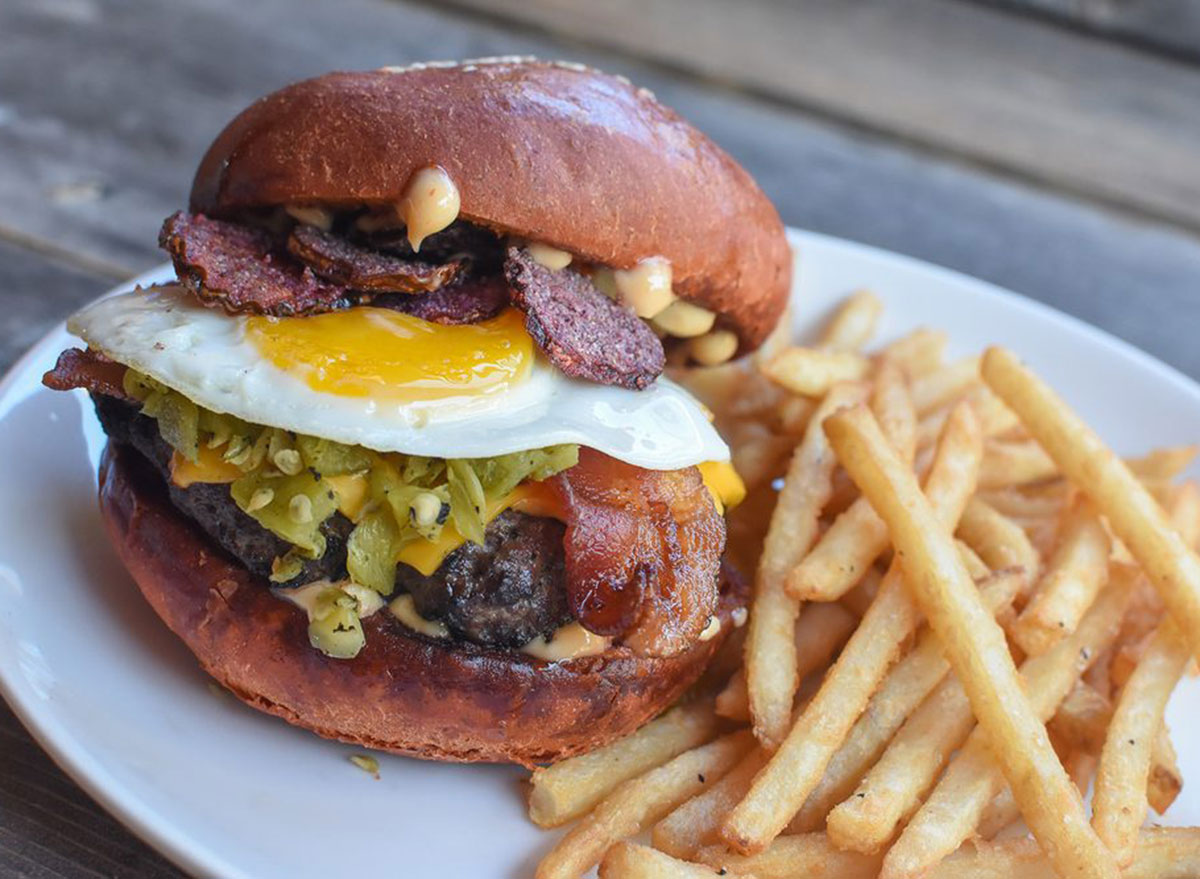 Native American food is a must if you're headed to New Mexico, and a local staple spot is Indian Pueblo Kitchen. The executive chef, Ray Naranjo, blends together traditional ingredients and cooking techniques with his modern culinary education and experience. The menu offers family-style options so you can split a bunch of small dishes, tapas-style, with your fam and friends.
NEW YORK: Artichoke Basille's Pizza in New York City
It's hard to pick the best pizza in New York, and we realize that there is no general consensus for which spot has the best slice. One that you should absolutely try is Artichoke Basille's. The cult-favorite pizza joint—which has a few different locations around Manhattan—offers thick slices of pizza piled high with toppings. Of course, the artichoke pizza is a must, but the crab one is also a local favorite.
NORTH CAROLINA: Cúrate in Asheville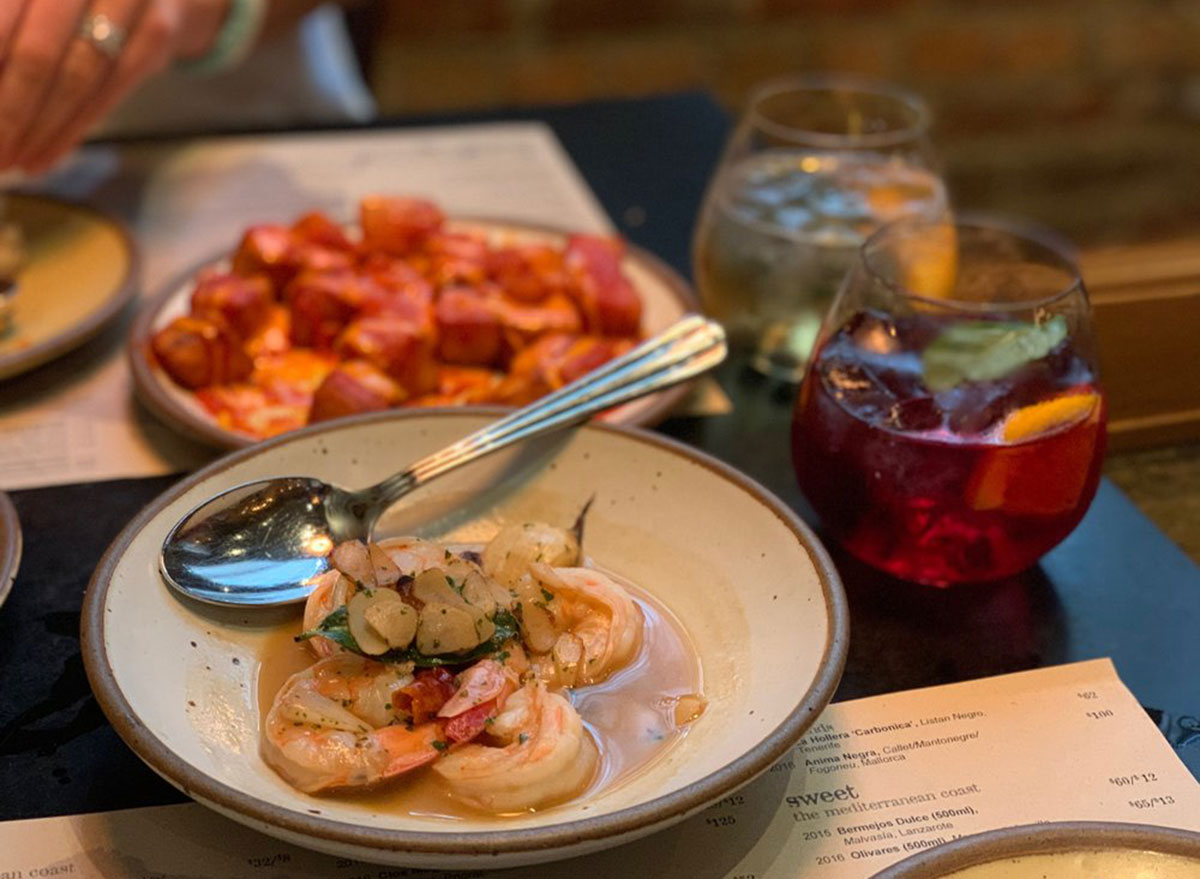 For tapas, cured meats, and tons of wine, head to Cúrate in Asheville. The large assortment of tapas is perfect for a group meal out, and there is even have a bodega next door so you can stock up on your favorite cured meats from the meal. Of course, your whole party should split a carafe of sangria, too. One Google reviewer mentioned letting their waiter pick out their food and wine based on their budget and they got to enjoy a whole evening of surprise servings. It's a great way to experience a menu without having to do any of the choosing yourself!
NORTH DAKOTA: Walrus Restaurant in Bismarck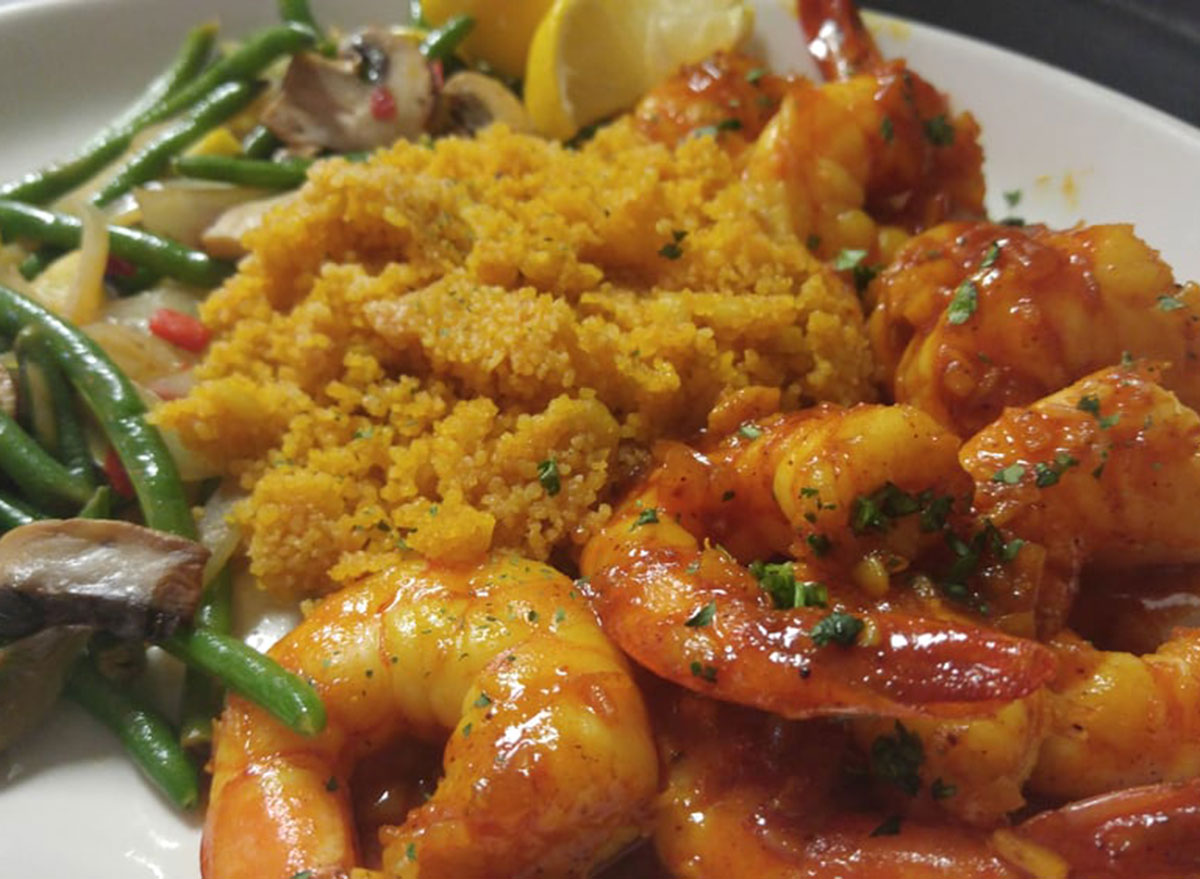 Another spot with 40 craft beers on tap—can you tell we have a type? Walrus Restaurant in Bismarck is a local hotspot that feels cozy and inviting. The service is always warm and friendly, and the food, always delicious. Though it's located in a strip mall, its location has no impact on the service or quality of the food. You're definitely bound to have a fun time on your visit.
OHIO: The Olde Dutch Restaurant in Logan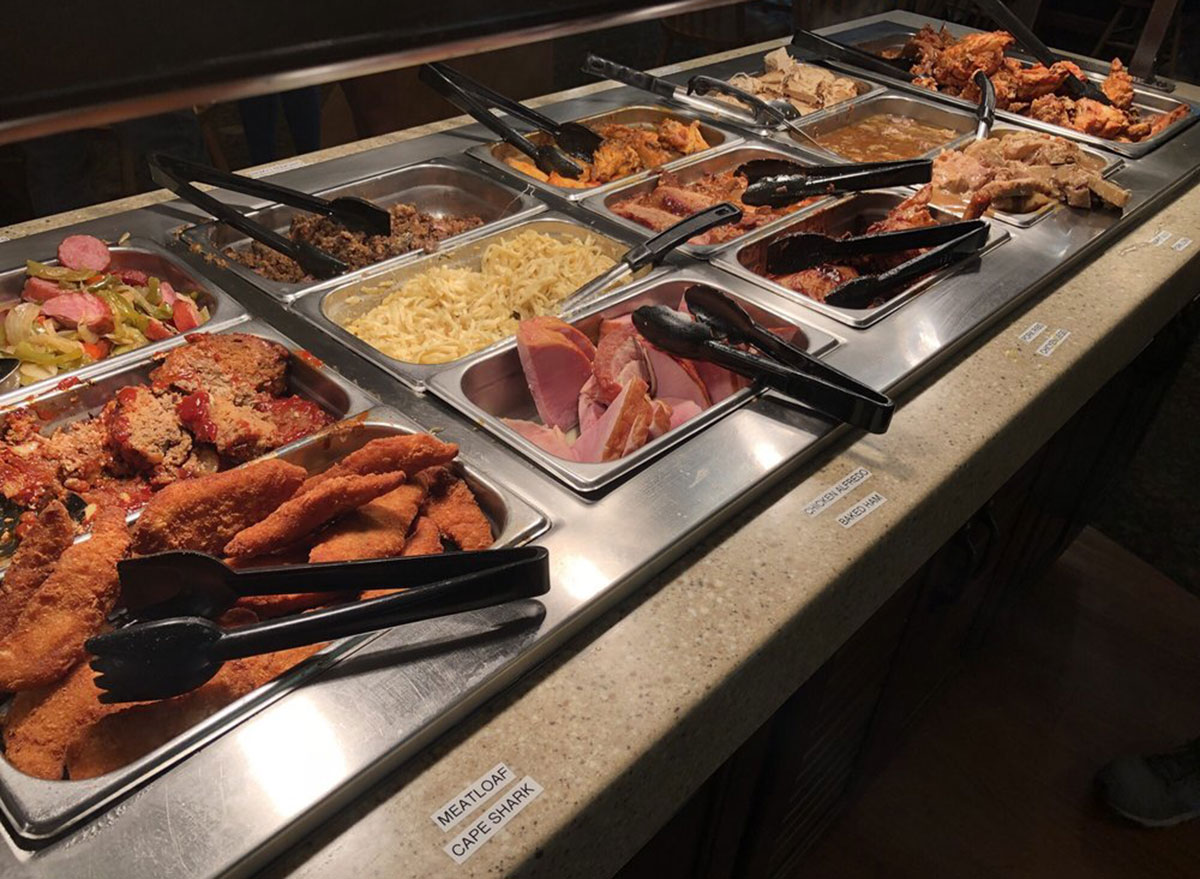 If you've ever wanted to try all-you-can-eat Amish-style food, head to The Olde Dutch Restaurant. They typically offer a buffet so you can try a little bit of everything, though it's currently closed due to COVID. (But it's worth bookmarking until a later date when you can experience the food in all its glory!)
OKLAHOMA: The Mule in Oklahoma City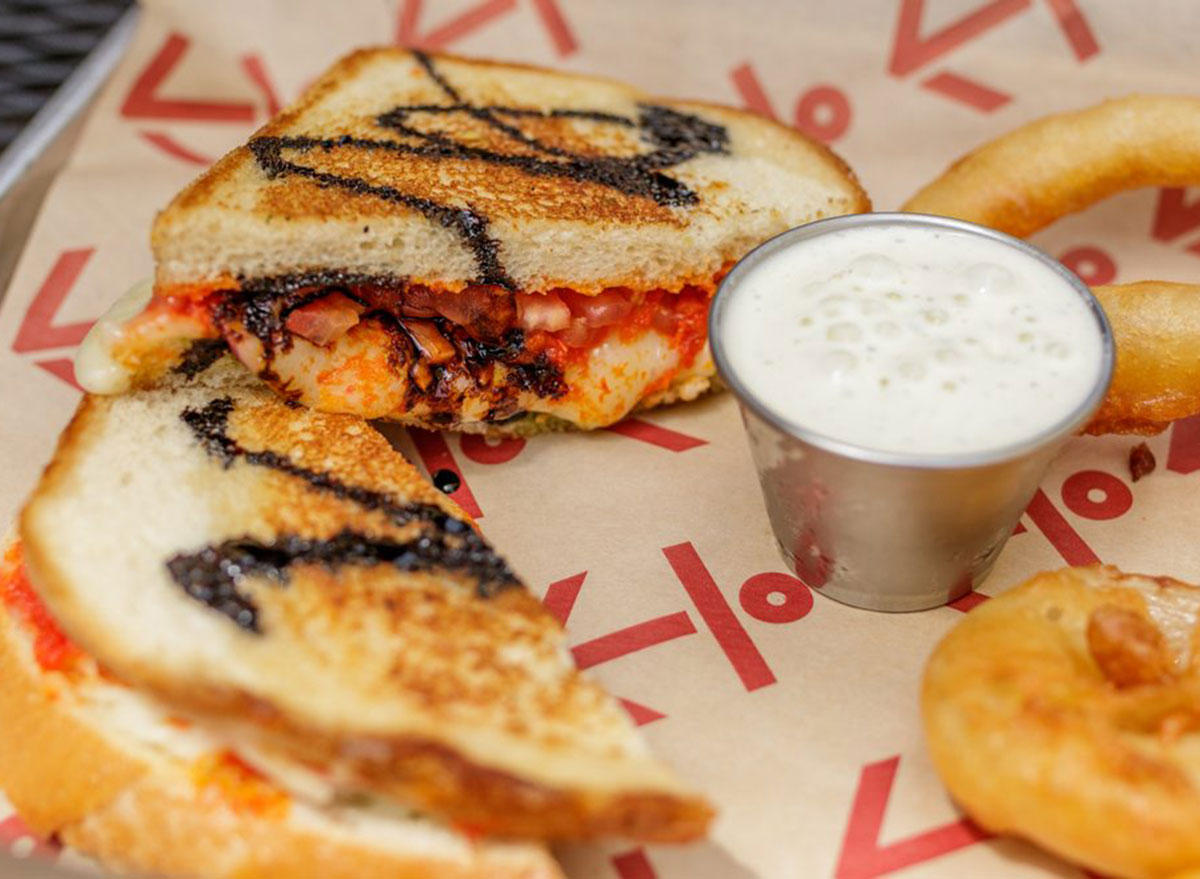 The Mule is a fun, hip spot to visit if you're ever in Oklahoma City. This spot's claim to fame is the giant beer and cocktail menu, perfect for post-work hangs, and the inventive sandwiches. The Macaroni Pony has jalapeño cornbread, chipotle BBQ pulled pork, 3-cheese mac and cheese, and pickles—and that's just one of the fun options for you to choose from.
OREGON: Kachka in Portland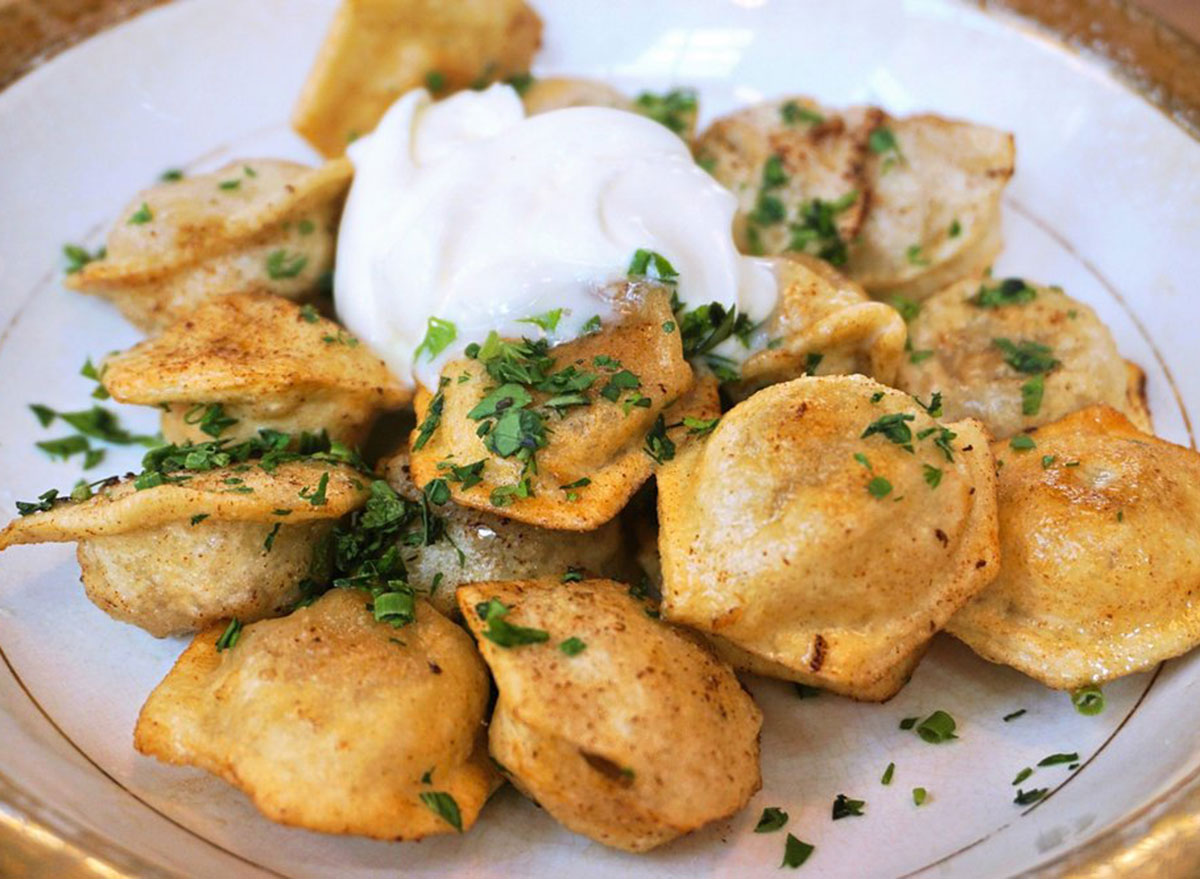 This Russian spot serves everything from short rib borsch to savory dumplings. Don't forget to add a to-go cocktail to your order.
PENNSYLVANIA: Pat's King of Steaks in Philadelphia
Much like Louis' Lunch in New Haven, Pat's is a must-visit in Philly because it's credited as the birthplace of the Philly cheesesteak. A landmark since 1930, the restaurant embraces its rich history in the city and serves up thousands of the famous original sandwich every single day.
RHODE ISLAND: O Dinis in East Providence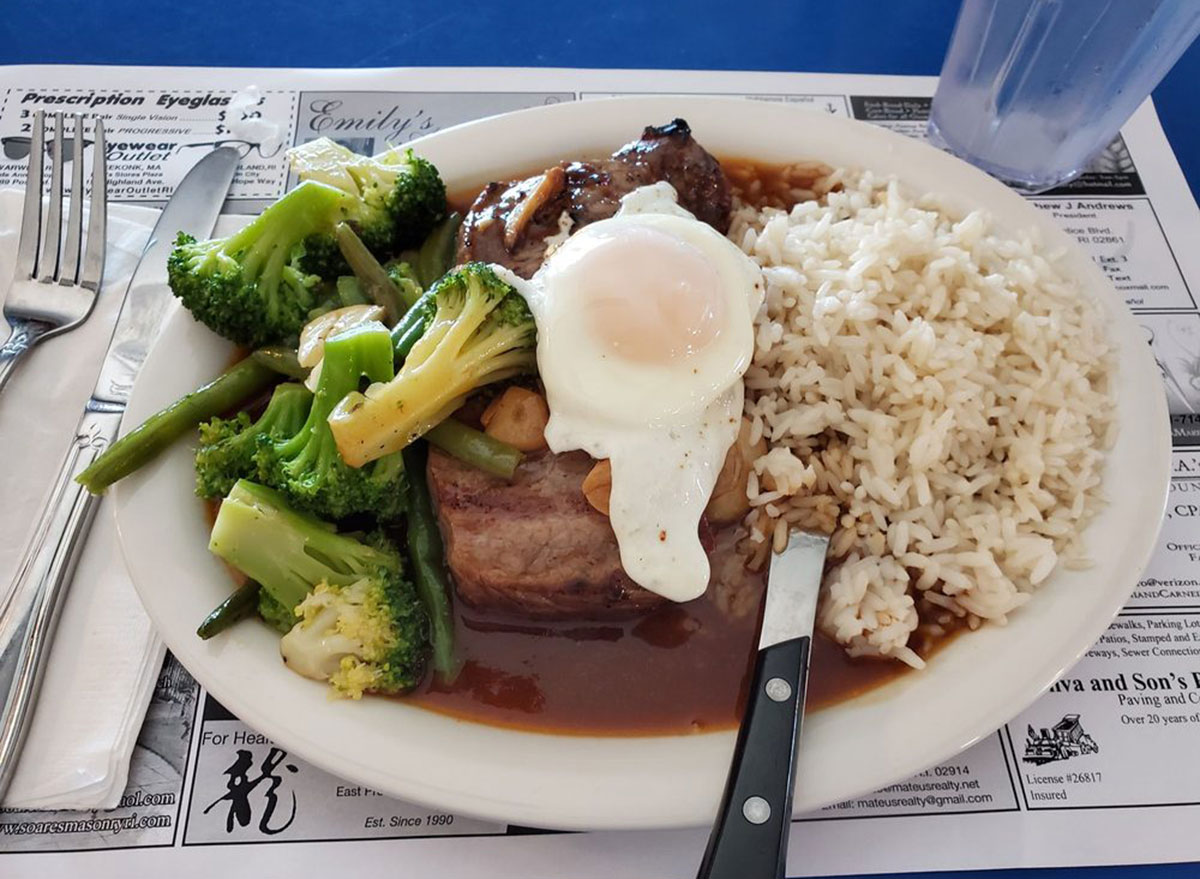 Rhode Island has a huge Portuguese population, so it makes sense that foodies should visit one of the top-rated Portuguese restaurants in the state. O Dinis offers traditional Portuguese cuisine in a homey setting, in generous servings so you and the whole family can share.
SOUTH CAROLINA: Nigel's Good Food in North Charleston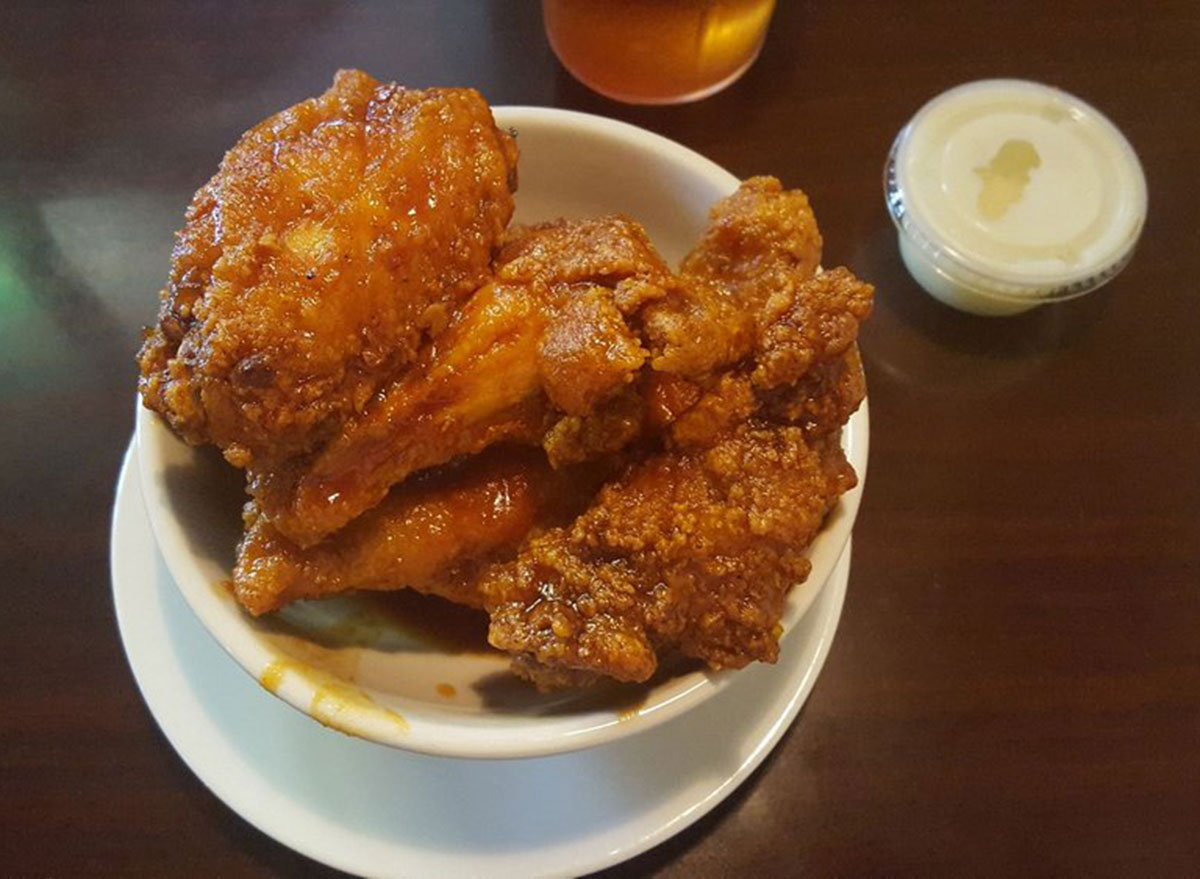 If you're a fan of southern soul food, gulla food is a close relative that you absolutely have to try, and there's no better place than in Charleston. Nigel's is a local staple, serving up all of your comfort food favorites. Reviewers highly recommend the fried chicken, as well as any of the side dishes, especially the mac and cheese and collard greens. Though the setting is humble, the food is definitely worth waiting for.
SOUTH DAKOTA: Phillips Avenue Diner in Sioux Falls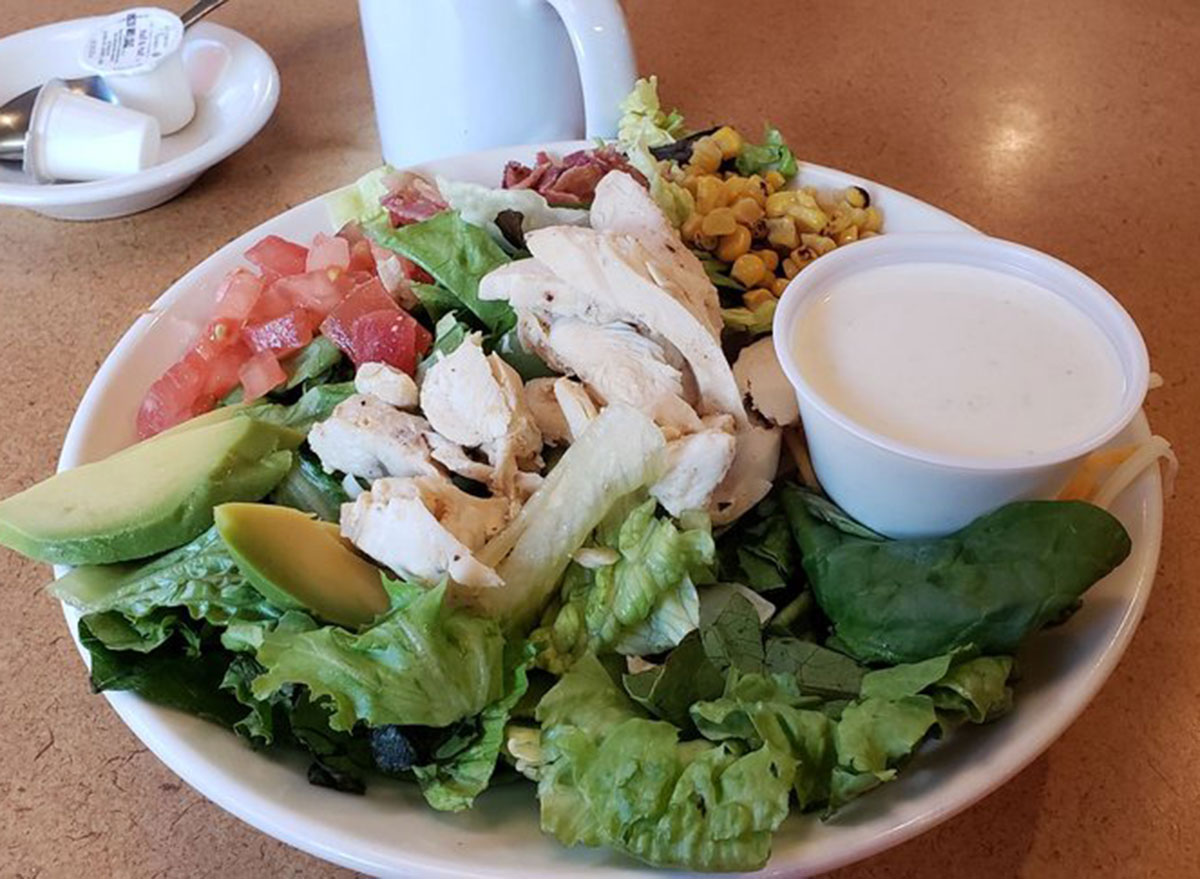 We can never say no to giant servings of diner classics, and Phillips Avenue Diner does it best in South Dakota. The generous plates are the perfect late-night snack, hangover cure, or just whenever you want that much food. And for more places like this, check out The Coolest Diner in Every State.
TENNESSEE: Biscuit Love in Nashville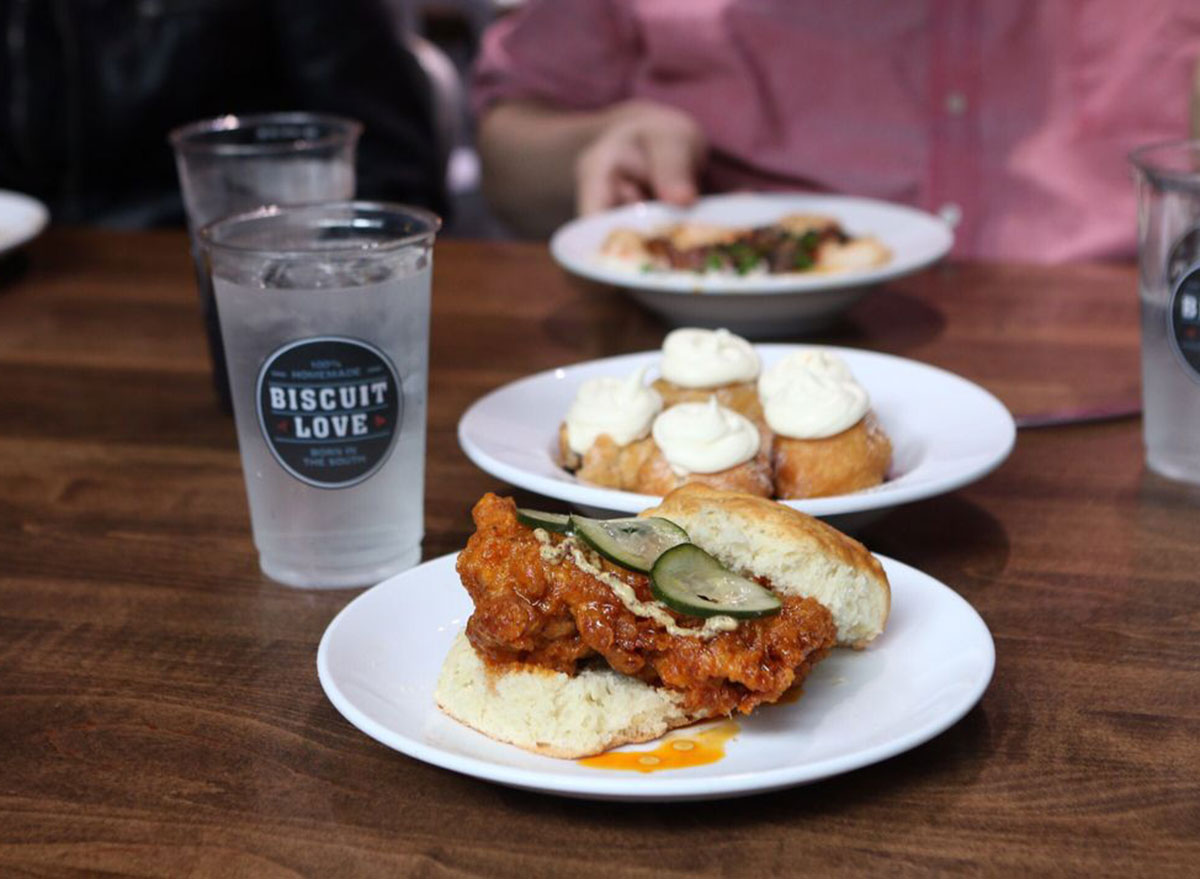 Biscuit Love has become a Nashville foodie destination in recent years, so we felt we had to include it on this list. The flaky, buttery biscuits are the star of every sandwich on the menu, leading to giant lines out the door every single day. Don't forget to take a box of biscuits and jam home!
TEXAS: Franklin BBQ in Austin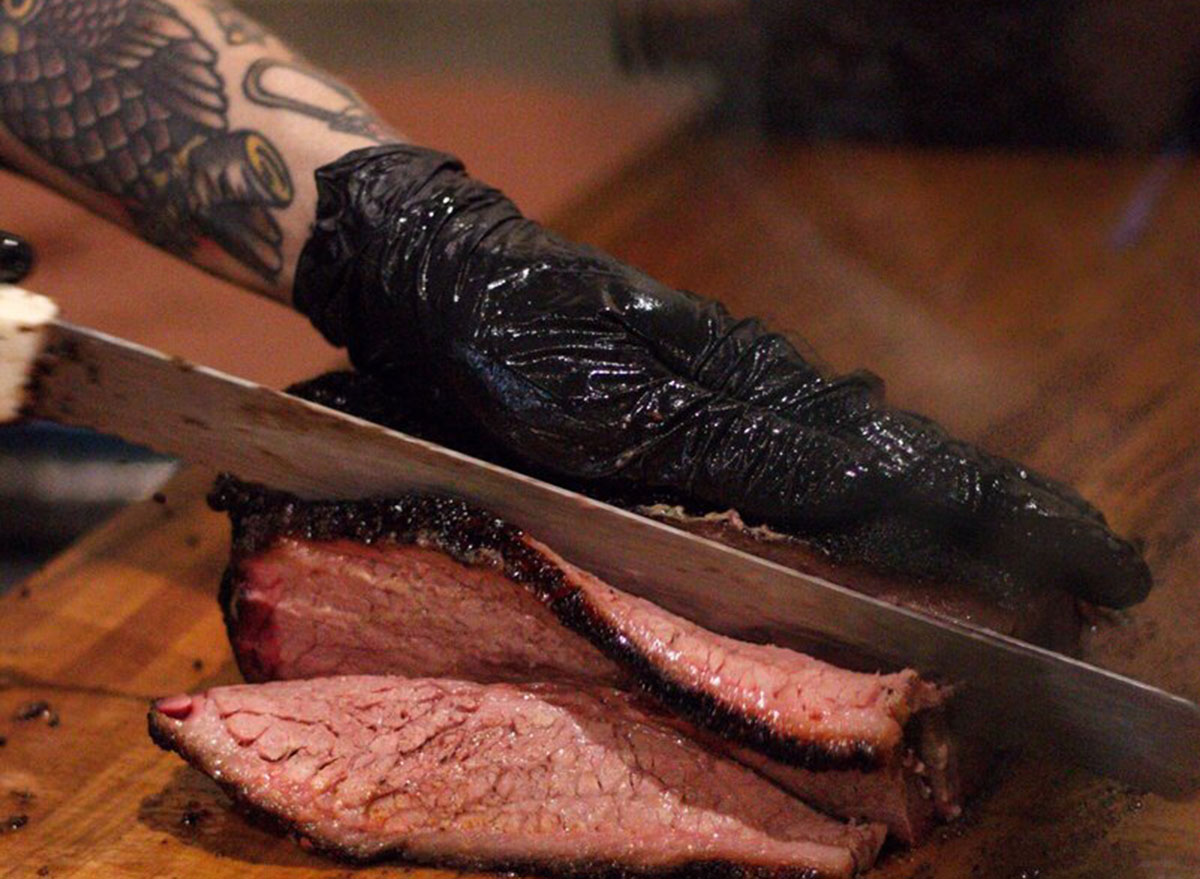 There are few places that do barbecue brisket better than Franklin BBQ in Austin. You have to get to this lunch-only spot early and get in line because they stop serving food whenever they run out. The brisket is so soft you can cut it without a knife, and the signature sauce is really to die for.
UTAH: Red Iguana in Salt Lake City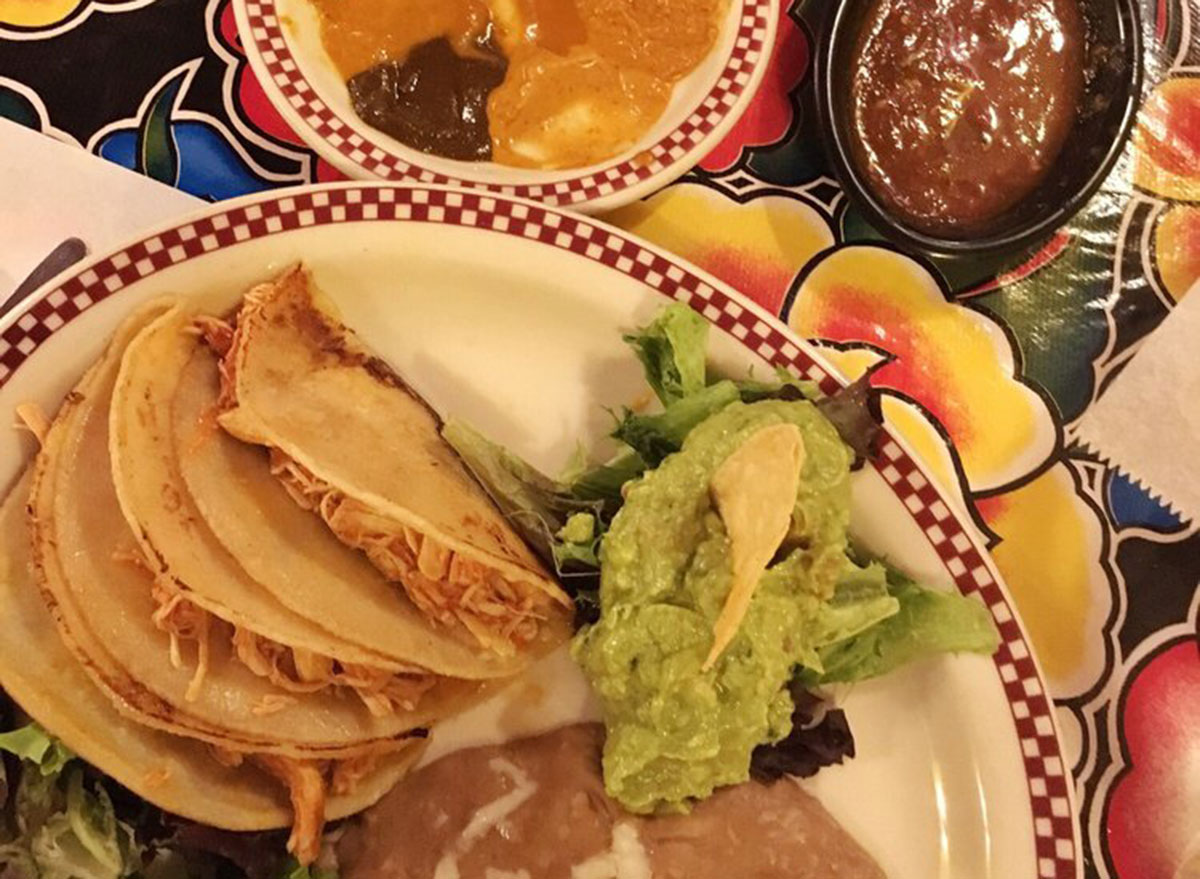 This casual, family-owned Mexican joint has become well-known for its "killer Mexican food." It's one of Utah's most-awarded restaurants, so you know the food is worth the wait. The recipes used in the Red Iguana kitchen have been passed down through generations, so you feel like you're eating at someone's home rather than in a restaurant.
VERMONT: The Farmhouse Tap & Grill in Burlington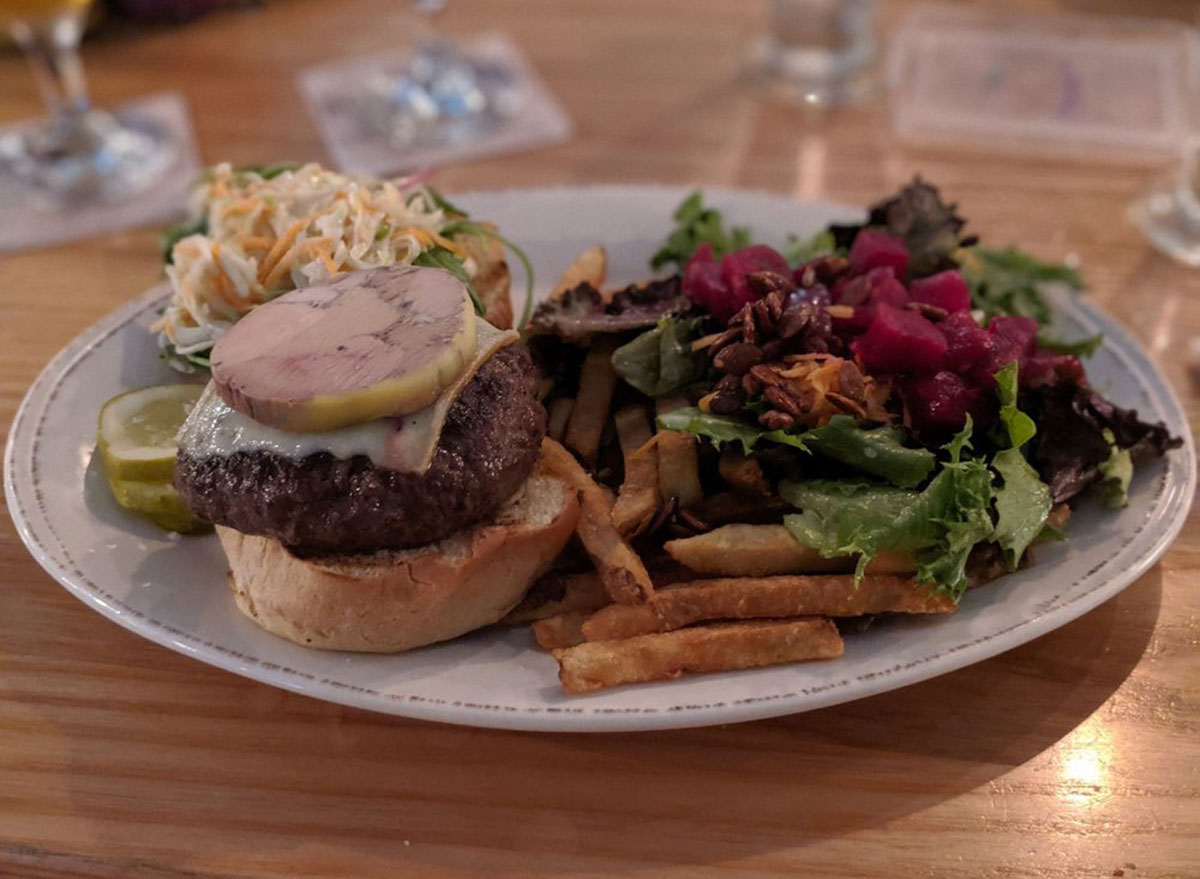 Vermont is known for its wide array of craft beers, and we love that The Farmhouse showcases that. The selection is constantly changing so you can always sample new ones, and the food menu focuses on farm-to-table and locally sourced ingredients. The burgers are a must—especially if you're having a beer or two—and of course, you can't pass up the Vermont cheese plate.
VIRGINIA: Supper in Richmond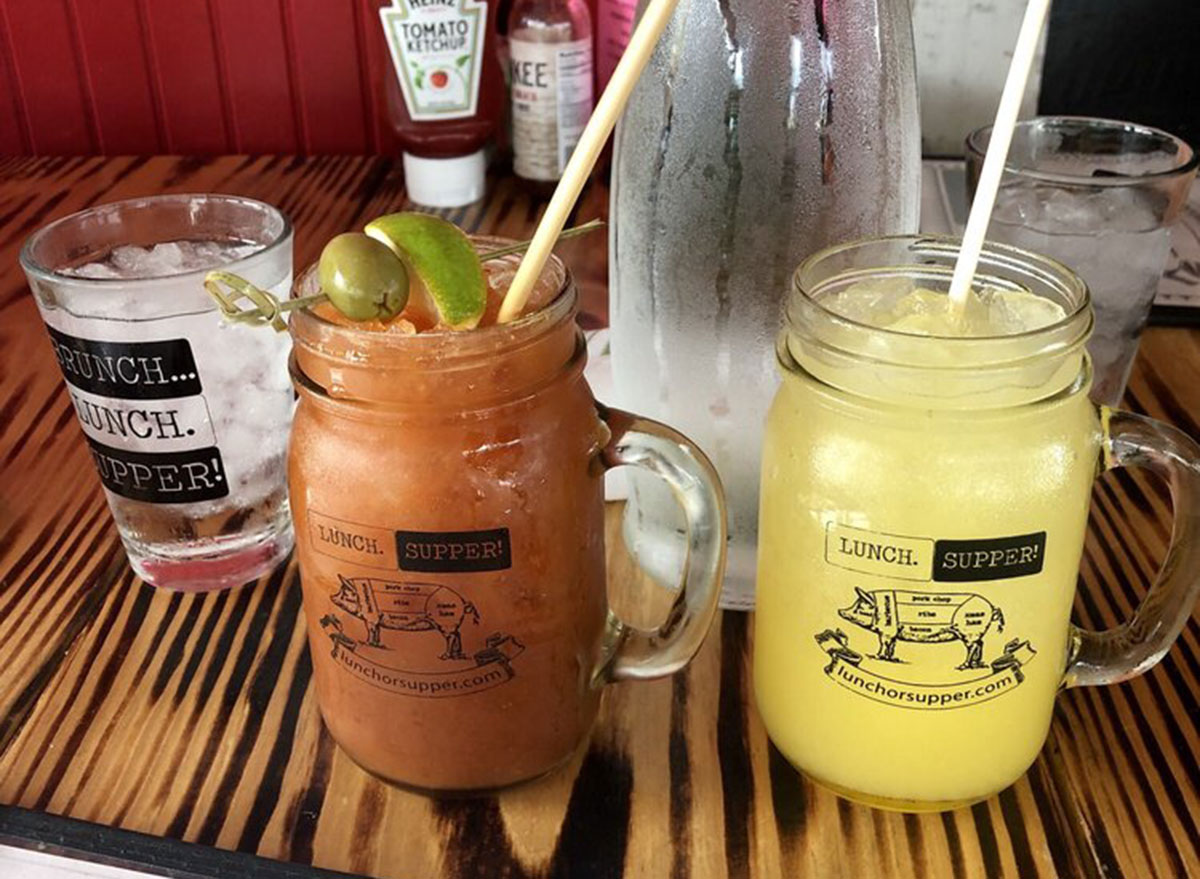 For rustic eats in a homey setting, head to Supper in Richmond. The massive menu is impressive, to say the least, and offers both classic American food along with more innovative dishes. There is also a lengthy cocktail menu for you to pair with your meal.
WASHINGTON: The Pink Door in Seattle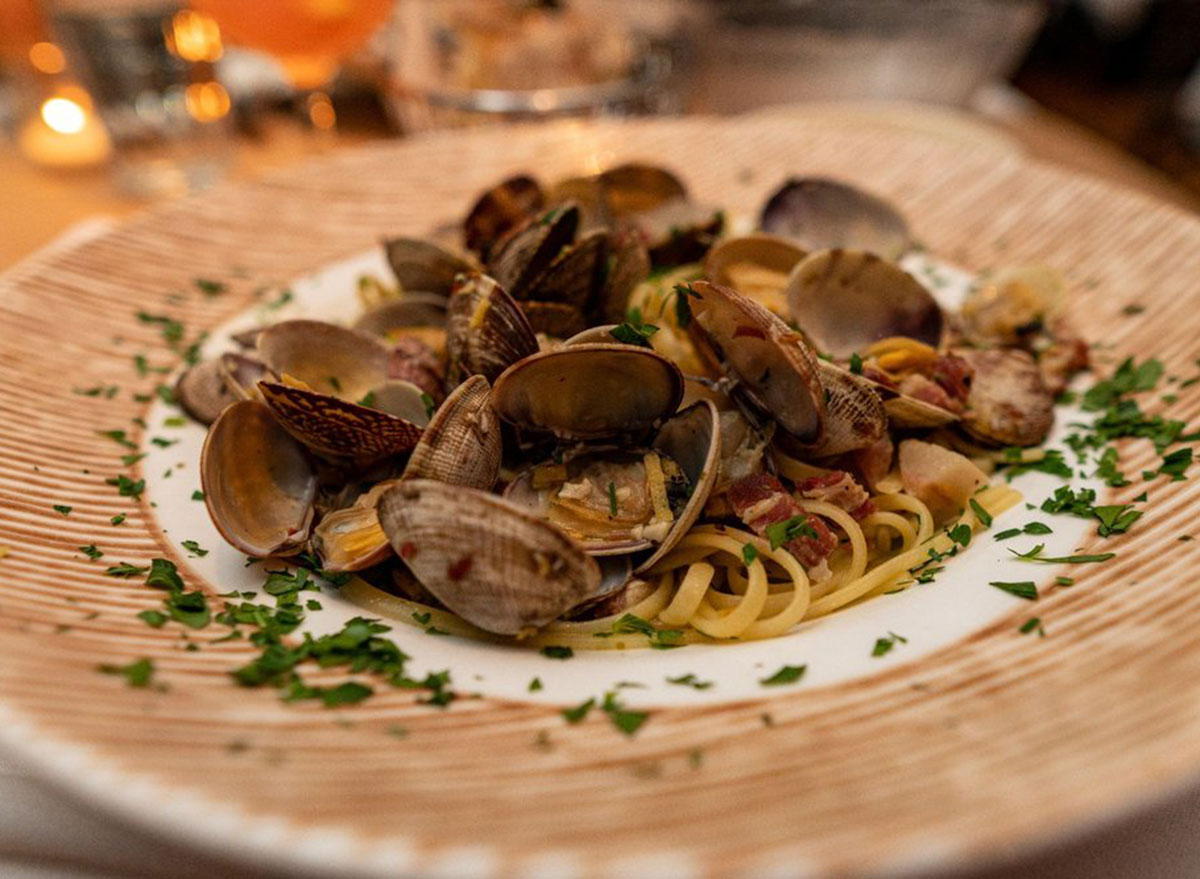 The Pink Door has become a heavily trafficked tourist destination in recent years, but it's so good, we can't not mention it. The Italian restaurant, which is located inside Pike Place Market, is not only known for its delicious food but also its entire dining experience. Trapeze artists hang from the ceilings, burlesque dancers twirl on the stage, and though the setting is quite cramped, you'll always have a good time.
WEST VIRGINIA: Hillbilly Hot Dogs in Lesage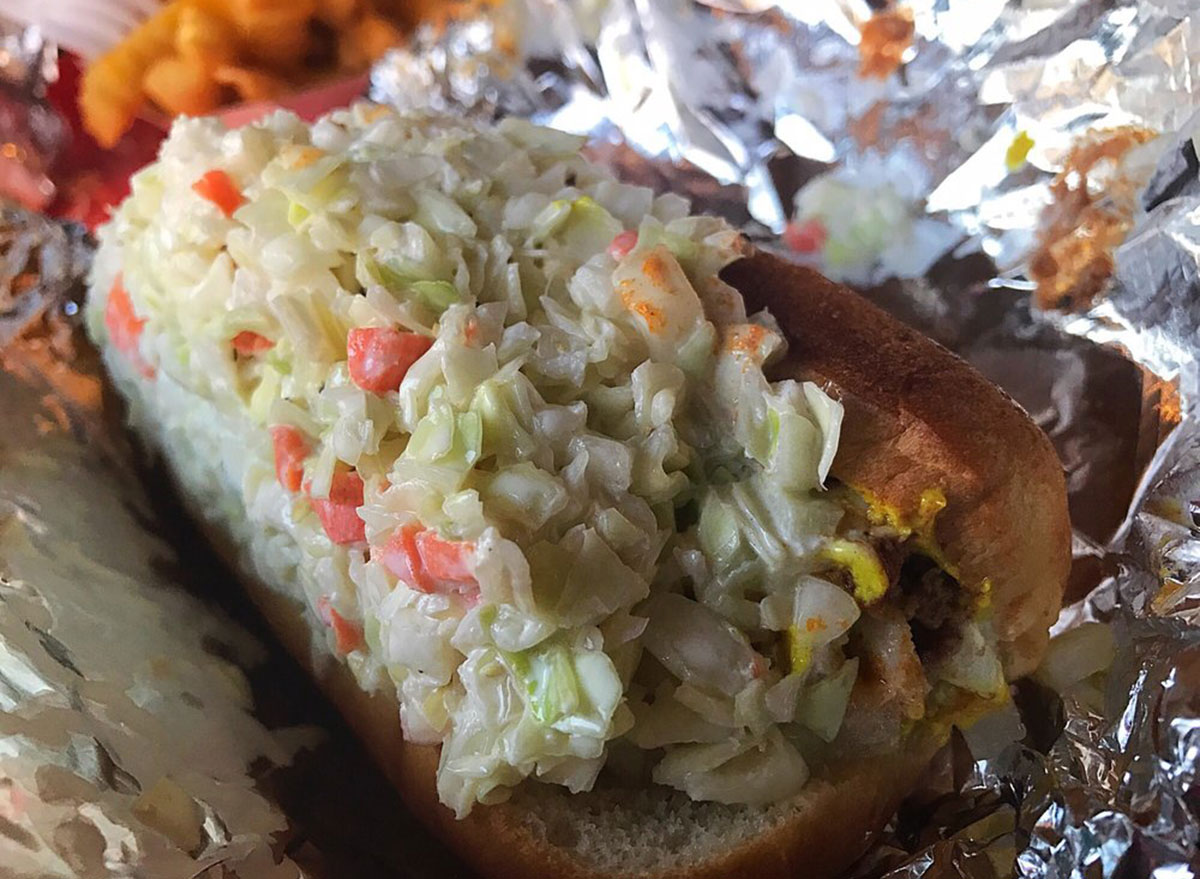 Hillbilly Hot Dogs, which lies on the southwestern West Virginia-Ohio border, has made a name for itself over the last 21 years. The huge "weenie" menu features a wide array of dogs and topping combos. If you're feeling particularly hungry (and are up for the challenge), go for the HomeWrecker, which is a 15-inch bun, a one-pound dog, and two pounds of toppings.
WISCONSIN: MACS in Wisconsin Dells
When you think of Wisconsin, you think of cheese, so naturally, you should visit a restaurant that highlights that local ingredient. MACS (short for Macaroni And Cheese Shop), utilizes Wisconsin cheeses in the best way, with a menu packed full of different kinds of mac and cheese, as well as melts and other eats. A standout is the loaded baked potato mac, which comes with cheddar, mozzarella, baked potato, bacon, sour cream, and chives.
WYOMING: Eggington's in Casper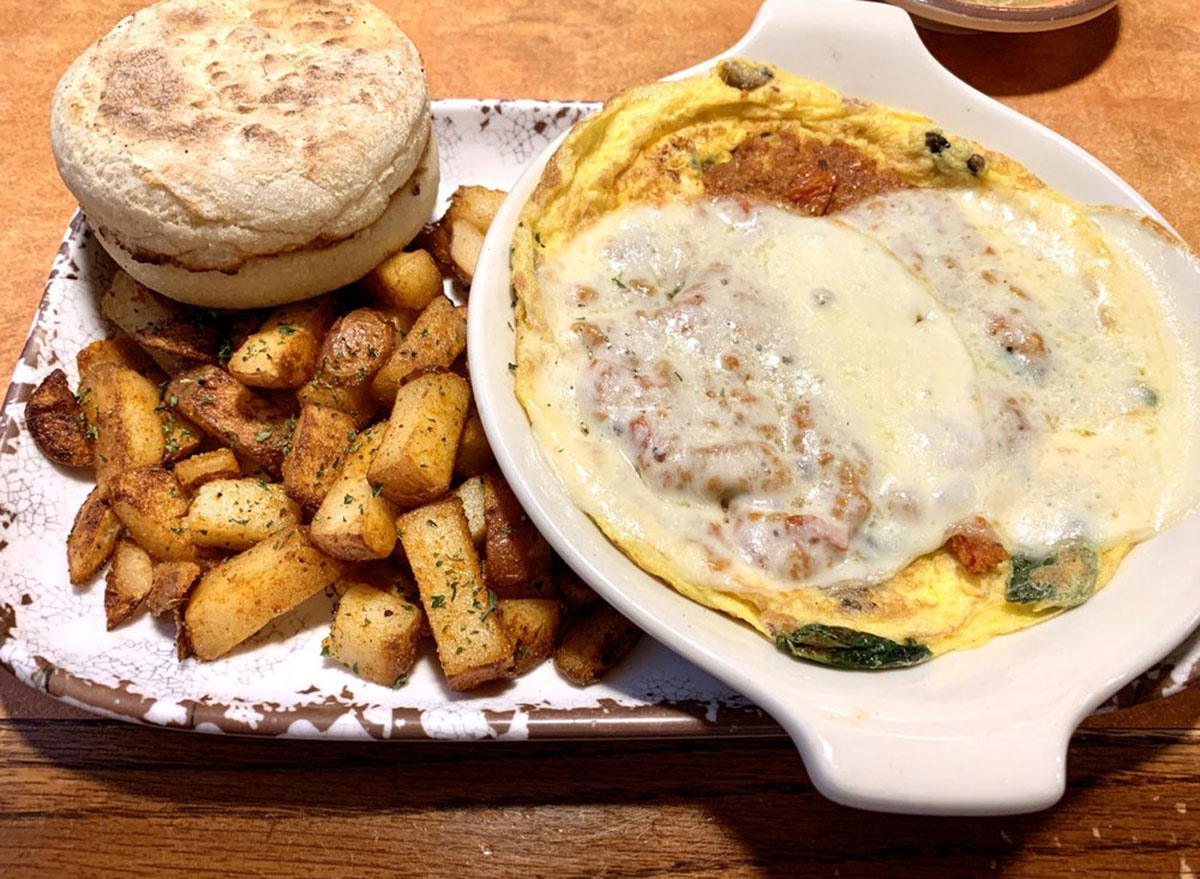 Whether you're finishing up a day on the slopes, a day at the ranch, or are just craving some diner comfort food, Eggington's is the place to go. The service is always warm and friendly, and you can expect all of your favorite diner classics done to perfection. Reviewers highly recommend the hash browns and breakfast tamales.