The New Starbucks Tie-Dye Frappuccino Has More Sugar Than 7 Krispy Kreme Donuts
It might be pretty, but you've got to see the sugar content in this new Starbucks drink.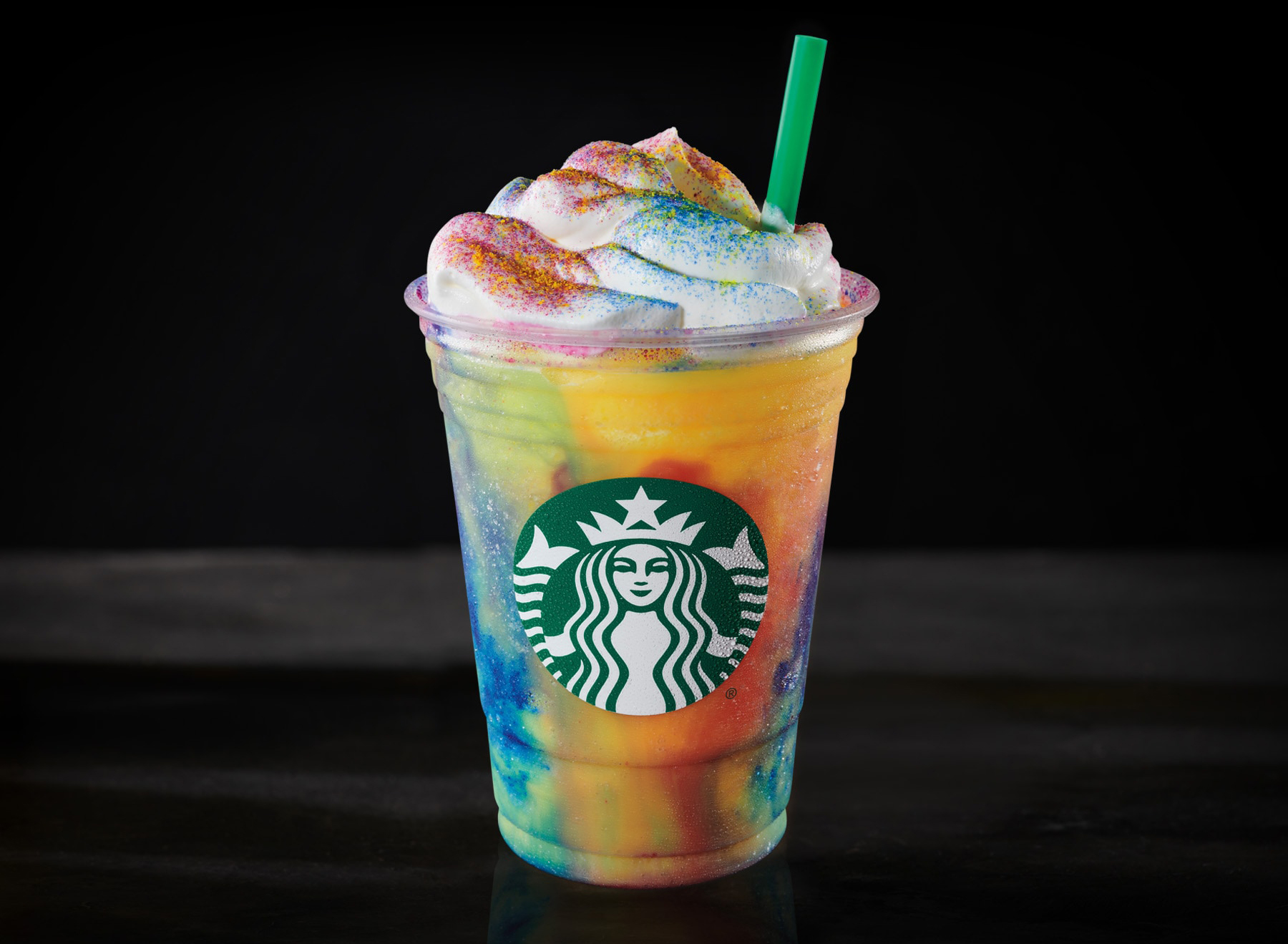 Snowballing off of the success of 2017's iconic Unicorn Frappuccino, Starbucks has released a Tie-Dye Frappuccino for a few days only. Between July 10 and July 15, customers can snag this colorful summer treat at a local Starbucks near them, while supplies last. But even though this bright, colorful drink looks appealing to the eye, the amount of sugar swirled inside this rainbow beverage topped with glittery sprinkles will have you doing a double-take.
What's in the Tie-Dye Frappuccino?
Similar to other popular limited-time Starbucks Frappuccinos, the Tie-Dye Frappuccino is a vanilla-based blended drink. It is made with the usual ice, milk, Frappuccino syrup, and whipped cream. But things get pretty dicey from there. The next ingredients are Vanilla Syrup, Yellow Powder, Red Powder, and Blue Powder, which all contain sugar (or cane sugar) as their first ingredient.
This Frappuccino also includes "Turmeric Extract For Color", which may sound healthy, given that there are many benefits of turmeric. However, this extract's first ingredient is maltodextrin, which is a white powder that works as a thickener made from corn, rice, potato starch, or wheat. This means the overall carbohydrate count will increase from the maltodextrin. It's usually seen in other sweet products, such as these powdered drinks or desserts.6254a4d1642c605c54bf1cab17d50f1e
You could definitely categorize the Tie-Dye Frappuccino as a colorful milkshake, because the drink doesn't even have espresso in it. While this may seem like a great option for caffeine-free folks, it may give you that buzz—and inevitable crash—that comes from consuming too much sugar.
So how much sugar does it really have?
It's not pretty. If you order a Venti Tie-Dye Frappuccino, you're looking at consuming 75 grams of sugar. For a Tall size, it's 39 grams, and for a Grande size, it's 58 grams. A Venti is a total of 500 calories with 18 grams of fat (11 grams saturated fat), 0 grams of fiber, and 78 grams of carbs. You may as well have a bagel instead, because that only has 48 grams of carbs total. At least it would keep you feeling full!
A Krispy Kreme Original Glazed Doughnut only has 10 grams of sugar per donut, so in comparison, you could scarf down 7 Krispy Kreme's and still consume less sugar than a single Venti Tie-Dye Frappuccino drink. Yikes!
What to do if you're cutting down on sugar
Ordering the Tie-Dye Frappuccino may not be the wisest choice for someone who's trying to cut down on their daily sugar intake. However, this doesn't mean you can't enjoy a delicious, frozen blended drink on a hot summer day.
If you're looking to order something from Starbucks, how about ordering a normal Light Frappuccino Blended coffee? It's considered the best Frappuccino at Starbucks in terms of nutritional value, with just 110 calories and 23 grams of sugar for a Grande. If you're coveting that whipped cream top on the Tie-Dye Frapp, ask for "light" whip on top of your frappuccino. You will still be consuming the same whipped cream on top, but simply enjoying a smaller portion of it.
Want to save money? Make a shake right at home! These protein shake recipes are great for weight loss. Plus, you could always make it "tie-dye" yourself by adding some rainbow sprinkles on top!