How Alcohol Affects Your COVID Booster Shot, Experts Say
You still may be able to sip some champagne to celebrate the new year.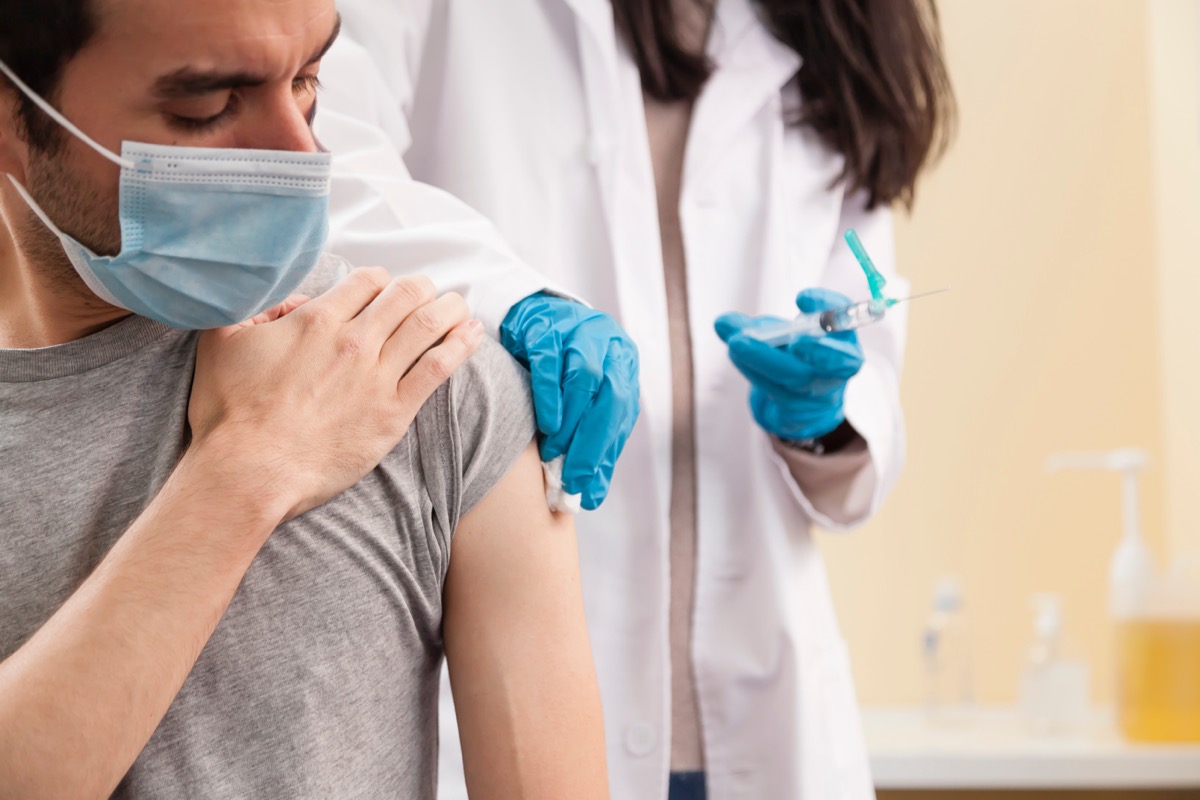 As people continue to get their COVID-19 vaccines and boosters, they may be wondering if they can drink a glass of wine or a pint of beer before or after getting their shot. While a study has shown that there are certain foods that make the COVID-19 vaccine less effective, you may be concerned that alcohol does the same. The good news is that you may be able to sip some champagne to celebrate the new year if you keep a few things in mind.
"People who are in good health and do not fall into a high-risk group for COVID can drink alcohol in moderation after having the vaccine/booster shot," Dr. John Mendelson, an alcohol addiction specialist and a board-certified doctor tells Eat This, Not That! "The CDC guidelines for moderate drinking is two drinks or less in a day for men or one drink or less in a day for women."
However, the situation changes if you tend to drink more than that. Health Digest notes that "excessive alcohol consumption can impair your immune system, which may weaken your immune response to the vaccine."
Dr. Mendelson added that heavy drinking can increase the risk of infections/viruses, including COVID-19, with frequent and heavy alcohol consumption. The CDC defines this as 15 or more drinks per week for men and eight or more drinks per week for women.
Related: Sign up for our newsletter for more of the latest health and food news!6254a4d1642c605c54bf1cab17d50f1e
Dr. Anthony Puopolo, the chief medical officer of the telemedicine company Rex MD and a board-certified physician with experience in wellness through integrative care, tells Eat This, Not That!: "While you can drink alcohol after getting vaccinated, you may not want to. Alcohol consumption, especially in high amounts, weakens the immune system. It also can affect hydration levels, which are key to feeling well after getting vaccinated."
Dr. Javeed Siddiqui MD/MPH, the co-founder and chief medical officer at TeleMed2U, notes that people should "remember alcohol has many effects on the body," which is why "it's best to avoid [it] a day before and for a day or two or until symptoms from [the] vaccination resolve."
To find out about what you can have when you get your vaccination or booster, be sure to read 8 Best Foods to Eat Before and After Getting the COVID Vaccine.
Desirée O
Desirée O is a freelance writer who covers lifestyle, food, and nutrition news among other topics.
Read more about Desirée