We Tried the Most Popular Fast-Food Burritos & This Is the Best!
A small-chain creation beat out the giants.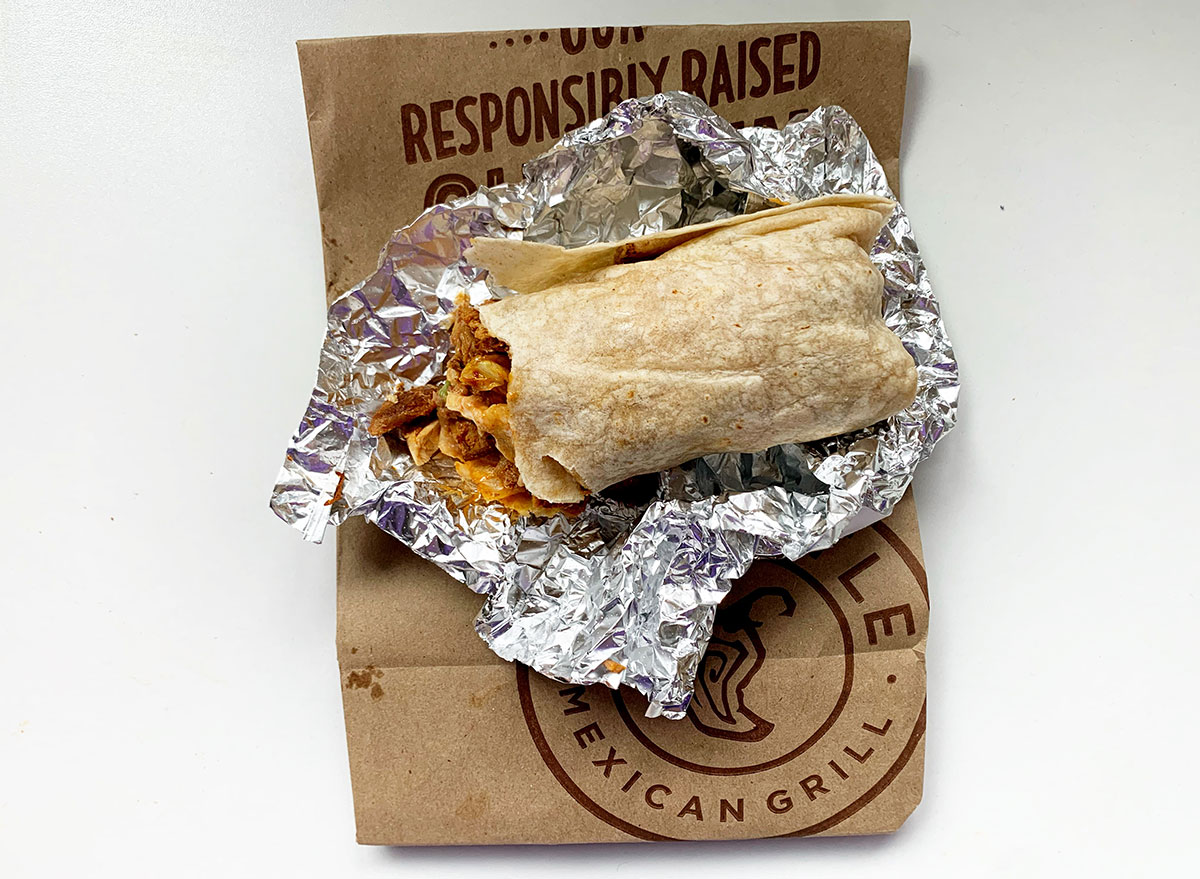 The simple elegance of a burrito is surprisingly hard to define. Is it in the wrap, neatly folded and functional? Or is it the layering of flavorful ingredients, each independently delicious but somehow even better when mixed?
Whatever it is that keeps us so invested in the Tex-Mex dish, one thing's for sure—the burrito won't be going out of style any time soon. The dish is endlessly adored nationwide and perhaps the best evidence of that is the sheer number of fast-food chains constructed around the burrito concept. From Taco Bell to Chipotle, fast-food chains are battling it out every day in an effort to become the one true home of our nation's best burrito.
We set out on a mission to decide which is in the lead. After looking into top menu staples of several popular fast-food burrito chains, we took to our delivery apps to pit our choices against each other. Here is the official ranking for the best fast-food burrito—keep this list handy next time the urge to indulge strikes. (If you're in the mood for a burger, check out We Tried Every Burger at McDonald's & This Is the Best.)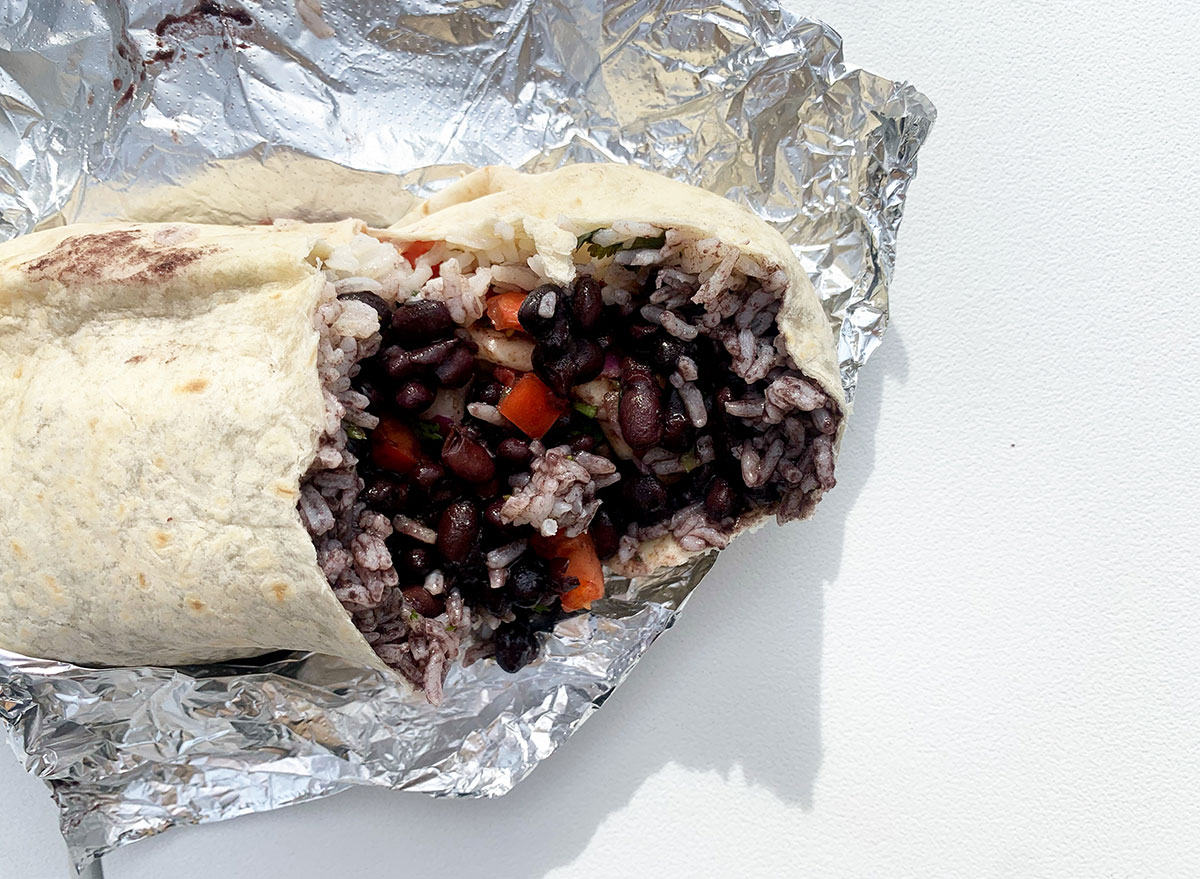 This guy loses points simply because of uneven assembly. The Qdoba Chicken Burrito might be a classic offering for the Denver-based brand, but at the location we sampled, the chicken itself didn't make an appearance until halfway down the burrito. When I finally did get past the mound of rice and beans at the top, the chicken and other ingredients were adequate, but nothing to write home about. There wasn't a lot of dimension to the flavor of this burrito, and ultimately, it ranked last among our top contenders.
Taco Bell's Burrito Supreme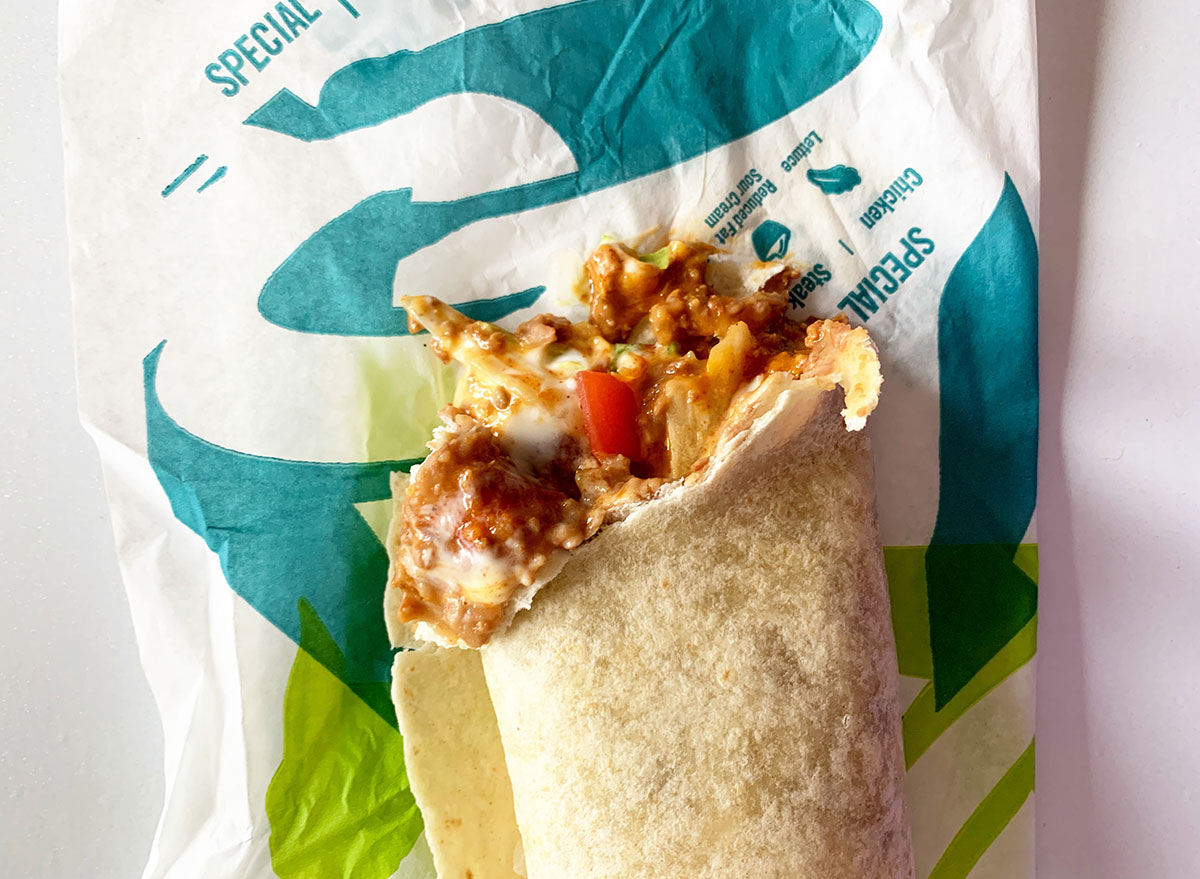 It's impossible to go into a taste test without expectations, and I'll be honest: I am surprised Taco Bell didn't rank dead last in this one. The mass-production nature of the chain, which has over 7,200 locations in the United States alone, left me with whatever the opposite of high hopes are, as I waited for Seamless to deliver my single burrito.
But Taco Bell came to play! While this warm, oozy burrito did not have any of the diversity of its competitors—there is just one texture the entire way down—the flavor of that mushy ground beef, beans, sour cream, and cheese combo is mouth-watering. Slightly sweet, it seems as though the burrito is filled with really well-made refried beans; the bean flavor profile definitely ends up dominating the aftertaste. It's both endearing and hilarious that Taco Bell even bothers to put lettuce in this staple, as the few strands I got were soggy and almost undetectable. And in that vein, it's worth noting that the Burrito Supreme is by no means the healthiest option on this list. But it's also not the worst tasting one.
Moe's Homewrecker Burrito
Moe's fans will assure you that there is no better destination for burritos than the 21-year-old chain. And, they'll go on to say, there is no better burrito to try there than the Homewrecker.
Moe's calls it "the OG burrito – a fan favorite since 2000," before tacking on the possibly pointed, "Guac is always included." And I have to say, the Homewrecker impressed me from the get-go. It was thicker and longer than most of the other contenders, and the flour tortilla walked that line of being sturdy enough while also soft. However, once we got past the tortilla, we had a moment of disappointment. If this burrito seems big, it's largely due to the amount of rice jammed in it.
Don't get me wrong, the ingredients were well-seasoned and complemented each other nicely. But no amount of chicken, guac, and beans could be flavorful enough to balance out the amount of rice we were dealing with. Because this imbalance could vary by location, though, and the rest of the burrito was great, Moe's still lands starkly in the middle of the list.
Chipotle's Chicken Burrito
You know that bit I mentioned about expectations? After years of Chipotle as my go-to cravings quencher, I couldn't see a world in which their classic chicken burrito doesn't come in a proud first place during this taste test (sure, I may have been a tad biased).
And it was a tough competitor. Where others lost ground on consistency or rice ratios, Chipotle nailed both of those aspects. Their burrito was densely packed with ingredients that each maintained their own flavor and texture, and together created a complex, layered profile. The aftertaste was just as incredible, highlighting the way the "better for our planet" brand seasons its chicken.
However, I was surprised to find that Chipotle's burrito landed on the dry end of the spectrum. I'd still take this burrito, which is made with locally sourced ingredients and responsibly raised meat, over the mysterious-but-tasty Taco Bell alternative. But unfortunately, even Chipotle's signature flavor and meaningful values weren't enough to carry them to the top.
Baja Fresh's Baja Burrito
Baja Fresh proclaims that they don't have can openers, microwaves, or freezers in their restaurants, and after sampling their essential Baja Burrito, I can assure you I tasted the difference. Like Chipotle, this burrito was fresh, dimensional, and built with care. But unlike its top competitor, the Baja Burrito incorporated a few key details that set it apart.6254a4d1642c605c54bf1cab17d50f1e
First and foremost—this 'rito was by far the spiciest. Packed with guacamole (which was not an upcharge!) and pico de gallo, it was both flavorful and moist. The chicken was perfectly grilled, and the flour tortilla was warm and soft. My favorite detail? The chain coated the inside of the tortilla with a thin layer of melted cheese. Against all odds, this small-chain burrito, which also happened to be the largest in terms of sheer size, conquered the rest.
Read more about your favorite fast-food restaurants:
We Tried Every Burger at Wendy's & This Is the Best
We Tried Every Breakfast Sandwich at McDonald's & This Was the Best