These Grocery Products Are Being Pulled From Shelves in 15 States
If you've shopped in the snack or bakery aisles recently, listen up.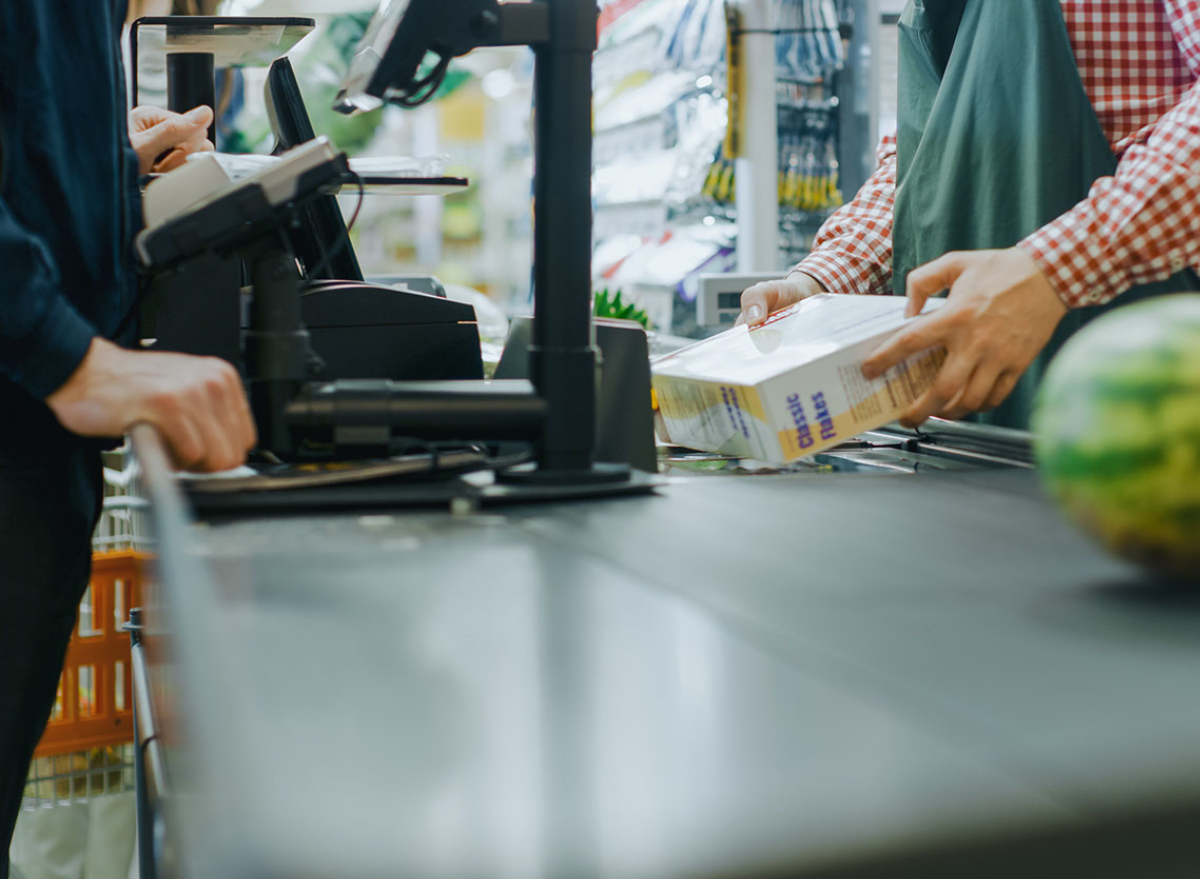 With thousands of items in each grocery store, it can be hard to keep track of every single item, especially when there are safety concerns that arise for some of them. Luckily, the USDA's Food Safety and Inspection Service (FSIS) and the U.S. Food and Drug Administration (FDA) regularly post details about items that are being pulled from grocery store shelves because they have been recalled.
However, these items could still be in your kitchen. Right now, there are several new recalls that have just been announced for items sold in stores across 15 states. Keep reading for the full details on these problematic foods to make sure they're not in your own pantry. And for more grocery news, here are 6 Things You'll See at Costco This Year.
Sprouts Farmers Market Dark Chocolate Covered Cherries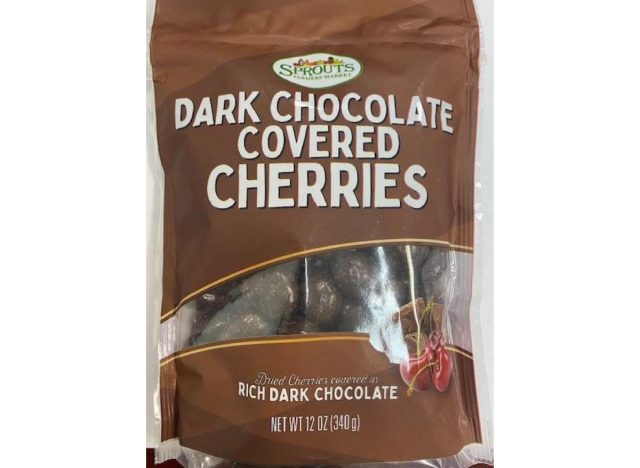 The dark chocolate-covered cherries sold at Sprouts Farmers Market locations in six states are being recalled because the packages may contain dark chocolate-covered almonds. If someone who has an allergy or sensitivity to this tree nut eats the cherries, they run the risk of a serious or life-threatening allergic reaction.
"The recall was initiated after it was discovered that product containing Dark Chocolate Covered Cherries was mixed with Dark Chocolate Covered Almonds in the bag," the recall announcement posted by the FDA on March 4 states. "Subsequent investigation indicates that some Dark Chocolate Covered Almonds were used for Dark Chocolate Covered Cherries by Production personnel."
No illnesses or reactions related to the recalled cherries have been reported, but if you shopped at a Sprouts Farmers Marker in Arizona, California, Colorado, Nevada, New Mexico, or Utah recently, check your kitchen for these snacks ASAP. They have an item number of 638-011, a UPC Code of 6 46670 46342 6, and a "Sell By Date" of 07/24/2022.
Various Flavors of Coffee Cake and Paczkis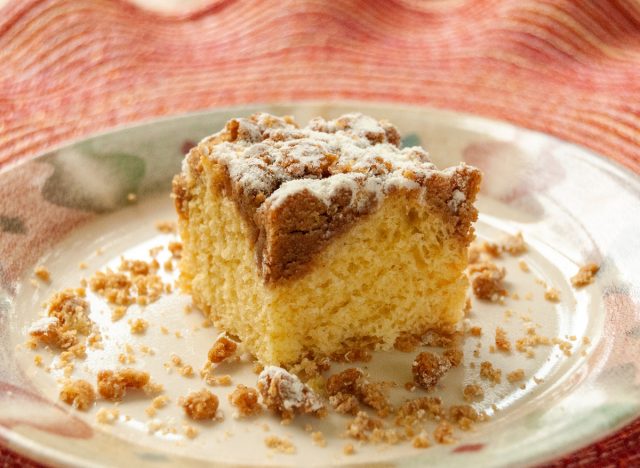 Assorted flavors of coffee cake and paczkis made by Chicago Sweet Connection Baker and sold at retailers in Illinois and Wisconsin are also bring pulled from stores because they could contain egg, milk, and wheat which were not declared on the product label.
The bakery items have a brand name of Chicago Sweet Connection Bakery and were produced between Feb. 21 and 23, 2022, with expiration dates either Feb. 26 or 28. The recall was sent out "after it was discovered that the allergen statement was not correctly printing on labels due to a computer error," the company says in the recall notice. The allergens were not listed because the label was being cut off during printing. The issue has since been resolved.
Flavors of the Paczki—a fried dough pastry filled with sweet fillings—include apple, apricot, blueberry, chocolate custard, strawberry, pineapple, and more. Coffee cake flavors include custard, caramel, pecan, chocolate chip, and more. For a full list of all affected varieties, click here.
The Paczkis were sold in packs of 4 in a plastic clamshell container, and the coffee cakes were sold in single packs with an aluminum rectangular tray and a plastic dome lid. Anyone with any of these recalled pastries in their home is instructed that they can notify the company via phone at 773-283-4430.
A variety of jerky products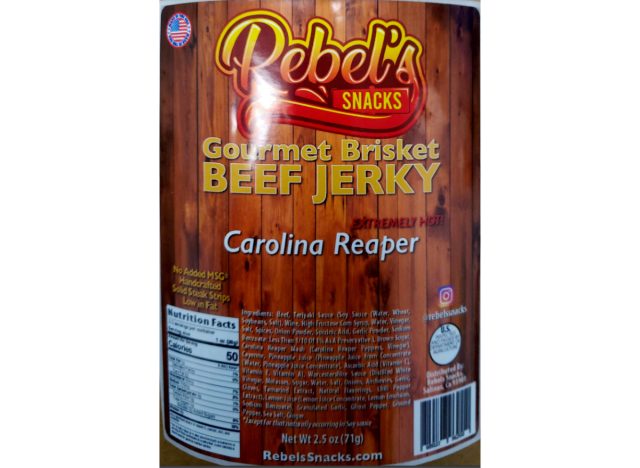 Boyd Specialties is recalling over 1,600 pounds of ready-to-eat jerky products because they may contain Listeria, according to a recall notice from the FSIS. The problem was discovered by the organization after a routine product sample tested positive for the harmful bacteria.
The products and flavors of the recalled jerky include garlic pepper, straight whiskey, carne asada, mango habanero, Carolina reaper, cracked black pepper, and several more. You can view the full list here.  They were shipped to retail locations in Alabama, California, Connecticut, Michigan, New Jersey, North Carolina, Pennsylvania, and Texas.
No reports of an illness related to this issue are known, but consuming food contaminated with Listeria can cause fever, muscle aches, headache, stiff neck, loss of balance, and more. It is especially harmful in older adults, those with a weakened immune system, pregnant women, and newborns. Symptoms can arise as late as two months after consumption.
What to do if you have any of these in your kitchen.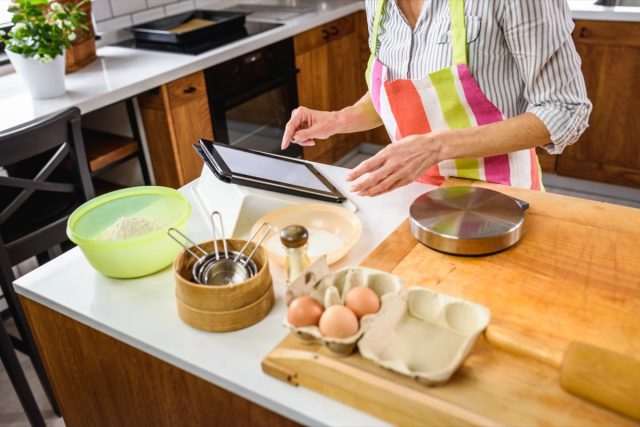 Should any of these three items be in your kitchen, throw them out or return them to the place of purchase immediately. After they are gone, clean any area the food touched using this two-step cleaning and sanitizing process, recommended by a registered dietitian.6254a4d1642c605c54bf1cab17d50f1e
For more on keeping your food safe, here are The Basic Food Safety Tips Home Cooks Need to Know.
Amanda McDonald
Amanda has a master's degree in journalism from Northwestern University and a bachelor's degree in digital journalism from Loyola University Chicago.
Read more about Amanda