These Frozen Grocery Items Are Being Pulled From Shelves in 12 States
Here's everything you need to know to keep your family safe. 
Price hikes and shortages aren't letting up, thanks to record inflation and ongoing supply chain issues. Unfortunately, there are more grocery items that may not be available during your next trip to the supermarket.
Both the U.S. Food and Drug Administration (FDA) and the U.S. Department of Agriculture's Food Safety and Inspection Service (FSIS) have published information about new food safety recalls. Here's everything you need to know to keep your family safe.
Related: 6 Things You'll See at Costco This Year
Ice cream sold in nine states is being pulled from supermarket freezers.
Royal Ice Cream Company is alerting shoppers to a recall that was just published by the FDA. Some of its ice cream products may contain the harmful bacteria Listeria.6254a4d1642c605c54bf1cab17d50f1e
No illnesses related to this recall have been reported. However, Listeria can cause serious infections in young children, the elderly, pregnant women, and those with weakened immune systems. Symptoms include diarrhea, headache, nausea, stiffness, and stomach pain.
The items were distributed to retail stores in nine states across the Northeast and South, including Connecticut, Florida, Louisiana, Massachusetts, New Hampshire, New York, Rhode Island, Texas, and Vermont. Here's a list of the affected brands:
Batch brand pints, all flavors
Royal Ice Cream brand half gallons, pints, cakes, all specialties
Ronny Brook Ice cream, all flavor pints and 3 gallon tubs
New Orleans Ice cream, all flavor pints and 2.5-gallon tubs
Maple Valley Ice Cream, all flavor pints
Art Cream all pint flavors
Sweet Scoops Yogurt, all pint flavors
Gelato Fiasco, all pint flavors
Biggy Iggy's Ice Cream Sandwiches
Munson Chip Wich Ice Cream Sandwiches
Giffords Ice Cream Sandwiches, all flavors
Chewy Louie Ice Cream Sandwiches
Snow Wich Ice Cream Sandwiches
Newport Creamery – Crazy Vanilla, Van & Choc, Vanilla & Coffee HG only
"The company is holding future product and testing before releasing distribution of the products as FDA and the company continues their investigation as to what caused the problem," the recall notice says.
If you have one or more of these products in your freezer, return them to the place of purchase for a full refund.
More than 4,000 pounds of chicken pot pie products are also being recalled.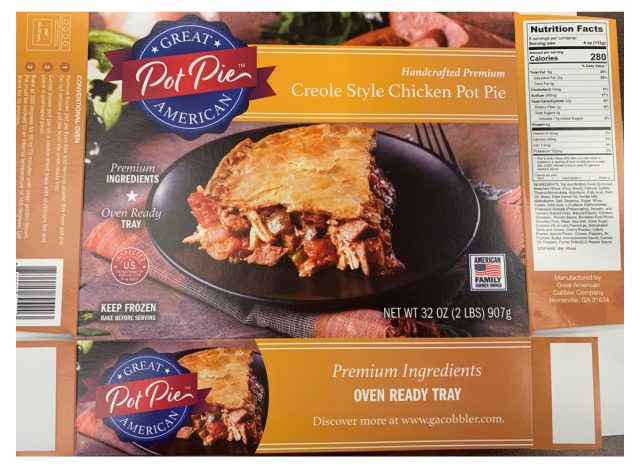 Frozen Creole-style chicken pot pies products from Great American Cobbler are being recalled because of a branding issue. The item may contain soy, which is not declared on the label. Anyone with an allergy or sensitivity to soy who consumes one of these products runs the risk of developing a severe or life-threatening reaction.
The products were shipped to retail stores in Georgia, Wisconsin, and Virginia. They came in 2-pound boxes with lot codes 21231 or 21307. No reports of any adverse reactions have been reported at this time.
"FSIS is concerned that some product may be in consumers' freezers. Consumers who have purchased these products are urged not to consume them," the notice says. "These products should be thrown away or returned to the place of purchase."
Nearly 21,000 packages of cooked shrimp may also contain Listeria.
Some 20,830 packages of cooked frozen shrimp are also being recalled because they may contain Listeria, according to FoodPoisonJournal.com. Not many details are available, except that the Fisherman's Wharf shrimp came in 16-ounce packages with the number 7306067 on them. They also had an expiration date of either 4/5/2023 or 4/6/2023.
What should you do if you find a recalled item in your kitchen?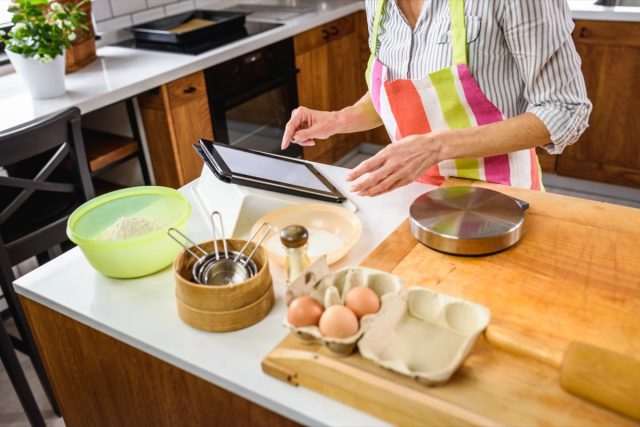 With the number of recalls issued as of late, it may feel difficult to keep track of every grocery item that isn't safe to consume. If you do find a potentially harmful product in your kitchen, immediately throw it away or return it to the store you bought it from.
Next, it's time to clean up. Follow These Two Steps to Sanitize Your Kitchen, Expert Says.
Amanda McDonald
Amanda has a master's degree in journalism from Northwestern University and a bachelor's degree in digital journalism from Loyola University Chicago.
Read more about Amanda