This One Habit Can Help Fight Your Brain's Aging, New Study Says
The research finds that it promotes strong brain functioning and cognition as you get older.
It's that time again. We're all taking stock of the year that was and looking ahead to 2022. A new year represents an opportunity for a fresh start, which is why millions pledge to begin making healthier lifestyle decisions each January 1st. No more junk food or weeks spent without exercising, for example.
At the end of the day (or year), it's safe to assume that we all just want to live a long, healthy, and happy life. Building more lean muscle or losing weight can absolutely help with that, but it's just as important to maintain your mind as well.
On that note, if you're still looking for the perfect New Year's resolution this year, you should take note of some groundbreaking new research conducted in Switzerland and published in the scientific journal Neuroimage. Scientists from the University of Zurich have collected compelling neurological evidence suggesting that the decisions you make today heavily influence your cognition and how your brain ages decades later.
Read on to learn more about how you can better protect your mind from age-related decline. And next, don't miss Exercise Mistakes That Can Shorten Your Lifespan.
Never stop learning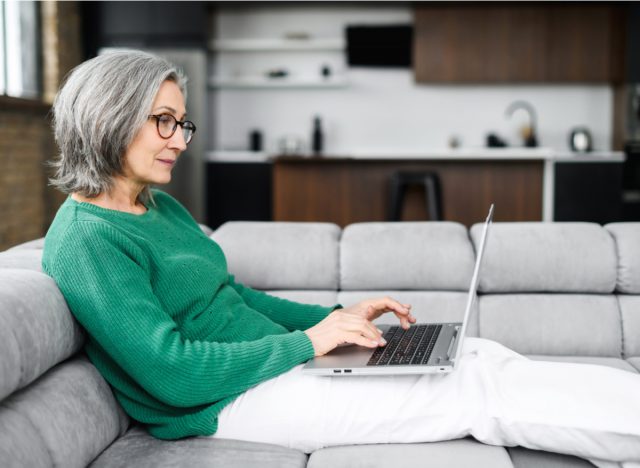 Forget about just the next year, resolve to never stop learning for the rest of your life. The study finds more learning over the course of a lifetime promotes strong brain functioning and cognition in old age. It may sound simple, but the main findings of this research can be summed up succinctly with: If you don't use your mind, you may lose it.
Researchers examined the brains of hundreds of older adults, and discovered that those with an academic background showed far fewer signs of brain degeneration over the course of seven years. These findings suggest that learning positively affects the aging process within the brain, and promotes a younger, sharper mind no matter one's actual age.
"In addition, academics also processed information faster and more accurately–for example, when matching letters, numbers of patterns. The decline in their mental processing performance was lower overall," says first study author Isabel Hotz.
Related: Sign up for our newsletter for the latest health and fitness news!
The research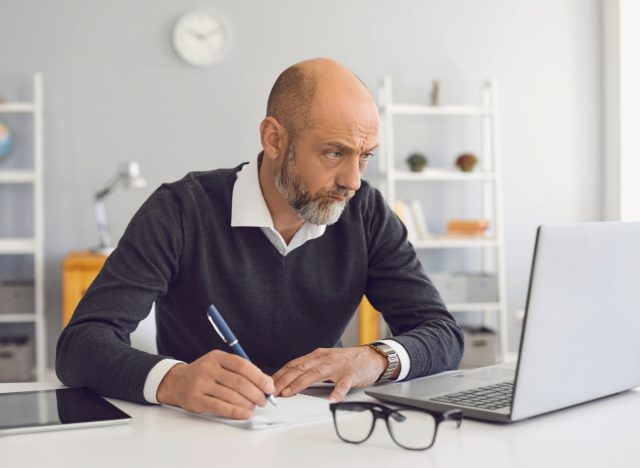 Over 200 senior citizens were tracked by the research team for more than seven years. All included adults showed no signs of dementia, displayed above-average intelligence, and led very active social lives.
Over that 7+ year period, the subjects were assessed both neuroanatomically and neuropsychologically via MRIs on a regular basis. Those brain scans allowed study authors to examine both lacunes and white matter hyperintensities on the digital images. These neural "degenerative processes" appear on MRIs as either "black holes" or "white spots."
In other words, the more black holes and white spots visible on an MRI, the more brain deterioration.
Researchers aren't quite sure why these degenerative processes result in black and white abnormalities on brain scans, but theorize the phenomenon is likely caused by either lack of blood flow, loss of neurons/nerve pathways, or cerebral dead tissue. As one probably imagines, these observed black holes and white spots can do serious damage to an individual's cognition and thinking abilities, especially if said blemishes are located within especially important neural regions.6254a4d1642c605c54bf1cab17d50f1e
As researchers assessed participants' MRIs over the course of the tracking period, it became apparent that those with an academic background were displaying "a significantly lower increase in these typical signs of brain degeneration."
Related: 7 Hacks That Improve Your Memory
Learning knows no limits
While these findings focused on "academics," or those who had attained a Bachelor's, Master's, or Doctorate, the general message isn't limited to a formal academic education. If this work inspires you to go back to school, that's great, but you certainly don't need to pay tuition to learn just a little bit each day.
Get yourself that library card you've been putting off for years, or finally get around to teaching yourself to play chess. The internet has made it easier than ever before to learn something new. Near unlimited information on virtually any topic you can imagine is at your fingertips each time you pick up your smartphone.
The possibilities are endless, and the benefits are well worth the effort. A healthier mind in old age will allow you to remain independent, happy, and productive well into your golden years.
Learning builds "brain reserves"
Prior research strongly indicates that an individual's cognitive skills at any age are largely determined by the strength and integrity of the connecting neural networks within their mind. While it can not be confirmed at this time, study authors hypothesize that learning helps strengthen these pre-existing neural networks and build new connections.
So, when you spend 2022 learning a new language or how to paint, you'll likely be building up a stronger neural network to fall back on when old age inevitably takes a toll on your brain.
"We suspect that a high level of education leads to an increase in neural and cognitive networks over the course of people's lives, and that they build up reserves, so to speak. In old age, their brains are then better able to compensate for any impairments that occur," comments study leader and neuropsychologist Lutz Jäncke.
For more, check out This Is the #1 Happiest State in America, New Data Says.
John Anderer
John Anderer is a writer who specializes in science, health, and lifestyle topics.
Read more about John