You Can Now Get Your Favorite Girl Scout Cookies Delivered
The cookies will Do-si-do straight to your door!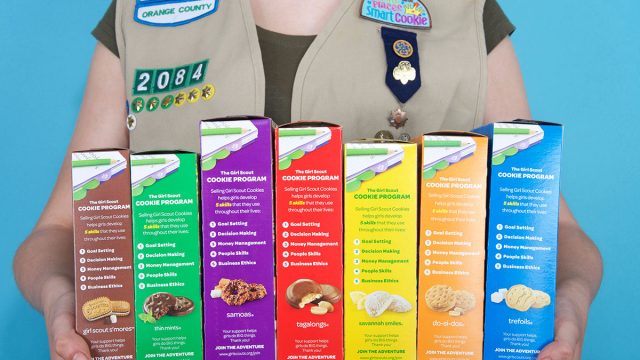 Valentine's Day is just around the corner, and that means it's also Samoa, Tagalong, and Thin Mint season! Though the coronavirus pandemic may be keeping you from seeing the Girl Scouts in your life (in addition to keeping many restaurants closed), there's a new and safe way to support your local troop. You can now get Girl Scout cookies delivered through Grubhub.
When you order in the app or online for delivery or pickup, you're also providing the Scouts with hands-on experience in e-commerce. Troops will help manage inventory, track and fulfill orders, and more using Grubhub's technology, according to a statement from the Girl Scouts of the USA. The organization will also take home all the proceeds because Grubhub waived all fees. (For at-home meal inspiration, here are the 100 Easiest Recipes You Can Make.)
The Girl Scouts first launched a platform for digital sales in 2014, and they're continuing to innovate in the backdrop of a pandemic.
"We're proud of the resourceful ways Girl Scouts are running their cookie businesses safely and using their earnings to make the world a better place," interim CEO Judith Batty says. "This season, our girls will continue to exemplify what the cookie program taught them—how to think like entrepreneurs, use innovative sales tactics, and pivot to new ways of doing business when things don't go according to plan."
If you're going to order Girl Scout cookies on Grubhub, this cookie is the best in terms of taste, according to our editors. But this cookie is a clear winner if you're watching your waistline.
To get all the latest food, grocery, and coronavirus news, plus health and safety tips delivered right to your email inbox every day, sign up for our newsletter!
Amanda is a staff writer for
Eat This, Not That!
.
Read more