We Tried Every Girl Scout Cookie & This Is the Best
From Thin Mints to Samoas, only one can reign supreme. Think your favorite came out on top?
Right now, swarms of future boss-ladies-in-training are putting on their patch-covered vests to sell Girl Scout Cookies wherever they can (particularly outside grocery stores), presenting you with a big choice to make: Which sweet treat do you go for?
Collectively, Girl Scouts sell more than 200 million boxes of cookies a year, and everyone has a favorite. According to Girl Scouts of the USA, Thin Mints are the top-selling cookie, followed in descending sales order by Caramel deLites/Samoas, Peanut Butter Patties/Tagalongs, Do-Si-Dos/Peanut Butter Sandwiches, and Trefoils/Shortbread.
But, which Girl Scout cookie really does taste the best? We decided to find out by testing every single one.
It's important to note here that Girl Scout cookies are made by two different licensed bakers: ABC Bakers and Little Brownie Bakers. Each baker may have a slightly different recipe for each cookie and may also call their products different names (hence, Caramel deLites or Samoas). The cookies you buy depend on what baker your local troop sources its cookies from (you can find this information right on the package near the nutrition label).
Now, back to the good stuff. For this taste-test, we tried the following Girl Scout Cookies (all made by Little Brownie Bakers):
Tagalongs
Toffee-tastic
Girl Scout S'mores (the non-chocolate-covered variety)
Thin Mints
Do-Si-Dos
Samoas
Lemon-Ups
Trefoils
Each cookie was served at room temperature (ahem, not frozen, Thin Mints), and evaluated based on overall taste and texture. Here's how each stacked up, ranked from the ones you can most likely live without to the absolute best you should never miss out on. Plus, don't miss: The Best & Worst Cookies on Shelves—Ranked!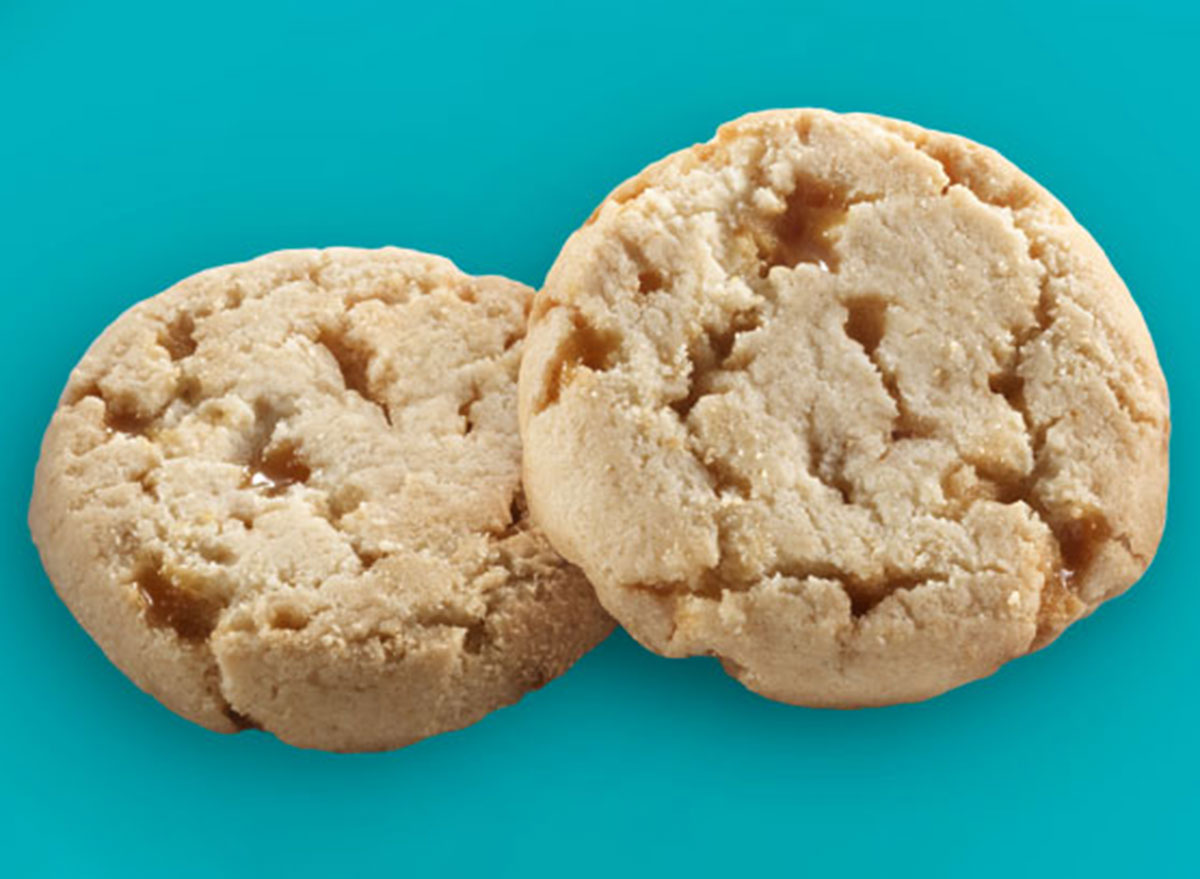 Girl Scouts typically do not make cookies that adhere to specific dietary restrictions, particularly because they are only produced once a year (so that makes specialty cookies a bit difficult). But in 2015, the team decided to launch Toffee-tastic, a gluten-free cookie with toffee bits.
How do they taste? Just OK, really. The cookie is buttery and sweet, but quite hard. The toffee bits have a nice caramel flavor, but they are so hard and sticky, it makes the entire cookie difficult to chew. They are also rather dry.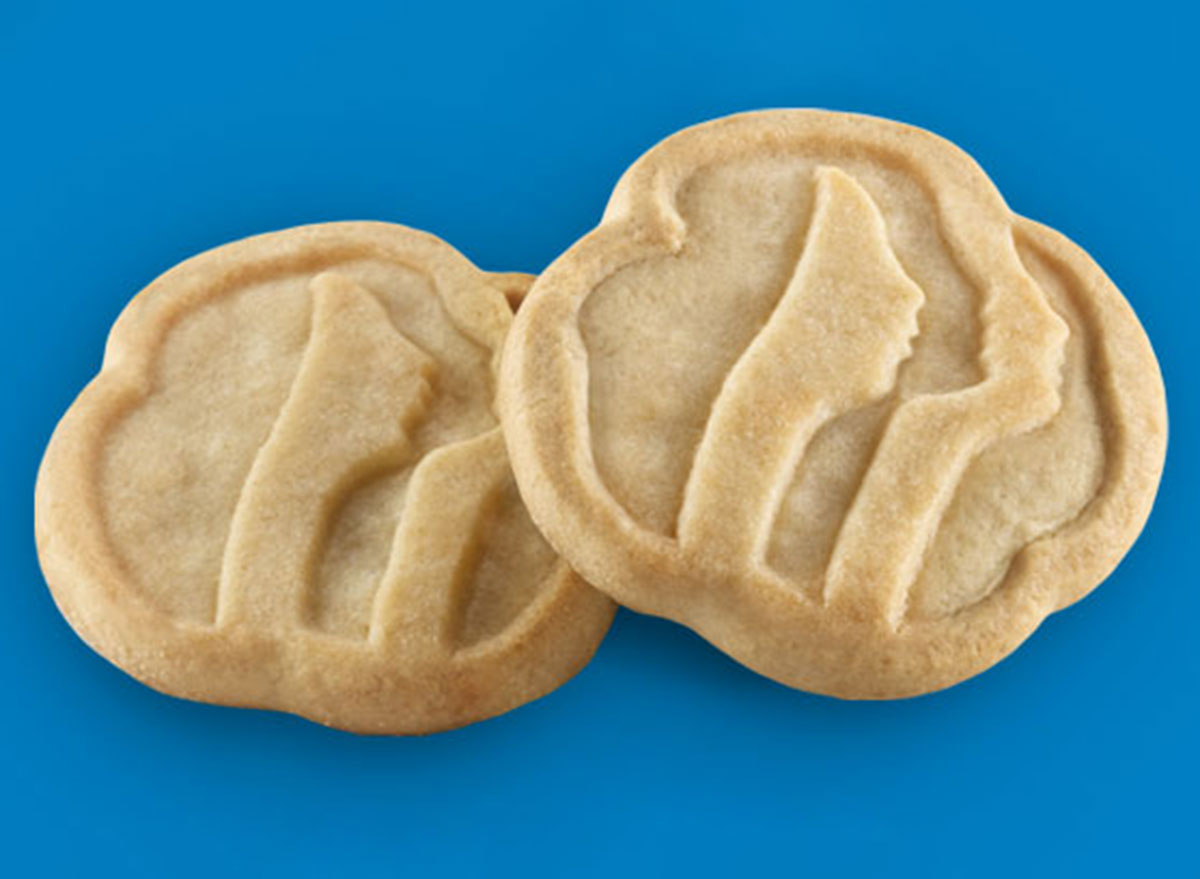 Trefoils are a true classic. These are traditional shortbread cookies shaped to match the Girl Scout logo. These are crispy without being too dry, and they have a very buttery flavor. They taste very similar to the cookies that were, at one time, in the metal tins that adorn every surface of your grandmother's house. They are good, but a bit plain, and lack the pizzazz and unique flavors of some of the other Girl Scout cookies.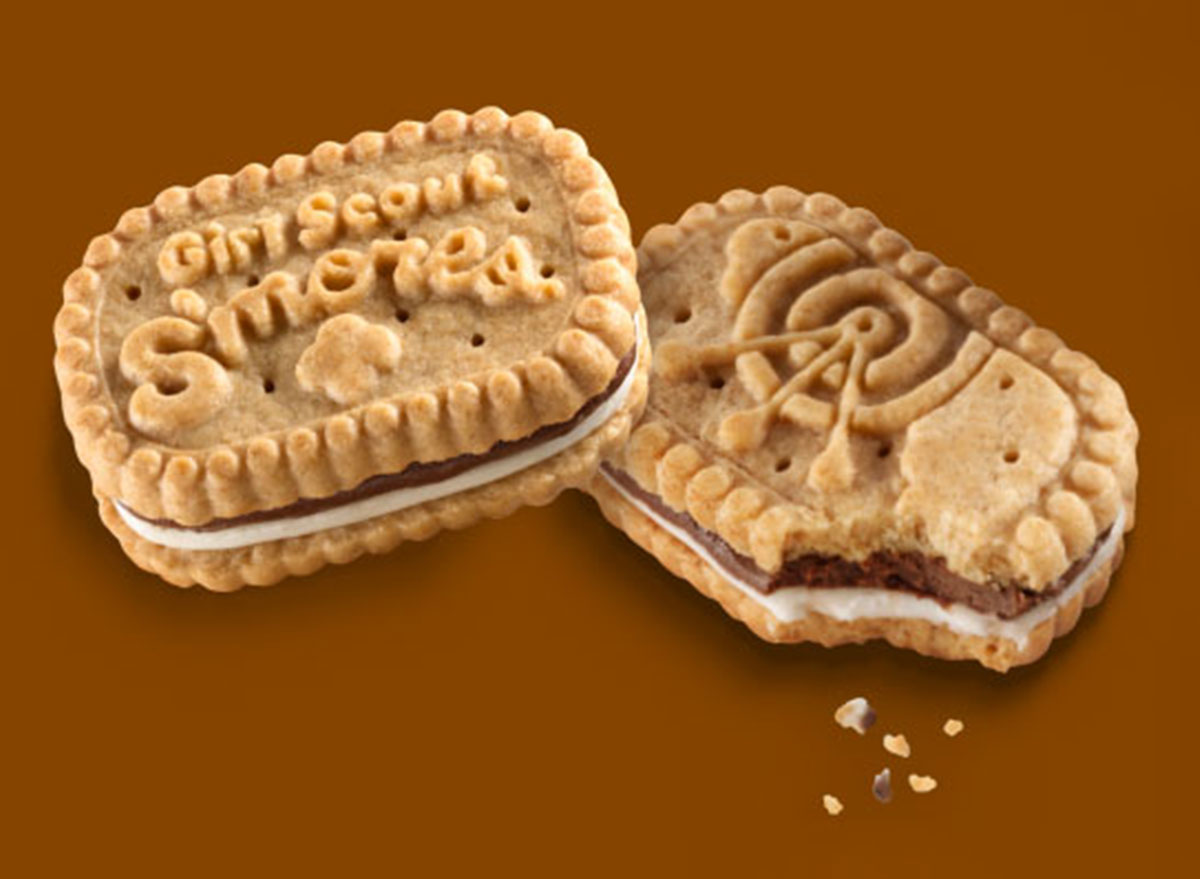 There are two types of the S'mores cookie. The one we tested is a marshmallow and chocolate filling sandwiched between two graham cracker cookies. The other variety features a graham cracker and creme icing all coated in chocolate, which truthfully sounds like a tastier option. But working with what we were given, these cookies were overall pretty good. It's essentially a crispy graham cracker cookie that isn't too dry or crunchy with a creamy center. You don't taste much of the marshmallow, though, so if that's your favorite part of a s'more, you might be slightly disappointed.
We have to say, we were definitely disappointed to see the Savannah Smiles (a lemon shortbread cookie coated in powdered sugar) replaced with this year's new Lemon-Ups, a plain lemon cookie. But the flavor of this new addition is nice and lemony, without being overbearing. The texture is pretty impressive. We expected a tough cookie, but it is actually quite soft and not dry at all. The empowering messages on top, like "I Am A Leader" and "I Am A Risk Taker" are adorable and fun. All we're saying is that we miss the powdered sugar. If these cookies had some of that sugar, they'd be even better than the Savannah Smiles, which were a bit too crunchy to go well with the light, refreshing flavor.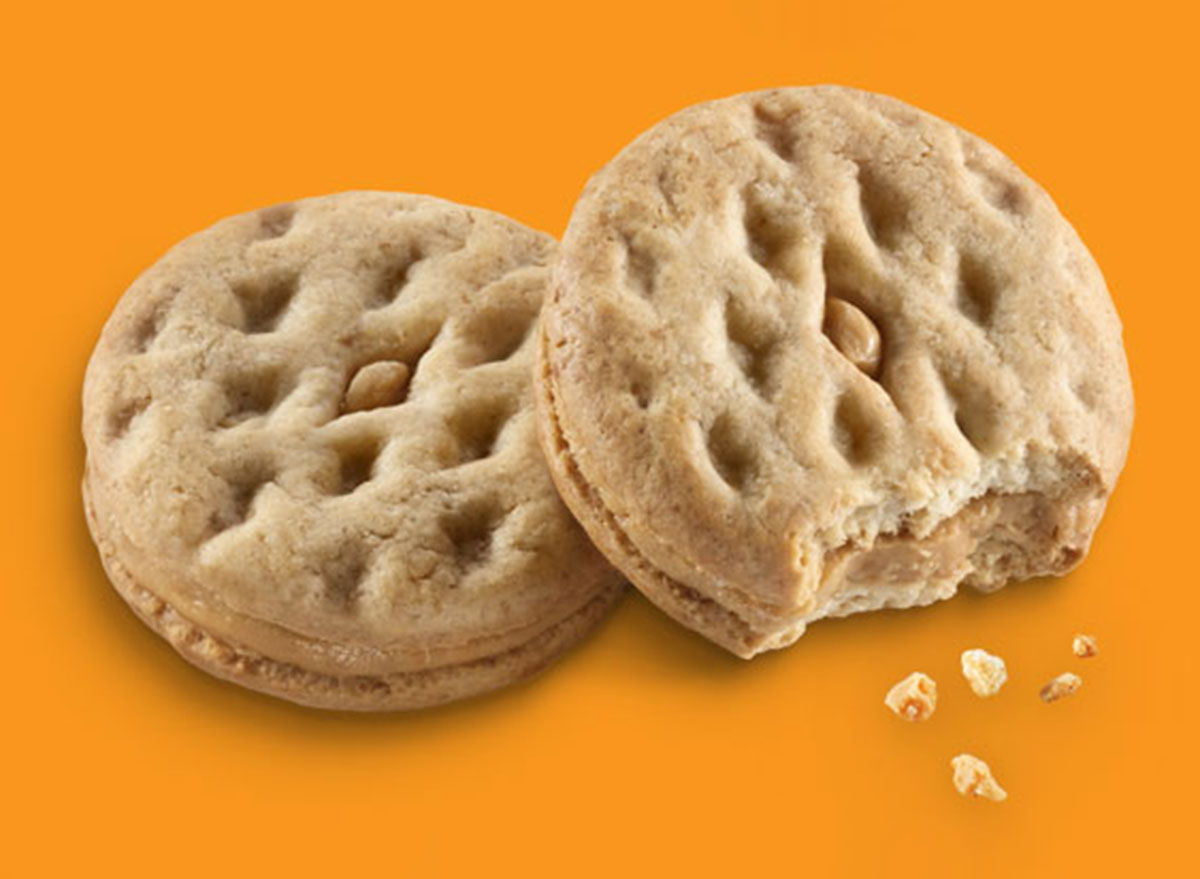 Peanut butter filling sandwiched between peanut butter-flavored oatmeal cookies? Sign us up! These cookies are very crunchy and could use a tad more filling, but the flavors are a knock-out of peanut butter and oats. It'd be easy to devour an entire sleeve of these in no time. With a bit more filling, they would also be less dry, but the peanut butter flavor really does shine.6254a4d1642c605c54bf1cab17d50f1e
A true fan-favorite is the Samoas. If you don't like coconut, this is not the cookie for you, that's for sure. Each delightful treat is coated in caramel and coconut, then drizzled with chocolate. Thanks to the thick, sweet caramel, these cookies are soft and chewy. The caramel, coconut, and chocolate flavors play well together, but the coconut flavor is what sits on the tongue the longest. If coconut isn't your vibe, this aftertaste will be dreadful for you, not to mention the hair-like texture of the coconut flakes will be lingering. If you love coconut, though, this is a perfect blend of rich flavors that make for a super sweet, decadent cookie.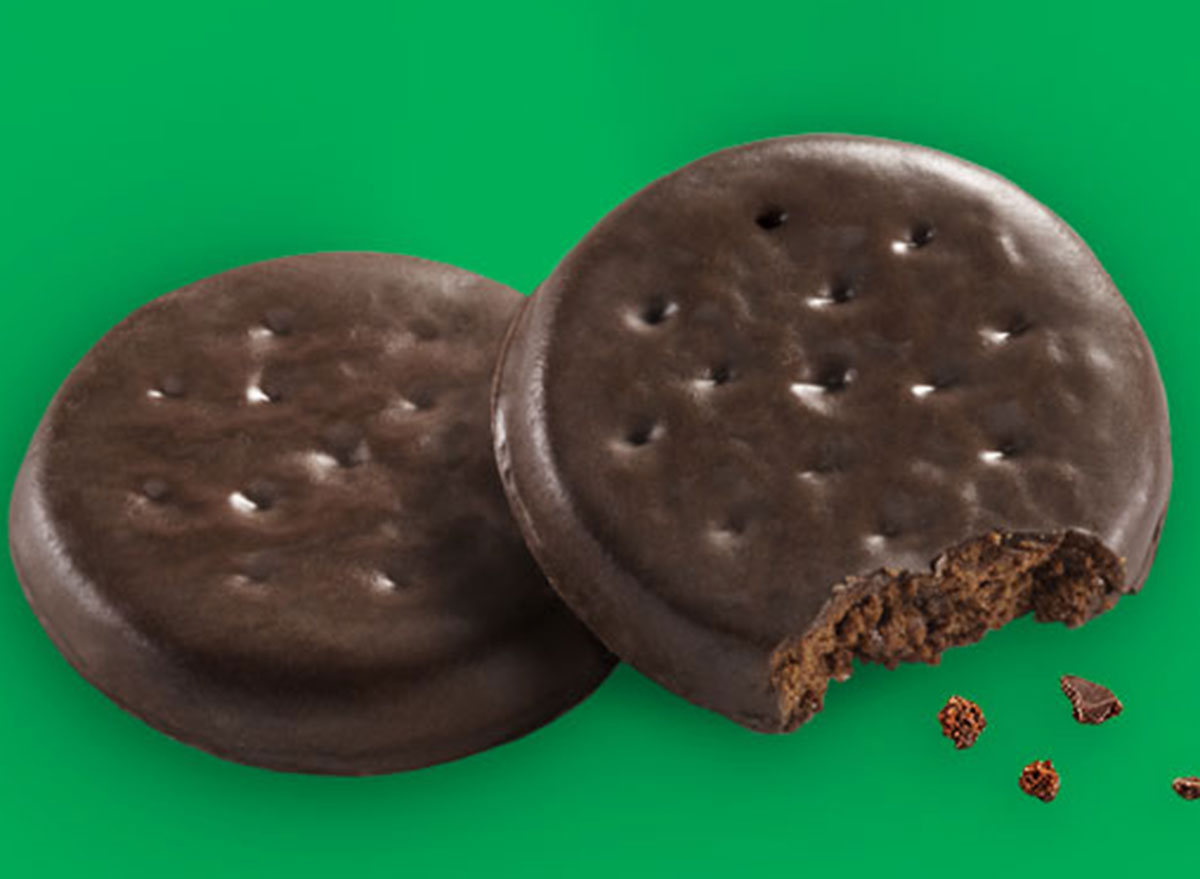 As the top-seller of all the Girl Scout cookies, Thin Mints have a reputation to uphold. But, has anyone ever eaten a Thin Mint at room temperature? Or, are we all accustomed to enjoying them straight from the freezer? According to our tests, these crunchy, chocolatey discs are still pretty delicious, even if they aren't frozen. The peppermint complements the chocolate well without either flavor overpowering the cookie. The texture is crisp and crumbly inside, with a nice, thin layer of chocolate to coat it. It's always a solid option.
As soon as you pop open the plastic bag of the Tagalongs, you can smell the peanut butter inside. We loved these cookies, and what's not to enjoy? You have a crispy cookie topped with thick, creamy peanut butter. Then, the entire concoction is dipped in a chocolate coating. The chocolate and peanut butter flavors are well-balanced, too. Our only complaint is that these cookies will melt all over your fingers if you don't eat them fast enough—which might never actually be an issue.
And for more cookie insight, we uncovered the most popular cookie in each and every state, too.
Paige Bennett
Paige is a Los Angeles-based editor and freelance writer. In addition to writing for Eat This, Not That!, she works as the content editor for Inhabitat.
Read more about Paige