7 Secrets IHOP Doesn't Want You To Know
Your favorite flapjack destination has several eyebrow-raising trade secrets.
IHOP sells millions of flapjacks per year across its more than 1,700 restaurants. Founded in 1958 in Los Angeles by sibling duo Al and Jerry Lapin, the family breakfast chain has grown from humble beginnings to become one of the most recognizable names in American fast-casual dining. A favorite among families, seniors, and college students, IHOP is beloved for its years-long tradition of serving free pancakes on National Pancake Day.
But as well as you think you know IHOP, the pancake house has more than its fair share of company secrets. For example, have you ever wondered how IHOP gets its pancakes to come out in perfect circles? Or what the chain does with all of its leftover syrup? From gourmet "secret menu" items to the shockingly unhealthy Mega Monster Cheeseburger, you will want to have a look at this list of IHOP's most eyebrow-raising trade secrets.
For more fast-food news, check out 8 Worst Fast-Food Burgers to Stay Away From Right Now.
IHOP serves steak tartare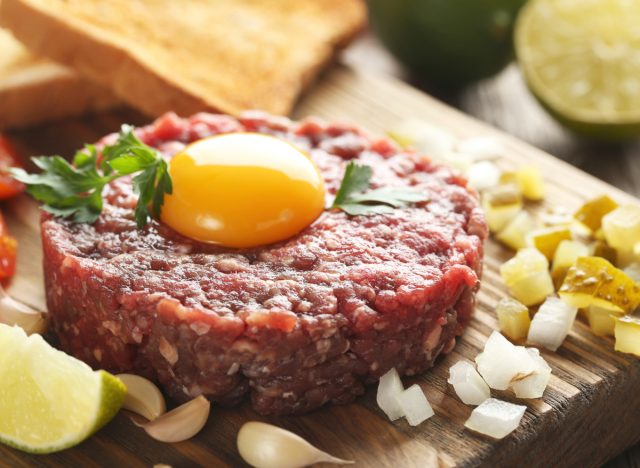 Like many other fast-casual chain restaurants, IHOP has an extensive secret menu. The unofficial menu is surprisingly gourmet, with high-end offerings like Patagonian Prawn Ceviche and Red Velvet White Chocolate Cheesecake Macaroons. One of their fanciest secret menu items is Steak Tartare—essentially a high-end take on the chain's Philly Cheese Steak. To try this secret menu item, just ask for the Philly Cheese Steak with "tartare preparation."
The Mega Monster Cheeseburger is super high in calories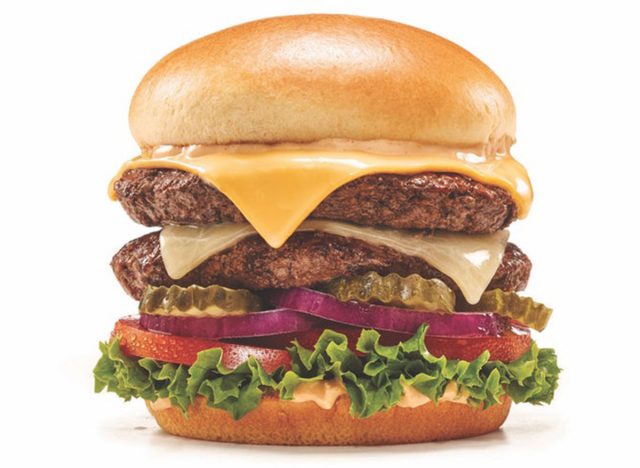 While technically not a secret, the Monster Burger's massive 1,040 calorie count (about half your daily value) may come as a surprise to some. Most of the calories—about 61%—come from fat. And with 2,650 milligrams of sodium, this premium sandwich packs 110% of your daily value of sodium. All things considered, though, you may want to think twice before ordering this fan-favorite menu item.
Customers go all out with All You Can Eat Pancakes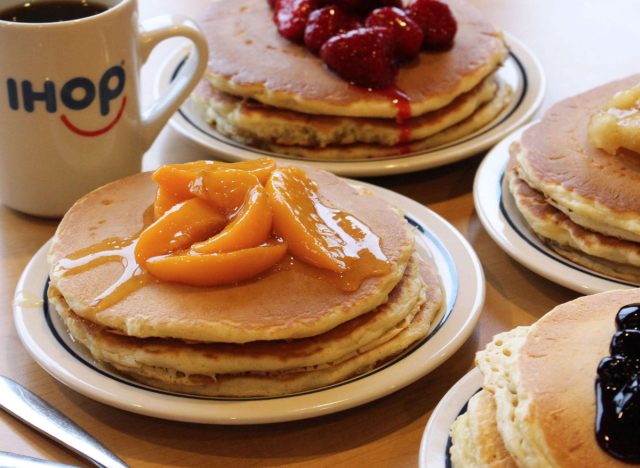 An annual event, IHOP's famous All You Can Eat Pancakes deal usually kicks off in early January and runs through to February or early March, culminating in National Pancake Day. This year's All You Can Eat deal began on January 10, and will run for a limited time. While a full stack of IHOP pancakes will run you more than a fourth of your daily value of calories, customers have been known to go all out with IHOP's deal, ordering dozens at a time. An IHOP employee on Reddit once reported witnessing a customer consume 26 pancakes in one sitting.
A special device is used for pouring pancakes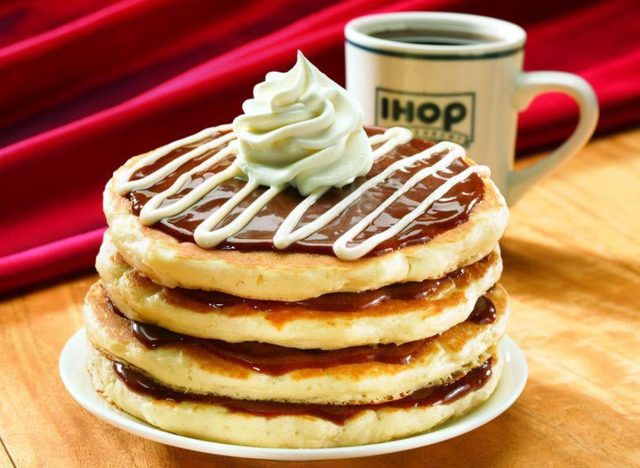 Ever wonder how IHOP gets its pancakes to come out perfectly circular? According to an IHOP employee on Reddit, chefs at the breakfast chain use a special tool that allows them to dispense pancake batter in exact quantities onto the griddle.6254a4d1642c605c54bf1cab17d50f1e
An IHOP chef gave a demo of the tool in an interview with WSB-TV in 2016. The pancake "gun" also helps control the pouring speed and accuracy, allowing cooks to create perfectly circular pancakes every time.
IHOP's annual pancake output is staggering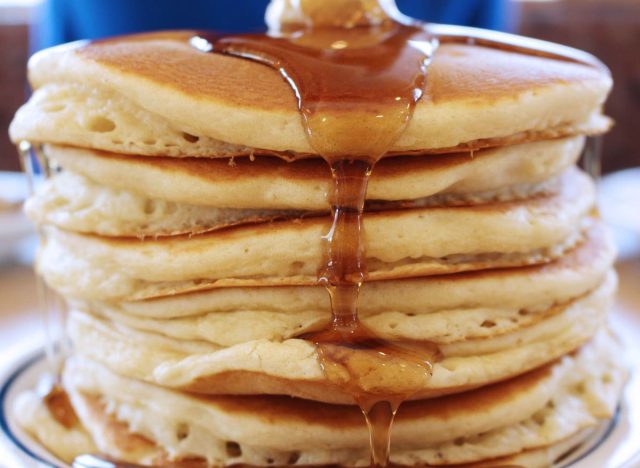 Unsurprisingly, the International House of Pancakes serves a lot of pancakes. It's what they do. But you'll never guess just how many. According to Popsugar, IHOP averages an incredible 700 million pancakes per year—or about 2.12 pancakes per person in the U.S. On top of that, the breakfast chain pours about 1.5 million gallons of maple syrup annually.
The syrups used to be "recycled"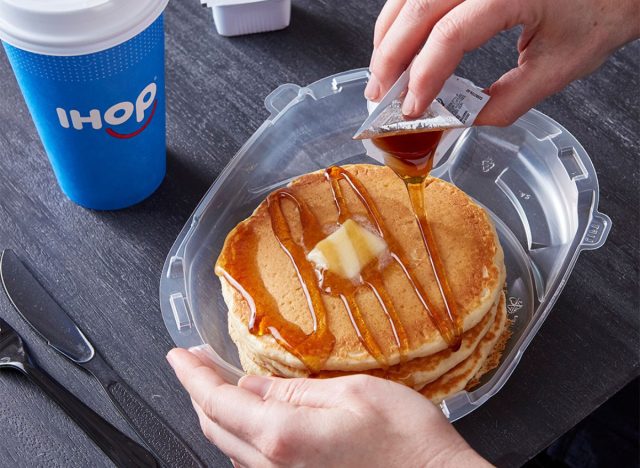 Before switching to single-serving containers in 2020, IHOP used to serve its syrup in small, multicolored jugs. "Syrup caddies"—sets of four jugs, each carrying a different flavor of syrup—were an integral part of IHOP's look and feel before the pandemic. According to one IHOP employee, however, the "caddy" system was far from hygienic. Before switching over to single-use containers, IHOP used to "recycle" its unused table syrup—with old syrup being consolidated in "syrup warmers," reheated, and then rebottled.
Kids eat free at some but not all IHOP locations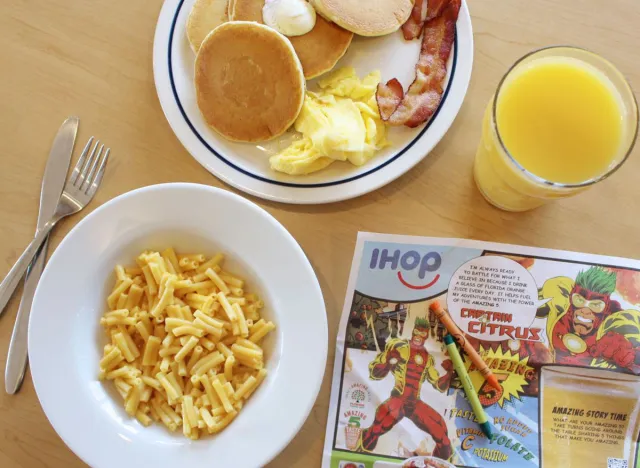 While this deal isn't available at all locations, some IHOPs offer a daily Kids Eat Free deal between 4 p.m. and 10 p.m. Under the terms of the deal, kids 12 and under get a free meal with the purchase of one adult entrée. Before taking advantage of this deal, though, you may want to call ahead to verify that it's available at your local IHOP. In a 2021 survey conducted by The Krazy Koupon Lady, only about half of IHOP locations contacted confirmed that they offered the deal.
Owen Duff
Owen Duff is a freelance journalist based in Vermont, home of Ben & Jerry's.
Read more about Owen