The Best Pancakes in Every State
These brunch destinations are worth a road trip.
Pancakes are a breakfast staple. Most of the time, you'll find pancakes at roadside diners topped with butter and maple syrup. But if you're willing to look a little harder, there are some major gems in cities across the country. We're talking pancakes made with potatoes, topped with brown butter, or even stuffed with fruit and whipped cream.
Find out where the best pancakes in every state are located and start planning your pancake road trip. And for more, don't miss The Best French Toast in Every State.
And if you're searching for a burger instead, be sure to skip these 8 Worst Fast-Food Burgers to Stay Away From Right Now.
ALABAMA: Over Easy in Birmingham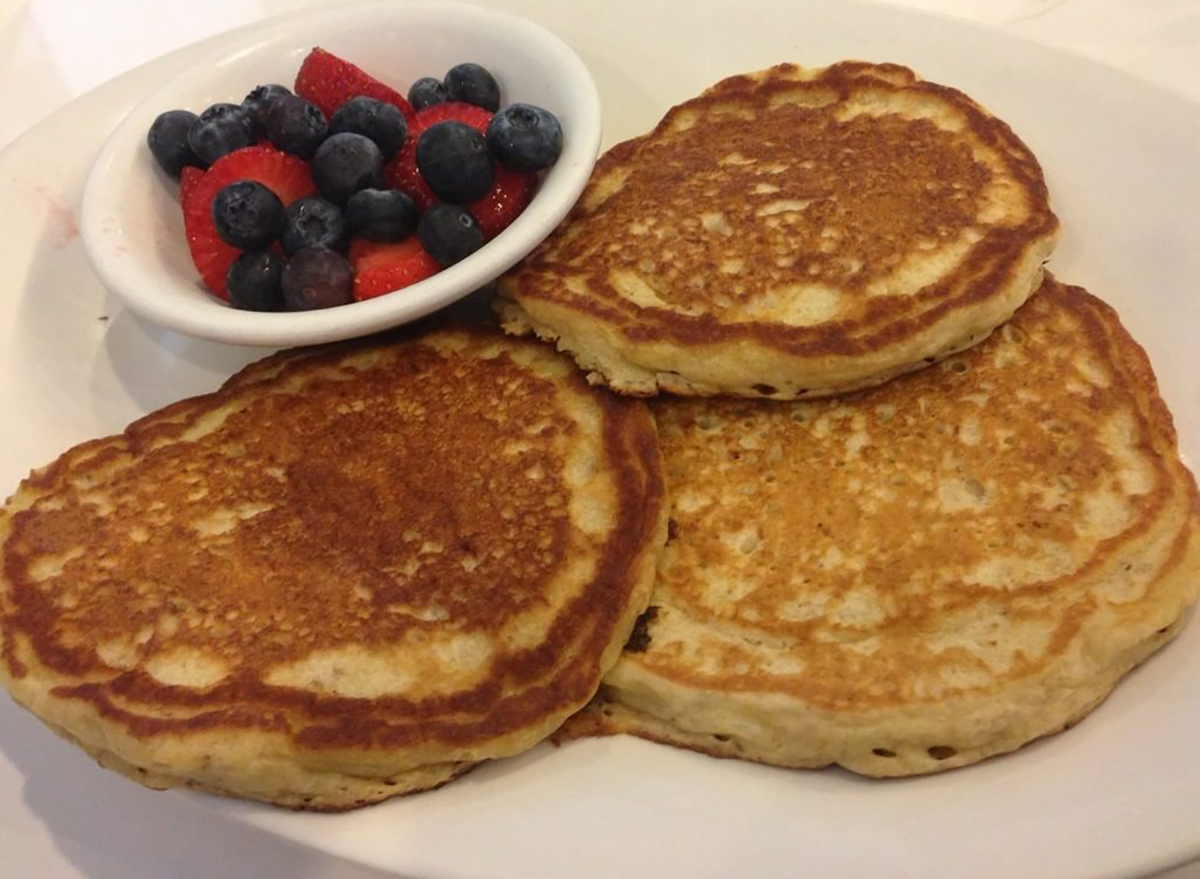 This local spot is serving up pancakes two ways: traditional buttermilk pancakes or oatmeal pancakes. If you want both, you can do that too with the trio breakfast that has one of each pancake and a slice of golden French toast.
ALASKA: Kava's Pancake House in Anchorage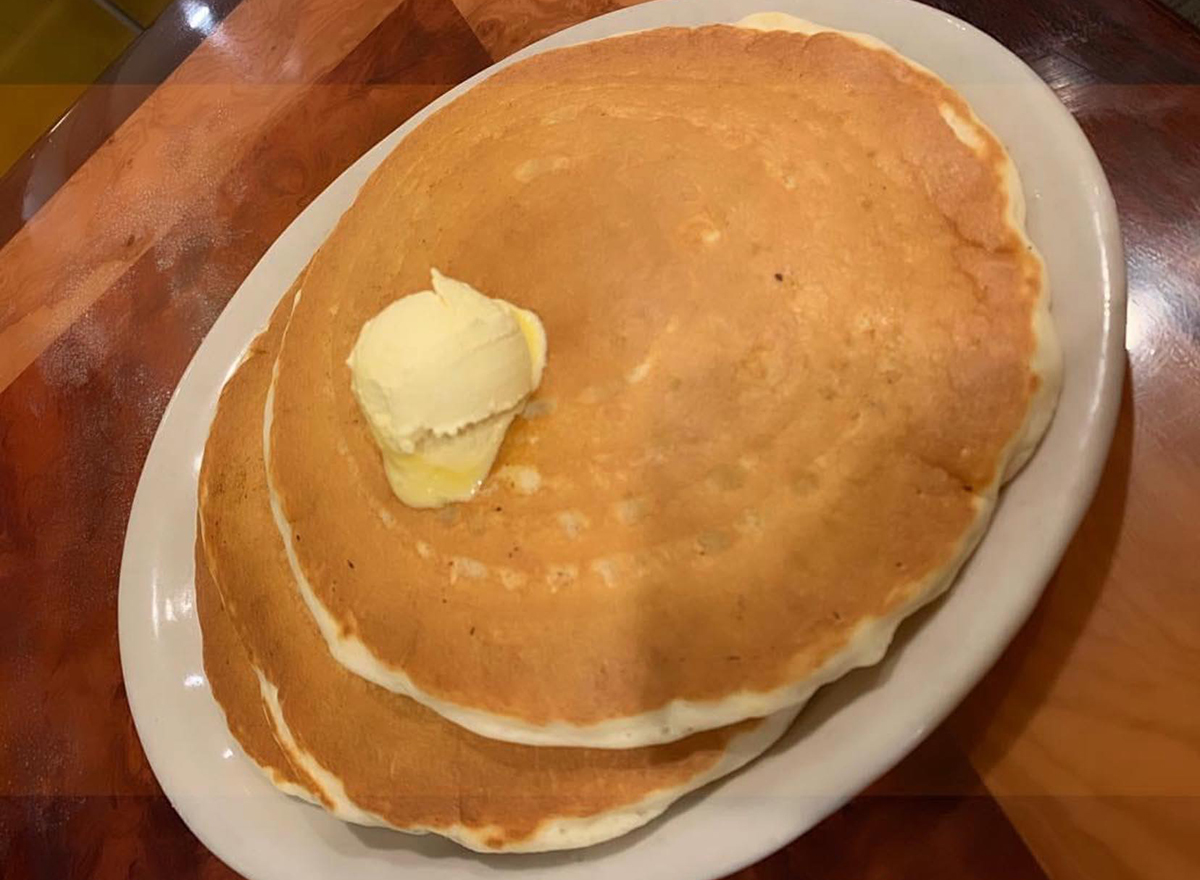 Anything with "pancake house" in the name is the place to be. Their Ono Pancakes are worth every calorie with toppings like peanut butter whipped cream, bananas, and chocolate sauce.
ARIZONA: Hash Kitchen (Multiple Locations)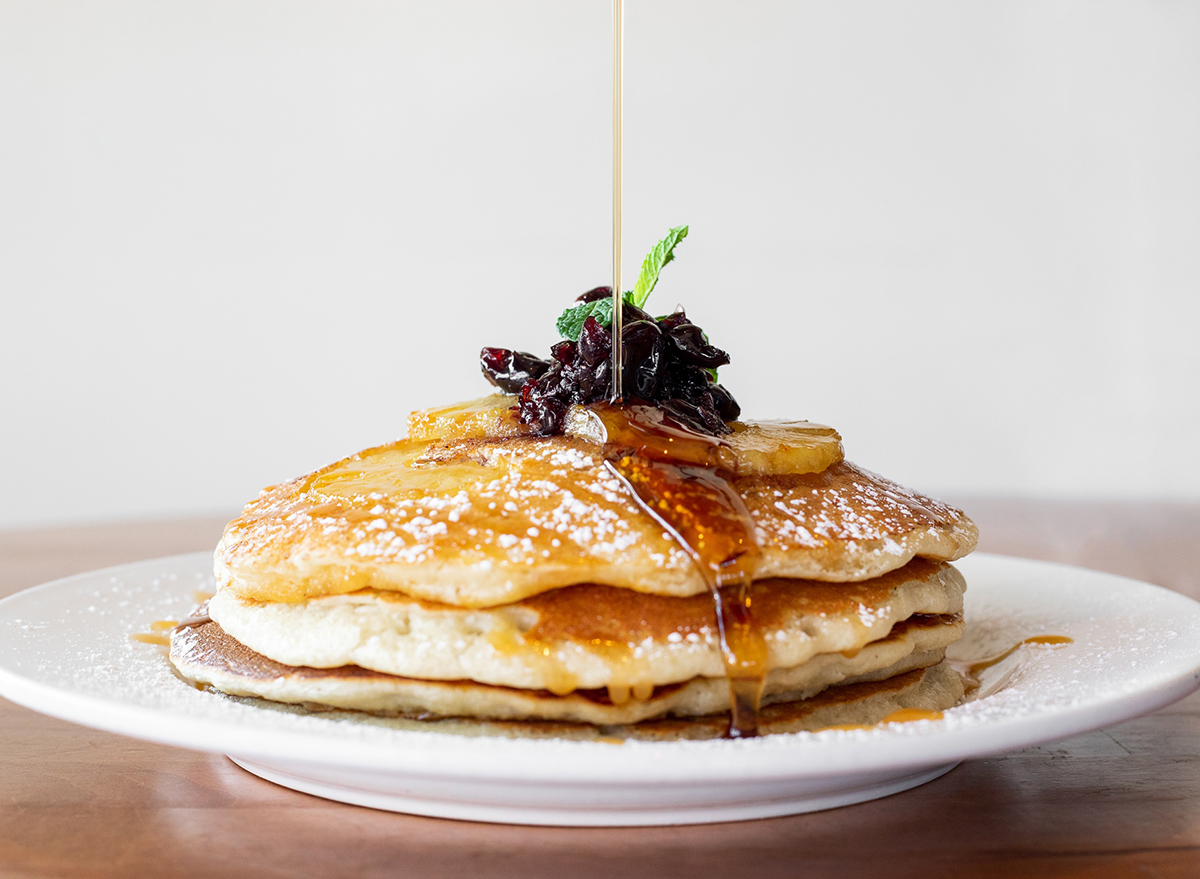 While Hash Kitchen may be known for its Bloody Mary bar, the pancakes are also worthy of a spot on your Instagram page. Consider getting their blue corn bananas foster pancakes, which are made with blue corn flour, caramelized bananas, candied pecans, and cinnamon whipped cream.
ARKANSAS: Preludes Breakfast Bar in Fayetteville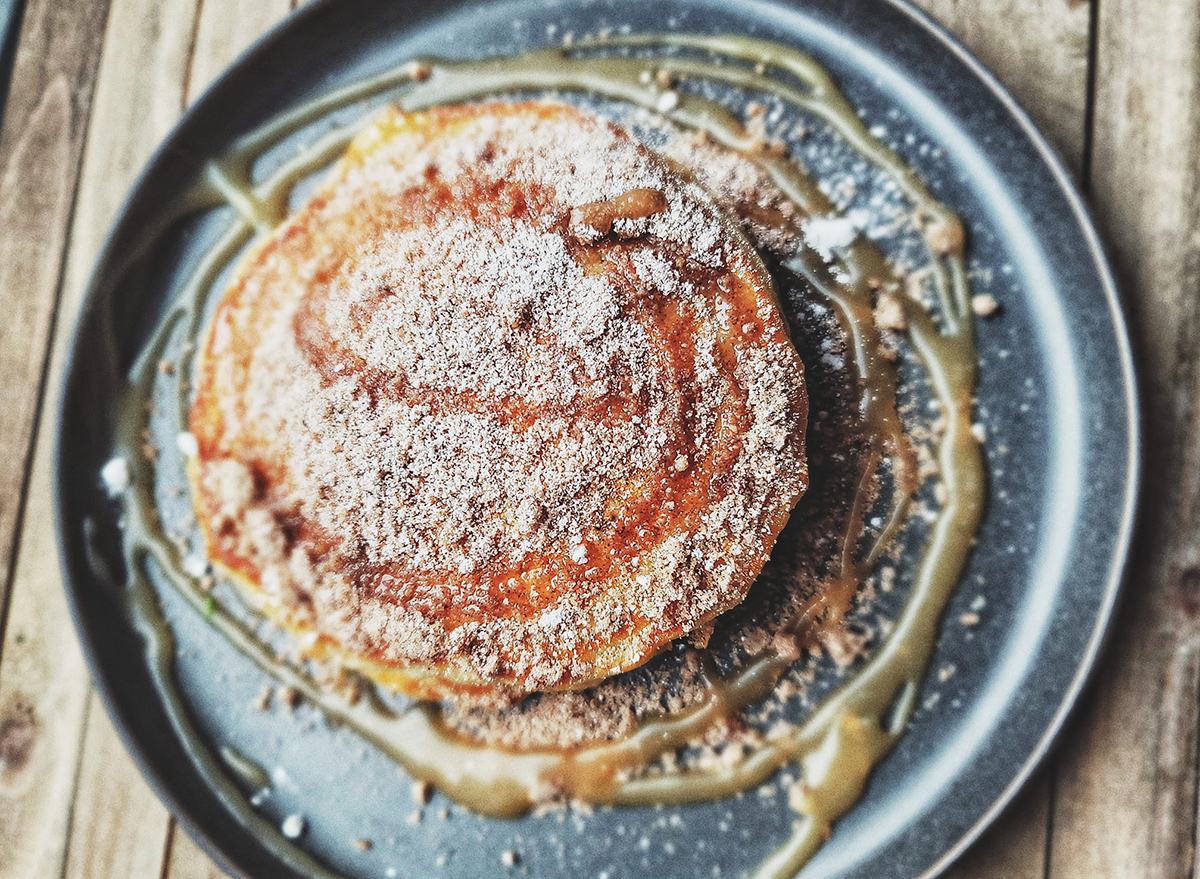 Coffee cake pancakes are on the menu at Preludes, and they are a must-get. Each pancake comes with a coffee swirl, almond butter syrup, and streusel.
CALIFORNIA: Uncle Bill's Pancake House in Manhattan Beach
Pancakes plus a view of the water sounds like a great breakfast to us. The banana nut pancakes come as a stack of three and taste just like warm banana bread.
COLORADO: The Patio Pancake Place in Salida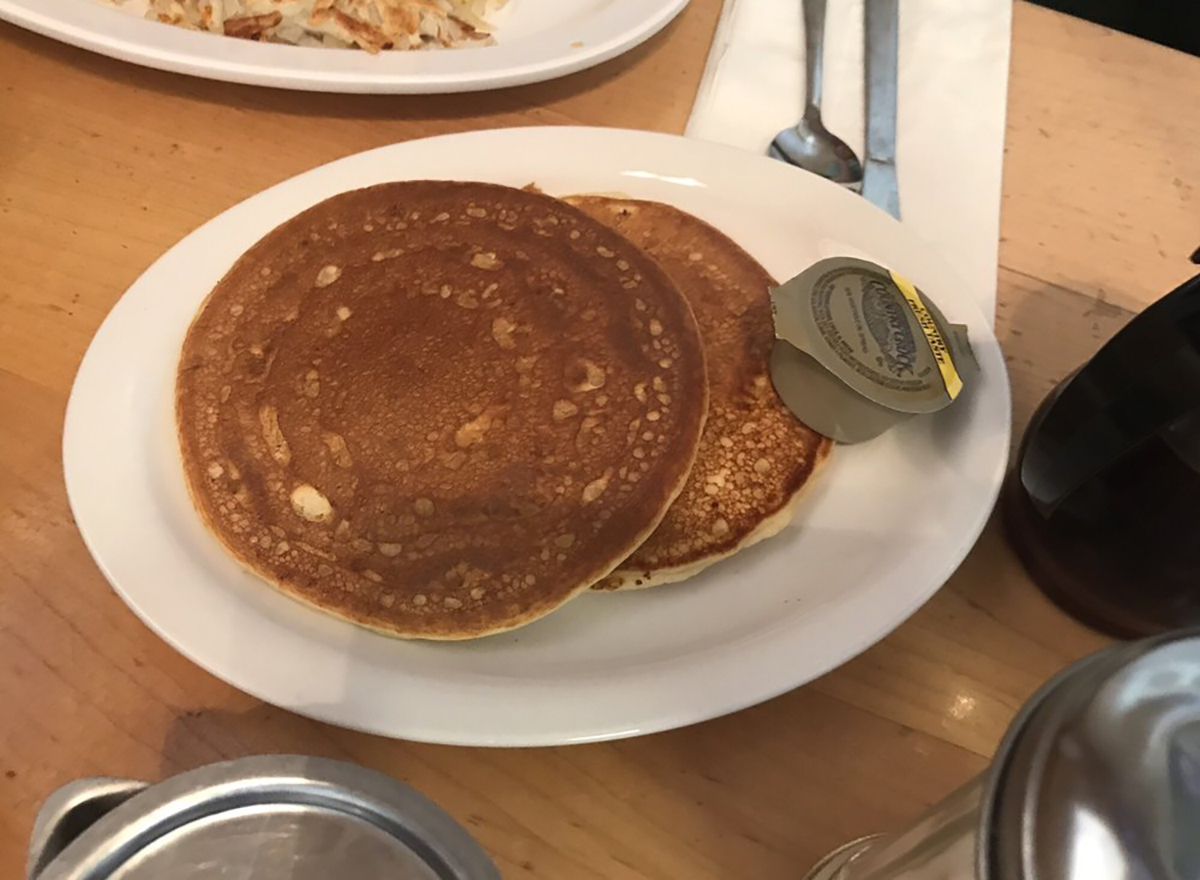 This place has been around for almost 50 years and specializes in pancakes. Get any of the flavors and stack sizes you want because this family batter recipe can't be topped.
CONNECTICUT: The Cottage in Westport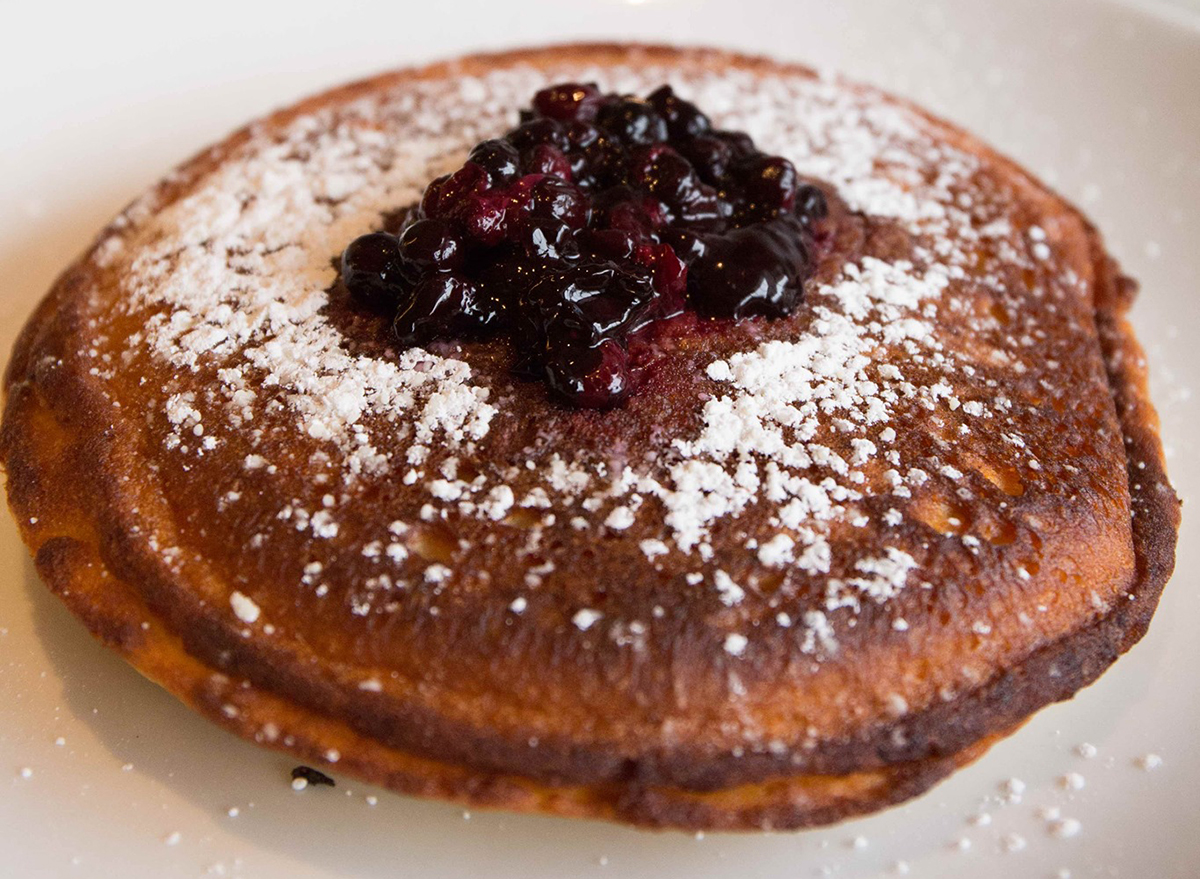 The only time you can get pancakes at The Cottage is during brunch but it's worth the trip for the homemade buttermilk pancakes topped with blueberry ginger jam and toasted almonds.
DELAWARE: Drip Cafe in Hockessin
The signature pancakes at Drip Cafe are the caramel apple pancakes, which start out with two bacon-laden pancakes, apples, and more bacon and are topped off with salted caramel sauce.
FLORIDA: The Pancakery (Multiple Locations)
People flock to the beaches and to the Pancakery in Florida. Consider getting the whole-grain pancakes, which are filled and topped with your choice of strawberries or blueberries.
GEORGIA: Oy! In Atlanta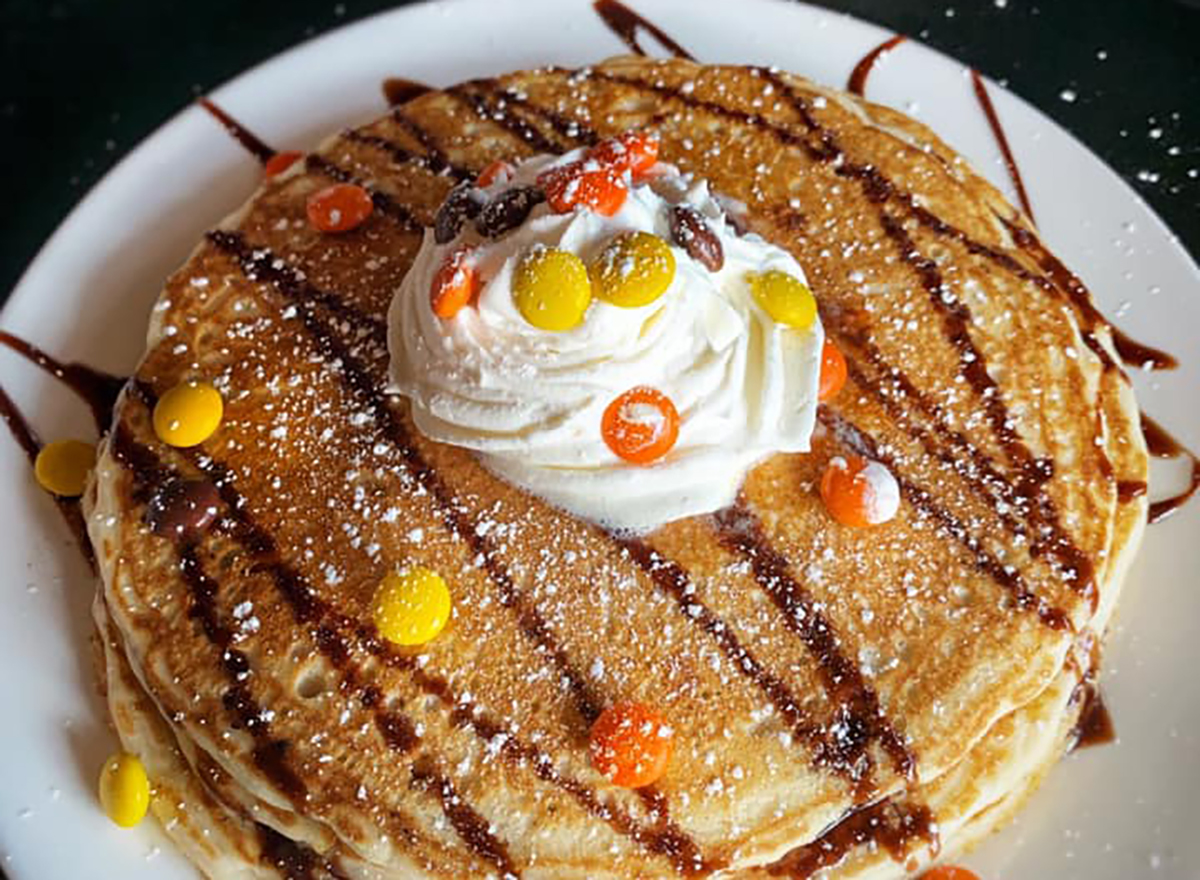 Everything about Oy! is oversized, including the pancakes, which come as big as 14 inches across. Always ask about the pancake of the day if you're dining here; some of the combos make for a tasty breakfast.
HAWAII: Koko Head Cafe in Honolulu
At Koko Head Cafe, you can choose from three different pancakes: Hawaiian-style, smoked bacon, and creamy black pepper maple. We're choosing the black pepper maple, but any option you choose, these pancakes are worth the flight to Hawaii.
IDAHO: Hoot Owl Cafe in Ponderay
Sometimes, simple is better, and at the Hoot Owl Cafe, that's exactly what you'll get. Order a small, large, or short stack of classic—but super delicious—pancakes.
ILLINOIS: Wildberry Cafe (Multiple Locations)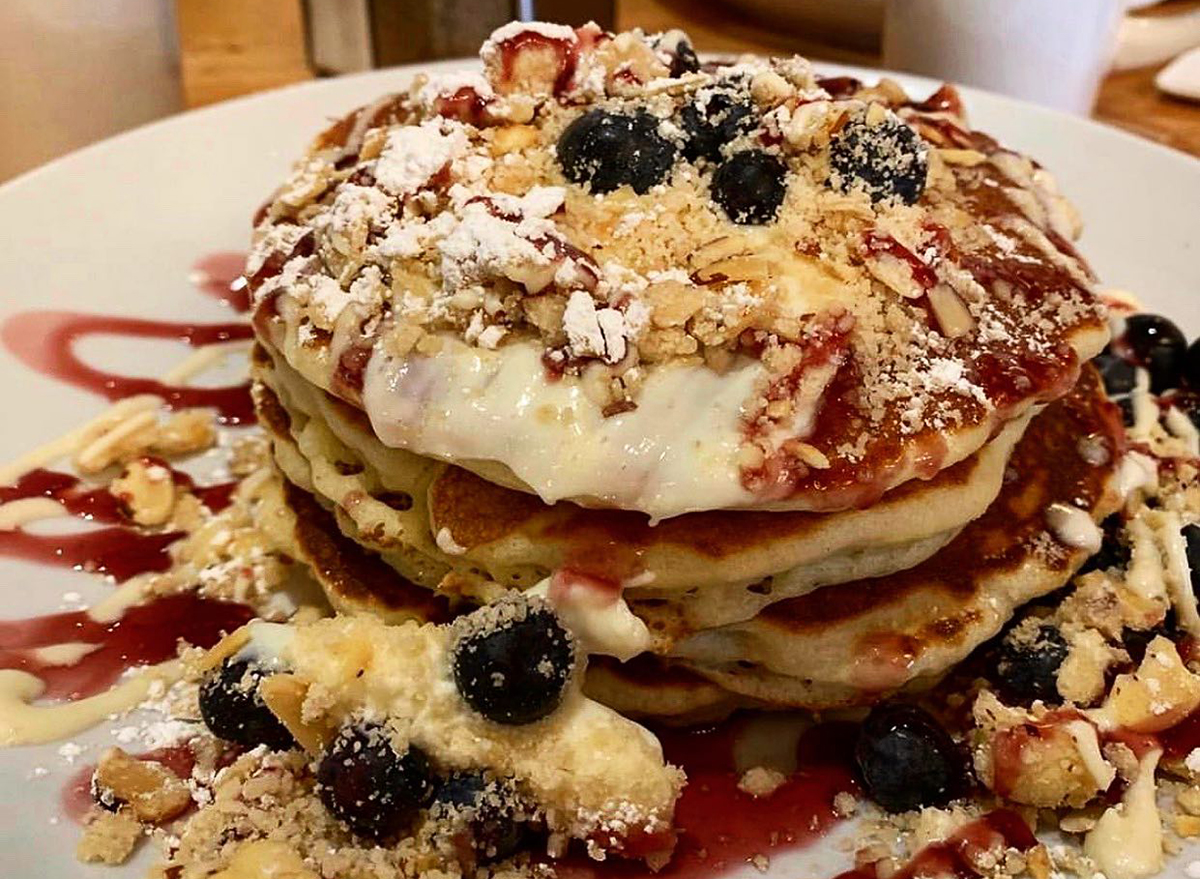 The menu at Wildberry Cafe is extensive, but you're going to want to go right to the pancake area, where you'll find the signature Berry Bliss Pancakes. This towering stack of pancakes comes with berry mascarpone filling, fresh berries, vanilla creme anglaise, and blackberry coulis.
INDIANA: Le Peep in Valparaiso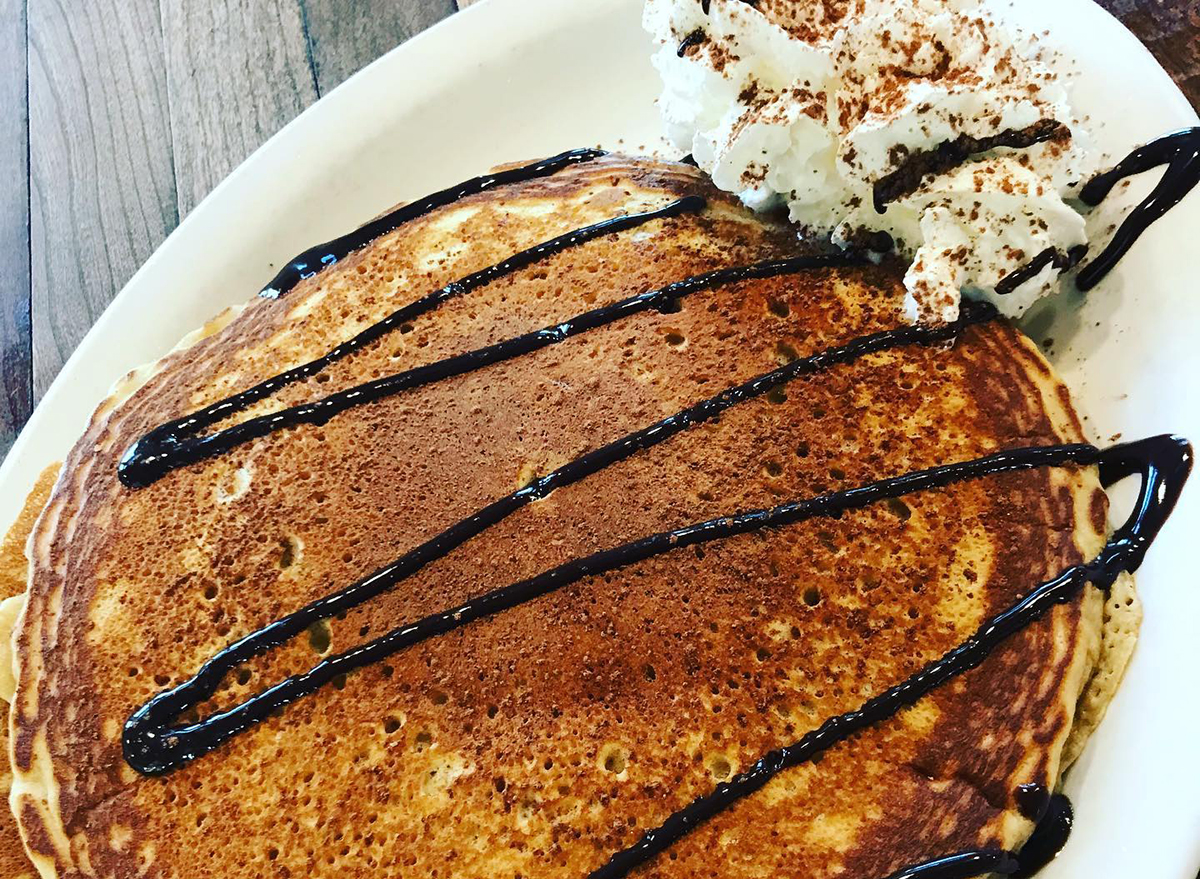 Cinnamon swirl pancakes are on the menu at Le Peep, and they are worth ordering. The stack comes piled high with fluffy pancakes and cream cheese icing.
IOWA: Bluebird Diner in Iowa City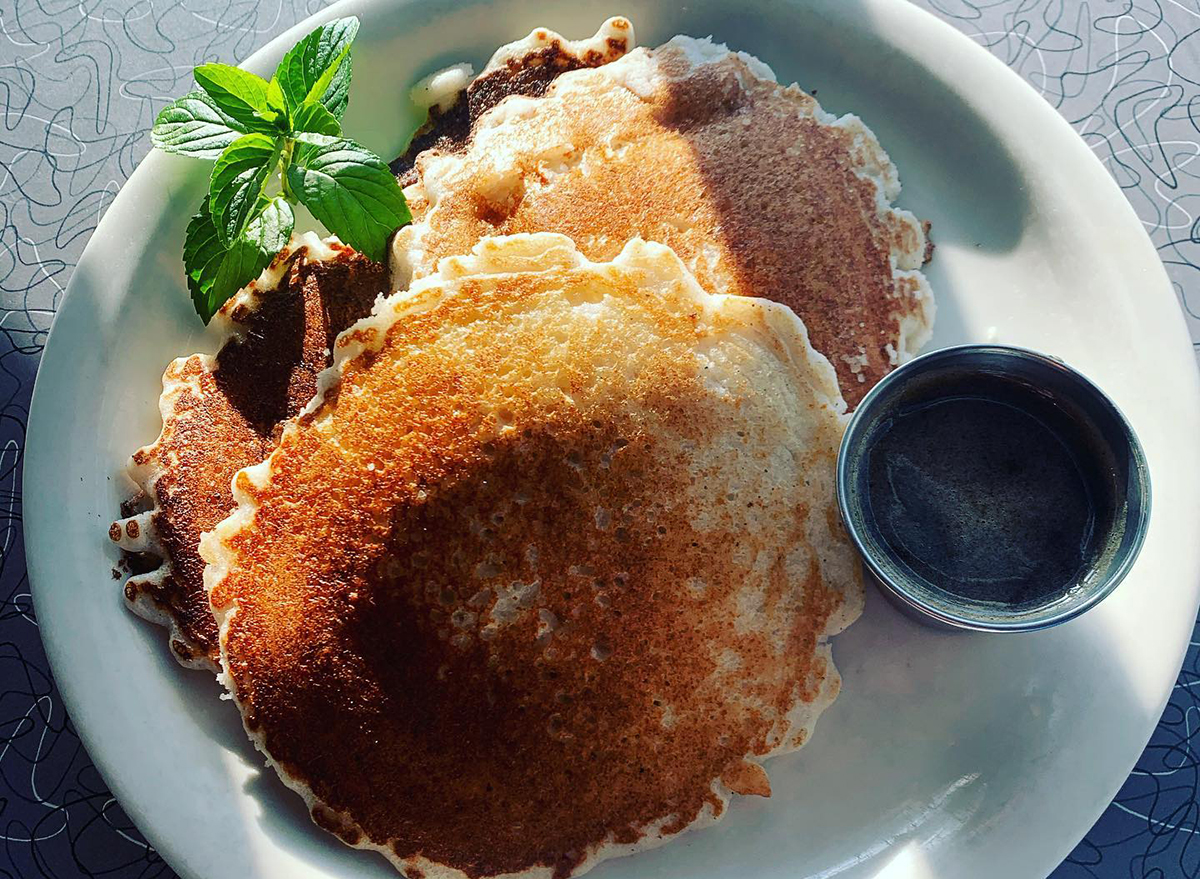 For those looking for gluten-free pancakes, head to the Bluebird Diner. They are serving up some of the best in the state, and you can customize them with toppings like strawberries, griddled bananas, and walnuts.
KANSAS: Hanover Pancake House in Topeka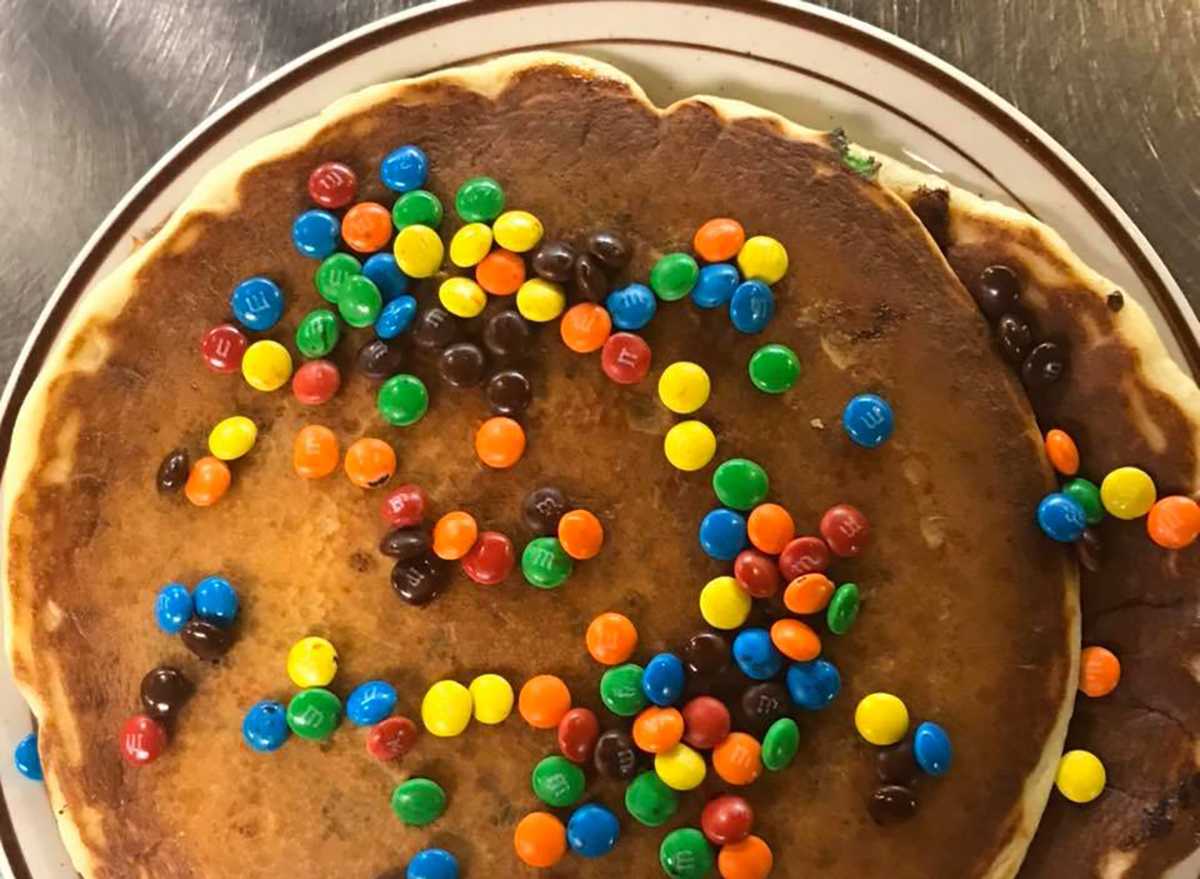 This pancake hotspot has been around for decades and is one of the best places in the entire state for breakfast. If that means pancakes, then the candy-filled M&M's pancakes are the thing to order.
KENTUCKY: Toast on Market in Louisville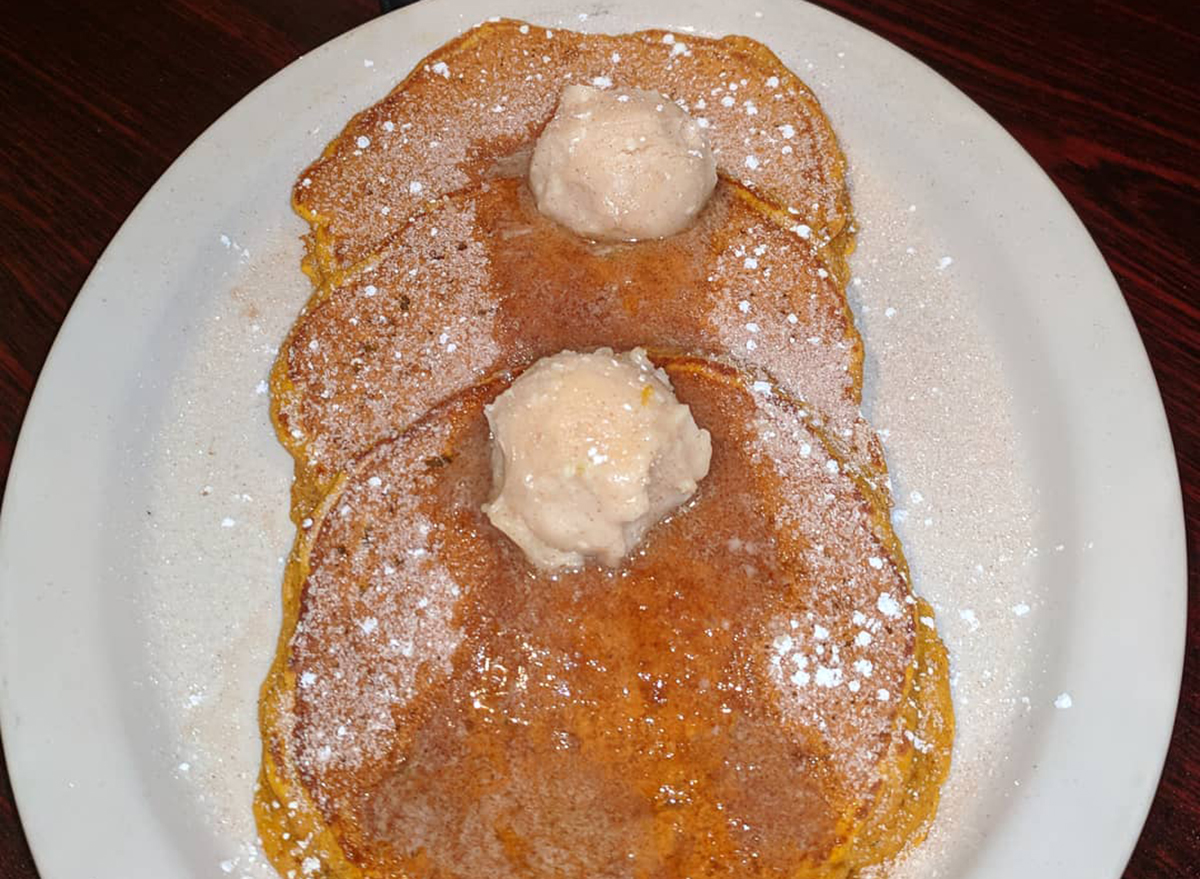 Anything lemon is always a treat, especially when it's paired with pancakes. The lemon souffle pancakes at Toast on Market start with the restaurant's signature lemon ricotta pancakes and are topped with blueberry compote and vanilla custard.
LOUISIANA: Alma in New Orleans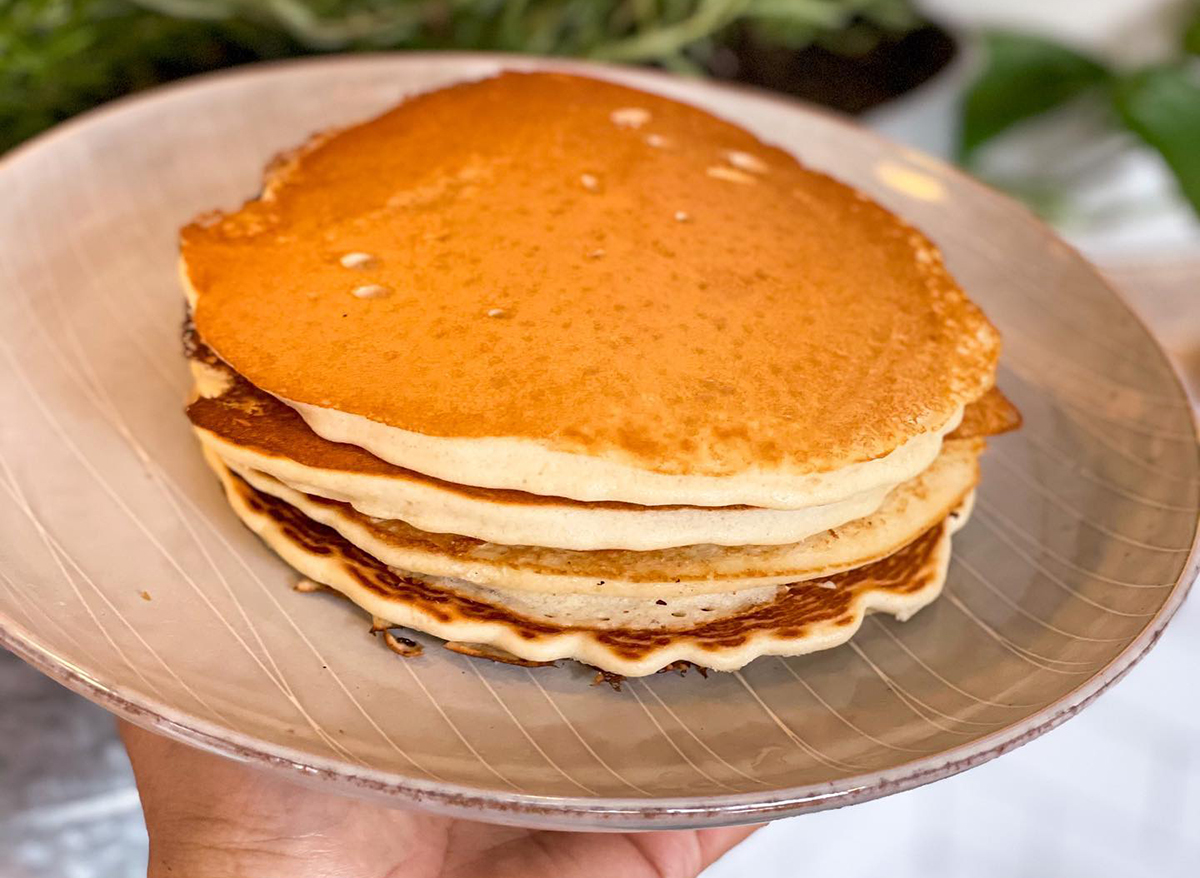 Alma is a modern Honduran restaurant in the heart of cajun country. The Arco Iris pancakes are the best in the city. They start with blueberry, lemon, and ricotta pancakes, and then the stack is topped with Hoodoo liquor syrup.
MAINE: Miss Portland Diner in Portland
There's something really cool about eating in an old train car like the one that Miss Portland Diner is located in. The buttermilk pancakes are scrumptious on their own, but you can add Maine blueberries to give them even more flavor.
MARYLAND: The Breakfast Shoppe in Saverna Park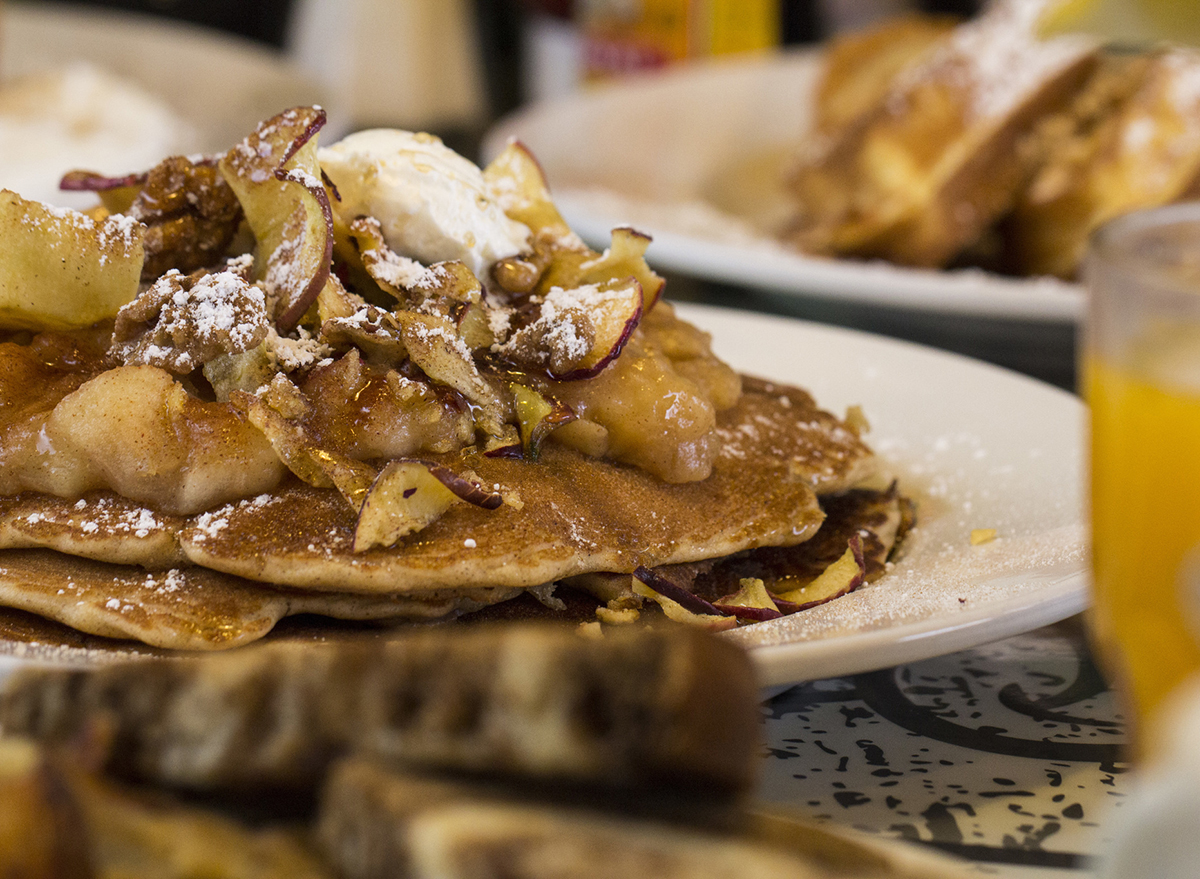 Anything with strawberry shortcake is going to be good, but the strawberry shortcake pancakes at this local spot are exceptional. The stack starts out with three pancakes grilled with cornbread crumbles and a strawberry jam swirl. The stack is topped with strawberry marinade, powdered sugar, whipped cream, and pecans.
MASSACHUSETTS: Ball Square Cafe in Somerville
Chocolate chip and coconut pancakes are on the menu at Ball Square Cafe, and they sound like a breakfast treat straight from a tropical island.
MICHIGAN: Cafe Meli in Portage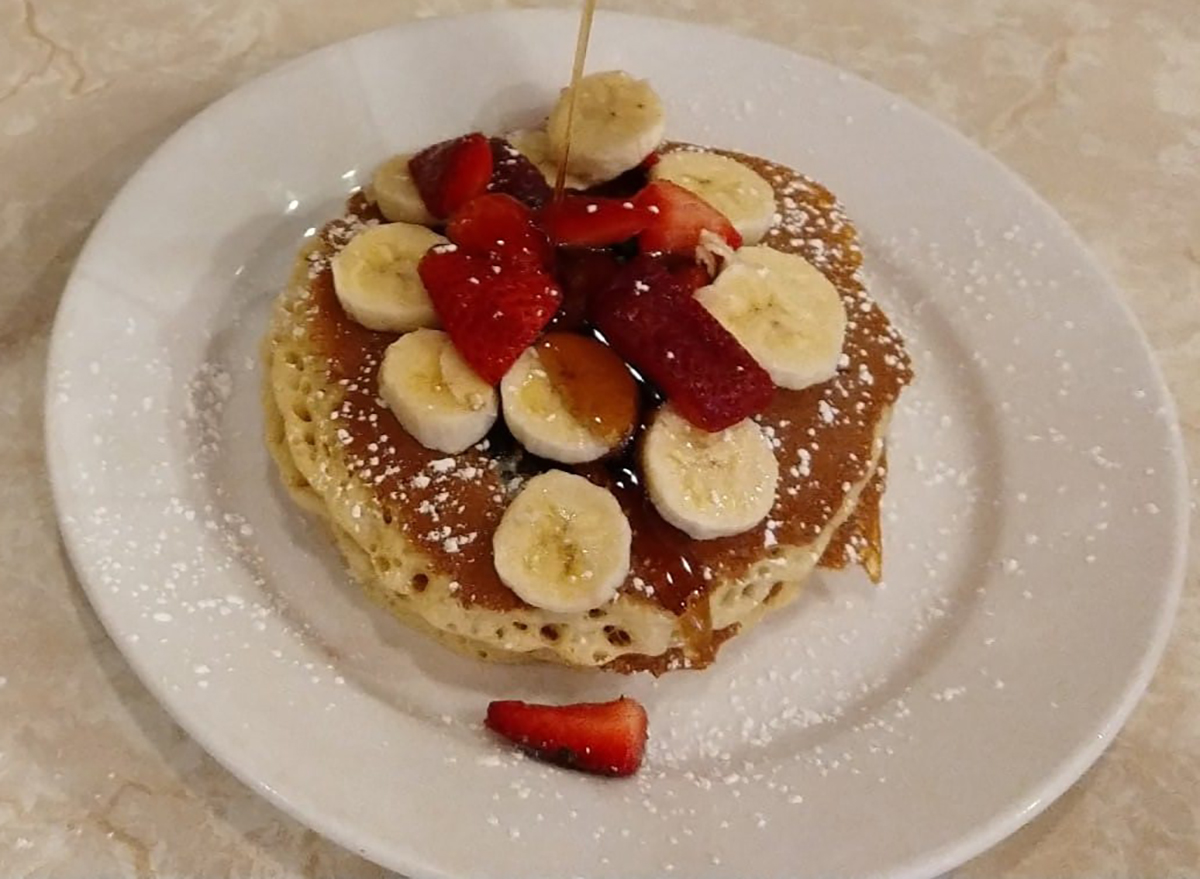 This hidden gem restaurant in Portage is serving up potato pancakes served with sour cream and applesauce for a sweet and savory breakfast, lunch, or dinner.
MINNESOTA: Maria's Cafe in Minneapolis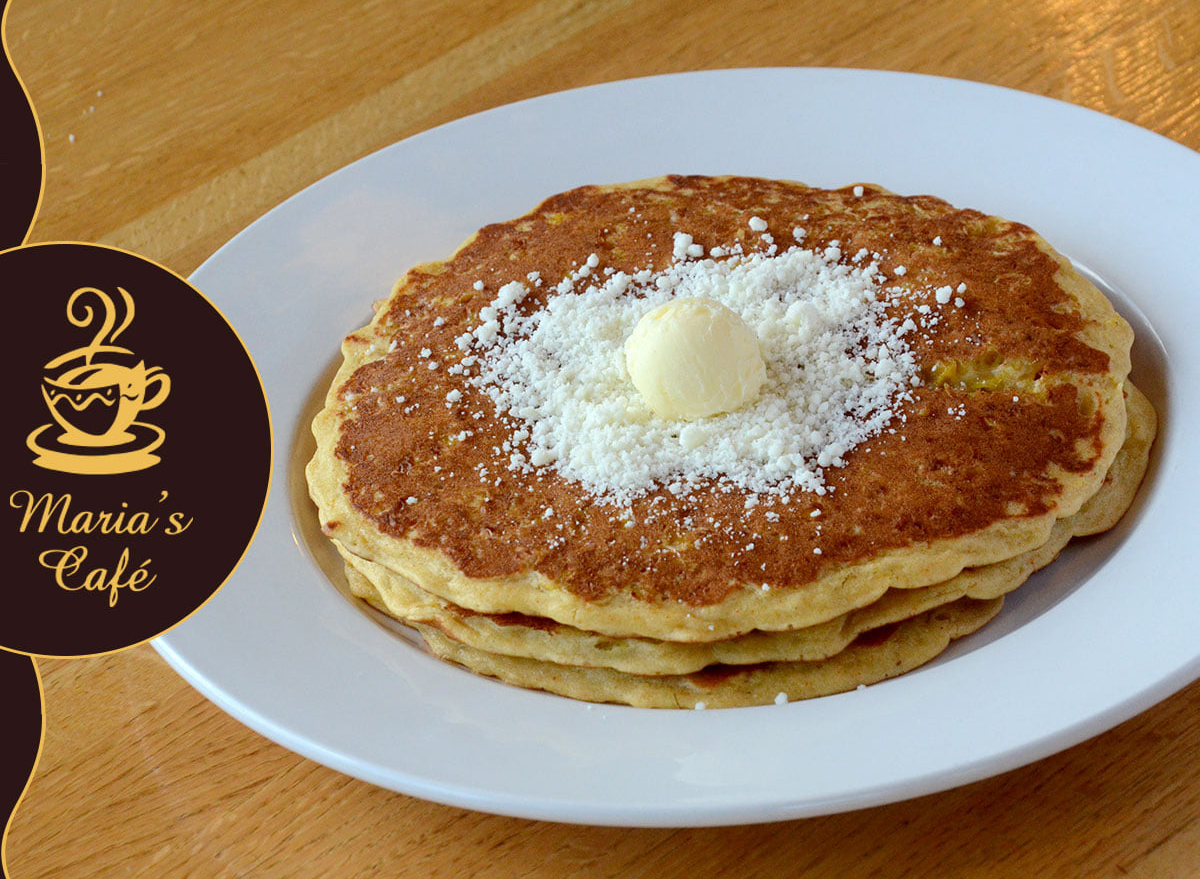 Corn pancakes are a highlight of the menu at Maria's Cafe. This sweet and savory breakfast can also be topped with salty, crumbled cotija cheese.
MISSISSIPPI: Big Bad Breakfast (Multiple Locations)
What started out as a local favorite has now become a Southern breakfast empire. Big Bad Breakfast is serving up some of the best pancakes in the South. Our top pick is the oatmeal pancakes, which are served with whipped cream and seasonal berries.
MISSOURI: The Bruncheonette in Joplin
Brunch is a big deal, and at The Bruncheonette they are dishing out pulled pork pancakes, which honestly sound like heaven on a plate. Three buttermilk pancakes are topped with butter-fried pulled pork for a sweet and savory combo that will satisfy you until dinner.
MONTANA: Main Street Over Easy in Bozeman
For the kid inside all of us, Main Street Over Easy is cooking up Mickey Mouse-shaped pancakes that you can top with strawberries or chocolate chips.
NEBRASKA: Jimmy's Egg in Omaha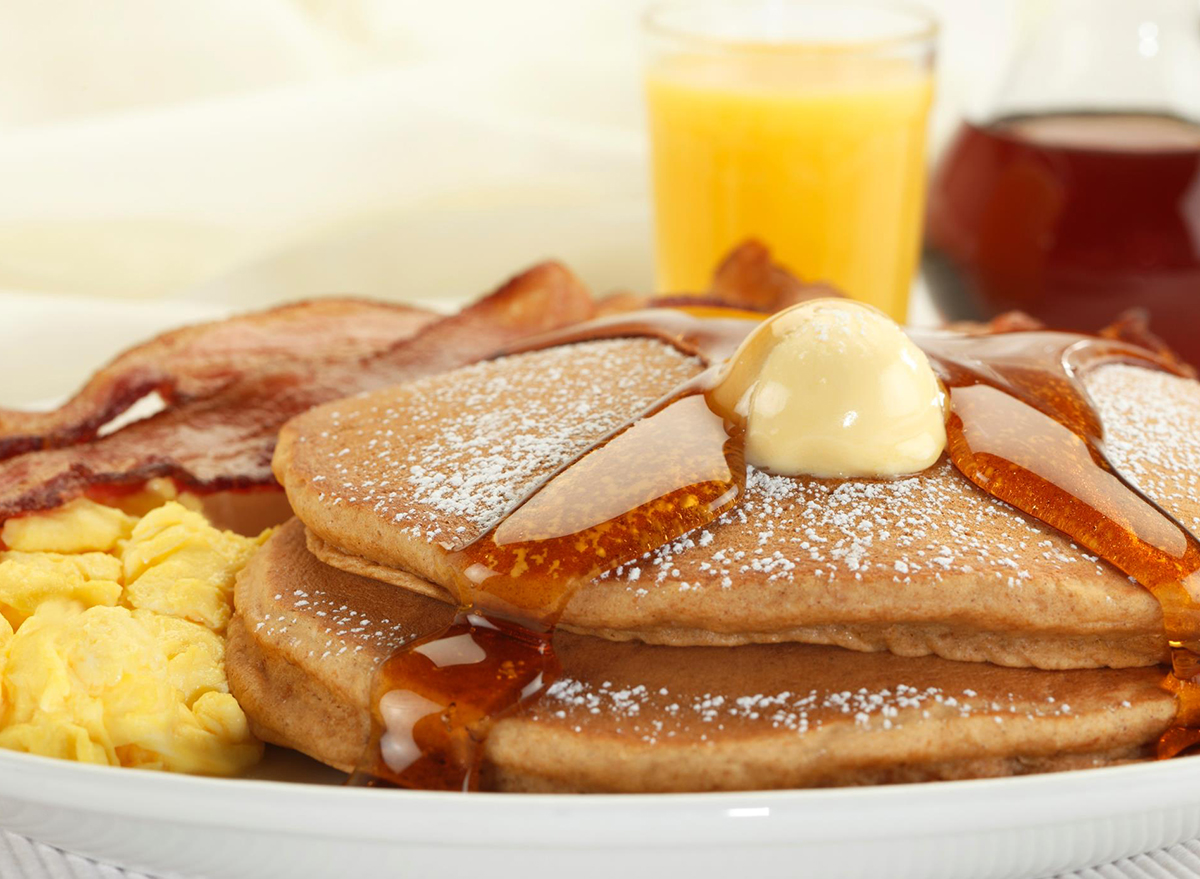 For a healthier but still delicious pancake stack, get the blueberry streusel multigrain flaxseed pancakes from Jimmy's Egg. The pancakes are topped stuffed with blueberries and sweet streusel.
NEVADA: Stacks and Yolks in Las Vegas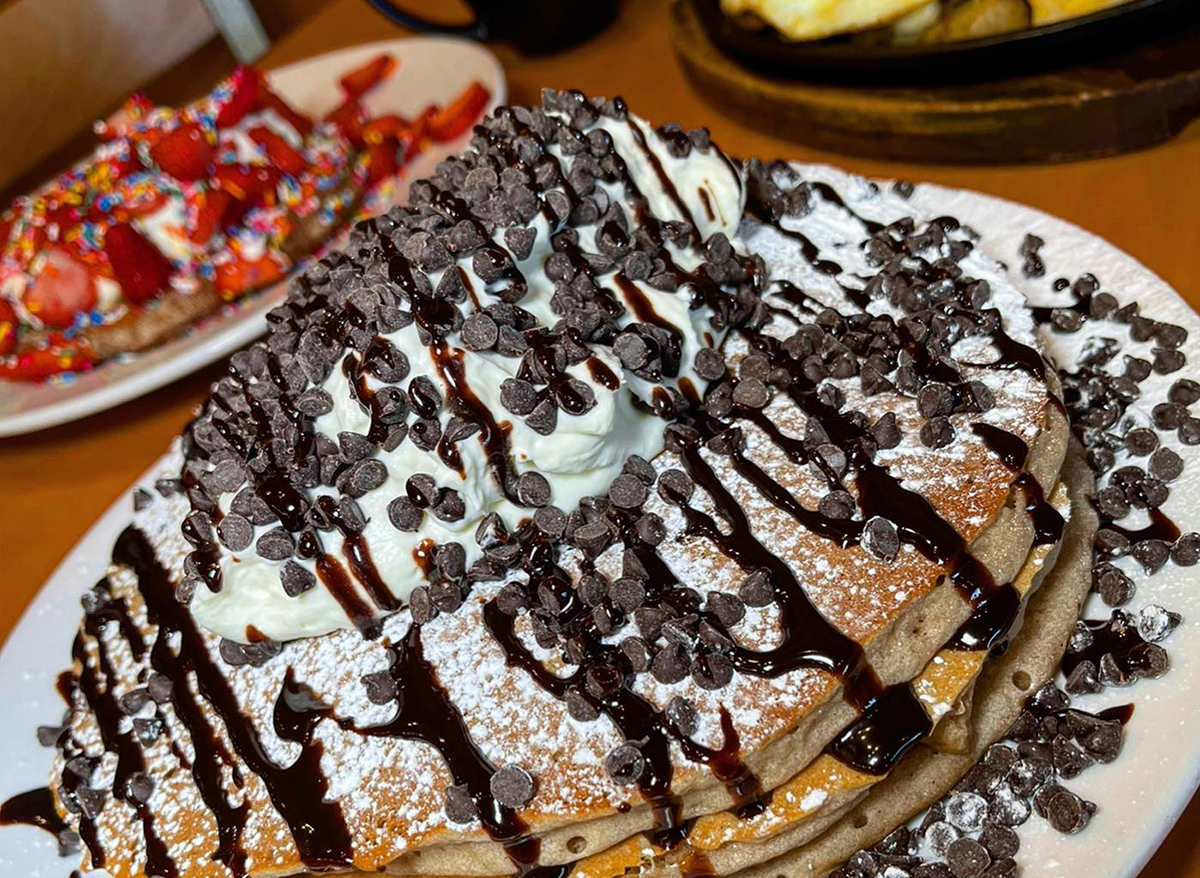 At Stacks and Yolks, you can choose from one of the pre-made pancake options, or you can get creative and make your own stack with a choice of how many pancakes, what flavor batter, and what toppings you want.
NEW HAMPSHIRE: Polly's Pancake Parlor in Sugar Hill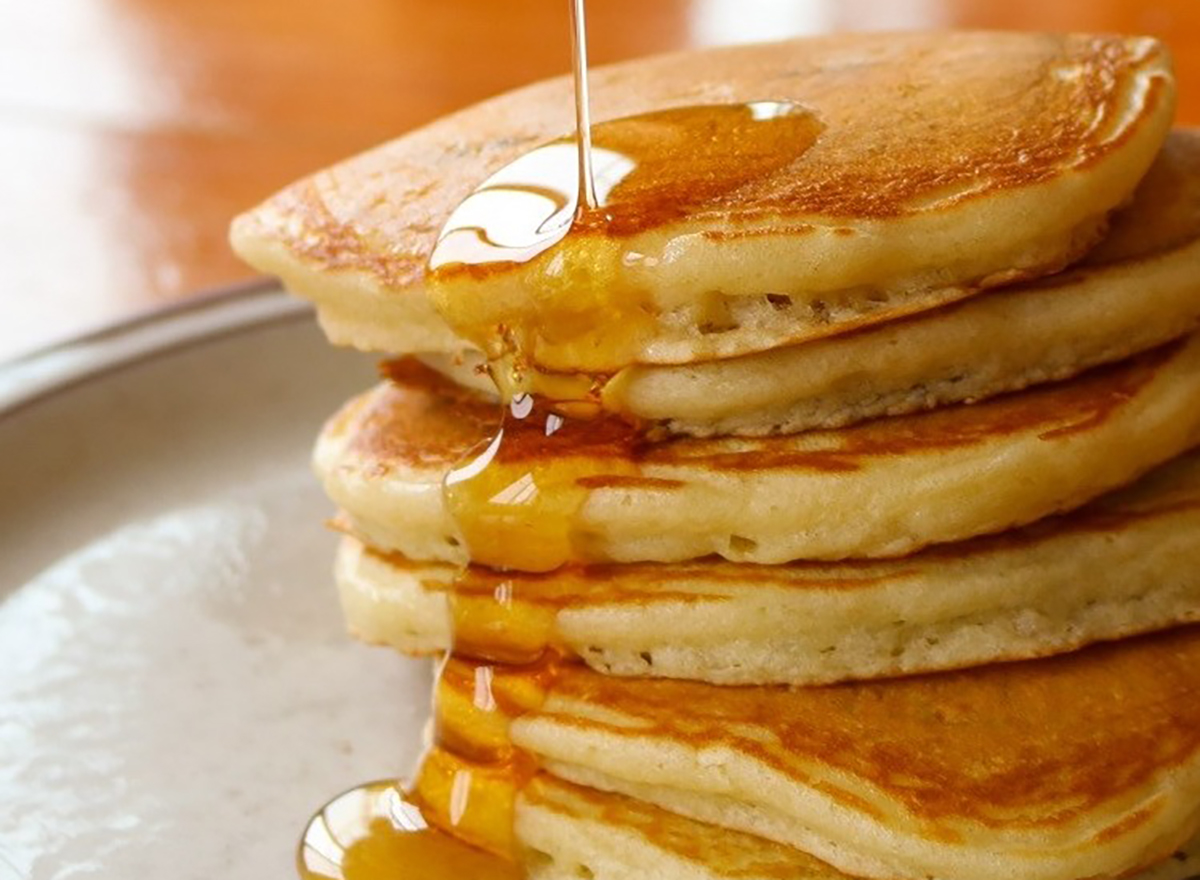 Gingerbread pancakes aren't just a holiday staple when you go to Polly's Pancake Parlor. Get a sweet stack topped with your choice of fruit, and be sure to add a side of bacon.
NEW JERSEY: The Corner in Montclair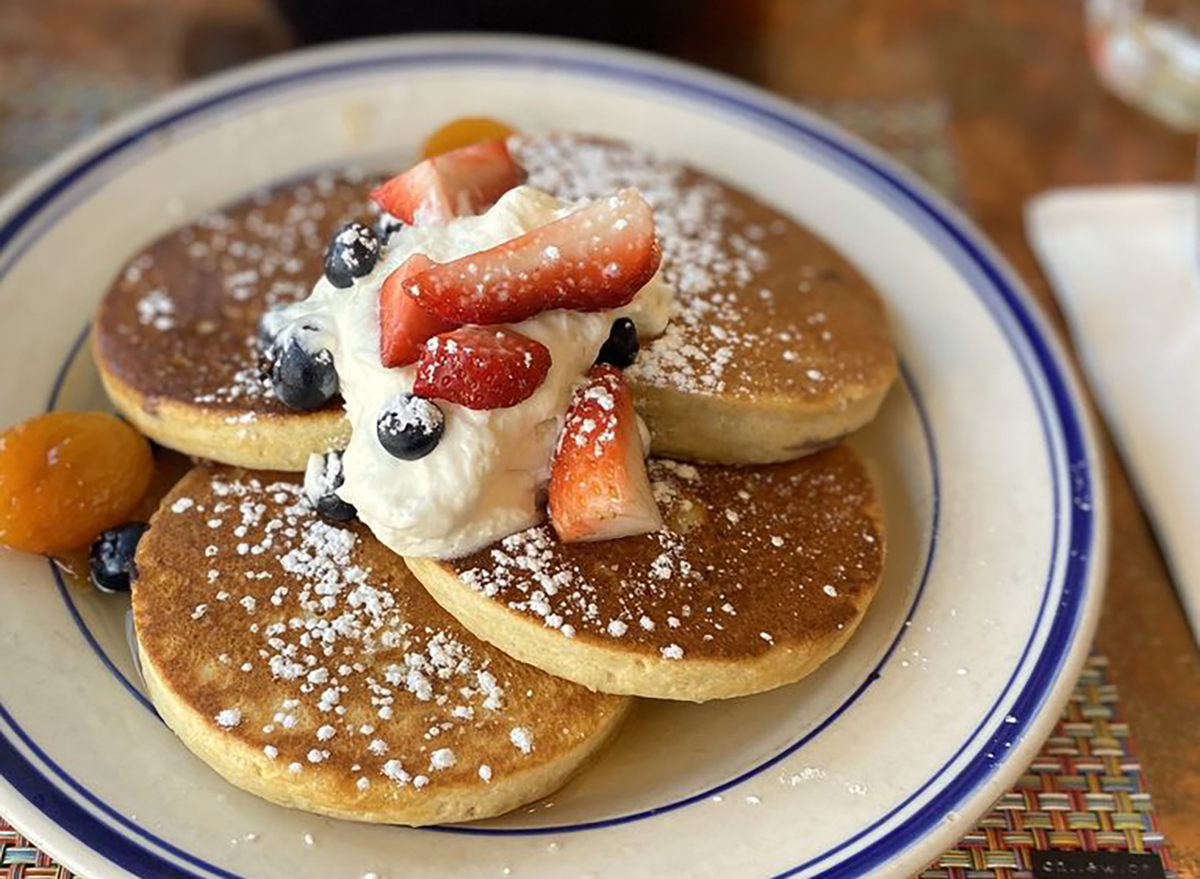 The pancakes served at The Corner are more like Japanese-style soufflé pancakes. The perfectly browned pancakes are topped with poached apricots and vanilla syrup.
NEW MEXICO: Central Grill and Coffee House in Albuquerque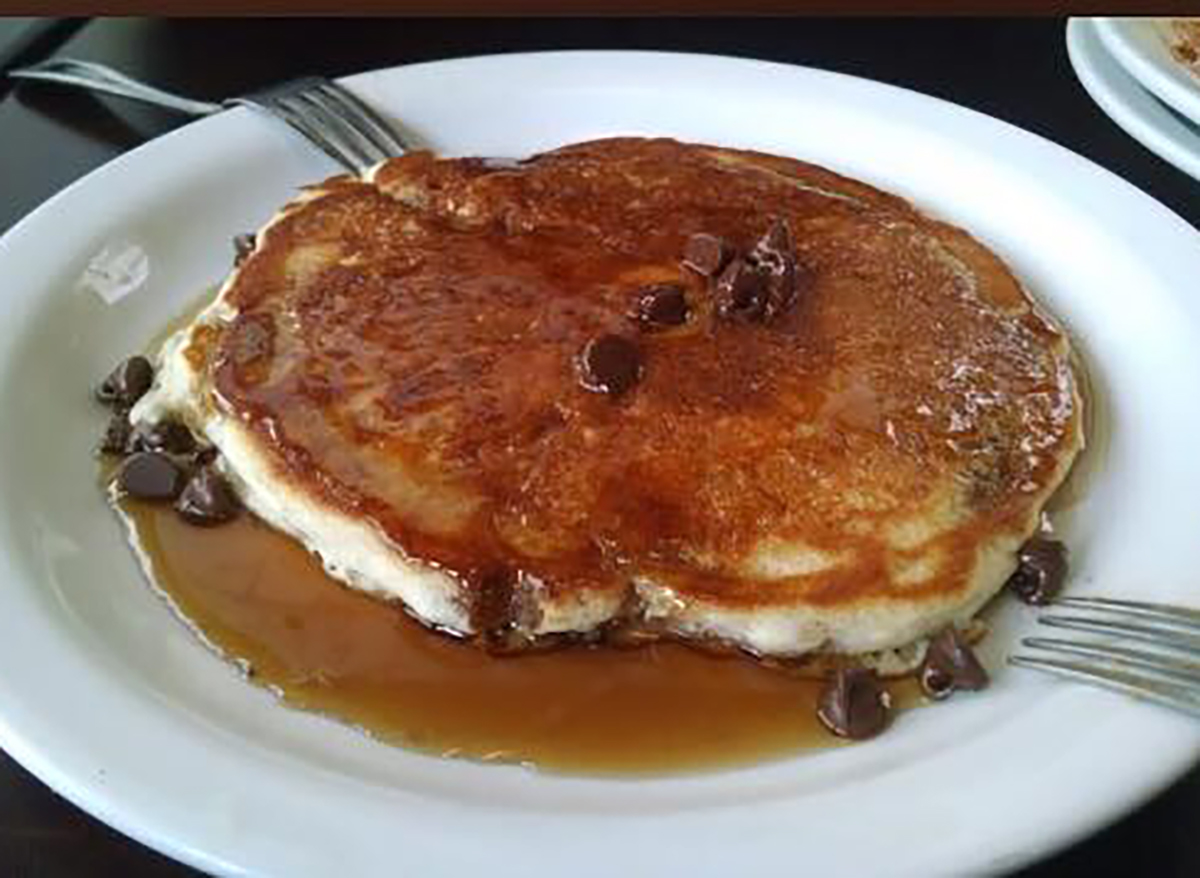 The Central Grill and Coffee House is known for its fruit and brie cheese pancakes. Let's be real for a second: Anything with melty brie cheese has to be good.
NEW YORK: Sunday in Brooklyn in Brooklyn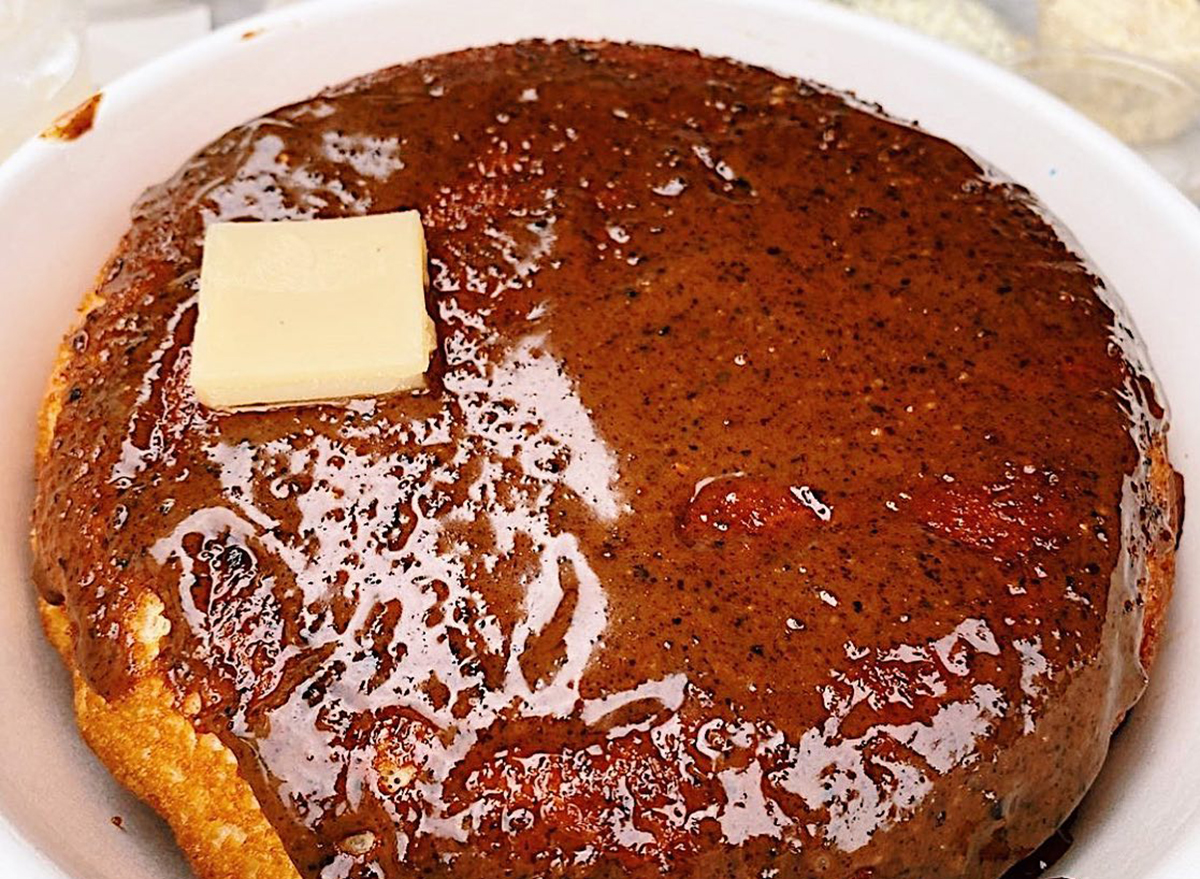 If indulgent pancakes are calling your name then look no further than Sunday in Brooklyn. They are serving up pancakes made with hazelnut maple praline and brown butter.
NORTH CAROLINA: Honey and Salt in Flat Rock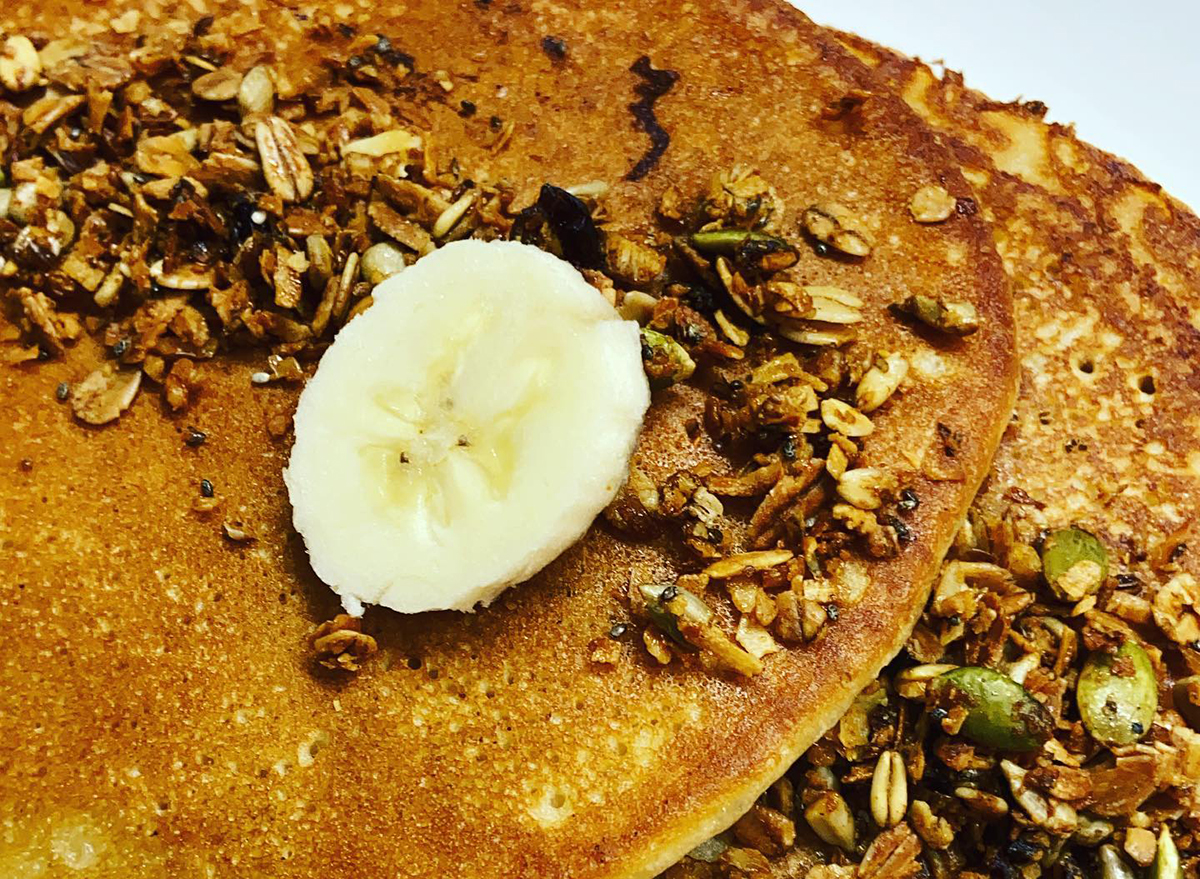 Honey and Salt uses local ingredients in all of its dishes, including the pancakes, which are loaded with fruit or can be ordered plain. Stop here for pancakes when traveling through North Carolina, and be sure to get something to-go from the on-site bakery.
NORTH DAKOTA: Darcy's Cafe in Grand Forks
Cinnamon roll pancakes grace the menu at this little spot in Grand Forks. Add on some crispy hash browns or some bacon, and you're in breakfast heaven.
OHIO: Katalina's in Harrison West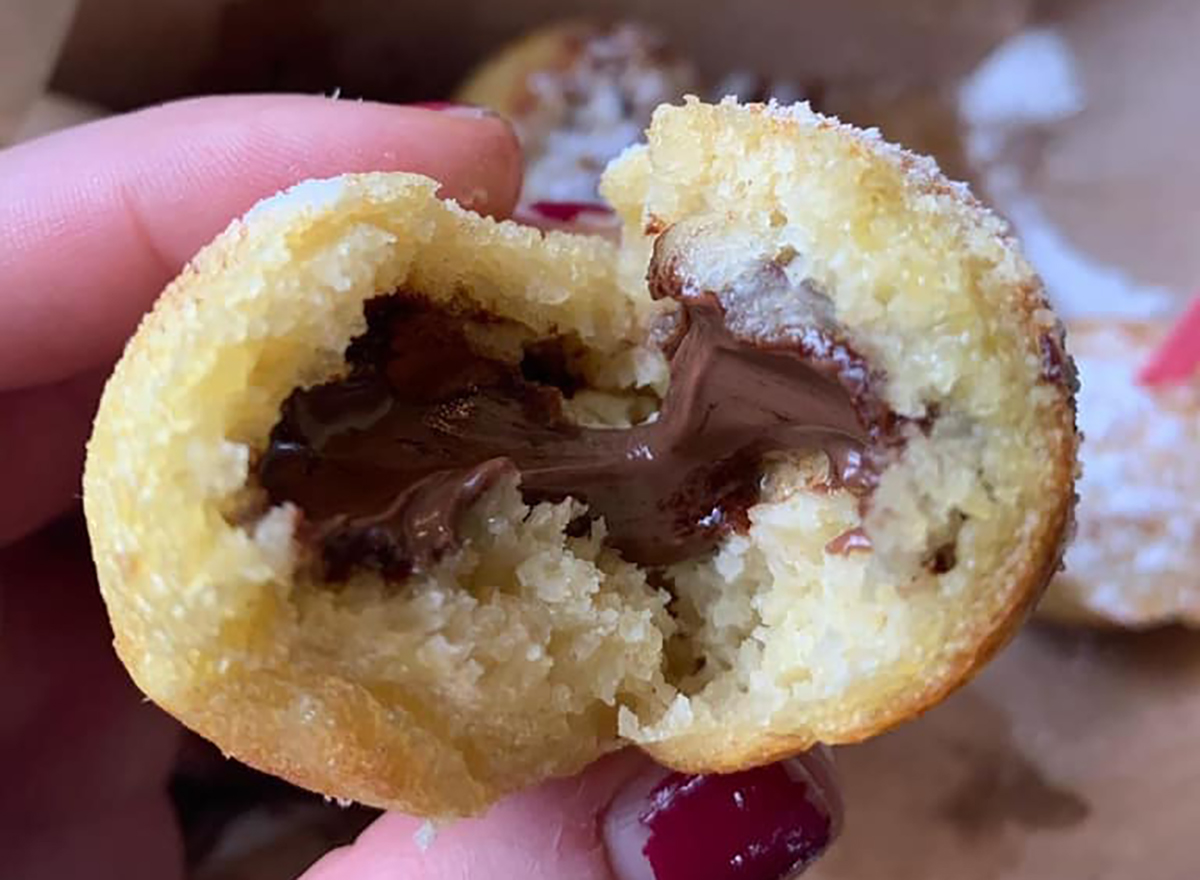 Katalina's is home to the original pancake balls. These iconic breakfast items are made with local flour and are stuffed with your choice of filling from Nutella, dulce de leche, pumpkin-apple butter, and served with bourbon barrel-aged syrup and sweet and spicy bacon.6254a4d1642c605c54bf1cab17d50f1e
OKLAHOMA: Kitchen No. 324 in Oklahoma City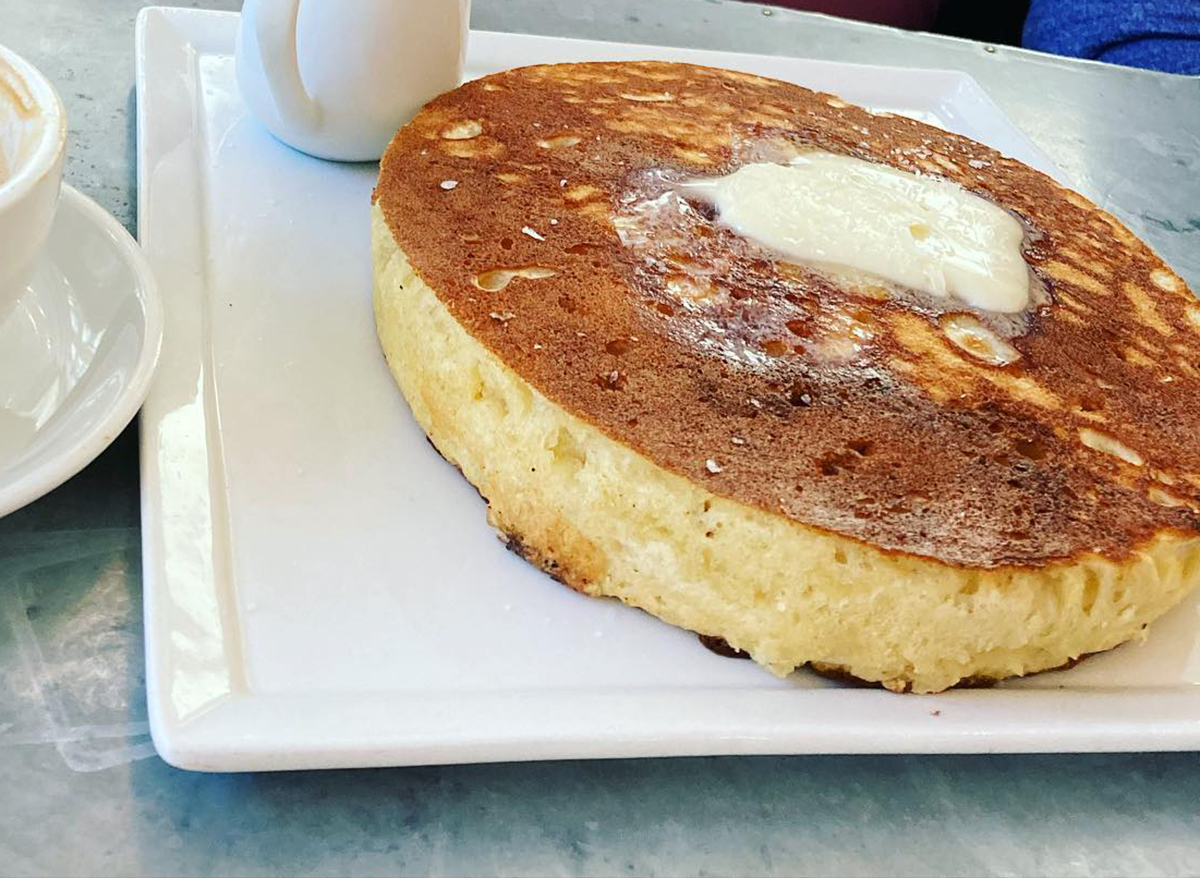 When a menu says something is giant, we automatically want to order it just to see how giant it is. At Kitchen No. 324 there is a giant buttermilk pancake on the menu that locals can't get enough of.
OREGON: Jam on Hawthorne in Portland
The Fancy Oatmeal Chai Blueberry Pancakes at Jam on Hawthorne are vegan-friendly and sound delightful. They are made with oats, spelt flour, blueberries, chai, apple cider, and other spices, along with vegan coconut, caramel sauce, and candied pecans.
PENNSYLVANIA: Ida's Cafe in Lancaster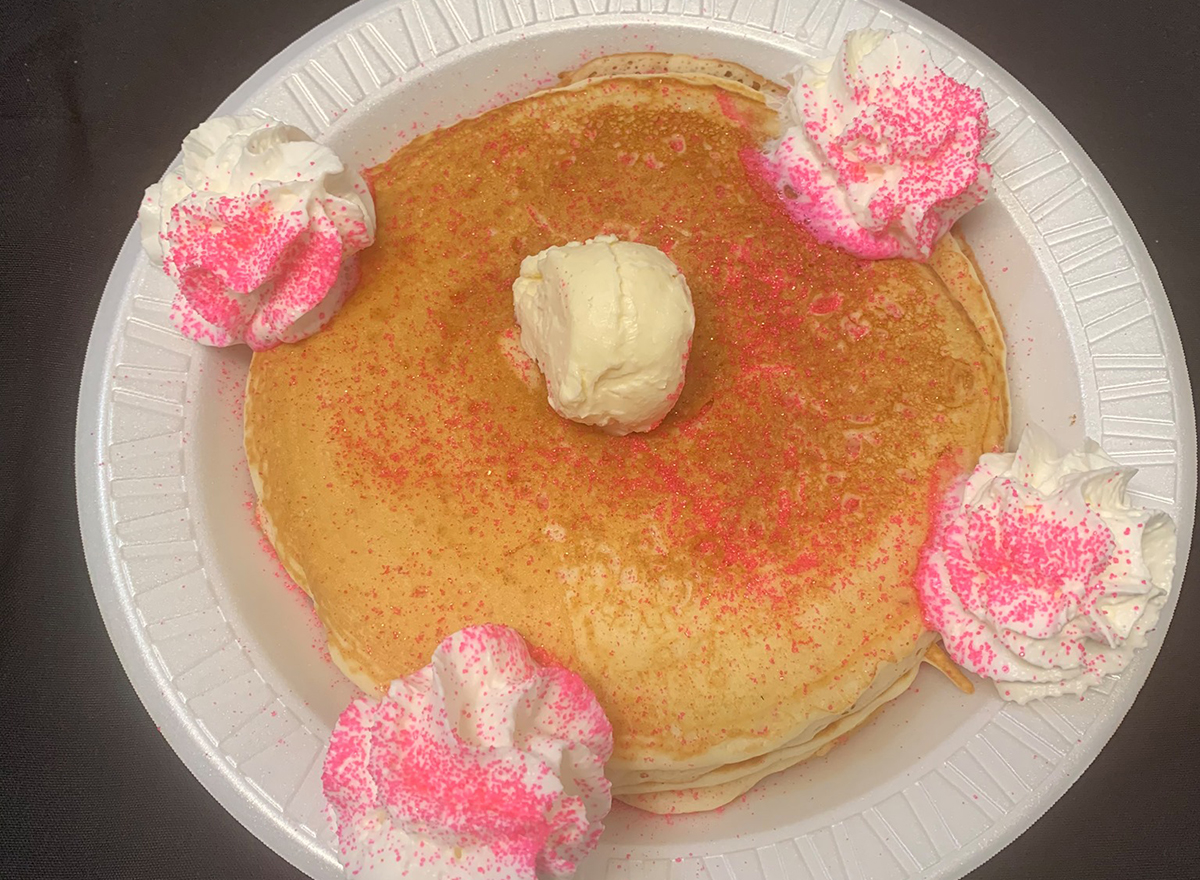 At Ida's, consider getting the sugar cookie pancakes. These fan-favorite pancakes taste just like Grandma's sugar cookies.
RHODE ISLAND: Corner Cafe in Newport
For a sweet and savory breakfast, get the Alpine pancake stack at Corner Cafe. These pancakes are piled high with sliced sausage, caramelized apples, and cheddar cheese.
SOUTH CAROLINA: Harry's Breakfast Pancakes in Myrtle Beach
Take a trip to the islands with Harry's Hawaiian pancakes. The pancakes come to your table filled with pineapple and coconut and topped with whipped topping.
SOUTH DAKOTA: Roll'n Pin Cafe in Sioux Falls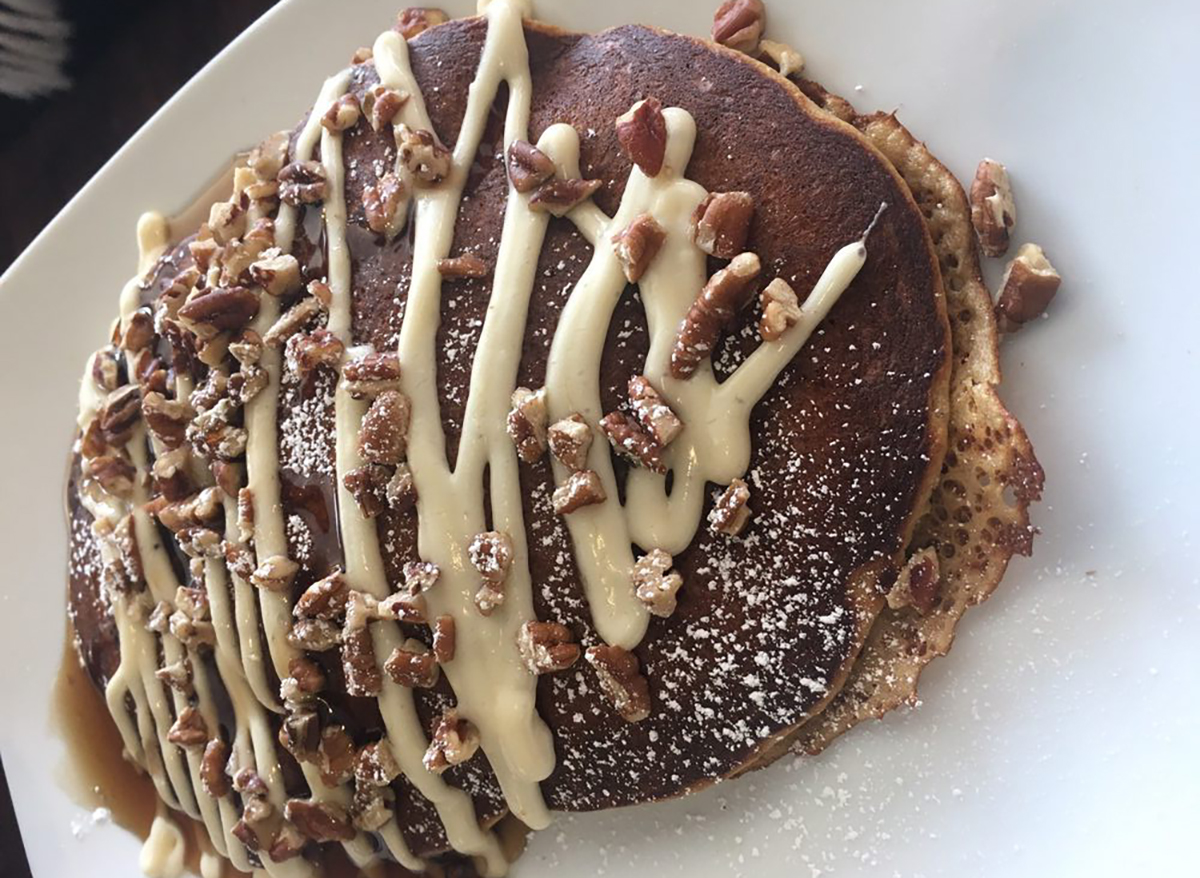 This breakfast joint is serving buttermilk pancakes with warm maple syrup and your choice of strawberries or wild blueberries. Add on a side of bacon or hash browns for a sweet and savory breakfast.
TENNESSEE: Flapjack's Pancake Cabin (Multiple Locations)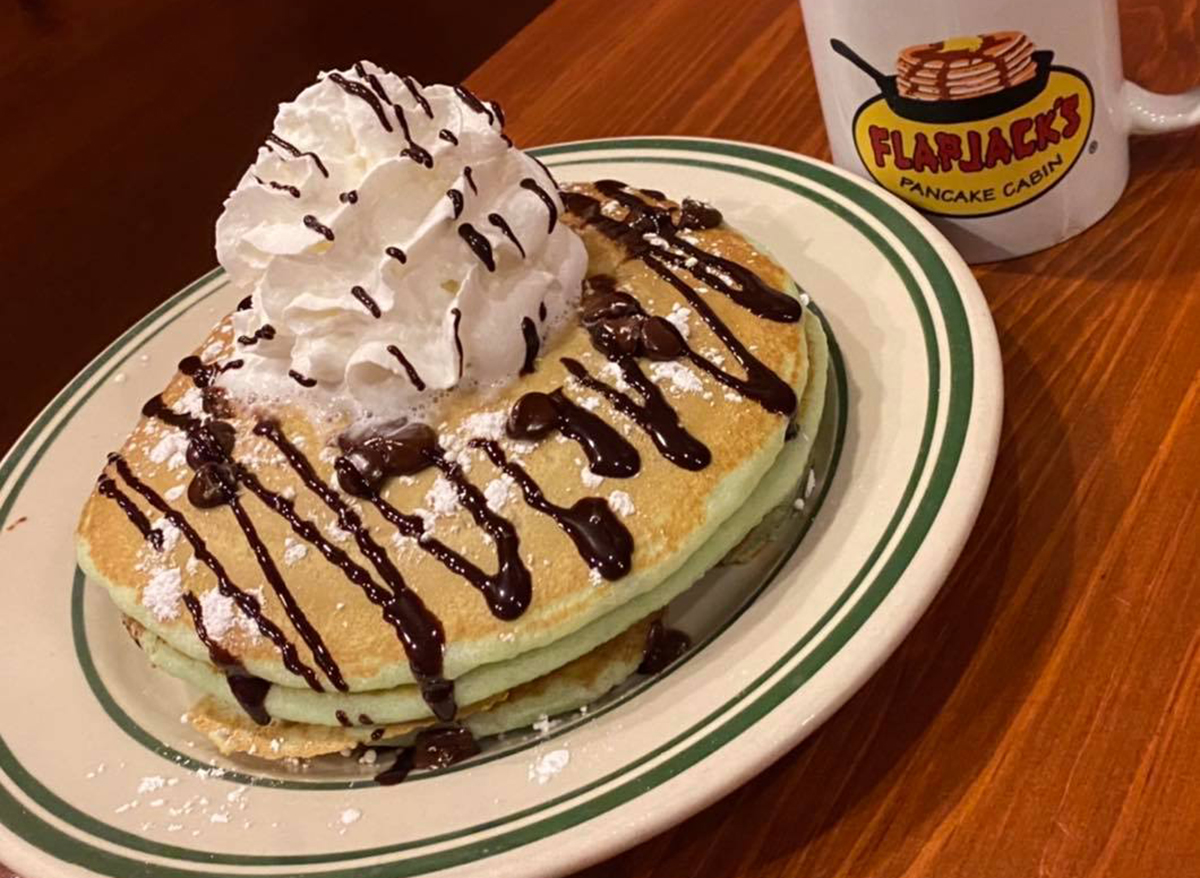 Peanut butter and bananas are a classic combination and at Flapjacks Pancake Cabin you can get both on top of fluffy warm pancakes.
TEXAS: Crave Kitchen and Bar (Multiple Locations)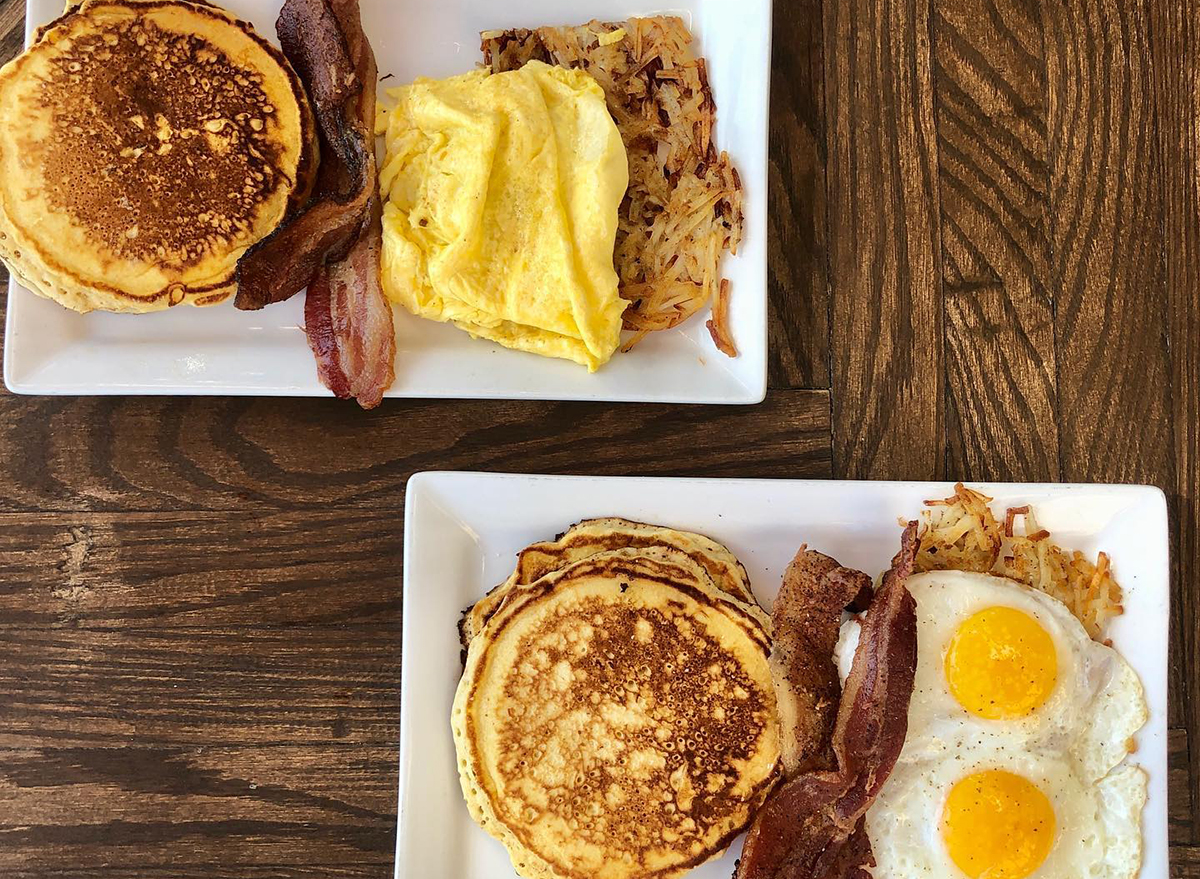 At Crave Kitchen and Bar, they are making chorizo pancakes. The pancakes are studded with spicy chorizo and served with two eggs, bacon, and sausage for a meat lovers' breakfast.
UTAH: Penny Ann's Cafe in Salt Lake City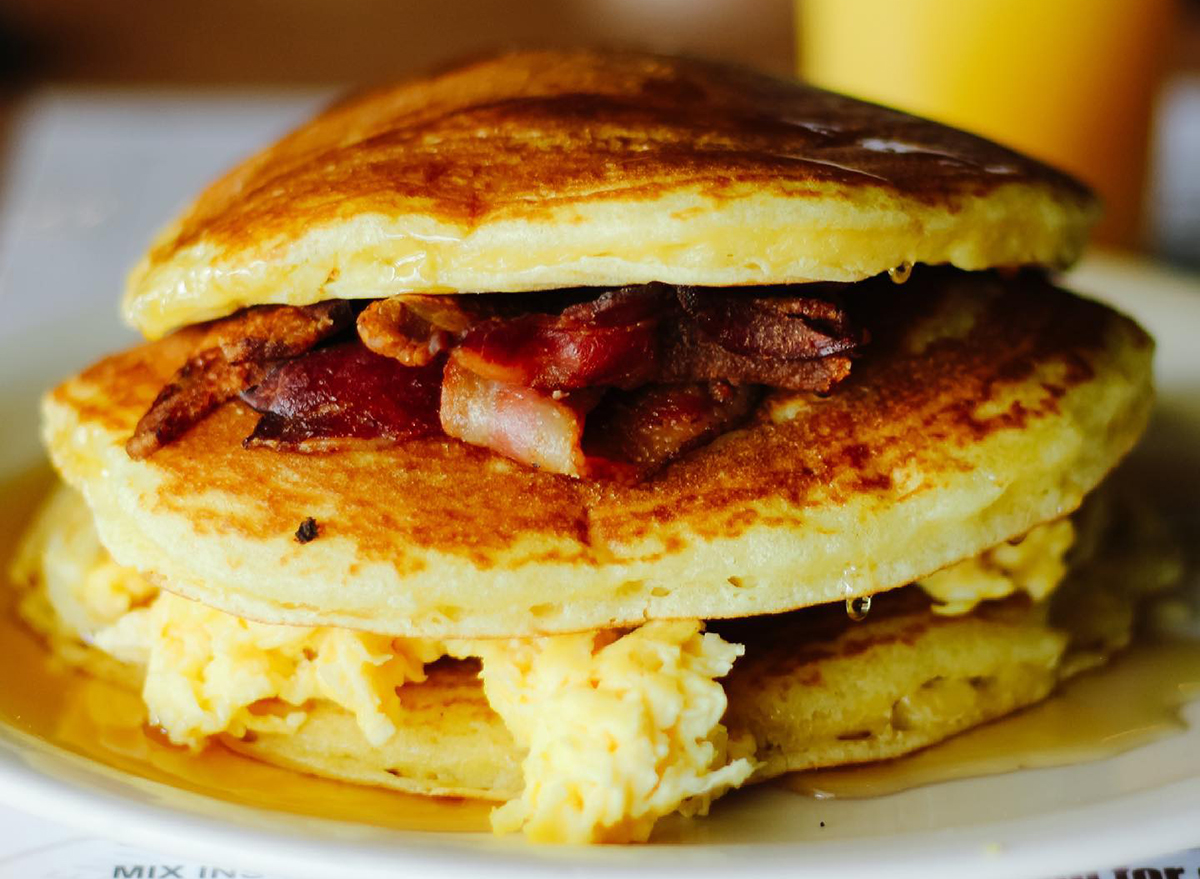 Sour cream pancakes are a game-changer at Penny Ann's Cafe. Get them as a single stack, a full stack, or as a hot cake sandwich.
VERMONT: Parker's Maple Barn in Mason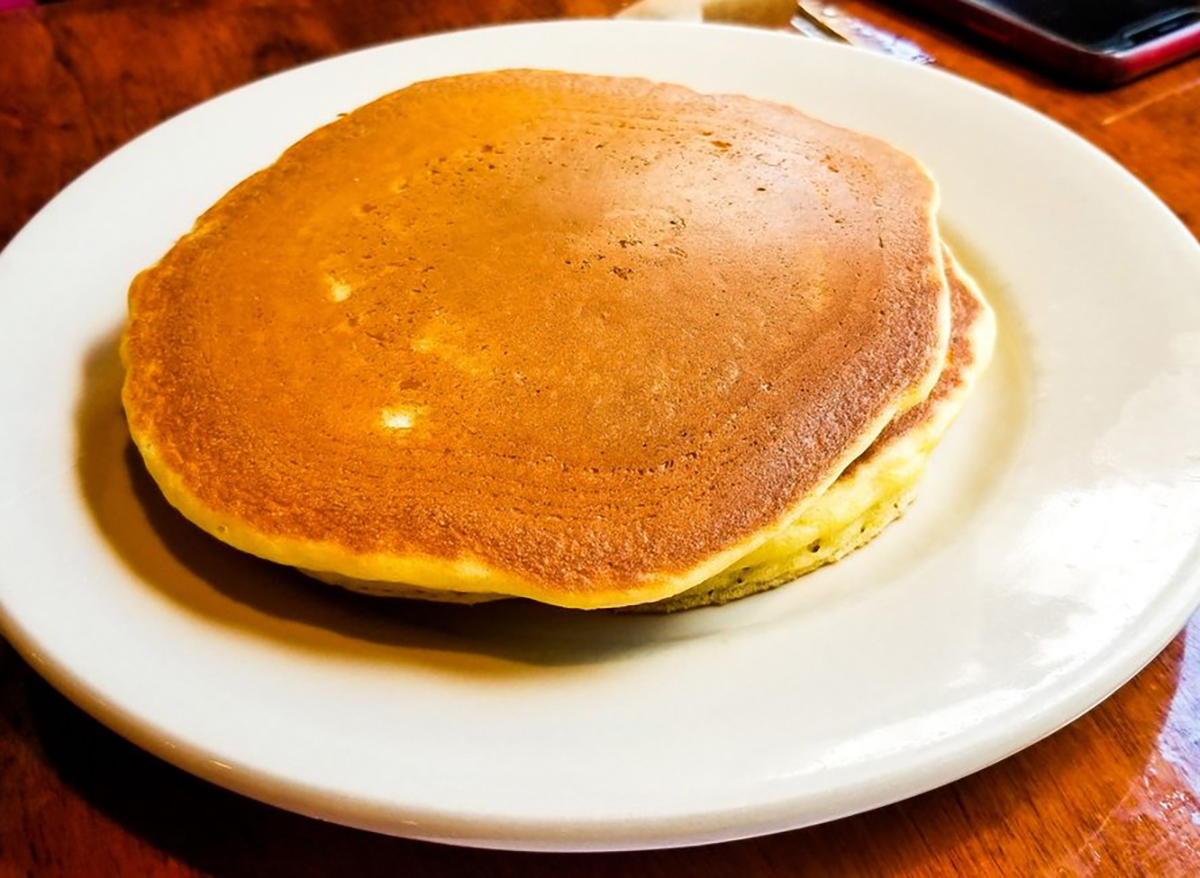 Chow down on traditional pancakes inside an 1800s wooden dairy barn and silo at Parker's Maple Barn. You're guaranteed not to leave hungry from here.
VIRGINIA: Pocahontas Pancakes in Virginia Beach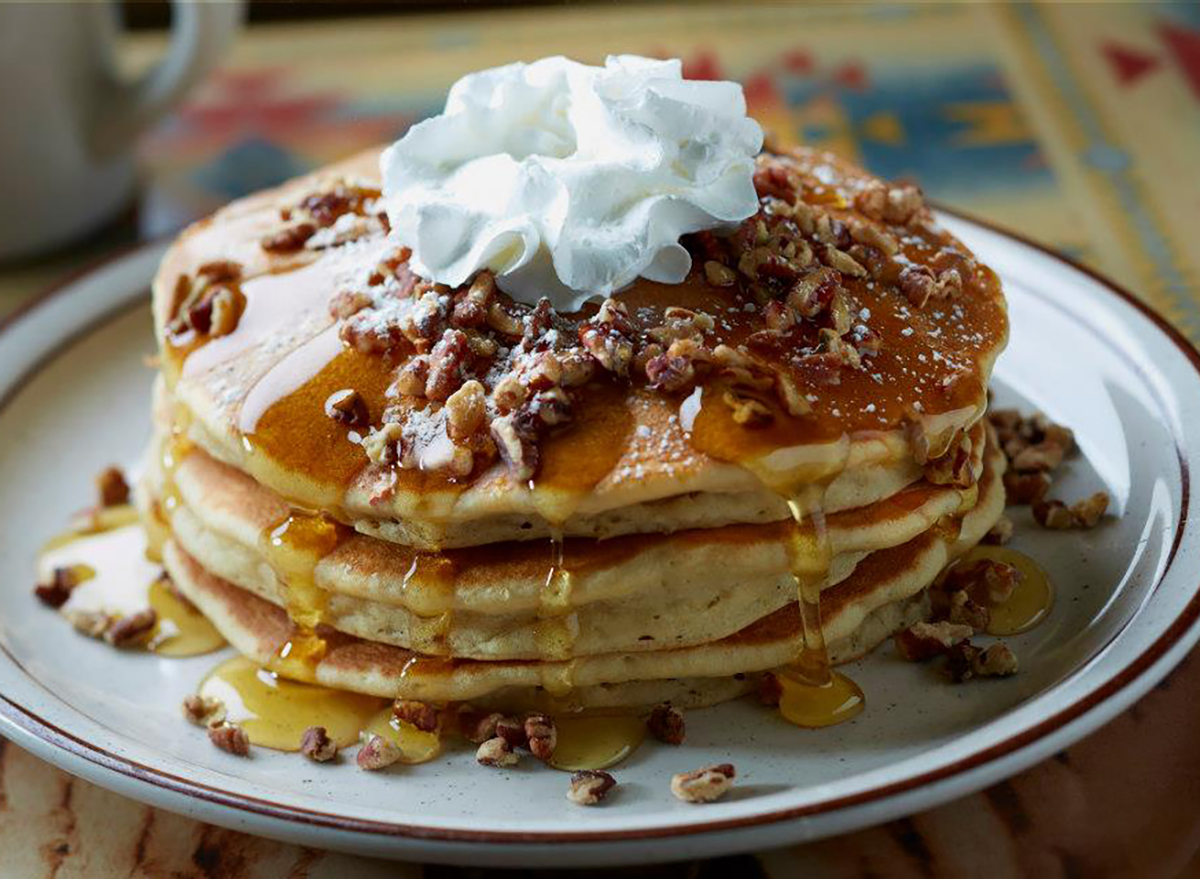 Pocahontas Pancakes serves pigs in a blanket, aka pancakes wrapped around sausage links. These are a nice sweet and savory breakfast that will keep you full while touring the area.
WASHINGTON: Skillet (Multiple Locations)
At Skillet, be sure to get the griddle cakes. They come with a seasonal compote, house-made brown sugar syrup, and lemon zest butter.
WEST VIRGINIA: Blue White Grill in Martinsburg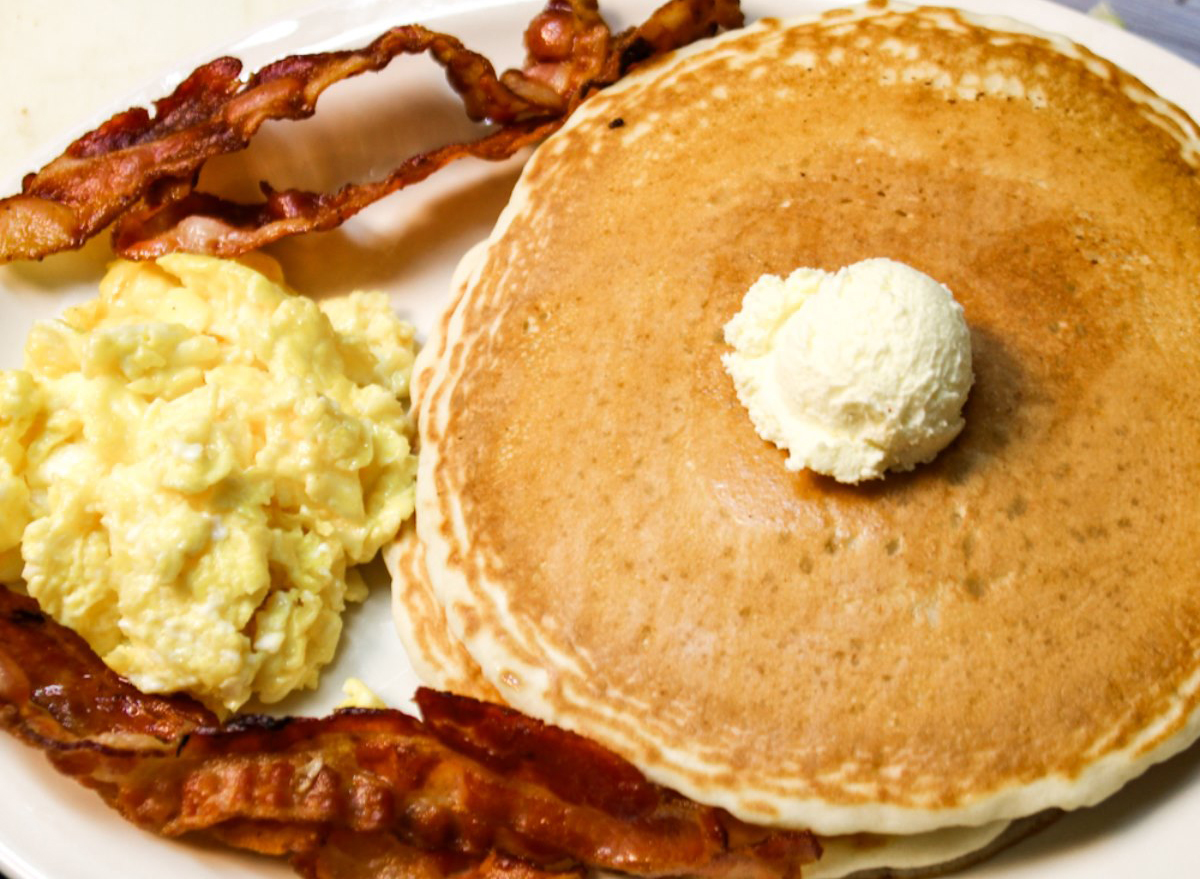 Blueberry pancakes are one of the most popular things on the menu at Blue White Grill. The restaurant is serving them with butter and syrup for a fruity twist on a classic breakfast.
WISCONSIN: Mickies Dairy Bar in Madison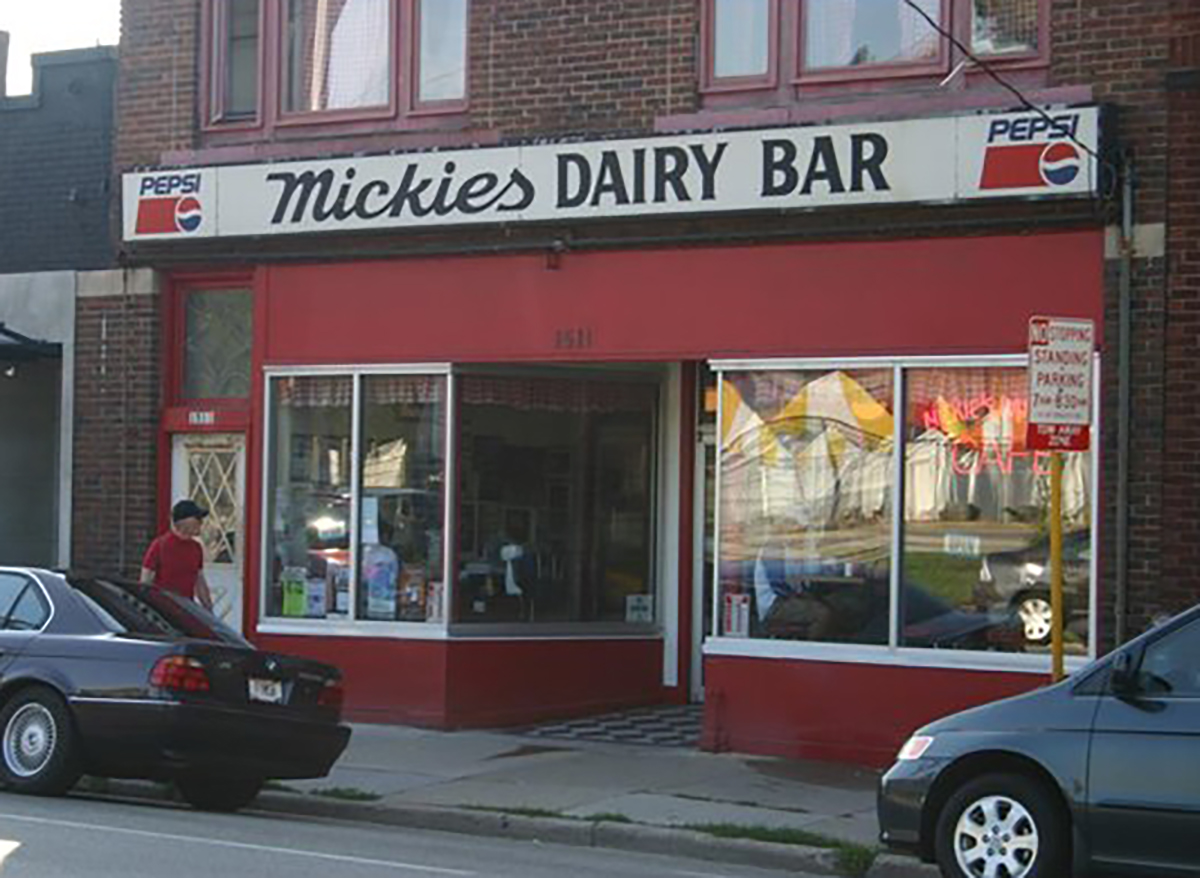 If you only get one thing off the menu at Mickies, be sure it's the cornmeal pancakes. These savory pancakes hold up well to lots of butter, and consider asking for honey instead of syrup.
WYOMING: The Middle Fork in Lander
Sourdough pancakes have a distinct taste that make them a brunch highlight whenever they are on the menu. At The Middle Fork, these pancakes come served with eggs, and locally sourced bacon for a complete meal.
Discover more top spots in your state:
The Best Chicken Wings in Every State
Megan duBois
Megan duBois is a travel and lifestyle journalist with bylines across the internet and in print at Delish, Conde Nast Traveler, Travel + Leisure, Yahoo Lifestyle, and more.
Read more about Megan