McDonald's Is Being Praised By Health Advocates for Making This Change
The chain is making strides to phase-out toxins from its packaging.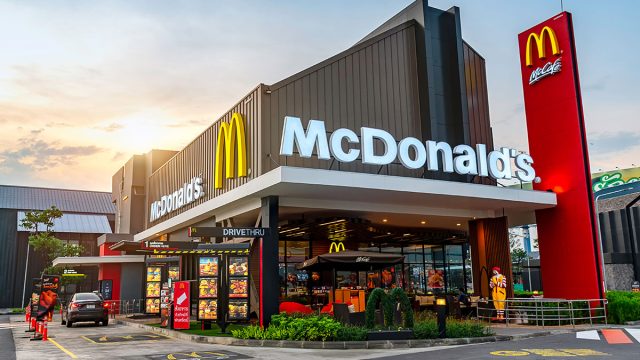 McDonald's recently announced it would be getting rid of toxic PFAS chemicals from its packaging by 2025, and environmental advocates and health experts are applauding the chain's decision. In fact, they are urging other national fast-food companies to follow the burger giant's example and make the same pledge.
The announcement by McDonald's came after a study, conducted by environmental advocacy groups Toxic-Free Future and Mind the Store, found high levels of the PFAS toxin in food wrappers and containers used at some of the country's biggest fast-food chains, including McDonald's and Burger King. These chemicals in fast-food packaging can end up harming consumers' health by leaching into the food, and will ultimately harm the environment by polluting the soil after the packaging is discarded. (Related: McDonald's Is Making These 8 Major Upgrades.)
McDonald's was the first large national chain to spring into action and promise to phase out the packaging containing the man-made toxins.
"We're proud to take another step in our product stewardship journey with our commitment to remove all added fluorinated compounds from our guest packaging materials globally by 2025," the company said in its announcement.
Danielle Melgar, an advocate for the U.S. Public Interest Research Group Education Fund, told Public News Service the benefit of having McDonald's on board with the toxin phase-out mission is twofold.
"As the largest burger chain in the world, this commitment matters for two reasons," Melgar contended. "First, that's just a lot of packaging that will be PFAS-free by 2025. And second, this may help move other companies to make similar commitments."
However, some still think McDonald's could do better. Mind the Store campaign director Mike Schade said the chain should work to phase out PFAS faster.
"Four years is far too long for their customers and frontline communities to continue to be polluted by these unnecessary forever chemicals," he says. "We urge McDonald's to phase these chemicals out by 2022 and ensure substitutes are safe and reusable. Other major fast-food chains like Burger King and Wendy's should join them in driving PFAS out of food packaging."
For more, check out 5 New Menu Items McDonald's Is Releasing This Year, and don't forget to sign up for our newsletter to get the latest restaurant news delivered straight to your inbox.
Mura is a Deputy Editor leading ETNT's coverage of America's favorite fast foods and restaurant chains.
Read more