People Are Using Rice Water For Longer Hair—Here's How It Works
This rice water hack may be your solution to long, flowing hair sooner than imagined.
Wishing and waiting for long, flowing hair seems to take forever before obtaining noticeable results. It's quite a frustrating situation if you're dealing with a bad haircut or simply want to switch up your look. You may feel encouraged one week when it appears to be slightly longer, only to have your hairdresser say your ends are damaged and you need a good trim to freshen things up. Sigh. You wanted your longer, flowing look to happen, well, yesterday. Get excited, though, because there's a hack on TikTok that you need to know about—and it has to do with using rice water for longer hair. This tip may be your solution to long, flowing locks sooner than imagined.
Read on to learn more about using rice water for longer hair and how the process works. And next, check out The 6 Best Exercises for Strong and Toned Arms in 2022, Trainer Says.
This viral hair care hack is a recipe for ultra-healthy hair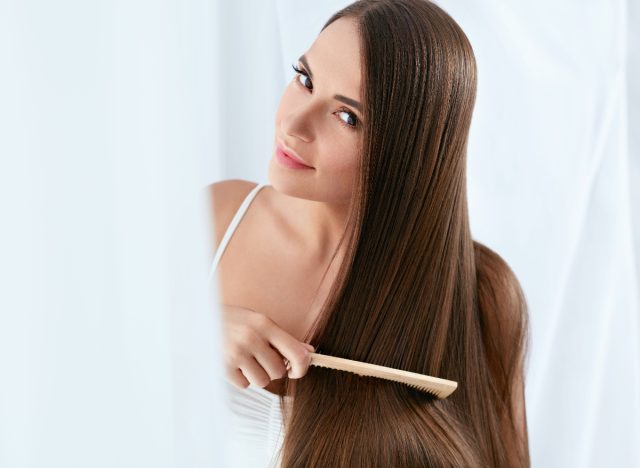 There's a viral hair secret sweeping through town, and according to TikTok videos, it's a recipe for full and ultra-healthy hair. The best part about it is you can whip it up right in your own kitchen. TikTokers have concocted up a rice wash made with water in which rice was soaking and tagged it #ricewater. The process that seems to help TikTokers' hair grow longer quicker and save their damaged strands is getting much attention. In fact, as of this writing, the #ricewater hashtag has received more than 505 million views, so you know people are curious about this simple (seemingly magical) concoction for long, luxe locks.
Related: Proven Ways to Reverse Hair Loss, Say Experts
Washing hair with rice water is a tradition with ancient roots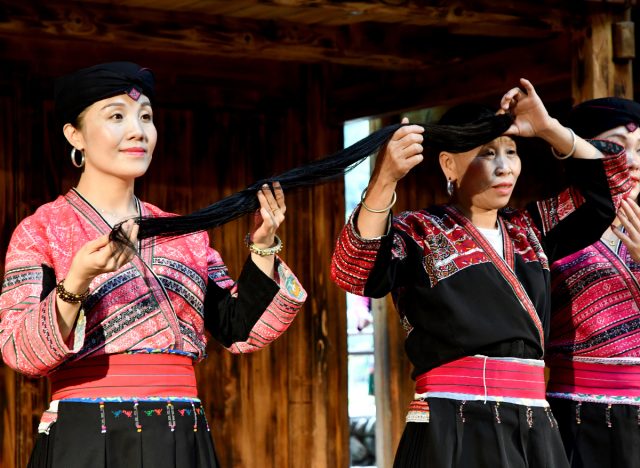 Rice washing isn't new to hair care, and neither is the desire to have beautiful, healthy strands. Reportedly dating all the way back to 794 to 1185 CE, Japanese women maintained gorgeous, healthy, floor-length hair, and rice water was their way of washing it. In more modern times, in the Huangluo village of China, the Yao women are also apparently major fans of a rice water hair care routine, which promotes shiny, sleek, and also gray-free hair. According to Vogue, the Yao women wash their hair in a bowl filled with a boiled concoction of rice water and organic ingredients. The women then brush the rice water mixture through strands with a wooden comb.
TikTokers break down how to wash hair with rice water and the jaw-dropping results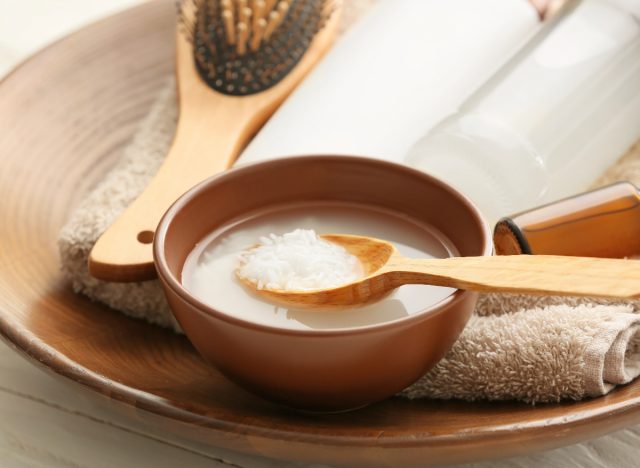 The Yao women aren't alone—many of us want a gorgeous, long mane. Hence, the popular TikTok rice water trend. One TikToker, Isabella Rose, breaks down the hair care routine. Rose first gives a shoutout to the Yao women for this amazing haircare tradition, and captions the intro of the TikTok video, "WARNING: The best DIY HAIR GROWTH method ahead."
Rose chose jasmine rice for this particular concoction and combines a cup of it with water to cleanse it of any impurities. After that, the rice is added to a glass jug with warm water. (Rose notes to be cautious, as hot water can break the glass.) Rose then seals the container tight and shakes it for 30 seconds. The container is put away for 24 hours. In the next TikTok video, Rose shows the hair application process and notes that drops of rosemary, lavender, cedarwood, or thyme essential oils can make a great addition and soothe the scalp. It's sprayed all over Rose's hair, then poured over it and massaged for 30 seconds.
Dr. Robert Finney, board-certified dermatologist at Entière Dermatology in New York City tells Today, "[Rice water] has antioxidants, which can theoretically help calm down inflammation on the scalp," and adds, "It usually contains the compound inositol, which has anecdotally been shown to increase the growth phase and also decrease friction amongst the hair shafts." Finney explains that the mixture contains amino acids and starches, which can also aid in the health and radiance of your hair. The hair may even appear thicker as a result of the starches, which cause the hair shafts to separate.
Related: The #1 Best Supplement For Hair Loss, Says Dermatologist
If you're curious about testing out rice water, but don't want to DIY, there are many products you can shop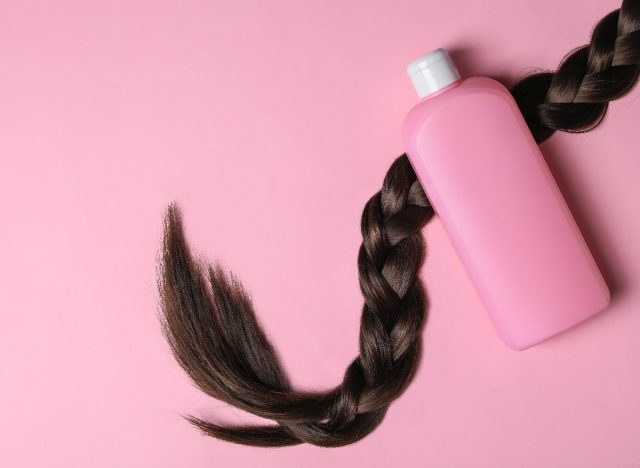 If you want to test out the results of rice water on your hair but aren't about making up your at-home product, there are many products available on the market. You can grab a bottle of Briogeo Don't Despair Repair Rice Water Protein + Moisture Strengthening Treatment ($42, Sephora), which is good for damaged hair, and increases shine. Or, shop for Hairitage The Rice Is Right Rice Water Hair Rinse ($8, Walmart), which enhances the overall look of your hair, soothes the hair follicles and scalp, and keeps your strands hydrated.6254a4d1642c605c54bf1cab17d50f1e
We spoke with Johnna Dineley, owner of JoDavi salon, who tells us, "There are many shampoos that have the vitamins, minerals, and growth ingredients that the rice water has." She also notes that the long-term effects of rice water can be drying to your hair—so keep that in mind. "One of the products I carry, which is RPM, is coming out with a hair growth booster to add it to any shampoo … I would assume it's something similar to the rice water, but easier."
Alexa Mellardo
Alexa is the Mind + Body Deputy Editor of Eat This, Not That!, overseeing the M+B channel and delivering compelling fitness, wellness, and self-care topics to readers.
Read more about Alexa